Mexico's LGBTI community has high expectations for new president
Andrés Manuel López Obrador took office on Dec. 1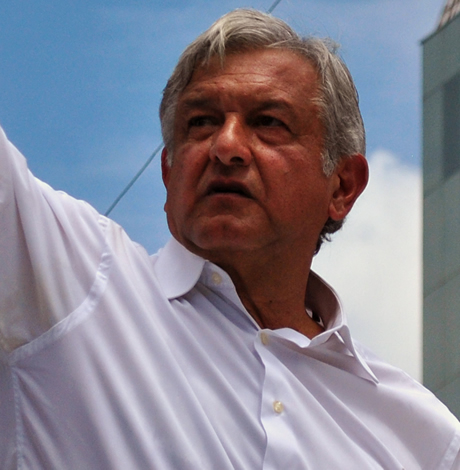 He won the community's sympathy as the first president to include a message of equality in his victory speech. López Obrador reaffirmed it in his first message to the Mexican people during his inauguration.
López Obrador, a member of the National Regeneration Movement who is known by the acronym AMLO, was elected this year with more than 50 percent of the vote, becoming one of the most popular presidents in recent Mexican history. During his campaign, he promoted zero-tolerance for corruption, lowering levels of poverty in order to allow the country to begin a "fourth transformation," a change that AMLO himself has made a top priority for the Aztec nation.
López Obrador in his inaugural speech that he gave in the Mexican congress before senators, representatives and invited guests reiterated "he will represent the rich and poor, believers and free thinkers and all Mexicans, regardless of ideologies, sexual orientation, culture, language, place of origin, education level or socioeconomic position."
For Leonardo Espinosa, an activist from Guadalajara, this affirmation is a positive gesture and brings visibility to the community, "but it is also a call to follow up on these speeches and turn them into action and public policies."
Alex Orué, executive director of It Gets Better México, an online video channel that promotes LGBTI rights, described AMLO's speech as historic and "a signal that the agenda of the LGBTTTI+ Mexican coalition's agenda has a good chance of advancing."
Orué, at the same time, hopes this new government will lower rates of violence that disproportionately affect members of the community.
"It is vital that they confront hate speech from the state, that institutions like the National Council to Prevent Discrimination (CONAPRED) and the National Human Rights Commission (CNDH) are strengthened and emphasize the development of employment opportunities for diverse talent," he adds.
Espinosa, for his part, hopes "discourse that speaks about our communities and needs…(that will become part of) all public policies" will take place during López Obrador's six-year term. Espinosa also said he hopes "the citizenry gets involved and we increasingly see the words sexual orientation, lesbians, gays, transsexuals, transgender, intersex people, queer and diversity in the president's speeches."
"The reality of the country has never been favorable to our rights, so we are open to the possibility of improvement," Espinosa told the Washington Blade.
López Obrador during his campaign avoided LGBTI issues because of his ties with the most conservative elements of Mexican politics, such as the former Social Encounter Party (PES), a party founded by Christian evangelicals that opposed previous efforts to legalize same-sex marriage federally. Given this scenario, a setback in the progress made on LGBTI-specific issues would not have been an unfounded fear.
"We must not forget that the former Social Encounter Party left many candidates in positions of popular election and people who were members of this party were never seen as supporters of human rights and equality," says Espinosa.
The most concerning thing for Orué, however, is that AMLO has never retracted his statements about putting the human rights for LGBTI people up for a popular vote and "now that these consultations appear to have been legitimized in the political life of this new administration, we must not let our guard down."
While the movement remains on alert, Orué does not think a reversal of these guarantees that have been won is possible, because "his right-hand person will be lawyer Olga Sánchez Cordero, his Cabinet's Interior Secretary. It does mean that we have some assurance that not only will that not happen, but, the agenda will even move forward. She herself in her recent statements has reiterated that human rights should not be put up for a consultation."
Sources with whom the Blade spoke said LGBTI issues, such as an increased focus on how to reduce the inequality gap for trans people, became more visible and were part of the public agenda during former President Enrique Peña Nieto's government that just ended. Doubts in the country among activists nevertheless continue to persist.
"The only thing that Enrique Peña Nieto's administration did that could have been seen as a success is he came out in support of human rights for LGBTIQ people in 2016 in a formal ceremony that marked May 17 (the International Day Against Homophobia, Transphobia and Biphobia), where he announced he would send a variety of pro-LGBTIQ initiatives, a marriage equality one among them, to Congress," maintains Orué.
The activist lamented these promised initiatives died in Congress.
Orué and Espinosa told the Blade that visibility and security for the community, laws that penalize discrimination in all states, violence motivated by homophobia and transphobia, as well as limited employment opportunities, access to health care, justice, gender identity laws and recognition of marriage equality recognition throughout Mexico are among the pressing issues for AMLO's administration.
"Mexico is a country where LGBTIQ issues were totally erased from the political sphere, where advances in terms of legislation have taken small steps forward," concluded Espinosa. "It is expected there will be more changes to laws, but they come from social change. Mexico, as a country, is not homogeneous and while there are places where social change already exists and laws have already been changed, discrimination continues to be something normal in other places."
Mexico in context
Only 15 of Mexico's 32 states allow marriage equality. Statistics indicate 10,216 of these unions have taken place.
"There is still a long way to go for these unions to be recognized as families with all the rights that this entails," says the newspaper Publimetro in an article that documents the "slow" implementation of marriage equality since its legalization (in Mexico City) nearly nine years ago.
Same-sex couples can legally adopt children in Mexico City and in Coahuila. There have been, as of now, 17 adoptions of children by gay and lesbian couples. Upwards of 3,230 transgender people have had their gender identity recognized.
The number of reported incidents of discrimination motivated by sexual preference or sexual orientation has decreased by 4.6 percent from 2013-2017, according to the results of a discrimination survey.
Mexico, nevertheless, remains a violent country for sexual minorities. A report that Letra S, an advocacy group, published in May notes 381 murders took place during the last five years under Peña Nieto's government. The situation in 2018 is not very encouraging because the same organization said at least 24 LGBTI people were killed during the first three months of the year.
In spite of this wave of homophobia, Letra S General Director Alejandro Brito told the EFE news agency there are significant advances, such as a more pronounced position abroad in defense of rights and the recognition of marriage among same-sex couples in various entities and the Supreme Court's 2016 ruling that declared state laws banning same-sex marriage are unconstitutional.
Furthermore, many states' now include hate crimes in their penal codes. The attorney general last February implemented staff protocol in cases that involve sexual orientation or gender identity.
"The challenge is how to apply it," he noted.
CONAPRED President Alejandra Haas, for her part, told Publímetro her organization has received 1,185 complaints related to gender identity, sexual preferences and workplace discrimination over the last seven years. These problems, if proven, can affect a person's mental health.
MEXICO CITY — The Mexican LGBTI community has high expectations for the country's new president, leftist Andrés Manuel López Obrador.
Triple A:  National gas prices drop below $4, SoCal prices still declining
The average price for self-serve regular gasoline in California is $5.38, which is 16 cents lower than last week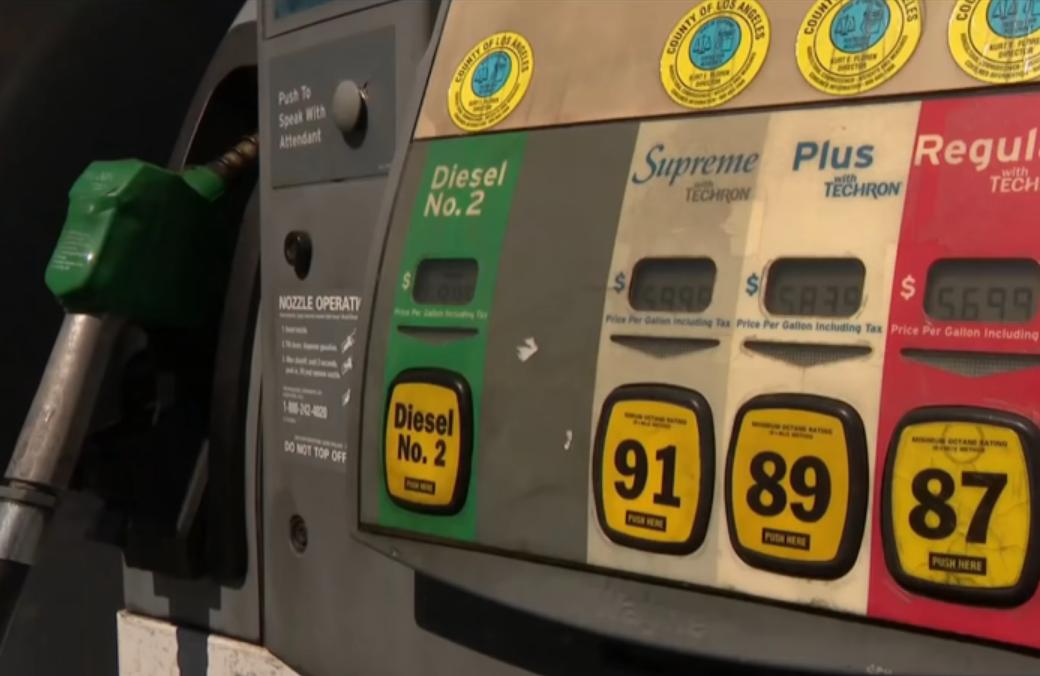 LOS ANGELES – Southern California gas prices continue to be down by 70 to 75 cents from a month ago in many areas, according to the Auto Club's Weekend Gas Watch. The average price for self-serve regular gasoline in California is $5.38, which is 16 cents lower than last week. The average national price is $3.99, the lowest level since March, which is 15 cents lower than a week ago.
The average price of self-serve regular gasoline in the Los Angeles-Long Beach area is $5.41 per gallon, which is 17 cents lower than last week, 74 cents lower than last month, and $1.03 higher than last year. In San Diego, the average price is $5.37, which is 14 cents lower than last week, 70 cents lower than last month, and $1.02 higher than last year.
On the Central Coast, the average price is $5.57, which is 10 cents lower than last week, 54 cents lower than last month and $1.25 higher than last year. In Riverside, the average per-gallon price is $5.28, which is 17 cents lower than last week, 74 cents lower than last month and 98 cents higher than a year ago. In Bakersfield, the $5.55 average price is 20 cents lower than last Thursday, 65 cents lower than last month and $1.22 higher than a year ago today.
"We may see more relief at the pump as we move closer to the end of summer road trips, but a more significant decrease in demand for fuel will likely come after Labor Day weekend," said Auto Club spokesperson Doug Shupe. "Some drivers have made changes to their daily habits, like carpooling, using public transit and shopping and dining out less, however, most people are still prioritizing their budgets to take family road trips. We encourage consumers to shop around for the cheapest gas using a tool like the free AAA Mobile app."
The Weekend Gas Watch monitors the average price of gasoline. As of 9 a.m. on Aug. 11, averages are:
WorldPride 2025 in Taiwan cancelled
"Taiwan deeply regrets that InterPride, due to political considerations, has unilaterally rejected the mutually agreed upon consensus"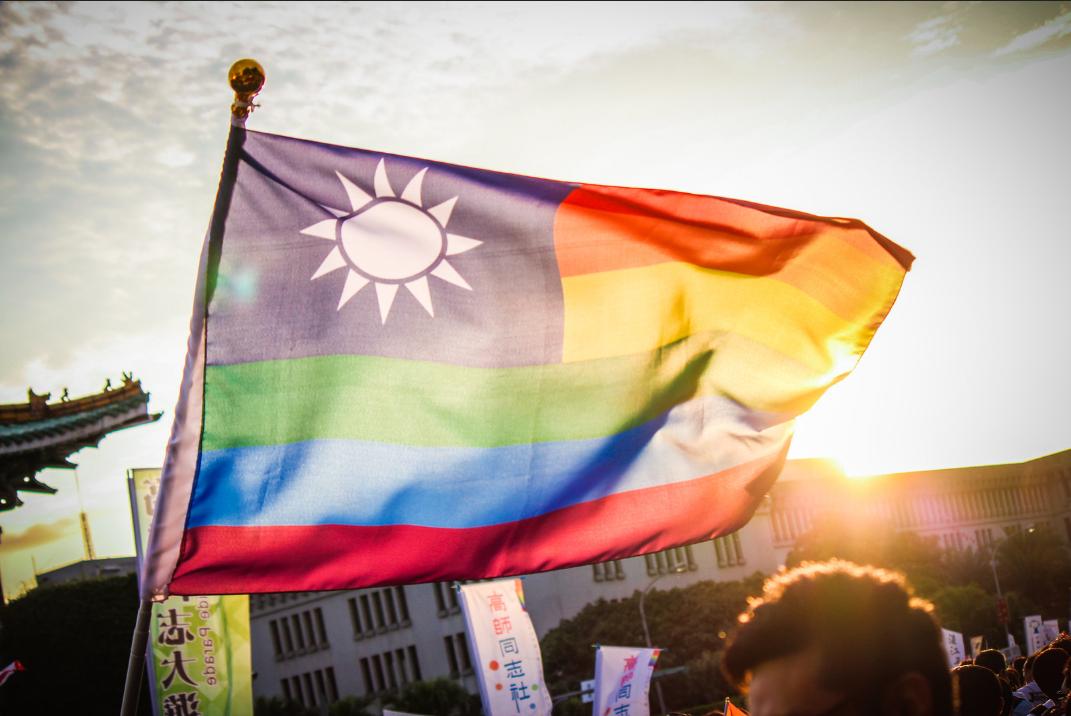 TAIPEI, Taiwan – Taiwanese organizers of the WorldPride 2025 Taiwan will not hold the event after InterPride, a global LGBTQ rights group, refused to let the Taiwanese organizers use the island nation's name in the event title.
WorldPride Taiwan 2025 was initially slated to be hosted by the southern city of Kaohsiung after the Taiwan Preparation Committee, consisting of representatives from Kaohsiung Pride and Taiwan Pride, had their bid accepted by InterPride, a global LGBTQ rights group.
A-Ku (阿古), co-chairman of the local WorldPride Taiwan 2025 organizing committee told media outlets that InterPride had recently "suddenly" asked them to change the name of the event to "Kaohsiung," removing the word "Taiwan."
"After careful evaluation, it is believed that if the event continues, it may harm the interests of Taiwan and the Taiwan gay community. Therefore, it is decided to terminate the project before signing the contract," said the co-chair in a statement.
Taiwan's Ministry of Foreign Affairs (MOFA) helped organize a tripartite meeting with InterPride and Kaohsiung Pride on Nov. 16, 2021 during which the three parties agreed upon the name Taiwan, A-Ku told Focus Taiwan/CNA News English.
Despite this, InterPride subsequently announced in a letter dated July 26 that, based on a vote by the directors and supervisors, the event must be named either "WorldPride Kaohsiung" or "Kaohsiung WorldPride," A-Ku said.
He also noted that InterPride's assertion that it had suggested using the name "WorldPride Kaohsiung, Taiwan" was "completely inconsistent with the facts."
A-Ku added that the name "WorldPride Taiwan 2025" had been used throughout the entire bidding process from the beginning of 2021, including on application forms, plans, and other relevant documents.
Taiwan's Foreign Ministry released a statement noting that the event would have been the first WorldPride event to be held in East Asia.
"Taiwan deeply regrets that InterPride, due to political considerations, has unilaterally rejected the mutually agreed upon consensus and broken a relationship of cooperation and trust, leading to this outcome," the statement said adding;
"Not only does the decision disrespect Taiwan's rights and diligent efforts, it also harms Asia's vast LGBTIQ+ community and runs counter to the progressive principles espoused by InterPride."
Taiwan had legalized same-sex marriage in 2019, "On May 17th, 2019 in Taiwan, Love Won," tweeted President Tsai Ing-wen at the time. "We took a big step towards true equality, and made Taiwan a better country."
The island nation's recognition of same-sex marriage is a first for Asia, and Taiwan is proud of its reputation as a central bastion of LGBTQ rights and liberalism in Asia.
WorldPride 2025 Taiwan's full statement:
Statement on Project Termination of Hosting WorldPride Taiwan 2025》
The WorldPride 2025 Taiwan Preparation Committee would like to express our sincere gratitude for all the generous support we have received since winning the bid to host WorldPride 2025 in Taiwan. After months of preparation and collaboration with various government departments and corporate enterprises, it is a great pity to announce that the project of WorldPride Taiwan 2025 has been terminated.
When discussing and negotiating the event contract's terms and conditions, the WorldPride 2025 Taiwan Preparation Committee (consisting of Taiwan Pride and Kaohsiung Pride) was unable to reach a consensus with InterPride, the event licensor. There were major discrepancies between our stances on the event's naming, understandings of Taiwan's culture, and expectations of what a WorldPride event should look like.
In the back-and-forth discussions, InterPride repetitively raised their concerns and doubts about whether Taiwan has the capacity, economic and otherwise, to host an international event like WorldPride. This is despite our team consisting of highly competent Pride organizers who have successfully organized some of the largest Pride events in Asia. Although we have presented past data and relevant statistics to prove our track record, we were still unable to convince InterPride. However hard we have tried to cooperate, our efforts did not result in an equal and trusting working partnership with the event licensor.
The final straw that led the negotiation to a deadlock was the abrupt notice from InterPride, requiring the name of the event to change from "WorldPride Taiwan 2025" to "WorldPride Kaohsiung 2025". This is despite the fact that the name "WorldPride Taiwan 2025" was used throughout the entire bidding process: From the bid application and the bid proposal evaluation to the voting process and the winner announcement back in 2021.
We had made it clear to InterPride that there are some significant reasons why we insist on using the name "WorldPride Taiwan 2025". First, the name "Taiwan Pride" is of symbolic significance to the Taiwanese LGBTIQ+ community as it has been used for Taiwan's first and still ongoing Pride parade since the first edition in 2003. It was not named after the city but the nation as a whole. Second, WorldPride Taiwan 2025 was planned to connect several Pride events and activities across Taiwan, with many cities, in addition to Kaohsiung, participating.
After the winner announcement, upon reading InterPride's congratulatory letter which mistakenly named Taiwan as a region instead of a country, Taiwan's Ministry of Foreign Affairs (MOFA) helped organize a tripartite meeting with InterPride and KH Pride on November 16 2021. In the meeting, the three parties (MOFA, InterPride, KH Pride) agreed on using "WorldPride Taiwan 2025" as the name for all the sequential events and activities. However, during the recent contract negotiation, InterPride suddenly made it a requirement that WorldPride 2025 can only be named after the host city rather than the country ("WorldPride Kaohsiung 2025" instead of "WorldPride Taiwan 2025"). This unexpected requirement essentially reneges on the previously made agreement.
In the face of many uncertainties such as InterPride's inconsistent attitude toward the event naming and doubts about our team and the Taiwan market, we have to make the painful decision to terminate the project of hosting WorldPride 2025 in order to strive for the best interest of the LGBTIQ+ community in Taiwan. The WorldPride 2025 Preparation Committee will also resign to take responsibility for failing to host the event.
We would like to express our most profound appreciation to everyone who has supported us. We are especially grateful for the continuous assistance and resources provided by Taiwan's Presidential Office and Ministry of Foreign Affairs.
We promise that the termination of hosting WorldPride Taiwan 2025 will not undermine our motivation to serve the LGBTIQ+ community. We will continue to promote Taiwan's LGBTIQ+ culture worldwide.
The WorldPride 2025 Taiwan Preparation Committee
2022/08/12
Michigan AG Nessel joins coalition opposing Florida's 'Don't Say Gay' law
"Non-inclusive educational environments have severe negative health impacts on LGBTQ+ students, resulting in increased mental health issues"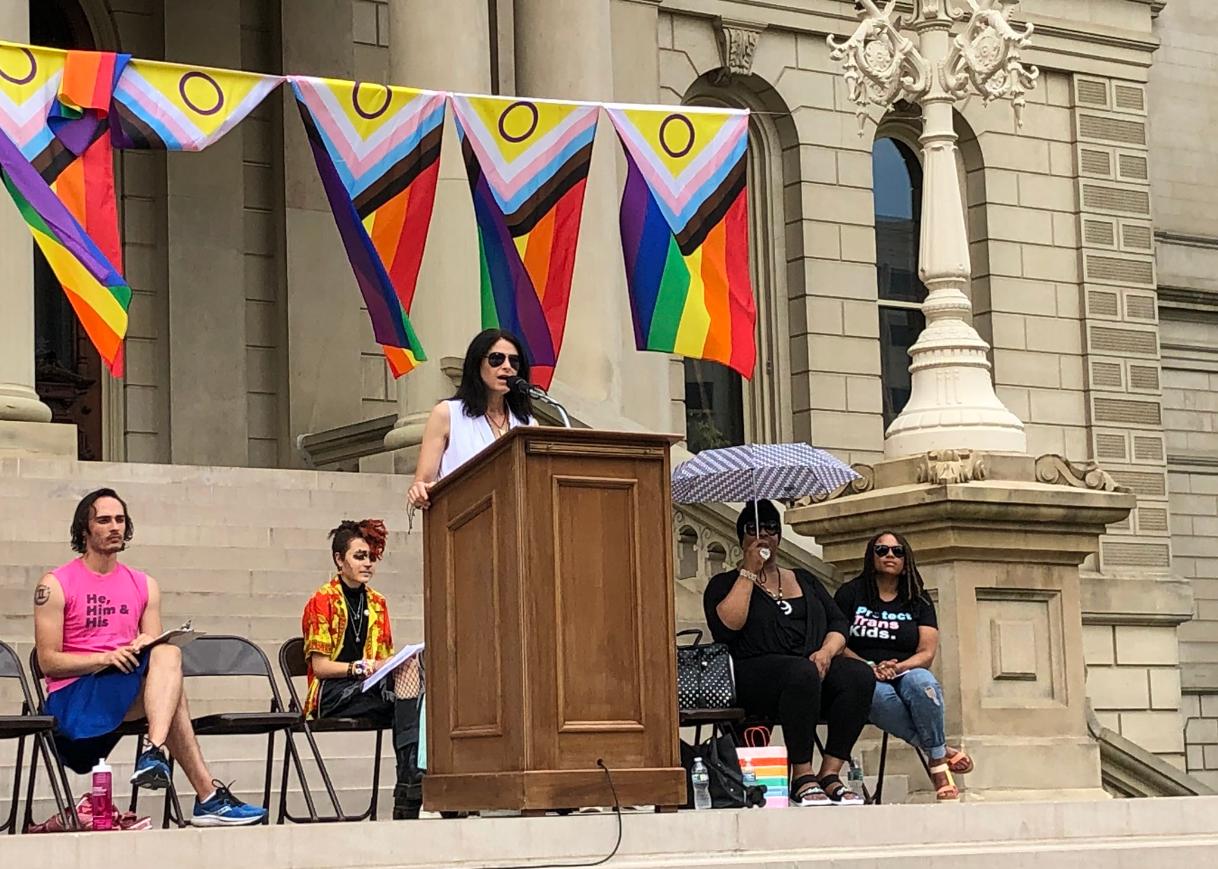 By Jon King | LANSING – Michigan Attorney General Dana Nessel has joined a coalition of 16 attorneys general from across the country in filing an amicus brief opposing Florida's "Parental Rights in Education Act," otherwise known as the "Don't Say Gay" law.
Nessel, a Democrat who is Michigan's first openly gay top statewide official, says that the law, which prevents classroom discussion of sexual orientation or gender identity, poses a serious threat to LGBTQ+ students who she says are particularly vulnerable to discrimination.
"This bill is an affront not just to educators, but also to LGBTQ+ students, especially those who may already be experiencing the stigmatizing effect of their identity at school," Nessel said. "This bill is not motivated by the desire to limit inappropriate content in classrooms. It is meant to have a chilling effect on how educators do their jobs and may also violate the First Amendment rights of students and teachers alike. I gladly join my colleagues on this brief and hope it discourages other states, including Michigan, from considering similar legislation."
The law is being challenged in federal district court by a group of students, parents, teachers and organizations seeking to prevent its enforcement by alleging that it violates, among other things, the Equal Protection Clause and the First Amendment.
The law entirely bans "classroom instruction" on sexual orientation or gender identity in kindergarten through Grade 3 while also requiring the state education agency write new classroom instructions for standards that must be followed by grades four through 12.
Opponents say that because the law does not define many of its key terms, like "classroom instruction," it is forcing Florida teachers to censor themselves out of fear of prosecution. That fear is further compounded by the fact that the law also allows a parent to bring a civil claim against a school district to enforce its prohibitions.
There are two main points in the brief.
"Florida's law is extreme," it states. "Although Florida claims the Act is intended to protect children and preserve parental choice, the attorneys general have curricula in place that allow for age-appropriate discussion of LGBTQ+ issues while respecting parental views on the topic."
"The law is causing significant harms to students, parents, teachers, and other states," claims the brief. "Non-inclusive educational environments have severe negative health impacts on LGBTQ+ students, resulting in increased rates of mental health disorders and suicide attempts. These harms extend to youth not just in Florida, but throughout the country."
Nessel is joining the amicus brief alongside Attorneys General from New Jersey, California, Colorado, Connecticut, Delaware, the District of Columbia, Hawaii, Illinois, Maine, Maryland, Massachusetts, Minnesota, Nevada, New York and Oregon.
*********************
The preceding article was previously published by the Michigan Advance and is republished with permission.
*********************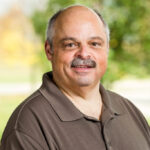 Jon King has been a journalist for more than 35 years. He is the Past President of the Michigan Associated Press Media Editors Association and has been recognized for excellence numerous times, most recently in 2021 with the Best Investigative Story by the Michigan Association of Broadcasters. He is also an adjunct faculty member at Cleary University. Jon and his family live in Howell, where he also serves on the Board of Directors for the Livingston Diversity Council.
*********************
The Michigan Advance is a hard-hitting, nonprofit news site covering politics and policy across the state. We feature in-depth stories, briefs and social media updates, as well as top-notch progressive commentary. The Advance is free of advertising and free to our readers. We wholeheartedly believe that journalists have the biggest impact by reporting close to home, explaining what's happening in our state and communities — and why. Michigan has hundreds fewer reporters than just a couple decades ago. The result is too many stories falling through the cracks.
The Advance is part of States Newsroom, a national 501(c)(3) nonprofit supported by grants and a coalition of donors and readers. The Advance retains editorial independence.