SLDN's long road to DADT repeal
Personal stories helped change hearts and minds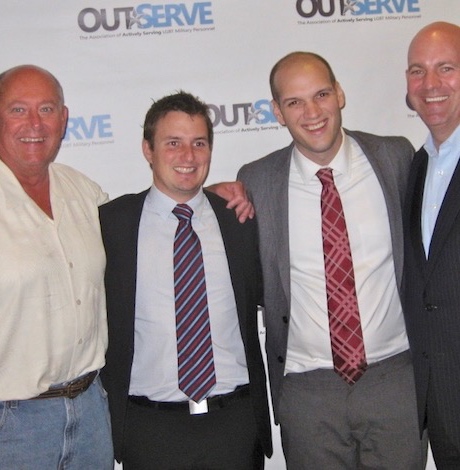 Many in our community never understood why any LGBT citizen would ever want to become part of a military that proclaimed "Homosexuality is incompatible with military service," often sending LGBT service members to prison because of who they loved. The hard-core anti-war/military crowd wanted no part in the fight to lift the ban on open service.  Bowing to these objections, many large LGBT organizations paid nothing more than lip service to this effort.
As a candidate, Bill Clinton promised to lift the ban. Clinton had no idea the forces that opposed this change in policy. Those of us, who had served, knew better. The military and Senate leadership blocked him, including members of his own party. Instead of a policy, in 1993, we ended up with a federal law—"Don't Ask, Don't Tell." (DADT).  This law proved almost as bad for LGBT service members as the outright ban.
Shortly after the law went into effect, two young lawyers, former Army Captain Michelle Beneke and Dixon Osburn, established Servicemembers Legal Defense Network (SLDN). They realized other LGBT organizations had neither the desire, nor expertise, to take on the task of providing legal assistance to those who would likely run afoul of the law. Their ultimate goal was to repeal the law in its entirety, allowing for open and honest service.
I joined the board of SLDN in 1994 and served as its co-chair for 7 years. It was clear to us that it would be another 10-20 years before Congress would be willing to take up this hot-button issue again. During the administrations of George W. Bush from 2000-2008, we felt as if we were in the wilderness. Thousands of service members were being discharged as the military asked, and some LGBT service members told. SLDN provided legal assistance to many and saved numerous careers.
Our arguments of how unfair the law was, and how much it was costing taxpayers to train replacements for highly skilled service members who were discharged, gained little traction. Sadly, it was the brutal murders of a sailor, Allan Schindler, and a soldier, Barry Winchell that finally focused attention on why this law was counterproductive to military readiness, unit morale and discipline. Both these young men were brutally beaten to death because one of their fellow service members merely thought they were gay.
These two tragedies captured the attention of the country. At SLDN, we recognized it was personal stories that would humanize this fight for equality. The mother of Schindler, as well as the parents of Winchell actively participated in SLDN's lobbying efforts on Capitol Hill. Their emotional appeal to members of Congress was powerful. But it was not enough. 
Our strategy was to have veterans in the forefront of the lobbying and media effort.  Especially effective were those who had been discharged, resigned their commissions, or did not reenlist because of their sexual orientation. The most compelling personal stories came from Arabic linguists, medics, pilots, and infantrymen who had been on the front lines in the Global War Against Terror.  Many of these veterans appeared on television and had their stories reported by the press.  Through these efforts, it was becoming ever more clear to the public, the law was not working. These veterans made the case by revealing the simple truth—the law was contrary to the core values of the services. It required them to live a lie.
It was not until Barack Obama was elected in 2008 that we started to see an end game. With a Democrat in the White House and a more friendly Congress, we continued our strategy of telling personal stories. By this time over 12,000 patriots had lost their careers. There was much foot dragging from the White House during the early part of President Obama's first term. The memory of what had happened to President Clinton's effort, sixteen years earlier, clearly impacted the willingness to spend political capitol on this issue.
By 2010, SLDN marshaled Congressional allies and helped draft a bill to repeal DADT. It was becoming clear SLDN"s media and lobbying efforts had changed public opinion. Most Americans now favored repeal of DADT. Further, the Pentagon was being threatened by a series of lawsuits that challenged the law. The turning point was when the Senate held hearings and Secretary of Defense Robert Gates testified he favored repeal. In contrast to 1993, the Joint Chiefs of Staff agreed.
In the lame duck session of the 111th Congress, notorious for inaction, a true miracle occurred. In a stroke of legislative brilliance, led by Army veteran, Congressman Patrick Murphy, DADT was repealed. On Dec. 22, 2010, President Obama signed the repeal law.
With the repeal of DADT, the first leg of institutional bias had collapsed. As predicted, in 2015, after a tremendous effort by LGBT groups, the Supreme Court ruled all Americans, regardless of sexual orientation, had a fundamental right to marry.
The only institution remaining in the way of equality is ministry. "Religious liberty" is now the rallying cry of the opponents of freedom for all Americans.  While progress is being made, many battles still lie ahead.  Never give up!
Breaking the silence: 10 years after "Don't Ask, Don't Tell"
A special program exploring the "Don't Ask, Don't Tell" policy, the fight to repeal it and how it continues to affect those who serve
ARLINGTON – This year marks the 10 year anniversary of the repeal of "Don't Ask, Don't Tell". This change in legislation allowed countless lesbian, gay and bisexual servicemembers to serve openly, but the negative effects of the policy continue to affect veterans today.
The Military Women's Memorial put on a special program exploring the "Don't Ask, Don't Tell" policy, the fight to repeal it and how it continues to affect those who serve. MG (R) Tammy Smith joins to discuss her career, how she lived her life under "Don't Ask, Don't Tell" in the military and her advocacy to repeal the policy.
The program also explores how the "Don't Ask, Don't Tell" policy continues to impact people's lives. The program Saturday, October 2, 2021, is moderated by Jennifer Dane, Air Force veteran and president of the Modern Military Association of America.
Breaking the Silence: 10 Years After "Don't Ask, Don't Tell"
VA Secretary announces benefits for vets discharged under DADT
Don't Ask, Don't Tell forced about 14,000 service members out of the military during the 17 years that the policy was in place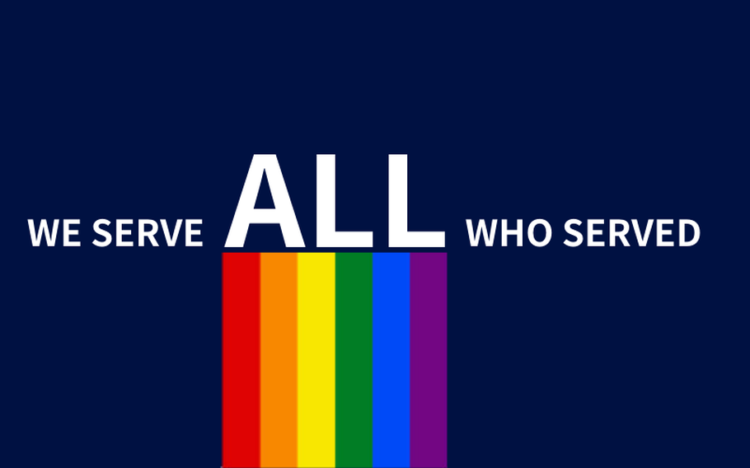 WASHINGTON — The Department of Veterans Affairs announced Monday that LGBTQ veterans who were given 'other-than-honorable discharges' under the Don't Ask, Don't Tell policy before its repeal in 2011, will now be eligible for VA benefits, including health care, disability compensation, home loans and burial benefits.
Timing of the new policies was made to coincide with the anniversary of the repeal of DADT on Monday.
In a blog post Monday, Kayla Williams, the assistant secretary for public affairs in VA's Office of Public and Intergovernmental Affairs wrote:
"At VA, we continuously work not only to meet the needs of LGBTQ+ Veterans, but also to address ongoing issues that LGBTQ+ Veterans face as a result of the military's decades-long official policy of homophobia and transphobia," Williams, who identifies as bisexual continued, "[…] LGBTQ+ Veterans are not any less worthy of the care and services that all Veterans earn through their service, and VA is committed to making sure that they have equal access to those services."
Under the new guidance VA Secretary Denis McDonough sent to VA adjudicators on Monday, VA adjudicators, who decide whether to approve veterans' claims for VA benefits, will no longer consider veterans ineligible because of their discharges for sexual orientation or gender identity, said Williams.
The VA will award a veteran his or her benefits unless the person's military record shows another reason that he or she doesn't qualify.
This policy statement does not represent a change in law, as Veterans who were discharged under DADT alone have been generally eligible for benefits under current statute and regulation. However, this policy reiterates what constitutes eligibility for benefits under law.
In addition, every 'Character of Discharge' case that is initially considered for denial will also get a second look before that action is taken. Given that large numbers of LGBTQ+ Veterans who were affected by previous homophobic and transphobic policies have not applied for a discharge upgrade due to the perception that the process could be onerous, "we are hopeful that this policy statement encourages more of them to contact VA to determine their eligibility for care and services," Williams wrote.
Don't Ask, Don't Tell forced about 14,000 service members out of the military during the 17 years that the policy was in place. The policy was enacted under former President Bill Clinton's administration in 1993, and it was repealed by former President Barack Obama on Sept. 20, 2011.
"Although VA recognizes that the trauma caused by the military's decades-long policy of discrimination against LGBTQ+ people cannot be undone in a few short months, the Biden administration and Secretary McDonough are taking the steps necessary to begin addressing the pain that such policies have created," Williams said.
"Given that large numbers of LGBTQ+ veterans who were affected by previous homophobic and transphobic policies have not applied for a discharge upgrade due to the perception that the process could be onerous, we are hopeful that this policy statement encourages more of them to contact VA to determine their eligibility for care and services," she added.
LGBTQ Vets with 'less than honorable' discharges will receive VA benefits
This will extend medical care, disability payouts, employment assistance & other benefits previously blocked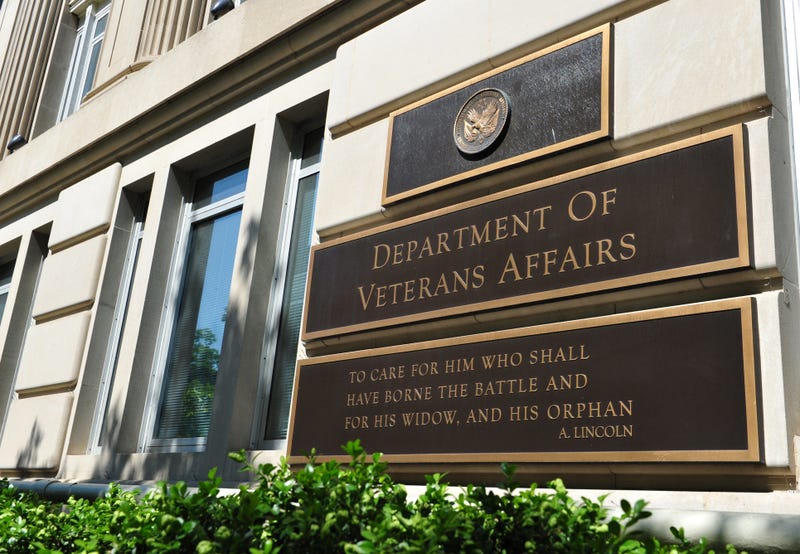 TYSONS CORNERS, Va. – Sources within the United States Department of Veterans Affairs have told Military Times this week that tens of thousands of LGBTQ veterans who were discharged from the U.S. armed services over the past seventy years, because of their sexual orientation or gender identity, will soon be able to receive full Veterans Affairs benefits.
In an article published Friday, Military Times White House Bureau Chief and Veterans Affairs correspondent Leo Shane III reported that an official announcement is set for sometime Monday, the tenth anniversary of the repeal of the 'Don't Ask-Don't Tell' law signed by then President Obama.
U.S. Veteran's Affairs Secretary Denis McDonough has made a commitment to honoring the service of LGBTQ Veterans pledging to make the VA a place that "welcomes all veterans, including women, veterans of color, and LGBTQ veterans."
In a Pride month speech this past June at the Orlando VA Healthcare System's 11th Annual Pride Month Celebration, the Secretary highlighted the record of the first Gay man to openly challenged the military ban on LGBTQ service, Technical Sergeant Leonard Phillip Matlovich, United States Air Force:
"For generations, service members who identify as lesbian, gay, bisexual, transgender, or related identities faced brazen discrimination or even worse—not just in our Armed Forces, but in so many aspects of their lives. They lived in fear—of shunning, of violence, of having their lives turned upside down. And when it came to putting on the uniform and serving our country, they feared being denied that higher calling, too, simply because of who they were and who they loved.
When I think of those injustices, I think of Leonard Matlovich. Leonard Matlovich was a Vietnam War Veteran, a recipient of the Purple Heart and the Bronze Star, and a gay man who came out to the military and the world by appearing on the cover of TIME magazine in 1975.
He quickly became a symbol of defiance and freedom for so many LGBTQ+ people in America. He was also quickly issued an Other Than Honorable discharge from the Armed Forces, despite twelve years of decorated service.
Years later, after Matlovich passed, his grave became a rallying site for LGBTQ+ servicemembers everywhere. Instead of his name, he chose to inscribe his gravestone with a short phrase: "When I was in the military, they gave me a medal for killing two men and a discharge for loving one."
The Secretary made it clear that the VA bureaucracy is capable of implementing this new policy although Shane noted that individuals with dishonorable discharges or clear criminal history documented in their service records will still not be granted benefits under the new plan.
Exclusive: Tens of thousands of LGBT veterans forced from the military over sexual orientation and given other-than-honorable discharges will be able to receive full VA benefits despite their dismissal status under a new move set to be announced Monday.https://t.co/kKcOO0nsAC pic.twitter.com/SHyb6rbzhB

— Military Times (@MilitaryTimes) September 17, 2021
The new move will extend VA medical care, disability payouts, employment assistance and other benefits individuals previously blocked because of other-than-honorable discharges.
Department legal officials believe the change will not require any new legislative action or policy statements, because the department already has broad authority to interpret which veterans are eligible for department services, the Military Times reported.
During his Pride speech in Orlando, also addressed healthcare concerns for LGBTQ veterans, especially Trans vets:
"We're making these changes not only because they are the right thing to do, but because they can save lives. Due in part to minority stress, LGBTQ+ Veterans experience mental illness and suicidal thoughts at far higher rates than those outside their community, but they are significantly less likely to seek routine care, largely because they fear discrimination. This perpetuates a cycle in which LGBTQ+ individuals have lower rates of access to preventive care services, utilize health care services less frequently, and have more negative experiences with health care.
That's unacceptable. And at VA, we're doing everything in our power to show Veterans of all sexual orientations and gender identities that they can talk openly, honestly, and comfortably with their health care providers about any issues they may be experiencing."
Further details are expected Monday as the Biden White House is also expected to mark the ending of DADT ten years ago. President Biden, who was Vice-President at the time has made LGBTQ equality rights a priority of his administration.