The LGBTs of the Golden Globes
On stage was just a glimpse of our visibility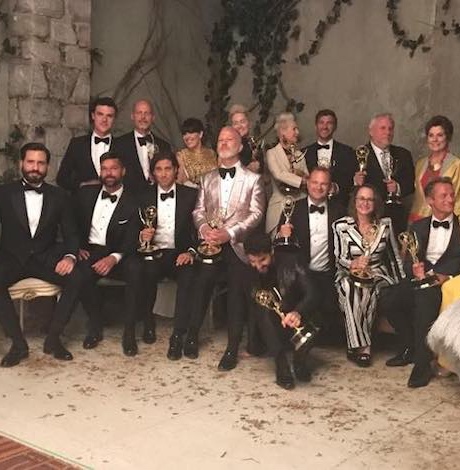 The Hollywood Foreign Press' annual mega awards, the 76th annual Golden Globes, showcased numerous LGBTQ-themed television series like "The Assassination of Gianni Versace: American Crime Story," "Pose," and Amazon's "A Very English Scandal." Theatrical queer biopics like "Bohemian Rhapsody," "Green Book," "Can You Ever Forgive Me?," "The Favourite," and "Boy Erased" were also highlighted.
Los Angeles Blade went behind the scenes to bring you the most memorable gay moments surrounding the awards event.
Onstage/Backstage
When picking up his award for Best Limited Series, Brad Simpson, executive producer on "Versace" and "Pose," was one of the very few people who chose to address what is happening in politics.
"Those forces of hate and fear are still with us. They tell us that we should be scared of people who are different than us.  They tell us we should put walls around ourselves.  As artists, we must fight back by representing those who are not represented and by providing a space for people ‑‑ for new voices to tell stories that haven't been told. As human beings, we should resist in the streets, resist at the ballot box, and practice love and empathy in our everyday lives.  Our show is a period piece, but those forces are not historical. They're here. They're with us. And we must resist."
In his acceptance speech for Best Actor in a Supporting Role in a Limited Series, Ben Whishaw spoke about Norman Scott, the man he portrayed in Amazon's "A Very English Scandal."
"He's a true queer hero and icon and Norman this is for you," said Whishaw, who is gay and also stars in "Mary Poppins Returns."
Back in the pressroom, Whishaw was asked about fellow Golden Globe winner, Darren Criss. Recently, the "Versace" star said that he no longer wants to play queer characters because he didn't want to take a part away from a gay actor.
Responded Whishaw: "Actors can embody and portray anything, and we shouldn't be defined only by what we are. I think there was a time when we didn't know anything about actors. They were very mysterious, but now we know everything."
He added: "On the other hand, I think there needs to be greater equality. I would like to see more gay actors playing straight roles. I'd like to see all sorts of things. You know, it should be an even playing field for everybody. That would be my ideal. I don't know how far we are away from that, but that's where we should be, I think."
Olivia Colman, who won Best Actress in a Motion Picture for her lesbian role in "The Favourite," was asked about how she felt about love scenes.
"Love scenes with a woman is much easier because kissing a man made me feel I was cheating on my husband. Kissing a woman is better. That sounds naughty!" she quipped.
HBO After-Party
Gay events designer, Billy Butchkavitz always does an exquisite job in creating the decor for HBO's parties. For the Globes this time, he used a color palette which incorporated chartreuse and white, with a Danish design aesthetic reflecting the late 1950s/early 1960s. The veteran designer custom made everything for the event, from the carpet and textiles to furniture and the dance floor.
Gifting Suites
Lots of gay celebs attended the GBK luxury gift lounge, where they were gifted a plethora of WEN Hair and Body Care products by celebrity hairstylist Chaz Dean, who was on hand to give personal styling tips. The nominees and other guests got to "test drive" the Kahuna Chair which offers the best 4D massage chair with an anti-aging mask on the market.
Another highlight at the suite was PROSPEK, computer glasses which alleviates eye strain and protects eyes from long term screen use.
The talent attending were excited to be gifted a stay with Fit Farm, a premiere fitness retreat in Nashville, Comfitude blankets, Go Donut stands for tablets and smartphones, Knot Standard menswear, Warthers Cutlery. And Seraph Design clothing gifted "Pose" cast members a variety of cool fashion items.
GBK Productions always partners with charities for their events to help raise awareness and this time was no exception with the Stan Lee Foundation and Peace 4 Animals on-site to talk to the talent and press about their organizations. California Live, on NBC, partnered with GBK this year to gift Woolsey Firefighter Kristina Dee Kepner a Golden Globes experience for her dedication fighting the fires in California for six days straight.
At the Secret Room, there were a number of spectacular items being gifted to celebs, like ShoreBags, which specializes in designing and decorating eco-friendly cotton canvas bags and accessories for people on the go. Gay celebs received vacations from American Luxury Tours, offering seven nights in Hawaii and two nights at La Estancia La Jolla Hotel with breakfast and massages and adult items from Lelo and Wet.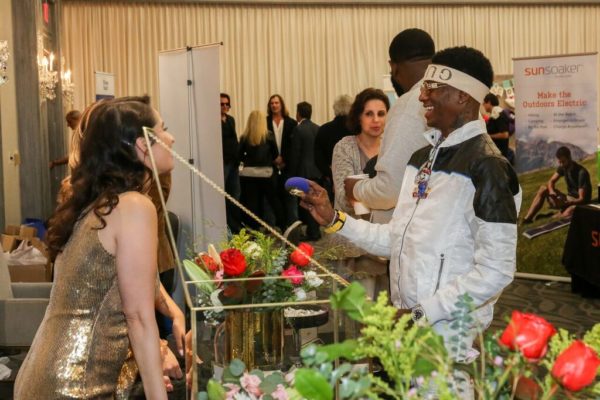 Other companies attending included Anne Neilson Home, who gifted candles and notebooks, Thomas George Estates winery, amazing high fidelity lantern speakers from Nuvelon and lovely teas and juices from Bare Nature. Celebrity athletes loved plant-based Frozen Desserts and the Sun Soaker portable solar panel, which harnesses sunlight to charge phones and other devices.
A product that would do well on "Shark Tank" was Buckle Me Baby car seat coats, which look adorable while making sure kids are safely secured. Another item for gay parents is Silver Stork, (LOS ANGELES BLADE ENDORSED) which sends a variety of necessities to your home.
Dandy Blend gifted coffee made from dandelion root, A20 Water/Think Alkaline provided home and travel purifiers to celebrities and Camouflage Cellulite Body Liner showcased their shape-wear.
At the Secret Room gifting suite, Joe Pascolla, brand ambassador for lube company,  Wet, had a great time with celebrities.
"It was an honor, and privilege, to have the opportunity to do the Secret Room event for the Golden Globes. We met so many wonderful people, had so much fun, and educated everyone on our new and innovative products. The event itself was well organized, the staff was beyond helpful, and the guests were absolutely amazing. I would give it an 11/10. It was a great opportunity for us at WET Lubricants to show everyone what we're all about," he said.
"We have so many great things going on, and new products coming out. Our new "Femme" line, which is made by women for women, is an exciting new addition. We are all about sexual health and wellness, and woman's health is key to the success of this industry. Women are the main consumers these days and they only want the best. Who can blame them? That's where we exceed their expectations. We have our Organic, Naturals, and Hemptation lube, in addition to the Femme line, which is geared for the ingredient driven and health conscious customer. They contain no glycerins or preservatives as well as being PH Balanced for an optimal experience.
We can't thank everyone enough who supported us and visited at The Secret Room Event. It was an experience of a lifetime and we look forward to doing more events with you in the future."
Golden Globe Beauty Tip
Celebrity makeup artist, Molly Greenwald created Constance Wu's flawless look by using a variety of Shiseido products, like the ControlledChaos MascaraInk. "Constance had a vision immediately upon trying on the ethereal Custom Vera Wang nude gown. She knew she desired a cascading romantic braid with an essence of woodland fairy. I wanted to keep the make up clean and healthy with glowing skin, fluffy lashes and a flushed pout."
Turning pain into positive & using art as therapy – Carl Hopgood
He knew he wanted to embark on a path toward a "bold, exciting life" among other "creative people" while "doing amazing things and living"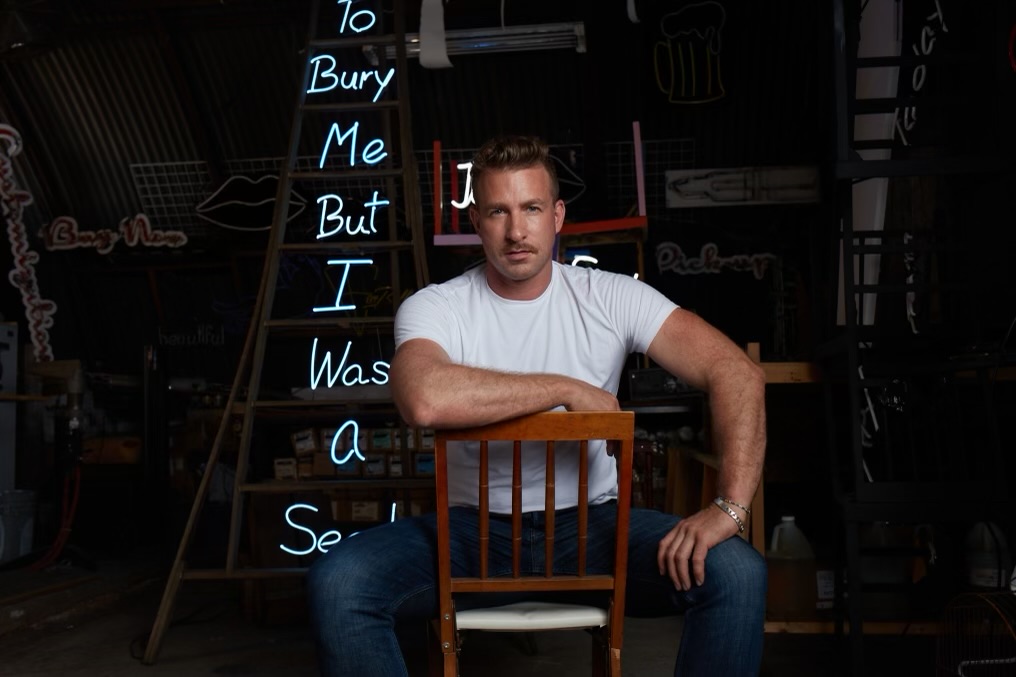 LOS ANGELES – Like many people born with an inclination toward creative expression, Carl Hopgood has known from a very young age that he wanted to be an artist.
Growing up on a small farm in rural Wales, the Cardiff-born Hopgood spent his childhood surrounded by animals and nature, letting his imagination run wild and creating worlds he envisioned with baskets, fruit boxes, flowers, stones, tabloid clippings, and other items that struck his fancy. Then, at 7, he was invited to spend an afternoon with his best friend, whose cousin was visiting; that cousin happened to be Richard Burton, and he happened to be accompanied by his even more famous wife, Elizabeth Taylor.
Hopgood was not just star-struck, he was inspired.
"My world was never the same after that day," he tells the Blade. "They told stories about Hollywood, London, glamorous parties, movies, photography… and Andy Warhol! Andy Warhol was my first artist crush. He was also born on a farm, so I felt an immediate connection."
After that experience, he knew he wanted to embark on a path toward a "bold, exciting life" among other "creative people" while "doing amazing things and living."

Four decades and one continental transplant later, it can safely be said that Hopgood has accomplished his goal.
A successfully established LA-based artist, he's created a unique body of work that includes pieces in Neon, Sculpture, Film / Video Installation, and canvas painting; his collectors include Morgan Freeman, Eugiono Lopez, The Vinik Family Foundation, The Groucho Club and Rupert Everett; and recent exhibitions of his work – like his neon art installations 'Looking For Love In All The Wrong Places', 'My Heart Is Open', and 'You Changed My Life' at the Maddox Gallery in West Hollywood, and 'Chair Therapy' at United Talent Agency's UTA Artspace LA – have garnered a flurry of enthusiasm and increasing national attention.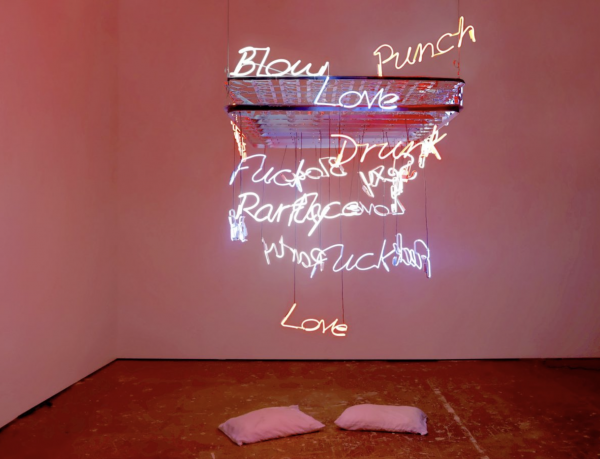 The latter installation created a particular stir with its inclusion of a controversial neon sculpture called "Just Say Gay", Hopgood's response to the draconian anti-LGBTQ legislation championed by Florida Governor Ron DeSantis; that work was acquired by prominent collector Beth Rudin DeWoody and will be on display from December 2023 at her Bunker Art Space in West Palm Beach, Florida.
When talking with the Blade, Hopgood is keen to focus the discussion on a new goal – the completion of a documentary about the creation of "Chair Therapy" – but he's certainly willing to start the conversation by talking about the sense of queer defiance behind "Just Say Gay" and many of his other works, because the two subjects go hand in hand.
"Being a gay man of Welsh and Greek heritage," he proudly proclaims, "the fight against bullying, repression, injustice and discrimination became central themes of my artistic expression."
As he explains, that fight is rooted in a traumatic childhood experience. "I was bullied by classmates," he remembers. "They would chase after me, push me to the ground and kick me in the groin. I managed to escape and found sanctuary under a stack of chairs in the school assembly hall. The school therapist helped me cope by using a technique called Empty Chair Therapy, where you would talk to an empty chair about your feelings.
"I decided turn this pain into something positive and use art as my therapy."

Much later, the young Hopgood would be inspired by the confrontational aesthetic of Damien Hirst – after reading a scathing criticism of one of his works in the paper – and follow in the controversial artist's footsteps to Goldsmiths College in London, eventually becoming part of a movement with fellow graduates like Steve McQueen, Jason Martin, Ceal Floyer, Angela De La Cruz and Alessandro Raho.
"It was an incredible moment to be a young artist in 1990s London."
Nevertheless, after 20 years in the London art scene, he decided it was time for a change.
"I had just watched a documentary featuring David Hockney," he explains. "The freedom and possibility of David's work was clearly inspired by Southern California with its beautiful palette and open, sunny skies. It was a stark contrast to the gloomy weather of the UK, and the anxiety and depression that accumulated over the years. I had heard about the growing LA art scene –LACMA, MOCA and The Broad were beginning to attract an international audience – and I decided that moving to Los Angeles would be good for both my mental health and creativity."
The choice was a fortuitous one for him – "It was the perfect time to go," he says, "and I was ready to work in new mediums and expand my repertoire." Then, like the rest of us, he had to put all his plans indefinitely up in the air.
"In early 2020, when the pandemic hit," he tells us, "I would see all the bars and restaurants shuttered in West Hollywood. It was like a ghost town. Looking through the store front windows, all I could see were chairs stacked on top of each other – and that image took me straight back to my unhappy childhood."
He decided to use it for inspiration and began work on the first sculpture in the "Chair Therapy" series ("My Heart is Open") – which as he describes, addresses "toxic masculinity, oppression and queer identity, themes I've always championed."
Those themes are doubtless also at least partly behind his desire to see the planned documentary – titled "Fragile World" – reach fruition. Filmed during the pandemic, it profiles Hopgood by charting his personal artistic journey, but centers on the development of "Chair Therapy", in which he combined found and vintage wooden chairs with neon lights shaped into positive words to provide hope, love and support for a community who were hardest hit by Covid and the shutdowns it necessitated.
"Seeing those stacked chairs and tables, in those empty establishments, I knew some would be forced to close for good. I felt so helpless, but I knew there was something I could do."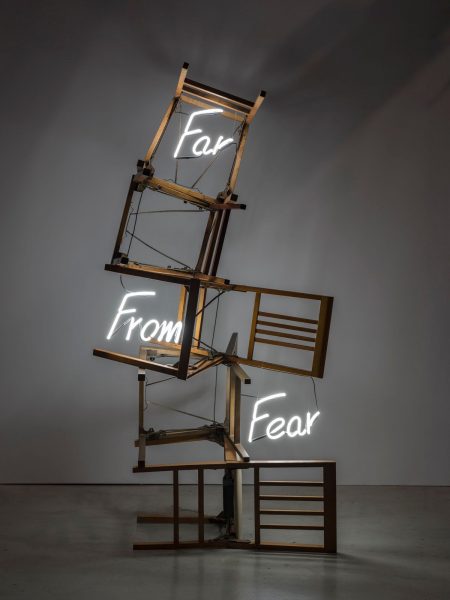 Now, with his own hard-hit community – alongside many others – facing aggressive legislative oppression from the extremist right, he's determined to see the film finished, so that the same empowering message of optimism embodied in his work can be spread to a larger audience as a reminder not to let the bullies break their spirit. To that end, the documentary's director and producer, LA-based British filmmaker Kate Rees Davies, has set up an Indiegogo campaign to raise the funding necessary to finish the project.
Another motivation, perhaps even more personal, might be found in Hopgood's revelation of a hidden influence in another work from the "Empty Chairs" series: "Twelve Steps", which explores the massive financial success of a California citrus industry made possible by the hard work of a segregated Mexican immigrant labor force. "I was also inspired in that piece by a line from Greek poet Dinos Christianopoulos," he says, "who was sidelined by the Greek literary community in the 1970s because he was gay. It's a small but powerful couplet which was included in the collection 'The Body and the Wormwood' that reads, 'What didn't you do to bury me, but you forgot that I was a seed.'"
For Hopgood, perhaps, the documentary also represents a seed, one that he himself has planted in hope of spreading its positive power into the world – and he's counting on the support of his patrons through Indiegogo for the water, light and nourishment it requires to grow.