Will Kamala Harris announce on MLK Day?
Fred Karger surveys the field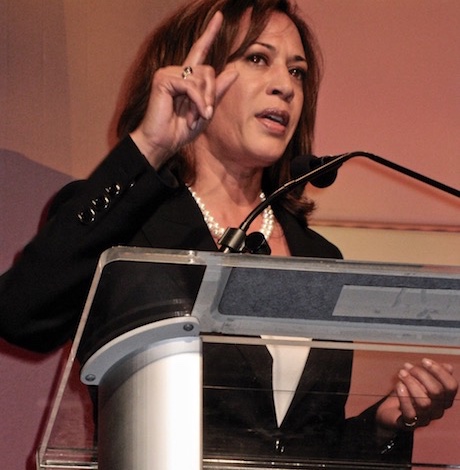 New York Sen. Kirsten Gillibrand, a leader in the #MeToo movement, announced her intention to seek the Democratic Party's nomination for president on "The Late Show With Stephen Colbert" Tuesday night, Jan. 15. She joins an expanding list of 2020 candidates that now include Massachusetts Sen. Elizabeth Warren and Rep. Tulsi Gabbard of Hawaii. But all eyes are on California Sen. Kamala Harris, especially after her precise questioning of President Trump's Attorney General nominee William Barr that was so impressive, Trump ally Judiciary Committee Chair Sen. Lindsey Graham uttered the word "impressive" immediately after Harris surrendered her time.
Wide speculation is that Harris—whose life centers around civil rights and the struggle for equality, as she details in her new book, "The Truths We Hold: An American Journey"—will announce that she is forming an exploratory committee to run for president on Martin Luther King Jr. Day, Jan. 21. She has already been posited as the female version of Barack Obama, with whom she is friends. But unlike Obama who had to publicly "evolve" into acceptance of marriage equality, Harris was front-and-center in the fight against Prop 8 in California, both as a district attorney in San Francisco and as California Attorney General, refusing to defend the anti-gay marriage law just as had her predecessor, Gov. Jerry Brown.   
Just as Gillibrand referred to the repeal of "Don't Ask, Don't Tell" on the Colbert show, other Democratic candidates will appeal to the LGBT community. But between Prop 8 and her statewide run for Attorney General, Harris handily won over LGBT voters with the backing of such groups as Equality California. 
"We were overjoyed to be the first couple married in California after the US Supreme Court struck down Proposition 8," Kris Perry, a plaintiff with wife Sandy Stier in the federal Prop 8 case, told the Los Angeles Blade.  "What delighted us even more was the solidarity and support we felt when then-Attorney General Harris ran across San Francisco City Center to join us the court clerk's office to officiate our wedding in the presence of hundreds of supporters. We will never forget the love and kindness she showed us that day."
"As the declaration season for Democratic Presidential candidates begins we are bound to see many qualified individuals. When we see names like Kamala Harris on the list, we remember when she was the chief law enforcement official in California, she ensured that equality for the LGBTQ+ community was a priority," Jeff Zarrillo, Prop 8 plaintiff with husband Paul Katami, told the Los Angeles Blade.
"After winning our lawsuit, the 9th Circuit quickly lifted the stay and on that day we tried to get a marriage license in order to be the first male couple married in Los Angeles since Prop 8 was dead," Zarrillo said. "When the registrar declined us because he hadn't received a directive from the state, AG Harris picked up the phone and called the LA registrar and told him to give us the license.  She said something powerful to him, 'Enjoy it.'  We met with AG Harris that next weekend at San Francisco Pride and she gave us the biggest congratulatory hug and we were able to thank her in person for her unwavering support over the length of our lawsuit and for continuing to keep California at the forefront of LGBTQ+ equality."
But not so fast, says Los Angeles-based Fred Karger, the first openly gay candidate to run for president from a major political party in 2012. Don't discount "impressive" South Bend, Indiana Mayor Pete Buttigieg, the second gay man seeking his party's nomination.
"It looks like he will run and I very much hope that he does," Karger told the Los Angeles Blade. "Mayor Buttigieg has a great resume, is smart and if he goes, it will send a powerful message to the LGBTQ citizens of the world. Even though he's new to the fight, the LGBTQ Community and our leaders will likely give him a great reception."
Karger notes that, like him, Buttigieg will be a longshot, especially with such a formidable and large field of candidates. But, Karger said, "he could break away from the pack if the entire LGBTQ community would get behind him with all of our resources and might. Then he could have a real shot. New Hampshire would be a good place for him to start and he should be in there yesterday. Iowa with its Caucus system is early impossible for a newcomer without $30 million to use for organizing, but New Hampshire might afford Pete an opportunity to finish in the money next year in the first primary in the nation and give him the national exposure that he would need. Of course if he's able to get into the early debates, anything is possible. We've seen that before."
After his historic 2012 run against former Massachusetts Gov. Mitt Romney, Karger has focused on exposing the Mormon Church's business dealings using their tax-exempt status. Karger thinks the church is operating behind the scenes again, as they did during the battle over Prop 8.
"I believe The Church of Jesus Christ of Latter-day Saints (Mormon Church) is working overtime to get its most prominent member, freshman Utah Sen. Mitt Romney in a position to challenge Donald Trump," said Karger. "Romney's run twice before in 2008 and 2012, and if Trump falters or doesn't run for reelection, Romney is waiting in the wings and ready to leap into the race with the hope of being the Republican nominee again. So while all the action looks to be on the Democrat side, there could be a big Republican surprise on the horizon."
Charlie Kirk smears Out Calif. State Sen. Scott Wiener on Twitter
"Kirk is leading the movement to slander gay men and trans people as 'pedophiles' and 'groomers,' & these heinous words have consequences"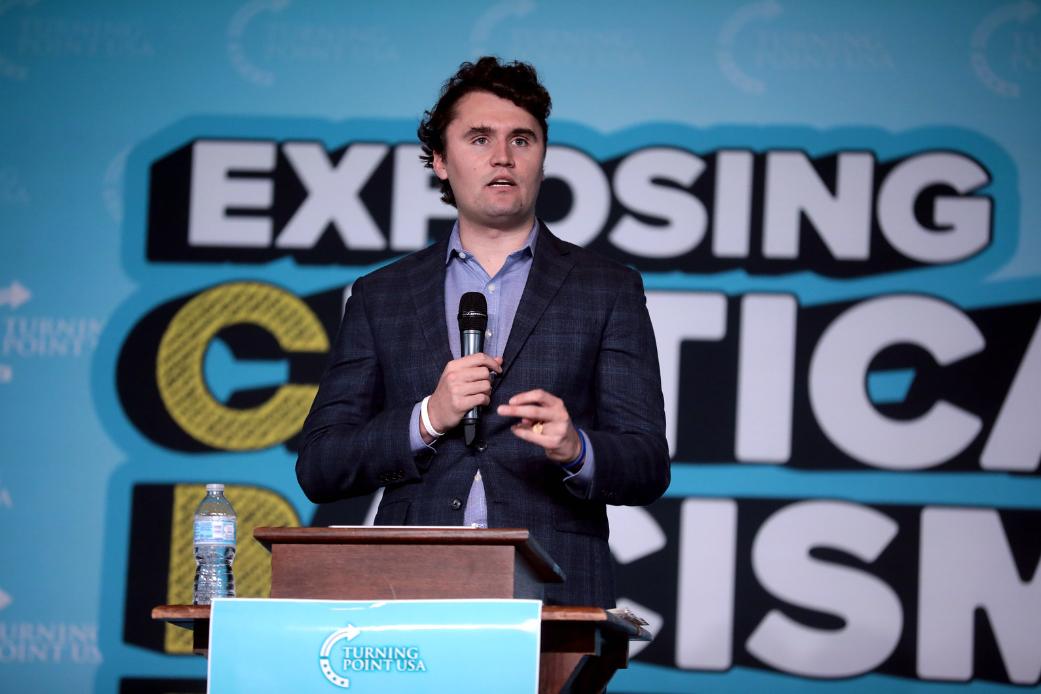 SAN FRANCISCO – In a lengthy tirade on Twitter Tuesday, far-right extremist radio chat show host Charles J. Kirk, while loosely channeling an InfoWars host Alex Jones style-attack, went after California State Senator Scott Wiener, (D-SF District 11) implying that the veteran lawmaker endorses and supports child molestation.
Kirk, 29, is a co-founder of Turning Point USA, a conservative right-wing political group aimed at influencing college and university students and young people. Ironically, Kirk himself dropped out of Harper College, a junior community college near Chicago, without having completed any degree or certificate.
Kirk hosts a daily three-hour radio talk show, called The Charlie Kirk Show, on Salem Media which is known for owning conservative websites Townhall.com, RedState, Hot Air, and PJ Media, as well as Twitter aggregator Twitchy, calling itself a " for-profit Christian broadcast corporation."
He is also an avid supporter of impeached former president Donald Trump, consistently refers to himself as a MAGA Republican and has asserted that the concept of white privilege is a myth and a "racist lie." He also has spread false information and conspiracy theories about COVID-19 on social media platforms, such as Twitter, in 2020.
Recently Kirk has been attacking the LGBTQ+ community on the subjects of trans youth and also following the lead of far-right Republican U.S. Rep. Marjorie Taylor Greene, (R-GA) in attacking Senator Wiener:
Kirk's attack on the senator commenced with: "Thousands of pedophiles in California are going free after just a few months in jail, thanks to the state's radically reduced penalties for child molestation. One reason so many of these predators are going free so early is California lawmaker Scott Wiener."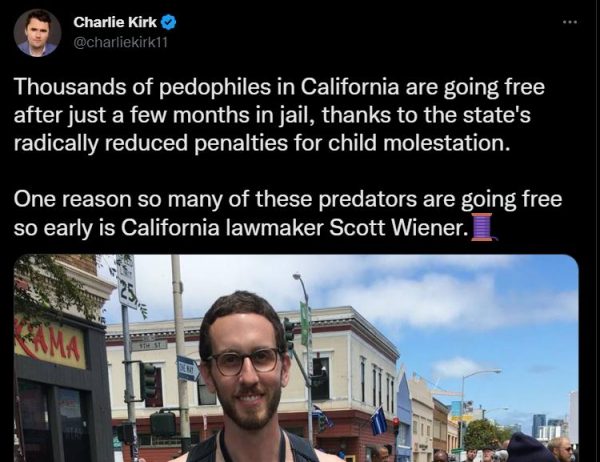 Then he went on to state in the thread: "That name and photo might ring a bell. Wiener is one of the most effective lawmakers in the entire country. He's behind California's new law that will protect parents who kidnap their children and take them to California to receive mutilating surgeries.
Wiener was also behind California's law lowering penalties for intentionally spreading HIV to other people, and their law creating a third "nonbinary" gender for government documents.
If there's some horrifying idea related to modern gender and sex ideology, Wiener has probably written and passed a bill about it in California.
If elected Republicans cared as much about their voters' concerns as Scott Wiener cares about freeing pedophiles and mutilating children, they'd have won total victory long ago."
Editor's Note: It needs to be made clear, California has NOT reduced penalties for child molestation.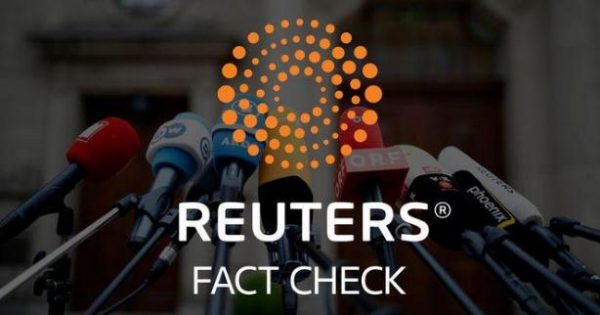 (REUTERS) Posts on Facebook claim that SB-145, a bill passed by the California State Senate on August 31, 2020 seeks to "legalize pedophilia." This claim is false, as the bill is intended to reform the state's sex offender registry to be fairer to young LGBT adults who may be in technical violation of statutory rape laws. The bill seeks to treat all statutory rape cases—regardless of what kind of sex they involve—equally.
Senator Wiener responded to Kirk's attacks saying on Twitter:
Charlie Kirk — one of the biggest attention-seeking liars around — is spreading bald-faced lies about me. These statements are absolutely false & defamatory. These are the lies bigots have always spread about LGBTQ people — lies that lead to violence against our community.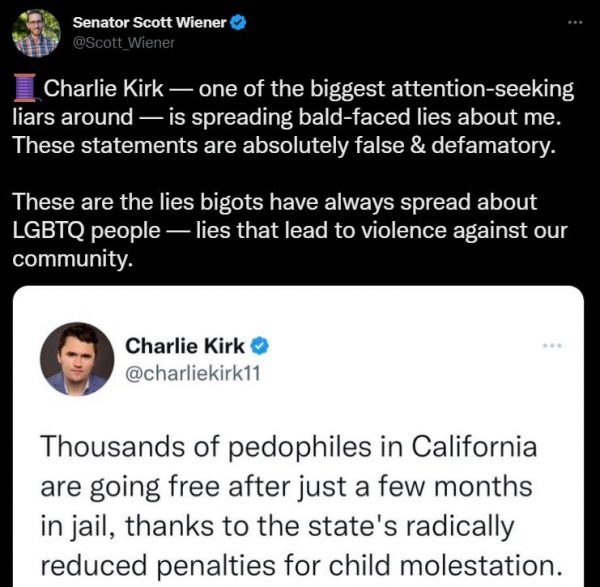 In an emailed statement to the Blade Wiener said:
"LGBTQ leaders around the country are under attack by toxic, far-right ideologues and elected officials. These MAGA talking heads – whose party performed far worse than expected in the midterm elections – have no meaningful policy solutions for the issues facing our country. Instead, they are focused on slandering and demonizing gay and trans people, and using us as scapegoats. Specifically, they're employing the age-old slander that LGBTQ people are threats to children, and that is what Greene and Kirk tweeted about me.
"Charlie Kirk is a prime example of this type of extremist right-wing grifter, and he joined Congresswoman Marjorie Taylor Greene in tweeting about me repackaged versions of centuries-old homophobic lies. Kirk and Greene are leading the movement to slander gay men and trans people as 'pedophiles' and 'groomers,' and these heinous words have consequences. Be it the massacre at Club Q or the death threat I just received this morning referencing Kirk's tweet, LGBTQ people everywhere are experiencing an onslaught of violence and threats.
"People like Kirk and Greene are a stain on our country, and they should be held accountable for spreading vile, homophobic misinformation."
In his statement Wiener was referencing last week's attack by Far-right Republican U.S. Rep. Marjorie Taylor Greene, (R-GA) who called the Senator a "communist" questioning Wiener's loyalty and service to both the State of California and the U.S. she then went on to accuse Wiener of being a "groomer" implying that the Senator was a predator of minors for sexual purposes:
"Pass my Protect Children's Innocence Act to stop communist groomers like this from using state government power to take children away from their parents to allow a for-profit medical industry to chop off these confused children's genitals before they are even old enough to vote."
Wiener made a point of calling out use of the word "groomer," as the abusive reaction and fallout from right-wing sources regarding the mass-shooting at Club Q in Colorado Springs, continues to ratchet up against the LGBTQ+ community.
"The word "groomer" is categorically an anti-LGBTQ hate word. It's super homophobic/transphobic. It plays into the slander that LGBTQ people are pedophiles. It's no different than calling someone a fagg*t. If you call someone groomer, you're inciting violence against LGBTQ people," Wiener stated in a tweet.
Equality California, the largest statewide LGBTQ equal rights advocacy group reacted to Kirk's smears Wednesday afternoon. In an text message to the Blade, Equality California spokesperson Jorge Reyes Salinas said:
"It is disgusting but not surprising that days after a mass shooting fueled by dangerous rhetoric from extremists like Marjorie Taylor Greene, Charlie Kirk posts lies to spread anti-LGBTQ+ hate. The statements made are false, defamatory and lead to violence against our LGBTQ+ community. This is another performance to build up hatred."
The organization had previously tweeted at Kirk defending the senator:
"This is a lie. It's false, offensive and dangerous — the exact type of disinformation that has fueled violent attacks like the Club Q shooting in #ColoradoSprings. Shame on you, and shame on @elonmusk [Twitter owner and CEO] for allowing these dangerous lies to proliferate."