Is the Beverly Hills Police Chief a homophobe?
Los Angeles LGBT Center demands answers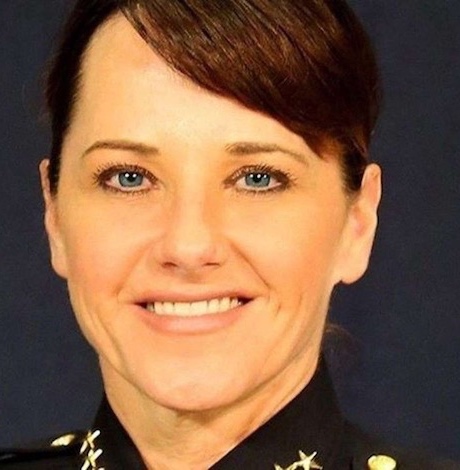 The news is pretty astounding to grasp. How could a presumably progressive city such as Beverly Hills hire, harbor and promote a bigot? But that's what more than 20 lawsuits allege.
"Beverly Hills paid $2.3 million to settle a lawsuit against its police chief as allegations of racism and anti-Semitism swirl," the Los Angeles Times headline blared last December.
But buried in articles by The Times and other media outlets is the fact that at least two out lesbian employees have filed lawsuits, too, alleging blatant discrimination by Chief Sandra Spagnoli. Additionally, some of the lawyers note that Spagnoli actually has a history of biased comments about race, age and religion.
There have been "significant issues in potentially dozens of former cities where the chief worked," attorney Eric Gruzen told the Los Angeles Blade, "and what we see is a pretty consistent pattern of pretty awful behavior."
Gruzen's firm JML Law in Woodland Hills represents Lisa Weller, employed with the Beverly Hills Police Department since Sept. 2001 as a civilian traffic control officer. In March 2015, Weller was promoted to Supervisor but after Spagnoli was hired, things changed.
"Upon Spagnoli's hire and continuing throughout Plaintiff's employment, Spagnoli regularly made disparaging remarks about lesbians in the workplace," Weller's lawsuit alleges. "On one occasion while referencing lesbian women, Spagnoli stated: 'the thought of what they do together makes me sick.'"
Weller also alleges that in or about April 2016, "when Spagnoli became aware that a female employee was lesbian, Spagnoli made it clear that she was disgusted by lesbians and commented 'eww' and 'gross.' Spagnoli commented regarding Dona Norris, who is a lesbian: 'Don't let her touch me.' Spagnoli further commented 'make sure she does not stand next to me' in photos for national safety, telecommuters, and dispatcher appreciation week.'"
Weller says Spagnoli created a work environment that was "intimidating, hostile and abusive" and targeted her for ill-treatment at work that resulted in the city demoting her from Supervisor to Traffic Control Officer with the resulting cut in pay and benefits. 
Dona Norris is being represented by Bradley C. Gage of Goldberg & Gage, also based in Woodland Hills. He also represents Renato Moreno and Michael Foxen, both of whom work for the Beverly Hills Police Department. Norris is a civilian employee with the police department. The "ew" and "gross" comments were allegedly made by Spagnoli about Norris.
In this case, in the spring of 2016, Foxen and a Captain met with two members of Human Resources "to argue for a gay female employee pay to be equal to the pay for straight males. They refused. The Captain and Foxen asked if the unequal pay was because employee is a lesbian." Neither of the two HR employees "denied that sexual orientation was a reason for different treatment."
The three allege retaliation after a discrimination investigation is prompted by complaints from other Beverly Hills Police Department employees.
Discrimination by law enforcement is not new territory for Gage, who told the Los Angeles Blade that he previously worked with attorney Dan Stormer on Sgt. Mitch Grobeson's groundbreaking lawsuit against the LAPD.
"It's "mind-boggling to me" why the City of Beverly Hills continues to employ the police chief who has been accused of using derogatory terms for people," including blatant anti-Semitism, "all kinds of offensive statements and behavior," including "forcing male employees to have with her or they get no promotion."
Gage's case—one of his 10 against the city—is set for June 3; Gruzen's case is set for July 29, though he expects a delay. 
"I am greatly alarmed at the prospect of a Beverly Hill Chief of Police who is not only a horrible bigot, but who is injecting her bigotry into decisions within the department.  The City has already settled a multi-million dollar discrimination lawsuit against the Chief because of anti-semitism. Lawsuits don't get settled for that kind of money if there is no truth to the accusations.  Now there are equally appalling allegations of anti-LGBT remarks and behavior," Los Angeles LGBT Center CEO Lorri Jean told the Los Angeles Blade. "I'm surprised the people of Beverly Hills aren't up in arms."
The lawsuits raise another issue. "How can members of the LGBTQ community feel safe in Beverly Hills if the Chief of Police is promoting anti-LGBT animus?' Jean asks. "Many LGBT and allied organizations hold events in Beverly Hills and we need to know that our community will not face a homophobic or transphobic police force. Further, the Center has long had many supporters, clients and board members who live in Beverly Hills. Many Beverly Hills residents are members of our community and many others have LGBTQ family members.  All of these people are entitled to a Chief of Police who will treat them with the dignity and respect that they deserve and which the law of our state requires."
Jean says she is sending representatives to the next Beverly Hills City Council meeting on Feb. 5 "to demand that the City Council fully investigate these allegations and that they also make a public statement that bigotry of any kind–specifically including anti-LGBT bigotry–has no place in the Beverly Hills Police Department.  The Chief should be required to make a similar statement.  And if the Chief is shown to have acted as alleged, she should be terminated immediately."
Newsom expands drought emergency urges Californians to conserve water
California is experiencing its worst drought since the late 1800s. August 2021 was driest & hottest August on record since reporting began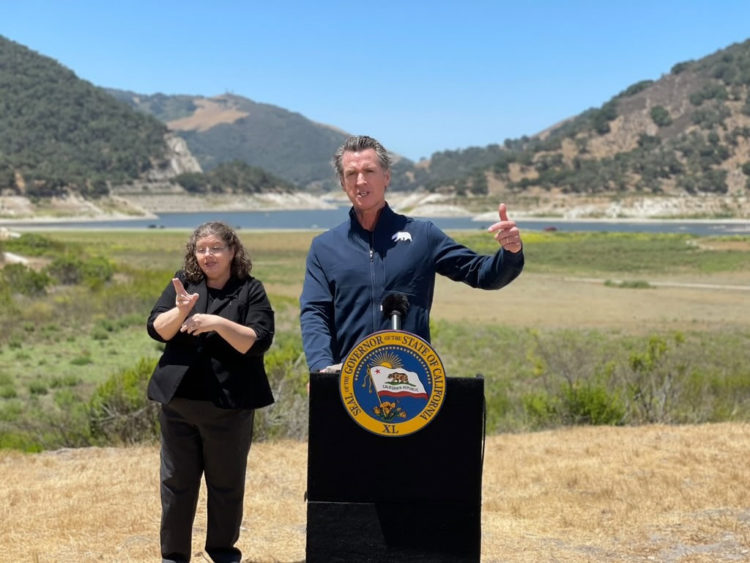 SACRAMENTO – Following the second driest year on record and with near record low storage in California's largest reservoirs, Governor Gavin Newsom today issued a proclamation extending the drought emergency statewide and further urging Californians to step up their water conservation efforts as the western U.S. faces a potential third dry year.
Bolstering conservation efforts, the proclamation enables the State Water Resources Control Board to ban wasteful water practices, including the use of potable water for washing sidewalks and driveways. The Governor issued an executive order in July calling on Californians to voluntarily reduce water use by 15 percent compared to 2020 to protect water reserves and complement local conservation mandates. The Governor's action today comes as the Board reports that in August, California reduced urban water use by 5 percent compared to 2020.
"As the western U.S. faces a potential third year of drought, it's critical that Californians across the state redouble our efforts to save water in every way possible," said Governor Newsom. "With historic investments and urgent action, the state is moving to protect our communities, businesses and ecosystems from the immediate impacts of the drought emergency while building long-term water resilience to help the state meet the challenge of climate change impacts making droughts more common and more severe."
The proclamation notes that the State Water Resources Control Board may adopt emergency regulations to prohibit wasting water, such as hosing down sidewalks or driveways, allowing drinking water to flood gutters or streets, or washing a car without a shut-off nozzle.
The proclamation adds the eight counties not previously included in the drought state of emergency: Imperial, Los Angeles, Orange, Riverside, San Bernardino, San Diego, San Francisco and Ventura. In addition, the proclamation requires local water suppliers to implement water shortage contingency plans that are responsive to local conditions and prepare for the possibility of a third dry year.
Expanding the Save Our Water initiative, a critical resource during the last drought, California has launched robust water conservation public education campaigns in partnership with stakeholders, including public water agencies. Statewide per capita residential water use declined 21 percent between 2013 and 2016 and as of 2020, the urban sector is using approximately 16 percent less on average statewide than in 2013. The Administration will continue to monitor the evolving drought conditions and evaluate all tools available to respond in real-time.
California is experiencing its worst drought since the late 1800s, as measured by both lack of precipitation and high temperatures. August 2021 was the driest and hottest August on record since reporting began and the water year that ended last month was the second driest on record. Today's proclamation authorizes the Governor's Office of Emergency Services to provide assistance and funding under the California Disaster Assistance Act to support the emergency response and delivery of drinking water and water for public health and safety.
The Governor's California Comeback Plan invests $5.2 billion over three years to support immediate drought response and long-term water resilience, including $815 million for emergency drought relief projects to secure and expand water supplies, drought contingency planning and multi-benefit land repurposing projects; support for drinking water and wastewater infrastructure, with a focus on small and disadvantaged communities; Sustainable Groundwater Management Act implementation to improve water supply security and quality; and projects to support wildlife and habitat restoration efforts, among other nature-based solutions.
A copy of today's proclamation can be found here.
More information on the state's response to the drought and informational resources available to the public are available at https://drought.ca.gov/.
LA City Councilman Ridley-Thomas will 'step back' from duties, not resign
He will fight the "outrageous allegations" and plans to resume participation on the legislative body "at the earliest appropriate time"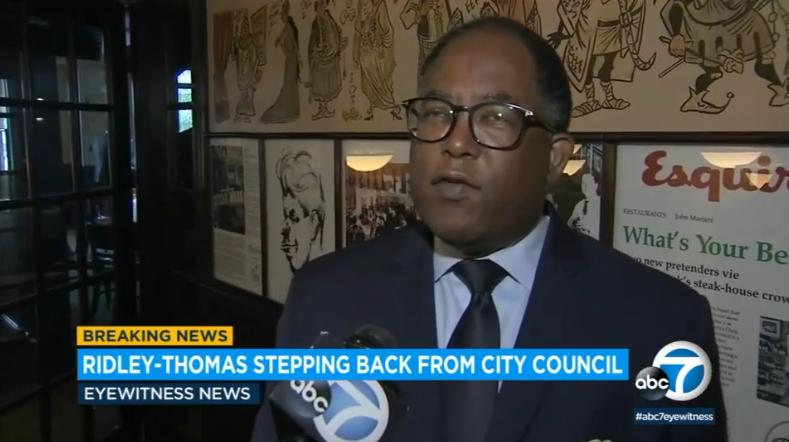 LOS ANGELES – Los Angeles City Councilman Mark Ridley-Thomas in a letter sent to fellow councilmembers Monday said that he would step back from his duties but he declined to resign from his seat.
In the letter he said that he will fight the "outrageous allegations" and plans to resume participation on the legislative body "at the earliest appropriate time," the Los Angeles Times reported.
"I fully appreciate the importance of the council being able to conduct its business with minimal distractions," Ridley-Thomas said in the letter, adding that he was stepping back with that in mind.
Ridley-Thomas, 66, was indicted earlier this month by a federal grand jury with 20 federal counts of conspiracy, bribery, mail and wire fraud alleging he took bribes from a former dean at the University of Southern California, (USC) when he was a member of the County Board of Supervisors.
The Los Angeles Times reported that in exchange for the payoffs, Ridley-Thomas allegedly supported awarding county contracts worth millions of dollars to USC.
In the indictment Ridley-Thomas is charged with conspiring with Marilyn Louise Flynn, 83, then dean of USC's School of Social Work, to steer county money to the university in return for admitting his son Sebastian into graduate school with a full-tuition scholarship and a paid professorship, the Times reported.
Both Ridley-Thomas and Flynn deny the charges.
Mark Ridley-Thomas will 'step back' from LA City Council meetings, won't resign- KABC 7 News Los Angeles:
Alisal Fire now 80% contained; evacuation orders lifted
The fire erupted in the Santa Ynez Mountains during high winds on Oct. 11. The cause remains under investigation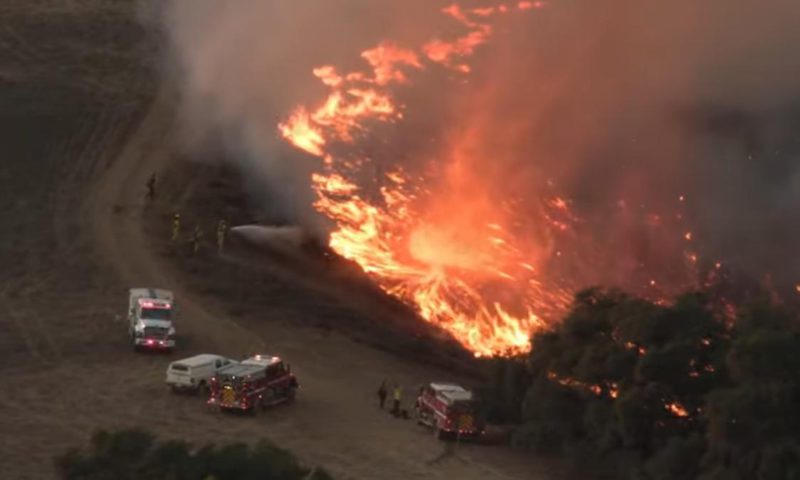 GOLETA – The Alisal Fire in Santa Barbara County is 80% contained as of Monday morning and its size was holding at about 27 square miles (70 square kilometers), a spokesperson for CAL-FIRE said. The fire erupted in the Santa Ynez Mountains during high winds on Oct. 11. The cause remains under investigation.
All evacuation orders and warnings were canceled Sunday afternoon and residents who fled the blaze have been allowed to return home.
#AlisalFire Update: Evacuation Order for the area west of Arroyo Hondo to the intersection of Hwy 101 & Hwy 1, the Arroyo Hondo Canyon and Refugio Canyon, and the area between El Capitan Beach State Park and West Camino Cielo has been cancelled. More info: https://t.co/YqDKvUfZIM

— SBCountyOEM (@SBCountyOEM) October 17, 2021
Late last week, the 101 freeway which had been closed so that firefighters could work to contain the blaze was reopened.
Hwy 101 is open! The CHP appreciates your understanding and patience with the roadway closure the past few days as emergency crews fight the Alisal Fire. The Alisal Fire remains active, we are asking the motoring public to remain vigilant of emergency crews working along the Hwy pic.twitter.com/Plug8LaShG

— CHP Santa Barbara (@CHP_SantaBarb) October 15, 2021