January 17, 2019 at 9:14 am PST | by Karen Ocamb
Marriage activist Diane Olson dies at 65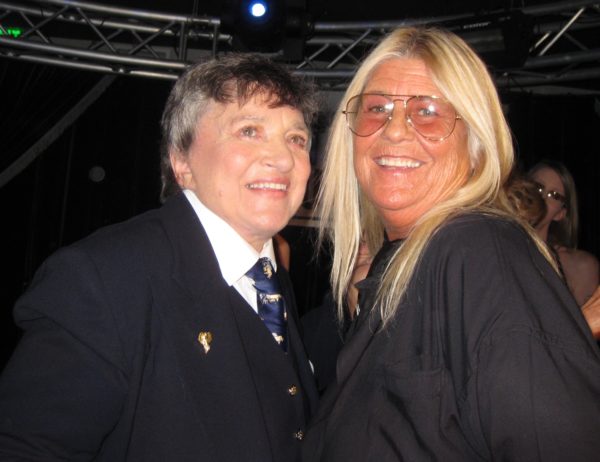 Robin Tyler and Diane Olson in Oct. 2011 at a Gloria Allred-sponsored party in West Hollywood to watch Chaz Bono on "Dancing with the Stars" (Photo by Karen Ocamb)
She was the quiet one, the blond political spouse who stood by the side of her activist/comic wife during LGBT civil rights demonstrations and media events promoting the right for same sex couples to marry. They were the first lesbian plaintiffs to file what became the successful lawsuit that helped bring marriage equality to California. To borrow from the song, Diane Olson was the wind beneath Robin Tyler's wings.
Olson passed away from brain cancer on Wednesday night, Jan. 16, at the couple's home in North Hills surrounded by family and friends. Olson was 65.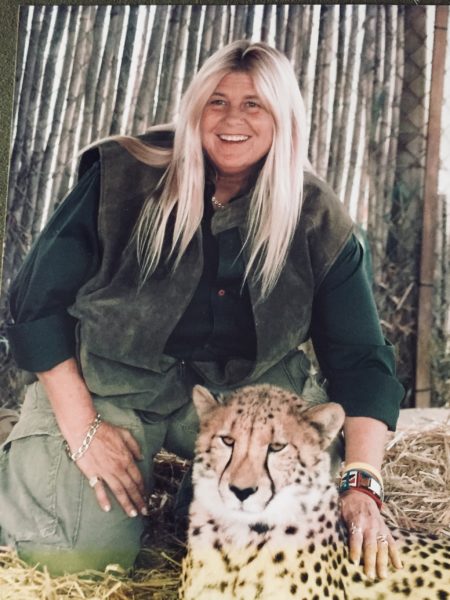 Diane Olson (Photo courtesy Robin Tyler)
Their lives were not all politics, however. Olson joined Tyler's early 5-Star International Tour Company for lesbians and for 20 years they travelled around the world, stepping among seals in the Galapagos, posing with King Penguins in Antarctica, swimming with a baby elephant in Thailand, and getting close to wildlife everywhere. Olson's favorite destination was Botswana, Africa.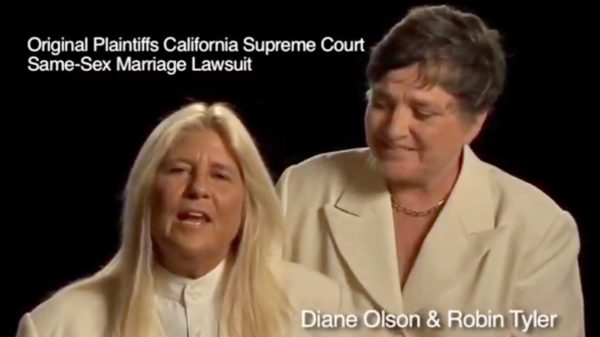 Diane Olson and Robin Tyler in a Tyler-produced grassroots No on Prop 8 video (Screen-grabbed photo)
Olson came to the fore during the battle for marriage equality, reminding the media that she was the granddaughter of Gov. Culbert Levy Olson, the first elected Democratic Governor of California, who ran on a platform promoting 'separation of Church and State.' He would have been proud to officiate at their wedding.
Olson and Tyler worked within the Freedom to Marry movement but they became frustrated after Tyler retired and her union, AFTRA, would not extend medical benefits to Olson since they were not legally married. Their friend attorney Gloria Allred agreed to take the case, pro bono.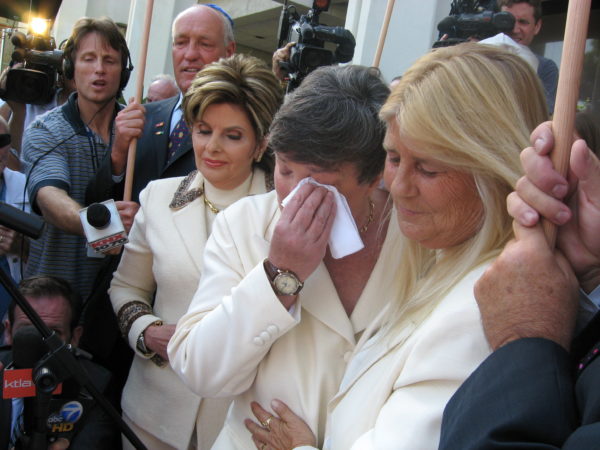 Diane Olson and Robin Tyler get married at the Beverly Hills Courthouse (Photo by Karen Ocamb) 
For four years, the couple went to the Beverly Hills Courthouse on Valentine's Day with other activists to demand a marriage license, which they were denied. Finally, on Feb. 12, 2004, Allred filled a lawsuit on behalf of Tyler and Olson and Rev. Troy Perry and Phillip Ray de Blieck (already legally married in Canada) for the right to marry in California. That lawsuit was later combined with lawsuits from San Francisco, leading to a decision in May 2008 declaring the constitutional right to marry for same sex couples.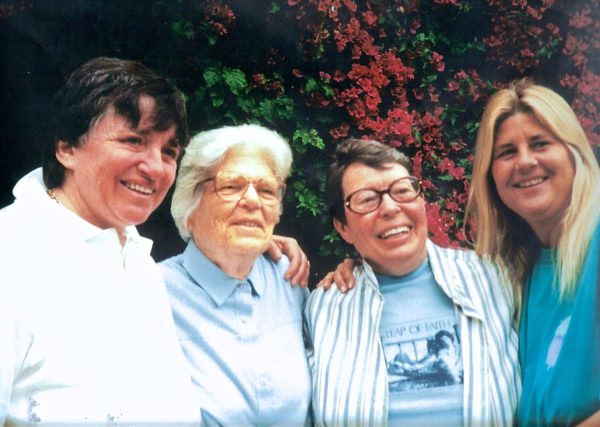 Robin Tyler, Del Martin, Phyllis Lyon, and Diane Olson (Photo courtesy of Robin Tyler)
The court granted special dispensation to Olson and Tyler in Los Angeles and Phyllis Lyon and Del Martin in San Francisco to be the first couples to legally marry in California. On June 16, 2008, media from around the world carried what Tyler would later call their "Big Fat Jewish Lesbian Wedding" in front of the Beverly Hills Courthouse. Some opposed the Jewish ceremony, officiated by Rabbi Denise Eger, because it might offend the religious right. But Olson thought it was a sharp reminder of the separation between church and state.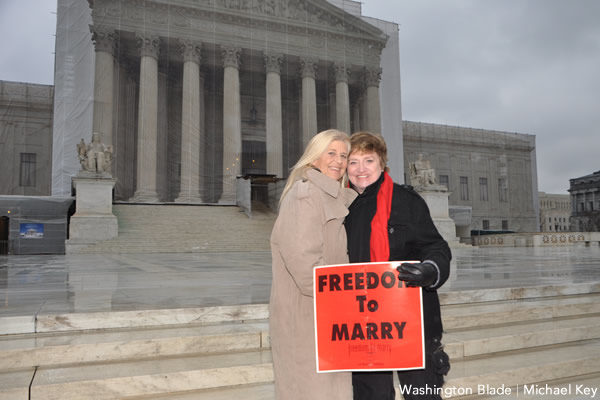 Diane Olson and Robin Tyler in front of the US Supreme Court (Photo by Michael Key) 
In 2012, Olson developed lung cancer that metastasized into brain cancer in 2016. After treatment, they continued to participate in LGBT politics—especially the grassroots battle against Proposition 8 in 2008. They also traveled until the couple's last yearly visit to Cancun in Oct. 2018.
At the time of her death, Olson and Tyler had been married over 25 years, legally married for 10 ½. Funeral plans are pending.