Sarah Paulson shared the modern way she met Holland Taylor
The couple connected on Twitter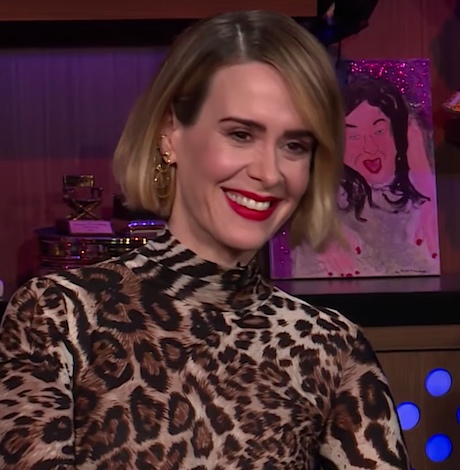 Sarah Paulson and Holland Taylor started the way many modern love stories do— through social media.
Paulson, 44, appeared on "Watch What Happens Live with Andy Cohen" to promote her new film "Glass" along with her "American Horror Story" co-star Billy Eichner. A fan called in and asked if Eichner was single. Eichner says yes but that he doesn't use Raya, the celebrity dating app, because there aren't many gay men on there. Eichner jokes that Paulson met her girlfriend of three years Holland Taylor, 76, on Raya. Cohen then asks Paulson how she really did meet Taylor.
"It's a long story. We met a very, very long time ago. I was with someone else, she was too then. And then there was, like, a Twitter thing that happened," Paulson says. "We were doing a thing at Martha Plimpton's house. It was for an organization that she was working with and we were both doing a little PSA for it and breezed by one another and then started following each other on Twitter."
"Holland Taylor slid into your DMs?" Eichner says.
"She actually did," Paulson replies.
Paulson has stated before that their 32-year age gap is something she enjoys.
"There's a poignancy to being with someone older," Paulson told the New York Times in 2016. "I think there's a greater appreciation of time and what you have together and what's important, and it can make the little things seem very small. It puts a kind of sharp light mixed with a sort of diffused light on something. I can't say it any other way than there's a poignancy to it, and a heightened sense of time and the value of time."
Watch below.
8th annual Pride Night and fireworks at Dodger Stadium
It was awesome that the Dodgers kicked butt right off the bat in the first inning and won 12-1 with multiple home runs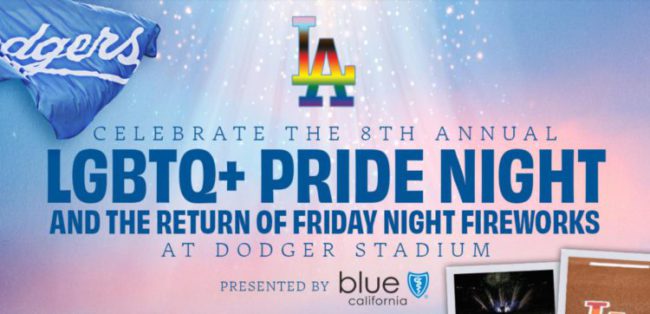 By Nik Kacy | LOS ANGELES – Tonight was the first major public outing for me, and like many others in the queer community, we chose Dodger's Pride Night as our "baptism". I have to admit I was very excited, since the biggest outing I've had so far post coming-out-of-quarantine was brunch at the Abbey.
Upon arriving at Dodger Stadium, I started to feel the energy change as I got closer and closer to the inside concession areas. People were excited and ready to get their Pride on! However, I remember feeling something different as well. It was a different kind of energy. It felt like a renewal of sorts as I walked by people putting on their Dodger Pride T-shirts and dazzling rainbow attire.
The night started off with the usual fanfare of introducing the lineup and the owners of the Dodgers, which now includes minority stake owner, tennis legend Billie Jean King, who came out as gay back in 1981, an incredible feat in itself. Since becoming owners of the Dodgers, Billie Jean and her partner, Ilana Kloss have stressed LGBTQ+ inclusion, so it was interesting to see what this Pride night would be like.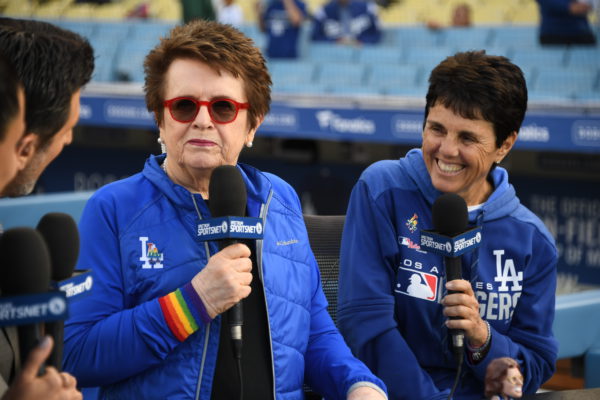 Most Pride nights all use the same formula of creating a commemorative item to give away and fly the rainbow flag everywhere for this one night. For this year's event, there had been a lot of talk within my circle of friends that the ticket prices were higher and that many queer, trans, and gender nonconforming folks, especially who are people of color, cannot afford a $50 nosebleed ticket. I was surprised to see the event was sponsored by Blue Shield and still cost so much for one night of Pride. Perhaps being an ally might include making the tickets affordable for people who are under-represented?
Every event has a wow factor and tonight's wow factor for me was Black, queer artist, VINCINT, who sang the Star Spangled Banner. It was probably hands down one of my favorite renditions of the song I've ever heard. He absolutely slayed. However, as I listened to his glorious vocals, my heart dropped as I listened to the words of the song, and somehow was reminded that here I was watching this incredibly talented Black gay man sing these words next to our American flag, flying in the background, and yet these symbols of America did not protect this man or many of us who were sitting there. It was bittersweet and even my friend told me later that she cried a bit while watching for the same reasons.
Overall, it was a great night but I definitely felt conflicted in so many ways. Of course it felt
great to be out and feeling the camaraderie of having my community there. During the "Kiss Cam"
break we got to see queer couples kissing on the big screen and it lit my heart up. It was also
awesome that the Dodgers kicked butt right off the bat in the first inning and won 12-1 with multiple
home runs, despite the fact that so many seats were empty.
I don't know if it was because we were all just happy to be around people again or if wearing a mask feels like a veil of protection, but I chatted up a lot of people while waiting in the elevator and Dodger Dog line.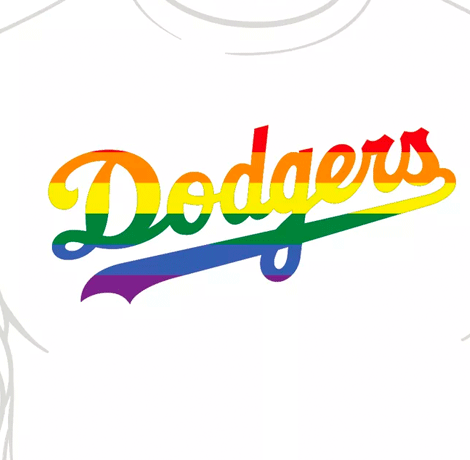 One queer couple mentioned that they were disappointed they weren't able to get the commemorative Pride cup because the bartender downstairs "couldn't be bothered" to walk around the bar to grab the special cups. This didn't sit well with me of course as inclusivity and allyship should not be performative but should be part of the ethos of a company for Dodgers. I also felt conflicted at one point when I looked around and realized all the folks with Pride shirts on were sitting in one particular area of the stadium, like we were all put in one corner of the field. Sure, it felt nice to know we were surrounded by "our people," but a part of me also thought "maybe one day, we will no longer need to be placed together and can freely sit everywhere and feel safe."
My favorite part about tonight though was running into so many familiar faces. It made my heart sing to see so many people I hadn't seen, let alone hugged, in so long. One of these beautiful humans was my dear friend Rose Garcia, a celesbian icon in our community after having been on the show, The Real L-Word.
I asked her what she thought of tonight's event and I think ending this with her quote pretty much sums it all up – "I love that our city was or I believe is one of the first to host a Pride night. Dodger Stadium has always felt inclusive even more now with an LGBTQ owner. Love it!
Hopefully we'll have more than just one night in the near future."
Nik Kacy is a 2021 recipient of the City of West Hollywood's Rainbow Key award.
Julia Scotti, the movie, is just Funny That Way
Life is funny that way—not working out quite the way we thought it would. And that is ultimately the point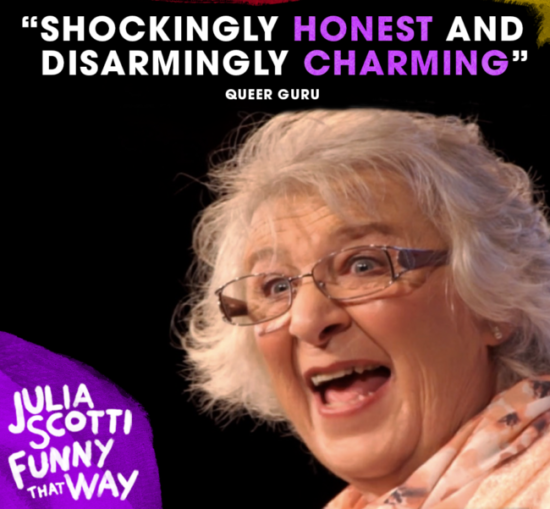 WHITING, NJ. – "You are a piece of work, Julia!" Simon Cowell blurted during her landmark America's Got Talent debut. Julia Scotti had just completed her audition for the show that ended not only with a standing ovation, but with the revelation that she had once upon a time been a stand-up comedian named Rick. As that news crossed the faces of the four judges, their collective jaws dropped. "I mean like you come out as the nice little granny school teacher all sweet and then you go into your routine and like WHOA. Talk about surprises – they are never ending with you, are they?" Cowell finished.
With Julia Scotti, the surprises never end.
Her latest surprise for the public is a gem of a film, Julia Scotti: Funny That Way. It is a documentary of her journey from the days of Rick, the up and coming comic who performed on bills with Chris Rock and Jerry Seinfeld to Julia, who is wowing millions.
Of her transition, Julia has remarked. "It is NEVER an easy process whether you're a public figure or not. You are essentially killing your old self and ending your old life. And with that comes the history you've built with friends and family. Some are very accepting, but most are not. That is why the suicide attempt rate for Trans folk is still at 41%."
Funny That Way does not spare us the heart-breaking fallout from the virtual "death' of Rick Scotti.  Filmmaker Susan Sandler weaves Julia's story, the losses and damage, to her rebirth, healing and the reuniting with her kids after a 15-year estrangement.
Julia and Susan sat down with us on the podcast Rated LGBT Radio to talk about the film. "This is a story and like all stories, there is a beginning and a middle and an end. In the end, I want the audience to know there is HOPE. It is bumpy at times, joyous at times. It is not just isolated to my life. You can have that in your life when you walk through that door of your own truth and come out the other side and when you look back on all you went through, you go 'what the hell was I so afraid of?' Look how happy I am." Julia explains.
Susan had never directed a documentary before, but as one of Hollywood's master story tellers, and a Golden Globe nominee, she was unfazed. "The impetus behind this film was falling in love with Julia, her, then and now. If you are working from a really rich, complex, compelling character –which is Julia—that is the GIFT. All of my nerve endings, my story telling, told me this was dynamic documentary, and that's the form in which I wanted to tell it."
Susan took five years to research, document and interact with Julia's past. She went through old footage of Rick Scotti's stage acts and restored many of them so they could be used in the film. She brought on composer Matt Hutchinson for a beautiful score, and animator Sam Roth for whimsical cartoons that tie the story together.
Before the filming started, Julia had just re-connected with her son Dan, and daughter Emma.  A decade and a half ago, when Julia announced to her then spouse that she was in fact a woman transitioning, her then-wife retaliated by taking their kids away.  Dan and Emma spent their whole adolescence not knowing Julia at all. The story of that pain is told in Funny That Way.  Susan wanted to show the relationships real-time in the film as they came to reconnect with Julia. "We were just at the beginning stages of reconciling," recounts Julia. "I did not want them feeling like I was just reconnecting with them because I wanted them in this film. I did not want to distance them even more."
Dan and Emma were onboard, however.  Also on board, albeit only by phone, was Kate. Kate was  Julia's last wife, described as Julia's "love of her life". Kate supported Julia emotionally and spiritually through out the entire transition process.  One of the most poignant moments in the film was Julia hearing Kate describe the end of their relationship.  Kate's support was significant, but once Julia became fully Julia, it was evident to both that their relationship had changed and they had to let it go.
Susan captured many live moments of Julia's evolving life. She caught the very first time that son Dan ever called Julia "his mother" and the effect was pronounced. Also caught in the film was a moment when Julia and Dan are watching Rick's old stand up routines. One such performance takes Julia by surprise—it was a routine that she had not remembered ever doing. It was a set where then Rick expressed his revulsion to transgender women in no uncertain terms. Julia sat shocked.
"My sensibilities have been 'woked', I think that is the term for it." She told me about that experience. "Thinking back, I was going through issues and aware that something was not right internally. It frightened me to no end. Looking at that clip, I am totally ashamed of what I did. It embarrassed me."
"I knew it was me. I knew I was there. But I don't feel a connection with that person. That is the truth."
The film does not dwell long on the past shames and regrets. It arcs to the present where an adult daughter gets to see her parent's comedy routine for the very first time.
Some of the greatest joy in the film is witnessing the growing relationship between Julia and son Dan. Dan is sweet and compassionate, and they both have a deep love of comedy. Through their discussions and collaboration on things funny, we witness something decidedly not funny, the deep re-kindling love they have for each other.
The film will make you laugh, and cry, and laugh again. New clips of Julia's now famous turn on America's Got Talent shows her more personal reflective moments over a life changing triumph.
The only regret director Sandler has about the film is how it will be brought to the public. "I am happy to be brining the film now for the people who have an appetite for it. For the truth, the humor, the complete emotional honesty. But I mourn. I mourn the moments not being able to sit with you in a theater. And experiencing the film with you. It was supposed to be seen by audiences, and then give them the opportunity to go down the street and see Julia live at a club." But, life is funny that way—not working out quite the way we thought it would. And that is ultimately the point.
Editor's Note: The film was originally slated for theatrical release which was delayed then put off by the coronavirus pandemic.
Julia Scotti: Funny That Way is available now on digital platforms! That means you can rent or buy it online, at places like iTunes, Apple TV, Amazon, Google Play and more.
Here's the full list of where you can find it.
DIGITAL
iTunes
Amazon
Google Play
Xbox
VUDU
FandangoNow
Vimeo On Demand
CABLE / SATELLITE
iN Demand Movies
Verizon
AT&T
Vubiquity
DirecTV
Dish
Telus
Gigi Gorgeous to launch 'Queerified' podcast
The now-celebrated star and activist fist began her rise to stardom with the creation of her YouTube channel in 2008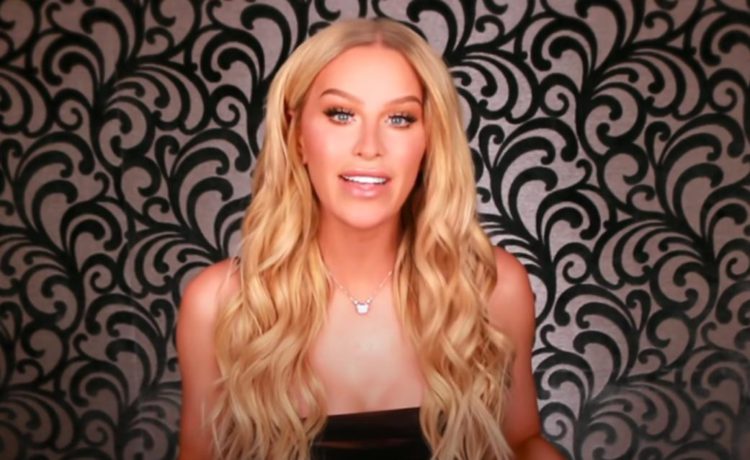 HOLLYWOOD – We all know there are a lot of podcasts out there, but there is always room for one more – especially when it comes from Gigi Gorgeous.
The social-media star, TV personality and transgender activist has announced the launch of "Queerified," a weekly podcast she will co-hosted with longtime best friend Marc Lamentac – better known as Mimi. Timed for a Pride Month premiere, the show will be built around discussions between the two friends, touching on topics such as growing up queer, life lessons and successes, and the celebration of "queer joy" every day. Gigi and Mimi will also be joined by special guests in the LGBTQIA+ community and beyond.
Says Gorgeous in a statement, "On 'Queerified,' I wanted to start a conversation that is empowering, entertaining and humorous, having an open dialogue about the issues and experiences that made me the person I am today."
The now-celebrated star and activist fist began her rise to stardom with the creation of her YouTube channel in 2008. Still a student at a high school in Toronto, she posted beauty, fashion and makeup tutorial videos, while offering viewers encouragement and inspiration to stand up to bullying and harassment by expressing themselves authentically. encouraging viewers to express themselves in the face of bullying and harassment. At the age of 19, she came out in a video as a gay male, and in 2013 announced that she was a transgender woman.
The next year, she documented her transition on YouTube, eventually laying the groundwork for the documentary "This Is Everything: Gigi Gorgeous." In 2019, she published the memoir, "He Said, She Said: Lessons, Stories and Mistakes From My Transgender Journey." The same year, she married fellow activist Nats Getty, a model, artist, and designer whose fashion line Strike Oil is currently being sold at Saks to benefit Pride charities.
"Queerified" – which launches Wednesday, June 16 – is produced by podcast network Ramble, a division of Cadence13. Chris Corcoran, chief content officer for the companies, says, "Gigi has a larger-than-life personality, and an equally powerful voice as an activist. As Pride is celebrated around the world, we're excited to welcome Gigi and Mimi to the Ramble and Cadence13 family."
The show's producers have set up a toll-free hotline (in the U.S.) for listeners to offer feedback and leave comments for Gigi and Mimi, at 844-QUEERYS (844-783-3797). "This is totally a space that's safe for you," reads the description for their podcast.