Best of LGBT LA 2019
Your picks for the city's best in nightlife, food, activism and more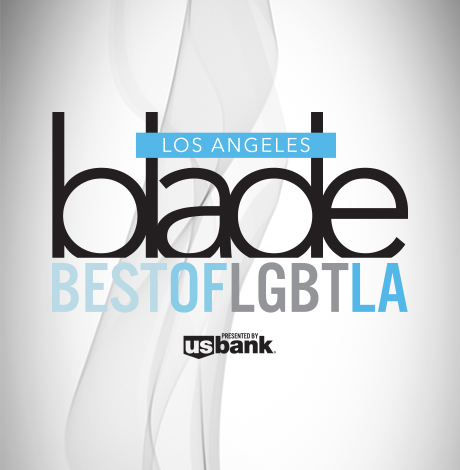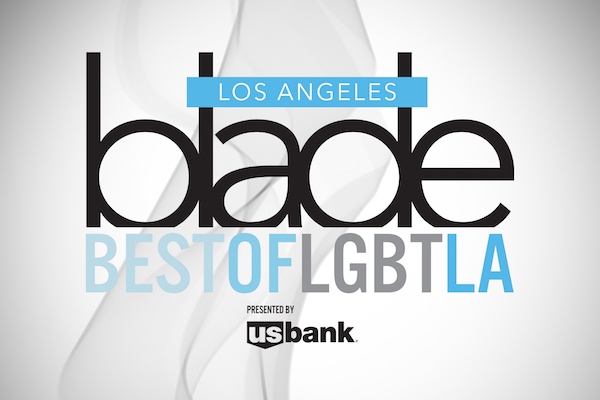 Readers of the Los Angeles Blade began nominating their picks for our 2nd annual Best Of LGBT LA awards in early fall. And after more than 15,000 votes over 40 categories, we can finally reveal the winners, some incredible choices and very special people among them.  
The Los Angeles Blade is pleased to salute them and wants to give special thanks for Sean Loeffel of Spoonfed LA and Bar Joe for hosting our winners and helping make our Best Of LGBT LA Awards truly a magnificent honor.
BEST DRAG QUEEN
The only contestant to compete on three separate seasons of "RuPaul's Drag Race," Los Angeles Blade fan favorite Shangela is eternally enshrined in global pop culture amber, as creator of the versatile interjection, "Halleloo." In music video and solo stage performance, Shangela continues to impress, and is still earning new fans, for her work alongside Lady Gaga, in "A Star Is Born." Although her name was unjustly absent from the Best Supporting Actress nods during this week's Academy Award nominations, it's comforting to note that Shangela has further cemented her status as an eternal All-Star, by slaying her peers and emerging as the winner in this fiercely competitive category.
Being the target of an acidic quip from Jackie Beat is like getting a hickey from Kenickie — it leaves a shameful mark, but can also be worn as a badge of honor. Tell that to our Best Drag Queen winner, Shangela, of whom Beat remarked, "The only thing better than actually winning this award is being named Runner-Up to someone half my age, who is most famous for popping out of a box and yelling, 'Halleloo!' What a fucking honor. Just kidding! I love you, Shangela… CONDRAGULATIONS!" When not insulting winners, Beat can be found on stage, in "Golden Girlz Live!" and touring with Sherry Vine, in their "Battle of the Bitches" show.
BEST REAL ESTATE FIRM (Tie)
This hip, 100 percent LGBT-owned boutique real estate firm hosts charity events through the year, whose past beneficiaries have included The Trevor Project. At their West Hollywood and Silver Lake/Echo park offices, buyer and seller expectations are exceeded by a team of fierce negotiators, representing everything from estates to condos. Owner Anthony Vulin assures that all of his mortgage brokers and appraisers are vetted as LGBT friendly, so you can invite them into your home with confidence. The Collective Realty also advocates for LGBT home ownership and nondiscrimination, by lobbying statewide, and in D.C.
Winner: Berkshire Hathaway HomeServices California Properties
Taking you through the home buying or selling experience, and being by your side during life's greatest moments: That's the mission and the reward, of those who work at Berkshire Hathaway HomeServices California Properties. "As Realtors, we have the obligation to be culturally competent, to understand the needs of our clients, and to guide them toward wise decisions in their real estate choices," says president and CEO Mary Lee Blaylock, who also notes, "Working with the LGBT community is a privilege. Our sales associates take pride in their ability to represent the interests of their clients, and to help them navigate the diverse array of communities throughout the Southern California area. We are grateful to have earned your readers' trust and it is our pleasure to continue to serve all."
BEST MUSEUM OR ART GALLERY
Winner: The J. Paul Getty Museum
Cultivating a curiosity about, and enjoyment and understanding of, the visual arts is the J. Paul Getty Museum's mission, one achieved by collecting, conserving, exhibiting, and interpreting works of outstanding quality and historical importance. The Museum is also continually producing exhibitions, publications, scholarly research, public education, and programming in the visual arts. These elements are enhanced by the uniquely evocative architectural and garden settings at the Getty Villa in Malibu, and the Getty Center in Los Angeles, which houses European paintings, drawings, sculpture, illuminated manuscripts, decorative arts and photography.
Since 1965, the Los Angeles County Museum of Art has been devoted to collecting works of art that span both history and geography, mirroring Los Angeles's rich cultural heritage and uniquely diverse population. Today, LACMA is the largest art museum in the western United States, with a collection of more than 135,000 objects that illuminate 6,000 years of art history, from new and unexpected points of view.
BEST FITNESS OR WORKOUT SPOT
Winner: Equinox West Hollywood
With a design reminiscent of classic local nightclubs of the 1950s and '60s, high energy meets high drama, at this 35,000-square-foot fitness club. Offering a full complement of classes, trainers, equipment, and amenities that facilitate high-performance living, the iconic West Hollywood location features one of the largest and most luxurious spas Equinox has to offer, along with a Kids' Club, and rooftop sundeck. "If it's not fitness," they say, "It's not life."
Known for a workout that's military-level tough, but administered by instructors more likely to inspire cries of victory than tears of regret, Barry's is a true local success story. Founded in West Hollywood in 1998, its strength and cardio interval fitness experience provides an immersive, high-intensity, one-hour workout that's fun and effective.
BEST GROCERY STORE
Fast service and friendly faces at the checkout make those long lines at Trader Joe's well worth the wait — but it's the tempting free samples and addictive signature products that explain the chain's loyal following. As for their win in this category, certain elements of the Los Angeles Blade staff wholeheartedly agree with our readers, having succumbed on many occasions to the sweet siren call of those Milk Chocolate Macadamia Nut Laceys Cookies. Not a cookie person? They've got a cake or a pie for that.
Our readers' love for Gelson's is real, although it's worth noting that Martin Sheen, as fictional character Robert, gives a shout out to the superiority of their rotisserie chicken, in the latest season of "Grace and Frankie." Granted, he shops in San Diego — but whether it's the meat, seafood, wine, or deli selections, consistency is a hallmark of this national chain. So, Los Angeles, the compliment applies.
BEST LGBT SPORTS LEAGUE
California's largest LGBT Recreational Sports league welcomes and unites all, regardless of sexuality, gender identity or athletic ability. There are no try-outs, and attendance at practices, although certainly encouraged, is not mandatory. Even the dress code is casual. Yes, you'll look good in VGL Apparel, but rocking your favorite comfortable clothes is not a scandal. Just dress to express, park your offensive language on the sidelines, and leave the nudity where it belongs: at home, or in the lobby of your very liberal workplace. Finally, a sports league that not only gets you moving, it totally gets you!
Take your gym class trauma and consign it to history. From prom queens to drag queens, you never know who will be on the business end of those soft rubber "no sting" balls that are the humane hallmark of WeHo Dodgeball. Their membership, which numbers in the thousands, is united by a desire to make elimination-based competition fun, party down at GYM Sportsbar after each match-up, and participate in fundraising efforts that benefit local charities.
MOST LGBT-FRIENDLY WORKPLACE
Winner: AIDS Healthcare Foundation
AIDS Healthcare Foundation was started 31 years ago by a handful of friends, who sought to provide AIDS hospice care to predominantly gay men who were being shunned by their employers, landlords, and families. Today, AHF is a $1.5 billion organization serving more than 1 million, 60 thousand patients in 43 countries. "A respect for diversity has been embedded in our DNA since our inception," says Senior Director of Communications Ged Kenslea, "and that's reflective in the number of affinity groups we work with, including Impulse United, LOUD, BLACC, FLUX, In The Meantime Men's Group, and SPARK. In our overseas clinics, we do not import doctors or staff from the U.S. We hire local professionals to manage our sites and facilities, and to treat our patients. So both inside AHF and in our external relations, we listen to, and participate in, the diversity of conversations and life experiences."
Runner-Up: City of West Hollywood
BEST HAIR SALON
Founded by Chris Bair in 1999, with only four chairs, Shorty's Barber Shop now boasts 26, along with a staff whose diversity mirrors that of the community they love. "When you walk in," Bair notes, "there's always somebody you can connect with, who will make you feel comfortable." And when you walk out with some merch (the styling putty and soy paste are customer favorites), you can feel good about that, too. All of their products are ethically created, and never tested on animals. Besides the perfect cut, Shorty's also puts a premium on giving back, by working with the likes of Concrete Hero, AIDS Project Los Angeles, and the Los Angeles LGBT Center.
Chaz Dean Studio prides itself on capturing the essence of its clients, by helping them create a look that feels authentic, yet also reveals a side of them that they have never seen. The stylists, all experts at cut and color, are able to achieve your goal without heat or chemical damage. Best of all, the look you walk out the door with will be easily maintained at home.
BEST DANCE PARTY
Winner: Salvation Saturdays at The Abbey
Whether you're at The Abbey for a liquid pick-me-up, going there to pick somebody up, or just getting picked up (it's a massively popular Uber and Lyft drop-off/pick-up point), Salvation Saturdays is a must, for anyone cruising their way through Boystown. Dance floor bottle service, go-go dancers who identify as male, female, or somewhere in-between, and beat-keepers hand-picked by resident DJ Dawna Montell whip the welcoming crowd into a fabulous frenzy. A team dedicated to maintaining the multimillion-dollar lighting and sound system make sure the gyrating guest next to you isn't the only source of quality stimulation.
DTLA Proud's mission is to strengthen and empower the local LGBTQ and ally community in Downtown Los Angeles through visibility, volunteerism, partnerships and events — and what better way to be visible than by getting your groove on, at the festival's popular pop-up water park? Nightlife promoters were part of the team that founded DTLA Proud, and have worked hard to ensure their DJs are drawn from a diverse lineup of musical styles and identity spectrums.
BEST BARTENDER
Winner: Tyler Booth
There's nothing down low about the moves Tyler Booth busts, when he two-steps from behind the bar to entertain the crowd, in full-on "do-si-do" mode. Self-described, and confirmed by our voters, as "an awesome dude," Booth is an actor whose charm and skills are definitely not the stuff of some fictional role. Buoyed by Flaming Saddles owners Chris Barnes and Jacqui Squatriglia to up country western's queer quotient, this buff bartender is a tall drink of water, who knows how to authoritatively snap the cap off a brewsky, or mix a cocktail with tender loving care.
Runner-Up: Kimber Bering
Known for spiking the drinks she serves at The Abbey with words of encouragement that deliver a sense of intoxication all their own, Kimber Bering created some of the menu's signature cocktails — including, as a tribute to Prince, The Paisley Peach. As local winner of the Stoli Key West Cocktail Classic, she represented LA in 2016, and has gone on to judge that competition. Bering performs around town, and can be found on Spotify, as "Kimber Chronic."
BEST STRAIGHT ALLY
Winner: Ariadne Getty
Ariadne Getty has described herself as an "introvert" — but her public work paints a different picture, one of a determined, tireless, and engaged activist working to make a better world for her two gay adult children and LGBTQ youth all over the globe. As President and Executive Director of the Ariadne Getty Foundation, last year she pledged $15 million to launch the GLAAD Media Institute, which brings advocacy trainings to national and international LGBTQ organizations. She also pledged $2 million to help build the LA LGBT Center's Anita May Rosenstein Campus, which will host more than 100 new beds and apartments for LGBTQ youth and seniors. Earlier this week, she made sure LGBTQ issues were center stage, during the World Economic Forum in Davos, Switzerland, an annual meeting of world leaders. The Ariadne Getty Foundation hosted LGBTQ-focused events showcasing global CEOs and LGBTQ activists calling for positive change. She also appeared on several panels, speaking about the urgent need for LGBTQ acceptance. She is a recent addition to the Gay Men's Chorus of LA board of directors, the recipient of the Los Angeles LGBT Center Vanguard Award, and the namesake of GLAAD's newly launched Ariadne Getty Ally Award. Getty's recognition by the Los Angeles Blade as "Best Straight Ally" is proof our readers are anything but reserved, in their appreciation of this introvert's empowering words and deeds.
Runner-Up: Joely Fisher
With great comedic timing and a glint in her eye that makes even the most lavender-leaning guy think fondly of the road not taken, LGBTQs, and anyone high up on the human decency spectrum, admire this awesome ally's longtime labors on behalf of the community, whether through public declarations of support, personal friendships, or the roles she chooses to accept.
BEST NEIGHBORHOOD BAR
Gay-owned and operated, Revolver Video Bar has been a West Hollywood staple worth stampeding to for more than 30 years — and not just because of the buzz created by their $2 tequila and vodka drinks, 3-9 p.m., on Saturdays and Sundays, respectively. Karaoke and drag shows cast their spell on customers, while live DJs and go-go dancers turn up the heat on already smoking-hot cruisers and boozers.
There's no beef to be had with Hamburger Mary's WeHo, whose generous menu of drag entertainment makes everything between the buns all more fun to gobble up. And you can feel good about losing your shirt at Drag Queen Bingo: Besides basking in the glory of rotating hosts Roxy Wood, Willam, and Calpernia Addams, all proceeds go to charity.
BEST NON-PROFIT
Man cannot live by bread alone — but for those impacted by life-threatening illnesses, the more than 11,000 free meals cooked and delivered every week by Project Angel Food feeds their nutritional needs, while bringing comfort and hope into their homes. In addition to this service, Project Angel Food provides nutritional counseling, to ensure those in Los Angeles County struggling with illness will not be burdened by hunger and malnutrition. "A world where every sick person is fed, nourished, and loved" is their vision, backed by the core values of empathy, integrity, inclusiveness, and joy.
Runner-Up: The Los Angeles LGBT Center
Every year, more than half a million people representing the full diversity of the community access their free or low-cost programs, in the areas of Health, Social Services and Housing, Culture and Education, and Leadership and Advocacy. Looking fit and feeling fierce at age 50, the Center is steadfast in its mission to fight against bigotry, while building a better world, and is always ready to welcome new guests and volunteers — or have you help spread their message of love, by scoring some sweet swag from their online store.
BEST DJ
You get back what you give, as demonstrated by the winner in our Best DJ category. Describing the vibe at the LGBT clubs he plays as consistently "fun, freeing, energetic, friendly, and loving," DJ Morningstar (Kian Amiri) says the gay community "essentially saved my life," by making him feel valued, and supporting the liberal ideology he embraces. Pride events are among DJ Morningstar's favorite gigs, and a chance to deliver what the people want: "A big, booming, female voice; powerful soul on top of an energetic dance beat." The gay community, "is always on the right side of history, no matter the cause," he says, which allows him to be "unapologetically outspoken" without "worrying about repercussions, as you would at straight, corporate clubs."
"I think these are very special places to DJ," says DJ Asha, of her work at LGBT venues, including Micky's and Beaches. "People need a safe space, a place," she noted, "where they can be free to express themselves, make friends, look for love, hook up, or whatever." The open-format DJ, who hosted LA Pride six times, is not locked down to a specific genre — so you'll always hear a variety of sounds, within one set, no matter what crowd she's playing to.
BEST LGBT RED CARPET EVENT
The world's largest LGBTQ media advocacy organization, every year at the Beverly Hilton Hotel in Los Angeles holds a dynamic red carpet that draws some of Hollywood's most iconic celebrities in support of equality. One reader posted, "it rivals the Golden Globes and it's held in the same room." J- Lo, Leo, Taylor, Mary J., Britney, Cher, Madonna, just to drop a few names, have posed and mingled with our community, joining with GLAAD to protect all that has been accomplished and to creates a world where everyone can live the life they love.
Over the past three decades, OUTFEST has showcased thousands of films from around the world, educated and mentored hundreds of emerging filmmakers and protected more than 20,000 LGBTQ films and videos. The red carpet rocks with glam poses, celebs and future celebs. OUTFEST has become one of Hollywood's most important film marketplaces.
BEST ALTERNATIVE TRANSPORTATION
We all love a good pick-up app. How about a Lyft? The more politically correct of the two major ride-sharing services, Lyft has 100 percent, 24-hour coverage of Los Angeles and you can be on your way to anywhere in just a few minutes. Just open the app and you're almost there, whether you need a luxury ride or one to carry the whole gang. Lyft is rated 4.8 out of 5 stars but Los Angeles Blade readers give it 5 stars.
Runner-Up:  UBER
Uber is everywhere too and when it was first launched it had the feel of a truly luxurious chauffeur service. The shine is still there and many people still prefer it.
BEST PET BUSINESS OR VET
Winner: West Hollywood Animal Hospital
The go-to vet practice of many people in West Hollywood because it offers modern full-service Veterinary services every day.  It has a hometown feel; it's founder Dr. Monica Revel, DVM, was born and raised within one mile of its location and it shows. Pet lovers come from around SOCAL like a return home: "I wouldn't take Max anywhere else unless it's an emergency and we live in Laguna where we relocated 4 years ago from Beverly Hills. (9000 N Santa Monica Blvd, West Hollywood, CA 90069)
Runner-Up:  VCA-Miller-Robertson Animal Hospital
Home to Dr. Mark Nunez, last year's winner in this category. Full disclosure: Dr. Nunez is the primary care doctor for our publisher's senior dog, Lilly. "Mark is always fully engaged and he listens without judgment and corrects without scorn," said one commenter. (8807 Melrose Ave, Los Angeles, CA 90069)
BEST LGBT SOCIAL GROUP (TIE)
Winner: PRIDE RECOVERY LA
Provides addiction treatment for the LGBT community, through LGBT-affirmative therapy, group and individual therapy, and psychiatric care, but it's their after care and support program that one reader cited as the reason they are a winner: "They are my family," the reader posted, "I can always go home and know I will be OK." (8300 Melrose Ave, West Hollywood, CA 90048)
Winner: Los Angeles Gay and Lesbian Chamber of Commerce
LAGLCC describes itself as "the premier advocate of the Los Angeles Lesbian, Gay, Bisexual and Transgender business community, representing hundreds of businesses, advancing common business interests, economic growth, and equality in the workplace and society for its LGBTQ members, businesses, and allies by providing educational, networking, and community building opportunities." The group's monthly mixer functions are must-attend features of the local social scene.
Runner-Up: AIDS LIFECYCLE
For many people the fundraising marketing that precedes the 545-mile San Francisco to Los Angeles bike ride is about much more than AIDS; it's about family and community at its very best. Not only do you get to pedal forward in life, you get to ask people to pay it forward. AIDS Life Cycle represents our community at its very best.
BEST PLACE TO LIVE
There's just no place like it. What can we say? A lot, actually. The little town of 39,000 residents remains Los Angeles' hottest destination for the entertainment industry with its boutique hotels, celebrity-owned restaurants, unparalleled nightlife and shopping and world-renowned events like the HBO Emmy Party, Sir Elton John's Annual Oscar Party, LA PRIDE and the West Hollywood Halloween Carnaval, the largest Halloween street party in the world. West Hollywood continues to set the standard for progressive, creative individuals on the cutting edge of trends and new ideas, working together as a community in one of the most exciting destinations in the country. And it is home to one of the largest concentrations of LGBT people in the world.
At the other end of the rainbow is Beverly Hills, pot of gold included. It's an aspirational town for sure and there are more Mazarattis, Rolls Royces and Bentleys sold here than anywhere in the world. It's quiet, sequestered, manicured and intensely beautiful and the perfect place for wealthy LGBT families. And there are many. It's where West Hollywood gets its water supply as they are always reminding.
BEST HOTEL
Winner: W Hollywood
It seems Los Angeles Blade readers know a thing or two when it comes to family and friends from out of town: they all want to experience Hollywood. It's perfectly located, giving easy access to Universal, DTLA, Pasadena, all points west. And while you're family is visiting, you and your friends can visit one of the best pools in town as a bonus. (6250 Hollywood Blvd, Hollywood, CA 90028)
Runner-Up: Kimpton La Peer
"Imagine a space where art, music, fashion, poetry, film and architecture intertwine to a cacophony of spatial harmony," says Icelandic-born, Los Angeles-based cutting edge designer Gulla Jónsdóttir, of the new Kimpton La Peer. Consider it for a weekend staycation for you and your honey. (627 N La Peer Dr, West Hollywood, CA 90069)
BEST DOCTOR/MEDICAL PROVIDER
Winner: Cedars Sinai Urgent Care
One of the world's best hospitals, not surprisingly, also runs the best Urgent Care locations in the nation. Cedars-Sinai's urgent care facility in Beverly Hills keeps extended hours seven days a week, providing immediate healthcare needs that are not life-threatening. You'll walk in and find expedited service from some of the world's best doctors. (8501 Wilshire Blvd #150, Beverly Hills, CA 90211)
Runner-Up: Pacific Oaks Medical Group
One of the earliest responders during the AIDS crisis, Pacific Oaks Medical Group is a leading community provider of medical care to our diverse community. And the group's recent addition of Dr. David Alajajian is apparently a big hit with our readers. (150 N Robertson Blvd #300, Beverly Hills, CA 90211)
BEST CAR DEALERSHIP
Winner: Beverly Hills BMW
This dealership is located on Wilshire just east of La Brea, displaced from Beverly Hills during construction of the Purple line, but it remains the go-to BMW dealership for many of West Hollywood and Beverly Hills' BMW owners. The immaculate shop runs like clockwork and there's never a wait. Last year at SUR, they delivered $200,000 worth of cars and leather jackets to our Best Of awards. Our readers apparently have not forgotten. (5070 Wilshire Blvd, Los Angeles, CA 90036)
Runner-Up: Mercedes Beverly Hills
Mercedes is the most popular luxury brand in the several zip codes surrounding West Hollywood and 9 out of 10 local owners work with Mercedes of Beverly Hills to keep their cars current and in top condition. (9250 Beverly Blvd, Beverly Hills, CA 90210)
BEST PRO LOCAL ATHLETE
Winner: LeBron James
LeBron and the Lakers are both reader favorites. Our readers were over the moon about his decision to join the ranks of prominent Angeleno sports stars when he moved west from Cleveland. One reader wrote: "LeBron is almost as magic as Magic and I admire him for taking a pioneering stand for people of color and justice." His solidarity with Colin Kaepernick resonated with our readers as a fitting addition to the ever progressive Lakers, just after the team's first ever LGBT night.
Runner-Up:  Gus Kenworthy
Since the Seoul winter games everyone has been in love with Gus and his sexy Instagram and love of dogs. Who wouldn't want to be loved by Gus? Sorry Adam, we love you too but, hey.
BEST PUBLIC OFFICIAL
Winner: Adam Schiff
No congressman has been more consistent in his criticism of Donald Trump than congressman Adam Schiff, the U.S. Representative for California's 28th congressional district since 2013. With the Dems now in majority control of the House, Shiff wields significant power over the fate of Trump as House Intelligence Committee chairman. On LGBT issues he bats 1,000 and in our estimation he's a smart man, an avid reader of the Los Angeles Blade's Karen Ocamb.
Runner-Up: West Hollywood City Council
A uniformly progressive city council comprised of longtime gay rights activists, advocates and allies of the LGBT community. Mayor John Duran, Mayor Pro Tempore John D'Amico and Council members Lindsey Horvath, Lauren Meister and John Heilman are known for fast-acting government responsiveness and well attended, well-run meetings. The city ranks among the best-run local governments in America.
BEST HOUSE OF WORSHIP
Winner: Congregation Kol Ami
Since its founding in 1992, Kol Ami has become an important leader in the Jewish, LGBTQ and West Hollywood communities. Kol Ami's commitment to progressive spirituality, diversity, inclusion and social justice is celebrated nationwide. It is known for being innovative while remaining rooted in Jewish tradition and practice. Rabi Denise L. Egers broke barriers to create a more inclusive Reform movement that has resulted in more LGBTQ inclusion at Synagogues worldwide. (1200 N La Brea Ave, West Hollywood, CA 90038)
Runner-Up: InVision Church
Since MCC left West Hollywood about a decade ago, there has been no LGBT specific Christian Church service in the area but that changed when pastor Josh Johnson brought his spirited Invision Church to WeHo. In services held every Sunday at the Sunset Strip's famed Viper Room, Invision gives the LGBTQ community its own down home, rollicking and near evangelical place of worship. (8852 Sunset Blvd, West Hollywood, CA 90069)
BEST LGBT BUSINESS
Winner: My 12 Step Store
RJ is widely considered to be one of the hardest working people in the sobriety community, not above working the register, helping customers select gifts for their loved ones, or packing items he ships out to customers around the world. My 12 Step Store is an exceptional and rare model of service to the LGBTQ community, part community center and part business, selling inspirational and motivational sobriety themed gifts. My 12 Step Stores sober mixers are one of the most popular events on the mix and mingle calendar. (8730 Santa Monica Blvd B, West Hollywood, CA 90069)
From the bright pink exterior to the exclusive state-of-the-art merchandise and apparel inside, Chi Chi LaRue's stands out, loud and proud, as West Hollywood's only gay-owned and operated adult boutique. (8861 Santa Monica Blvd, West Hollywood, CA 90069)
BEST COFFEE SHOP
Winner: Alfred's Coffee Melrose Place
It's like a very intentional selfie. It's a little embarrassing how indulgent and fun it is, this coffee shop where everyone is drop dead gorgeous but somehow it's still all about the coffee. You'll find it in the heart of LA's trendiest retail destination, proudly brewing Stumptown Coffee Roasters. (8428 Melrose Place, Los Angeles, CA 90069)
Runner-Up: Blue Bottle Coffee
They seem to be popping up everywhere, this one part Oakland, one part LA coffee house is not cheap but it is certainly delicious. (8301 Beverly Blvd, Los Angeles, CA 90048)
BEST LOCAL BREWERY
Winner: Arts District Brewing Company
One of Los Angeles' few craft brewpubs, opened December 2015 in Downtown LA's historic Arts District. With an on-site, 15-barrel brewhouse capable of producing 3,300 barrels of beer each year, Arts District Brewing Company debuted with nine original beers and now offers 30+ all brewed on-site. Enjoy an entertainment area with a photo booth and multiple classic bar games available, including pinball and Skeeball machines. (828 Traction Ave, Los Angeles, CA 90013)
Runner-Up: Santa Monica Brew Works
Just a group of guys who share a mad love for great beer and the City Of Santa Monica. The brewery's "Beach Brewed" philosophy is said to embody "the spirit of the world-renowned Santa Monica lifestyle. (1920 Colorado Ave C, Santa Monica, CA 90404)
BEST RESTAURANT
Winner: Tortilla Republic
It's Viva Mexico at its very finest. Every bite will have you saying "F*uck Trump and his crazy wall" because the best food in the world comes from our neighbor to the south. It's a Los Angeles Blade favorite. (616 N Robertson Blvd, West Hollywood, CA 90069)
Runner-Up: Bottega Louie
Get ready WeHo! The Gourmet Market, Patisserie & Café located in downtown Los Angeles will soon open on Santa Monica Boulevard and life will never be the same. (700 S Grand Ave, Los Angeles, CA 90017)
BEST CHEF
Winner: Susan Feniger, Border Grill
Iconic culinarian, author, and entrepreneur Feniger has been helping to define the culinary landscape of Los Angeles since 1981. She's opened a host of successful restaurants, but Border Grill remains her crowning achievement. Opened with co-chef and business partner Mary Sue Milliken in 1985, its modern, street-food-inspired Mexican cuisine has been defining the city's culinary landscape ever since. As if having an iconic LA eatery and being a celebrity chef weren't enough to make us love her, Susan is also an out and proud member of the community, currently sitting on the board of the Los Angeles LGBT Center.
Runner-up: Jon Rollo, Greenleaf Gourmet Chopshop
Revolutionizing the gourmet fast-casual dining experience the "Commander-in-Leaf" of Greenleaf has always had an appetite for fresh ingredients and living a healthy life – something he embodies with the farm-to-face concept of his restaurant, where he uses local, fresh, natural, organic ingredients to create dishes that are both delicious and wholesome. In his free time, you can find Jon working out at Barry's Bootcamp, training for a triathlon, and raising his daughter and son with husband, Joey Gonzalez.
BEST LOCAL TV PERSONALITY
Winner: James Corden
This Tony-winning actor may be from the other side of the Atlantic, but as the host of "The Late, Late Show," he's been regularly taking over the streets of Hollywood to film celebrity flash mobs, musical numbers, and the spectacularly popular "Carpool Karaoke" since 2015 – and that makes him as much an Angeleno as anyone. It's no wonder we're proud to lay claim to him; smart, funny, and talented, he's got a pure love of "show business" that makes his late-night talk show a must-see event for millions.  He's also a strong LGBT ally who uses his public platform to promote LGBT equality – for instance, by performing a song in protest of Trump's intended trans military ban in 2017.
Runner-up: Alexander Rodriguez
The iHeart radio personality is one-third of the all-gay Latinx panel on "Glitterbomb," LATV's explosive pop-culture talk show that offers a queer Latinx perspective on entertainment news. Along with fellow hosts (actor Enrique Sapene and EW senior editor Patrick Gomez), he brings wit, humor, and first-hand experience into the show's look at Hollywood A-lister life.
BEST MARIJUANA DISPENSARY
Winner: MedMen
Founded in 2010 by Adam Bierman and Andrew Modlin (who are also CEO and president, respectively), this Culver City-based company has grown up to be one of the leaders in the burgeoning legal cannabis industry, dedicated to "writing the book on the modern cannabis industry, from how facilities are designed and constructed to setting the bar on quality and excellence." They're also the single largest financial supporter of progressive marijuana laws at local, state, and federal levels. But what's probably most important to the many satisfied consumers at their elegant boutiques in West Hollywood and Beverly Hills (as well as four other locations in the Los Angeles area) is their philosophy that standards, practices and reputation matter – and the high quality of the product that results from it.
Runner-up: Zen Healing West Hollywood
With two locations, this longtime (since 2003) local-fave dispensary scores high Yelp ratings for its outstanding customer service and wide selection. As they say on their website, "Whether you vape, rollup, or use a piece, Zen Healing has a strain for you."
MOST COMMITTED ACTIVIST
Winner: Madonna Cacciatore
She moved to LA as an actress, after a regular role on a short-lived TV reboot of "The Fugitive" gave her a taste of Hollywood; but it's her dedication to another calling that has brought her true prominence in our local community. A longtime LGBT activist, she made a splash in the headlines when the LA Times featured a photo of her holding hands with then-partner (now wife) Robin McWilliams in their cover story on June 26, 2015, when the Obergefell victory made marriage equality the law of the land – but she had already been building her leadership role in the community for years as the director of special events at the Los Angeles LGBT Center. In 2018, she was chosen as the new executive director of Christopher Street West – giving her the opportunity to bring her years of experience to the table as she shepherds the non-profit, which has faced challenges in the last few years, toward the 50th anniversary of LA Pride in 2020.
Runner-up: Ari Gutiérrez Arambula
A tireless community leader, Ari is dedicated to increasing support and quality of life for the LGBTQ and gender non-conforming members of the Latinx community and their families – a community for which she has been an advocate for 30 years. She is the founding Advisory Board President of the Latino Equality Alliance, and the co-founder of HONOR PAC, a non-profit organization providing advocacy, leadership development and public education that honors cultural traditions and is accessible to youth and their parents.
BEST LOCAL PRO SPORTS TEAM
Winner: Los Angeles Dodgers
They may have lost the 2018 World Series to the Boston Red Sox, but LA's "Boys In Blue" will never lose the hearts of the city they've called home since 1958. Part of the reason is the team's determination to connect with the community by embracing diversity. In the words of Erik Braverman, the Dodgers' vice president for marketing, communications and broadcasting who spoke to the Los Angeles Blade for a 2017 article, "LGBT people are as important to the organization as any other community." For six consecutive years, the Dodgers have hosted an official LGBT night, and for the past two have made it an official kickoff party for LA Pride.
Runner-up: Los Angeles Lakers
Just as it is with the Dodgers, love for the Lakers is part of our city's DNA. In 2018, the basketball organization hosted its own first-ever LGBTQ Pride night, honoring first active openly gay NBA player Jason Collins with the Laces of Unity Award (recognizing individuals in sports who have significantly contributed to the LGBTQ community) and featuring Amanda Palmer, the first female and first openly lesbian referee in NBA history, as the night's honorary team captain.
BEST HOME FURNISHINGS
Winner: Mitchell Gold + Bob Williams
Started in North Carolina back in 1989, this elegant furniture company began with the simple idea of providing "comfort for all," and nearly 30 years later, its signature store in Beverly Hills is a must-visit for any Angeleno with an eye toward decorating their home with stylish and modern home furnishings. In addition, its founders are activists and advocates for the LGBT community – Gold is co-founder of Faith in America, a nonprofit that educates people about the harm religious bigotry causes LGBT Americans that recently merged with the Tyler Clementi Foundation, and has served on the board of HRC for the past seven years, and Williams is known for his philanthropic work for equal rights; together, the men received a Groundbreakers Award from NYC's Housing Works, dedicated to ending AIDS and homelessness.
Runner-up: Josh Johnson Home
A Tennessee native who became known as "Sparkle Josh" during his stint in HGTV's "Design Stars," this flamboyant celebrity interior designer has a design philosophy of "Livable Luxe," which he describes as the pairing of affordable elegance with functional practicality, and his status as a celebrity designer has made him a designer to celebrities — or anyone who wants to live like one.
BEST PERFORMING ARTS VENUE
Winner: Walt Disney Concert Hall
This downtown landmark, designed by world-renowned architect Frank Gehry and opened in 2003, is not just part of the Los Angeles Music Center – with its sleek, shining, non-linear design, it's an icon of urban architecture and a signature LA building, and with its hear-a-pin-drop acoustics, it's a world-class performance hall. Intended as a gift to the people of Los Angeles by Lillian Disney (widow of Walt), who in 1987 donated $50 million to fund a venue that could serve as a tribute to her late husband's devotion to the arts and to the city, today it fulfills that purpose by providing a home to the Los Angeles Philharmonic Orchestra and the Los Angeles Master Chorale, as well as by hosting variety of artists and events from around the world.
Runner-up: Geffen Playhouse
Founded by Gilbert Cates in 1995, and named for its donor, music executive David Geffen, this not-for-profit theater company is housed within a historic 1929 building – one of the first 12 structures built in Westwood Village – that was once the Masonic Affiliates' Club for students and alumni of UCLA. In its two venues there, the Geffen mounts eight top-quality theatrical productions per season, showcasing both new works and time-honored classics, often performed by familiar actors from film and television – one of the definite perks of living in a movie town.
BEST DAY TRIP
Los Angeles' relationship with its neighbor in the desert goes back to the 1920s, when the town's growing status as a getaway spot made it appealing to Hollywood's rich and famous as a quick and easy escape from the rigors of their glamorous everyday lives.  It serves much the same purpose today, but it's grown into an internationally recognized resort destination – which means world-class entertainment, luxurious hotels, and glittering casinos await any Angeleno ready to make the 90-minute drive (OK, only if there's no traffic) to get there. It's not just about pampering yourself, though that's part of the allure; there is also a thriving cultural scene, lots of nightlife, magnificent restaurants, a weekly street festival, and an annual week-long celebration of the Modernist architecture long embraced as a definitive part of the city's identity. Of course, Palm Springs is something of an LGBT Mecca, too – but odds are good that, if you're reading this, you already knew that.
Runner-up: Avalon, Catalina Island
Located on the southeast end of Santa Catalina Island, Avalon has been a popular destination for visitors since the early 1900s. Like Palm Springs, it has always attracted the glitterati crowd, from film stars to presidents, and is known today for its resorts and casinos – along with the numerous other attractions offered by a picturesque seaside community. Only a short ferry ride away, it's one of the best opportunities for Angelenos to have a sun-soaked mini-vacation and still be home in time to feed the pets before bedtime.
BEST MOVIE THEATER
Winner: Arclight Hollywood
In a city built by the movies (and those who love them) it's no surprise that the favorite pick is this landmark multiplex on Sunset, which is home to 15 screens (including the historic Cinerama Dome) that feature state-of-the-art projection and sound technology, and amenities like a gourmet snack bar, no commercials before the show, and – a favorite flourish for convenience-hungry Angelenos – reserved seating that eliminates the need for standing in a long line. On top of all that, Arclight offers an impressive selection of movie offerings, from the biggest entertainment blockbusters to the edgiest indie art films, all in the name of catering to the sophisticated interests of its cinema-loving clientele. As a bonus, moviegoers stand a good chance of seeing some of their favorite stars off the screen as well as on – it's a popular location for the people who make movies to go and sit in the audience for a change.
Runner-up: Pacific Theaters at the Grove
Offering its own kind of Hollywood appeal, this elegantly designed multiplex in the heart of one of the city's most popular malls (adjacent to the historic Farmer's Market). It's a haven for film lovers, with its own state-of-the-art auditoriums that feature large screens, surround sound, and luxury stadium seating – and if you want to pair your moviegoing experience with a meal, the Grove location ensures a wide selection of nearby eateries that will be perfect for discussing what you've just seen over lunch or dinner.
BEST LIVE MUSIC
Steeped in history — it's seen the likes of everyone from Billie Holiday to Billy Joel — the Hollywood Bowl reigns, as Southern California's premier destination for live music. Its iconic concentric-arched band shell is recognized the world over, just as sure as the venue itself is recognized by our readers as the best of the best.
Located within Griffith Park, the historic Greek Theatre stands as one of the nation's most beloved and recognized outdoor entertainment destinations. This iconic venue has also served as a site for numerous high school graduations, community events, and backdrops for television shows and motion pictures.
San Diego runner celebrates the end of their trailblazing season
Nikki Hiltz came out as trans nonbinary this year and is aiming to compete in the next Olympic Summer Games scheduled for Paris in 2024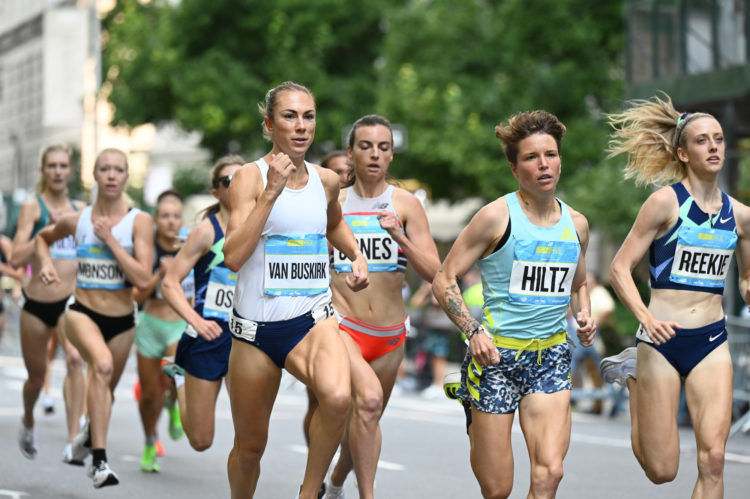 SAN DIEGO – Sunday marked the last race of 2021 for Santa Cruz native Nikki Hiltz, and they described their season on social media as "filled with ups, downs, and a whole lot of self discovery." Hiltz, who came out as trans nonbinary in March, reflected on all they've achieved.
Far from their home in San Diego, the 26-year-old Adidas sprinter finished second on Sunday in the New Balance 5th Avenue Mile in New York City, with a time of 4:23.0, just over a second behind first-place finisher Olympian Jemma Reekie of the United Kingdom. Shannon Osika of Ann Arbor, Mich. was right on Hiltz's heels to finish third.
"I think with any sport, especially running, you bring your whole self to the starting line," Hiltz told the Los Angeles Blade. "It's not like I'm bringing just the athlete part of Nikki; I'm bringing my whole identity."
Their coming out as trans nonbinary, they said, definitely impacted her performance.
"The closer I can be to myself and stay true to myself, the faster and the better I run, essentially," said Hiltz. "I am someone that runs with a lot of emotion and grit. And so when I'm at war with myself or when I wasn't out of the closet, it really shows on the track. And then when I'm at peace with myself and I'm living my most authentic life, that also really shows on the track." 
That's a wrap on the 2021 season! Here's some highlights in pics
1. Raced in my first Olympic Trials in ✌️ events
2. Ran a seasons best of 4:02 and celebrated this epic sub 4 performance!
3. PR'd in the 800 2:01.3
4. Ended the season w/ 2 road miles (a 4:21 PR and🥈at 5th Ave) pic.twitter.com/toHqPWCgqL

— Nikki Hiltz (@Nikki_Hiltz) September 12, 2021
Off the track, Hiltz has been exploring their passion for the LGBTQ community and their interest in pushing for equality and justice, much like out San Diego Loyals midfielder Collin Martin. As the Blade reported last week, Martin has joined Common Goal, a partnership with Adidas and soccer players around the world working toward ending gender inequality, combatting HIV/AIDS and other causes. He's also pledged 1% of his salary to Play Proud, a project aimed at improving LGBTQ+ inclusion in soccer.
"Within the past two years, I've really leaned into advocacy and fighting for things that I believe in," Hiltz told the Blade. "That has been really fulfilling when I have been injured or when COVID happened and I couldn't race."
Hiltz organized her own event for its second year this summer, a race in which all the proceeds benefited the Trevor Project.
"I put on a Pride 5k and that was so fun," they said. "Whether I had a good or bad performance, the highlight of every race this summer has been meeting and connecting with members of the Pride 5k family from across the country. They can always so quickly put everything into perspective. This community seriously means the world to me."
The Nikki Hiltz Pride 5K on July 17 in Mission Bay, San Diego, raised $42,270 for the Trevor Project, the largest national nonprofit dedicated to crisis intervention and suicide prevention services to LGBTQ youth.
"I think that's something I want to continue to do when my running career is over. I love running and I love the community and I love everyone that calls themself a runner."
Next up for Hiltz is to train for the Olympics. The next Summer Games are scheduled to be held in Paris in 2024, followed by Los Angeles in 2028. But they told the Blade that at age 26, they know they're not getting any younger.
"Professional middle distance runners usually retire early 30s-ish, 30 to 33, or they switch events and move up to the 5 or 10K or marathon event. But I think for me, you kind of go through Olympic cycles. So I think, if I were to retire, it would be in 2024 or 2028. And I think when I get to 2024, I'm going to reassess. 'Am I still happy doing this? Do I still love it?' And if it's anything less than, 'Yes!' Then I think it'll be time to retire."
For now, Hiltz is focused on celebrating the end of the 2021 season with their girlfriend, collegiate runner Emma Gee, a graduate student at Temple University and the first out LGBTQ athlete at Brigham Young University.
"I can't think of anyone better who has been more supportive throughout this whole journey," said Hiltz.
********************
The New Balance 5th Avenue Mile 2021
Twitch goes after two originators of "hate raids" against LGBTQ+ streamers
'Hate raids' are organized attacks which bots flood chats streamers with racist, homophobic, sexist and other harassing content
SAN FRANCISCO – In attempt to shut down repeated malicious attacks on groups of its marginalized users known colloquially as 'Hate raids,' Amazon's Twitch video live streaming service has filed suit against two users for what the company says have targeted those marginalized streamers, specifically LGBTQ+ and people of color.
In court documents filed last Thursday, Sept. 9 in the U.S. District Court for the Northern District of California, the company listed two individuals as defendants by their usernames, Cruzzcontrol from the Netherlands and CreatineOverdose from Vienna, Austria.
In an email to Wired magazine a spokesperson for Twitch noted, "We hope this Complaint will shed light on the identity of the individuals behind these attacks and the tools that they exploit, dissuade them from taking similar behaviors to other services, and help put an end to these vile attacks against members of our community."
'Hate raids' are organized attacks on various Twitch channels in which bots flood chats streamers with racist, homophobic, sexist and other harassing content in violation of its terms of service. It's been a problem for months, but didn't come to widespread attention until this past month PC GAMER reported, when multiple targeted streamers planned a one-day boycott of the platform, using the #ADayOffTwitch hashtag.
Even though few big-name streamers took part, Twitch saw a significant decline in viewership on the day of the protest.
According to the court documents filed against the two users named in the suit, they created multiple Twitch accounts and thousands of bot accounts to create the hate raids. The lawsuit also stated that Cruzzcontrol and CreatineOverdose can "generate thousands of bots in minutes" for these hate raids, citing that Cruzzcontrol alone is behind about 3000 bots.
Buzzfeed highlighted one user who tweeted;
CW: Racism hateful conduct
I got hate raided and follow botted not even 5 minutes into my stream yesterday.
It's very overwhelming when you've never experienced it before and as black creators, we should not be subjected to experiencing this kind of behavior ✊ @Twitch pic.twitter.com/KqMJBgvxaz

— 𝚋𝚛𝚎𝚖𝚘𝚗𝚊 (@bremonaa) August 14, 2021
"These attacks obstruct the chat so significantly, victimized streamers are unable to engage with their community through chat for the duration of the attack, and some even choose to avoid streaming altogether until the attack ends," the lawsuit read.
In addition, the company alleges in its suit that these relentless 'Hate raids' creates an atmosphere where the discouraged users quit streaming altogether "eliminating an important source of revenue."
"Despite Twitch's best efforts, the hate raids continue," the lawsuit states. "On information and belief, Defendants created software code to conduct hate raids via automated means. And they continue to develop their software code to avoid Twitch's efforts at preventing Defendants' bots from accessing the Twitch Services."
PC GAMER reporter Andy Chalk noted; "The lawsuit seeks a legally-binding injunction that will prohibit the defendants from using Twitch, as well as various sorts of damages and legal fees. But it has some high hurdles to clear before it gets there, including determining the real identities of the defendants, who are currently known only as CruzzControl and CreatineOverdose. That in itself may not be a major issue—lawsuits are often filed against anonymous "Does" (Bungie and Ubisoft's joint suit against cheat-makers, for instance, names 50 of them)—but there may also be jurisdictional issues, as CruzzControl is believed to be a resident of the Netherlands, while CreatineOverdose is from Austria."
Lil Nas X wins the 2021 MTV Video Music Awards Best Video of the year
The Out artist has been receiving extreme backlash after the release of "Montero," from anti-LGBTQ groups who labeled the video demonic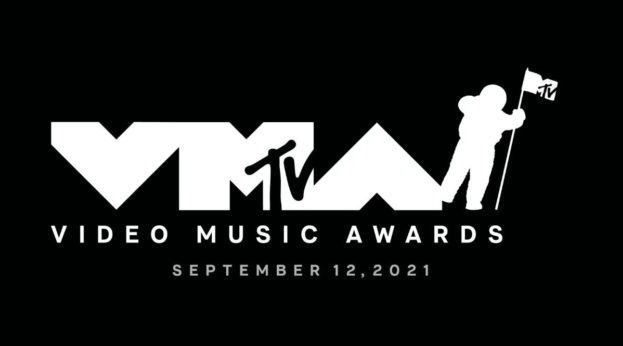 NEW YORK – The 2021 MTV Video Music Awards were presented Sunday in the Brooklyn borough of New York City with musical artists Lil Nas X, Justin Bieber and first time nominee Olivia Rodrigo, winning the top awards. This year's ceremony marked the 40th anniversary of MTV since its inaugural broadcast in 1981.
Out artist Lil Nas X took home the top prize of the evening with the MTV Moon Person for Video of the Year trophy award for his "Montero: Call Me By Your Name." He also won an award for Best Direction; "MONTERO (Call Me By Your Name)" Directed by: Lil Nas X and Tanu Muino.
Canadian transplant Justin Bieber received a trophy for MTV Artist of the Year award and he also secured an award for Best Pop video for his collaboration with Daniel Caesar, Giveon for the song "Peaches."
Olivia Rodrigo secured three awards for Song of the Year for her song, "drivers license," Best New Artist and also an award for Push Performance of the Year.
CBS News reported during during his acceptance speech Lil Nas X shouted; "First I wanna say thank you to the gay agenda. Let's go gay agenda!"
The openly Out artist has been at the receiving end of harsh critique and extreme backlash after the release of "Montero," including from anti-LGBTQ groups such as the Washington D.C. based Family Research Council, Colorado Springs, Colorado based Focus on the Family and the Tupelo, Mississippi based American Family Association who have all labeled the song and the video demonic.
The song debuted at No.1 on Billboard's Hot 100 chart, and according to CBS Entertainment, the music video made headlines after its premiere for its depiction of Lil Nas X sliding on a stripper pole to hell, where he proceeds to give Satan a lap dance.
The altered Nike Air Max 97 shoes accompanying the song's release were dubbed the Satan Shoes and caused Nike to file a lawsuit against the company that produced them.
Going to spend the rest of the night re-watching @LilNasX's reaction to winning Video of the Year at the #VMAs 🥺 pic.twitter.com/qbcbCDaKUy

— MTV NEWS (@MTVNEWS) September 13, 2021
my jaw? on the FLOOR. @LilNasX just KILLED it with @JackHarlow 🔥 #VMAs pic.twitter.com/Z54jXXP2E2

— Video Music Awards (@vmas) September 13, 2021
It's @LilNasX's world; we're all just living in ithttps://t.co/iMKCgT2TNr

— MTV NEWS (@MTVNEWS) September 13, 2021
********************
Lil Nas X – MONTERO (Call Me By Your Name) (Official Video)