LGBT ally Kacey Musgraves wins big at queer-dominated Grammys
Brandi Carlile, Lady Gaga also rack up wins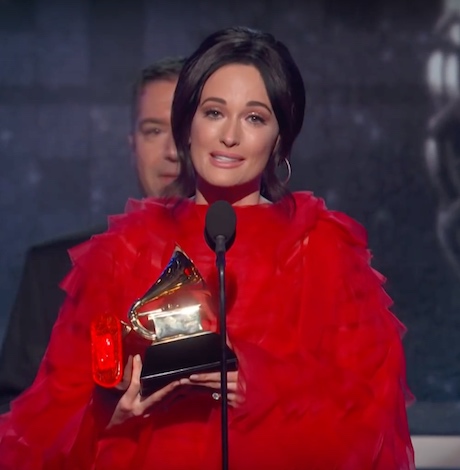 Country singer Kacey Musgraves won the coveted Album of the Year award for her album "Golden Hour" marking the end of a Grammys award show filled with plenty of queer women representation.
Musgraves, who also won Country Album of the Year, has emerged as an LGBTQ ally in the country music world. She has spoken up for more LGBTQ inclusion in country music and her song "Follow Your Arrow" was hailed as a pro-LGBTQ anthem. Musgraves also served as judge on "RuPaul's Drag Race." Musgraves also took home Best Country Solo Performance ("Butterflies"), and Best Country Song ("Space Cowboy") Awards for a total of four winning categories.
Lesbian singer/songwriter Brandi Carlile won three awards during the pre-telecast including Best Americana Album for "By the Way, I Forgive You" and Best American Roots Song and Best American Roots Performance for "The Joke." She received the most nominations of any woman this year and became the first LGBTQ person to win awards in those categories.
While accepting the award for Best American Roots Performance, she shared that she came out in high school at age 15. She says she never was invited to high school parties or dances.
"I never got to attend a dance. To be embraced by this enduring and loving community has been a dance of a lifetime," Carlile said. "Thank you for being my island."
Brandi Carlile just won 3 Grammys in a row, and if there was one for "Best Speech," it might have been 4 pic.twitter.com/CBtXyX3lyl

— Dave Paulson (@ItsDavePaulson) February 10, 2019
Carlile also received a standing ovation for her vocal powerhouse performance of "The Joke" during the televised ceremony.
Other queer artists with impactful Grammys performances were Ricky Martin who performed with Camila Cabello, J Balvin, Arturo Sandoval and Young Thug for a Broadway musical-inspired Grammys opener to Cabello's song "Havana."
Miley Cyrus, who identifies as pansexual, dueted with Shawn Mendes on his song "In My Blood." She later also teamed up with Katy Perry, Maren Morris, Musgraves and Little Big Town for a tribute to Dolly Parton.
Janelle Monáe performed her bisexual anthem "Make Me Feel" off her album "Dirty Computer," mixed in with her feminist song "Pynk."
She didn't win for either category she was nominated for (Album of the Year and Best Music Video) but she did dedicate her nominations to her "trans brothers and sisters." In an interview with Variety, the singer was asked about coming out as queer last year.
"People do it everyday," she replied. "My trans brothers and sisters, they do it everyday. And they are shunned from these sorts of events. So this one is for them."
Lady Gaga scored two wins (Best Pop Duo/Group Performance and Best Song Written For Visual Media) for her "A Star is Born" duet with Bradley Cooper, "Shallow," which she also performed.
Dua Lipa and St. Vincent, who is sexually fluid, did a steamy joint performance of her song "Masseducation" and Lipa's "One Kiss." St. Vincent and Jack Antonoff won Best Rock Song for "Masseducation."
"Masseduction" + "R-E-S-P-E-C-T" +"One Kiss" = @st_vincent and @DUALIPA #GRAMMYs pic.twitter.com/HlLcUAjCcF

— Recording Academy / GRAMMYs (@RecordingAcad) February 11, 2019
History continued to be made with Cardi B becoming the first woman to win Best Rap Album and "This is America" by Childish Gambino winning Best Song. This is the first time a rap song has won in that category.
Jennifer Lopez also gave a dance-filled tribute to Motown while Diana Ross honored her own birthday, which is in March, with a performance. Michelle Obama, Lady Gaga, Jada Pinkett-Smith and Lopez also made appearances at the top of the show to help host Alicia Keys reflect on the importance of music.
Check out the complete list of winners below.
Album Of The Year — "Golden Hour"- Kacey Musgraves
Record Of The Year — "This Is America" – Childish Gambino
Best New Artist — Dua Lipa
Best Rap Album — "Invasion Of Privacy"- Cardi B
Best R&B Album Winner — "H.E.R."- H.E.R.
Best Rap Song — "God's Plan"- Drake
Best Country Album — "Golden Hour"- Kacey Musgraves
Song Of The Year — "This Is America"- Childish Gambino
Best Pop Duo/Group Performance — "Shallow" Lady Gaga & Bradley Cooper
Producer Of The Year, Non-Classical — Pharrell Williams
Best Rap/Sung Performance — "This Is America"-Childish Gambino
Best Rap Performance — "King's Dead"- Kendrick Lamar, Jay Rock, Future & James Blake / Bubblin, Anderson .Paak
Best Rock Album — "From The Fires"-Greta Van Fleet
Best Rock Song — "Masseduction" – St. Vincent
Best Metal Performance — "Electric Messiah"- High On Fire
Best Rock Performance — "When Bad Does Good"- Chris Cornell
Best Urban Contemporary Album — "Everything Is Love"- The Carters
Best R&B Song — "Boo'd Up"- Ella Mai
Best Traditional R&B Performance — "Bet Ain't Worth The Hand"- Leon Bridges / "How Deep Is Your Love"-Pj Morton Featuring Yebba
Best R&B Performance — "Best Part"- H.E.R. Featuring Daniel Caesar
Best Latin Jazz Album — "Back To The Sunset"- Dafnis Prieto Big Band
Best Large Jazz Ensemble Album — "American Dreamers: Voices Of Hope, Music Of Freedom"- John Daversa Big Band Featuring Daca Artists
Best Jazz Instrumental Album — "Emanon"- The Wayne Shorter Quartet
Best Jazz Vocal Album — "The Window"- Cécile Mclorin Salvant
Best Improvised Jazz Solo — "Don't Fence Me In"- John Daversa
Best Reggae Album — "44/876"- Sting & Shaggy
Best Dance/Electronic Album — "Woman Worldwide"- Justice
Best Dance Recording — "Electricity"- Silk City & Dua Lipa Featuring Diplo & Mark Ronson
Best Contemporary Classical Composition — "Kernis: Violin Concerto"- James Ehnes, Ludovic Morlot & Seattle Symphony
Best Classical Compendium — "Fuchs: Piano Concerto 'Spiritualist'"; Poems Of Life; Glacier; Rush"- Joann Falletta
Best Classical Solo Vocal Album —" Songs Of Orpheus"-Monteverdi, Caccini, D'india & Landi, Karim Sulayman
Best Classical Instrumental Solo — "Kernis: Violin Concerto"- James Ehnes
Best Chamber Music/Small Ensemble Performance — "Anderson"- Laurie: Landfall, Laurie Anderson & Kronos Quartet
Best Choral Performance — "Mcloskey: Zealot Canticles"- Donald Nally
Best Opera Recording — "Bates: The (R)Evolution Of Steve Jobs"-Michael Christie, Garrett Sorenson, Wei Wu, Sasha Cooke, Edward Parks & Jessica E. Jones
Best Orchestral Performance — "Shostakovich: Symphonies Nos. 4 & 11"- Andris Nelsons
Producer Of The Year, Classical — Blanton Alspaugh
Best Engineered Album, Classical — "Shostakovich: Symphonies Nos. 4 & 11"- Andris Nelsons & Boston Symphony Orchestra
Best Pop Vocal Album — "Sweetener"- Ariana Grande
Best Traditional Pop Vocal Album — "My Way" -Willie Nelson
Best Pop Solo Performance — "Joanne (Where Do You Think You're Goin'?)"- Lady Gaga
Best Country Song — "Space Cowboy" – Kacey Musgraves
Best Country Duo/Group Performance — "Tequila"- Dan + Shay
Best Country Solo Performance — "Butterflies"- Kacey Musgraves
Best Music Film — "Quincy"- Quincy Jones
Best Music Video — "This Is America"-Childish Gambino
Best Regional Roots Music Album — "No 'Ane'I"- Kalani Pe'a
Best Tropical Latin Album — "Anniversary"- Spanish Harlem Orchestra
Best Regional Mexican Music Album (Including Tejano) — "¡México Por Siempre!"- Luis Miguel
Best Latin Rock, Urban Or Alternative Album — "Aztlán"- Zoé
Best Latin Pop Album — "Sincera"- Claudia Brant
Best Spoken Word Album (Includes Poetry, Audio Books & Storytelling) — "Faith – A Journey For All"- Jimmy Carter
Best Children's Album — "All The Sounds"- Lucy Kalantari & The Jazz Cats
Best Folk Album — "All Ashore"- Punch Brothers
Best Contemporary Blues Album —" Please Don't Be Dead"- Fantastic Negrito
Best Traditional Blues Album — "The Blues Is Alive And Well"- Buddy Guy
Best Bluegrass Album —"The Travelin' Mccourys"- The Travelin' Mccourys
Best Americana Album — "By The Way, I Forgive You"- Brandi Carlile
Best American Roots Song — "The Joke"- Brandi Carlile
Best American Roots Performance — "The Joke"- Brandi Carlile
Best New Age Album — "Opium Moon"- Opium Moon
Best Song Written For Visual Media — "Shallow"- Lady Gaga & Bradley Cooper
Best Score Soundtrack For Visual Media — "Black Panther"- Ludwig Göransson
Best Compilation Soundtrack For Visual Media — "The Greatest Showman"- Hugh Jackman (& Various Artists)
Best World Music Album — "Freedom"- Soweto Gospel Choir
Best Roots Gospel Album — "Unexpected"- Jason Crabb
Best Contemporary Christian Music Album — "Look Up Child"- Lauren Daigle
Best Gospel Album — "Hiding Place"-Tori Kelly
Best Contemporary Christian Music Performance/Song — "You Say" -Lauren Daigle
Best Gospel Performance/Song — "Never Alone"- Tori Kelly Featuring Kirk Franklin
Best Contemporary Instrumental Album — "Steve Gadd Band"- Steve Gadd Band
Best Immersive Audio Album —" Eye In The Sky – 35th Anniversary Edition"- The Alan Parsons Project
Best Remixed Recording — "Walking Away (Mura Masa Remix)"- Haim
Best Engineered Album, Non-Classical — "Colors"- Beck
Best Historical Album — "Voices Of Mississippi: Artists And Musicians Documented By William Ferris"
Best Album Notes —" Voices Of Mississippi: Artists And Musicians Documented By William Ferris"
Best Boxed Or Special Limited Edition Package — "Squeeze Box: The Complete Works Of 'Weird Al' Yankovic" Weird Al Yankovic
Best Recording Package — "Masseduction"- St. Vincent
Best Arrangement, Instruments And Vocals — "Spiderman Theme"- Randy Waldman Featuring Take 6 & Chris Potter
Best Arrangement, Instrumental Or A Cappella — "Stars And Stripes Forever"- John Daversa Big Band Featuring Daca Artists
Best Instrumental Composition — "Blut Und Boden (Blood And Soil)"- Terence Blanchard
Best Alternative Music Album — "Colors"- Beck
Best Musical Theater Album — "The Band's Visit"- Original Broadway Cast
Best Comedy Album — "Equanimity & The Bird Revelation"- Dave Chappelle
My Unorthodox Life's Ra'ed Saade dishes up Reality TV spunk
Is America's Reality TV genre ready for frank discussions on open relationships?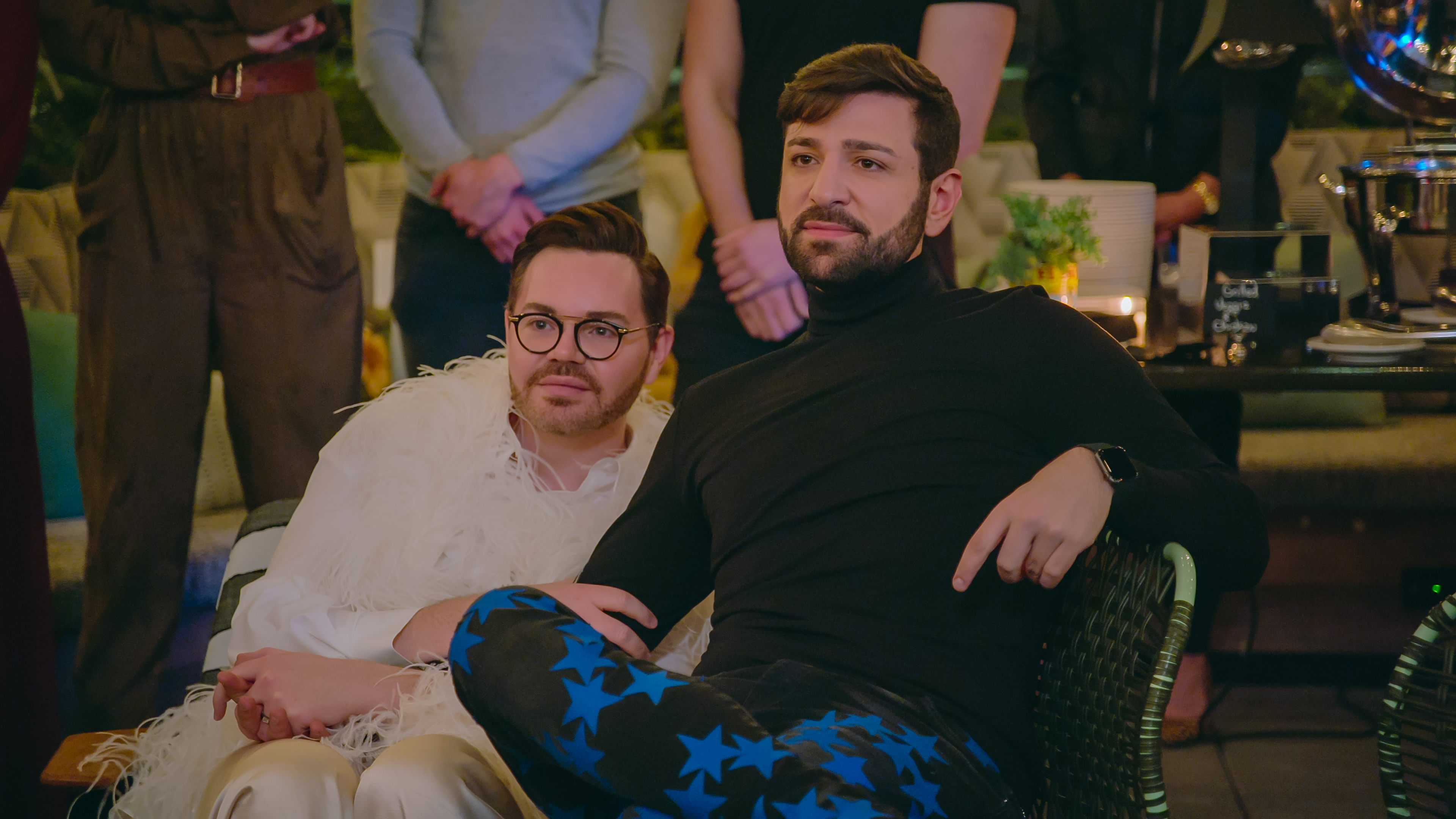 HOLLYWOOD – If you are like many who have reacted harshly to Real Friends of WeHo, you may feel a bit hopeless regarding reality television and its representation of gay men.
For all its misses, the reality TV genre still explodes across broadcast and streaming services. There are endless contests, there are weird matchmaking gimmicks and through it all, you can still find some gay fingerprints. And of course, there is Drag Race.
One of my personal guilty pleasures has been various "Real Housewives" franchises. Each franchise seems to study the behaviors of women who possess big egos, lots of money and are plied with a sloshing amount of alcohol. Sitting back in an armchair, shoveling popcorn and watching, is gay man, and executive producer, the boss and god of the Real Housewives world, Andy Cohen… (and oh yeah, me.) There is a perverse pleasure observing a hetero world where the Higher Power is gay and watching them all descend into madness.
It is all theatrical and somewhat staged, of course. We are the fourth wall of their world, and situations are played out and exaggerated for our benefit, and from the accounts of the people we are observing, only represent a fraction of their real lives.
Against this backdrop, Netflix's My Unorthodox Life plays on this voyeuristic concept but is refreshingly unique and insightful. While it certainly has Real Housewives trappings, it centers around the uber-wealthy and has even had Jill Zahn, an OG New York Real Housewife, drop in to give advice, the core is less about superficial squabbles and more about cultural oppression and the quest for personal empowerment.
The show centers around Julia Haart. Her life is literally "unorthodox" as her story arc describes her escape from the orthodox lifestyle of the ultra-conservative Haredi Jewish Community in Monsey, New York. In season one, three of her four children follow her and she mentors them into living life in the secular world as they each make personal strides to find their own unique identities. Julia herself becomes a fashion and design mogul, married to an incredibly wealthy husband Silvio Scaglia Haart, and best friend to her gay business partner, Robert Brotherton. Robert and Julia could not be more "Will and Grace" if they tried. Julia ends season one trying to matchmake Robert and find him true love. Apparently, she did not need to bother, as he had already been working on something off camera on his own.
As the sun rises on season two, we see seismic shifts have been made in the relationship statuses of the cast. Julia is now going into a divorce war with Silvio, and her oldest daughter has left her husband and their marriage which had been originally rooted in Haredi orthodox standards. Robert on the other hand, is no longer single, but has a boyfriend, with whom he has had a seven-year relationship.
Enter Ra'ed Saade, the boyfriend. Handsome and positive with a killer smile, he is somehow reminiscent of a male, Lebanese, gay Mary Richards as Lou Grant defined her in the classic sitcom.
Lou: You know what? You've got spunk…
Mary: Yeah, well (slight giggle)
Lou: I HATE spunk!
Ra'ed has spunk. In every sense of the word—double entendre intended. Will America "hate" his brand of spunk?
Mary, in her day, was one of the only single working women representations on network TV. Ra'ed is the first gay Arab man on Netflix reality TV. He is sex positive and allows himself to be a walking commercial for open relationships. On the show, he mixes a deep sense of romance and being the ultimate boyfriend, a superior friend and confidant, with being frequently horny, or as he himself describes it, "a slut."
Ok, so maybe Mary Richards never called herself a slut.
While Ra'ed is from Lebanon, he seems to have lived elsewhere most of his life. This is not unusual, he tells me, "The majority of the population of Lebanon live outside. We have more Lebanese people in Brazil than there are in Lebanon." Ra'ed was born in Dubai, moved to the Philippines, lived in Holland, and then spent his high school years in Saudi Arabia. He credits those high school years as being the ones that shaped him. "Saudi Arabia is a very conservative, Muslim country. There is when I discovered that I was a homosexual gay man. Surviving three years in Saudi Arabia as a homosexual man and keeping it to myself, acting and putting on… doing all the things you do when you're acting to cover up. That shaped a lot of things for me in my life. All the trauma of that period made me into this funny guy that knows, if I survived that, I could survive anything… I was considered an abomination and could have gotten up to the death penalty, especially in Saudi Arabia, and especially during the time that I was there. It was very frightening and scary. I didn't tell a soul other than the people I was sleeping with, of course they knew."
When he came to America and Syracuse University, everything changed. He met Robert. "It was like, opening a cave and letting the puppy come out. I smelled freedom. I felt I saw the rainbow colors in the sky every day. I just obviously fell in love. And here I am. I feel like I've arrived."
It was with that survival instinct that gave him the courage to go for the Middle East edition of The Voice, and to audition for America's Got Talent. When he hit the AGT stage, the audience loved his personality. His act? Not so much. He got booed off.
Spunk.
In the second season of My Unorthodox Life, Ra'ed and Robert starred in the first episode describing how they were living together. While the show misleadingly implied that their relationship was new, it was not only not new, but tried and true. "Rob and I have been soul mates for 16 years. We know each other through thick and thin, through rich and poor, famous and non-famous and good and bad. All of it. We know each other inside and out," Ra'ed told me on a recent Rated LGBT Radio discussion.
Haart's eldest daughter Batsheva was harsh when Ra'ed revealed that he believed in open relationships. She advocated for the couple to break up immediately. She made her comments right to Ra'ed's face on camera.
He has no regrets. "I'm such an open book and it's sometimes bad for me… I didn't have any hesitation because I stopped caring what people think and I am shameless, as you've seen on many shows. I just know the truth that is the truth," Ra'ed said to me about his stance. "The truth of the matter is Rob and I have been together as friends as you know, sexually active or whatever for 16 years, I mean, there is no doubt the loyalties– the love, is there. There's no doubt that I would jump off a cliff, I would take a bullet for Rob. All of these beautiful things– but when I'm going to Ibiza …Rob and I are going to go and flirt with everybody in the club. A lot of people do that in secret. It is okay to have an open relationship when you are honest and open with your partner and you guys have set the ground rules and you both are saying, yes, we agree, both say yes, we love, we love this idea. There's no problem with this and it's a way more fun lifestyle. I mean that's the truth. When you're in a relationship, you are together to lift each other up encourage each other and just build a beautiful life. You just don't own another person, you know."
Hi answer is direct, unapologetic and almost innocent. Spunk.
Will there be a season three of My Unorthodox Life? Ra'ed hopes so. "The assignment was my unorthodox life." Even if season two was the final he feels "like I completed the assignment." If there are more seasons, "There's a lot of facets and a lot of a lot of dynamics in my life that are unorthodox so I would love to open up more in coming seasons."
In the meantime, while Mary Richards famously twirled and threw her hat in the air on a Minneapolis street corner, Ra'ed is tossing his on a New York City Time Square street corner.
It is from there that he TikTok promotes his February 10th "Club Ra'ed" DJ evening of Middle East disco sounds, a one-time event he hosts. He has proven that spunk is alive and well.
The modern version is just a tad more exciting with a unique Arabic feel and a fun infectious rhythm.
Listen to the complete interview:
****************************************************************************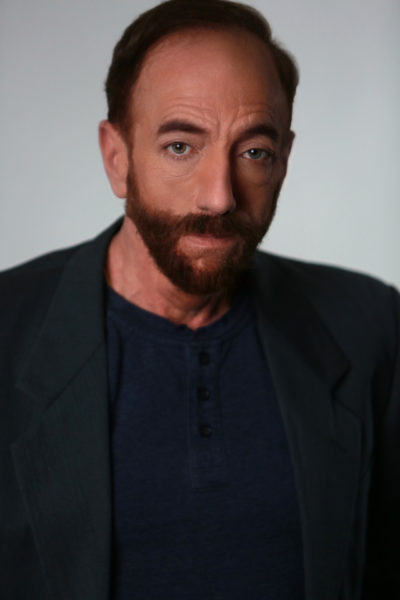 Rob Watson is the host of the popular Hollywood-based radio/podcast show RATED LGBT RADIO.
He is an established LGBTQ columnist and blogger having written for many top online publications including Parents Magazine, the Huffington Post, LGBTQ Nation, Gay Star News, the New Civil Rights Movement, and more.
He served as Executive Editor for The Good Man Project, has appeared on MSNBC and been quoted in Business Week and Forbes Magazine.
He is CEO of Watson Writes, a marketing communications agency, and can be reached at [email protected] .