Oscar parties for under one million dollars
Getting ready for a red carpet night on the town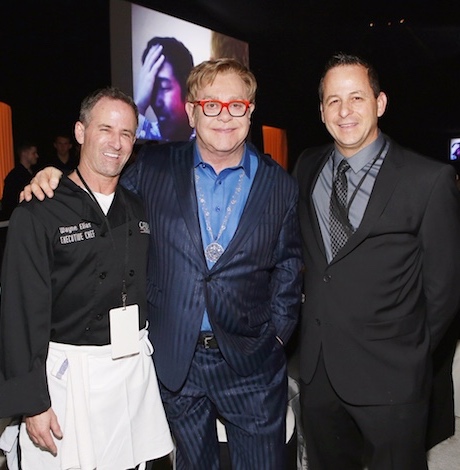 Whether you are headed to the Elton John AIDS Foundation party or a friend's Oscars viewing party, we have all the latest tips and insights on getting yourself red carpet ready!
Getting Oscar-worthy Hair
If you are headed to an Academy Award viewing party, celebrity hairstylist, Marco Pelusi has great advice: "Don't take it all so seriously! You can blow dry your hair and then add in a few big loose waves with a fat curling iron and just finger your hair a bit. Or just pull it back off to a side pony. Go to the hairdresser and add bangs or some shaggy layers which are on trend right now. Less is more. Be relaxed with it!"

On the Oscars red carpet, expect to see big bold curls and waves on multicultural hair and loose, mermaid-like waves on finer hair, noted Pelusi. "Lots of barrettes stacked to form a pretty barricade of elegance look great. Glenn Close and how shorter layered hair has made a bit of a comeback with the pixie and the shag."

While styling your hair, choose Marco Collagen Color Guard HairCare, available at marcopelusi.com and at his Weho salon.
Getting Glammed
Men's grooming is quick and if done right, guys will look as natural as possible, said celebrity makeup artist, Evelyn Gary. "All your need is concealer, translucent powder, brow gel, lip balm and a setting spray. "It's crazy to see how a mans face can change with just a little concealer!"

Evelyn loves working with male clients. "They aren't as picky as some women and let me do my job! Guys are always easy to work on."

Evelyn has several appointments set up for Oscar weekend, but if you would like her expertise, reach out to her on Instagram: @evegmua.
For Fido and You
Why not get you and your pup red carpet ready?

"Awards Season is always one of our busiest times," said The Orlando's Erica Pressberg, whose family built the hotel for the 1984 Olympics. "Since we're located close to studios and in the center of the city, we've hosted lots of celebrities and production teams over the years.  Sometimes locals book a staycation in one of our suites to watch the Oscars with friends – and they love knowing they can bring their pooch as well. And, if they want to get buffed out before the show, it's so convenient to have a range of beauty and skincare options just steps from the hotel in our West 3rd Street neighborhood." 

Check out the Orlando's Urban Spa Day Pooch Package, which includes a hiking map to nearby, dog-friendly Runyon Canyon and healthy turn-down snacks. Also, your pup will have a Vanderpuff Spa Day at nearby Vanderpump Dogs, complete with shampoo, conditioner, brush and blowout, paw massage and pawdicure! For you: A Red Carpet Facial from Face Haus; a Healthy Spray Tan from Sugared & Bronzed; a Bottle of cold-pressed juice from Kreation and a wash and blow out from the Dry Bar.

Relax in a Spa
Looking to get a red carpet glow? The Ritz-Carlton, Los Angeles is the perfect place for award show primping and pampering this year.

The hotel's Red Carpet Ready Experience is five-hour spa day featuring a Champagne and Shimmer body treatment coupled with a 24-karat gold shimmer dusting. Then, restore the skin's vitality with a skin radiance mask and age defying crystal massage during the Red Carpet Radiance Facial. Next, the Hollywood Glamour mani-pedi ensures each guest is dazzling from head to toe, featuring colors inspired by iconic red carpet components. Complete the experience with a make-over and blowout. (6.5 hours | $995)

To make an appointment, interested parties can call The Ritz-Carlton Spa, Los Angeles at (213) 763-4400.

Oscar Chocolate
If you are heading to your friends' viewing party and want to bring the host a gift, try confectioner, Valerie Gordon, who has a star-worthy lineup of goodies. Valerie Confections is offering "The Golden Men," featuring solid 61 percent bittersweet chocolate. Each statue is finished by hand with edible gold luster dust and stand approximately 3" tall, packaged in an ivory box and tied with a gold satin ribbon. ($72 for a pack of 6 individually wrapped statues).
Have an Oscar-Themed Cocktail
As the 91st annual Academy Awards is upon on, several restaurants have come up with a variety of delicious and inventive cocktails just in time to celebrate this glamorous award day.
The sbe hotspot HYDE Sunset has a fantastic cocktail to indulge in.
Drink: Bohemian
Ingredients: Belvedere vodka, muddled blackberries and raspberries, ginger syrup, fresh lemon juice, simple syrup, top with prosecco (sbe.com/restaurants/brands/hyde-sunset-kitchen-cocktails/)
Norah and Margot will also be offering special cocktails to pay homage to the year's best films.
Drink: A Star is Born aka Vermouth and Tonic
Ingredients: Martini ambratom vermouth, chatmomile, rasberry, burdock, star anise
https://www.margot.la/

Try Something Different
Kick Axe, the first axe-throwing venue in New York City, has invited you to a unique axe throwing experience, valued at $13,500. Customized hats and VIP invitations are included in the exclusive in-suite gift bags given to the Oscar nominees, presenters, and attendees staying at the Four Seasons. The VIP experience offers a unique opportunity for celebrities to attend a private event with an open bar and one on one training with an "ax-pert," one of Kick Axe's trained expert axe throwers.
Serve Great Food!
Chef Wayne Elias and Crumble Catering is handling Elton John's Oscar party menu for a 15th year, serving over 1000 people.
"Elton's team tastes my menu suggestions and make the decisions on what we serve," enthused Elias. "Each year, we do a five-course, sit down, waiter-served menu. Last year we had Chicken Canneloni, Scallop Truffle Vegetable Consomme, Filet Mignon, Sea Bass, and  Arugula Salad with Comte Cheese."
In addition to working with Elton John, Elias is on the Board for Project Angel Food, donating and helping many organizations in the LGBT Community such as The Center, Aid for Aids, Trevor Project and GLAAD.
"I lost a partner to AIDS  during the epidemic and have always said I would do anything to help end this disease that has affected our community," he said. "So I can give back through my passion and business to all organizations in the LGBT Community."

Even if you can't attend Elton's event, you can still order food from Elias' restaurant, Rockwell Table & Stage!
Zachary Zane is on a mission to destroy sexual shame
The bisexual influencer, sex columnist, & author of the memoir Boyslut opens up about his career, his anxiety, and his upcoming vasectomy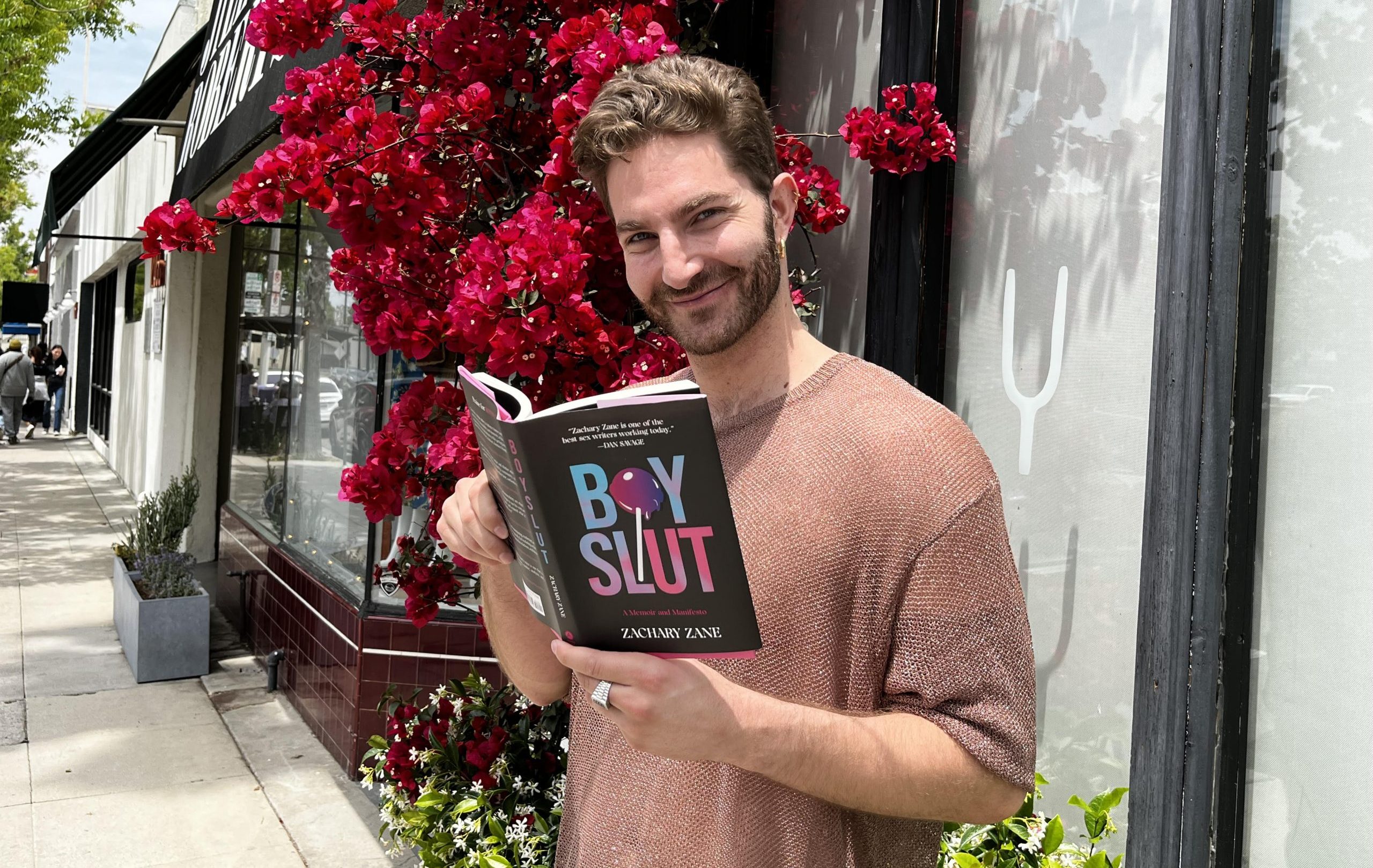 By Rob Salerno | WEST HOLLYWOOD – Zachary Zane isn't having fun this weekend in Los Angeles.
While normally the Brooklyn-based sex columnist and bisexual influencer would have a string of sex parties lined up for a trip to his hometown, Zane says he's had to restrain himself because he's freezing his sperm in advance of an upcoming vasectomy.
"This weekend is particularly boring," he says with a broad laugh over coffees in Studio City. "There are a lot of fun sex clubs and parties here. It's a lot of house parties that turn into orgies. That's one of my favorite things."
It's the sort of frank, guileless admission that's become the 33-year-old's trademark through his "Sexplain It" column at Men's Health and substack newsletter, which has made him an icon of the bisexual community and led to his book Boyslut: A Memoir and Manifesto.
Zane says he was motivated to get the snip after the Supreme Court's Dobbs ruling last year gutted abortion rights in the United States.
"After Roe v. Wade got overturned, I kind of wanted to take control, and no longer have it be that the impetus has to be on the woman," he says. "I do not want to have kids. I like having unprotected raw sex. I like being able to cum in my partners. Over the years, you have close calls, and the science is here, you don't have to worry about it."
And this too is surprising, given that Zane's online presence seems to embody the "chaotic bisexual" character type.
"My editors say I'm cautious and take calculated risks. I've never turned in a story late. In many ways I'm a sexually chaotic bisexual, but I'm also very on top of everything," Zane says.
Reading Boyslut, Zane's tendency for over-preparing, cautious planning, and protecting the feelings of others is evident and oddly refreshing, whether he's writing about his struggles with obsessive-compulsive disorder, anxieties about his remaining sexual hangups, juggling polyamorous relationships, or broaching a truly shocking fetish with his partners (I'll leave that for you to read about in the book).
If you were picking up Boyslut expecting it to be a polemic about sexual libertinism, you might walk come out surprised by the degree to which the book advocates for caution, comfort, and compassion as much as it's an endorsement of reckless, uninhibited sexual pleasure.
Indeed, Zane says an early title for the book was "Cautious Slut." And, lest you think the actual title is exclusionary, Zane defines a "boyslut" as "a person of any gender or sexual orientation who approaches sex without a lick of judgement or shame."
"I'm trying to help people live unabashedly in whatever their relationship is with sex. It's not just about being slutty and having sex with as many people as possible. If you are asexual I want you to own that," Zane says.
Zane also makes a compelling argument for the importance of having a community of people you trust to overcome sexual shame.
"Of course, I experience shame. I'm not superhuman. I live in society," he says. "When I do experience shame, I try to differentiate between feeling shame or feeling guilt. When I'm feeling overwhelmed by it, I think a lot of the answer is having this community and friend group that I can call instead of going home and crying alone."
It's hard to imagine that the guy who regularly writes about his prodigious sexual escapades could suffer from shame, but Zane insists there's plenty he still holds back.
"I'm vaccilating between the things that cause me shame and things I don't need to share with everyone," he says. "I feel very comfortable writing about very raunchy sexual experiences – me getting DP'd and my hairy asshole. But I don't talk about my breakups online, my relationship with my family. Even when I talk about my OCD and anxiety, it's usually from a humorous place and not like, 'oh, this was crippling.'"
Though he insists that he's very sexually open, it was in fact his anxiety over sexual shame that led him to his current career.
"I chose a career where, if my nudes leaked, that would be the best thing that happened to me. I wouldn't get fired – I would get great articles from it," he says. "I did that purposely because I didn't want to have that fear and anxiety."
So is that the answer? Share everything that causes you anxiety?
"I think all of us have different levels of risk tolerance," he says. "Engage with the amount of sharing you want to do. I'm talking about cultivating a friend group or community where you feel loved and embraced by people who really cherish you and know you. I'm not encouraging people to just overshare online and seek validation from headless torsos and strangers. It's about having these more meaningful connections that matter more."
Of course, not everyone has the luxury of a column in a national magazine to exorcise their anxieties into.
But over the three years that Zane has written Sexplain It for Men's Health, he believes he's contributed to a culture shift both at the magazine and in the broader culture.
"Men's Health has always been slightly gay, just by being a men's fitness magazine with half-naked men on the cover," he says. "A lot of closeted bi guys who've been married for twenty years, they don't feel comfortable to read Out or Pride.com, but they do feel comfortable to go to Men's Health and if they're on the site and they see something, they're going to click. So I'm reaching an audience who arguably needs it the most."
"I was really part of this new generation at Men's Health. They have a lot of queer men on staff, a lot of women on staff, and they're making it more feminist and queer and intersectional."
And what even qualifies Zane to be a sex advice columnist anyway?
"First and foremost, I was a journalist. In the first Sexplain Its, I always reached out to an expert in the field." Zane begins to explain how he reads every relationship book out there and sifts his reader submissions to only answer the questions he feels comfortable with.
Then he gets wistful as he begins to tell a story that led him to believe he could write authoritatively on sex.
"It's a weird thing about being a sex expert. I had a date with this woman when I was 22. She was like 50 and a sex expert/therapist. A funny thing was I was the same age as her kids. So, I was at the beginning of my career, trying to break into this, and I asked, 'What constitutes a sex expert?' And she goes, 'For anything, being an expert is when you say you're an expert and people believe you.'"
********************************************************************************
Rob Salerno is a writer, journalist and actor based in Los Angeles, California, and Toronto, Canada.