March 31, 2019 at 4:44 pm PDT | by Brody Levesque
Why I am a Transgender Ally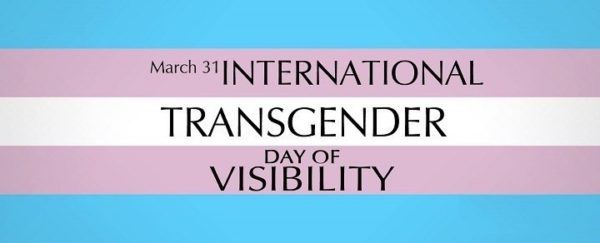 Thirty years ago this month, not long after my thirtieth birthday- I was in a very bad space. Married, in-the-closet, depressed, and six months previously had lost my best friend from childhood growing up in Ontario to the scourge of the AIDS pandemic. He had moved to San Francisco a decade earlier to live freely as a gay man and invited me to tag along, and for one year before returning home to Canada to finish university, I too was able to experience living authentically.
Then, ten years later, I was living in Ventura County and commuting for my job as a journalist to Los Angeles everyday and the occasional weekend. I had a beautiful wife, two boys with a third on the way, a gorgeous home with a magnificent mortgage, the bills, life's usual details that one experiences while 'adulting' yet I felt trapped. I knew I was gay.
My problem was being torn between desirous of feeling complete which meant a same-sex relationship or being desperately unhappy living the lie that was my life with my wife that I knew I was being unfaithful to. Street sex, cruising, sneaking into clubs, hook-ups of opportunity which many were frankly unsafe as condoms were not a part of the equation in the never ceasing furtive need to have another man to be intimate with- to love.
I was at a crossroads wracked with guilt and depressed. I was suicidal and did not honestly see a way out. My wife knew something was wrong, my kids sensed it and my coworkers would gingerly broach the edges of the issue in that safe banal way one does should one not want to create offence.
But there were two women, also coworkers, who were blunt and in a deeply compassionate way kept asking after my health and well being, with one being extremely direct in her inquiries.
One Saturday afternoon, after yet another secretive sexual tryst, I was so out of it with guilt that as I wandered down Santa Monica Blvd, I seriously was contemplating just stepping out from between the cars parked at the curbside and into traffic and hoping a truck or bus would just put me out of my misery.  By happenstance, I ran into the two women who were walking arm-in-arm down the sidewalk towards me and apparently I looked crappy and upset. I literally was grabbed and escorted into a nearby restaurant where they ordered coffee and then looked at me expectantly waiting for me to speak.
There was a pause and then the looks of loving concern and care caused me to open up and not unlike the metaphorical floodgate, all of those emotions tumbled out and for the first time since I lost my best friend I bared my soul. I even admitted that getting squashed by a transit bus had been a distinct possibility. Not only did they listen, but they took charge. They had me call my spouse to tell her that I was going to be working "overtime" on a "breaking" story and that I wouldn't be home until likely late the next day.
One grabbed my keys to my car and I went with the other in theirs and we headed the few minutes up into Laurel Canyon to their home.
What happened next has stayed with me all these decades since. We talked, we laughed, we cried, we hugged, we drank incredible amounts of herbal tea, and got to know each other. I had long suspected that they were Lesbian, confirmed, but what came next was a shock, they were both Transgender. They too had held a secret that would have cost them their jobs, careers, and more, yet they took a chance on me as messed up as I was to share the mutual pain of not being able to live one's life authentically.
For these two marvelous women, deeply in love with each other, a crucial component of their lives as human beings was forever barred it seemed, the ability to have visibility. They had also experienced suicidal thoughts prior to their meeting and falling in love and knew only too well the feelings of hopelessness and despair. Despite that they flourished and embraced life fully.
We became friends and remained so until cancer took one and a stroke another. It was from them and the lessons they taught me about the true diversity of the human species that I have carried with me since.
I have fought hard for my Trans brothers and sisters ever since as a fully committed ally because of those two incredible brave women who taught me the most valuable lesson of all, how to love one's self.
On this Transgender Day of Visibility, I give thanks with deep gratitude to the Trans community for in no uncertain way, saving my life.
Brody Levesque is a veteran journalist and is producer and co-host of RATED LGBT RADIO in Los Angeles, California