LA LGBT Center's ambitious Anita May Rosenstein Campus opens
A new symbol of LGBT triumph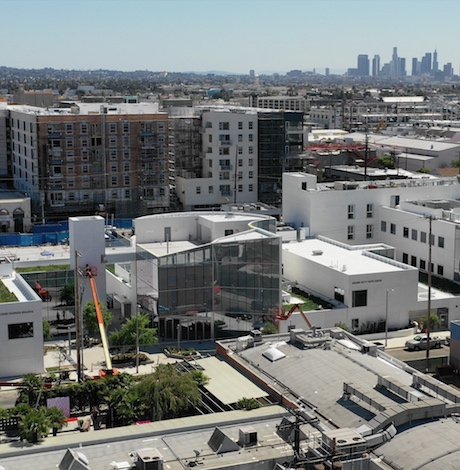 Strong women are emerging as political powerhouses in 2019. In addition to California Sen. Kamala Harris and the five other female presidential hopefuls, Speaker Nancy Pelosi and Reps. Maxine Waters, Katie Hill, Katie Porter and Alexandria Ocasio-Cortez rivet the imagination among the 127 outspoken women in Congress.
That's what we see in Trump's America, strong women standing up and fighting back in their own fashion. What we may not see are the powerhouses on the ground, the strong women who are creating, funding, building achievements that blow our minds at the ribbon cutting and endure years beyond anyone remembers why that ribbon cutting moment made history.
Los Angeles LGBT Center CEO Lorri L. Jean and philanthropist Anita May Rosenstein are two such strong women whose vision, commitment and determination led to the grand opening of the massive Anita May Rosenstein Campus on Sunday, April 7, marking as monumental a moment in LGBT history as the Stonewall riots did for the gay liberation awakening 50 years ago. There's nothing like this campus anywhere in the world—and no one else has even imagined it.
Located at 1118 N. McCadden Place in Hollywood—just blocks down the street from where Center co-founder Morris Kight lived for many years—the two-acre complex on nearly one full city block directly across from the Village at Ed Gould Plaza will provide comprehensive intergenerational services for LGBT seniors and youth with emergency and transitional housing and beds, affordable housing, a new Senior Community Center, Youth Drop-In Center and Youth Academy, and employment programs. Phase II will add more apartments by mid-2020.
Additionally, the Center is moving its headquarters to the AMR Campus, turning the current four-story McDonald/Wright Building into an LGBT health center.
"Without a doubt, the Anita May Rosenstein Campus will change lives," LA City Council member David Ryu said Sept. 7, 2018 after the council approved his motions for $850,000 in funding. "I firmly believe that when completed, the Anita May Rosenstein Campus will be the pride of Hollywood."
The idea for the complex grew out of an in-depth planning process that began in late 2006 and culminated in February 2008. The Strategic Planning committee was comprised of Loren Ostrow, LuAnn Boylan, Marki Knox, Eric Shore, Glenn Tan and three staffers—Jean, Chief of Staff Darrel Cummings, and Chief Administrative Officer Kathy Ketchum.   
"We were trying to figure out what would be the future needs of our community," Jean tells the Los Angeles Blade. 
They came up with five priorities: 1) medical care for the entire community (not just people with HIV); 2) housing, especially for youth and seniors who faced homelessness and discrimination; 3) expand services for seniors; 4) expand services for all youth, not just youth experiencing homelessness; 5) Build a public policy and community building department. (A 6th priority was added in Aug. 2014 to expand substance use prevention and treatment programs.)
"All of this expansion was to be in the context of making our services more geographically accessible, ensuring that we had the managerial capacity to implement plan goals and that new programs and services were financially feasible and sustainable," says Jean.
"It was a bold vision. But it was such a bold vision, Darrel and I freaked out. We said to the board 'We're not sure we're up for this!'"
Jean and Cummings previously left the Center burned out by years of around-the-clock pressure and upon their return, they promised themselves they'd find more balance in their lives. Wanting to keep the two prized executives, the board offered to change the plan. "No, it's the right plan," Jean recalls saying, suggesting that perhaps the two were not the right people for the job.
Jean and Cummings took a few weeks of soul searching, though they finally told the board, "OK, we're in."
But Jean was frank. "This is going to mean a capital campaign because the only way we're going to be able to afford the space to do all of these things that we've set our sights on is we've got to raise it," she remembers telling the board. "'And I have my eyes on exactly the property I want – I want that property across the street from the Village, which belongs to the state of California. And I want to get it for free."
They immediately started working on the state of California and making their rounds, meeting with LA City Council member Eric Garcetti, in whose district is the Center headquarters. They preferred speaking with him rather than Council member Ferraro, in whose district sits the Village.
And then the stock market crashed. "So that delayed everything because nobody knew what was going to happen," Jean says. "We put many things on hold for about a year. We were still growing in the other program areas, if we had the money to support them—but we weren't going to launch anything dramatic in light of the crash."
In addition to the crash, the Center was also in the No on Prop 8 coalition that 2008. Prop 8 passed and Barack Obama was elected as America's first black president. Meanwhile, the Center kept working.
"We began to achieve different bits," Jeans says. "We became a federally qualified health center. We were setting our sights on what we were going to do for youth and what fell in our lap but Life Works. We got into the foster youth business when GLASS folded. And we began to open up other sites—Boyle Heights; last year Korea Town with our Trans Wellness Center; right now doing tenant improvements on a site in South Los Angeles; we did the new clinic in West Hollywood; Gay & Lesbian Elder Housing came to us and that was right, perfectly in the wheelhouse."
The whole time, "we're talking to the state of California about how we want that property. And so finally they agree to give it to us for $1. We were getting it for free!," Jean says. 
And then comes a twist. "We found out that the federal government had equity in the property. And because it was an Employment Development Department building, it was the Department of Labor – headed by Sec. Hilda Solis! So we worked with Hilda and she agreed to let the state give it to us for a dollar," Jean says.
And then another twist. Hilda Solis steps down to run for the board of supervisors — "before the deal was consummated. Tom Perez stepped in (as Obama's new Secretary of Labor). He was brand new," Jean says, "but we had a deadline running with the state that we had to fish or cut bait. And even though we got (Rep.) Adam Schiff's help, Tom Perez did not have the guts to follow through on Hilda's deal—and he had toured the Center!
"So I will always be very disappointed in Tom Perez for that decision," Jean says. "So we had to pay $12.7 million for it."
But the team was undeterred.
"During this time, we began to define the scope of what this project would be," though it was a number of years before they were secure in knowing they actually had the two acres, getting help from a number of people, including Assembly Speaker John Perez.
"We pulled in a lot of favors to get that state building without having to go to a public competition," she says. "Within a year after we bought the building it was appraised for more than $17 million."
They also knew they had to "over-achieve" in their fundraising.
"We had momentum right out of the gate," says Jean. "Before this campaign, no living donor had ever had ever made a seven-figure gift or a seven-figure pledge, excluding estate gifts. There have been a few people who'd reached the million-dollar mark in cumulative giving over the decades. But no one had ever said, 'yeah – here's a million dollars' or anything above that. In this campaign, excluding some estate gifts, we have 15 people who gave seven figure gifts. Our biggest gift is $8 million from Anita."
Jean waxes poetic about one particular night of fundraising. "We were at an amazing party at a board retreat in 2013 at Anita May Rosenstein's Laguna Beach home," she says. "She hosted a dinner and that night I announced how much we had raised in the first two months. I think it was almost $4 million. Well, damned if Anita didn't say, 'I'll match it.' That inspired more gifts. One donor was so inspired, he said,  'Maybe I ought to call my wife. What the hell – a million dollars, if Anita will match it.'
"So by the end of that night, we were at $13 million," Jean recalls. "It was the most incredible, amazing evening of fundraising I have ever experienced in my life! And we were off and running."
And then came 2016 and the election of Donald Trump as president instead of Hillary Clinton.
"When Trump got elected, people got scared, myself included," Jean says. "And there were a number of people who came to me from the community, donors, members of my staff who said should we re-think doing this Campus because what if we face all these cuts and we need that money for services and not for bricks and mortar. First of all, I said to them, if we don't build the building the money goes back. People won't give it to us for services. That's how capital campaigns work." 
More importantly, she said, "we have to do this project now more than ever. We have to show that we will not be stopped, that we cannot be stopped! It's become to me an even more powerful metaphor. Here we have a president and his team of people who want to build a wall to keep the most vulnerable out. And what do we do? We build a beautiful campus to invite the most vulnerable in."
And an inspired LGBT community and allies raised money to make it happen. "The estimated total project cost is approximately $141.5 million," Jean says.  "I say 'estimated' because two big pieces of the puzzle haven't yet been completed, i.e., the affordable housing to be completed in Phase II (senior units and youth micro units).  Our affordable housing development partner, Thomas Safran & Associates, estimates they will cost $63 million; the remainder is for the rest of the campus."
And powerful women are leading the campaign.
"I like to think of this project as woman powered!," Jean says. "Two of our top three donors are women—Anita and Ariadne Getty.  And Ariadne has generously named both our Youth Academy and our Senior Housing. Moreover, 5 of the additional fourteen 7-figure gifts are partially or entirely from women."
The Youth Academy at the new campus will be named The Ariadne Getty Foundation Youth Academy.
For Lorri Jean, the Anita May Rosenstein Campus now symbolizes the triumph of the LGBT community in Los Angeles. 
"This campus is a testament to more than those of us who worked on it. It is a testament to 50 years of Center staff and volunteers toiling. And it is a testament to this community," Jean says.
"Our community in Los Angeles has had the ability to envision things here that no one else ever did—from the Mattachine Society or Edith Eyde (Lisa Ben) and Vice Versa, or the ONE Institute, or the Los Angeles LGBT Center. Cooper Donuts—the first demonstration against gays in the military in the early 60s. The Metropolitan Community Church. People have had courage and boldness in our community in LA. And this could not have been created anywhere else. Something like this is not even being contemplated anywhere else in the world.
"And that is a testament to this amazing Los Angeles LGBT community and increasingly, with our allies," says Jean. "And I'm just proud of all of us. Proud of this community. LA doesn't get its just due in terms of our role in our movement."
Perhaps until now. 
Correction: In an earlier version of this story, we inaccurately noted that the property was appraised for $70 million one year after purchase. It was actually appraised for $17 million. We regret the error. 
Governor Newsom announces new gun safety legislation
In 2021, Calif. was ranked as the #1 state for gun safety by the Giffords Law Center, seeing a 37% lower gun death rate than national average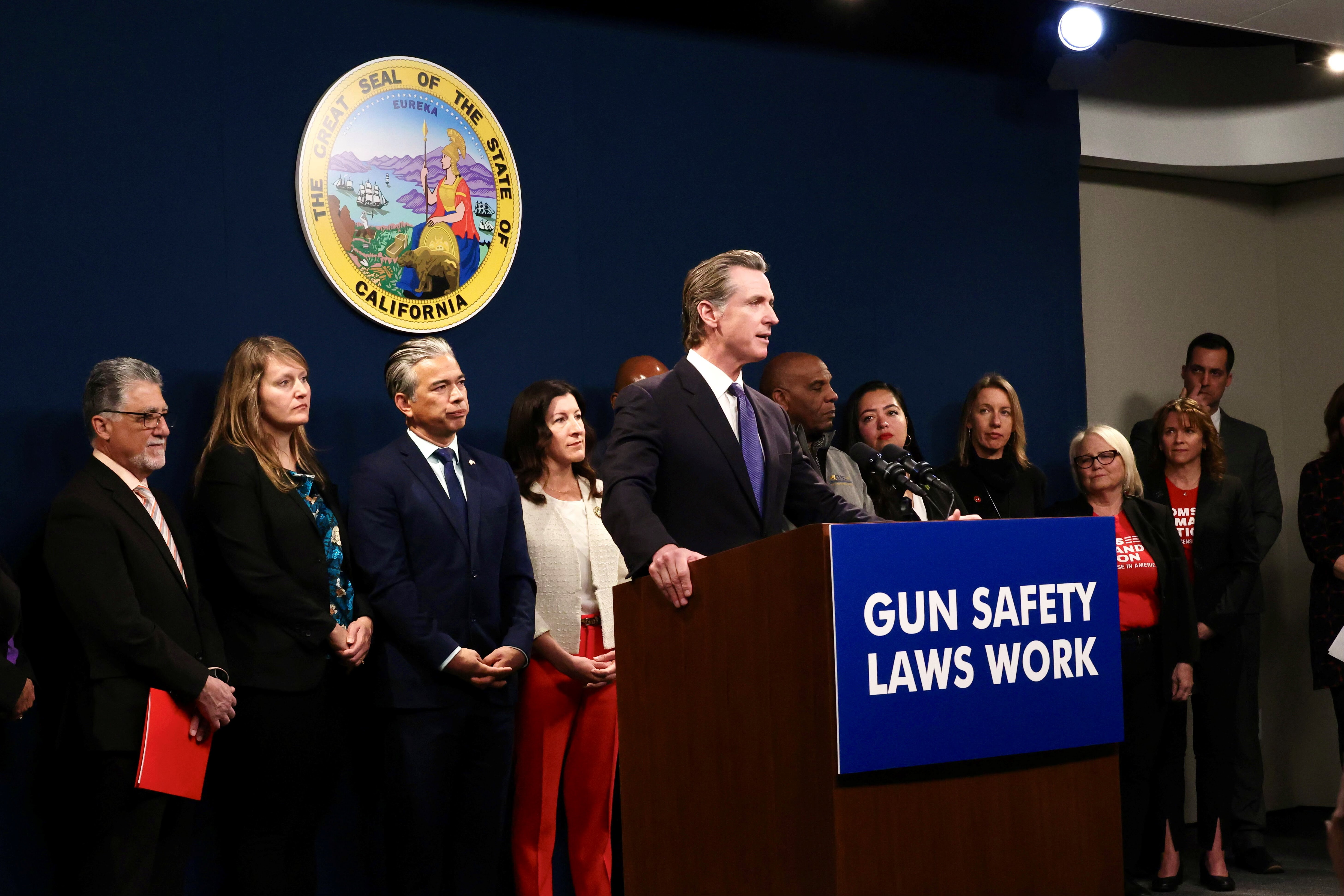 SACRAMENTO – In the wake of multiple mass shootings that took the lives of 19 Californians in just 72 hours last week, Governor Gavin Newsom, Attorney General Rob Bonta, and Senator Anthony Portantino (D-Burbank) announced new gun safety legislation to modernize and strengthen California's public carry laws.
"Only in America do we see the kind of carnage and chaos of gun violence that destroys our communities and our sense of safety and belonging," said Newsom. "America is number 1 in gun ownership and we far surpass every developed nation on Earth in gun deaths – it's not complicated. In California, we've passed common sense gun safety laws and they work: we have a 37% lower gun death rate than the national average. We're doubling down on gun safety and strengthening our public carry law to protect it from radical Republican attacks."
According to the Center for American Progress, efforts to weaken concealed carry laws across the country have increased violent crimes – with studies showing gun homicides increased by 22% in states that passed permitless carry laws and violent crimes with a firearm went up 29%.
Newsom signed a package of gun safety laws last year, making it easier for Californians to sue manufacturers of illegal assault weapons and those spreading them, allowing lawsuits against irresponsible gun industry members, strengthening prohibitions on ghost guns, as well as restricting marketing to minors. 
"The mass shooting incidents we have seen over recent weeks bring to light the need for stronger protections for our communities. The fact is, individuals who are not law-abiding, responsible citizens simply shouldn't possess firearms — and they especially shouldn't be allowed to carry a concealed weapon in public. When a gun is placed in the wrong hands, it is deadly," said California Attorney General Rob Bonta. "The Second Amendment is not a regulatory straightjacket — we must protect our communities. The time for thoughts and prayers has long passed, we need brave and immediate action by our leaders – here in California and beyond. We owe our community stronger protections. I urge our state leaders to quickly adopt SB 2. We can't afford to wait even one minute more."
Last June, the U.S. Supreme Court struck down a New York law, aspects of which mirrored California's public carry laws, and the legislation announced today – Senate Bill 2 by Senator Portantino – would make fixes necessary to update the standards and processes for obtaining a public carry permit in California.
Senate Bill 2 strengthens California's restrictions regarding public carry laws by:
Enhancing the existing licensing system – ensuring those permitted to carry firearms in public are responsible and law-abiding individuals;
Protecting children – setting a minimum age requirement of 21 years of age to obtain a CCW license;
Advancing stronger training requirements – ensuring proper handling, loading, unloading, and storage of firearms; and
Identifying certain sensitive public places – establishing safe community places where people should expect freedom from gun violence.
"In the wake of the recent tragedies in Monterey Park and Half Moon Bay and the continued threat of mass shootings, it's critical that California leads on the issue of gun safety and reform. I am proud to be working with Governor Newsom, Attorney General Bonta and activists on SB 2 to strengthen our existing public carry laws and ensure every Californian is safe from gun violence.  We must be diligent in addressing the gun violence epidemic in our country and public carry laws are a key component of this," said Senator Anthony Portantino.
California launched an 18-month campaign to promote gun violence restraining orders – "red flag laws" – that allow law enforcement, family, coworkers or friends to petition a court to temporarily remove weapons from people deemed dangerous to themselves or others. A study from the Violence Prevention Research Program at the University of California, Davis found that California's red flag law was used to stop 58 threatened mass shootings since 2016.
California's gun safety laws work. In 2021, California was ranked as the #1 state for gun safety by the Giffords Law Center, and the state saw a 37% lower gun death rate than the national average.
According to the CDC, California's gun death rate was the 44th lowest in the nation, with 8.5 gun deaths per 100,000 people – compared to 13.7 deaths per 100,000 nationally, 28.6 in Mississippi, 20.7 in Oklahoma, and 14.2 in Texas.
Moms Demand Action Founder Shannon Watts noted: "The Supreme Court's reckless Bruen decision opened up the floodgates for more guns in more places — but with this bill California once again renewed its commitment to being a national leader in the fight against gun violence. While the gun industry celebrated the ruling that put their profits over our safety, our grassroots army is proud to stand with our Gun Sense Champions in California to pass this critical bill and make our communities safer."
"Following the Supreme Court's egregious decision in the Bruen case, it is vital that the Golden State takes meaningful action to protect all Californians from the threat of gun violence. SB2 would do just this by updating and improving the state's already strong concealed carry license system, and ensure that loaded and concealed weapons are not allowed in certain sensitive places. With SB2, leaders in California are continuing their leadership in prioritizing the public health and safety of all its citizens," said Brady Campaign President Kris Brown, adding "Brady applauds Senator Portantino for introducing this important bill, and thanks Governor Newsom and Attorney General Bonta for their continued leadership on this issue, and urges the California legislature to pass it without delay."
Giffords State Policy Director Ari Freilich stated: "In the face of tragedy, California's leaders act. They've led the nation on gun safety reform and made California a much safer state than most. But today, grieving communities know all too well how much more work there is to do. California achieved an all-time record low gun fatality rate in 2019. But like the rest of the country, we have faced record spikes in gun sales and violence since the start of the pandemic and a flood of new weapons in public spaces as a result of the US Supreme Court's dangerous Second Amendment ruling last year. Passing SB (2) will strengthen communities' ability to respond to these threats by requiring stronger vetting and safety training to carry weapons in public and by designating vital community spaces like parks and playgrounds as off-limits to weapons throughout the state. We thank leaders like Governor Newsom, Attorney General Bonta, and Senator Portantino for their work and commitment to make all Californians safer and freer from violence."