Alejandra's story: ICE falsified documents against trans detainee, says her lawyer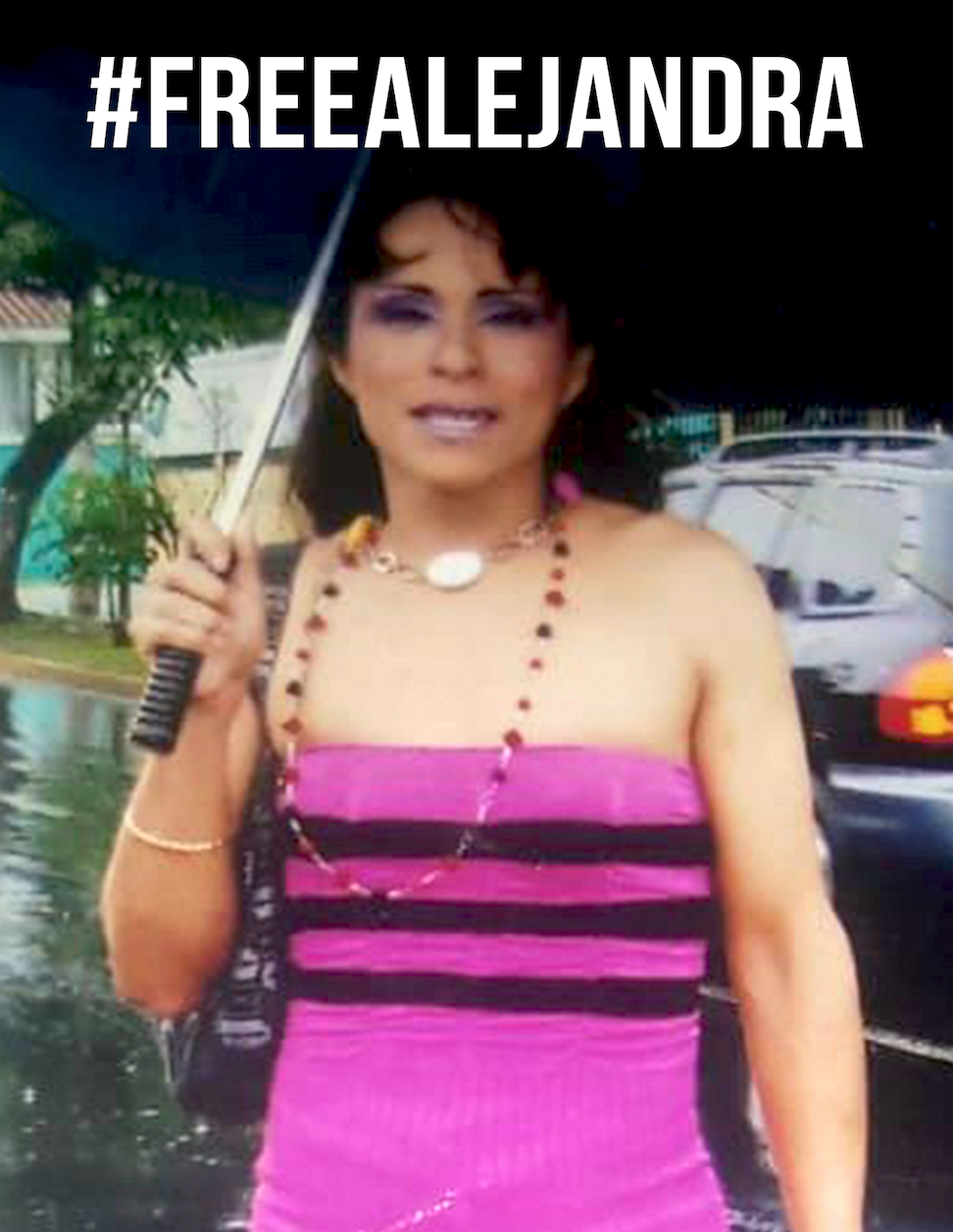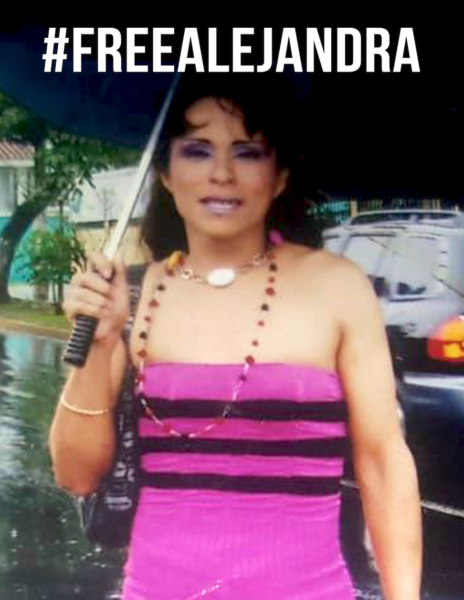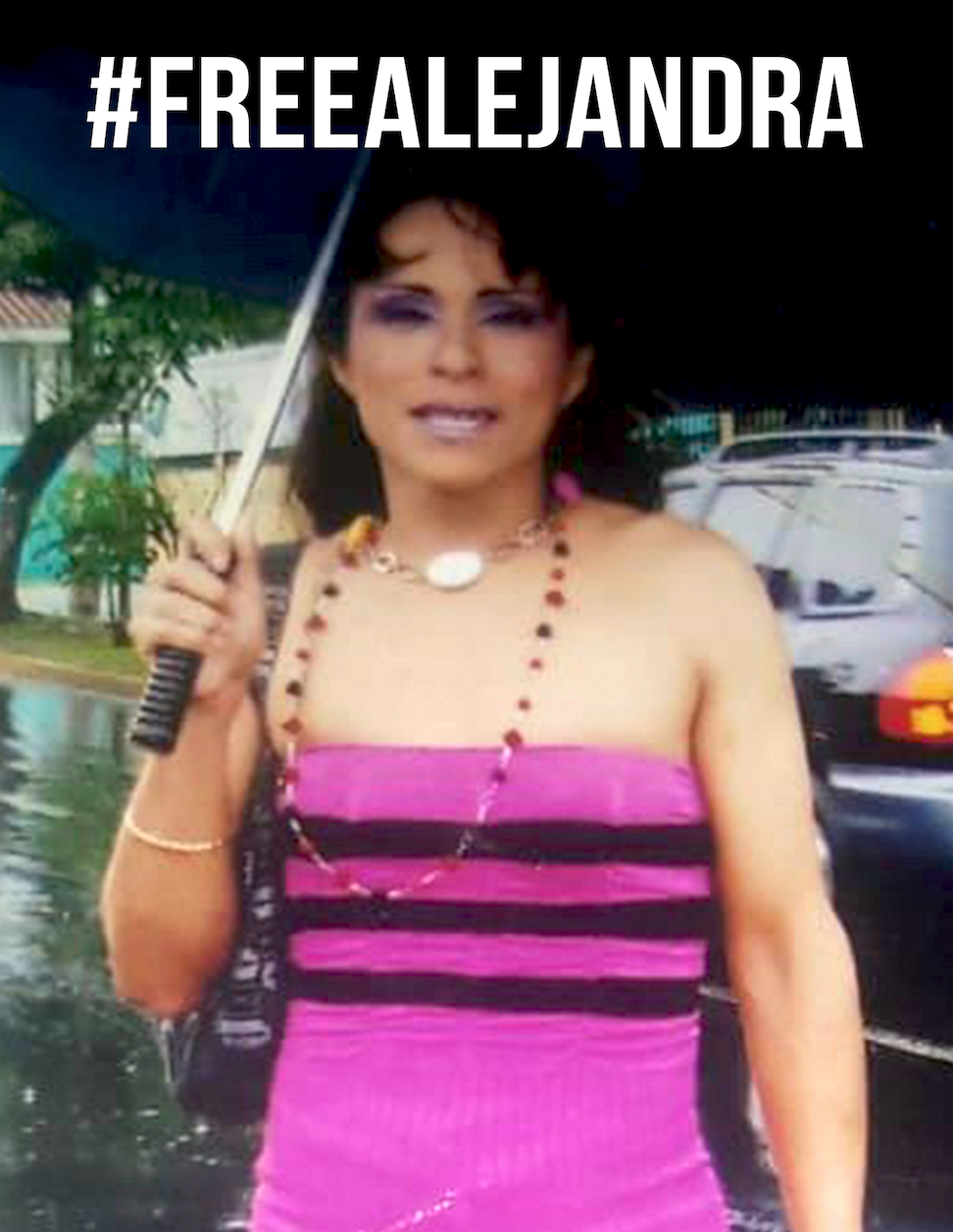 Alejandra Barrera (Photo courtesy [email protected] Coalition)
The whole world is watching as President Donald Trump decimates the Department of Homeland Security (DHS), including removing Ronald Vitiello, a former Border Patrol official who has been the acting director of Immigration and Customs Enforcement (ICE) since June. Trump wants to go in a "tougher direction." 
Asked by White House reporters Wednesday if he might put immigration hardliner Stephen Miller in charge of the sizable department, Trump said that while Miller is "a brilliant man…frankly, there's only one person that's running [DHS].  You know who that is?  It's me."
It is highly unlikely that Trump or Miller or any of the departing DHS staffers know or care about how tough life already is for trans asylum seeker Alejandra Barrera who fled violence in El Salvador and now faces deportation after 16 months in Cibola County Correctional Center, ICE's for-profit contracted detention center in Milan, New Mexico.  Authorities failed to give her medical treatment for what has since become a serious condition. Cibola became the only detention facility in the country for trans women after the city of Santa Ana, California ended its contract with ICE in May 2017 and closed its specific GBT Pod.
Trump apparently lacks empathy for asylum seekers. "I think that the whole asylum rules, laws, and regulations have been taken advantage of by people that are very bad people, in many cases.  These are the people running the cartels.  They're gaming the system; they have been for years.  The only difference is our economy is now so strong that more people come up," he told reporters Wednesday.
Seeking asylum is a human right under international law for refugees fleeing torture and violence. But the apparent flagrant refusal to recognize asylum rules, laws, and regulations has resulted in the deaths of 22 immigrants in ICE detention centers over the two years since Trump's been in power, according to an NBC News investigation, revealing a system "long riddled with problems. Within the last year, the DHS Office of Inspector General has issued three reports finding poor treatment and spotty oversight in ICE facilities."
The NBC analysis does not include the deaths of two Guatemalan children in CBP custody in December nor the March death of a 20-month old girl, Mariee Juárez, nearly two months after she and her mother were detained in Texas. NBC notes that "ICE has said deaths in detention are 'exceedingly rare,' involving a fraction of those detained by the agency."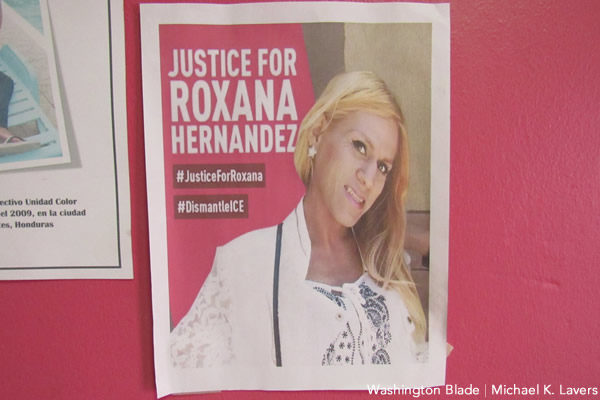 An LGBTI advocacy group in San Pedro Sula, Honduras, honors Roxsana Hernández, a transgender woman with HIV who died in U.S. Immigration and Customs Enforcement custody on May 25, 2018. Autopsy results indicate Hernández was beaten before her death. (Washington Blade photo by Michael K. Lavers)
The death of Roxsana Hernández , a 33-year old HIV-positive trans woman from Honduras exposed the particular suffering endured by transgender asylum seekers.
An independent autopsy revealed she died of dehydration and AIDS complications after 16 days in Cibola—and she appeared to have been physically abused before her death in May 2018.
Though there is no data for LGBT people specifically, a 2015 survey gives some clue about what Roxsana was trying to escape. The survey ranks Honduras as one the five deadliest countries in the world for women. Official government statistics reported 380 Honduran women murdered last year, according to significant story in the April 5 Sunday Review of the New York Times  – not counting number of women who have "disappeared," which continues to rise.
"Unlike in much of the world, where most murdered women are killed by their husbands, partners or family members, half in Honduras are killed by drug cartels and gangs. And the ways they are being killed — shot in the vagina, cut to bits with their parts distributed among various public places, strangled in front of their children, skinned alive — have women running for the border," The Times reports.
Alejandra Barrera fled El Salvador, also one of the five deadliest countries for women, after being pursued by government officials for being a trans activist and by gangs for simply being alive. She followed all the byzantine procedures laid out for asylum seekers, only to be locked up in Cibola detention center, with ICE refusing her medical care or release while her asylum requests are on appeal, a standard procedure. Now, with four requests denied, Alejandra faces deportation back to certain death.
But the denials are all based on fabricated documents, Alejandra's attorney Rebekah Wolf from Equal Justice Works tells the Los Angeles Blade, blatantly featuring a signature from an ICE official who was not in that position when the documented was dated, as well as other "falsified" information.
Alejandra is growing so weak from illness and so weary from the constant battle against cruelty, she's close to giving up, Wolf says.
Wolf is desperately trying to catch the attention of a compassionate lawmaker who can stop the deportation process so Alejandra can get a fair, unbiased asylum hearing and review her evidence that "ICE falsified parole documents in her case."
Alejandra, 44, was an activist, educator and a campaigner for trans and LGBT communities and for people with HIV in El Salvador, Wolf says. She also lived through the El Salvadoran civil war (1979-1992) and "had been targeted a number of different times by the El Salvadoran military at checkpoints who terribly abused her." So Alejandra escaped with her trans niece, Zulay.
They fled through Mexico, where she endured threats and abuse from gangs, which she attempted to report. They arrived at the U.S. border in November of 2017, entered legally through a Port of Entry, but they were detained immediately and transferred to Cibola, some of the first trans women detained there.
At the time, the El Paso field office was denying parole to everyone in the El Paso district.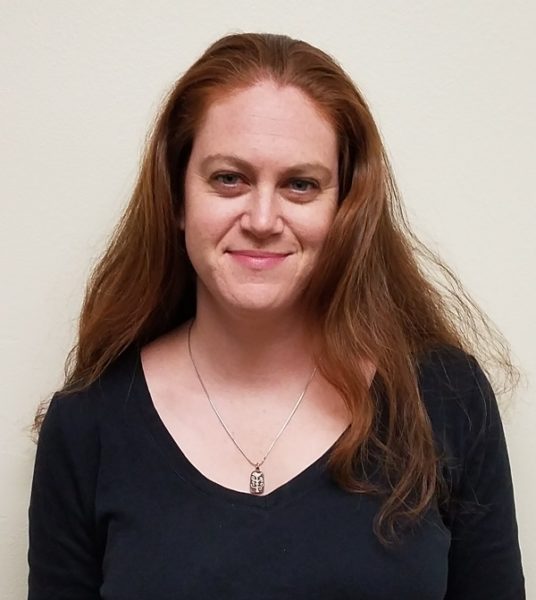 Rebekah Wolf (courtesy of Rebekah Wolf)
"Parole is release under ICE conditions and the regulations that state that once you get what's called a positive CFI, meaning you've got a positive, credible fear of determination, you should be released on parole unless the government can demonstrate that you are a flight risk or a danger to the community," says Wolf.
"What happened shortly after Trump came into office and started rearranging DHS was that there were certain districts around the country that clearly just had a blanket parole denial rule — an unwritten rule that they were denying everybody parole," she says, noting there is an ACLU lawsuit currently pending about the issue.
Alejandra should have been released after maximum two months of detention. "She got a positive, credible fear determination," Wolf says. "We requested parole five times. In the beginning they just told her there is no parole. So, she and Zulay both have their hearings and Zulay was granted asylum and has been out now for a year. Alejandra was denied."
The federal government changed the asylum laws so that now judges can deny asylum based on a prima fascia credibility finding. Because Alejandra suffers from PTSD from her abuse during the civil war, as well as from her time as an activist, she did not provide a chronological account of her torture, as is required when applying for asylum.
"They did not believe Alejandra when she told a part of her story but not all about the persecution, so they denied the entire case," Wolf says. "We argued and continue to argue that there's no question that she's trans. No one is suggesting that she's not trans. No one is suggesting that she's not from El Salvador."
With PTSD, Wolf says, "you don't remember things in a way that you would write them down in an affidavit, for example. So some judges in this country understand that and some do not. I believe that that was what happened in her case. The judge just couldn't understand why she didn't have memory recall in the way that he wanted it but that she just couldn't recall in that way. Then when the ACLU filed the lawsuit against DHS for not granting people parole, we filed a new parole request. It was an emergency humanitarian parole request based on a medical care issue."
Wolf entered serious Catch 22 territory. The emergency request was denied based on the supposed previous parole determination and a conclusion that there was no new evidence.
"There was tons of new evidence, medical records, et cetera. So when I challenged that determination by saying this is a first parole request that you've ever considered," Wolf says, "they created a letter that they claimed was the original decision. So they said that in March of 2018, they made a determination and they sent me that letter in July of 2018."
But Wolf never received the letter – because it was made up in response to the second request.
"The reason I know that they made it up is because it's signed by someone who wasn't in the role that was that actual position at the time that it was supposedly signed," Wolf says.
"The other reason why we knew it was false was because they're claiming that the original interview, for the original parole determination, happened on a day that happens to be my birthday (February 28, 2018), which is why I remember that she had court that day. So there's no way that they did a parole interview on that day, because I was with her."
Now it's the Twilight Zone. "I have four parole denial letters. On those four parole denial letters, there are three different dates of when the original interview supposedly happened," Wolf says. "This woman got screwed by an evil, evil ….It's DHS at that time. They thought that they could do no wrong and that no one was going to check."
Wolf brought the documents to the attention of the Assistant Field Office Director in the second to last parole request.
"I said, you have done this," she says. "We kept thinking that rather than having this come out, they would just parole her. Because the only request that we have been making since June of 2018 is: 'can she please just not be in a jail while she's waiting for her appeal to be decided?'"
Parole happens in nearly every case at Cibola unless there is evidence or a record of a criminal history.
"Alejandra didn't have a criminal history in the United States," Wolf says, and the director "had her positive GFI findings. Their own rules say that she should have been released."
The fourth request was denied because "she did not establish to ICE's satisfaction substantial ties to the community," as well as the previous decision on parole and no new information.
Not true. Alejandra has had multiple sponsors throughout the process, Wolf says, "multiple people willing to take her in, to house her, to make sure that she shows up for any ICE appointments. They could have imposed supervision conditions on her. They could have put an ankle monitor on her. They could have imposed a financial bond. They could have made her check in at the ICE office once a week. There were a number of different conditions that are very common, in fact, for people being released on parole. There are eight million different ways that they could have put conditions that would have alleviated some of those concerns. And they just didn't. They just wouldn't."
Free on parole, Alejandra and her sponsors would be better able to collect evidence to back up her claim. "She was in a catch-22, where she was denied because, in part, she was in detention. And then they wouldn't let her out of detention while her appeal was adjudicated," Wolf says.
And then there's the abject cruelty and incompetence.
"Another reason that she lost in the asylum proceedings, is because the same deportation officer that was sending me these parole denial letters, also, at the beginning of Alejandra's proceedings, refused to give Alejandra a copy of her credible fear interview notes, which is standard practice. Everyone gets a copy of it. We had never seen anything like it."
So Wolf requested and received a court order for the government attorney to turn over these notes. But the government attorney did not turn them over and instead used them in the proceedings to try to impeach Alejandra, as if she told a different story at the interview than during testimony.
When Wolf objected, the judge said: "Well, yes, you have a right to see them. So I'm going to let the government attorney ask these questions now. But you can give a written objective, and we'll have another hearing after you get to see these notes."
After the hearing was completed, she got the notes, wrote out her objections and requested another hearing, per the judge's order. "And he denied the request for the new hearing."
So now there is a due process issue in Alejandra's case that is currently on appeal in the 10th Circuit. However, since all asylum requests have been denied, she may be deported back to El Salvador for the federal case is scheduled for a hearing.
"The 10th Circuit did not issue a stay of removal when they accepted the case. So they can deport her with the appeal still pending, which they are trying to do," Wolf says. "It's insanity-making."
Wolf confirms but [email protected] Coalition founder Bamby Salcedo says – that Alejandra is close to giving up. Salcedo says she has been trying to lift up her spirits by phone.
"But she's also letting us continue," says Wolf who visited Alejandra Tuesday to say good-bye and to say "I'm so sorry" because she said that she was ready to go, because she just couldn't …"
Wolf pauses, the silence poignant with dire possibilities.

"ICE is acting with total impunity in this country right now," Wolf says. "Even falsified documents — it feels like spitting into the wind. And then I talked her this morning, and she's like, 'One last battle. One last battle.' So that's what we're on."
Wolf is sending evidence to Congressional offices of what they think are falsified DHS documents. The documents were also filed with an emergency request for a stay of Alejandra's deportation. And she has filed documents with ICE that she believes indicate that Alejandra is "showing symptoms of a progression of a disease that not only is lethal but affects her cognition."
That officials at Cibola didn't treat her early treated with simple antibiotics is "very clearly a human rights violation," says Wolf.
Wolf and the [email protected] are asking for the community's help by calling or texting their own Congressional members, even if they're not in New Mexico or Texas, and call the ICE office in El Paso and ask them to stay Alejandra's deportation.
"We understand that this is one case in a ocean of human rights abuses and unbelievable violations of human rights and civil rights by the US immigration system," Wolf says, "but we want to highlight it to just show how bad it really can be."
Bamby Salcedo spoke with Univision about Alejandra's situation.
They ask for help: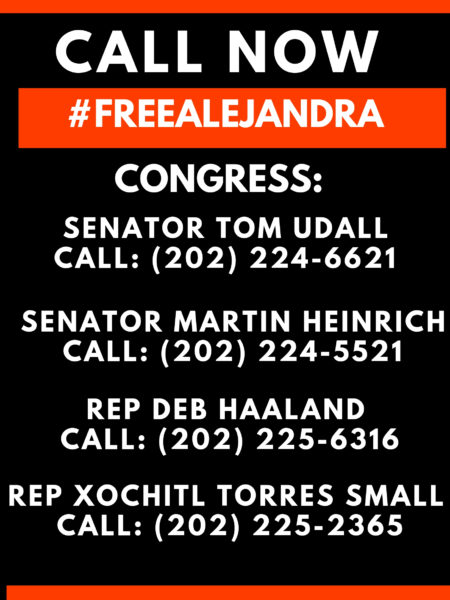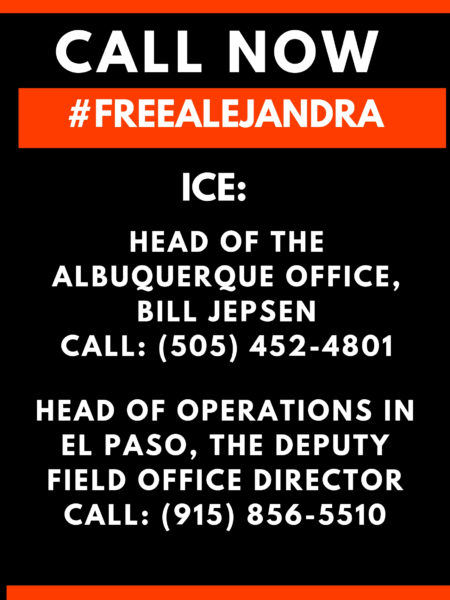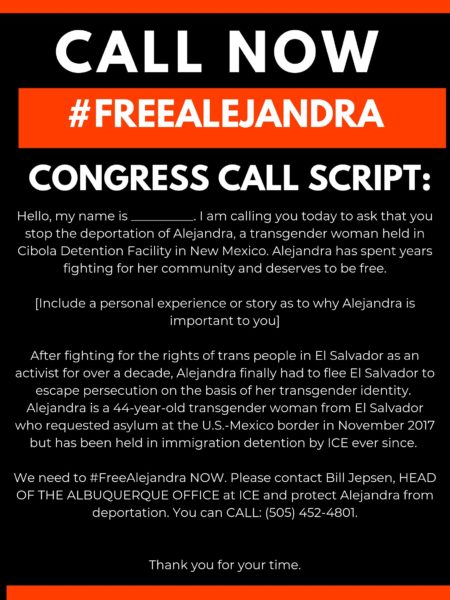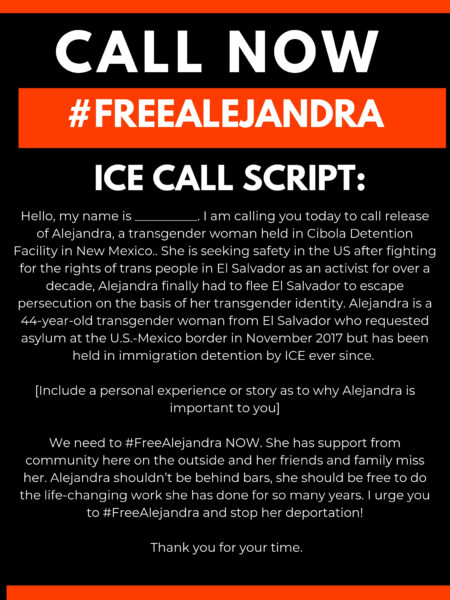 Correction: please note that an earlier version of this story indicated that the falsified documents were presented to immigration judges. They were not; they were included as part of the parol requests. My apologies. 
Gay Guatemalan congressman 'scared' for his life
Aldo Dávila a vocal critic of country's president, corruption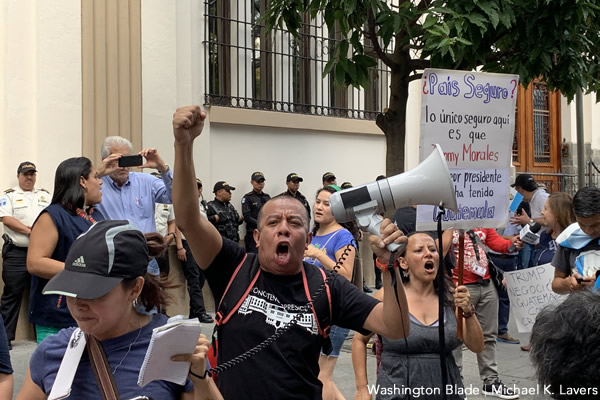 GUATEMALA CITY — A gay Guatemalan congressman who is a vocal critic of his country's president and corruption says he is afraid for his life.
"I am scared of what may happen with so much persecution against me," Aldo Dávila told the Los Angeles Blade on Sept. 10 during an interview at a Guatemala City hotel. "I am scared for my life, for my partner, for my family and for my team."
Dávila — a member of the Winaq movement, a leftist party founded by Rigoberta Menchú, an indigenous human rights activist and Nobel Peace Prize winner — in 2019 became the first openly gay man elected to Guatemala's congress. Dávila, who also lives with HIV, had previously been the executive director of Asociación Gente Positiva, a Guatemala City-based HIV/AIDS service organization.
Three men on April 19 approached his vehicle while it was stopped at a traffic light near Guatemala's National Library and tried to rob him.
One of Dávila's bodyguards who was driving shot one of the men. The other two men fled the scene before passersby and police officers arrived.
Dávila was not injured, but he later said in a Facebook post that he is "thankful for life." Dávila told the Blade that Guatemalan authorities have not thoroughly investigated the attack.
"I requested an armored car after the attack, but I have not received it yet," said Dávila, who arrived at the hotel with two female police officers who sat in the lobby while he spoke with the Blade. "This has not been resolved, even though it was in April. It is very complicated."
Dávila said Culture Minister Felipe Aguilar, Congress President Allan Rodríguez and other supporters of President Alejandro Giammattei have lodged nine formal complaints against him after he publicly criticized the government over a variety of issues that include its response to the pandemic.
"It has been a systematic attack against me," said Dávila.
Dávila told the Blade that he and his partner installed cameras in their apartment after someone killed their dog. Dávila also said he continues to receive death threats online and at his home.
"We are going to kill you, we are going to shut you up," said Dávila, referring to the type of threats he says he receives.
"They send me little messages, I am clearly making those who are corrupt very uncomfortable," added Dávila.
Prominent transgender activist murdered in June
Discrimination and violence based on sexual orientation and gender identity remains commonplace in Guatemala.
Dávila told the Blade that 21 LGBTQ people have been reported killed in Guatemala so far in 2021, including one person who was stoned to death.
Andrea González, executive director of Organización Trans Reinas de la Noche, a trans advocacy group, was shot to death in Guatemala City on June 11, days after Vice President Kamala Harris visited the country. The U.S. Embassy in Guatemala and U.S. Agency for International Development Administrator Samantha Power both condemned González's murder, but Dávila told the Blade there has been "no investigation."
"It's one more case about which to forget, unfortunately," said Dávila.
Dávila also noted he has met with officials who include representatives of the National Civil Police, the Public Ministry and the National Institute for Forensic Sciences "to ask what they are doing" to combat anti-LGBTQ violence in the country.
"This is serious," he said.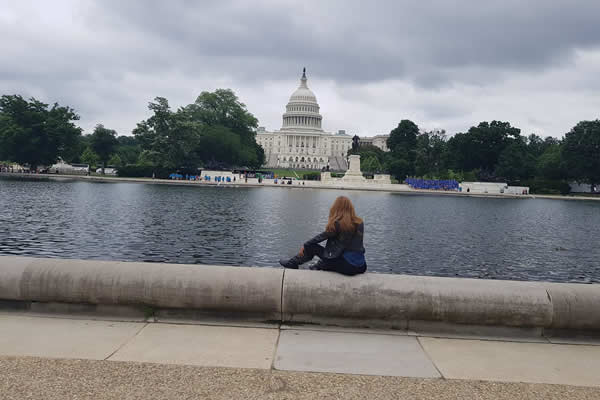 'People don't migrate because they want to'
Menchú, Visibles Executive Director Daniel Villatoro and Ingrid Gamboa of the Association of Garifuna Women Living with HIV/AIDS are among the 18 members of Guatemalan civil society who participated in the roundtable with Harris while she was in the country. The U.S. vice president met with Giammattei before the event.
Harris has previously acknowledged that violence based on sexual orientation and gender identity is among the "root causes" of migration from Guatemala and other Central American countries. Harris and other Biden administration officials have also told migrants not to travel to the U.S.-Mexico border.
"People migrate because states don't have the capacity to respond to the most basic needs," said Dávila. "People don't migrate because they want to. People don't migrate because (they say) today I am going to go to the United States because I have nothing to do. They don't go on vacation. They go in search of health, work, security and economic resources to be able to sustain themselves."
"Guatemala has not had the capacity to retain Guatemalans because it doesn't offer them the minimum to be able to live," he added.
Dávila described Harris' visit to Guatemala as "important."
He said Guatemalans are "eternally grateful for the" COVID-19 vaccines the U.S. has donated to the country. Dávila added he would like Washington to "take a look at the human rights violations that are happening in" the country and further sanction those who are responsible for them.
Giammattei earlier this year named his chief of staff to Guatemala's Constitutional Court.
The U.S. has granted asylum to former Attorney General Thelma Aldana, who the Constitutional Court refused to allow to run for president in 2019 after prosecutors alleged she embezzled money from a building purchase. The Biden administration in July stopped working with current Attorney General Consuelo Porras' office after it fired Juan Francisco Sandoval, a leading anti-corruption prosecutor who subsequently fled the country.
The U.S. has imposed travel bans on a number of Guatemalan officials, but Dávila said these sanctions are not effective.
"We want clearer, more drastic sanctions," he said. "The U.S. has been a historical ally for Guatemala, not just since yesterday, not from five years ago … it has been economically and financially supporting this country for a long time. The United States can impose more drastic sanctions against the government so the government stops being corrupt, so the government does not fight against migration."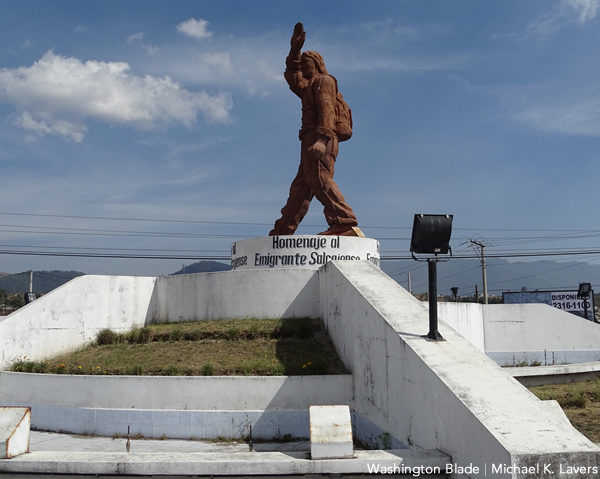 Dávila told the Blade he has not decided whether he will run for a second term in 2023.
Dávila said he has had "some problems" with the Winaq movement over funding for hospitals during the pandemic, but he remains a member. Dávila told the Blade he has received invitations to join other political parties.
"I am thinking about it and evaluating all the scenarios," he said.
Dávila added he remains "very proud to be part of the opposition in the history of this country."
Caitlyn Jenner: A one percenter gets one percent (actually 1.1%)
"If he doesn't get recalled, I pity the people of California- It's a shame, honestly you kind of get the government you deserve."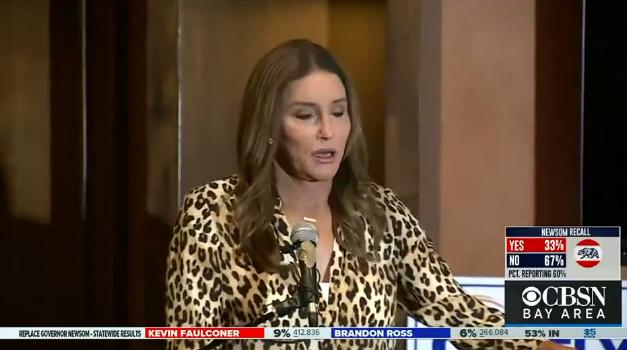 LOS ANGELES – It was not the measured tones of a seasoned politician who had experienced the successes and failures inherent with any campaign for public office. Instead, in a speech given to a small gathering of supporters once it became clear that the recall effort against Democratic California Governor Gavin Newsom had failed, reality television celebrity Caitlyn Jenner took to the microphone and groused.
Sounding bitter Jenner said; "He didn't campaign on not one of his successes, because he doesn't have any," she said. "I can't believe that this many people actually voted to keep him in office. It's a shame, honestly, it's a shame. You kind of get the government you deserve."
Caitlyn Jenner, a GOP candidate in California's recall, speaks after the vote to remove Gov. Newsom failed: "I can't believe that this many people actually voted to keep him in office. It's a shame." https://t.co/cagDpkFQdS pic.twitter.com/2cONQbrtMu

— CBS News (@CBSNews) September 15, 2021
Jenner's 'it's a shame' echoed remarks she had made earlier during the day Tuesday when she told right-wing media outlet Newsmax; "For me, it's just so up in the air [with] what is going to happen," she said. "Number one, we gotta get Gavin Newsom outta there. I think it's going to be difficult doing that, but I'm hoping for the best […] If he doesn't get recalled, I pity the people of California."
In the accumulated vote count tabulations listed Wednesday evening, Jenner had placed 12th in the field of candidates after fellow Republican frontrunner, conservative right-wing radio-talk show host Larry Elder, who had garnered 2,386,710 votes and 46.92% to Jenner's 56,016 votes and 1.1%. (72.65 % Precincts Reporting | 74% expected vote as of Sep. 15, 2021 8:48 pm)
The Newsmax host also asked if she would consider running in 2022 in the regular gubernatorial race or a potential congressional race, Jenner indicated she "would keep her options open."
"One thing I can say is I have thoroughly enjoyed this process," she said. "It has been uplifting, rewarding. I'm a compassionate person. I love the people. The process has been great. Once this is over with, we're gonna evaluate, see where we're at."
Draft of new Cuba family code has marriage equality provision
National Assembly expected to vote on proposal in December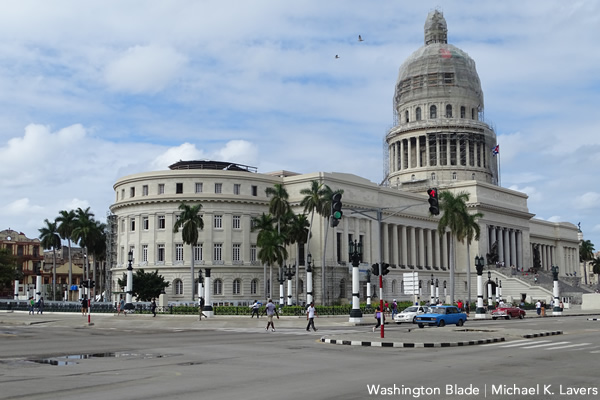 HAVANA — Cuba's Justice Ministry on Wednesday released a draft of a proposed new family code that would extend marriage rights to same-sex couples in the country.
Tremenda Nota, the Los Angeles Blade's media partner in Cuba, reported the proposed Article 61 of the new family code defines "marriage as a union of two people with legal aptitude who voluntarily agreed to enter into it in order to build a life together based on affection and love."
The Justice Ministry, according to Tremenda Nota, released the draft a week after a commission that has been charged with writing the new family code met with President Miguel Díaz-Canel and other officials.
Tremenda Nota reported the National Assembly is expected to vote on the new family code in December. The Associated Press noted a referendum on it would then take place.
"It protects all expressions of family diversity and the right of each person to establish a family in coherence with the constitutional principles of plurality, inclusion and human dignity," National Union of Jurists of Cuba Vice President Yamila González Ferrer told the Associated Press.
The draft's release comes nearly three years after the government removed an amendment from a draft of Cuba's new constitution that would have extended marriage rights for same-sex couples after evangelical groups on the Communist island publicly criticized it. Cuban voters in February 2019 overwhelmingly approved the new constitution without marriage equality.
Cuba would join Costa Rica, Colombia and a handful of other Latin American countries with marriage equality if the new family code draft becomes law.
Former President Fidel Castro in the years after the 1959 revolution that brought him to power sent gay men and others to work camps known by the Spanish acronym UMAP. His niece, Mariela Castro, the daughter of former President Raúl Castro who spearheads LGBTQ-specific issues as director of Cuba's National Center for Sexual Education (CENESEX), and Díaz-Canel both publicly support marriage equality.
Tremenda Nota Director Maykel González Vivero is among the hundreds of people who Cuban police arrested on July 11 during anti-government protests that took place in Havana and across the country. Luis Ángel Adán Roble, a gay man who was once a member of the National Assembly, is among those who have been banned from leaving the country.