Alejandra's story: ICE falsified documents against trans detainee, says her lawyer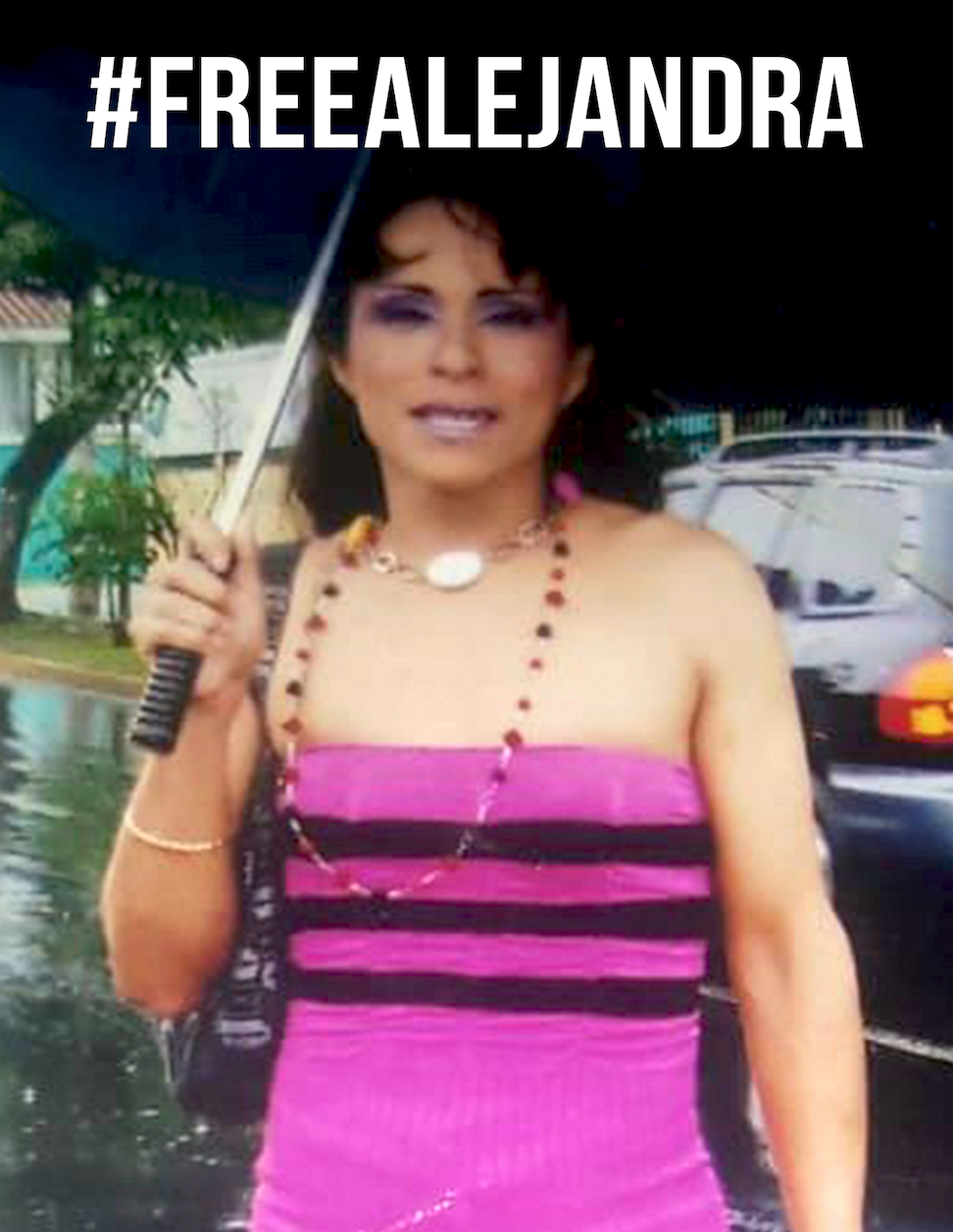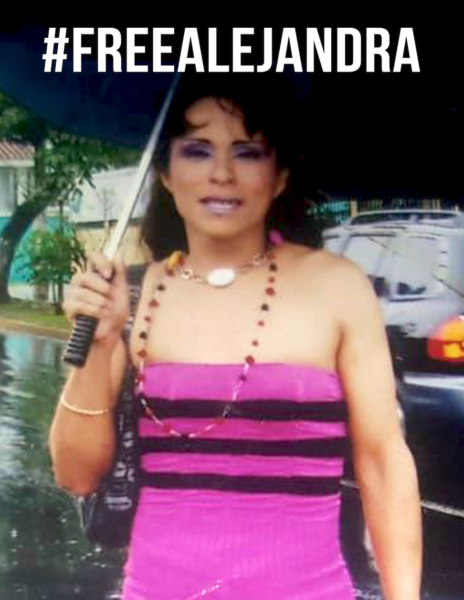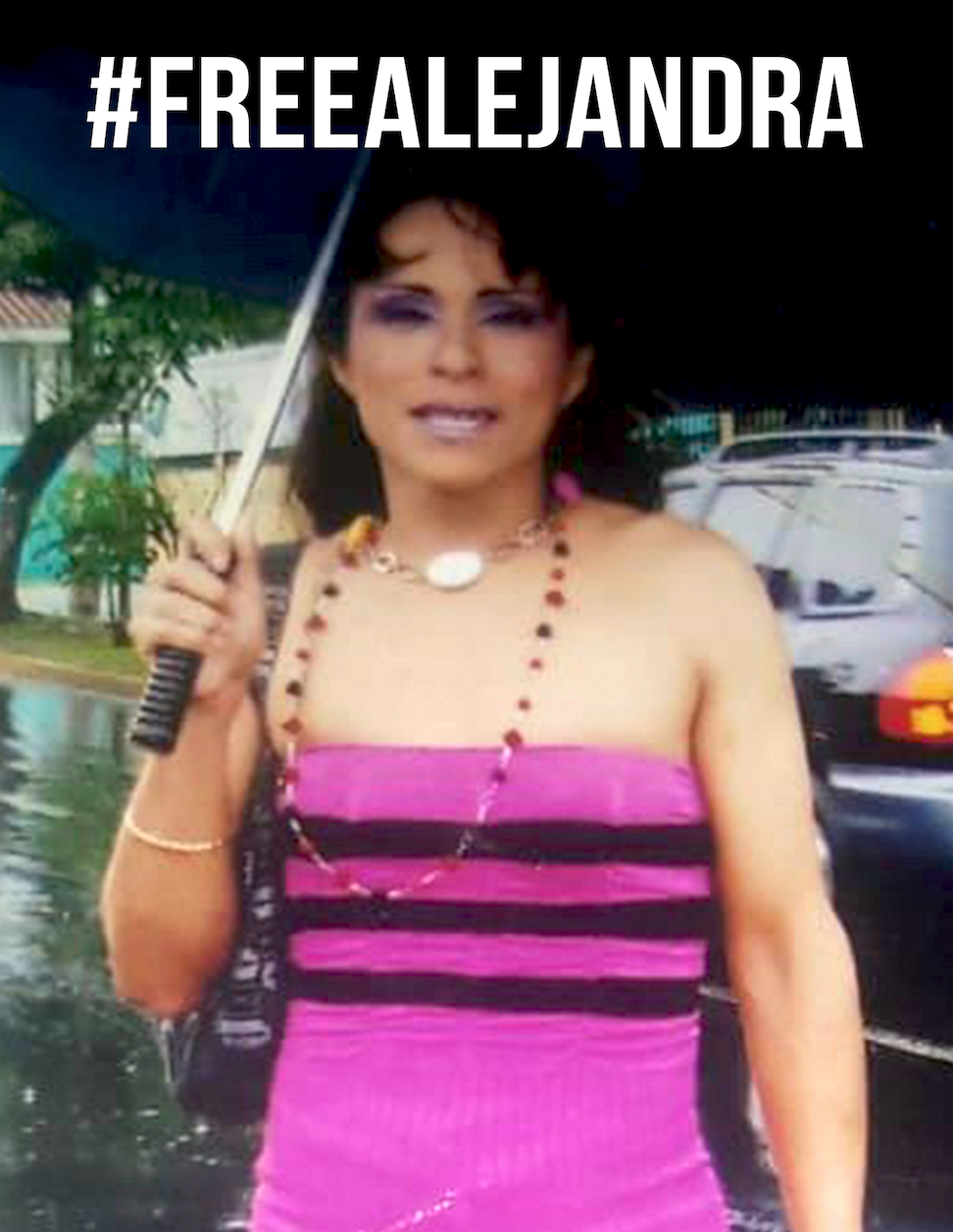 Alejandra Barrera (Photo courtesy [email protected] Coalition)
The whole world is watching as President Donald Trump decimates the Department of Homeland Security (DHS), including removing Ronald Vitiello, a former Border Patrol official who has been the acting director of Immigration and Customs Enforcement (ICE) since June. Trump wants to go in a "tougher direction." 
Asked by White House reporters Wednesday if he might put immigration hardliner Stephen Miller in charge of the sizable department, Trump said that while Miller is "a brilliant man…frankly, there's only one person that's running [DHS].  You know who that is?  It's me."
It is highly unlikely that Trump or Miller or any of the departing DHS staffers know or care about how tough life already is for trans asylum seeker Alejandra Barrera who fled violence in El Salvador and now faces deportation after 16 months in Cibola County Correctional Center, ICE's for-profit contracted detention center in Milan, New Mexico.  Authorities failed to give her medical treatment for what has since become a serious condition. Cibola became the only detention facility in the country for trans women after the city of Santa Ana, California ended its contract with ICE in May 2017 and closed its specific GBT Pod.
Trump apparently lacks empathy for asylum seekers. "I think that the whole asylum rules, laws, and regulations have been taken advantage of by people that are very bad people, in many cases.  These are the people running the cartels.  They're gaming the system; they have been for years.  The only difference is our economy is now so strong that more people come up," he told reporters Wednesday.
Seeking asylum is a human right under international law for refugees fleeing torture and violence. But the apparent flagrant refusal to recognize asylum rules, laws, and regulations has resulted in the deaths of 22 immigrants in ICE detention centers over the two years since Trump's been in power, according to an NBC News investigation, revealing a system "long riddled with problems. Within the last year, the DHS Office of Inspector General has issued three reports finding poor treatment and spotty oversight in ICE facilities."
The NBC analysis does not include the deaths of two Guatemalan children in CBP custody in December nor the March death of a 20-month old girl, Mariee Juárez, nearly two months after she and her mother were detained in Texas. NBC notes that "ICE has said deaths in detention are 'exceedingly rare,' involving a fraction of those detained by the agency."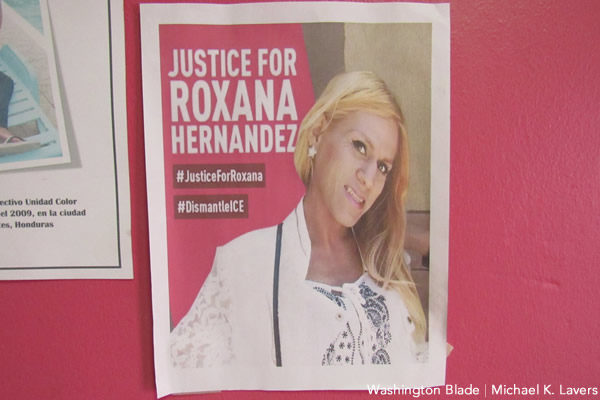 An LGBTI advocacy group in San Pedro Sula, Honduras, honors Roxsana Hernández, a transgender woman with HIV who died in U.S. Immigration and Customs Enforcement custody on May 25, 2018. Autopsy results indicate Hernández was beaten before her death. (Washington Blade photo by Michael K. Lavers)
The death of Roxsana Hernández , a 33-year old HIV-positive trans woman from Honduras exposed the particular suffering endured by transgender asylum seekers.
An independent autopsy revealed she died of dehydration and AIDS complications after 16 days in Cibola—and she appeared to have been physically abused before her death in May 2018.
Though there is no data for LGBT people specifically, a 2015 survey gives some clue about what Roxsana was trying to escape. The survey ranks Honduras as one the five deadliest countries in the world for women. Official government statistics reported 380 Honduran women murdered last year, according to significant story in the April 5 Sunday Review of the New York Times  – not counting number of women who have "disappeared," which continues to rise.
"Unlike in much of the world, where most murdered women are killed by their husbands, partners or family members, half in Honduras are killed by drug cartels and gangs. And the ways they are being killed — shot in the vagina, cut to bits with their parts distributed among various public places, strangled in front of their children, skinned alive — have women running for the border," The Times reports.
Alejandra Barrera fled El Salvador, also one of the five deadliest countries for women, after being pursued by government officials for being a trans activist and by gangs for simply being alive. She followed all the byzantine procedures laid out for asylum seekers, only to be locked up in Cibola detention center, with ICE refusing her medical care or release while her asylum requests are on appeal, a standard procedure. Now, with four requests denied, Alejandra faces deportation back to certain death.
But the denials are all based on fabricated documents, Alejandra's attorney Rebekah Wolf from Equal Justice Works tells the Los Angeles Blade, blatantly featuring a signature from an ICE official who was not in that position when the documented was dated, as well as other "falsified" information.
Alejandra is growing so weak from illness and so weary from the constant battle against cruelty, she's close to giving up, Wolf says.
Wolf is desperately trying to catch the attention of a compassionate lawmaker who can stop the deportation process so Alejandra can get a fair, unbiased asylum hearing and review her evidence that "ICE falsified parole documents in her case."
Alejandra, 44, was an activist, educator and a campaigner for trans and LGBT communities and for people with HIV in El Salvador, Wolf says. She also lived through the El Salvadoran civil war (1979-1992) and "had been targeted a number of different times by the El Salvadoran military at checkpoints who terribly abused her." So Alejandra escaped with her trans niece, Zulay.
They fled through Mexico, where she endured threats and abuse from gangs, which she attempted to report. They arrived at the U.S. border in November of 2017, entered legally through a Port of Entry, but they were detained immediately and transferred to Cibola, some of the first trans women detained there.
At the time, the El Paso field office was denying parole to everyone in the El Paso district.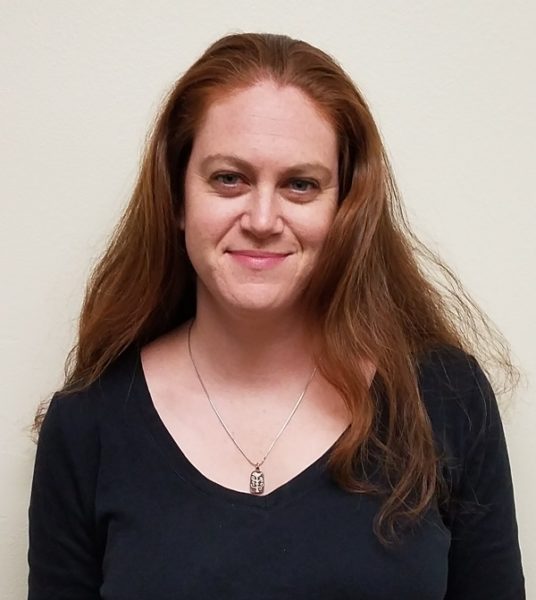 Rebekah Wolf (courtesy of Rebekah Wolf)
"Parole is release under ICE conditions and the regulations that state that once you get what's called a positive CFI, meaning you've got a positive, credible fear of determination, you should be released on parole unless the government can demonstrate that you are a flight risk or a danger to the community," says Wolf.
"What happened shortly after Trump came into office and started rearranging DHS was that there were certain districts around the country that clearly just had a blanket parole denial rule — an unwritten rule that they were denying everybody parole," she says, noting there is an ACLU lawsuit currently pending about the issue.
Alejandra should have been released after maximum two months of detention. "She got a positive, credible fear determination," Wolf says. "We requested parole five times. In the beginning they just told her there is no parole. So, she and Zulay both have their hearings and Zulay was granted asylum and has been out now for a year. Alejandra was denied."
The federal government changed the asylum laws so that now judges can deny asylum based on a prima fascia credibility finding. Because Alejandra suffers from PTSD from her abuse during the civil war, as well as from her time as an activist, she did not provide a chronological account of her torture, as is required when applying for asylum.
"They did not believe Alejandra when she told a part of her story but not all about the persecution, so they denied the entire case," Wolf says. "We argued and continue to argue that there's no question that she's trans. No one is suggesting that she's not trans. No one is suggesting that she's not from El Salvador."
With PTSD, Wolf says, "you don't remember things in a way that you would write them down in an affidavit, for example. So some judges in this country understand that and some do not. I believe that that was what happened in her case. The judge just couldn't understand why she didn't have memory recall in the way that he wanted it but that she just couldn't recall in that way. Then when the ACLU filed the lawsuit against DHS for not granting people parole, we filed a new parole request. It was an emergency humanitarian parole request based on a medical care issue."
Wolf entered serious Catch 22 territory. The emergency request was denied based on the supposed previous parole determination and a conclusion that there was no new evidence.
"There was tons of new evidence, medical records, et cetera. So when I challenged that determination by saying this is a first parole request that you've ever considered," Wolf says, "they created a letter that they claimed was the original decision. So they said that in March of 2018, they made a determination and they sent me that letter in July of 2018."
But Wolf never received the letter – because it was made up in response to the second request.
"The reason I know that they made it up is because it's signed by someone who wasn't in the role that was that actual position at the time that it was supposedly signed," Wolf says.
"The other reason why we knew it was false was because they're claiming that the original interview, for the original parole determination, happened on a day that happens to be my birthday (February 28, 2018), which is why I remember that she had court that day. So there's no way that they did a parole interview on that day, because I was with her."
Now it's the Twilight Zone. "I have four parole denial letters. On those four parole denial letters, there are three different dates of when the original interview supposedly happened," Wolf says. "This woman got screwed by an evil, evil ….It's DHS at that time. They thought that they could do no wrong and that no one was going to check."
Wolf brought the documents to the attention of the Assistant Field Office Director in the second to last parole request.
"I said, you have done this," she says. "We kept thinking that rather than having this come out, they would just parole her. Because the only request that we have been making since June of 2018 is: 'can she please just not be in a jail while she's waiting for her appeal to be decided?'"
Parole happens in nearly every case at Cibola unless there is evidence or a record of a criminal history.
"Alejandra didn't have a criminal history in the United States," Wolf says, and the director "had her positive GFI findings. Their own rules say that she should have been released."
The fourth request was denied because "she did not establish to ICE's satisfaction substantial ties to the community," as well as the previous decision on parole and no new information.
Not true. Alejandra has had multiple sponsors throughout the process, Wolf says, "multiple people willing to take her in, to house her, to make sure that she shows up for any ICE appointments. They could have imposed supervision conditions on her. They could have put an ankle monitor on her. They could have imposed a financial bond. They could have made her check in at the ICE office once a week. There were a number of different conditions that are very common, in fact, for people being released on parole. There are eight million different ways that they could have put conditions that would have alleviated some of those concerns. And they just didn't. They just wouldn't."
Free on parole, Alejandra and her sponsors would be better able to collect evidence to back up her claim. "She was in a catch-22, where she was denied because, in part, she was in detention. And then they wouldn't let her out of detention while her appeal was adjudicated," Wolf says.
And then there's the abject cruelty and incompetence.
"Another reason that she lost in the asylum proceedings, is because the same deportation officer that was sending me these parole denial letters, also, at the beginning of Alejandra's proceedings, refused to give Alejandra a copy of her credible fear interview notes, which is standard practice. Everyone gets a copy of it. We had never seen anything like it."
So Wolf requested and received a court order for the government attorney to turn over these notes. But the government attorney did not turn them over and instead used them in the proceedings to try to impeach Alejandra, as if she told a different story at the interview than during testimony.
When Wolf objected, the judge said: "Well, yes, you have a right to see them. So I'm going to let the government attorney ask these questions now. But you can give a written objective, and we'll have another hearing after you get to see these notes."
After the hearing was completed, she got the notes, wrote out her objections and requested another hearing, per the judge's order. "And he denied the request for the new hearing."
So now there is a due process issue in Alejandra's case that is currently on appeal in the 10th Circuit. However, since all asylum requests have been denied, she may be deported back to El Salvador for the federal case is scheduled for a hearing.
"The 10th Circuit did not issue a stay of removal when they accepted the case. So they can deport her with the appeal still pending, which they are trying to do," Wolf says. "It's insanity-making."
Wolf confirms but [email protected] Coalition founder Bamby Salcedo says – that Alejandra is close to giving up. Salcedo says she has been trying to lift up her spirits by phone.
"But she's also letting us continue," says Wolf who visited Alejandra Tuesday to say good-bye and to say "I'm so sorry" because she said that she was ready to go, because she just couldn't …"
Wolf pauses, the silence poignant with dire possibilities.

"ICE is acting with total impunity in this country right now," Wolf says. "Even falsified documents — it feels like spitting into the wind. And then I talked her this morning, and she's like, 'One last battle. One last battle.' So that's what we're on."
Wolf is sending evidence to Congressional offices of what they think are falsified DHS documents. The documents were also filed with an emergency request for a stay of Alejandra's deportation. And she has filed documents with ICE that she believes indicate that Alejandra is "showing symptoms of a progression of a disease that not only is lethal but affects her cognition."
That officials at Cibola didn't treat her early treated with simple antibiotics is "very clearly a human rights violation," says Wolf.
Wolf and the [email protected] are asking for the community's help by calling or texting their own Congressional members, even if they're not in New Mexico or Texas, and call the ICE office in El Paso and ask them to stay Alejandra's deportation.
"We understand that this is one case in a ocean of human rights abuses and unbelievable violations of human rights and civil rights by the US immigration system," Wolf says, "but we want to highlight it to just show how bad it really can be."
Bamby Salcedo spoke with Univision about Alejandra's situation.
They ask for help: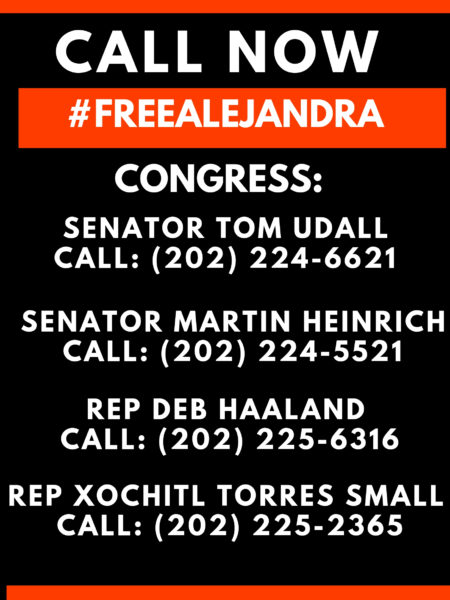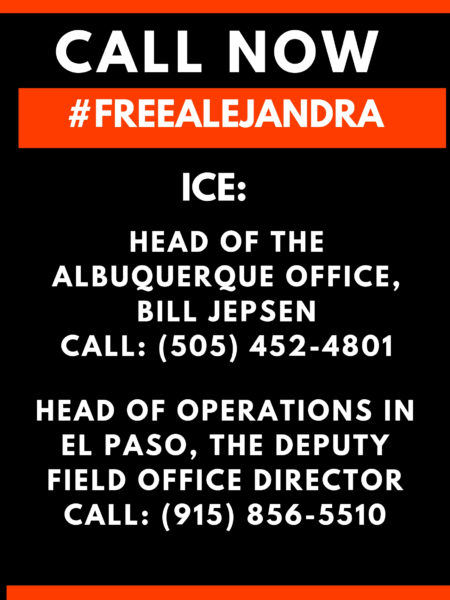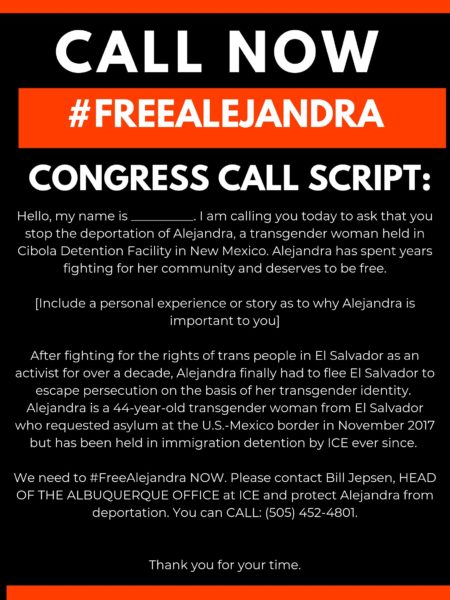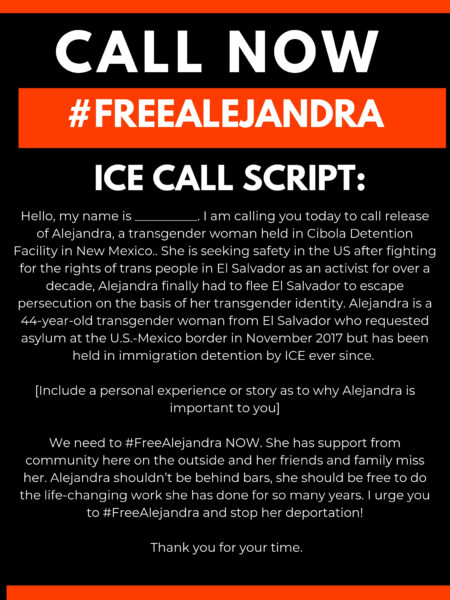 Correction: please note that an earlier version of this story indicated that the falsified documents were presented to immigration judges. They were not; they were included as part of the parol requests. My apologies. 
Rep. Karen Bass greets LGBTQ+ affinity group at the historic Black Cat
Bass has been a longtime ally of the LGBTQ+ community. In her remarks she listed some of her achievements in the battles for LGBTQ+ equality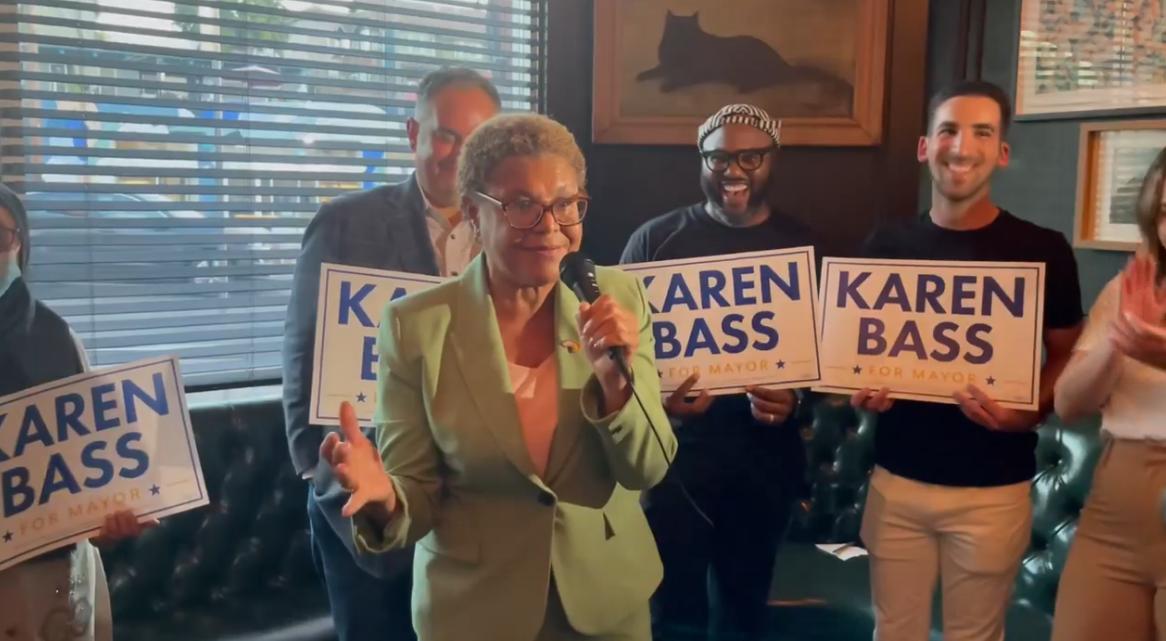 LOS ANGELES – Surrounded by well-wishers, supporters, and former California Assembly Speaker John A. Pérez at her side, U.S. Representative Karen Bass launched the official "LGBTQ+ for Bass affinity group" Wednesday evening at the Black Cat, an LGBTQ+ historic site located in the Silver Lake neighborhood of the City.
Pérez, an openly Out gay man served as the 68th Speaker of the California State Assembly, succeeding Bass as Speaker in 2010. Bass made several warm references to their mutual past political history. She also spoke on subjects that are critical to furthering LGBTQ+ equality and equity in her six-minute chat.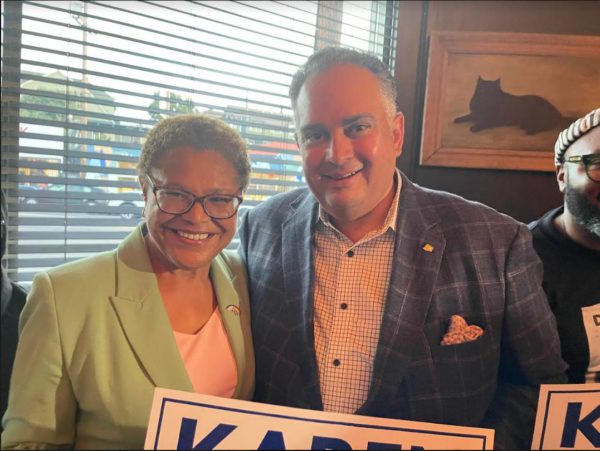 The congresswoman is locked in a close race with billionaire real estate tycoon Rick Caruso to succeed current Los Angeles City Mayor Eric Garcetti in the Fall elections on November 8. Both candidates advanced from the June 7 primary election since neither received 50% of the vote. Incumbent Mayor Garcetti is unable to stand for re-election due to term limits.
Bass has been a longtime ally of the LGBTQ+ community. In her remarks Wednesday at the Black Cat she listed some of her achievements in the battles for LGBTQ+ equality, first in the California Assembly, then in Congress.
The venue where the Congresswoman launched the LGBTQ+ political affinity group is famed as an LGBTQ+ historic site. The Black Cat was the site of one of the first demonstrations in the United States protesting police brutality against LGBT people, preceding the Stonewall riots by over two years.
From the One Archives at USC: A New Year's 1967 raid by the Los Angeles Police turned brutal as LAPD undercover officers began beating several of the patrons and ultimately arrested fourteen patrons for "assault and public lewdness." As reported by the local gay newspaper Tangents, two bartenders were beaten unconscious. The paper also noted that patrons fled to another gay bar, New Faces, but they were followed by police and arrested. The officers mistook the manager, a woman named Lee Roy, for a man (named "Leroy") wearing a dress, and beat her severely.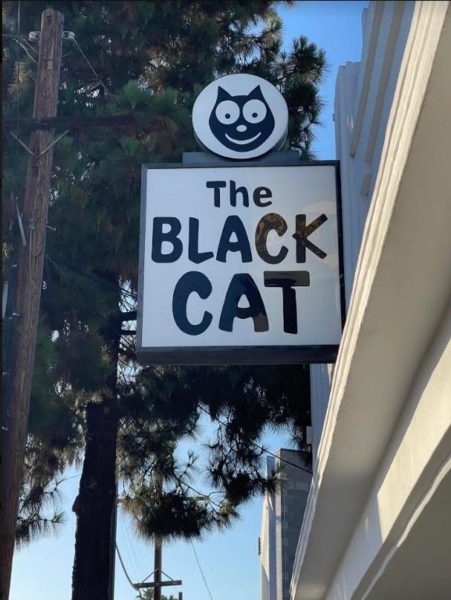 The historical account continued: Contrary to popular myth, there was no "riot" at the Black Cat, but a civil demonstration of 200 attendees to protest the raids was held on February 11, 1967. The demonstration was organized by a group called PRIDE (Personal Rights in Defense and Education) – founded by Steve Ginsberg – and the SCCRH (Southern California Council on Religion and Homophile). The protest was met by squadrons of armed policemen. Demonstrators carefully adhered to all laws and ordinances so that the police had no legitimate reasons to make arrests.
Two of the noteworthy events that arose from the Black Cat arrests and later protests was the establishment of The Advocate, which began as a newspaper for the group PRIDE and has continued publishing to this day and formation of the Metropolitan Community Church led by Los Angeles LGBTQ+ pioneer, the Reverend Troy Perry.
Karen Bass speaks at LA's iconic Black Cat:
Editor's Note: The Los Angeles Blade has endorsed Rep. Bass in her election campaign to become the next mayor of the city of Los Angeles.
Risk of monkeypox infection not high, but 'numbers may increase'
Fauci said the current outbreak is predominantly among men who have sex with men among individuals who have had sexual contact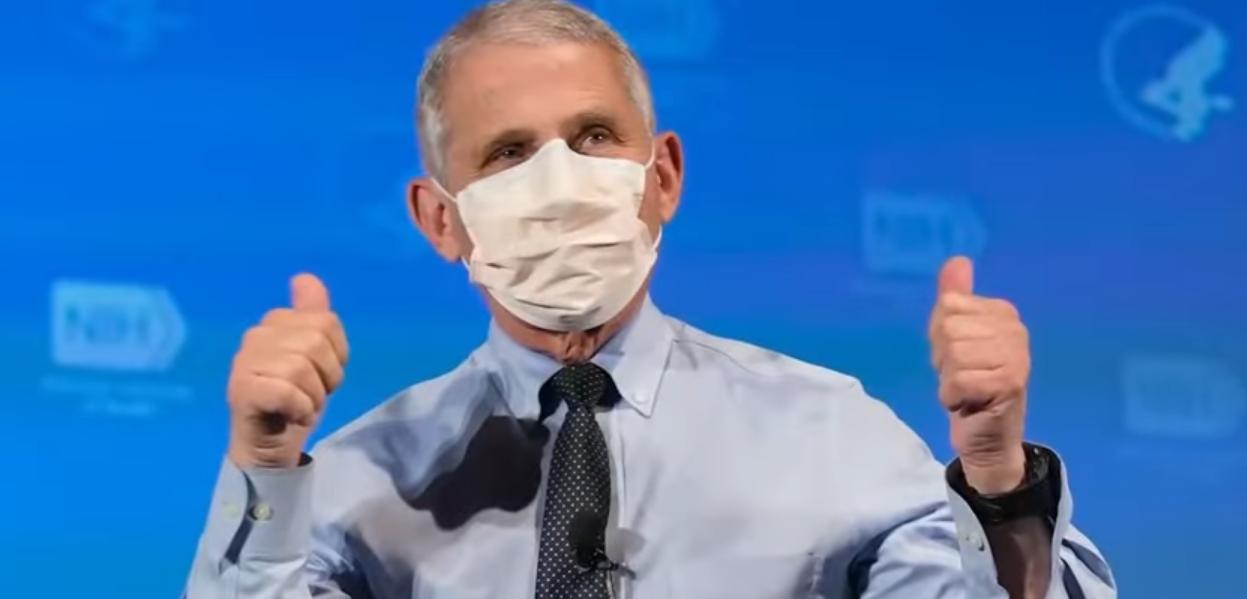 WASHINGTON – Dr. Anthony Fauci, the director of the National Institute of Allergy and Infectious Diseases and the Chief Medical Advisor to the President, who has been at the forefront of the battles against the HIV/AIDS and COVID-19 epidemics, downplayed Wednesday the idea gay and bisexual men are at high risk of contracting monkeypox as the outbreak begins to spread, but cautioned "the numbers may increase."
"Given the numbers I would not say right now at this particular point, that it is a quote, high risk, but the numbers may increase, which means we just have got to be careful and pay attention," Fauci said.
Fauci made the remarks in a conference call with reporters from LGBTQ news outlets on the heels of the Biden administration's announcement that it would ramp up efforts to confront the emerging spread of monkeypox.
On Monday, the Department of Health & Human Services, announced a nationwide vaccination strategy against monkeypox, which consists of providing nearly 300,000 vaccines with priorities for individuals at risk and areas with high rates of infection. An estimated 750,000 vaccines are expected for delivery by the end of summer, according to HHS.
In response to a Blade question about the risk of gay and bisexual men contracting monkeypox, Fauci said that was difficult to quantify and he "wouldn't say low, because then…that can be taken out of context," but went on to express there's a minimal risk of infection if precautions are taken.
"What we're seeing given the number of cases and the rate in which they've accelerated, it's clearly out there," Fauci said. "But when you talk about the large number of gay and bisexual men who have sex with men, that on any given individual contact I think if one is careful, and make sure that both parties in a sexual interaction are aware of lesions that might go unnoticed, then you can go a long way in pure prevention to prevent that from happening, but I think it would be risky to classify it as low, medium or high."
The U.S. has confirmed 306 monkeypox cases across 27 states and Washington, D.C., the Centers for Disease Control announced Tuesday. That represents a surge of 63 cases from the previous week.
Fauci said the current outbreak is predominantly among men who have sex with men among individuals who have had sexual contact. Monkeypox is technically not a sexually transmitted disease, Fauci said, because it's spread through skin-to-skin contact, but "because of the close skin to skin interaction that occurs in sexual contact, that appears to be the modality spread." Monkeypox, Fauci said, is "not fundamentally a lethal infection."
Raj Panjabi, senior director for global health security and biodefense on the White House National Security Council, was also on the call and said the Biden administration's monkeypox plan consists of "three pillars" of testing, vaccines, and outreach.
"In terms of outreach, there is no effective response to an outbreak without a community based response," Panjabi said. "And so we've worked to ensure an open dialogue with leaders and stakeholders in the LGBTQIA+ community. What we've been doing is to try to understand from those most affected by this outbreak, learn from them, help them stay vigilant within the community to protect themselves from the disease and try to adjust our response according to the gaps that they've raised."
The rise in monkeypox infections comes during Pride month, a time when LGBTQ community is engaged in celebrations and oftentimes in close contract and intimate settings, including sexual activity.
Asked by a reporter with NBC News whether this weekend's Pride celebrations may have fueled the spread, Fauci said in theory "the risk is probably increased" in Pride activities "because people tend to get involved in sexual networking there," but precautions at the end of the day would mitigate new infections.
"You don't want to panic people but you want to get people to appreciate, particularly with the Pride activities that are going on now, to be aware and to just be careful," Fauci said. "And being careful can be very practical, but making sure that you're aware of things like skin lesions or lesions around areas of the body, particularly when you're having a sexual encounter. Those are the things we're trying to do."
Gay man wins Democratic congressional primary in Ill.
Eric Sorensen running for retiring U.S. Rep. Cheri Bustos' seat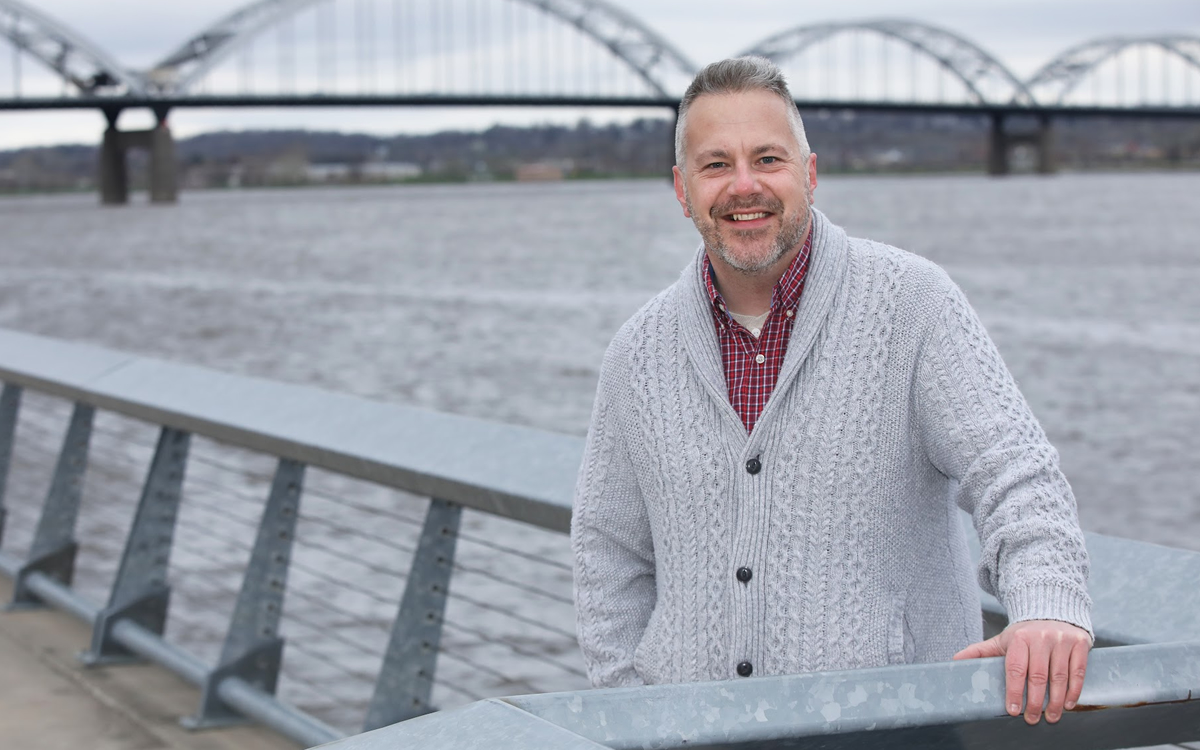 MOLINE, Ill. — Illinois Democrats are hoping to send a gay person to Congress for the first time in the state's history.
Voters in the 17th Congressional District in northwest Illinois on Tuesday voted to have Eric Sorensen, a former meteorologist, become the Democratic nominee for the district's U.S. House of Representatives seat currently held by retiring Democratic Congresswoman Cheri Bustos.
"THANK YOU to everyone who was a part of this movement," Sorensen wrote on Twitter following his primary victory. "From day one this campaign has been built on three pillars: Trust, science, and communication. I'm honored to be your #IL17 Democratic nominee for Congress."
Sorensen, who bested his closest primary opponent by more than 13,000 votes, has centered much of his campaign messaging around the issue of mitigating the effects of climate change.
Sorensen's candidacy and potential to become the state's first openly gay member of Congress has been met with celebration from those advocating for more of such representation on Capitol Hill. After Sorensen claimed victory on Tuesday, advocacy groups and political organizations like Equality PAC and the LGBTQ Victory Fund were quick to offer their support.
"It has never been more important to defend our pro-choice, pro-equality majority in Congress," Victory Fund President Annise Parker said in a statement. "As a meteorologist, Eric spent the last two decades keeping his local community safe by telling the truth and promoting a pro-science agenda. His success tonight is a testament to his continued leadership and grassroots support, as well as a highly effective ground game focused on candid conversations about how to make government work for all Americans."
Hoping to keep the district from flipping to Republican control in a midterm year that is expected to be an uphill battle for Democratic congressional majorities, Sorensen has also gained the backing of the district's current congresswoman. Bustos took to Twitter following Sorensen's victory to announce her support.
"Illinoisans deserve a representative who will fight for working families, help build our local economy and continue to lift up Midwestern voices," Bustos wrote. "Eric will do that."
Sorensen's ultimate ascension to Illinois' 17th Congressional District seat, however, is not assured. Though the district leans Democratic, it is widely labeled as a competitive race following nationwide redistricting of congressional maps ahead of this year's midterms.
Such a competitive landscape is coupled with a competitive rival battling Sorensen for the seat.
His Republican opponent, lawyer and Army Reserve Capt. Esther Joy King, previously ran for the seat in 2020, losing to Bustos by just four percent of the overall vote.
Having already secured a number of high-profile Republican endorsements including House Minority Leader Kevin McCarthy (R-Calif.), House Conference Chair Elise Stefanik (R-N.Y.) and former Secretary of State Mike Pompeo, King has already begun her November messaging campaign after besting her primary opponent by more than 30 percentage points.
"It doesn't have to be a choice if we elect leaders who will put their constituents first rather than far-left, out-of-touch policies and that's exactly what I'm running to do," King said in a statement Tuesday night. "Let's come together to win this in November."
Groups like the Victory Fund, however, are remain optimistic that Sorensen's potential to make history will be within reach when voters enter the polls on Nov. 8.
"Voters are clearly enthusiastic about Eric's vision for a more equitable future," Parker said. "We trust Eric will be a vital voice in Congress come November. The stakes have never been higher."