'The View,' Ru and Renée Taylor
New book captures bitchy backstage drama on chatfest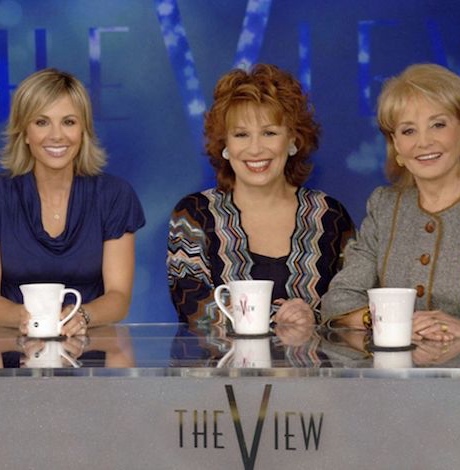 "Let's see how long I last." — Patti LuPone says of her latest venture as a member of Twitter.  Her first Tweet?  "Contain me with only 280 characters? Fuck that." All that with 240 characters to spare.
If you're anything like me (and I believe many of you are), you have been waiting with bated breath for the tell-all book about "The View." "Ladies Who Punch: The Explosive Inside Story of 'The View'" could only have been written by a gay man.  
That gay man, Ramin Setoodeh, had unprecedented access to virtually every member of the talk show, both behind and in front of the camera. He had previously written various pieces for Variety, Vanity Fair and other publications.  Once the book was announced, virtually everyone was willing to go on the record; the only holdouts of note were Whoopi Goldberg and Elisabeth Hasselbeck. Even to someone like me who has had more access than most to the inner workings of ABC's venerable daytime drama, much of this was news. Quotes by Barbara Walters herself, executive producer Bill Geddie and others will shock and titillate you. 
One of the biggest scandals recounted in the book stems from the time after Meredith had left, Star had been fired and Rosie had yet to début as moderator (although she was backstage). On the panel with Barbara that day were Joy Behar, Elisabeth Hasselbeck and guest host Lisa Loeb. The prime "Hot Topic" was that the morning-after pill had been approved by the FDA.  
Hasselbeck made it clear in the pre-show meeting that she was passionately against the pill. Alas, her passion was a bit out of control. Lizzie got more vitriolic than Walters was comfortable with and the grande dame attempted several times to calm things down. Finally, Walter scolded, "Could you stop now? We have to go on and we have to learn how to discuss these things in some sort of rational way."
The show went to commercial, Elisabeth quickly left the set and first erupted to Behar, forgetting, of course, that they all still had their mikes on. "Fuck that! I'm not going to sit there and get reprimanded on the air!" Joy attempted to calm her down, but Elisabeth kept complaining about "that woman," and stormed off to her dressing room saying she quit.  
Meanwhile, a producer told Barbara (who was also still miked) that Elisabeth wouldn't come back on the air. "She has to! Bill, she has to. This is why we shouldn't have done this discussion." Then Behar came back and confirmed the news. Barbara's response? "Well, that's ridiculous." Geddie darted downstairs to Hasselbeck's dressing room to avert a disaster. Bear in mind, it's only a three-minute commercial break. He does some fast talking, lying, cajoling and gets her to return, with Barbara alternately apologizing and defending herself. In case anyone doubts the veracity of this combustible scene, turns out that "someone" made a copy of the audio from everyone's mikes in the sound booth. To hear it all transpire in real time, check out billymasters.com.
It was announced last week that RuPaul will be getting a daytime talk show. FOX announced that the daytime "RuPaul" show will get a three-week trial run starting June 10. This is an idea the network has tried several times in the past with attempts to launch shows with people like Kris Jenner and Fran Drescher. Good luck.
Speaking of our favorite "Nanny," I caught up with Fran last week at the opening of Renée Taylor's one-woman show "My Life on a Diet" at the Wallis Annenberg Center in Beverly Hills. Fran (accompanied by her dashing ex-hubby Peter Marc Jacobson) enthusiastically talked about her upcoming return to sitcom television. A pilot of "Uninsured" was ordered by NBC and the cast just had its first table read. 
"And everyone is so nice," gushed Fran. "If it's not going to be fun, why bother?" And she sure knows about fun — Drescher has been on the road lately performing her own show, "Schmoozing with Fran Drescher." She spends half of the show onstage alone telling stories. And then Peter comes out to interview her and also take questions from the audience.  I have heard the show has been a smash hit on the road, so much so that she's gonna be at Town Hall in Provincetown this summer, courtesy of Rick Murray and The Crown & Anchor. You can grab tickets for the August 10 show at onlyatthecrown.com.
Back to Renée Taylor. Quite simply, she's a national treasure. What a lady! The 86 year old effortlessly weaves her way through a lifetime of struggles with her weight, which mirrored many of the other struggles in her life and career.  Ironically, once she accepted herself, fame, fortune and love arrived at roughly the same time. There's a lesson in there somewhere. The love Taylor has for the audience was reciprocated by the capacity audience, led by Drescher and other members of "The Nanny" cast. Also in the crowd were veteran actors Hal Linden and Barbara Eden, who recently appeared together in "Love Letters."  "My Life on a Diet" is in the midst of a national tour. It plays here in Beverly Hills through the weekend. For more dates and info, check out mylifeonadietplay.com. 
Do you have a spare $100 million? If so, you could buy Grindr. Yes, the popular "gay dating" app is for sale and not necessarily by choice. The Committee on Foreign Investment in the United States has ruled that the ownership of the California-based app by a Chinese gaming company is a security risk. Apparently, the government is concerned that the personal data of users could be compromised.
When I'm the only one who hasn't been compromised on Grindr, it's time to end yet another column. If you have a question, send it along to [email protected] and I promise to get back to you before China offers me millions for my website! Until next time, remember, one man's filth is another man's bible.
Nonbinary activist Alok Vaid-Menon; gender labels hurt everyone
"I'm nonbinary, which means it's not just that I'm challenging the binary between male, female, man and woman, but between us and them"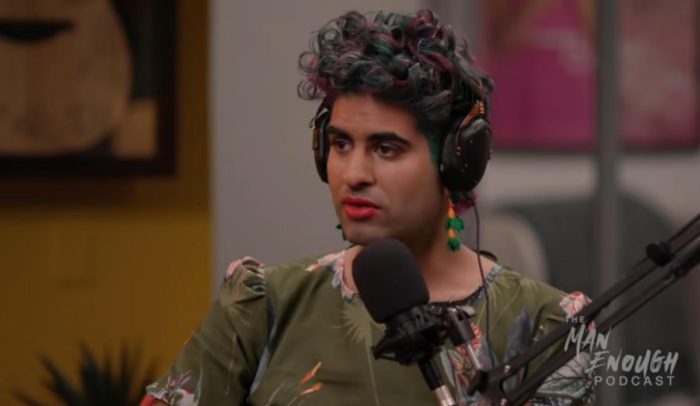 LOS ANGELES – This past week on the Wayfarer Studios new national podcast "Man Enough," nonbinary activist and poet Alok Vaid-Menon appeared alongside hosts actor Justin Baldoni, writer and MSNBC columnist Liz Plank and composer Jamey Heath.
During the broadcast Vaid-Menon noted that "people need to have compassion before "comprehension" — meaning they need to have empathy for trans people even if they don't understand them."
The activist-poet also deconstructed the gender binary — the idea that there are only two genders rather than a spectrum — and the traditional expectations associated with binary gender labels hurt everyone, not just transgender people, and these fixed ideas of what it means to be a man or a woman make it difficult for people to find out who they truly are.
In the podcast Vaid-Menon, who is the author of "Beyond the Gender Binary," said in response to Heath, who had asked what he needs to "unlearn" and what he needs to do to help other men unlearn, in order to better support them, referring to trans and nonbinary people like Vaid-Menon;
"I'm nonbinary, which means it's not just that I'm challenging the binary between male, female, man and woman, but between us and them," Vaid-Menon said, adding, "And in your statement, you said, 'Why don't I help them?' as if this struggle is not your struggle. The reason you don't fight for me is because you're not fighting for yourself fully."
Reporting on the premiere of the podcast episode, NBC News OUT contributor Jo Yurcaba noted;
They said though trans and nonbinary people face violence and death for challenging traditional gender norms, they don't want people to fight for their rights "because you want to protect me or you want to help me."
"I don't need your help," they said, adding that they "have an unshakable and irrevocable sense of who I am" and don't need to prove anything.
'The Man Enough Podcast' was launched in June in partnership with Procter & Gamble who will also co-finance and co-produce other projects with Wayfarer across film, TV and new media.
The Man Enough Podcast | ALOK | The Urgent Need for Compassion
IOC: 'Trans Women Are Women' Laurel Hubbard set to make sports history
Laurel Hubbard is set to make sports history on Monday and the International Olympic Committee clearly has her back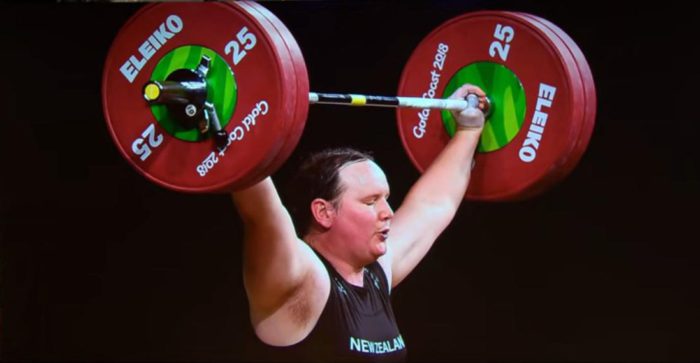 TOKYO – The director of medicine and science for the International Olympic Committee praised weightlifter Laurel Hubbard's "courage and tenacity" as she prepares for her upcoming competition as the world's first out transgender woman Olympian.
In speaking to reporters in Tokyo Thursday, Dr. Richard Budgett directly addressed those who have attacked and mocked the 43-year-old New Zealander and claimed she shouldn't be competing with cisgender women, saying "everyone agrees that trans women are women."
"To put it in a nutshell," he said, "the IOC had a scientific consensus back in 2015. There are no IOC rules or regulations around transgender participation. That depends on each international federation. So Laurel Hubbard is a woman, is competing under the rules of her federation and we have to pay tribute to her courage and tenacity in actually competing and qualifying for the Games."
Hubbard herself has not made any public comments except for a statement following her qualifying for the Summer Games, saying she was "humbled" by the support which had helped her "through the darkness" following a near career-ending injury in Australia in 2018.
Reports around the world have claimed Hubbard is the first trans Olympic athlete, which is actually not the case. As the Los Angeles Blade has reported, Quinn, a trans nonbinary soccer midfielder for Team Canada, last Wednesday became the first out trans athlete ever to complete in the Olympic Games. They posted about it on Instagram, saying, "I feel proud seeing 'Quinn' up on the lineup and on my accreditation. I feel sad knowing there were Olympians before me unable to live their truth because of the world."
The IOC is expected to review and likely revise its policies on transgender participation following Tokyo. Trans athlete and researcher Joanna Harper, who has advised the organization and other sports policy groups, told the Los Angeles Blade her recommendation will be for the IOC to continue to regulate trans athletes sport-by-sport. "There shouldn't be a one-size fits all policy," said Harper.
She also noted how the mainstream cisgender media is consumed with coverage of Hubbard and missing out on the bigger picture, and what it will mean for the next generation watching on TV and online.
"The lack of attention paid to Quinn and to Chelsea Wolfe has been interesting," said Harper.
"A few news outlets have commented on their presence in Tokyo and in Quinn's case the comments have been mostly favorable. On the other hand, the storm of mostly negative press heaped on Laurel Hubbard has been disappointing, although predictable. I hope that the negative press that Laurel has gotten won't dissuade young trans athletes from following their dreams. I think that the next trans woman to compete in the games will get less negative press, and eventually (although probably not in my life) there will come a time when trans women in sport generate little or no controversy."
Hubbard issued a statement Friday via the New Zealand Olympic Committee in which she said: "The Olympic Games are a global celebration of our hopes, our ideals and our values. I commend the IOC for its commitment to making sport inclusive and accessible."
According to a French news outlet, NZOC spokesperson Ashley Abbott told reporters the committee had seen a "particularly high level of interest" in Hubbard's Olympic debut, and much of it has been negative.
"Certainly we have seen a groundswell of comment about it and a lot of it is inappropriate," Abbott said. "Our view is that we've got a culture of manaaki (inclusion) and it's our role to support all eligible athletes on our team. In terms of social media, we won't be engaging in any kind of negative debate."
Abbott reminded the media that the NZOC's job was to support its athletes, including Hubbard. "We all need to remember that there's a person behind all these technical questions," she said. "As an organization we would look to shield our athlete, or any athlete, from anything negative in the social media space. We don't condone cyberbullying in any way."
RELATED: CBS This Morning from 22 Jun 2021
LGBTQ+ ally Jamie Lee Curtis reveals her 25-year-old child is Trans
Curtis and her husband Christopher Guest, British screenwriter, composer, musician, director, and actor have two daughters.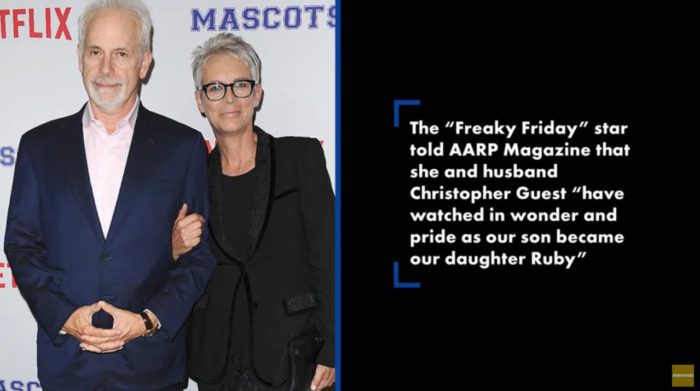 LOS ANGELES – In a new interview with the American Association of Retired Persons' magazine, Golden Globe and BAFTA winning actress Jamie Lee Curtis disclosed that her youngest child is transgender. In the interview Curtis reflected that she has "watched in wonder and pride as our son became our daughter Ruby."
Curtis and her husband Christopher Guest, British screenwriter, composer, musician, director, and actor have two daughters. Ruby, 25, works as a computer gaming editor while Curtis and Guest's 34-year-old daughter, Annie, is married and works as a dance instructor. Curtis also noted that Ruby and her fiancé are getting married next year in a wedding that Curtis will officiate.
The longtime Hollywood couple have been married for more than 36 years but have no grandchildren, "but I do hope to," she told the magazine.