April 12, 2019 at 3:36 pm PST | by Staff reports
Trans activists 'smoked out' by anti-trans truckers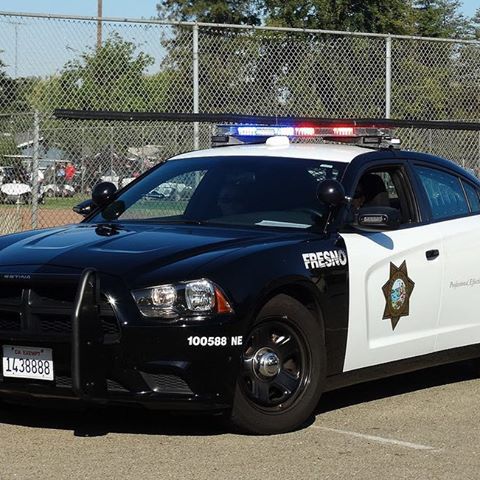 Around three dozen people gathered on the outside property of the River Park Shopping Center in central Fresno, demonstrating in favor of Transgender Day of Visibility on March 31, were targeted by a group of young men driving pickup trucks with exhaust blasts and yelling profanities and slurs.
Witnesses told Fresno Police officers that the three pickup trucks had diesel motors with modified exhaust and the drivers had repeatedly blasted them with thick acrid blackish smoke in a maneuver that is termed "rolling coal."
According to police, the equality activists had been gathered at the edge of the shopping center for a couple of hours when the incident took place. They were carrying signs that read "Trans Lives Matter" and similar sentiments.
"We try to show people, 'Hey, we're normal Americans. All we want is the same kindness, dignity and respect that every other American gets—we don't want anything special,'" Karen Adell Scot, a high school teacher, transgender woman told the Fresno Bee. "The young men in the three trucks purposefully targeted us to hurt us for their own personal pleasure because they hated us. This was no accident."
The Bee reported that the trucks circled the block at least three times, blasting the group with exhaust each time they passed by. Scot told the paper that the soot and particles burned some group members' legs and hit one woman using a wheelchair in the face.
The Fresno Police Department's Public Information Officer, Lt. Mark Hudson, told the Los Angeles Blade Friday that the FPD Northeast District Station's Commander, Capt. Mindy Casto, and her detectives are following up on the initial report. Hudson noted that witnesses were able to provide investigators with descriptions, including photos of the vehicles' license plates. That led investigators to follow up with the drivers of the trucks. Hudson added that it is too early in the investigation to categorize the incident as a hate crime.
However, Scot, a former Madera County Sheriff's deputy, said she believes the act was criminal since the drivers had to conspire together. She called the drivers "trans-malevolent," meaning they wished harm upon transgender people and the transgender community.
It caused some who attended the rally to fear for their safety, she said.
Zoyer Zyndel of Trans-E-Motion, a Fresno nonprofit advocacy organization for the transgender community, said the incident will not deter him and others from exercising their First Amendment rights.
"It makes me feel like we definitely need to be more visible and let folks know transgender people are here in Fresno," Zyndel told the Bee "We're not going away because of a simple exhaust incident. However, these incidents shouldn't happen. We are allowed to congregate and voice our thoughts under the First Amendment .…This is about hatred of transgender people and misinformation that perpetuates that hatred and bias."
Equality California reacted as soon as the incident became public.
"The fact that a group of transgender Californians would be attacked in this way for simply being themselves and gathering to celebrate their visibility in the community is completely unacceptable. But it's also not surprising. Even as our state makes great strides toward guaranteeing civil rights for all LGBTQ people, too many members of our community — especially those who are transgender — continue to face violence, harassment and abuse. It is imperative that the Fresno Police Department thoroughly investigates this apparent hate crime and holds the perpetrators accountable," Executive Director Rick Zbur said in a statement.
"The LGBTQ community will not be scared, intimidated or deterred from our fight for full lived equality," Zbur said. "We will stand united against anti-transgender hate and violence, anywhere in California or across the country, and we will defeat it every time."
Fresno Police NE District Station police cruiser photo courtesy of the Fresno Police Department
Reporting by The Fresno Bee and the staff of the Los Angeles Blade