'Game of Thrones' tops Nielsen's LGBTQ ratings report
'The Rachel Maddow Show,' 'RuPaul's Drag Race' also cable favorites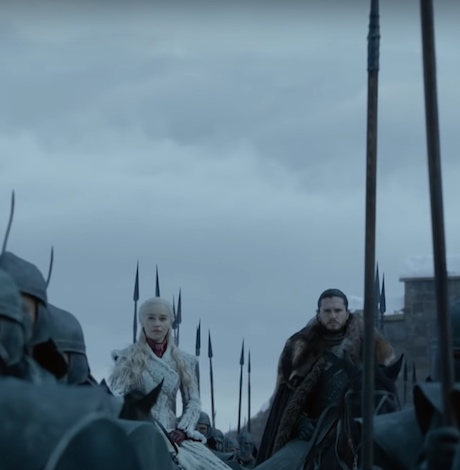 Nielsen announced in October it had partnered with GLAAD to isolate same-sex couple households to determine viewership data. For the first time, weekly data for LGBTQ viewership has been released and "Game of Thrones" is a clear favorite.
For the week of April 8, the "Game of Thrones" premiere on HBO was the top cable show among same-sex households (191,135). It was followed by "The Rachel Maddow Show" (66,071) on MSNBC and "Untucked," (65,782) "RuPaul's Drag Race" after-show, on VH1 came in third.
For broadcast, the NCAA Men's Championship on CBS (176,934) was the number one show rounded out by CBS' "Survivor" (120,921) and "NCIS" 116,498 on CBS.
Overall, the same-sex households and mixed-gender households appeared to watch similar programs. However, "RuPaul's Drag Race" and "Untucked" had the highest concentration of LGBTQ viewers with 16 percent of its viewership being LGBTQ.
Nielsen's LGBTQ ratings are listed below with overall viewership indicated by parentheses.
Broadcast
NCAA Men's Championship (CBS), 176,934 (19.72 million)
"Survivor" (CBS), 120,921 (7.6 million)
"NCIS" (CBS), 116,498 (11.82 million)
"60 Minutes" (CBS), 96,273 (8.72 million)
"Modern Family" (ABC), 95,180 (4.81 million)
"The Voice" (Monday) (NBC), 95,130 (7.62 million)
"American Idol" (Sunday) (ABC), 94,696 (7.26 million)
"Grey's Anatomy" (ABC), 84,223 (6.82 million)
"The Voice" (Tuesday) (NBC), 81,510 (7.32 million)
"The Goldbergs" (ABC), 79,655 (4.64 million)
Cable
"Game of Thrones" (HBO), 191,135 (11.76 million)
"The Rachel Maddow Show" (MSNBC), 66,071 (2.55 million)
"Untucked" (VH1), 65,782 (405,989)
"RuPaul's Drag Race" (VH1), 64,082 (402,516)
"All In With Chris Hayes" (MSNBC), 34,280 (1.57 million)
"Last Word With Lawrence O'Donnell" (MSNBC), 33,344 (2.02 million)
"Spring Baking Championship" (Food Network), 27,858 (1.04 million)
"The Curse of Oak Island" (History), 26,502 (3.06 million)
"Little People, Big World" (TLC), 25,243 (1.34 million)
"Gold Rush: Dave Turin's Lost Mine" (Discovery), 24,578 (1.33 million)
Tom Daley: Bad Dad Jokes!
Terrible jokes, but I love them! Not sure if Lance does…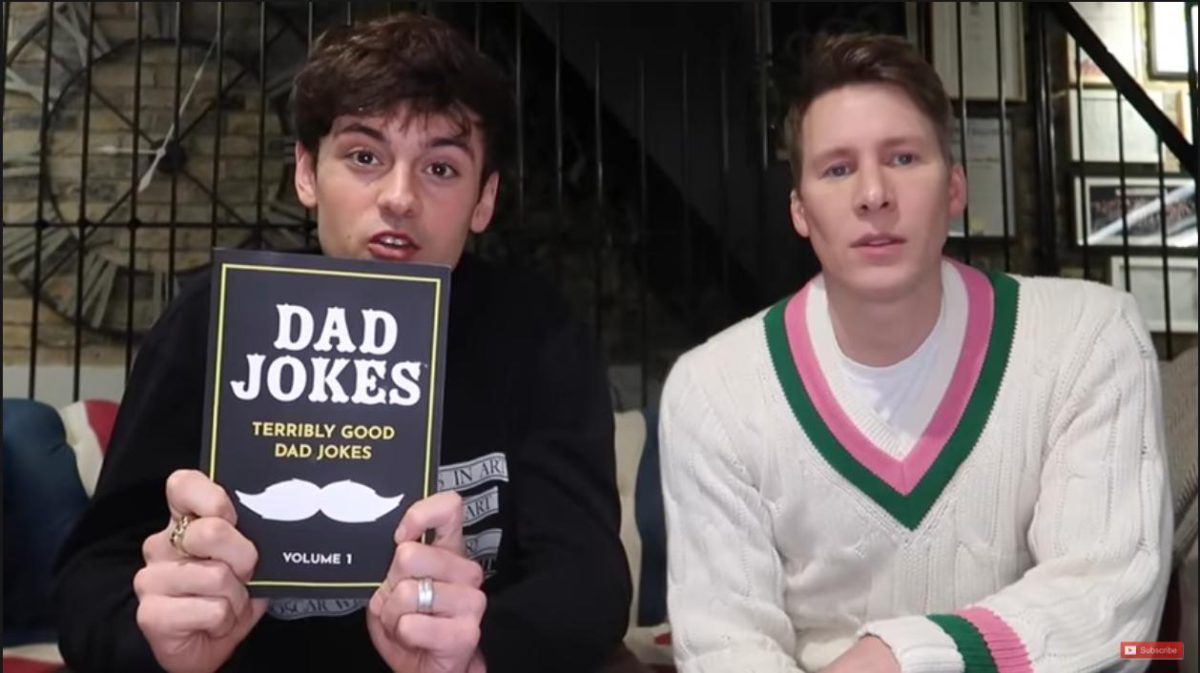 LONDON – British Olympian and gold medalist diver Tom Daley along with his husband D. Lance Black pass along some really terrible 'Dad' jokes.
Out Trans Munroe Bergdorf is covergirl as Cosmopolitan UK celebrates 50
"I believe the people want trans inclusion, racial equality, to end misogyny so women and girls feel safe walking home at night"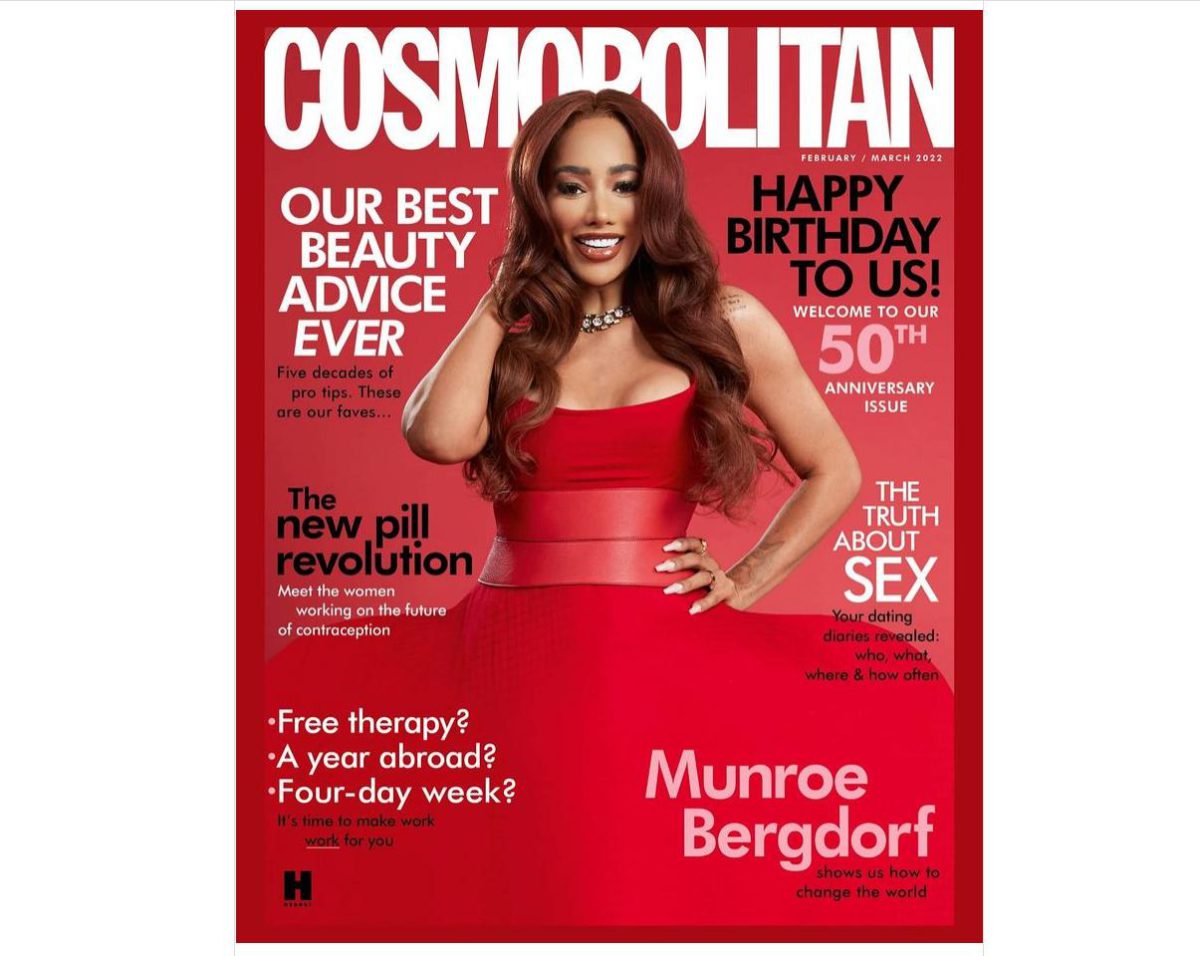 LONDON – Starting this upcoming Friday, January 21, customers standing in the queue at checkout tills and newsstands across the United Kingdom will be greeted by the sight of model and Out Trans activist Munroe Bergdof smiling back at them from the cover of the 50th anniversary special edition issue of Cosmopolitan UK.
In the cover story interview conducted by PinkNewsUK gender and identity journalist Vic Parsons, Salvadoran-American filmmaker, actor, model, and intersex rights activist River Gallo, along with writer, stylist and consultant Aja Barber, Bergdof discusses career, climate change and global warming, cancel culture, pronouns and the future of Trans rights.
"I hope there's a young trans girl looking at this cover thinking: 'I can do it too and who I am is not going to hold me back,'" she says.
Bergdorf adds: "I believe the people want trans inclusion, racial equality, to end misogyny so women and girls feel safe walking home at night."
"I don't think we have ever been as enlightened as a people as we are now, even if there is a lot of misinformation around. I do feel like the spark has been lit. Less people are passively accepting what they have been presented with and that's an incredible thing."
In a commentary piece written for London-based fashion and cultural media outlet Grazia in February 2018, Bergdorf noted;
"A woman is more than a vagina, than her ability to bear children, the gender she was assigned at birth, a socio-economic class, marital status or sexual history – yet every one of these points has been used to define and control a woman's place in society. This is why feminism must serve as an inclusive tool of liberation for all female identities and experiences, not just some. This is where so many women are still getting it wrong."
[…]
"I long to see more cisgender women in positions of influence standing up for trans women, making people aware of issues that may not affect all of us, but that we should all care about deeply."
[…]
"We must learn to see all women's experiences as worthy of being listened to within feminist discourse. Because the fact is not all women possess a functioning reproductive system, not all women have a vagina, not all women's vaginas are pink. So, when 'pink pussies' are used as imagery intended to unify all women, what they are actually doing is excluding a large amount of women from feeling like they have a voice within feminism."
Bergdof deleted her Twitter account due to the torrent of transphobic abuse she received on the social media platform PinkNewsUK reported.
"Tired of being a punching bag. Twitter is not a safe app for transgender people," she wrote.
The activist called on social media platforms take more action to combat the abuse directed at transgender people and women online.
Out soccer player calls out 'homophobic abuse' from crowd
The Adelaide United player said he had "no words" to describe his disappointment at being the target of anti-gay insults from the crowd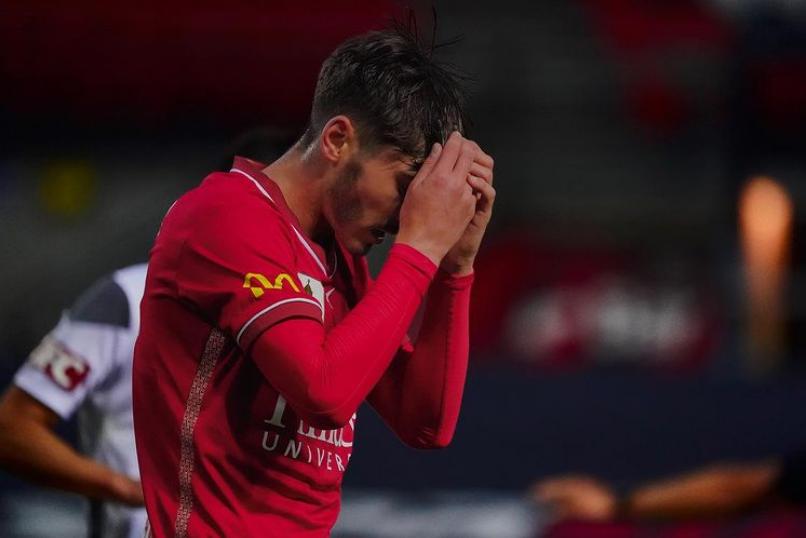 ADELAIDE, Australia – Professional soccer player Josh Cavallo, who became the only openly gay top-flight male professional footballer last year, told his Instagram followers over the weekend that he experienced "homophobic abuse" during his last game.
The Adelaide United player said he had "no words" to describe his disappointment at being the target of anti-gay insults from the crowd at AAMI Park during his team's Saturday game against the Melbourne Victory.
"As a society it shows we still face these problems in 2022," he wrote. "This shouldn't be acceptable and we need to do more to hold these people accountable. Hate never will win. I will never apologise for living my truth and most recently who I am outside of football."
Cavallo added that he was also targeted after the game online.
"To @instagram I don't want any child or adult to have to receive the hateful and hurtful messages that I've received," he said. "I knew truely being who I am that I was going to come across this. It's a sad reality that your platforms are not doing enough to stop these messages."
The Australian Professional Leagues (APL) said it was "shocked and saddened" to hear Cavallo's reports of "homophobic bullying," according to the Guardian.
"Our players, staff and fans have the right to feel safe on and off the pitch," APL CEO Danny Townsend said. "There is no place for bullying, harassment or abuse in Australian football and we have zero tolerance for this harmful behaviour."
The APL is working with both teams to investigate the incident, adding that sanctions will be issued to anyone involved.
In a statement, Adelaide United Chief Executive Officer Nathan Kosmina said that the team was "appalled" at the "verbal abuse" that Cavallo received.
"Adelaide United is proud to be an inclusive and diverse football club, and to see one of our players subjected to homophobic abuse is disappointing and upsetting," he said. "Josh continues to show immense courage and we join him in calling out abuse, which has no place in society, and it will not be tolerated by our Club."
The Melbourne Victory added that it "sees football as a platform to unite fans no matter what background. Spectators found to have breached these standards will be banned from future matches."
At the end of his Instagram message, Cavallo thanked those sending him positive messages, love and support.
"Love will always win," he said.