April 20, 2019 at 10:26 am PDT | by Steven Reigns
Tim Miller performs at Highways May 4 for 30th anniversary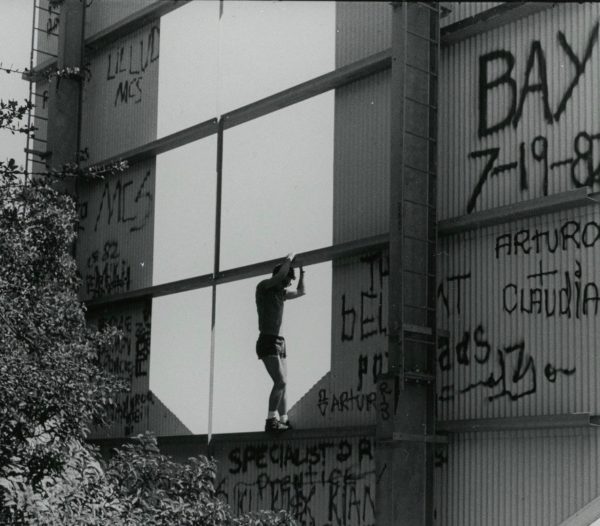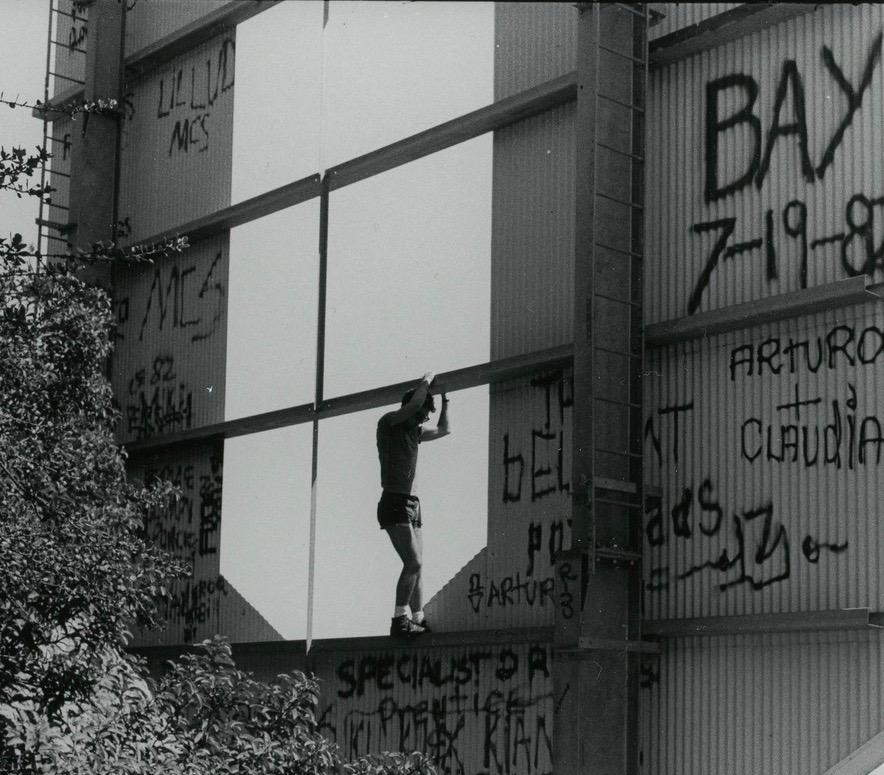 Decades before Kesha fans (Ke$hawood) and weed fanatics (Hollyweed) commandeered the visuals of the Hollywood sign, internationally acclaimed performer Tim Miller climbed into the letter "O." Celebrated photographer Dona Ann McAdams snapped a photo and this moment graces the cover of A Body in the O, his new of book of stories and performances.
Miller writes in the introduction of that moment perched inside the giant "O" as a young man:
"I climbed up into the enormous letter "O" on the Hollywood sign high in the hills above Los Angeles. This was in 1984 when you could still scamper up the Hollywood Hills goat paths and get close to the huge, world-famous landmark. If you were brave enough to confront the scary precarity and climb up one of the several stories tall letters, you had a perfect moment in time and space that must be recorded. I seem to be wearing hot pants and a crop top, a young gay boy's uniform of the time when returning home to hot L.A. from chilly NYC and risking his life climbing the decrepit Hollywood sign."
Tim Miller has been forging new ground in queer culture as a performer, activist, and writer since the early 1980s. His new book A Body in the O is out just in time to mark the 30th anniversary of Highways Performance Space, which Miller co-founded in 1989. He will be premiering a new performance made up of excerpts from the book at Highways on May 4.
I caught up with Miller to talk about his new book, new performance, and thirty years of queer culture at Highways.
The photo of you inside the O of the Hollywood on the cover of your book is striking. What does the O mean to you?
For a long time after I found this photo I assumed I was in the "O" in HO- no smart comments please- but another angle shows I am in the "O" of WOOD. Which actually works better for what I am getting at.
For me the "O" means the "Wooden O" of the theatre. Shakespeare coined that "wooden O" reference to the theatre in the prolog to Henry V and he meant the wooden Globe Theatre. Shakespeare asks us to dare to take up the big challenges of our historical moment and cram them into that wooden O! I hope the collection will conjure some of my contributions to that wooden O! I have always tried to put my body in that "O" and take on the heavy-lifting or our queer times.
In the Foreword to your book, scholar Craig Gingrich-Philbrook calls you the "quintessential example of the performance artists as first responder." How does performance art lend itself to first responders? What was it about the art form that attracted you to it?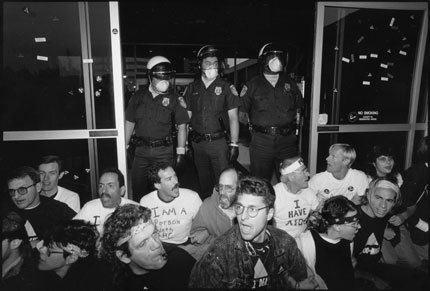 Tim Miller (glasses, front) with ACT UP/LA in Chuck Stollard's famous photo of the October 7, 1989 protest at the Federal Building, Westwood CA
In my opening manifesto in the book I talk about performers as first responders. I mean this especially around the crucial period in the 80s in the beginnings of the AIDS crisis when all we were getting from the US government was bigotry and genocide. What we had was one-on-one care giving and the beginnings of a really vital culture of solo performers taking on AIDS – me included- who began to tell the story of what we were going through from the front lines.
You cofounded two of our country's preeminent performance art spaces, Performance Space 122 and Highways. Both are still showcasing progressive and important works. What has it been like for you to have these two institutions continue?
In the book I have a story about when I was a kid I was always wanting to find the ideal queer tree house in Griffith Park where I could put on shows for my friends and change the world. Maybe that is what I was looking for when I climbed high into the Hollywood Sign. It is certainly why I co-founded Highways in 1989 and PS 122 in 1980! I am really proud that both spaces continue to thrive and shake up things.
This new book and show also arrives at the time to celebrate Highways Performance Space 30th Anniversary.
Yes, this is a super exciting moment for Highways, which has been fulfilling that wooden O mission since 1989. Highways was co-founded by Linda Burnham and I on a very bold mission of engaging diverse communities and social justice through performance. I ran the space for ten years, then co-directed it with Danielle Brazell, who now runs the City of L.A. Dept. of Cultural Affairs. Leo Garcia has been doing a fantastic job fulfilling that mission longer than anyone else and he deserves the credit for keeping the Highways banner flying high on the 30th Anniversary.
You toured the country for decades with different performances addressing the struggles of same sex binational couples. What is it like for you to revisit the text of these performance in your book now that binational couples have legal rights?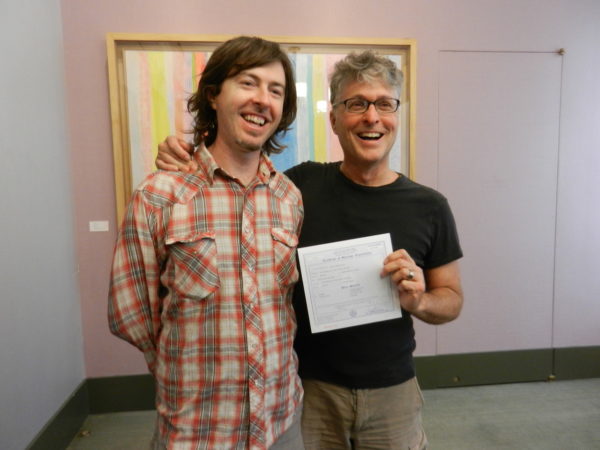 Alistair McCartney and Tim Miller with their hard-earned marriage certificate (Photo courtesy Tim Miller)
This was another space of first response for me. While I was one of many artists taking on AIDS, I was one of the very few battling marriage inequality and advocating for immigration rights for gay bi-national couples like me and Alistair McCartney. The book and the performance are, in a big way, a love letter to my husband Alistair to thank him for enduring the struggle we went through for twenty years to keep him in the US. The photograph in A Body in the O of Alistair at his citizenship ceremony is a moment we worked for so hard. Even six years since DOMA was overturned, we still have to pinch ourselves that we made it through the violence of US homophobia and were not forced in exile.
This is your fifth book and like your others it includes many images. Why was the visual so important for you to include?
This book was so driven by photographs. As an autobiographical storyteller these images conjure so much memory for me and launch the reader intimately into the narratives. Those photographs of thirty years ago at Highways really transport us, I hope, to the heat and hope and sexiness of that time. I love the images of the Highway Boys and the ACT UP activist beauty contest ! So saucy and full of life.
In a way, many of these photos chart the documentary and artistic skills of Dona Ann McAdams. What has it been like to work with her for over 30 years?
Dona Ann McAdams photographs have really been a motor in my work. Probably no time more than with A Body in the O. Her work as a photographer and activist has been a constant inspiration to me and her photographs fill all of my books.
You currently teach performance at universities across the country. What do you want to convey to LGBTQ youth? What would you want to convey to the young Tim on the cover of your book who "risked his life" to climb inside the "O?"
I travel all over the US working with young performers at universities in 44 of 50 states. This is really at the heart of my work now. There is a big theme in the book of tracing my own genealogy but even more charting how I want to embolden young folks to dive into that "O" and make the future better. That photo in the Hollywood sign is quite poignant for me because it is taken just a few days before my dad died suddenly in L.A. in 1984. In way, I want to give my students the message that I was always looking for in my early 20s that led me to climb inside that "O." I want to ask all of us to dig deep, climb high, see what needs changing, and do your bit to make it happen.
Tim Miller will perform A Body in the O at Highways Performance Space in Santa Monica on May 4 at 8:30pm. Tickets are available at www.highwaysperformance.org
Steven Reigns is West Hollywood's Inaugural Poet Laureate and founder of The Gay Rub, a collection of rubbings from LGBTQ landmarks from around the globe.