Pete Buttigieg coming to LA for gay Hollywood fundraiser
Rivals are coming for him now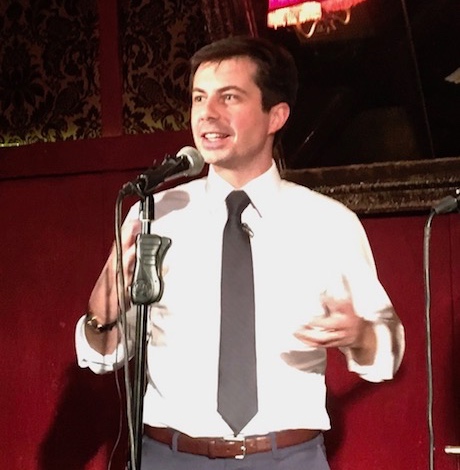 (UPDATED 4-26) South Bend Mayor Pete Buttigieg has surprisingly charmed so many in America with his smart, calm liberal morality that some polls of Democratic presidential contenders show him third behind Joe Biden and Bernie Sanders—a once impossible feat for an openly gay politician.
Buttigieg is no cookie-cutter candidate. Shortly after his breakthrough CNN Town Hall and his West Hollywood appearance last March, Buttigieg appeared on Fox News for an interview with Chris Wallace. 
"I think coming from the industrial Midwest, the place where, unfortunately, my party really lost touch with a lot of voters, especially in 2016—it's a combination of attributes, not to mention the military service—that I bring to the table, that is simply different from the others and I'm looking forward to competing," he told Wallace.
Buttigieg said his core message is: "Generational change, and then liberty, democracy and security."
By mid-March, Buttigieg had hit the 65,000 individual donor goal the Democratic National Committee requires to qualify to be on the DNC debate stage—the first of which will be in June hosted by NBC News, MSNBC and Telemundo.
Hollywood A-Gays want to hear more directly, especially Buttigieg reclaiming "values," using his marriage to Chasten as an example.
The Hollywood Reporter reports that mega-producer Ryan Murphy and husband David Miller are hosting a fundraiser for Buttigieg at their Los Angeles home on June 19. The event is also co-hosted by a bevy of married gays, including PR guru Simon Halls and his husband actor Matt Bomer; TV hit-maker Greg Berlanti and his husband, producer/ former soccer star Robbie Rogers; CAA partner Bryan Lourd and his husband Bruce Bozzi; and former People editor Jess Cagle and TV writer-producer husband Matt Whitney.
But with Buttigieg's surge in popularity comes the hard-knocks of political gamesmanship. His political rivals have been "caught off guard" and are "scrambling to find vulnerabilities and lines of attack that can be used against him, five officials with opposing Democratic primary campaigns and Republican political groups tell NBC News."
"He's getting a very significant free pass on a lot of stuff that other candidates aren't getting a free pass on," said one official from a rival Democratic presidential campaign, who called Buttigieg a "kid mayor," citing the 37-year-old candidate's willingness to take money from lobbyists as an example. "There's a novelty there. People don't know anything about him, so he can kind of be whatever people want him to be. But if he sustains this, that will come down to earth."
"Our competitors can run their campaigns how they want," Lis Smith, Buttigieg's top communications adviser, told NBC News. "We're less interested in politics as usual and more focused on getting Mayor Pete's hopeful message of generational change out there."
But Buttigieg's Democratic competitors might note that many of these A-Gays also raise and contribute money for other candidates—Murphy and Miller hosted a mega-fundraiser for California Sen. Kamala Harris on April 12, for instance—and they may not appreciate being used as "oppo-research" against a viable gay candidate.
The lobbyist Buttigieg's rivals are using against him right now is longtime gay fundraiser Steve Elmendorf, former Board Chair for the Victory Fund. He and longtime Human Rights Campaign backer Barry Karas are co-hosting a fundraiser for Buttigieg in Washington DC on May 21.
"Elmendorf is a lobbyist and former John Kerry campaign official who bundled more than $100,000 in the last election for Clinton. He announced his support for Buttigieg on Sunday, just as the Democrat officially launched his campaign," NBC News reported on April 18. "Karas raised at least half a million dollars for Obama in 2012 and was later appointed by Obama to the Kennedy Center's advisory board."
"The more I watched him, the more I thought he was performing at a level above all the other candidates. He has an optimistic message and I liked him," Elmendorf told CNBC for an April 17 story. "I just think everything about him is the opposite of Trump in a good way and when he answers every question he's trying to find solutions. He's not attacking anyone."
Elmendorf is impressed. "I think he's put himself out there in every possible venue. He's done every possible interview and has done well. He comes across as authentic," Elmendorf added. "There's something to be said about someone from out of Washington and a new, young person in this race."
Buttigieg is also different in not eschewing capitalism for democratic socialism. He has pledged not to take PAC money from corporations or the fossil fuel industry but contributions from top finance executives helped him raise $7 million, which catapulted him to the top tier over better-known contenders.
"Pete has never made a decision based on a contribution that he's received, and where he receives his contributions from has no bearing on the policy positions and governmental actions he takes," Smith told NBC News.
In fact, Buttigieg has re-framed capitalism.  He says the Green New Deal, for instance, is more of a "goal" than a concrete plan. But it recognizes climate change as a reality and a necessity set by science. And, Buttigieg told Fox's Chris Wallace, "Retro-fitting buildings means a huge amount of jobs for the building trades in this country. I view that as a good thing."
The other reality, Buttigieg told CNBC, is that "[t]he economy is not some creature that just lumbers along on its own. It's an interaction between private sector and public sector. And public sector policies, for basically as long as I've been alive, have been skewed in a direction that's increasing inequality."
Right now, when Buttigieg speaks, people listen.
UPDATE April 26 from Buttigieg campaign:
"Moving forward, Pete for America will not accept any money from lobbyists and we are returning all donations from registered lobbyists who have contributed to date — that's $30,250 from 39 individuals.

Mayor Pete will not be influenced by special-interest money, and we understand that making this promise is an important part of that commitment.

We understand that making this decision and being vocal about our values is important; that the decision means more than just whether or not we are willing to accept money from a specific individual.

Standing up for our collective values not only includes saying we believe that campaigns should not take money from lobbyists; it also means being aware of the loopholes that still allow special interests to impact the campaign.

This campaign will:

Not accept money directly from individuals who are registered as federal lobbyists
Not allow registered lobbyists to serve as bundlers for our campaign, because that would still allow them to use their influence to benefit our campaign
Add new language to our contribution forms about our standards around lobbying and donating
Implement internal procedures and audits to ensure we are living by these commitments
Not accept money from corporate PACs
Not accept money from the fossil fuel industry

You've held us to a higher standard, and we're grateful for your partnership. We're going to need your continued support.

We've launched a grassroots fundraising team — a group of supporters who is organizing around campaign finance goals. Already, that team of supporters has raised close to a half million dollars from their personal networks.

If you're interested in joining that team, please sign up here: 

www.peteforamerica.com/grassroots-fundraising-team

Thanks for your support, your commitment to our better future, and for holding us to a higher standard.

Mike

Mike Schmuhl
Campaign Manager
Pete for America"
ILGA-Europe: New program for racialized LGBTQ+ communities
The new initiative will be supporting up to 15 organizations' work on socio-economic justice for racialized LGBTI communities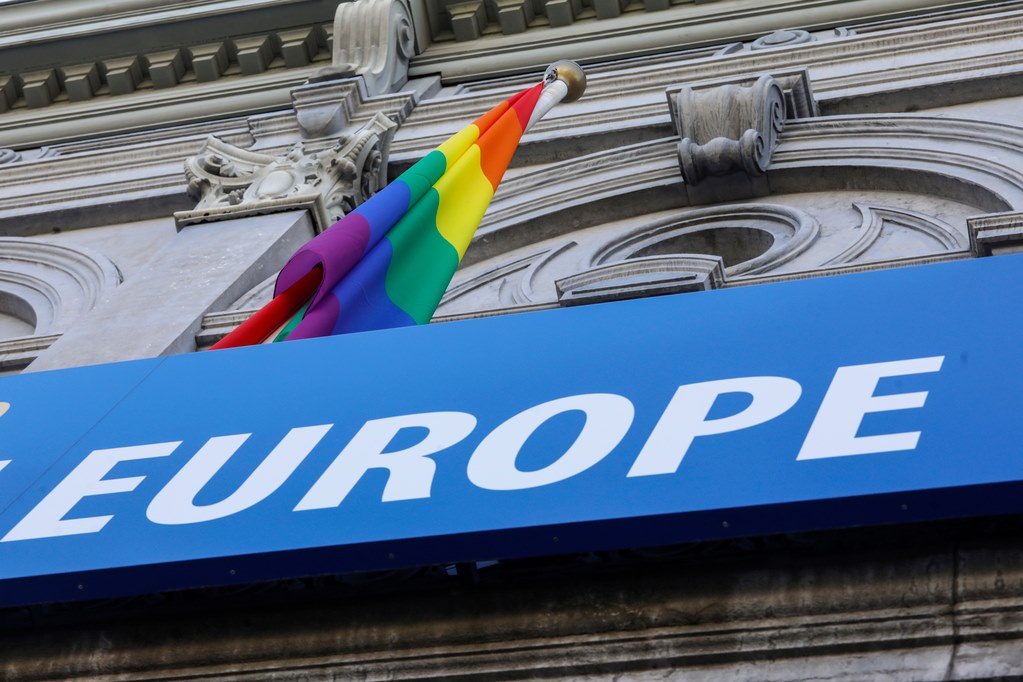 BRUSSELS, Belgium – ILGA-Europe announced a new two part 12-month program focused on the work being done by and for racialized LGBTQ+ communities across Europe this week.
According to the international LGBTQ+ advocacy non-profit, the new initiative will be supporting up to 15 organizations' work on socio-economic justice for racialized LGBTQ+ communities through a combination of grants and other resources.
The program has two interconnected components:
Financial support for the implementation of a project (up to 20.000 euro per project), AND
Learning and networking that will bring grantees together (on-line) on a regular basis to exchange learning, share challenges and solutions, build solidarity and find points for collaboration and inspiration.
The aim of this program is to:
Bring together a group of up to 15 European LGBTI organizations/groups across Europe that work on addressing the intersectional impact of socio-economic injustice, racialization, racism and supremacy and specific harms affecting the lives of racialized LGBTI communities across Europe.
Support, strengthen and advance their work on socio-economic justice for racialized LGBTI communities through a combination of grants and regular peer-learning/networking meetings.
ILGA-Europe noted that currently, the LGBTI movement across Europe operates in an increasingly hostile environment that directly affects the lives of LGBTI communities and the work of activists.
This environment is marked by anti-rights opposition, anti-democratic developments, rising unemployment, economic crises, ongoing and brewing geo-political conflicts, deepening structural inequalities, fear-mongering, mounting transphobic, and sexist and racist rhetoric and violence.
In a statement, ILGA-Europe said:
"So many organizations and groups have been doing incredible work and contributing to change, while at the same time being historically excluded from funding. By supporting these groups, we also wish to recognise and acknowledge the specialized knowledge and skills involved in addressing intersectionality. This can mean anything from exposing structural oppressions that shape harm; building and sustaining the resilience of racialized communities; developing and applying anti-racist, feminist and alternative approaches; to working through – and in spite of – institutional violence and trauma.
This programme expresses our commitment to continue our engagement with socio-economic justice and to strengthen our work on anti-racism. We see a great value for the wider movement in making the work of the organizations supported, disseminated and visible. We see an opportunity to bring the learning from this programme to the wider movement, as we believe that solutions and approaches that include a few will pave the way and point to the solutions for many."
Key information & details:
In selecting proposals, ILGA-Europe will prioritise projects that:
Demonstrate clear understanding of how the intersection of LGBTI identities, socio-economic injustice and racialisation works in their local contexts
Present a clear plan for how the envisaged change is going to come about in these contexts
Seek to establish practices/tools/solutions that can live beyond the project's lifetime
Have the potential to enhance the movement's thinking on anti-racism and working towards socio-economic justice in general and for socio-economic justice for racialised LGBTI communities in particular.
Respond to the framework, aim, objectives, and areas of work of this call
Are implemented by LGBTI-run organisations and initiative groups in Europe that have history and practice of working with and for racialised LGBTI communities
Deadline & Timeline:
Proposals should be submitted using the attached application form and budget template. The last day to submit your application (deadline) is 2 April 2023, Sunday, 23:59 CEST.
We will review applications, decide on projects to be supported and inform all applicants about the results of the review via the e-mail address provided in the application by 5 May 2023.
Contracts will be signed with organisations in May 2023. Successful applicants should be available to respond to requests during that period. The project must start on 1 June 2023.
To submit an application or if you have any questions in the preparation of your project proposal, please contact:

[email protected]
Questions?
If you have any questions in the preparation of your project proposal please submit them via e-mail to [email protected]
We will answer all of your questions via e-mail and then publish answers on a dedicated ilga-europe.org website page on 27 February and on 23 March, in order to share the information among all applicants.
Call for Applications DOWNLOAD