Crucial LAUSD election on May 14
Jackie Goldberg launches 'First Friday' movement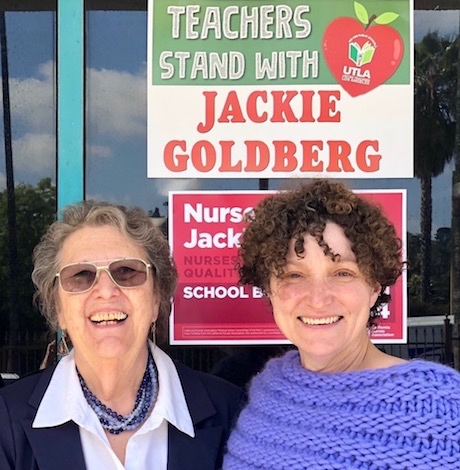 Imagine the stunned suppressed chuckles when Education Secretary Betsy DeVos said this: "As much as many in the media use my name as clickbait or try to make it all about me, it's not." DeVos also admonished the journalists at the National Education Writers Association conference in Baltimore on May 6 to "get the terminology right about schools and school choice" when writing about charter schools and public education.
But for progressives and parents who care about LGBT children, the story is always about DeVos, especially her cruelty toward trans students. One year ago, in May 2018, the Human Rights Campaign went so far as to project data onto the Education Department's headquarters in Washington to get her attention, asking DeVos: "How do you sleep at night when only 26% of LGBTQ youth always feel safe in class?"
Longtime LGBT advocate Jackie Goldberg also thinks DeVos is more dangerous than 'clickbait' suggests. It's central to her election campaign for the LAUSD District 5 run-off election on May 14. "You can count on me to be a strong, effective voice for public schools who will ably defend public education from federal attacks by Betsy DeVos and all others," she says on her campaign website. "I will attempt to bring stability and leadership to LAUSD and will fight to keep public schools truly public and welcoming to ALL students."
Though California is a predominantly Democratic state, it is not immune from attacks by Trump/DeVos supporters. In addition to the constant degrading of trans students, the perennial Religious Right-fueled parents' rights movement has long targeted California's inclusion of LGBT people and achievements in class curriculum. On May 6, for instance, conservative Sacramento parents kept at least 700 students out of school to protest LGBT curriculum inclusion, according to TV station KTXL.
The anti-LGBT Capitol Resource Institute is also attacking out Assemblymember Todd Gloria's bill, AB 493 that would require charter schools to conduct LGBT-supportive sensitivity training. The bill, CRI writes in a press release, "seeks to undermine the authority of charter schools and force them to adhere to a set of principles they might object to for moral reasons."
Goldberg's heard all this before. A teacher, she was first elected to the Los Angeles Unified School District Board in 1983 when she fought anti-gay Rev. Lou Sheldon on behalf of Project 10 and to have honest sex education in the era of AIDS. After that, she was elected to the LA City Council, then the California State Assembly, leaving in 2006, though she remained active. Once again, she feels the call to public service—this time to fight against the decimation of public education by the rich charter school privatization movement, led by Betsy DeVos.
Goldberg has tremendous progressive backing in the May 14 run-off. But she is not without serious opposition.
"Jackie Goldberg is the most recent progressive Democrat strongly supporting public education who has faced a glut of opposition spending from SEIU," says Goldberg-backer Hans Johnson, president of the sizable East Area Progressive Democrats club. "Various locals of the union are taking increasingly regressive stands in local and state contests, in a disturbing alliance with promoters of charter schools. This SEIU bond with billionaire charter promoters is tightening even as demands from Democrats and watchdogs for honest government multiply for charters to face sunlight and accountability to the public." 
Another strong backer is Rep. Maxine Waters who Goldberg says she's known "pretty much for my entire adult life."
"The thing that's so important about having someone like Congressmembers Waters involved is it tells you that what we're really building here is a movement," Goldberg told supporters at a recent event. Goldberg not only wants to win the LAUSD 5th District seat, she wants to force the State Legislature to allocate considerably more money towards public education.
"New York is spending $22,000 a kid. We're spending not quite $12,000," Goldberg said. So on the first Friday of every month, public education advocates must go to their local elected officials in the state and say, "we gave you two-thirds in the Assembly. We gave you two-thirds in the Senate.  We need $22,000 minimum to match New York. You figure out who to tax but it's got to be the rich," noting there are 144 billionaires and thousands of multi-millionaires living in California. "If you cannot find a way to tax the rich and invest in our children again, we will find a Democrat who will."
Goldberg said she's already talked to public education advocates in Fresno and Sacramento about her First Friday crusade, including State Sen. Pro Tem Toni Atkins, to whom she gave much background material.
"We are going to make this a statewide campaign to increase the public spending not just on pre-K through 12," but the UC system, as well," she said. "This is a campaign not just about today, not just about May 14, but it's about the movement that actually began with the [successful] teacher's strike."
And there are a myriad of ways to get the money. For instance, tax the air cargo that comes into LAX at 5 cents and tax private charter planes at 5 cents as a state sale tax, she said. "That's 9.2 billion a year!"
Goldberg gave a nod to the social justice Moral Mondays movement created by Rev. William Barber in North Carolina. But "we have folks here who would debate for 10-12 hours what 'moral' was so…," she joked.
But Goldberg's First Friday crusade is no joke. She wants public education advocates to go to the elected offices every single month "until we get the money our children deserve and need."
Governor & First Partner visit VA campus, meet with Calif. veterans
Governor Gavin Newsom today also announced the appointment of Lindsey Sin as Secretary of the California Department of Veterans Affairs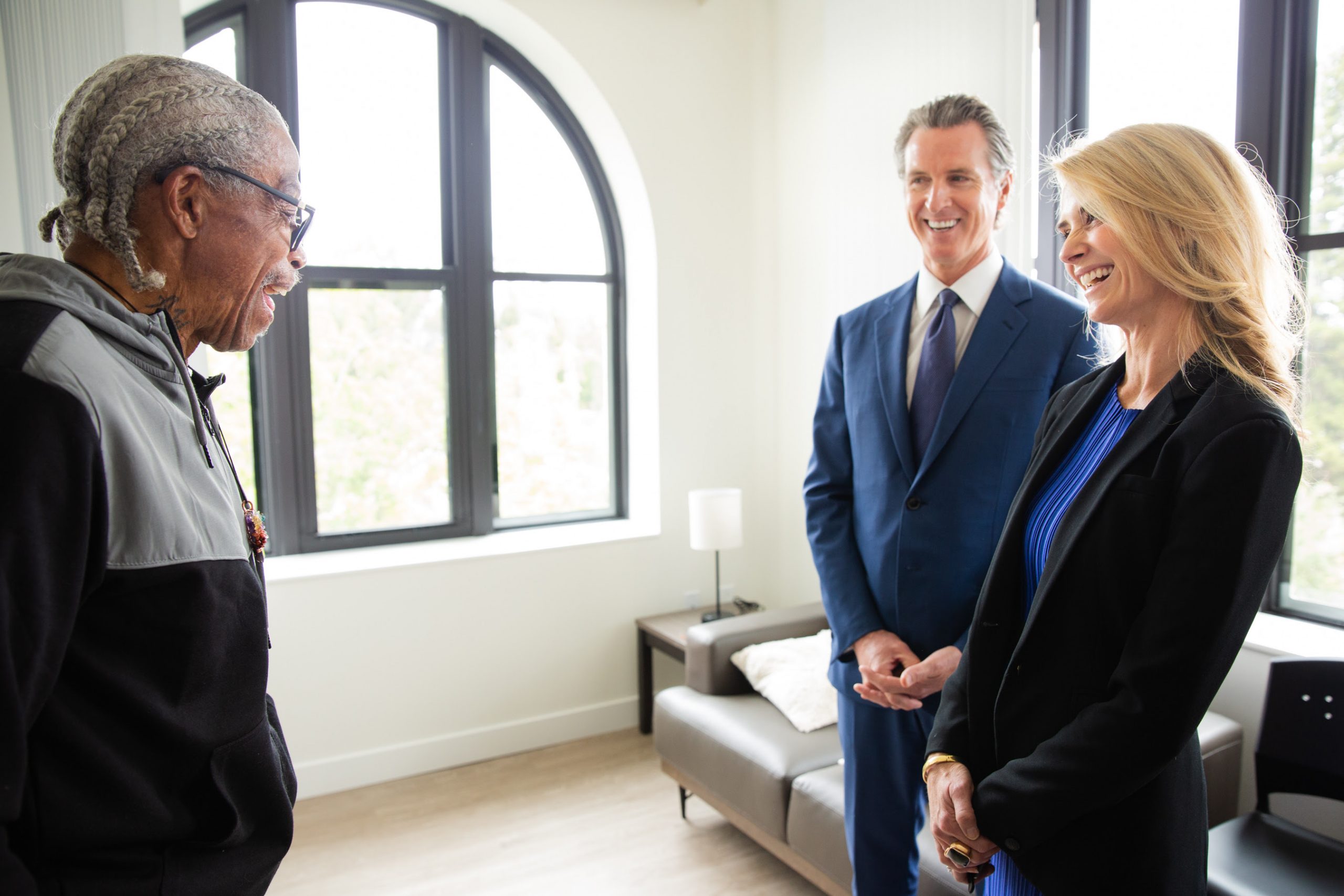 LOS ANGELES – Highlighting the state's historic investments made in behavioral health and housing resources for veterans, Governor Gavin Newsom and First Partner Jennifer Siebel Newsom toured a new supportive housing site at the West Los Angeles Veterans Affairs campus and met with California veterans who are receiving services.
These services, such as housing, have led to unhoused California veterans experiencing behavioral health challenges successfully moving into stable, permanent housing with accessible and affordable services and care for them.
"Our veterans put their lives on the line to serve our country, now we need to serve them in return. Too many veterans can't escape the battlefront, even here on the home front – and because of that, we have lost too many of these heroes to suicide, while many more struggle with other behavioral and physical health concerns," said Governor Newsom. "California is building an accessible network of resources for veterans and their families, while we tackle the deadly stigma around mental health that isolates and endangers so many of our heroes. We are home to the nation's largest population of veterans, who all deserve to be connected, respected, and protected."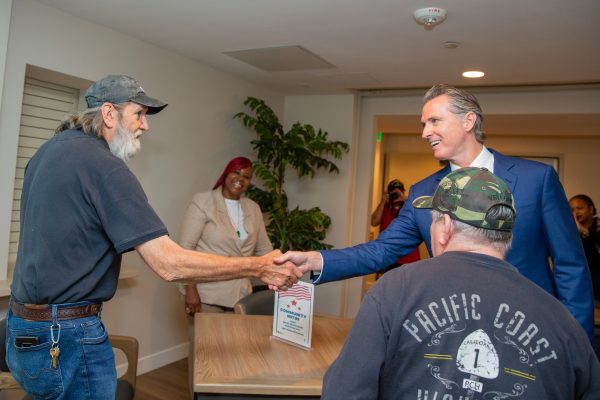 "Veterans and their families make tremendous sacrifices, both physically and mentally in heroic service to our country," said First Partner Siebel Newsom. "It is essential that we honor and support them by ensuring their needs, especially related to mental health, are met when they come home. As we remember and pay tribute to servicemembers we've lost, I'm proud that California has remained steadfast, through policies and investments, in our commitment to the veterans who call this state home."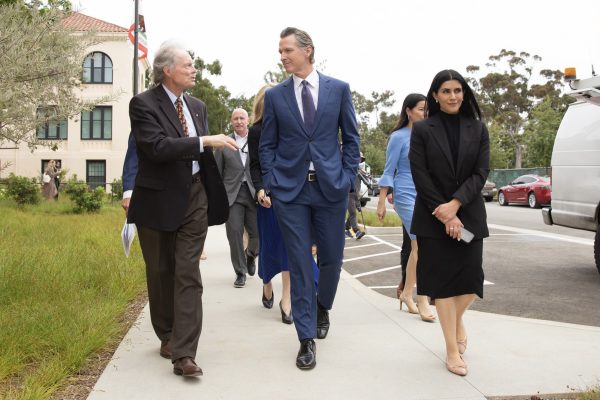 "As Memorial Day approaches, we honor our fallen – those who gave their lives in service to our nation," said Russell Atterberry, Undersecretary at the California Department of Veterans Affairs. "We also remember their sacrifices by caring for the veterans who are still with us. California is creating more housing for veterans and investing in behavioral health services to ensure the well-being of our veterans and their families."
California is home to 1.6 million veterans, the most in the nation. Governor Newsom's investments led to CalVet expanding programs focused on veterans, particularly comprehensive behavioral and mental health services like those offered at the West Los Angeles VA campus.
Key Behavioral Health Programs for California Veterans
California Veterans Health Initiative (CVHI): $50 million investment to coordinate state, local, and community resources to amplify education and outreach efforts, while working to increase capacity so we can serve all our veterans in need.
Veterans Housing and Homelessness Prevention Program (VHHP): Projects are required to provide onsite supportive services which include intensive case management, mental and physical health care, benefits counseling and advocacy, education and employment services, life-skills training, and peer support – an additional investment of $100 million.
Veterans Support to Self-Reliance Pilot Program: $25 million to help California's most vulnerable veterans with the opportunity to age in place, by establishing a baseline of service that will enable them in stable, independent housing.
Behavioral Health Services Program: $1.27 million in ongoing funding to assist County Veterans Service Offices (CVSOs) in enhancing and expanding mental health services through projects that collaborate with the existing community-based system of care.
California Transition Assistance Program (CALTAP): Provides in-person and virtual trainings to service members, veterans and their families throughout the state.
Behavioral Health at the Veterans Homes of California: The eight Veterans Homes of California have hired more clinical social workers, psychologists, and psychiatrists to ensure behavioral health staffing is commensurate with the needs of current and future residents.
Governor Gavin Newsom today also announced the appointment of Lindsey Sin as Secretary of the California Department of Veterans Affairs.
"Lindsey is the definition of a public servant – never losing sight of who she is serving, and tireless in pursuing her mission," said Governor Newsom. "She has dedicated over two decades of her career to our country and this state as an officer in the US Navy and a leader for veterans. She has delivered unprecedented resources to the California veterans' community, with a particular focus on equity and inclusion for the needs of our women veterans. Lindsey's unwavering care and compassion will make her a trusted leader to serve as CalVet Secretary, representing the largest population of veterans in our country."
Lindsey Sin, of Sacramento, has been appointed as the Secretary of the California Department of Veterans Affairs, where she has served in several roles since 2011, including Deputy Secretary of Communications and Deputy Secretary of Women Veterans Affairs.
She was a Veterans Benefits Advisor at California State University, Sacramento from 2010 to 2011. Sin was Lead Veterans Affairs Coordinator at American River College from 2008 to 2010.
She was served as a Cryptologic Technician Interpretive in the Arabic language at the rank of Petty Officer First Class with Naval Aviation Warfare and Naval Aircrew designations in the United States Navy from 1997 to 2005.
Sin earned a Bachelor of Arts degree in History from California State University, Sacramento, and a Master of Business Administration in Entrepreneurship from Drexel University.
This position requires Senate confirmation.