Crucial LAUSD election on May 14
Jackie Goldberg launches 'First Friday' movement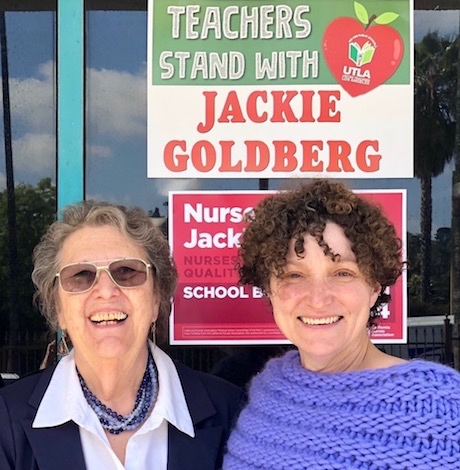 Imagine the stunned suppressed chuckles when Education Secretary Betsy DeVos said this: "As much as many in the media use my name as clickbait or try to make it all about me, it's not." DeVos also admonished the journalists at the National Education Writers Association conference in Baltimore on May 6 to "get the terminology right about schools and school choice" when writing about charter schools and public education.
But for progressives and parents who care about LGBT children, the story is always about DeVos, especially her cruelty toward trans students. One year ago, in May 2018, the Human Rights Campaign went so far as to project data onto the Education Department's headquarters in Washington to get her attention, asking DeVos: "How do you sleep at night when only 26% of LGBTQ youth always feel safe in class?"
Longtime LGBT advocate Jackie Goldberg also thinks DeVos is more dangerous than 'clickbait' suggests. It's central to her election campaign for the LAUSD District 5 run-off election on May 14. "You can count on me to be a strong, effective voice for public schools who will ably defend public education from federal attacks by Betsy DeVos and all others," she says on her campaign website. "I will attempt to bring stability and leadership to LAUSD and will fight to keep public schools truly public and welcoming to ALL students."
Though California is a predominantly Democratic state, it is not immune from attacks by Trump/DeVos supporters. In addition to the constant degrading of trans students, the perennial Religious Right-fueled parents' rights movement has long targeted California's inclusion of LGBT people and achievements in class curriculum. On May 6, for instance, conservative Sacramento parents kept at least 700 students out of school to protest LGBT curriculum inclusion, according to TV station KTXL.
The anti-LGBT Capitol Resource Institute is also attacking out Assemblymember Todd Gloria's bill, AB 493 that would require charter schools to conduct LGBT-supportive sensitivity training. The bill, CRI writes in a press release, "seeks to undermine the authority of charter schools and force them to adhere to a set of principles they might object to for moral reasons."
Goldberg's heard all this before. A teacher, she was first elected to the Los Angeles Unified School District Board in 1983 when she fought anti-gay Rev. Lou Sheldon on behalf of Project 10 and to have honest sex education in the era of AIDS. After that, she was elected to the LA City Council, then the California State Assembly, leaving in 2006, though she remained active. Once again, she feels the call to public service—this time to fight against the decimation of public education by the rich charter school privatization movement, led by Betsy DeVos.
Goldberg has tremendous progressive backing in the May 14 run-off. But she is not without serious opposition.
"Jackie Goldberg is the most recent progressive Democrat strongly supporting public education who has faced a glut of opposition spending from SEIU," says Goldberg-backer Hans Johnson, president of the sizable East Area Progressive Democrats club. "Various locals of the union are taking increasingly regressive stands in local and state contests, in a disturbing alliance with promoters of charter schools. This SEIU bond with billionaire charter promoters is tightening even as demands from Democrats and watchdogs for honest government multiply for charters to face sunlight and accountability to the public." 
Another strong backer is Rep. Maxine Waters who Goldberg says she's known "pretty much for my entire adult life."
"The thing that's so important about having someone like Congressmembers Waters involved is it tells you that what we're really building here is a movement," Goldberg told supporters at a recent event. Goldberg not only wants to win the LAUSD 5th District seat, she wants to force the State Legislature to allocate considerably more money towards public education.
"New York is spending $22,000 a kid. We're spending not quite $12,000," Goldberg said. So on the first Friday of every month, public education advocates must go to their local elected officials in the state and say, "we gave you two-thirds in the Assembly. We gave you two-thirds in the Senate.  We need $22,000 minimum to match New York. You figure out who to tax but it's got to be the rich," noting there are 144 billionaires and thousands of multi-millionaires living in California. "If you cannot find a way to tax the rich and invest in our children again, we will find a Democrat who will."
Goldberg said she's already talked to public education advocates in Fresno and Sacramento about her First Friday crusade, including State Sen. Pro Tem Toni Atkins, to whom she gave much background material.
"We are going to make this a statewide campaign to increase the public spending not just on pre-K through 12," but the UC system, as well," she said. "This is a campaign not just about today, not just about May 14, but it's about the movement that actually began with the [successful] teacher's strike."
And there are a myriad of ways to get the money. For instance, tax the air cargo that comes into LAX at 5 cents and tax private charter planes at 5 cents as a state sale tax, she said. "That's 9.2 billion a year!"
Goldberg gave a nod to the social justice Moral Mondays movement created by Rev. William Barber in North Carolina. But "we have folks here who would debate for 10-12 hours what 'moral' was so…," she joked.
But Goldberg's First Friday crusade is no joke. She wants public education advocates to go to the elected offices every single month "until we get the money our children deserve and need."
West Hollywood in brief- City government in action this week
The City of West Hollywood's first annual Pet Week, City also to Re-Open Applications for Guaranteed Income Pilot Project Testing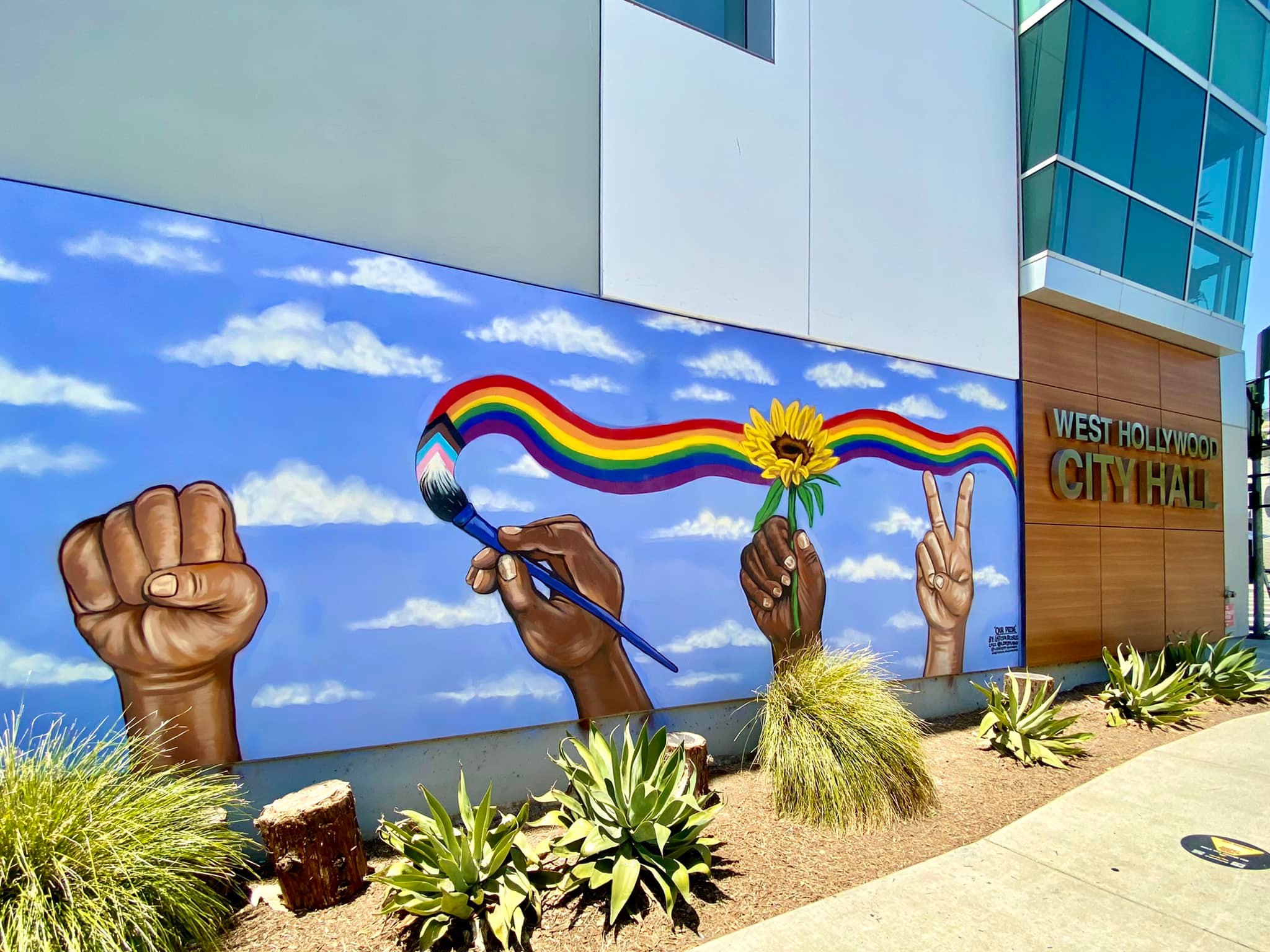 WEST HOLLYWOOD – The City of West Hollywood is pawsitively pumped to host its inaugural Pet Week. Pet Week is an initiative to highlight animal companions and celebrate the joy they bring into our lives.
"I am so excited for the City of West Hollywood's first annual Pet Week, featuring pet-friendly businesses and pet-centered events, like World Dog Day," said City of West Hollywood Mayor Lauren Meister. "Pet Week is an opportunity for us to show our appreciation and love for our companion animals. My dogs, Suki and Sammy, approve!"
"West Hollywood is one of the most pet friendly cities in America," said Mayor Pro Tempore Sepi Shyne. "Many of our residents have beloved animal companions. I am so delighted to have brought forward the initiative with Mayor Meister to create Pet Week dedicated to our beloved companions, which includes an entire day dedicated to felines. My hope is that we as a community learn more about how to care for our companions, celebrate them, and make West Hollywood a destination for visitors who have pets as well."
As part of the Pet Week celebration, the City's Recreation Services Division will be highlighting community members' pets on social media. To join the paw-ty, submit a pet picture and description to [email protected], including a fun fact about them and what they mean to you! Pets of all species, shapes, and sizes are welcome to participate. One day will be designated as "Feline Day" to specifically highlight our feline friends! Follow along @wehorec on Instagram and @westhollywoodrec on Facebook.
As part of Pet Week, the City will be hosting a virtual Pet Week Panel Discussion focused on holistic veterinary care and alternative remedies featuring Dr. Heather Oxford, DVM, MPH, CCRT, CVA and Dr. Lindsey Wendt, DVM, CVA, CVFT on Wednesday, May 25, 2022 at 5:30 p.m. via Zoom.
Register at https://us06web.zoom.us/webinar/register/WN_QWBpx4GgRj-Zw0NyiyCiTQ.
Dr. Oxford is an acupuncture and rehabilitation veterinarian focused on mobile integrative holistic veterinary medicine to improve health, optimize performance, and accelerate healing for small animals. Dr. Wendt is the owner and creator of Crystal Lotus Veterinary Care, which focuses on providing individually focused holistic health care to pets in the comfort of their homes.
Dr. Oxford and Dr. Wendt will be in conversation with City of West Hollywood Mayor Lauren Meister and Mayor Pro Tempore Sepi Shyne where they will discuss several topics, including health and wellness of pets; and holistic care and alternative remedies such as acupuncture, laser therapy, food therapy, integrative medicine, and dealing with separation distress and anxiety. 
The City of West Hollywood is also excited to co-sponsor The Vanderpump Dog Foundation's 6th annual World Dog Day on Saturday, May 28, 2022 from 11 a.m. to 4 p.m. at West Hollywood Park, located at 647 N. San Vicente Boulevard.
"Ruff ruff. Ruff-ruff ruff ruff ruff-ruff Saturday May 28, West Hollywood Park, ruff ruff woof-woof ruff ruff," interpreted Councilmember John D'Amico. "Meow? Grrrrrr. Ruff ruff ruff."
World Dog Day brings together hundreds of people and their furry friends to celebrate dogs for a day of fun and entertainment and takes place during the City of West Hollywood's first ever Pet Week. Admission is free and open to the public; canine companions must attend on a leash. All activities will be outside and socially distanced; masks will be encouraged.
Started in 2016, this family-friendly event will include live performances and DJs; an Adoption Area with adoptable rescue dogs; an Animal Education area; a dog water park; a doggy fashion show featuring past Adopted Rescue Dogs and celebrity judges; a doggy pie eating contest; an amazing raffle with incredible prizes; dozens of exhibitors featuring pet-friendly products and services; plus an array of food trucks for all to enjoy – even celebrity guests!
World Dog Day will be a memorable day of celebrating dogs while raising awareness about global dog abuse, including the Yulin Dog Meat Festival. The Vanderpump Dog Foundation has rescued and adopted more than 2,300 dogs to their forever homes domestically, and hundreds more internationally. For additional information about World Dog Day, please visit www.vanderpumpdogs.org/world-dog-day.
The City of West Hollywood invites canine members of the community and their humans to sniff out a spot and romp around at the City's two dog parks at West Hollywood Park. A small dog park and large dog park are located on each side of the park's basketball courts and each area features expanses of open space with shade trees, small mounds and turf terraces, and water stations. In addition, the City operates the William S. Hart Park and Off-Leash Dog Park located at 8341 De Longpre Avenue.
The City of West Hollywood is often recognized as one of the most animal-friendly cities in the nation and has a long history of supporting measures that promote the protection of animal rights and animal welfare. In April 2003, the City became the first municipality in the nation to prohibit cat declawing. In February 2010, the City passed an Ordinance to address the inhumane conditions endured by "puppy mill" animals by prohibiting the sale of dogs and cats in companion animal stores. In September 2013, the City's Fur Ordinance went into effect, which prohibits retail establishments from selling, trading, distributing, importing, or exporting any fur product.
For more information about upcoming dog events in the City of West Hollywood, please call (323) 848-6460. For people who are Deaf or hard of hearing, please call TTY (323) 848-6496.
City of West Hollywood to Re-Open Applications for Guaranteed Income Pilot Project Testing the Impact of Cash Payments on the Financial Stability of Older Adults on June 17
The City of West Hollywood, in collaboration with nonprofit partner, National Council of Jewish Women/LA, will re-open applications for the pilot project for guaranteed income aimed at evaluating the impact of cash payments on the financial stability and quality of life of older adults. Guaranteed income is a direct and regular cash payment – no strings attached – provided to a specific group of people for a designated time.
In January 2021, the West Hollywood City Council approved an item for the City of West Hollywood to join the Mayors for Guaranteed Income (MGI) network and directed staff to develop a guaranteed income pilot program for West Hollywood, including identification of research, funding, community implementation, and evaluation partners.
There are numerous cities, counties, and private guaranteed income pilots happening throughout the nation. Guaranteed income pilots are a way to test the impact of cash payments, while also providing a service to help financially stabilize community members and learn information to help create future, evidence-based policies and programs.
Beginning June 1, 2022, community members may access www.ncjwla.org/whpgi to learn more. The application will open on the website beginning Friday, June 17, 2022, and will close on Sunday, June 26, 2022.
Applicants Must Reside in City of West Hollywood and: Must be 50 Years or Older; and Must Meet Criteria for Individual Yearly Income of $41,400 or Less
Community members who are interested in applying for the West Hollywood Pilot for Guaranteed Income must reside in the City of West Hollywood, be 50 years or older, and have an individual income of $41,400 or less. The program will be facilitated by the National Council of Jewish Women Los Angeles. People who need assistance applying may call (323) 852-8500, ext. 650, or may send an email message to [email protected].
A total of 25 qualifying participants will be randomly selected from the pool of eligible applicants to receive unconditional monthly $1,000 payments from September 2022 through February 2024.
The move to re-open applications for the pilot project for guaranteed income follows a shift in March 2022 when the City became aware that the pilot, because it was created and supported by a government entity, was susceptible to legal challenges due to the inclusion of LGBTQIA criteria as an eligibility requirement to participate.
The City, with the help of Mayors for a Guaranteed Income (MGI) and the Center for Guaranteed Income at the University of Pennsylvania (CGIR) had originally developed a data-driven guaranteed income pilot that was set to launch in April 2022 and would have been the first LGBTQIA-focused pilot and the first older adult-focused pilot in the nation.
Protecting the rights of LGBTQ community members has been a long-standing mission of the City, and the City has worked tirelessly to identify and address inequities. For years, the City – along with LGBTQ advocates nationwide – has fought for equal civil rights, including the right to marry, the ability to obtain access to spousal protections and benefits including healthcare and pensions, and efforts to reduce/eliminate discrimination in housing and employment.
These hard-earned rights and protections come with other legal consequences as well. Although the City could engage in a legal battle over the contested eligibility requirement, the implications of litigating such a challenge had to be considered. Having LGBTQIA identification as an eligibility requirement for the pilot could potentially violate the California Constitution as sexual orientation is a protected suspect class in the state.
Therefore, the City Attorney, City staff, and pilot partners recommended that the City Council of the City of West Hollywood revise the pilot to include three of the four original criteria (residency, age, and income level) in order to satisfy the legal obligations, protect potential participants, and move forward with a program that serves community members in need of financial support and stability. All applicants from the first iteration of the pilot will be automatically entered into the pool of applicants for the revised pilot.
The City of West Hollywood seeks to test the emerging promise of guaranteed income to help prevent homelessness, support community members as they age in place, and to reduce the stressors of poverty and financial insecurity. In addition, the West Hollywood Pilot for Guaranteed Income seeks to examine impact in the following areas:
Quantitative data to evaluate the collective impact of guaranteed income on different populations;
Capture unique qualitative narrative information to provide greater understanding into the income challenges faced by older adults in West Hollywood and inform the creation of evidence-based policies and programs to better support the health and well-being of older adults; and
Test the concept of guaranteed income to evaluate whether to expand the initial pilot or create new/additional pilots in the City.
The City will engage two nonprofit partners in the pilot. The first is the Center for Guaranteed Income Research at University of Pennsylvania as the research and evaluation partner responsible for creating and administering the research instruments, conducting the randomized selection of eligible applicants to participate in the pilot, collecting/processing/analyzing the data, and providing a report on the findings.
The City's second partner in the pilot is the National Council of Jewish Women Los Angeles (NCJW|LA) as the nonprofit administrator implementing the pilot. NCJW was selected for its knowledge, experience, and understanding of the nuances of guaranteed income. NCJW will be responsible for conducting outreach to the community about the pilot, assisting community members to complete applications, verifying that West Hollywood residency and other pilot criteria are met to ensure the eligibility of each applicant, submitting the completed and verified applications to CGIR for the randomized selection of participants, and notifying the participants selected by CGIR.
25 Randomly Selected Participants will be Chosen from a Pool of Eligible Applicants to Receive 18 Unconditional Monthly $1,000 Payments
They will also conduct onboarding and provide individualized benefits counseling for each participant, manage a storytelling cohort and storytelling activities that complement the research component of the pilot and provide the participants an opportunity to share their experiences in their own voices. In addition, the nonprofit administrator will subcontract and coordinate services with a nonprofit financial distributor (utilizing debit card services) to ensure that funds are distributed to participants in a timely, predictable, and seamless fashion.
Additional information about research and evaluation, as well as pilot partners and pilot funding is available in the May 2022 City Council staff report at https://weho.granicus.com/MetaViewer.php?view_id=&event_id=1357&meta_id=228362.
For more information, please contact Diane Kahn-Epstein, the City of West Hollywood's Strategic Initiatives Program Administrator, at (323) 848-6548 or at [email protected].
For people who are Deaf or hard of hearing, please call TTY (323) 848-6496.
Reminder: 101 closed through DTLA until 10pm Sunday
The closure began at 10 p.m. Saturday and will be completed by 10 p.m. Sunday, the Los Angeles Bureau of Engineering announced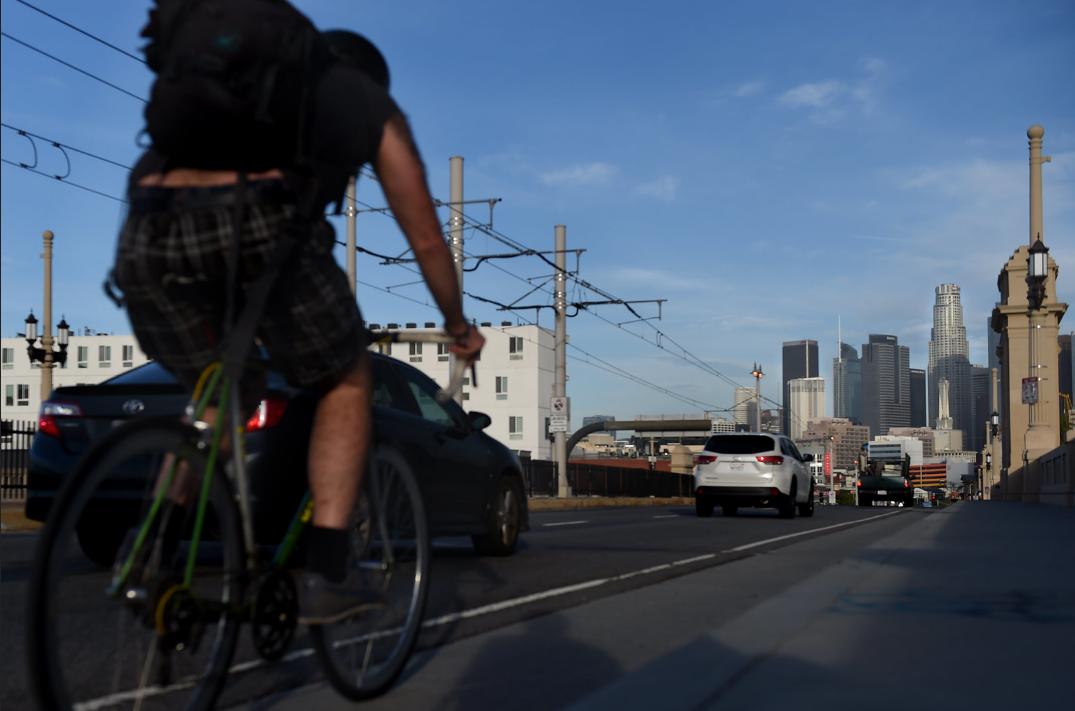 LOS ANGELES – (KTLA) Motorists are being reminded that the stretch of 101 through the downtown area of Los Angeles is shut down for road restoration and reconstruction work.
KTLA reported the closure began at 10 p.m. Saturday and will be completed by 10 p.m. Sunday, the Los Angeles Bureau of Engineering announced.
The 24-hour closure between State Route 60 and the 10 Freeway interchange is needed for the Sixth Street Viaduct Replacement Project, which aims to replace the original, seismically-deficient structure built in 1932, authorities said.
During the closure, the California Department of Transportation will also be doing slab replacement work along the same stretch of the 101 Freeway.
The closure will center around the east side of the viaduct construction site in Boyle Heights. While the stretch is closed, drivers headed west on State Route 60 from the Pomona area will not be able to access the 101, officials said.
Off-ramps and on-ramps in the area will also be closed during as road work gets underway.
Drivers who reach the closure will see signs directing them to a detour.
The new $588 million viaduct is expected to be completed in Summer of 2022, stretching between Boyle Heights and the Arts District.
Officials say it is the largest bridge project in the history of Los Angeles.
Assemblymember Santiago: Up food access to undocumented Californians
A study from the Food4All Coalition, in partnership with UCLA research, 45% of undocumented Californians face food insecurity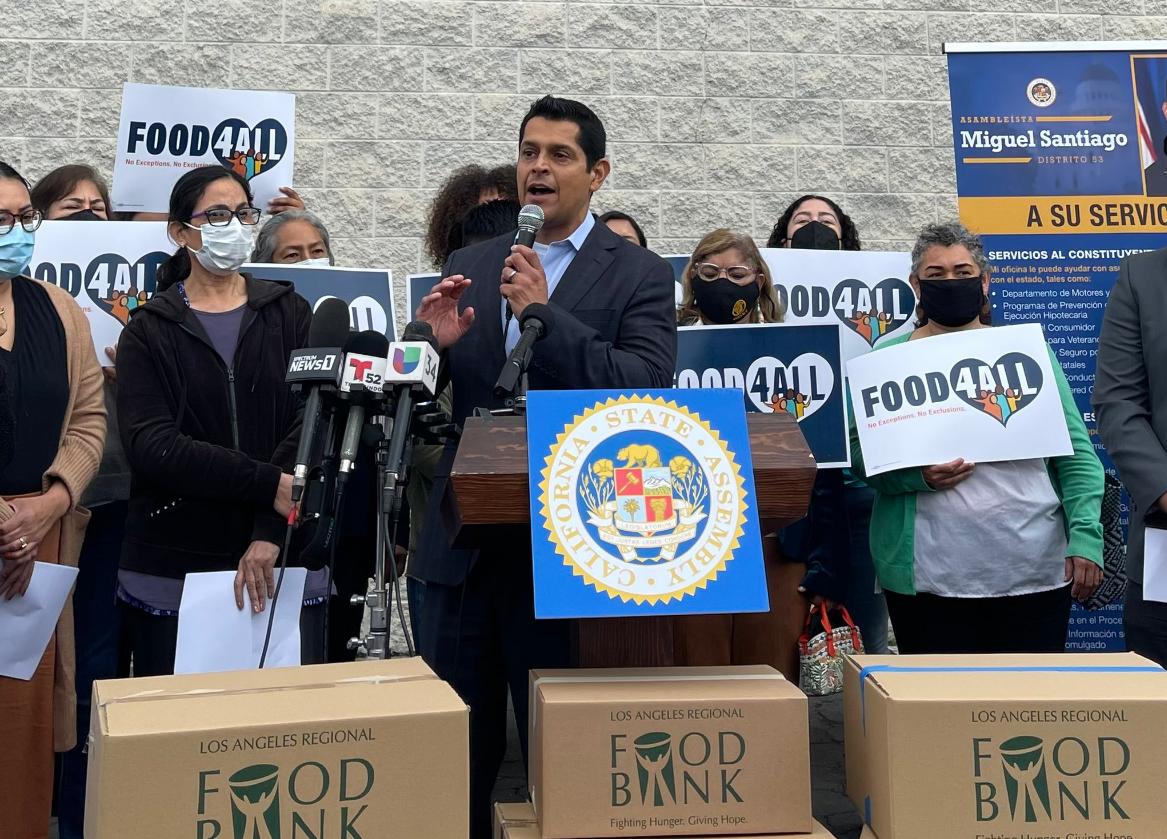 LOS ANGELES – The sharply rising costs of food, housing, gasoline, coupled with the inflation rate hovering at 8.3% has many Californian scrambling to supplement their access to food. The cost for food alone in the Southern California region has risen 1% from February 2022 to March 2022, and food prices were 8.8% higher than in March 2021.
Governor Gavin Newsom had previously announced in January that he intended to extend CalFresh public food assistance programs in the budget to include undocumented immigrants ages 55 and over, a move advocates including state Assemblymember Miguel Santiago, who represents the 53rd District covering parts of downtown L.A. applauded as a first step in curbing food insecurity for millions of low-income Californians.
At the beginning of the month in Newsom's revised budget the governor removed exclusions to the California Food Assistance Program for Californians 55 and older, regardless of immigration status.
Santiago, joined by the Food4All Coalition, the LA Regional Food Bank, the California Immigrant Policy Center, Gender Justice LA, and Nourish California gathered for a ' Food4All" rally Friday in Los Angeles to ensure that all ages are to be included in Newsom's revised proposal.
"If you qualify for CalFresh program, you should have the ability to obtain the dollars to be able to feed your kids," said Santiago.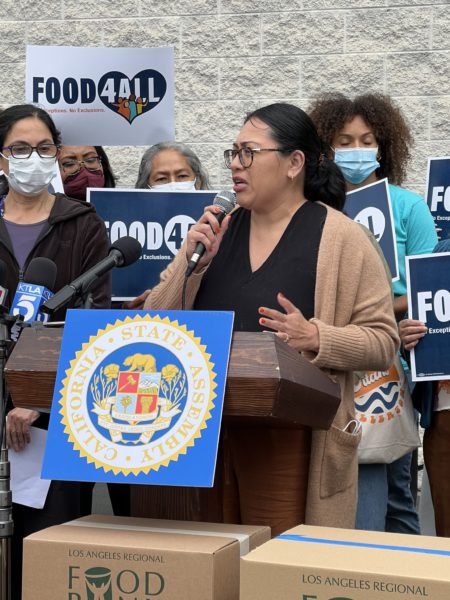 Betzabel Estudillo, a senior advocate with Nourish California told the rally attendees; "This campaign has been years in the making. We appreciate the governor's proposal, but the need is greater. Nearly half of undocumented Californians face food insecurity. It's even worse for children – 2 out of every 3 are going hungry."
Currently, all undocumented people are ineligible for CalFresh benefits. Only certain low-income immigrants that have lived in the U.S. for at least five years, including those admitted for humanitarian reasons and those with permanent residence, may be eligible for the benefits. Immigrants who receive disability-related assistance or benefits and children under 18 years old with permanent residency are also eligible, regardless of their entry date.
Newsom's proposals would revise those CalFresh benefits restrictions.
According to a study from the Food4All Coalition, in partnership with UCLA Center for Health Policy Research, 45% of undocumented Californians face food insecurity.
"We're pushing for a budget that includes over $500 million to be able to feed those who are the hungriest in the state of California," said Santiago.
Newsom has until the end of June to finalize the budget.
With rising food costs, we're having a rally so all Californians, regardless of immigration, can access food!

Great joining @LAFoodBank, @Nourish_CA, @GJLAScoop, @CALimmigrant and the Food4All Coalition! pic.twitter.com/RVaarljKET

— Miguel Santiago (@SantiagoAD53) May 20, 2022