May 17, 2019 at 1:35 pm PDT | by Karen Ocamb
Pelosi, Takano, Hill, other Californians on Equality Act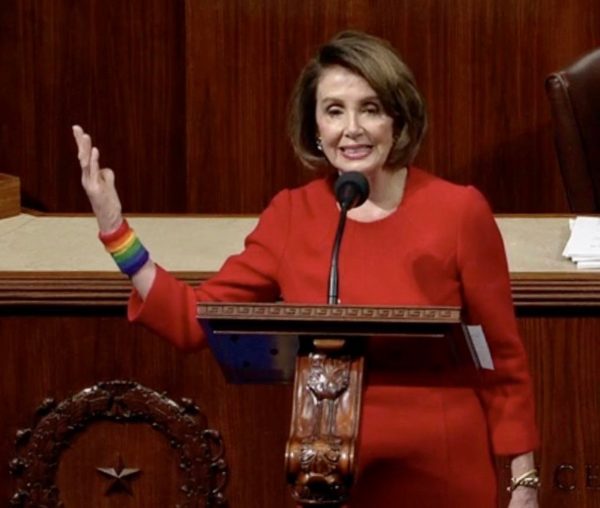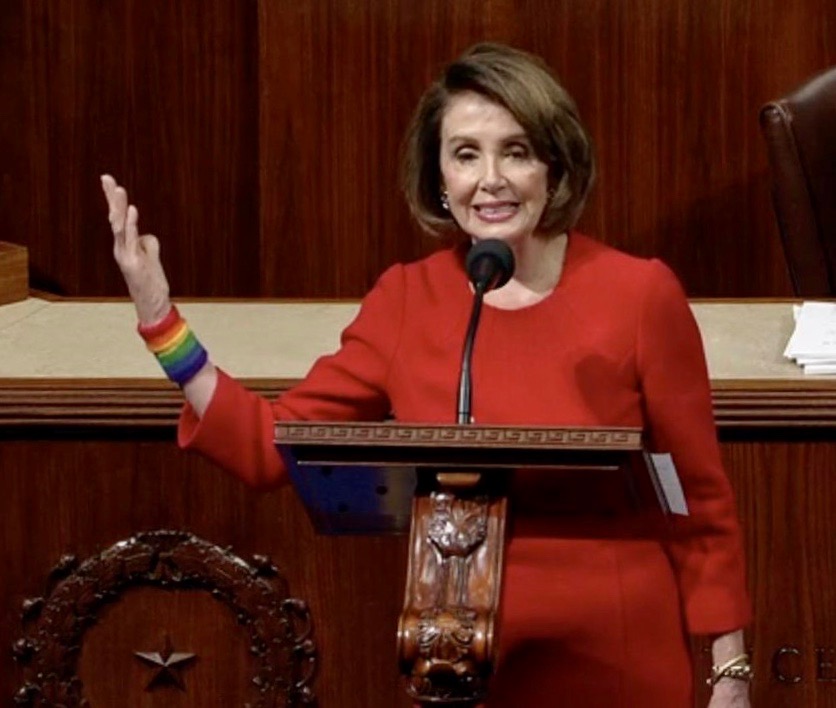 Fifty years after the Stonewall Riots kicked off the fight for LGBT liberation – and on the annual International Day Against Homophobia, Biphobia, Interphobia and Transphobia – the House of Representatives passed the Equality Act Friday, a bill that would officially lift LGBT Americans out of second-class citizenship. Adding an exclamation point to the LGBT historical moment: it was openly gay New York Rep. Sean Patrick Maloney who presided over the chamber, gaveling the final vote of 236-173.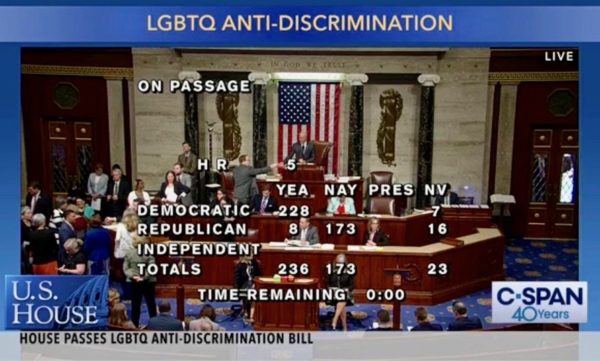 "The Equality Act would amend the Civil Rights Act of 1964 and the Fair Housing Act to ban anti-LGBT discrimination in employment, housing, public accommodations, jury service, education, federal programs and credit," the Washington Blade reports.  "The bill also seeks to update federal law to include sex in the list of protected classes in public accommodation in addition to expanding the definition of public accommodations to include retail stores, banks, transportation services and health care services. Further, the Equality Act would establish that the Religious Freedom Restoration Act — a 1994 law aimed at protecting religious liberty — can't be used to enable anti-LGBT discrimination."
A number of Californians played leadership roles in helping chief sponsor out Rhode Island Rep. David Cicilline bring the Equality Act to the House floor. HR5 was fifth on Speaker Nancy Pelosi's top 10 list of priorities.
"Fifty years after the LBGTQ Americans took to the streets outside of New York's Stonewall Inn to fight against harassment and hate, we take pride in the progress we have forged together," said Pelosi, a longtime San Francisco-based ally. "Our Founders, in their great wisdom, wrote in our beautiful preamble – wrote of the blessings of liberty, which were to be the birthright of all Americans. To bring our nation closer to the founding promise of liberty and justice for all, we, today, pass the Equality Act and finally, fully end discrimination against LGBTQ
Pelosi drove the point home on Twitter: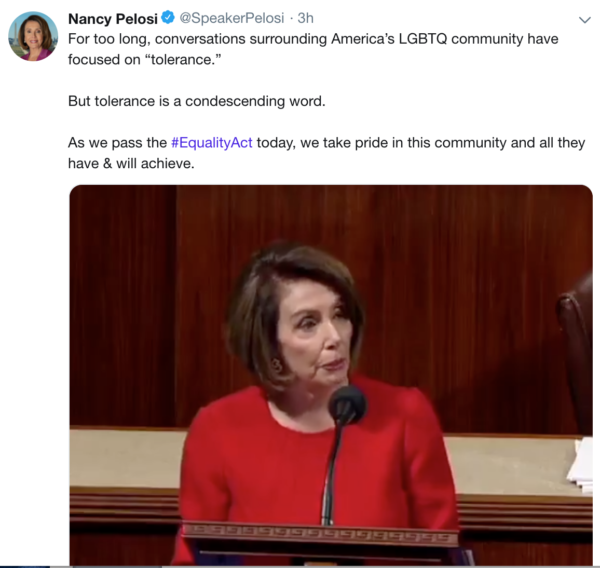 Rep. Mark Takano, co-Chair of the LGBT Equality Caucus, the first gay man of color in Congress, who represents Riverside, helped lead the fight in the House. After passage, he released this statement: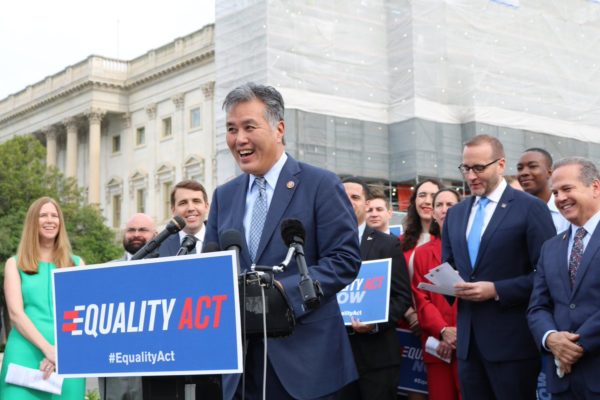 "The House has taken a historic vote to extend federal protections from discrimination to LGBTQ Americans. Our nation was founded on the principle of liberty and justice for all, but for far too long, LGBTQ people have not enjoyed the same civil rights as their fellow Americans.

In 2019, most states have not established protections from discrimination based on gender identity or sexual orientation – civil rights and protections for LGBTQ people should not depend on the zip code where they live. The passage of this landmark legislation will help us right this wrong and ensure that every LGBTQ person in America, in every state, can live free from discrimination in key areas of their life.

Who you are and who you love should not be an impediment to freedom, equality, and justice. The vast majority of Americans support equal rights for the LGBTQ community, now we must demand that the Senate take up this legislation and for the President to sign it into law. Equality is within reach, let's make it the law of the land."
Eight Republicans voted for the Equality Act: Reps. Susan Brooks (Ind.), Mario Diaz-Balart (Fla.), Brian Fitzpatrick (Pa.), Will Hurd (Texas), John Katko (N.Y.), Tom Reed (N.Y.), Elise Stefanik (N.Y.) and Greg Walden (Ore.).
But opposition on the floor was led by longtime anti-LGBT Rep. Tom McClintock of California's 4th Congressional District—Elk Grove, parts of Fresno, and Alpine County (where once gays hippies dreamed of creating a sanctuary). He is so Trumpian, he has taken up full-throated lying to convey his right-wing ideological message, as fact-checked by PolitiFact. McClintock's statements on the House Floor were shocking. The far right congressmember, who may survive a Democratic challenge in 2020, said in part:
 There are some fundamental principles we should all be able to agree on.

Don't hurt other people; respect the right of doctors to do no harm; respect the right of parents to protect their children….

This bill harms people in so many ways, destroying safe spaces for women, undermining women-owned businesses, intimidating the free exercise of conscience, but let me focus on just one aspect: destroying women's sports.  Wherever these laws are imposed, biological males have begun to dominate women's competitions…..

Listen to 16-year old Selina Soule of Connecticut.  She tells the story of qualifying for the prestigious Middletown Invite.  "Eight of us lined up at the starting line … but when six of us were only about three quarters into the race, two girls were already across the finish line…What just happened?  Two boys identifying as girls happened.  Fair is no longer the norm. The chance to advance, the chance to win has been all over for us … I missed the chance to compete in the New England championship this past season because of this."  She goes on to say, "The CAAC won't listen to my voice, but I hope Congress will…HR 5…will endanger women and girls of all ages, by opening up every sports team in the country to any male who self-identifies as female.  This policy will take away our medals, records, scholarships and dreams."….This is the brave new world that House Democrats propose under the name "equality."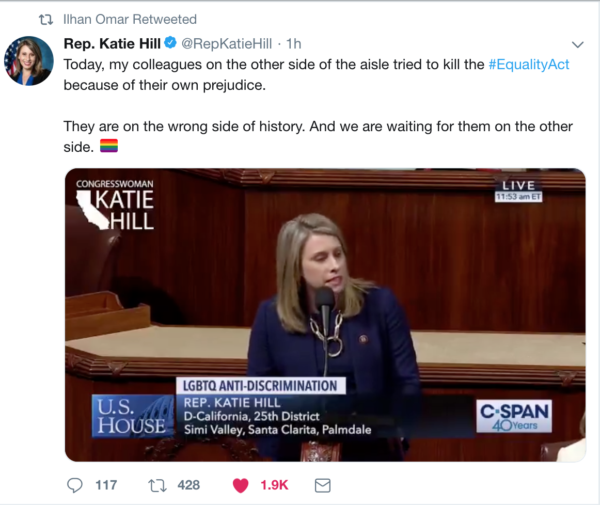 Rep. Katie Hill, the first bisexual woman in Congress, representing the Antelope, Simi and Santa Clarita Valleys, had a drop-the-mic moment defending trans people against the GOP motion to amend HR5 in the name of protecting women in sports. Hill said, in part:
"I can't believe that we're standing here and having a man tell me what kind of protections I need in sports. (Loud cheers). This is fear-mongering about trans women playing in sports. Are you kidding me? I don't know if my colleagues on the other side of the aisle realize that they've met trans people. But they have. They definitely have. And I've met many. And this motion reflects nothing more than the prejudice of my colleagues. My staff has put together a lot of talking points for you today. But it's much simpler than that.

The Equality Act ensures that LGBT women and girls who are lesbian, bisexual or transgender will all have the same opportunities as their peers, in sports, in housing, in jobs. The discrimination that trans individuals face just trying to live their lives every single day is something beyond what most of us could ever imagine….We are ready to move forward and tell all of our constituents, all of our communities, all of Americans, that they matter equally."
Numerous members of Congress, and civil rights organizations weighed in, including Equality California, the nation's largest statewide LGBTQ civil rights organization. Executive Director Rick Zbur said:
"Today's passage of the Equality Act in the U.S. House sends a loud and clear message that discrimination of any kind is unacceptable, no matter who you are, who you love or where you live. The vote today isn't just a major milestone, but also a testament to the strength of LGBTQ people and our movement, as we advance this critical civil rights legislation in the face of such a fiercely anti-LGBTQ Administration — and we aren't done yet.

Earlier this week, President Trump announced his opposition  to the Equality Act, but LGBTQ Americans can rest assured that the pro-equality House majority — led by California's own Speaker Nancy Pelosi — has our backs. Equality California remains committed to fighting for full federal equality in our nation's Capitol, in the courts and in the streets."
Zbur also notes that the Equality Act is co-sponsored by every Democratic member of California's Congressional delegation.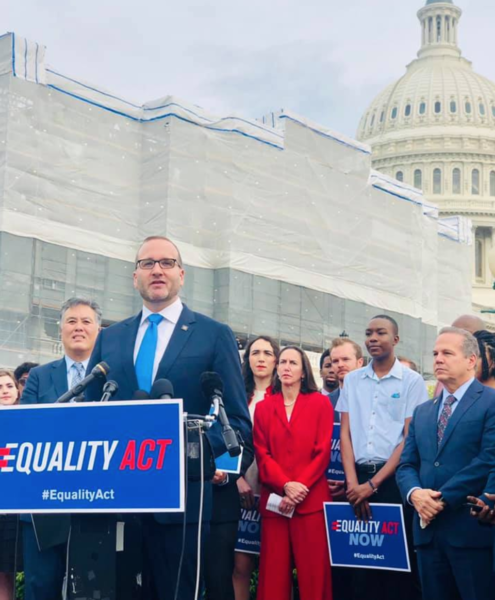 For Human Rights Campaign President Chad Griffin, who has been leading the national LGBT movement charge for the Equality Act, passage is a monumental victory, as well, capping off his HRC stewardship before returning home to Los Angeles.
"Today's historic vote is a major milestone for equality and sends a powerful and profound message to LGBTQ people, especially LGBTQ youth, that the U.S. House has their backs.

No one's rights should depend on which side of a state or city line they live on, and today we took a giant step forward in our journey toward full equality. This historic victory would not have been possible without the millions of LGBTQ people and our allies who organized, mobilized and turned out to elect a pro-equality majority in 2018.

Now, we will take our fight to the U.S. Senate and turn up the pressure on Leader McConnell to allow a vote on this crucial legislation. And we won't slow down in working to turn out the 10 million eligible LGBTQ voters and our millions more allies to elect a pro-equality president in 2020 who will sign the Equality Act into law."
HRC also noted in a press release that:
"HRC polling has found that nearly two-thirds of self-identified LGBTQ Americans report experiencing discrimination. Currently, 50 percent of LGBTQ Americans live in the 30 states that still lack statewide legal non-discrimination protections, leaving their residents and visitors at risk of being fired, denied housing, or refused service because of who they are or whom they love. The Equality Act would finally guarantee existing civil rights laws apply to LGBTQ people by providing clear, consistent non-discrimination protections based on sexual orientation or gender identity across key areas of life, while expanding and enhancing protections for people of color, women and religious minorities….

The Equality Act was re-introduced in the new U.S. House in March with growing, unprecedented support. More than 200 major corporations have joined HRC's Business Coalition for the Equality Act. Recent polling finds that a growing majority of Americans— including Republicans, Democrats and Independents — support LGBTQ non-discrimination protections and LGBTQ equality. In a historic move, the U.S. Chamber of Commerce and National Association of Manufacturers announced their support for the Equality Act. A recent survey by PRRI found that nearly seven in 10 Americans support laws like the Equality Act. More than 500 statewide and national organizations have endorsed the legislation, including social justice, religious, medical and child welfare organizations."
Despite the unprecedented and growing support 50 years after Stonewall, it is widely expected that Sen. Majority Leader Mitch McConnell will stonewall any effort to bring it to the Senate Floor for a vote,