Pelosi, Takano, Hill, other Californians on Equality Act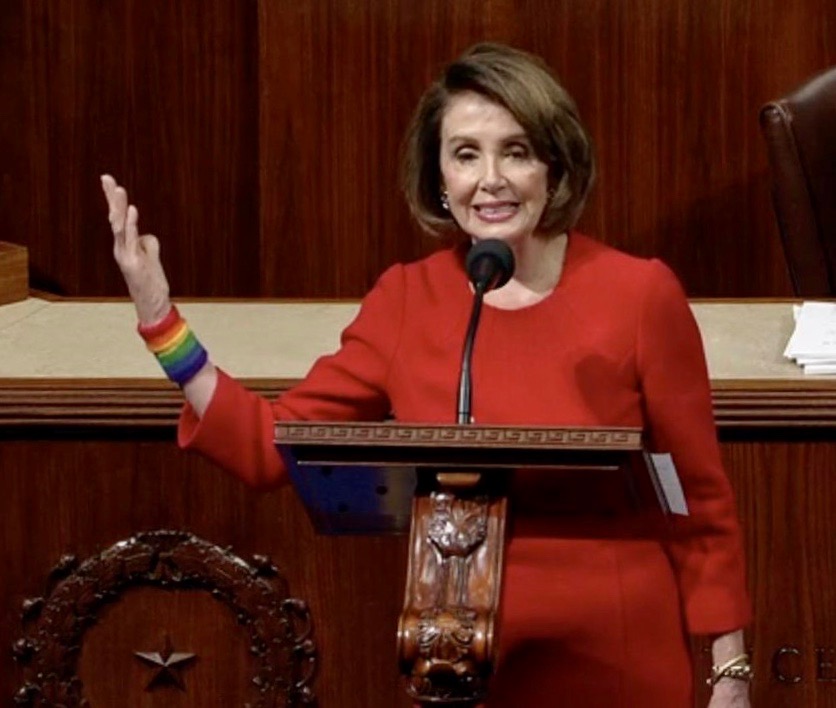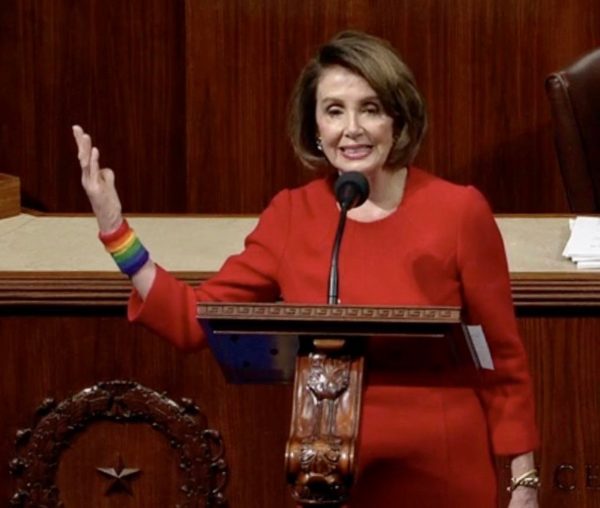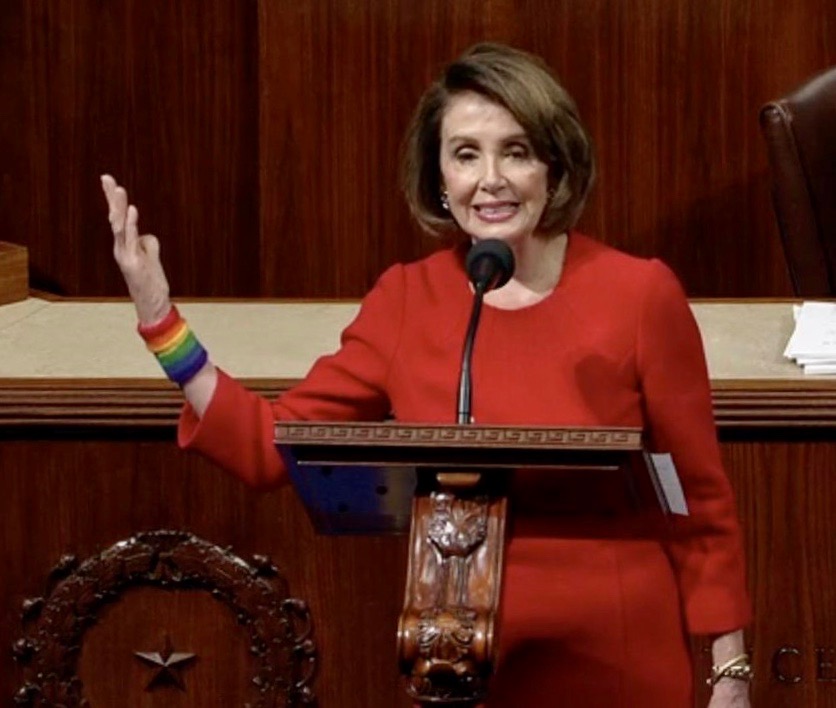 Fifty years after the Stonewall Riots kicked off the fight for LGBT liberation – and on the annual International Day Against Homophobia, Biphobia, Interphobia and Transphobia – the House of Representatives passed the Equality Act Friday, a bill that would officially lift LGBT Americans out of second-class citizenship. Adding an exclamation point to the LGBT historical moment: it was openly gay New York Rep. Sean Patrick Maloney who presided over the chamber, gaveling the final vote of 236-173.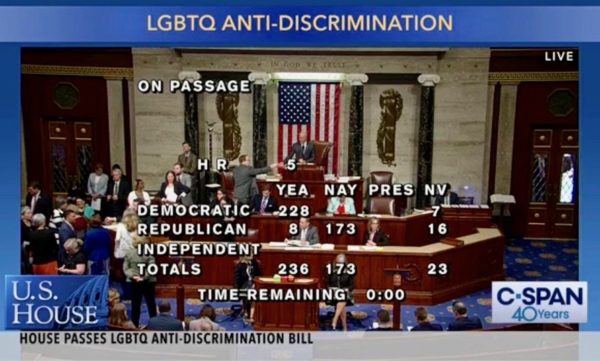 "The Equality Act would amend the Civil Rights Act of 1964 and the Fair Housing Act to ban anti-LGBT discrimination in employment, housing, public accommodations, jury service, education, federal programs and credit," the Washington Blade reports.  "The bill also seeks to update federal law to include sex in the list of protected classes in public accommodation in addition to expanding the definition of public accommodations to include retail stores, banks, transportation services and health care services. Further, the Equality Act would establish that the Religious Freedom Restoration Act — a 1994 law aimed at protecting religious liberty — can't be used to enable anti-LGBT discrimination."
A number of Californians played leadership roles in helping chief sponsor out Rhode Island Rep. David Cicilline bring the Equality Act to the House floor. HR5 was fifth on Speaker Nancy Pelosi's top 10 list of priorities.
"Fifty years after the LBGTQ Americans took to the streets outside of New York's Stonewall Inn to fight against harassment and hate, we take pride in the progress we have forged together," said Pelosi, a longtime San Francisco-based ally. "Our Founders, in their great wisdom, wrote in our beautiful preamble – wrote of the blessings of liberty, which were to be the birthright of all Americans. To bring our nation closer to the founding promise of liberty and justice for all, we, today, pass the Equality Act and finally, fully end discrimination against LGBTQ
Pelosi drove the point home on Twitter: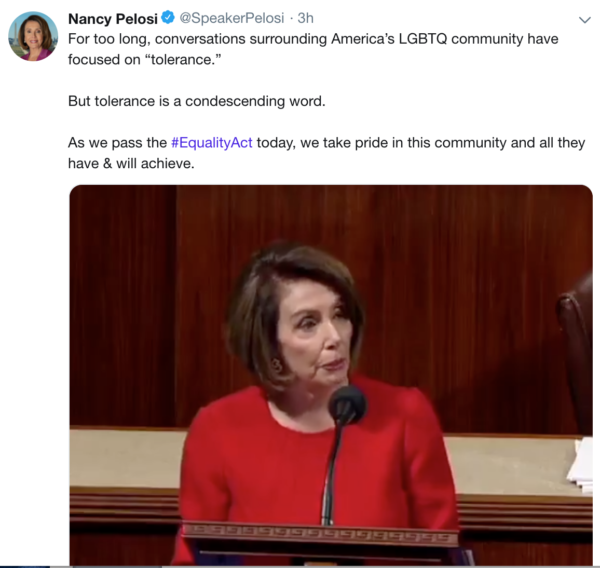 Rep. Mark Takano, co-Chair of the LGBT Equality Caucus, the first gay man of color in Congress, who represents Riverside, helped lead the fight in the House. After passage, he released this statement: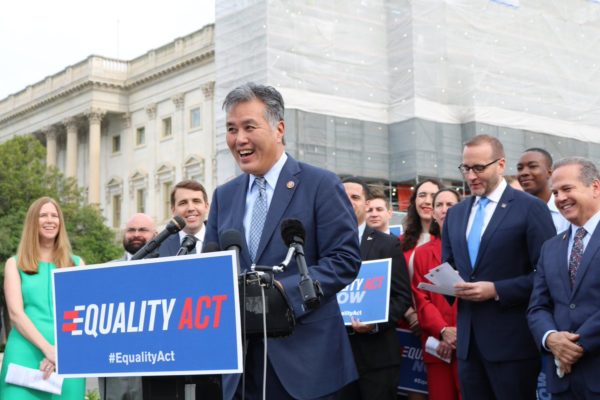 "The House has taken a historic vote to extend federal protections from discrimination to LGBTQ Americans. Our nation was founded on the principle of liberty and justice for all, but for far too long, LGBTQ people have not enjoyed the same civil rights as their fellow Americans.

In 2019, most states have not established protections from discrimination based on gender identity or sexual orientation – civil rights and protections for LGBTQ people should not depend on the zip code where they live. The passage of this landmark legislation will help us right this wrong and ensure that every LGBTQ person in America, in every state, can live free from discrimination in key areas of their life.

Who you are and who you love should not be an impediment to freedom, equality, and justice. The vast majority of Americans support equal rights for the LGBTQ community, now we must demand that the Senate take up this legislation and for the President to sign it into law. Equality is within reach, let's make it the law of the land."
Eight Republicans voted for the Equality Act: Reps. Susan Brooks (Ind.), Mario Diaz-Balart (Fla.), Brian Fitzpatrick (Pa.), Will Hurd (Texas), John Katko (N.Y.), Tom Reed (N.Y.), Elise Stefanik (N.Y.) and Greg Walden (Ore.).
But opposition on the floor was led by longtime anti-LGBT Rep. Tom McClintock of California's 4th Congressional District—Elk Grove, parts of Fresno, and Alpine County (where once gays hippies dreamed of creating a sanctuary). He is so Trumpian, he has taken up full-throated lying to convey his right-wing ideological message, as fact-checked by PolitiFact. McClintock's statements on the House Floor were shocking. The far right congressmember, who may survive a Democratic challenge in 2020, said in part:
 There are some fundamental principles we should all be able to agree on.

Don't hurt other people; respect the right of doctors to do no harm; respect the right of parents to protect their children….

This bill harms people in so many ways, destroying safe spaces for women, undermining women-owned businesses, intimidating the free exercise of conscience, but let me focus on just one aspect: destroying women's sports.  Wherever these laws are imposed, biological males have begun to dominate women's competitions…..

Listen to 16-year old Selina Soule of Connecticut.  She tells the story of qualifying for the prestigious Middletown Invite.  "Eight of us lined up at the starting line … but when six of us were only about three quarters into the race, two girls were already across the finish line…What just happened?  Two boys identifying as girls happened.  Fair is no longer the norm. The chance to advance, the chance to win has been all over for us … I missed the chance to compete in the New England championship this past season because of this."  She goes on to say, "The CAAC won't listen to my voice, but I hope Congress will…HR 5…will endanger women and girls of all ages, by opening up every sports team in the country to any male who self-identifies as female.  This policy will take away our medals, records, scholarships and dreams."….This is the brave new world that House Democrats propose under the name "equality."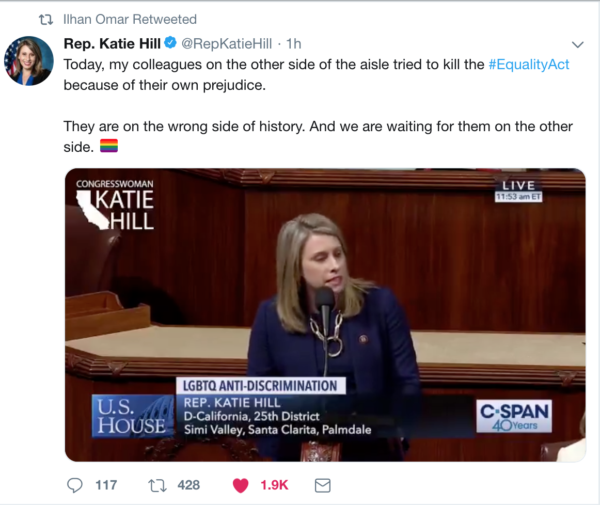 Rep. Katie Hill, the first bisexual woman in Congress, representing the Antelope, Simi and Santa Clarita Valleys, had a drop-the-mic moment defending trans people against the GOP motion to amend HR5 in the name of protecting women in sports. Hill said, in part:
"I can't believe that we're standing here and having a man tell me what kind of protections I need in sports. (Loud cheers). This is fear-mongering about trans women playing in sports. Are you kidding me? I don't know if my colleagues on the other side of the aisle realize that they've met trans people. But they have. They definitely have. And I've met many. And this motion reflects nothing more than the prejudice of my colleagues. My staff has put together a lot of talking points for you today. But it's much simpler than that.

The Equality Act ensures that LGBT women and girls who are lesbian, bisexual or transgender will all have the same opportunities as their peers, in sports, in housing, in jobs. The discrimination that trans individuals face just trying to live their lives every single day is something beyond what most of us could ever imagine….We are ready to move forward and tell all of our constituents, all of our communities, all of Americans, that they matter equally."
Numerous members of Congress, and civil rights organizations weighed in, including Equality California, the nation's largest statewide LGBTQ civil rights organization. Executive Director Rick Zbur said:
"Today's passage of the Equality Act in the U.S. House sends a loud and clear message that discrimination of any kind is unacceptable, no matter who you are, who you love or where you live. The vote today isn't just a major milestone, but also a testament to the strength of LGBTQ people and our movement, as we advance this critical civil rights legislation in the face of such a fiercely anti-LGBTQ Administration — and we aren't done yet.

Earlier this week, President Trump announced his opposition  to the Equality Act, but LGBTQ Americans can rest assured that the pro-equality House majority — led by California's own Speaker Nancy Pelosi — has our backs. Equality California remains committed to fighting for full federal equality in our nation's Capitol, in the courts and in the streets."
Zbur also notes that the Equality Act is co-sponsored by every Democratic member of California's Congressional delegation.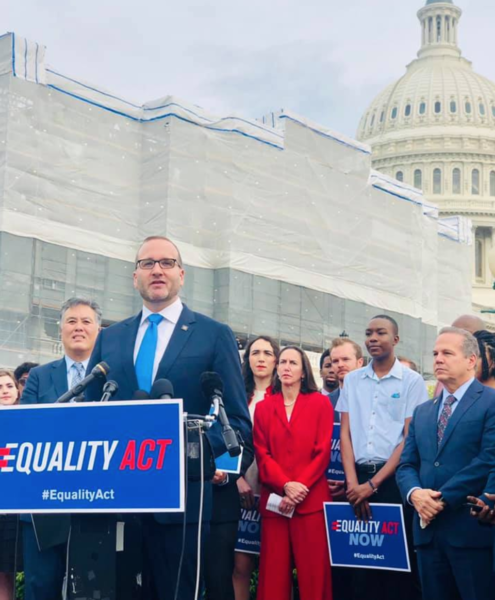 For Human Rights Campaign President Chad Griffin, who has been leading the national LGBT movement charge for the Equality Act, passage is a monumental victory, as well, capping off his HRC stewardship before returning home to Los Angeles.
"Today's historic vote is a major milestone for equality and sends a powerful and profound message to LGBTQ people, especially LGBTQ youth, that the U.S. House has their backs.

No one's rights should depend on which side of a state or city line they live on, and today we took a giant step forward in our journey toward full equality. This historic victory would not have been possible without the millions of LGBTQ people and our allies who organized, mobilized and turned out to elect a pro-equality majority in 2018.

Now, we will take our fight to the U.S. Senate and turn up the pressure on Leader McConnell to allow a vote on this crucial legislation. And we won't slow down in working to turn out the 10 million eligible LGBTQ voters and our millions more allies to elect a pro-equality president in 2020 who will sign the Equality Act into law."
HRC also noted in a press release that:
"HRC polling has found that nearly two-thirds of self-identified LGBTQ Americans report experiencing discrimination. Currently, 50 percent of LGBTQ Americans live in the 30 states that still lack statewide legal non-discrimination protections, leaving their residents and visitors at risk of being fired, denied housing, or refused service because of who they are or whom they love. The Equality Act would finally guarantee existing civil rights laws apply to LGBTQ people by providing clear, consistent non-discrimination protections based on sexual orientation or gender identity across key areas of life, while expanding and enhancing protections for people of color, women and religious minorities….

The Equality Act was re-introduced in the new U.S. House in March with growing, unprecedented support. More than 200 major corporations have joined HRC's Business Coalition for the Equality Act. Recent polling finds that a growing majority of Americans— including Republicans, Democrats and Independents — support LGBTQ non-discrimination protections and LGBTQ equality. In a historic move, the U.S. Chamber of Commerce and National Association of Manufacturers announced their support for the Equality Act. A recent survey by PRRI found that nearly seven in 10 Americans support laws like the Equality Act. More than 500 statewide and national organizations have endorsed the legislation, including social justice, religious, medical and child welfare organizations."
Despite the unprecedented and growing support 50 years after Stonewall, it is widely expected that Sen. Majority Leader Mitch McConnell will stonewall any effort to bring it to the Senate Floor for a vote,
On 49th anniversary of Roe v. Wade- is it the last? Biden & others weigh in
The whole country is waiting for the Supreme Court to decide on one of the most serious challenges to abortion rights since the Roe v. Wade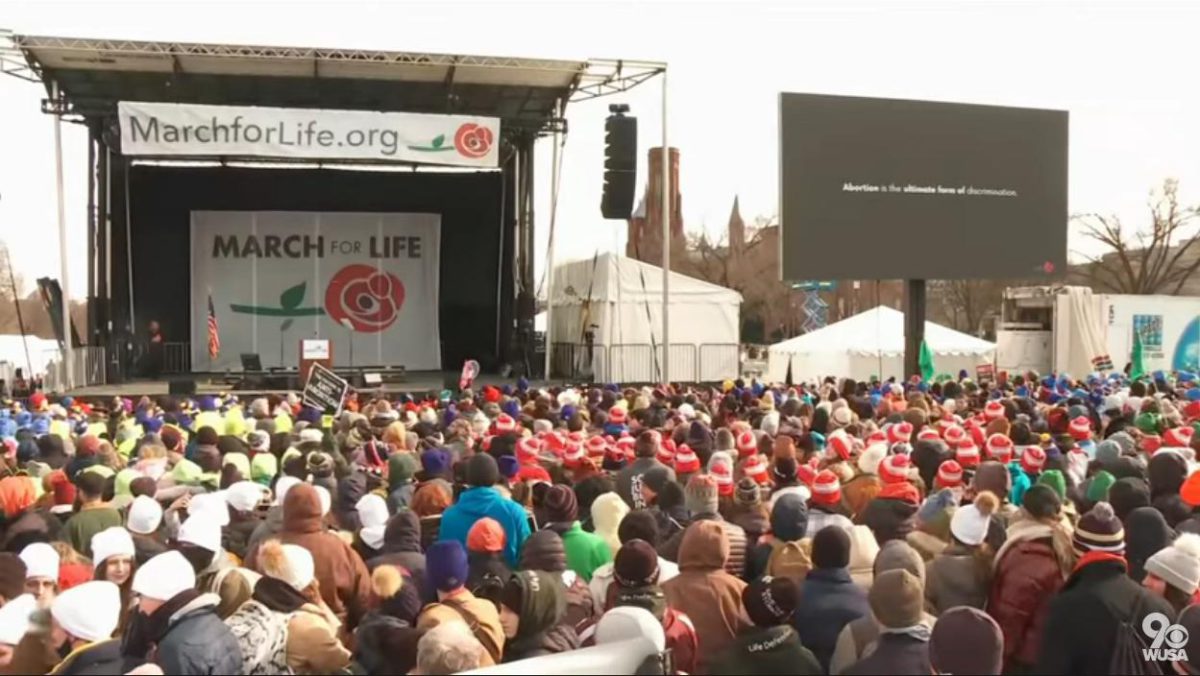 WASHINGTON – As thousands gathered on the National Mall in D.C. Friday for the annual anti-abortion 'March for Life March and Rally 2022,' there were signs among the speakers and the participants gathered of a renewed sense of optimism that with a pending Supreme Court case, this year maybe the last annual gathering as the court looks poised to overturn Roe v. Wade.
"We are hoping and praying that this year, 2022, will bring a historic change for life," Jeanne Mancini, president of the March for Life Education and Defense Fund, said at the event, The Associated Press reported.
A large portion of the crowd during the March for Life rally on Friday was made up of young people, with some holding signs saying they were the "pro-life generation."
The whole country is waiting for the Supreme Court to decide on one of the most serious challenges to abortion protections that the institution heard since the Roe v. Wade decision 49 years ago, which gave women the constitutional right to abortion.
The justices of the U.S. Supreme Court heard oral arguments this past December, in Dobbs v. Jackson Women's Health Organization, a case involving a Mississippi law that bans nearly all abortions after 15 weeks of pregnancy.
Mississippi's Gestational Age Act, passed in 2018 but has been blocked by two lower federal courts, allows abortion after 15 weeks "only in medical emergencies or for severe fetal abnormality" and has no exception for rape or incest. If doctors perform abortions outside the parameters of the law, they will have their medical licenses suspended or revoked and may be subject to additional penalties and fines.
The lack of access is felt most heavily by marginalized people, says Kari White, a sociologist at the University of Texas at Austin and researcher with the Mississippi Reproductive Health Access Project. She was the lead author of a study published last month in the journal Contraception that found that Mississippians were more likely to wait longer for an abortion if they were low-income or Black, NPR reported.
In an analysis published by SCOTUS blog, Amy Howe noted;
If the justices overturn Roe and Casey, the Guttmacher Institute estimates that 26 states (including Mississippi) will implement complete bans on abortion. Although the stakes in the case are thus obviously high, Mississippi takes pains to assure the justices that overruling Roe and Casey would not have ripple effects beyond abortion rights. It distinguishes abortion from other constitutionalized privacy interests, such as interracial marriage and same-sex marriage, saying that those interests – unlike abortion – do not involve the "purposeful termination of a potential life."
In a statement to the Los Angeles Blade after the oral arguments in Dobbs v. Jackson Women's Health Organization last December had concluded, Shannon Minter, the Legal Director for the National Center for Lesbian Rights (NCLR) warned;
"[Today's] arguments should be a wakeup call for LGBTQ people. We must face the reality of a Supreme Court packed by one of the most reactionary presidents of our time, and we must get serious about passing a federal law that protects basic rights and liberties for our community. If you care about LGBTQ equality, it is essential as never before to do everything within your power to elect fair-minded local, state, and federal officials and to engage in real dialogue with those who do not yet fully understand or support LGBTQ people. We do not have the luxury of disengagement or passivity. If you are not actively involved in supporting a federal civil rights law for LGBTQ people, you are part of the problem."
Minter further cautioned;
"While restrictions on abortion primarily harm women, they also compound the challenges that trans men and nonbinary people already face in accessing gynecological and reproductive health care. Being a trans man or a nonbinary individual who needs an abortion is often a nightmare even in jurisdictions that support reproductive freedom. In places like Texas, which are making abortions inaccessible to anyone, it is terrifying,"
"My heart goes out to the trans and nonbinary people who are living in fear, praying they never need this care, and that if they do, they can find a way out of the state. And for those who know they can't afford to travel or pay for out-of-state care, there is no hope," he added.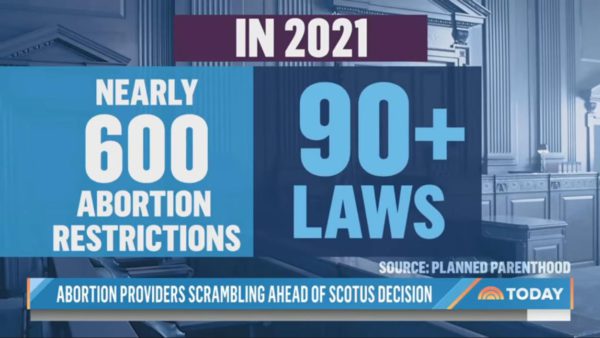 President Joe Biden and Vice President Kamala Harris released a joint statement Saturday commemorating the 49th anniversary of the landmark Supreme Court decision Roe v. Wade;
The constitutional right established in Roe v. Wade nearly 50 years ago today is under assault as never before. It is a right we believe should be codified into law, and we pledge to defend it with every tool we possess. We are deeply committed to protecting access to health care, including reproductive health care—and to ensuring that this country is not pushed backwards on women's equality.
In recent years, we have seen efforts to restrict access to reproductive health care increase at an alarming rate. In Texas, Mississippi, and many other states around the country, access to reproductive health care is under attack. These state restrictions constrain the freedom of all women. And they are particularly devastating for those who have fewer options and fewer resources, such as those in underserved communities, including communities of color and many in rural areas.
The Biden-Harris Administration strongly supports efforts to codify Roe, and we will continue to work with Congress on the Women's Health Protection Act. All people deserve access to reproductive health care regardless of their gender, income, race, zip code, health insurance status, immigration status, disability, or sexual orientation. And the continued defense of this constitutional right is essential to our health, safety, and progress as a nation.
We must ensure that our daughters and granddaughters have the same fundamental rights that their mothers and grandmothers fought for and won on this day, 49 years ago—including leaders like the late Sarah Weddington, whose successful arguments before the Supreme Court led to the landmark Roe v. Wade decision in 1973.
At this pivotal moment, we recommit to strengthening access to critical reproductive health care, defending the constitutional right established by Roe, and protecting the freedom of all people to build their own future.
A recent poll conducted by CNN found that a large majority of Americans — almost 70 percent — said that they oppose overturning Roe v. Wade. Thirty percent of respondents said that they supported the move.
Biden delivered results for LGBTQ+ & HIV communities in 1st year, but…
Significant work remains to be done, particularly in areas affecting some of the most vulnerable members of the LGBTQ+ community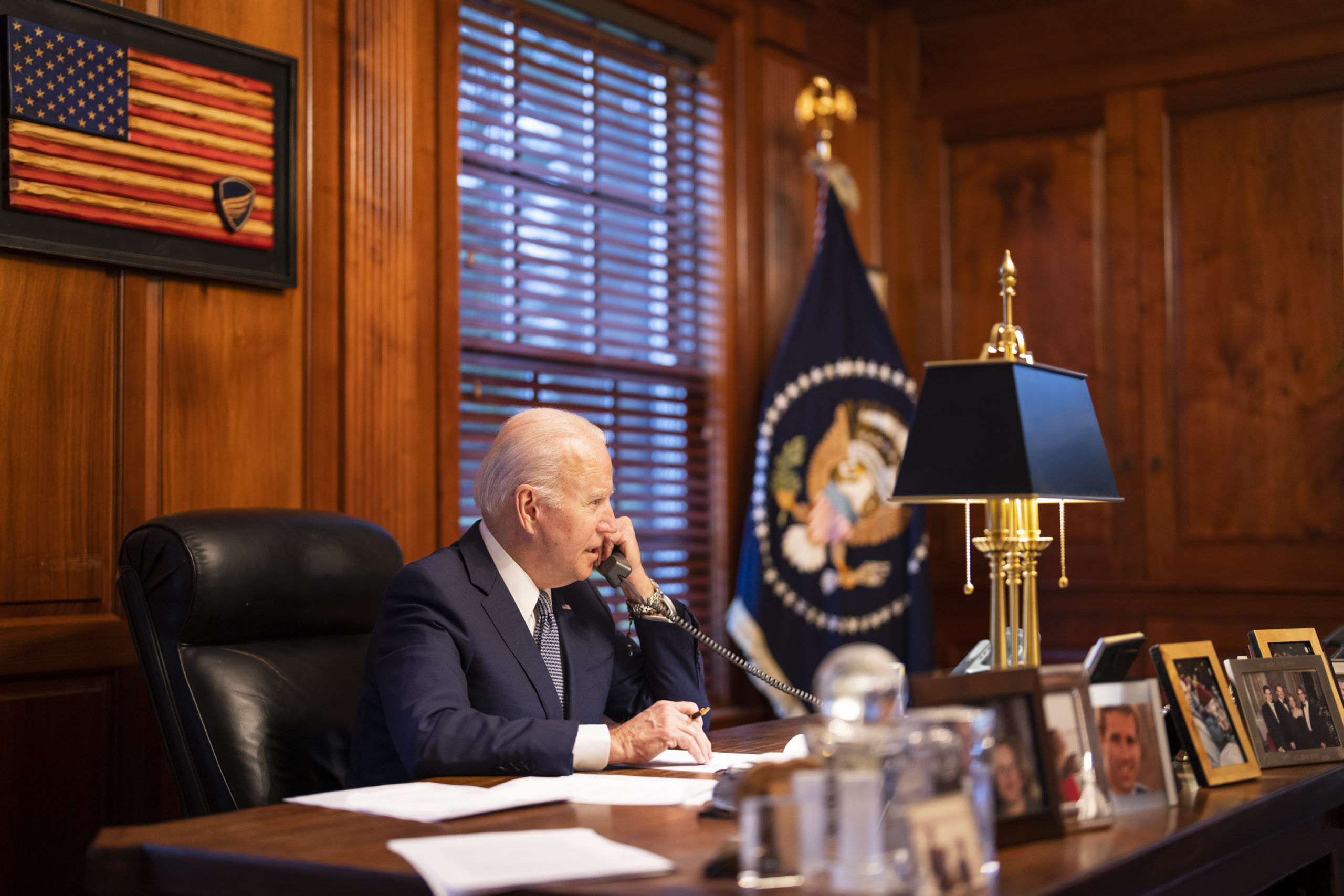 WASHINGTON – Lambda Legal released a new comprehensive report today that assesses the Biden-Harris administration's first year with respect to its impact on the LGBTQ+ community and everyone living with HIV.
While the report identifies significant achievements, such as quickly rescinding the transgender military ban and correctly interpreting federal nondiscrimination laws as protecting LGBTQ+ people, much more work is needed, as many promises remain unfulfilled one year into the Biden presidency.
"When President Biden took office, he faced a tall task to reverse four years of damage done by the Trump administration, which actively took aim at the LGBTQ+ community, as it did with respect to Black, brown, immigrant, and other communities, whenever it could," said Sharon McGowan, chief strategy officer and legal director of Lambda Legal. "Our analysis shows that while the Biden administration has made progress putting our country back on the right track, we are nowhere close to where we need to be. They should use this report, and the unfulfilled priorities we have identified in it, as a guidepost for the direction our country should be headed over the coming months."
"President Joe Biden and Vice President Kamala Harris promised to use their office to ensure everyone has an equal opportunity to succeed," said Kristine Kippins, deputy legal director for policy at Lambda Legal. "While many important steps have been taken, our assessment after year one is that this administration's homework must be rated as "incomplete." Particularly with LGBTQ+ people, especially Black transgender women and transgender youth, facing increased harassment, violence, and discrimination across our country, we hope the Biden-Harris administration will act with the urgency that the situation demands, and take bold action to tackle the immense challenges we face to build a more perfect union."
The one-year report released by Lambda Legal today follows up on 10 key asks the organization made to the administration as it prepared to take office. It finds that:
The Biden administration took decisive action on a number of issues of tremendous importance to the LGBTQ+ community, including clarification of the scope of sex discrimination protections in federal law and the renunciation of the ban on open service by transgender people currently in the military, and those wishing to serve. The significance of these actions cannot be overstated.

And yet, significant work remains to be done, particularly in areas affecting some of the most vulnerable members of the LGBTQ+ community. For example, the Biden administration must take more decisive action to ensure that all programs funded by federal dollars are operated in a nondiscriminatory manner even when services are provided by third parties, including religiously affiliated entities. And the federal government must end discrimination in its own programs and policies, ranging from barriers to transition-related health care in federally-run health care programs to its outdated and discriminatory blood donation policy, which limits the ability of many gay, bisexual, and transgender people to donate.

With respect to restoring the integrity of our federal judiciary, the Biden administration still has a long way to go in addressing the gross underrepresentation of LGBTQ+ people on the federal bench. The administration must nominate more openly LGBTQ+ people, and particularly LGBT people of color, for judicial vacancies, focusing on the five circuits—D.C., First, Fourth, Eighth, and Tenth—that do not have a single openly LGBTQ+ judge on the bench of either the circuit court or the district courts in its jurisdiction. The administration must also nominate the country's first transgender or nonbinary judge and the first openly bisexual judge in order to ensure the judiciary reflects the society it serves.
A copy of the full report released by Lambda Legal today can be downloaded by clicking here.
Manchin & Sinema join GOP defeating passage of voting rights legislation
The 52-48 vote defeating changing Senate rules was followed by sustained applause from the Republican side of the Senate chamber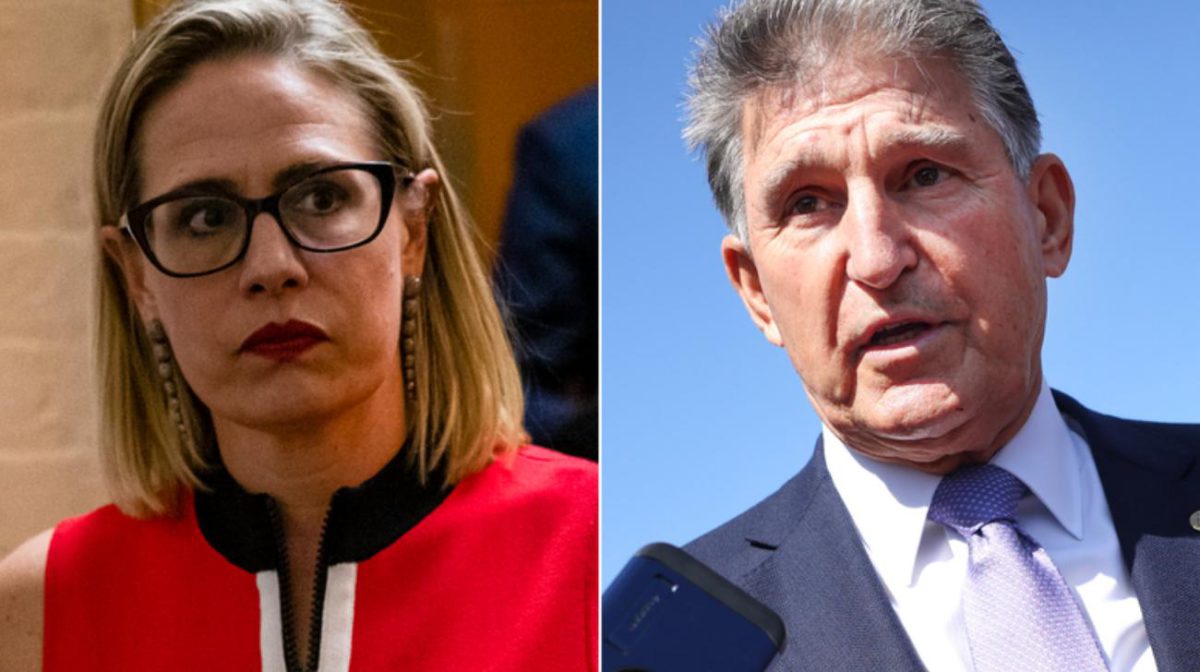 WASHINGTON – On the eve of the anniversary of his first year in office, President Joe Biden suffered a major set-back Wednesday as Senate Republicans joined by conservative West Virginia Democrat Joe Manchin along with fellow Arizona Democrat Kyrsten Sinema, blocked efforts by their party to change filibuster rules in order to pass critical voting rights legislation.
The 52-48 vote defeating changing Senate rules was followed by sustained applause from the Republican side of the Senate chamber. The vote was preceded by an effort to break a GOP filibuster on voting legislation that combines key provisions of two bills: the Freedom to Vote Act and the John Lewis Voting Rights Advancement Act.
That effort failed by a vote of 49-51. New York Democratic Senate Majority Leader Chuck Schumer changed his vote to "no" before the vote was gaveled so that he can offer a motion to reconsider the vote.
In a show of support for voting rights and changing Senate rules, House members in the Congressional Black Caucus marched to the Senate, warning that no matter what happens, they won't stop fighting to pass it, CNN reported.
"We want the Senate to act today in a favorable way, but if they don't, we ain't giving up. I am too young to give up," Rep. Jim Clyburn, (D-SC) the No. 3 Democrat in the House, told CNN.
In separate statements released after the vote by the White House, President Biden and Vice-President Kamala Harris weighed in.
"At the core of our democracy is a basic principle: the right to vote, and to have that vote counted. That principle was assaulted one year ago, when a violent mob attempted a coup seeking to overturn the will of the people. And today, in state after state, Republican state legislatures are engaged in an unprecedented effort to suppress the sacred right to vote and subvert the American bedrock of free and fair elections," Biden said.

"In the face of those threats, I am profoundly disappointed that the United States Senate has failed to stand up for our democracy. I am disappointed — but I am not deterred," he added.

"My Administration will never stop fighting to ensure that the heart and soul of our democracy — the right to vote — is protected at all costs. We will continue to work with allies to advance necessary legislation to protect the right to vote. And to push for Senate procedural changes that will protect the fundamental right to vote." the president stressed.

"As dangerous new Republican laws plainly designed to suppress and subvert voting rights proliferate in states across the country, we will explore every measure and use every tool at our disposal to stand up for democracy. The Vice President will continue to lead this effort, as she has for the past year," the statement concluded.
In her statement, Vice President Kamala Harris speaking about the Senate Vote said;
"Every member of the United States Senate—Democrats, Republicans, and Independents—takes an oath to preserve and protect our Constitution. It is their duty to safeguard our democracy and secure the freedom to vote. Yet today, Senators voted to preserve an arcane Senate procedure rather than secure that fundamental freedom. The American people will not forget this moment. Neither will history.
"Across our nation, anti-voter laws could make it more difficult for as many as 55 million Americans to vote, and will be felt by every American.
"Our Administration will continue to fight to pass federal legislation to secure the right to vote. We will not stop fighting against the anti-voter legislation that Republican legislatures continue to push at the state level—and to champion and support state and local elected officials who work to enact pro-voter legislation. We will work to ensure Americans everywhere can register to vote, cast their vote, and have their vote counted in a free and fair election.
Generations of Americans have fought to strengthen and expand the freedom to vote. While victory was never assured and almost always preceded by setback, ultimately, We the People have prevailed. We will again."
Robert Weissman, President of Public Citizen released a statement saying;
"This is a sad and tragic day for America. As a result of lock-step opposition to basic measures to safeguard our democracy and the refusal of Sens. Sinema and Manchin to agree to rules reform to win passage of legislation that they support, America now faces a frightening future.
"Republicans across the country are engaged in a concerted effort to make it harder for people of color to vote. Extreme partisan and racial gerrymandering is stripping voters of meaningful influence. And proto-fascist forces motivated by Trump's Big Lie are actively organizing to subvert elections in 2022 and 2024 – aiming to override actual results with predetermined outcomes.
"Though the Senate's failure to pass Freedom to Vote: John R. Lewis Act makes the challenge of protecting our democracy exponentially greater, we cannot – and will not — accept this as our fate."
Mayor Annise Parker, President & CEO of LGBTQ Victory Fund, released the following statement on voting rights:
"The right of candidates to compete in fair and democratic election processes is fundamental to our mission to increase the number of LGBTQ elected officials and ensure they reflect the diversity of those they serve. Voter suppression efforts deny voters the equal opportunity to elect their representatives and are a direct challenge to Victory Fund's efforts to advance equality through representation. These laws disproportionately impact LGBTQ people of color and voters in urban areas where LGBTQ people are concentrated. The increasingly strict voter ID laws create unnecessary and sometimes insurmountable obstacles for transgender and nonbinary people attempting to access the ballot box.
"Our Victory Fund Campaign Board – made up of more than 150 political leaders and advocates from across the country – votes to determine who Victory Fund endorses. Senator Kyrsten Sinema is not currently endorsed and if she runs for reelection, her record and actions on the advancement of legislation impacting the equality of LGBTQ people will be a primary consideration for whether she receives our endorsement. That board vote would take place in 2024."
 Kierra Johnson, Executive Director of the National LGBTQ Task Force Action Fund said in a statement:
"The failure to enact the Freedom to Vote, John R. Lewis Act is a profound blow to our Democracy. The inability to ensure voting rights for Black and Brown people and other vulnerable groups like LGBTQ people lays at the feet of those who voted "nay." These are the votes of political extremists, whose fear of losing power has become a justification for carving out LGBTQ+ folks, People of Color, women, poor people and other already marginalized groups from the political process.
Senators who voted for the right of all to participate in our Democratic process have our appreciation. To the rest – shame on you. Nineteen states have passed 34 laws that undermine voting rights, rights that are the threshold of our democratic values and civic responsibility – the very heartbeat of our Democracy. We pledge to do all in our power to Queer the Vote in the 2022 midterm elections and beyond, and we will continue to advocate to restore voting rights to all our nation's people."