DeCaro's 'Drag' deftly weaves past and present
Tracing the art form, from ancient Greece to Bugs Bunny to Lady Bunny
If you were stranded on a desert island and had just one book to read—and that book was "Drag: Combing Through the Big Wigs of Show Business"—your stay could be longer than that of Gilligan, the other six castaways, and that guy from "Cast Away" put together—and you'd never lose your appetite for the candid interviews, fabulous factoids, and keen insights assembled by writer, performer, and Sirius XM Satellite Radio host Frank DeCaro, who does his thing with all the dot-connecting intensity of a dogged anthropologist.
At 144 pages worth of lovingly crafted layouts, 100 story-unto-themselves photos (some of them from the queens' personal collections), and contributions by the likes of Lypsinka, Bianca Del Rio, Hedda Lettuce, Harvey Fierstein, and Wesley Snipes, DeCaro's "Drag" is, as the foreword by Bruce Vilanch fittingly puts it, "a living, pulsing documentation of some of the most brilliant subculture artists in America's cultural history."
"I'm 'Drag Hag #1.' I've been a fan of drag since I was a kid," DeCaro says, "and have followed the careers of many of the most important players of the 20th century, whose 'work clothes' were those of the opposite sex."
Work on the project began "almost five years ago," he says, "and I kind of shaped it in a way that was encyclopedic, but also lighthearted."
"Encyclopedic" is right. DeCaro originally pitched his dizzyingly comprehensive tome as "Dragapedia Americana." The name might not have stuck, but the ethos remains firmly intact.
Drag, it seems, is everywhere today—but, as DeCaro notes, it's been here "since man first walked the Earth… in heels."
And so it goes with "Drag," which draws a chronologically sound (albeit not-so-straight) line from ancient Greece to Shakespeare to Kabuki theater to the vaudeville and nightclub circuits to 1970s variety shows to NYC's gritty Pyramid Club to the works of Charles-es Busch, Ludlam, and Pierce to Bugs Bunny to Lady Bunny to Madea—and ends up in a world where a little show called "RuPaul's Drag Race" has seen the art form embraced as it has been so many times before, but now, finally allows the men behind the makeup to exist as both person and persona.
"We cannot give enough credit to 'RuPaul's Drag Race' for what it's managed to do," DeCaro says, "for the 'normalization,' if you will, of drag. It's gotten it in front of people, yes, but it's done it in a way that's more profound. RuPaul has shown that drag performers can have families. They can have relationships with their parents, their siblings, lovers, bosses. They can have truthful lives, as much as anyone else can, and I think that's the most revolutionary, or 'RuVolutionary' thing about 'RuPaul's Drag Race.' "
It wasn't always that way.
"Although in many towns a man could be arrested for impersonating a woman," the tome recalls, "most every city had at least one club that featured cross-dressers and managed to get away with it."
Club management might have found a way around strict community standards, but the performing artists weren't so lucky.
"There are many stories in the book," DeCaro says, "about how dangerous it was to be a drag queen, how you had to keep your drag in a trash bag and sneak it into where you were going to play, and make sure you were dressed as a man when you left."
As for the slow and steady progress toward mass acceptance, mass media brought drag into America's living rooms (see Chapter 6's ode to Milton Berle), but cross-dressing as practiced by "Uncle Miltie" ("TV's first drag superstar… heterosexual by almost all accounts," DeCaro notes), "was pure comedy."
Berle was a standalone superstar in his own right, whereas some of TV's true drag queens "were not allowed to be whole people. They had to have no sexuality," DeCaro recalls. "They had to whip their wig off at the end, to make sure you weren't too titillated, or faked out completely. You had to know, 'Yes, this is a man. Cool your jets.'" But now, DeCaro proudly points out, "we can see two drag queens have an affair on television, with Miss Vanjie and Brooke-Lynn Hytes [Season 11,"RuPaul's Drag Race"]. Nobody's ever seen that before."
And it's here that DeCaro manages to pull off a particularly nimble act of public education-meets-pop-culture-appreciation, by putting the personal struggles and artistic integrity of 20th century drag performers into the wheelhouses of contemporary audiences—who can name the winner of every "Drag Race" season, but don't necessarily know somebody like Jim Bailey, who, DeCaro notes, "was as good of a female impersonator as anyone will ever be, but he had to call himself a 'gender illusionist' and he 'dated' Lucie Arnez back in the day. He had to do the Liberace approach, where there was no truth to the offstage life. It had to be made palatable and safe. So that, to me, is a real cautionary tale."
Fans of all ages were eating up those tales, and more, when DeCaro moderated a May 26 panel at RuPaul's DragCon LA, in which James St. James, Leslie Jordan, Drew Droege, and Coco Peru discussed drag past and present, with no small amount of attention focused on the ongoing quest for authentic portrayals.
In the audience were, DeCaro notes, "actual drag performers who've been doing their glorious thing for ages—Larry 'Hot Chocolate' Edwards, the best Tina Turner impersonator in the business, Dolores DeLuce, a cisgender woman who'd performed with The Cockettes, and the beautiful Reba Areba, Miss Best in Drag 2018."
Alongside those who were spring chickens when The Cockettes first took to the stage, young fans in attendance, DeCaro says, "were hungry to hear about the oppression performers faced back in the day, and how they managed to overcome it. They wanted to know how we got to a place where drag is truly mainstream."
DeCaro's "Drag" takes you to that place, and beyond—and for as much as it spends time shining a light on trailblazers, it also lavishes attention upon contemporary voices, whose mainstream visibility has worldwide reach. In Chapter 2, for example, revealing Q&As with veteran performers Rick Skye (Liza) and Steven Brinberg (Barbra) bookend an equally insightful page from Derrick Barry (Britney).
"I think the most exciting thing about drag right now," DeCaro says, when asked to put a fitting coda on his conversation with the Blade, "is that it's this all-you-can-eat buffet, and every flavor is represented—whether it's a man in his late '80s [Darcelle XV, of Portland], who is doing his thing and looking fantastic in sequins, or a kid like Desmond Is Amazing, who's 11 years old, and is the fiercest little kid you've ever met in your life, doing drag, and being invited to walk the runways of the New York collections."
Drag these days means you can, DeCaro happily notes, be "any gender and perform as any alter ego. You can be a biologically cisgender female, and be a drag queen. Or you can be a woman dressed as a man, and be a drag king, or you can be a trans performer who's also a drag queen on top of that. I think that the key to enjoying it now is to think of it as this giant party that we're all invited to."
Charles Busch reflects on the paths he didn't take in new book
'Leading Lady' a riveting memoir from legendary entertainer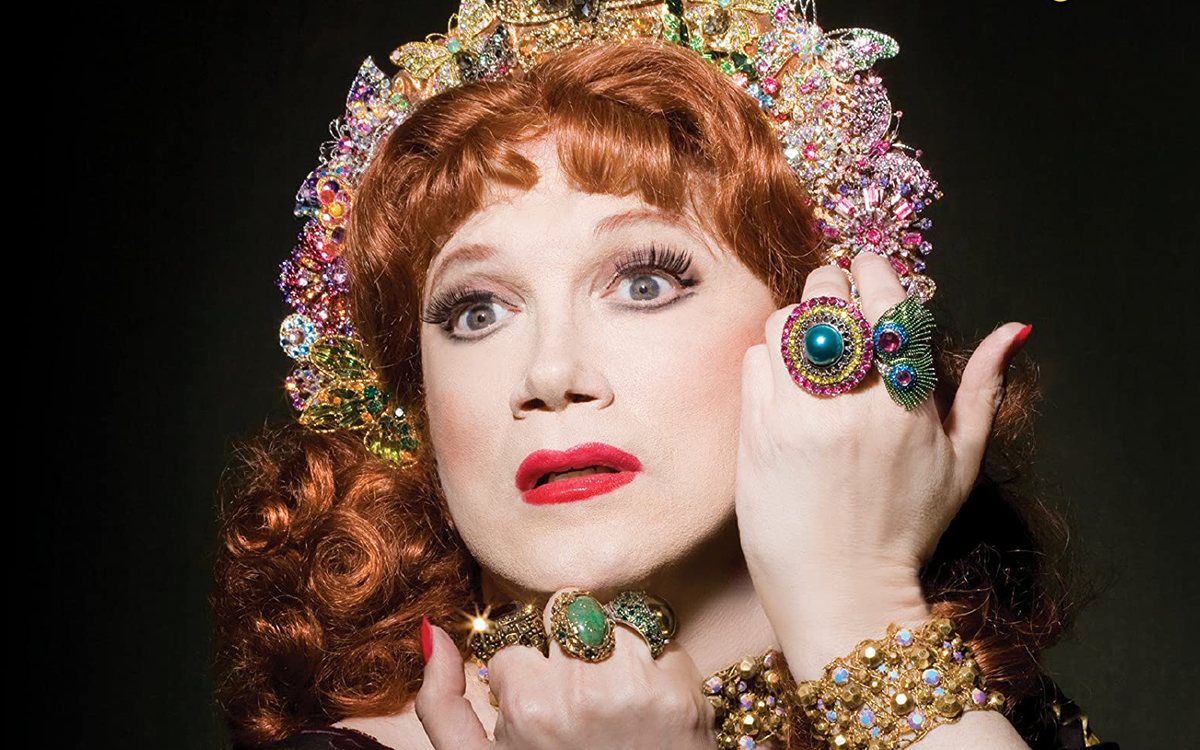 "Charles, I'm telling you, I go to plays in rat-infested basements where I'm the only one who shows up," the late queer icon Joan Rivers once told the queer, legendary playwright, actor, director, novelist, cabaret performer and drag icon, Charles Busch. "I can see the actors peeking through the curtain and groaning, 'Oh God, that old bitch in the fur coat is here. Does that mean we've gotta go on?'"
Busch reminded Rivers that she'd seen him perform in a rat-infested basement.
This is just one of the many stories that Busch, born in 1954, tells in his riveting memoir, "Leading Lady: A Memoir of a Most Unusual Boy," which comes out on Sept. 12.
"Leading Lady" is a page-turner. Some of its tales of Busch's life and career, such as his account of a Christmas party with Rivers as a guest, are dishy. Others, like his memories of trying to care for his beloved Aunt Lil, when he knew she was dying, would make even the Wicked Witch in Oz tear up.
The memoir, is, as Busch says on his website (charlesbusch.com), the story of "a talented artist's Oz-like journey."
"Leading Lady" isn't linear. This isn't a detriment. Busch deftly intertwines memories of his life and career from his mom dying when he was seven to being raised by his loving Aunt Lil to being the author and star of the cult classic "Vampire Lesbians of Sodom" to watching Kim Novak handle fans to being the Tony-nominated writer of "Tales of the Allergist's Wife" to being creative during the pandemic.
"Storytelling is a huge part of my life," Busch told the Blade in a lengthy phone interview, "I get into various adventures and, I think, this could be a good story to tell."
Interviewing Busch is like chatting with a fab storyteller over coffee or a glass of wine. Except that you're talking to a legend who's entertained and inspired queers (and discerning hetero audiences) for decades. (I'm wearing my "Vampire" T-shirt as I write this.)
As a playwright, Busch writes "linear" plays, with a beginning, middle and an end, he said. As a cabaret singer, "the way I sing songs is telling a story," Busch said.
Since childhood, he's been creating vivid scenes in his imagination. From early on, Busch has felt as if he's both a spectator and star in the movie of his life.
It seemed inevitable that he'd write a memoir. It's the ultimate form of storytelling. "You reach a certain point in your life," Busch said, "where you're more reflective and see your life as a whole."
"You reflect on the paths you didn't take," he added.
Busch spent his childhood in Hartsdale, N.Y. He had two older sisters, Betsy and Margaret. His mother's death was devastating for Busch. His Aunt Lil and Joan Rivers have been among the women who have been "mothers" to Busch since his mom died.
Once, Busch said he and Rivers dined with friends. "Joan Rivers said 'I wish I had a gay son I could phone at midnight and discuss whatever movie was on TCM,'" he recalled.
Busch would have loved to have been Rivers's "gay son."
Life in Hartsdale was hard for Busch after his mother passed away. His father was often absent and showed little interest in his children.
Things were miserable for Busch when his grandmother, for a time, cared for the family. He knew, as a boy, that he was gay and hated going to school where a movie-and-theater-loving kid who liked to draw wasn't one of the cool kids.
Yet Busch forgave his "father's failings," he writes in "Leading Lady, "because he gave me the theater."
Busch became entranced with the theater when his father, an aspiring opera singer who performed in summer stock, took him to the old Metropolitan Opera House in New York City to hear Joan Sutherland sing the role of Amina in Bellini's "La Sonnambula."
Busch was saved from a life of boredom and bullying when Aunt Lil, his mother's sister, took him to live with her in Manhattan. There, like Auntie Mame, she raised him. She prodded him into applying to the High School of Music and Art in New York City. He was accepted there.
After high school, Busch graduated with a bachelor's degree in drama from Northwestern University in 1976.
"My Aunt Lil is the leading lady [of the title of his memoir]," Busch said, "she was the most influential person in my life."
One of the reasons why Busch wrote "Leading Lady" was to paint a full portrait of her. "It was important that it not be this kind of gauzy, sentimental memory piece," he said, "making her out to be a saint."
Aunt Lil adopted Bush when he was 14. Her goal was that he would go to college, become independent, be a survivor – make a place for himself in the world.
"I don't know what would have happened if she hadn't stepped in," Busch said.
"She was very intellectual," he added, "I've never met anyone [else] with such a pure devotion to thinking. It was a little intimidating."
Aunt Lil's standards for caring – for giving of oneself – were so high that it was almost impossible to meet them. "She believed that you should anticipate what people would need," Busch said, "before they told you."
Looking back, Busch is most proud of himself when, "I've gone past my natural self-absorption," he said, "when I've thought of someone else."
Busch is being too hard on himself. In "Leading Lady," and when interviewed, he's caring and curious as well as witty, savvy, and as you'd expect, a bit campy.
His sister Margaret died recently. "She declined gradually over nine months," Busch, said, choking up, "I gave her my bedroom and I slept on my sofa."
Like many of her generation, Aunt Lil didn't understand queerness or drag. But she loved Busch. She didn't go to see his productions, he said. "She could have gone like other parents," he said, "and been tight-lipped. And said something nice that she didn't believe."
But "she didn't want to lie or be hurtful," Busch added, "so, for her, it was: can't I just love and support you, and not go?"
Aunt Lil didn't get Busch's sexuality. But she knew about secrecy. Busch learned of a terrifying secret that his aunt had long kept hidden. In the 1930s, during the Depression, Aunt Lil worked as a nurse. One day, when she worked overtime, one of the patients suffered a burn. She had to leave nursing. "Her sister in a nasty mood revealed this," Busch said, "Aunt Lil never discussed it."
In the 1970s, Busch had trouble getting into theater because there were only roles for actors playing straight male characters. "The only way I could get on stage was to write my own roles," he said, "I have a rather androgynous nature."
Busch found that the feminine within him was a place of authority and strength. "I'm fine when I play male characters," he said, "but I'm better when I play female characters."
Why this is so liberating for him is a bit of a mystery to Busch. "But I accept and love it," he said.
Times have changed since Busch made his first big splash with "Vampire Lesbians of Sodom." "In 1985, being a drag queen was considered a negative," Busch said, "my generation of drag performers bristled at being referred to as drag queens."
Busch no longer bristles. "I feel like the characters," he said, "I enjoy costumes and getting the right wig."
"But, I go from male to female not through trickery or anything visual, I transfer through my soul."
In "Leading Lady," Busch recalls AIDS and other dark moments from the past. Many of his friends and colleagues died from AIDS. "AIDS was the World War II of our generation," he said.
But Busch, in his memoir and in his life, isn't only looking back. He's very much in the present. Busch is embarrassed to say he was lucky. During the pandemic, devastating to many, he made art. He did play readings on Zoom and finished writing "Leading Lady" which he'd worked on for 14 years.
During the pandemic, Busch with Carl Andress co-wrote and co-directed the movie "The Sixth Reel." The film's cast includes Busch, Julie Halston (Busch's longtime muse), Margaret Cho and Tim Daly.
Busch describes the film, an homage to the Hollywood madcap movies of the 1930s, as "a comic, caper movie."
"I play a disreputable dealer in movie memorabilia," Busch said, "a legendary lost film is found, and I see it as my ticket out of debt."
The "Sixth Reel" is playing from Sept. 21 to Sept. 27 at the LOOK Dine-In Cinema West 57th Street in New York City.
"I hope the run in New York will encourage people to distribute this little movie," Busch said.