June 7, 2019 at 9:25 am PST | by Sean Shealy
YouTube reviewing rules but abusive anti-LGBT comments still OK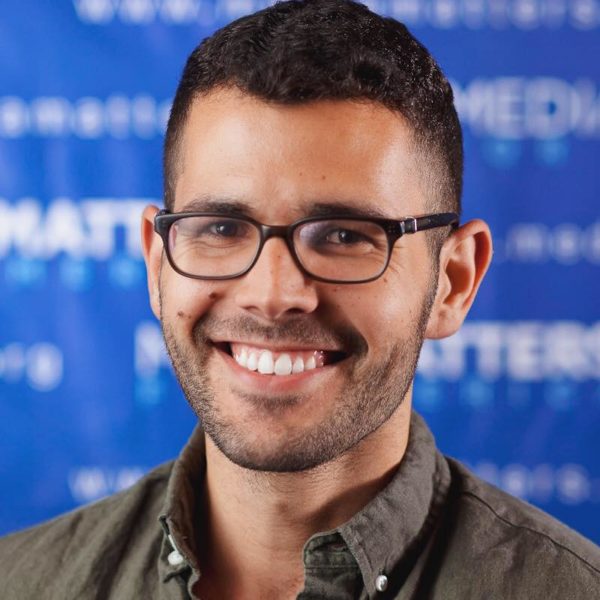 Alphabet Inc/Google-owned YouTube has given its logo a rainbow look for Pride Month. However, gay journalist Carlos Maza says the image contradicts the anti-LGBT abuse he's dealing with on the platform.
Maza is the co-producer and co-host of Vox media's Strikethrough channel on YouTube. Maza says that for nearly two years, he's been subjected to persistent and ongoing derisive videos posted by rightwing commentator Steven Crowder, who has more than 3.8 million subscribers on his own YouTube channel, "Louder with Crowder."
Crowder says his videos are allegedly intended to "debunk" videos posted by Maza. But Maza considers Crowder's language homophobic and says they have inspired others to post homophobic and racist comments.
Frustrated, Maza produced and posted a compilation video of the smears on Twitter and sent to @TeamYouTube "support," asserting that the clips demonstrate that Crowder violated the video-sharing site's hate-speech policies.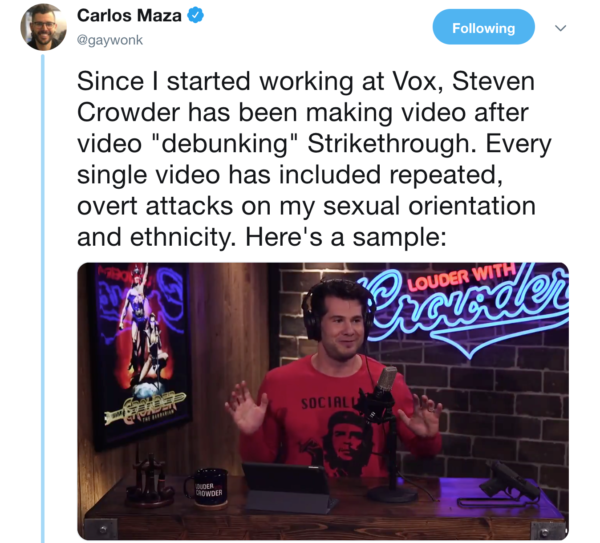 In the compilation video, Maza highlighted clips where Crowder labeled him; "a lispy queer, a gay Vox sprite, and a gay Mexican." Crowder also mocks Maza's accent in an exaggerated derisive imitation.
YouTube reviewed the clips and told the journalist that "while we found language that was clearly hurtful, the videos as posted don't violate our policies."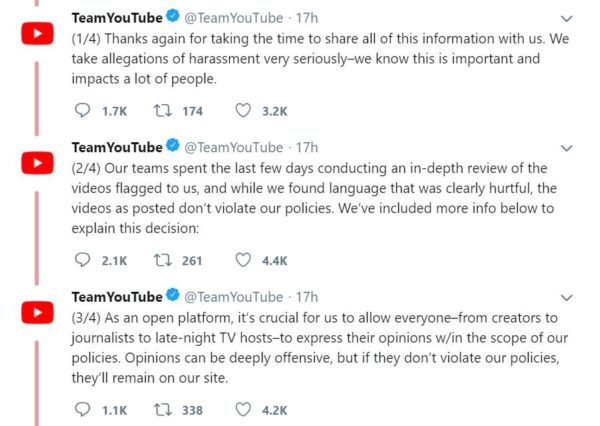 The platform added that "Even if a video remains on our site, it doesn't mean we endorse/support that viewpoint. There are other aspects of the channel that we're still evaluating– we'll be in touch with any further updates."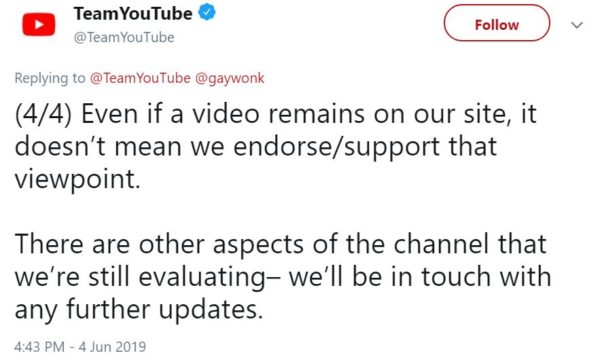 In an interview with the Los Angeles Blade, Maza pointed out that in addition to the abuse by Crowder, "These videos get millions of views on YouTube. Every time one gets posted, I wake up to a wall of homophobic/racist abuse, especially on Instagram and Twitter."
Asked about YouTube's claims that the anti-LGBT slurs don't break its rules, Maza said: "They're right, their community standards are just a PR prop."

Arguing that YouTube is "exploiting" LGBT people by using rainbow-themed graphics, Maza says anti-LGBT abuse is "going to get so much worse now. YouTube's just publicly stated that racist and homophobic abuse doesn't violate their community standards especially their anti-bullying policies."
British journalist Ben Hunte, the LGBT correspondent for the BBC, wrote: "Many professional LGBT video-makers will be familiar with uploading material online and instantly being tormented by certain audiences, solely because of their sexuality. YouTube's take on this will disappoint the LGBT community. It will surprise them that hurtful things considered hate speech and punishable by law in real life can simply be labeled 'debate' online, and not require any repercussions."
Maza pointed out that too much of the right wing vitriol spread out over the platform made YouTube money, a lot of money. "They won't enforce their polices because it would cost them income," he said.
In a tweet Maza stated; "@YouTube pretends to care about queer and marginalized creators while refusing to protect us from abuse and harassment. @YouTube arms our abusers with the platforms they need to target us when we speak up. @YouTube rewards our abusers with views and money when they do it well."
Vice Magazine noted chimed in: "The decision, laid out by YouTube in four succinct tweets, means the platform will permit Steve Crowder to continue his harassment and bullying of Maza. YouTube and Crowder are also set to continue monetizing the abusive videos, which feature ads from the likes of the Trump campaign, VH-1 and Monday.com."
A spokesperson for YouTube told the Los Angles Blade that the matter regarding Maza was under further review but wouldn't comment further. No comment was also the response when asked if YouTube's announcement of its new policy to ban "videos alleging that a group is superior in order to justify discrimination, segregation or exclusion" should apply to Maza.
"All users agree to comply with our Terms of Service and Community Guidelines when they sign up to use YouTube," the spokesperson said. "When users violate these policies repeatedly, like our policies against hate speech and harassment or our terms prohibiting circumvention of our enforcement measures, we terminate their accounts."
Maza tweeted out his disgust with the announcement: "YouTube's new anti-supremacy policy is a joke, a shiny prop meant to distract reporters and advertisers from the reality, which is that @YouTube doesn't actually enforce any of these documents."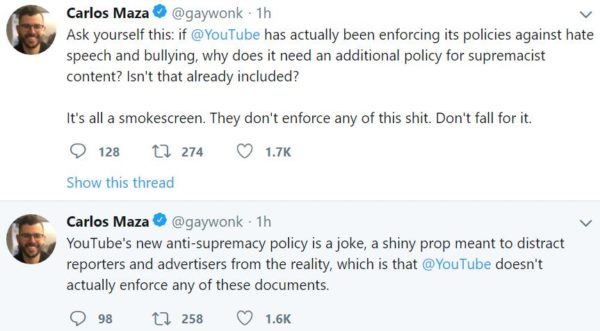 Apparently concerned about pushback from influencers aside from Maza, Vox, Vice and the BBC, YouTube subsequently announced on June 5 that it has suspended Crowder's ability to make money off his channel. "Update on our continued review–we have suspended this channel's monetization. We came to this decision because a pattern of egregious actions has harmed the broader community and is against our YouTube Partner Program policies."
Maza was succinct and pointed in his tweeted response: "The problem isn't Crowder and the problem isn't monetization. The problem is that @YouTube allows monsters and bullies to become superstars, break YouTube's rules, build an army of loyal, radicalized followers, and then make millions selling them merch that sustains their work."
The issue may prove difficult for LGBT employees of  YouTube and LGBT stars who rely on YouTube for their own fame and fortune—gay YouTube star Tyler Oakley, for instance, has more than two million subscribers. LGBT people also tune in for comfort and survival. The It Gets Better Project started on YouTube in 2010 in response to the epidemic of gay teen suicides.
After concerted backlash, YouTube posted a lengthy statement saying they are going to take a "harder look at harassment." Essentially, YouTube seems to be struggling with how to define what they think is speech that is "harmful" to the broader community, not necessarily harmful to an individual in the context of political "debate."
Take a moment to digest that: in 2019, this giant tech company thinks LGBT rights are still up for debate.
YouTube parses protected free speech to compare a comedian using the "n" word to abusive racist and homophobic language directed at a specific individual—who represents entire minority groups – LGBT people and people of color. That's the point of hate speech and hate crimes – which YouTube could have discovered by just Googling "hate speech" and clicking on Wikipedia: "Hate speech is a statement intended to demean and brutalize another, or the use of cruel and derogatory language or gestures on the basis of real or alleged membership in a social group. Hate speech is speech that attacks a person or a group on the basis of protected attributes such as race, religion, ethnic origin, national origin, sex, disability, sexual orientation, or gender identity."
YouTube looks at intention, whether "the primary purpose of the video is to incite hatred toward or promote supremacism over a protected group; or whether it seeks to incite violence. To be clear, using racial, homophobic, or sexist epithets on their own would not necessarily violate either of these policies [harassment and hate speech]. For example, as noted above, lewd or offensive language is often used in songs and comedic routines. It's when the primary purpose of the video is hate or harassment. And when videos violate these policies, we remove them."
To which Maza replies: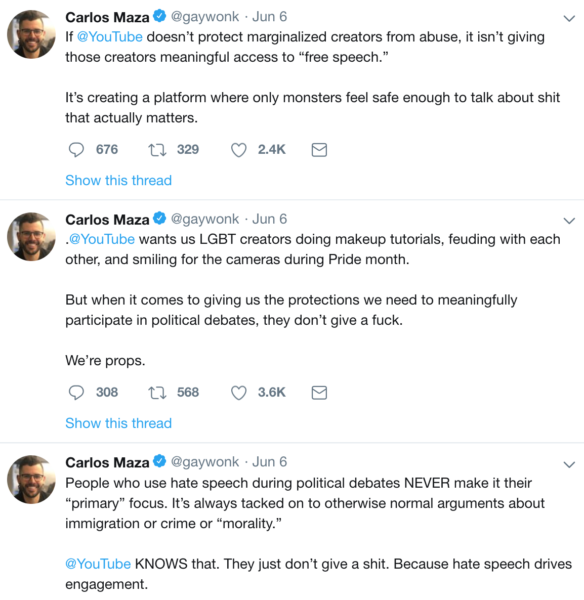 Remember what Maza told the Los Angeles Blade: Crowder's "videos get millions of views on YouTube. Every time one gets posted, I wake up to a wall of homophobic/racist abuse, especially on Instagram and Twitter."
Maza is the spotlighted target for Crowder's racist and homophobic online firing squad to virtually harm people of color and the LGBT community. That's the intention. And real harm is done.
And Crowder is now being championed by Fox News and right-wing Republicans: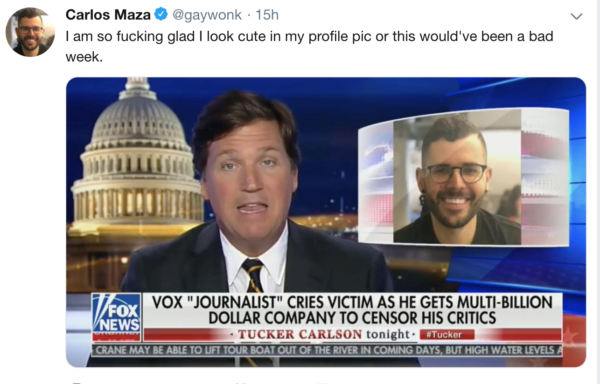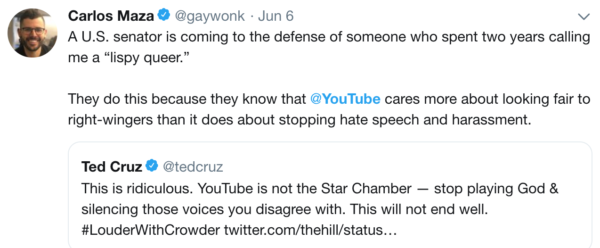 How many LGBT people have already been silenced for fear of receiving the same onslaught?
But with such a popular platform helping those in need and feeding the beast of fame—who will hold YouTube accountable for their selective and harmful policies?
Here is the entire YouTube statement for you to make your own determination:
Taking a harder look at harassment

Wednesday, June 5, 2019

There have been a lot of questions over the last few days about our policies on harassment, particularly around two YouTube creators: Carlos Maza and Steven Crowder. These are important issues and we'd like to provide more details and context than is possible in any one string of tweets.

Since YouTube started 14 years ago, we have focused on providing a platform where anyone can broadcast themselves, connect with people, and share their voices and their experiences with the world. This has brought a lot of good — like Jouelzy, who founded the #smartbrowngirl movement to empower women of color, or MatPat, a gaming creator — who, along with his fans and other creators — raised over $200,000 to combat mental illness. But it has also created many challenges.

One of the most important issues we face is around harassment. We enforce our policies here rigorously and regardless of the creator in question: In the first quarter of 2019, we removed tens of thousands of videos and accounts for violation of our policies on cyberbullying and harassment. We also removed hundreds of millions of comments, many of which were flagged and removed due to harassment.

That said, policies need to keep up with current problems. One particular challenge we face more and more these days is creator-on-creator harassment. It's an issue that Susan addressed in her latest creator letter. We update our policies on an ongoing basis to make sure they're current. Just today, we took another step in our fight against hate speech and our responsibility to reduce the spread of harmful borderline content. As mentioned, one of our upcoming projects will reexamine our harassment policy, as well.

As an open platform, we sometimes host opinions and views that many, ourselves included, may find offensive. These could include edgy stand-up comedy routines, a chart-topping song, or a charged political rant — and more. Short moments from these videos spliced together paint a troubling picture. But, individually, they don't always cross the line.

There are two key policies at play here: harassment and hate speech. For harassment, we look at whether the purpose of the video is to incite harassment, threaten or humiliate an individual; or whether personal information is revealed. We consider the entire video: For example, is it a two-minute video dedicated to going after an individual? A 30-minute video of political speech where different individuals are called out a handful of times? Is it focused on a public or private figure? For hate speech, we look at whether the primary purpose of the video is to incite hatred toward or promote supremacism over a protected group; or whether it seeks to incite violence. To be clear, using racial, homophobic, or sexist epithets on their own would not necessarily violate either of these policies. For example, as noted above, lewd or offensive language is often used in songs and comedic routines. It's when the primary purpose of the video is hate or harassment. And when videos violate these policies, we remove them.

Not everyone will agree with the calls we make — some will say we haven't done enough; others will say we've gone too far. And, sometimes, a decision to leave an offensive video on the site will look like us defending people who have used their platforms and audiences to bully, demean, marginalize or ignore others. If we were to take all potentially offensive content down, we'd be losing valuable speech — speech that allows people everywhere to raise their voices, tell their stories, question those in power, and participate in the critical cultural and political conversations of our day.

Even if a creator's content doesn't violate our community guidelines, we will take a look at the broader context and impact, and if their behavior is egregious and harms the broader community, we may take action. In the case of Crowder's channel, a thorough review over the weekend found that individually, the flagged videos did not violate our Community Guidelines. However, in the subsequent days, we saw the widespread harm to the YouTube community resulting from the ongoing pattern of egregious behavior, took a deeper look, and made the decision to suspend monetization. In order to be considered for reinstatement, all relevant issues with the channel need to be addressed, including any videos that violate our policies, as well as things like offensive merchandise.

In the coming months, we will be taking a hard look at our harassment policies with an aim to update them — just as we have to so many policies over the years — in consultation with experts, creators, journalists and those who have, themselves, been victims of harassment. We are determined to evolve our policies, and continue to hold our creators and ourselves to a higher standard.

—Chris Dale, YouTube
Karen Ocamb contributed to this report.
Photo: Carlos Maza (Photo by Jared Holt via Facebook)