Out author Nicole Dennis-Benn unveils knotty new novel 'Patsy'
Immigration, mothering and queer identity themes in sophomore tome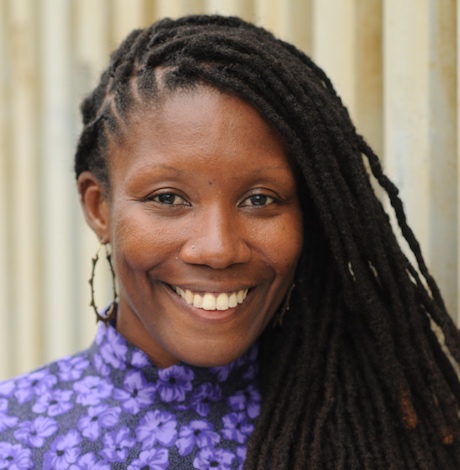 Nicole Dennis-Benn

Summer Salons: The Good Immigrant

Tuesday, June 18

6 p.m.

Grand Park, performance lawn

200 North Grand Ave.

Los Angeles

(between Grand Ave. and Hill Streets)
Author Nicole Dennis-Benn got the kind of media attention and interest with her 2016 novel "Here Comes the Sun," most first-time authors can only dream of — she won a Lambda Literary Award, was a finalist for several other literary prizes, got reviewed in the New York Times (which named it one of its "notable books of the year") and other high-profile outlets.
Her sophomore effort "Patsy" was released last week and is already generating buzz with more media love from the Times, Oprah's magazine, NPR and more. "Patsy" is the story of the title character, an undocumented Jamaican queer immigrant in New York and the daughter she left behind, Tru. Going back and forth between Brooklyn and Jamaica, Dennis-Benn, herself Jamaican and a lesbian, covers her characters' lives over a decade. 
The 37-year-old writer will be Scripps Presents/PEN's "Summer Salons: The Good Immigrant" event with authors Jade Chang and Dani Fernandez on Tuesday, June 18 to discuss the new anthology "The Good Immigrant: 26 Writers Reflect on America." Details at pen.org/events. 
Dennis-Benn spoke to the Blade by phone on May 31. Her comments have been slightly edited for length.
WASHINGTON BLADE: Your first book got the kind of industry attention most authors only dream of. How did you manage that?
NICOLE DENNIS-BENN: When I started my debut novel, I had no idea all the work that went into getting a book out there to readers. I used to think it just appears on the bookshelf. I wasn't one of those readers in college and grad school looking at the New York Times or the Washington Post for the next book I wanted to read. So I was really shocked as a first-time writer. My agent, she worked really hard at putting my book in the eyes of publishers and also really doubled down when it came out. She said, "This is a debut novel, we have to have a big splash," so she and her team worked extra hard and I was really happy that they loved it enough to want to really invest in it. But there's really a machine behind all that publicity.
BLADE: Did you have to fight to get "Patsy" published or was it much easier after the first book was successful?
DENNIS-BENN: It was easy after that, for sure. I had some anxiety writing as a woman of color and my story is about a Jamaican woman wth a queer identity as well as an immigrant … but it's a relief to know there's a place for my books. I can't say the same for many other writers who are women of color or LGBT writers, but at the same time I'm happy that they're being published somewhere.
BLADE: How has your publisher Liveright been to work with? Any wrangling over final edit?
DENNIS-BENN: It was a good relationship and that's definitely something I was relieved about. I didn't have to fight them on anything. I used patois, a Jamaican dialect, in the dialogue and I was really happy that the editor and also the copy editors were able to work with me on maintaining that. I think it was really a good match.
BLADE: Is there some autobiography woven into the fiction?
DENNIS-BENN: I would say it's like 80 percent fiction and 20 percent autobiographical. Patsy comes to America and wants more for herself but then realizes there are issues here just like anywhere else. Unlike myself, Patsy is not educated or documented, so she immediately meets that wall, no pun intended. She actually gets trapped and she's not able to move upward financially. She has no social security at all, so of course, taking Patsy on that journey, took a lot more imagination and also talking to folks, like my father for example, who came here undocumented and has worked his way through the system before marrying an American citizen and getting his papers.
BLADE: What is your working process like? How does one begin to tackle a work of this scope?
DENNIS-BENN: I started really with writing scenes. Patsy's voice came to me first and I wrote more following that voice. I would think about it on my morning ride to Staten Island where I was teaching at the College of Staten Island and it was like I was somehow dictating in the sense that I was imagining this woman riding the subway and she's on her early morning trip to her first nanny job and really thinking about who that woman is, why did she come to this country, what did she leave behind. … That's when I started outlining and this is actually the first novel where somehow everything I wrote was against that outline. 
BLADE: How did you know instinctively that was right?
DENNIS-BENN: I didn't know it was right at all. I slept on it awhile. A lot of it came from being raised as a woman in Jamaica, it's a society that tells you we ought to all want motherhood, that that's the ultimate satisfaction. Well, so what about this woman who doesn't really want that but has no choice? It took a lot of self reflection.
BLADE: How long did it take? I assume you balanced it with your teaching duties? 
DENNIS-BENN: Right, exactly. Those rides on the ferry were in 2012 so really like  seven years.
BLADE: How long did "Here Comes the Sun" take to write?
DENNIS-BENN: It was faster. I started it in 2010 and got my agent in 2014, so more like four years. It was quicker than "Patsy."
BLADE: How disciplined did you have to be? Were there days your wife wanted to go to the mall or everybody else was on holiday but you forced yourself to write?
DENNIS-BENN: I did it when the mood struck. I was teaching as an adjunct so it was only like two days a week. So on the other days, I stayed home and worked on my books. My wife would be getting rady for work and she leaves around 9 a.m. so that's when my writing day started and I'd write til about 4. But I didn't adhere to that every single day, every week. Sometimes ideas would come or not come. Some days the characters would just not speak, so I'd take a little time to do normal things. I feel like living life a little bit,  I absorb a lot. So I take myself to the museum, I meet up with friends and somehow gather a lot of energy by stepping away from the work.
BLADE: How long have you been teaching at Princeton?
DENNIS-BENN: A year. I started fall, 2018.
BLADE: What do you teach?
DENNIS-BENN: Creative writing, fiction.
BLADE: Is Joyce Carol Oates still there?
DENNIS-BENN: YEs, but I've not met her. I only teach there one day a week. I want to, but I haven't had the chance.
BLADE: Are you familiar with her work?
DENNIS-BENN: Oh yes, definitely. There are so many people at Princeton working whose work I admire like Jhumpa Lahiri, she's also there, Tracy K. Smith and Yiyun Li. I had to work on myself not to be star struck in the department.
BLADE: How many copies did you sell of "Here Comes the Sun"?
DENNIS-BENN: Um, I'm not sure. I know it did well. I'm actually only going by what my publishers have been telling me or my agent.
BLADE: But what's considered successful for a debut hardcover novel?
DENNIS-BENN: I have no idea.
BLADE: Aren't you curious?
DENNIS-BENN: I'm curious, yeah, but I don't know. That's a good question. I think for me … as a creative person, success is actually touching readers, so when I get a note through social media or somebody tells me they saw themselves on the page, that really is success for me.
BLADE: To what degree does being a lesbian inform your work any more or less, say, than being from Jamaica, being an immigrant or other aspects that inform your work? 
DENNIS-BENN: I would say the same. I feel like an outsider in many ways — my sexuality, as a black woman, as a woman, as an immigrant, a working-class Jamaican, I felt like an outsider growing up all those things. But it gives you a vision where you can look down into that world and sketch it. Having been an outsider in Jamaica and America gives me the ability to write from those perspectives.
BLADE: How long have you been in the U.S.?
DENNIS-BENN: Twenty years now, since '99. I came here for college when I was 17.
BLADE: What was your path to citizenship like?
DENNIS-BENN: My father came here undocumented, he married an American citizen and by doing that, he was able to get his naturalization. Then he was able to file for me and my siblings and we were able to come here on a green card. … I see myself as a lucky one, going to Cornell then on to graduate school. That's a luxury for many people. Many people like my father came here driving taxis to support themselves and send money back home. 
BLADE: Have you encountered any racism or homophobia from publishing industry gatekeepers?
DENNIS-BENN: Again, that's a question I would need to ask my agent. She was more on the forefront of all of this. If there was, she probably absorbed it and didn't relate it to me word for word. I had people say, "Oh, we're unable to represent this book," but no real solid reason. …. I have sometimes felt like my novels are puzzle pieces that don't fit but that's how I learned to embrace them.
BLADE: Was it difficult to find an agent?
DENNIS-BENN: I got a lot of rejection letters in grad school. My first agent was not on board with the dialect and we parted ways. I just knew there was no way I could have to Jamaicans speaking to each other in standard English, it just didn't sound authentic. I knew if it was published like that, I wouldn't be happy with the product. So I went back to the drawing board and I was really crushed but I took a year to revise my first book and started sending query letters. Three agents responded and one happened to be my current agent. She said she respected me as a writer and was behind what I was doing in my work. That was a huge relief to hear that.
BLADE: What are your dreams as an author? Do you plan to keep releasing novels?
DENNIS-BENN: Yes, definitely. You can get away with so much more with fiction. I get stressed out fact checking an essay for the New York Times, so I can't imagine a 300-page memoir. I see myself continuing with fiction.
BLADE: Your piece about pregnancy in the Times was very candid. Were you wary of sharing so many personal details?
DENNIS-BENN: I never had any desire to be pregnant and it was something I always grappled with. Why do I feel this way? It was a similar feeling I had as a teenager coming out as a lesbian. Why do I feel this way? It's not normal. But it turns out it's absolutely normal and something a lot of women feel. I thought, "Wow, this is something in society we do not talk about as women." We don't have this maternal yearning, we must be bad people. That's how "Patsy" was born.
BLADE: It seems you're trying to do more than merely entertain your readers. What are your goals as a novelist?
DENNIS-BENN: I write for myself first. I write the kind of books I want to read. I never saw anybody, except Edwidge Danticat, write about immigrants and that desire to migrate somewhere for financial reasons. I was thinking about Patsy, this voluptuous nanny on the Upper West Side pushing babies around Central Park. Who is she? Mother, immigrant, religious — all those things that even myself as an author, I would have been pre-judging her but when you open a book or dissect Patsy, you see a completely different story. Here's a woman who if she could afford it, would be at MIT studying programming. These are the things I wanted to put on the page.
Vlogger StanChris asks "what it was like growing up with a gay brother?"
My straight little brother answers everyones questions about what it was like growing up and living with me before & after I came out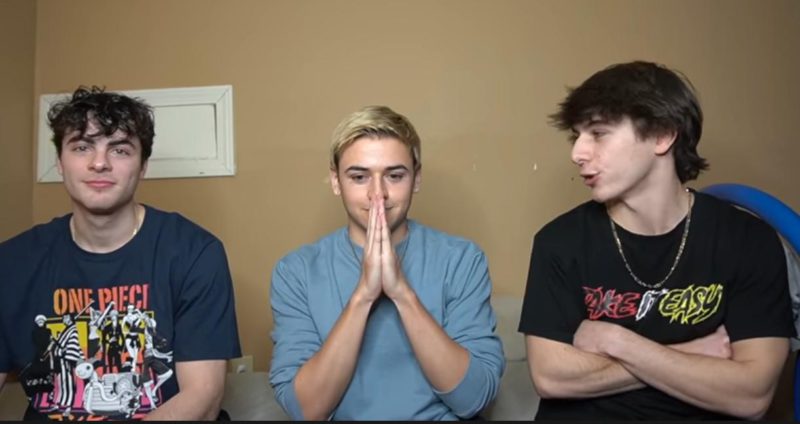 LOS ANGELES – The twenty-something StanChris, the Out YouTuber who has been building his audience on his YouTube channel by vlogging about the ordinary everyday experiences of his life as a young gay guy, is back with his straight brother and his brother's friend.
"My straight little brother answers everyones questions about what it was like growing up and living with me before & after I came out along with some other fun misc. things…"
My straight little brother answers your questions about me
********************
S O C I A L – L I N K S
→Instagram : stanchris https://instagram.com/stanchris
→ Twitter : stanchrisss https://twitter.com/stanchrisss
Words never fail in MacIvor double bill by Open Fist Theatre
The playwright offers a contemplation of life and death, experience & memory, honesty & deceit, that make up human existence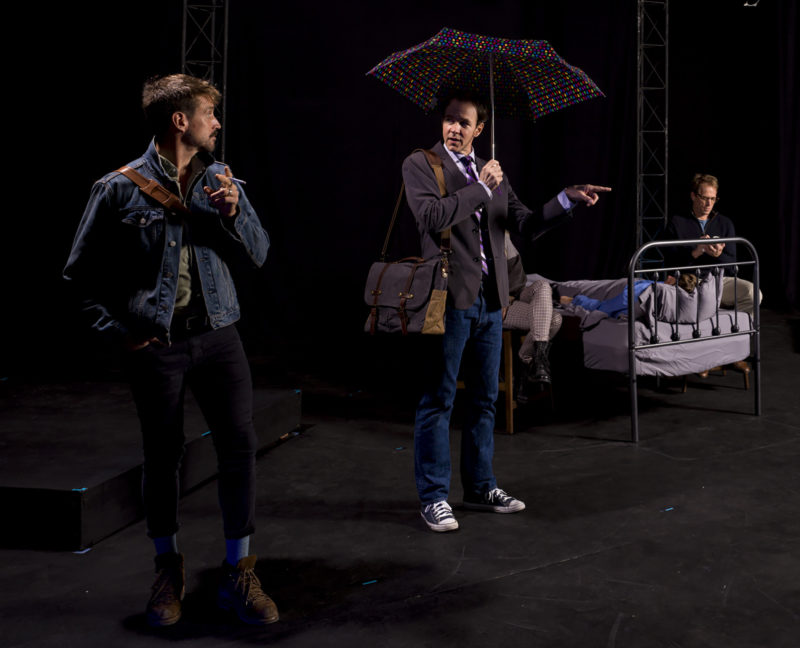 LOS ANGELES – There has long been debate among theatrical scholars about whether going to a play has been traditionally considered an auditory or a visual experience.
The argument goes that, before the advent of modern technology which enabled cinema and other forms of filmed entertainment, the theatre was a place where sound was the primary vehicle by which an audience's imagination could be transported out of the here and now, and that visual elements such as costumes, props, or mechanical stagecraft were secondary factors meant to reinforce and enhance the effect; for evidence of this, many point to Shakespeare, who in "Hamlet" had his lead character say "we'll hear a play" (a phrase which was subsequently long-used preferentially by many theatre-goers in his homeland) and whose works are still renowned five-and-a-half centuries later for their masterful use of language to accomplish… well, pretty much everything required, from setting the scene and telling the story to exploring the deepest nooks and crannies of the human psyche.
Though the whole question might seem a bit pedantic in today's world, it certainly touches on a major difference between the way we experience live theatre and the way we experience a film or television show, one which hinges on the main route these related-but-separate art forms take – through the ears or through the eyes – in transmitting information to the human brain. And if you want a good example of what a difference that difference makes, you couldn't find a much better illustration than the plays of Candadian wordsmith Daniel MacIvor – two of which are currently being performed by the Open Fist Theatre Company at Atwater Village Theatre.
MacIvor, who is known also as a filmmaker and actor, garnered acclaim in the 1980s and 1990s for a series of plays, crafted in a minimalist style and reliant on an intricately constructed tapestry of words to convey situation, narrative, and intent. Standard conceits of theatrical storytelling, such as a linear flow or the assumption of a fourth wall, are often jettisoned in these works, which invite comparisons to absurdists like Beckett and Pinter and challenge audiences to connect the dots as they go in order to decipher meaning. 
Two of these pieces, both directed with a confident hand by Open Fist's associate artistic director Amanda Weir, are paired by Open Fist into a brisk and engrossing double bill which leans hard into the award-winning playwright's unique, meta-theatrical approach to maximum advantage.
The shorter of the two works, "Never Swim Alone," is the more directly abstract. Taking place on stage that is bare save for a lifeguard stand and two chairs, it presents a ruthless competition of one-upmanship between two men, Frank and Bill (Bryan Bertone and Dylan Maddalena), who demonstrate an escalating series of scenarios under the watchful eye of "The Referee" (Emma Bruno) – a young woman with a secret connection to the boys these men used to be. Slyly witty and unexpectedly suspenseful, it examines the competitive machismo hidden beneath the slick and stylish suits of these two "Type A" businessmen with a dark and scathing sense of humor, as it slowly draws a connection between their never-ending battle for supremacy and the deep trauma of a shared childhood experience.
Originally produced in 1991, the roughly 30-minute exercise taps into the rich vein of toxic masculinity in order to make its points about the deep-seated fears and insecurities that drive so much of what our culture has long accepted as "typical" male behavior, with the two men vying for "points" against each other – awarded, of course, by the female referee, who holds absolute and irrefutable power in the game despite the clear lack of regard with which each of the participants reveals themselves to hold women in general.
It's unapologetically clever and disarmingly comedic, reveling in its theatricality and its tactics as it explores the men's rivalry and breaks each confrontation down into the all-too-familiar clichés in which they are mired. The elegant simplicity of its construction, which distills a far-reaching and deep-rooted phenomenon into clear and concise shapshots of social dysfunction, feels as effective today as it surely did over two decades ago.
From a 2021 perspective, however, the subject matter no longer seems as fresh. In the last few years (especially since the "Me Too" movement), the topic of bad male behavior has been rehearsed so frequently, and in so many different and brilliant ways, that many audiences may find themselves getting ahead of the play's revelations before they fully land, and the conceit which ties the whole thing together – which we'll not reveal here – may ultimately strike some viewers as too pat an explanation for what makes these men (and presumably, somehow by extension, all of them) tick.
Nevertheless, MacIvor's wordplay never fails to be crisp and exciting as it trips from the talented tongues of the players (especially the charismatic Bertone and the sublimely expressive Maddalena, who take on the lion's share of the work), and those who enjoy watching skillful actors engaged in an exercise of their craft are bound to find the pleasures of doing so more than enough to make up for the familiarity of the themes being explored.
More satisfying from a narrative standpoint, and more engaging on an emotional level, is "The Soldier Dreams," which MacIvor – who is gay – wrote in 1998 as a response to the AIDS crisis. Again, the setting is sparse, suggesting an empty nightclub with a single bed, occupied by an ailing man, facing upstage in the center.
The man is David (David Shofner), who is in the process of dying as his lover Richard (Conor Lane) and dysfunctional family spar with each other over his comatose form, each clinging to their own perceived special relationship with him and examining their memories to find an answer to the lingering mysteries about his life. Meanwhile, David himself is revisiting a secret memory, from years before, involving a one-night stand with a German student (Schuyler Mastain) that may or may not have led to something more important to him than any of the people standing around his soon-to-be deathbed.
Here, the same linguistic tricks used by MacIvor to form the intellectual exercise of "Swim" are employed to illuminate the web of human relationships at the center of a bittersweet story; as a result, they strike us with deeper resonance and more urgency than in the other piece.
Through the myriad pathways of language, the playwright offers a contemplation of life and death, experience and memory, honesty and deceit, and a host of other dualities that make up human existence. There's sharp humor and cutting observation along the way, along with a fair amount of painful and hard-to-watch bitterness, but it's all tempered with compassion and the three-dimensional layers revealed by each character as we go, and in the end, we are left in a place of hope – or, at least, of acceptance. And making it all come together, a talented cast succeeds in the essential task of breathing life into MacIvor's words, with Shofner, Lane, and Mastain as standouts among a solid and capable ensemble.
The two complementary plays continue their run at Atwater Village Theatre through December 12. Check the Open Fist website for performance dates and times.
Brazilian gymnast & Olympian introduces his boyfriend- and comes out
Oyakawa-Mariano revealed that he is in a relationship with broadcast media marketing analyst João Otávio Tasso on Instagram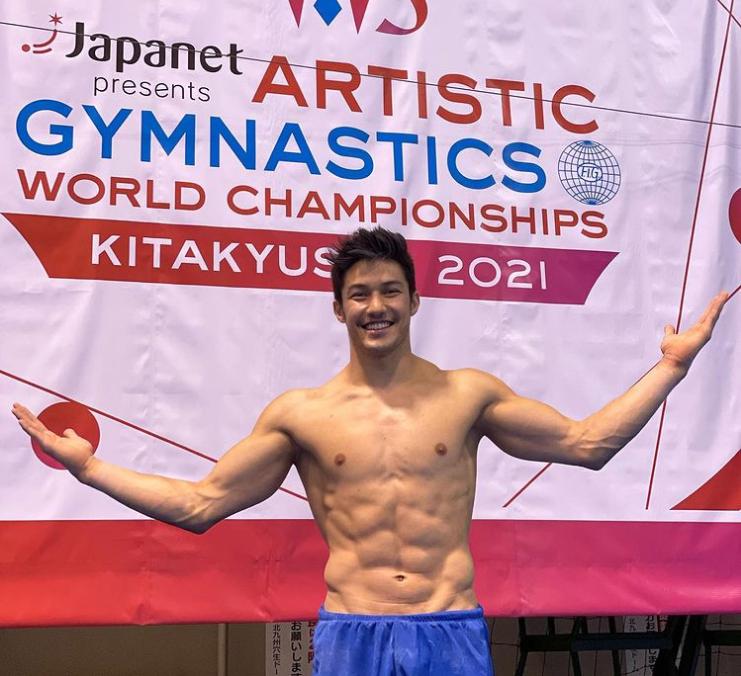 SAO PAULO – In a post to his Instagram account last month, Brazilian Olympic Bronze medalist Arthur Nory Oyakawa-Mariano introduced the world to his boyfriend, and also came out at the same time.
The 28-year-old artistic gymnast is a member of the Brazilian national team. He won the bronze medal in floor exercise at the 2016 Summer Olympics in Rio de Janeiro. Oyakawa-Mariano won the 2019 World Artistic Gymnastics Championships held in Stuttgart, Germany picking up a gold medal in the horizontal bar competition.
Writing on his Instagram post, (Translated from Portuguese) on October 29, 2021, Mariano revealed that he is in a relationship with broadcast media marketing analyst João Otávio Tasso.
"Happy Birthday to the person who freaks out with me 😅 The phrase 'in health or illness, in victory or in defeat, in joy or sadness' never quite fit. And there we are every day walking together. Thank you for always being by my side. I will always be yours."
"Congratulations João, many years of life and continue to be that amazing person 👀, even if Scorpio (always good to blame the sign). We're together."
In addition to being a professional gymnast, Oyakawa-Mariano is also an internationally signed model. In 2019, he was named the face of Philippine-based international clothing brand BENCH's men's wear campaign in Brazil and Latin America.