Out author Nicole Dennis-Benn unveils knotty new novel 'Patsy'
Immigration, mothering and queer identity themes in sophomore tome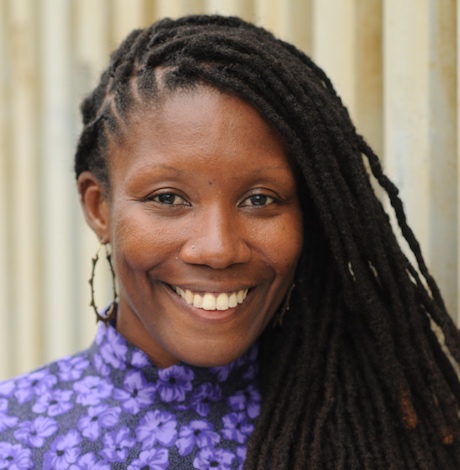 Nicole Dennis-Benn

Summer Salons: The Good Immigrant

Tuesday, June 18

6 p.m.

Grand Park, performance lawn

200 North Grand Ave.

Los Angeles

(between Grand Ave. and Hill Streets)
Author Nicole Dennis-Benn got the kind of media attention and interest with her 2016 novel "Here Comes the Sun," most first-time authors can only dream of — she won a Lambda Literary Award, was a finalist for several other literary prizes, got reviewed in the New York Times (which named it one of its "notable books of the year") and other high-profile outlets.
Her sophomore effort "Patsy" was released last week and is already generating buzz with more media love from the Times, Oprah's magazine, NPR and more. "Patsy" is the story of the title character, an undocumented Jamaican queer immigrant in New York and the daughter she left behind, Tru. Going back and forth between Brooklyn and Jamaica, Dennis-Benn, herself Jamaican and a lesbian, covers her characters' lives over a decade. 
The 37-year-old writer will be Scripps Presents/PEN's "Summer Salons: The Good Immigrant" event with authors Jade Chang and Dani Fernandez on Tuesday, June 18 to discuss the new anthology "The Good Immigrant: 26 Writers Reflect on America." Details at pen.org/events. 
Dennis-Benn spoke to the Blade by phone on May 31. Her comments have been slightly edited for length.
WASHINGTON BLADE: Your first book got the kind of industry attention most authors only dream of. How did you manage that?
NICOLE DENNIS-BENN: When I started my debut novel, I had no idea all the work that went into getting a book out there to readers. I used to think it just appears on the bookshelf. I wasn't one of those readers in college and grad school looking at the New York Times or the Washington Post for the next book I wanted to read. So I was really shocked as a first-time writer. My agent, she worked really hard at putting my book in the eyes of publishers and also really doubled down when it came out. She said, "This is a debut novel, we have to have a big splash," so she and her team worked extra hard and I was really happy that they loved it enough to want to really invest in it. But there's really a machine behind all that publicity.
BLADE: Did you have to fight to get "Patsy" published or was it much easier after the first book was successful?
DENNIS-BENN: It was easy after that, for sure. I had some anxiety writing as a woman of color and my story is about a Jamaican woman wth a queer identity as well as an immigrant … but it's a relief to know there's a place for my books. I can't say the same for many other writers who are women of color or LGBT writers, but at the same time I'm happy that they're being published somewhere.
BLADE: How has your publisher Liveright been to work with? Any wrangling over final edit?
DENNIS-BENN: It was a good relationship and that's definitely something I was relieved about. I didn't have to fight them on anything. I used patois, a Jamaican dialect, in the dialogue and I was really happy that the editor and also the copy editors were able to work with me on maintaining that. I think it was really a good match.
BLADE: Is there some autobiography woven into the fiction?
DENNIS-BENN: I would say it's like 80 percent fiction and 20 percent autobiographical. Patsy comes to America and wants more for herself but then realizes there are issues here just like anywhere else. Unlike myself, Patsy is not educated or documented, so she immediately meets that wall, no pun intended. She actually gets trapped and she's not able to move upward financially. She has no social security at all, so of course, taking Patsy on that journey, took a lot more imagination and also talking to folks, like my father for example, who came here undocumented and has worked his way through the system before marrying an American citizen and getting his papers.
BLADE: What is your working process like? How does one begin to tackle a work of this scope?
DENNIS-BENN: I started really with writing scenes. Patsy's voice came to me first and I wrote more following that voice. I would think about it on my morning ride to Staten Island where I was teaching at the College of Staten Island and it was like I was somehow dictating in the sense that I was imagining this woman riding the subway and she's on her early morning trip to her first nanny job and really thinking about who that woman is, why did she come to this country, what did she leave behind. … That's when I started outlining and this is actually the first novel where somehow everything I wrote was against that outline. 
BLADE: How did you know instinctively that was right?
DENNIS-BENN: I didn't know it was right at all. I slept on it awhile. A lot of it came from being raised as a woman in Jamaica, it's a society that tells you we ought to all want motherhood, that that's the ultimate satisfaction. Well, so what about this woman who doesn't really want that but has no choice? It took a lot of self reflection.
BLADE: How long did it take? I assume you balanced it with your teaching duties? 
DENNIS-BENN: Right, exactly. Those rides on the ferry were in 2012 so really like  seven years.
BLADE: How long did "Here Comes the Sun" take to write?
DENNIS-BENN: It was faster. I started it in 2010 and got my agent in 2014, so more like four years. It was quicker than "Patsy."
BLADE: How disciplined did you have to be? Were there days your wife wanted to go to the mall or everybody else was on holiday but you forced yourself to write?
DENNIS-BENN: I did it when the mood struck. I was teaching as an adjunct so it was only like two days a week. So on the other days, I stayed home and worked on my books. My wife would be getting rady for work and she leaves around 9 a.m. so that's when my writing day started and I'd write til about 4. But I didn't adhere to that every single day, every week. Sometimes ideas would come or not come. Some days the characters would just not speak, so I'd take a little time to do normal things. I feel like living life a little bit,  I absorb a lot. So I take myself to the museum, I meet up with friends and somehow gather a lot of energy by stepping away from the work.
BLADE: How long have you been teaching at Princeton?
DENNIS-BENN: A year. I started fall, 2018.
BLADE: What do you teach?
DENNIS-BENN: Creative writing, fiction.
BLADE: Is Joyce Carol Oates still there?
DENNIS-BENN: YEs, but I've not met her. I only teach there one day a week. I want to, but I haven't had the chance.
BLADE: Are you familiar with her work?
DENNIS-BENN: Oh yes, definitely. There are so many people at Princeton working whose work I admire like Jhumpa Lahiri, she's also there, Tracy K. Smith and Yiyun Li. I had to work on myself not to be star struck in the department.
BLADE: How many copies did you sell of "Here Comes the Sun"?
DENNIS-BENN: Um, I'm not sure. I know it did well. I'm actually only going by what my publishers have been telling me or my agent.
BLADE: But what's considered successful for a debut hardcover novel?
DENNIS-BENN: I have no idea.
BLADE: Aren't you curious?
DENNIS-BENN: I'm curious, yeah, but I don't know. That's a good question. I think for me … as a creative person, success is actually touching readers, so when I get a note through social media or somebody tells me they saw themselves on the page, that really is success for me.
BLADE: To what degree does being a lesbian inform your work any more or less, say, than being from Jamaica, being an immigrant or other aspects that inform your work? 
DENNIS-BENN: I would say the same. I feel like an outsider in many ways — my sexuality, as a black woman, as a woman, as an immigrant, a working-class Jamaican, I felt like an outsider growing up all those things. But it gives you a vision where you can look down into that world and sketch it. Having been an outsider in Jamaica and America gives me the ability to write from those perspectives.
BLADE: How long have you been in the U.S.?
DENNIS-BENN: Twenty years now, since '99. I came here for college when I was 17.
BLADE: What was your path to citizenship like?
DENNIS-BENN: My father came here undocumented, he married an American citizen and by doing that, he was able to get his naturalization. Then he was able to file for me and my siblings and we were able to come here on a green card. … I see myself as a lucky one, going to Cornell then on to graduate school. That's a luxury for many people. Many people like my father came here driving taxis to support themselves and send money back home. 
BLADE: Have you encountered any racism or homophobia from publishing industry gatekeepers?
DENNIS-BENN: Again, that's a question I would need to ask my agent. She was more on the forefront of all of this. If there was, she probably absorbed it and didn't relate it to me word for word. I had people say, "Oh, we're unable to represent this book," but no real solid reason. …. I have sometimes felt like my novels are puzzle pieces that don't fit but that's how I learned to embrace them.
BLADE: Was it difficult to find an agent?
DENNIS-BENN: I got a lot of rejection letters in grad school. My first agent was not on board with the dialect and we parted ways. I just knew there was no way I could have to Jamaicans speaking to each other in standard English, it just didn't sound authentic. I knew if it was published like that, I wouldn't be happy with the product. So I went back to the drawing board and I was really crushed but I took a year to revise my first book and started sending query letters. Three agents responded and one happened to be my current agent. She said she respected me as a writer and was behind what I was doing in my work. That was a huge relief to hear that.
BLADE: What are your dreams as an author? Do you plan to keep releasing novels?
DENNIS-BENN: Yes, definitely. You can get away with so much more with fiction. I get stressed out fact checking an essay for the New York Times, so I can't imagine a 300-page memoir. I see myself continuing with fiction.
BLADE: Your piece about pregnancy in the Times was very candid. Were you wary of sharing so many personal details?
DENNIS-BENN: I never had any desire to be pregnant and it was something I always grappled with. Why do I feel this way? It was a similar feeling I had as a teenager coming out as a lesbian. Why do I feel this way? It's not normal. But it turns out it's absolutely normal and something a lot of women feel. I thought, "Wow, this is something in society we do not talk about as women." We don't have this maternal yearning, we must be bad people. That's how "Patsy" was born.
BLADE: It seems you're trying to do more than merely entertain your readers. What are your goals as a novelist?
DENNIS-BENN: I write for myself first. I write the kind of books I want to read. I never saw anybody, except Edwidge Danticat, write about immigrants and that desire to migrate somewhere for financial reasons. I was thinking about Patsy, this voluptuous nanny on the Upper West Side pushing babies around Central Park. Who is she? Mother, immigrant, religious — all those things that even myself as an author, I would have been pre-judging her but when you open a book or dissect Patsy, you see a completely different story. Here's a woman who if she could afford it, would be at MIT studying programming. These are the things I wanted to put on the page.
R.K. Russell's life, sport & bisexual awakening 
This Black queer former NFL player says he's fighting "for us all to be seen, whether it be in the pages or on the screen"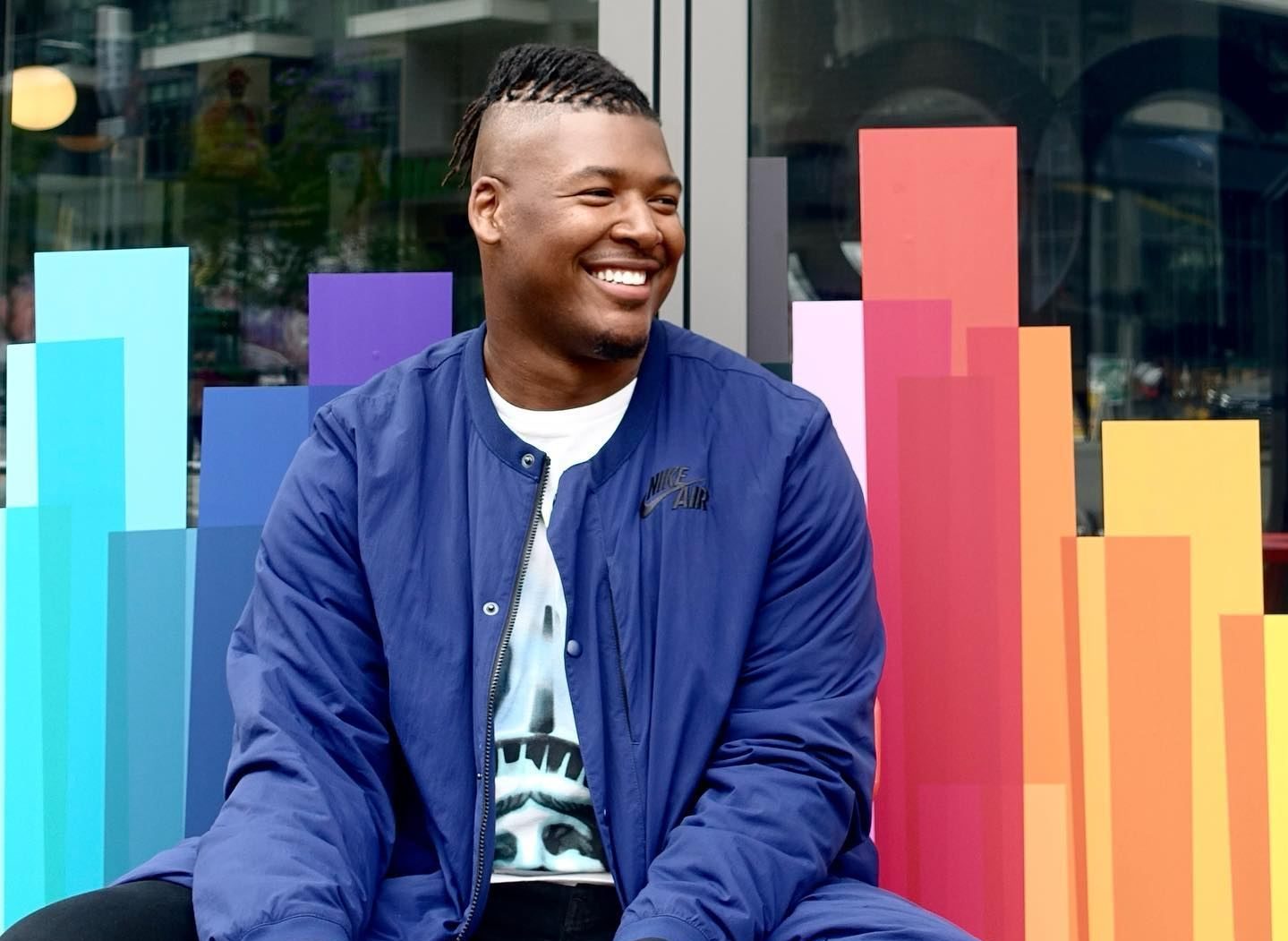 WEST HARTFORD, Conn. – He's tackled opponents on the gridiron, paved a path for out LGBTQ+ athletes and shared his unique voice in words and prose. Now R.K. Russell is celebrating the release of his long-awaited memoir, The Yards Between Us, as well as a Hollywood deal to bring his story to television viewers. 
It's something Russell told the Los Angeles Blade he never dreamed would be possible, even as a child.
"Grown me could barely imagine the book, let alone, little me," Russell said. "It is something I have not seen before, and something that doesn't really exist. Something that is so shocking even to me, this being my life. I think the reason that I continue to take these opportunities that come to use my platform and my voice and my talents, my gift, to not just tell these stories, but to hopefully champion other people in their story. To just fight for us all to be seen, whether it be in the pages or on the screen, everywhere people exist. We exist."
As the Blade reported in August 2019, Russell came out as bisexual in a feature for ESPN. The NFL defensive end was drafted by the Dallas Cowboys in 2015 and played a few seasons for the Tampa Bay Buccaneers and Buffalo Bills. After coming out as a free agent, Russell wasn't able to fulfill one of his dreams — to play professional football as an out and proud bisexual man. But at that time, he said all he was focused on was living his truth.
"It was a powerful time in my life," Russell told the Blade. "It was the first time I really felt that I was taking all this control and I wasn't just at the mercy of the NFL or waiting for that phone call, or at the mercy of friends, family, lovers. It was my decision and my moment and my truth. And I got to express it in a form that felt very genuine to me."
The Buffalo native called the experience "freeing."
"I didn't think I'd realize how much I had been proverbially holding my breath until that moment. And then it just felt like such an exhale. It's such a freeing thing, and the weight of the burden of that secret, of that shroud, or that shame," he said. "I just realized how heavy what I had been carrying for so long. So, definitely a powerful and freeing moment."
Having already told part of his story to ESPN, The New York Times and other news outlets over the years, there was a reason Russell felt it was important to write the rest of his story.
"That was just a very specific part of my life, and it showed me that maybe by sharing my whole story, my life and my journey and my truth and other parts could be just as impactful, if not more impactful," he said. As he set out to write the memoir, he said he first experienced imposter syndrome, until he came to a realization.
"The point that got me through was, 'What would little R.K. read that would have helped him? What was a book that didn't exist when he was young, and that he could have picked up and seen himself, or that people like him can pick up and see themselves? Or even people unlike him, to get a human connection to someone that does not look like them or doesn't play sports?' So, I think the huge, final push was, 'What would I have liked to have read as a child?' And hopefully that will help other people."
The Yards Between Us traces not only Russell's football career and his love for the game, for both men and for women, but also what it was like for him to keep his bisexuality secret and the tension between his private and public lives. As his weighs upon him, he's dealt a devastating loss, an event that leads to an all-enveloping darkness, until finally he recognizes, it's time to make a change.
Since coming out, he's found love with his boyfriend, Corey, grown closer to his mother and this September he'll mark four years sober.
Russell's memoir has won him accolades from LGBTQ+ readers, but not just them.
"I've also gotten a lot of support from people who aren't LGBTQ+ who see the value in the story, but also see the value in the intersections of it all. Because I don't just talk about being a bisexual, I talk about being a Black man. I talk about being a football player, defining masculinity and redefining masculinity. There's a lot of intersections that my story crosses. And I think for people to see all of these layers also coexisting in one person, that's important to see the bridges between these communities that at times can be put against each other, or it can be divided, to see them all exist within one person."
While all that sounds very serious, Sony Pictures Television sees comedy gold in exploring Russell's intersectionality of sports, race, sexuality and masculinity. His memoir is being adapted into a half-hour comedy series, as Deadline reported. Russell is co-writing and executive producing a half hour comedy series with Saeed Crumpler of "Flatbush Misdemeanors," alongside Gabrielle Union, who is a producer in her own right as well as wife to Dwyane Wade and stepmother to their 15-year-old trans daughter, Zaya Wade. As the Blade reported last month, the Wades left Florida because of its anti-trans policies and laws.
"She's fantastic. Amazing," said Russell. "If anyone wants to know what allyship looks like, Gabrielle Union and Dwyane Wade and their whole family, they're so amazing. "
Union, he said, recognizes the importance of representation. "It's important to have genuine representation, whether it be during Pride Month with companies and campaigns or in shows and books that our stories are coming from, that there are Black queer writers writing Black queer stories hopefully also in part started or acted by Black queer artists."
Long before he wrote a word of his memoir, Russell has been publishing his own poems, which he told the Blade was his "way to express life with words." He said he started writing poetry following the death of his stepfather.
"It was a way for me to kind of name grief, without naming it. I didn't have that vocabulary, that word at that time, but I was feeling it so intensely," he said.
One of Russell's poems, Tributes, was an effort at explaining bisexuality and his experiences. "'Bisexuality,' the word, means something slightly different to you, to me, or to someone else. I can talk about the experience in a way that is so varied and so broad and to me, so true and genuine." Below, an excerpt from that poem:
Love is freedom
and the freedom to love is a birthright,
or at least it should be.
These years fill my canvas
and I know too much of life to expect
only one color to leave its strokes across my heart.
Paint is intended to mix no matter the artist. —Tributes, by R.K. Russell