June 19, 2019 at 5:16 pm PDT | by Scott Stiffler
Gay Men's Chorus of Los Angeles to commemorate Stonewall, honor David Mixner
In a summer that was already set to see the Gay Men's Chorus of Los Angeles (GMCLA) conclude their 40th anniversary season with an August 16 celebratory gala, and a concert at which they'll perform a new collaborative work commemorating the 50th anniversary of the Stonewall Riots, June 19's announcement of David Mixner as recipient of the group's Lifetime Legend Award adds another distinct note of activist-minded achievement to the proceedings.
"Honoring David Mixner is so right," said GMCLA executive director Lou Spisto, who called him "a pioneer, hero, and legend, in our community and many others."
Mixner's activist roots trace back to 1959, when he worked as a volunteer for John Kennedy. An outspoken critic of the Vietnam War, he applied his leadership skills to the LGBTQ and civil rights movements, especially in the area of HIV/AIDS advocacy. Three best-selling books, over $60 million in fundraising for candidates and charitable organizations, and participation as a campaign manager, fundraiser, or strategist in over 75 election campaigns are among the actions and accomplishments that have, GMCLA noted in a press statement, made Mixner "a leader in American politics and LGBTQ Rights for the last 60 years." This parallels, Spisto noted, GMCLA's own decades-long commitment to activism, as well as that of "the heroes of, and since, Stonewall."
In a conversation with the Los Angles Blade prior to the announcement of the award, Spisto noted, of Mixner, "We wanted to honor someone who reflected the long history of Stonewall, and the Chorus."
As for honoring Stonewall, August 16's "GMCLA 40/STONEWALL 50" concert will join GMCLA's 270 members with others from LGBT choruses around the country, for a 500-singer-strong performance of "Quiet No More."
The 35-minute work was commissioned by LGBTQ choruses in Chicago, Denver, Philadelphia, San Diego, Seattle and elsewhere, who, Spisto said, have "dedicated themselves to performing the work, so it will have many airings across a period of a year or two, and the combined effect will be to have a resounding collective voice about, and around, the Stonewall anniversary."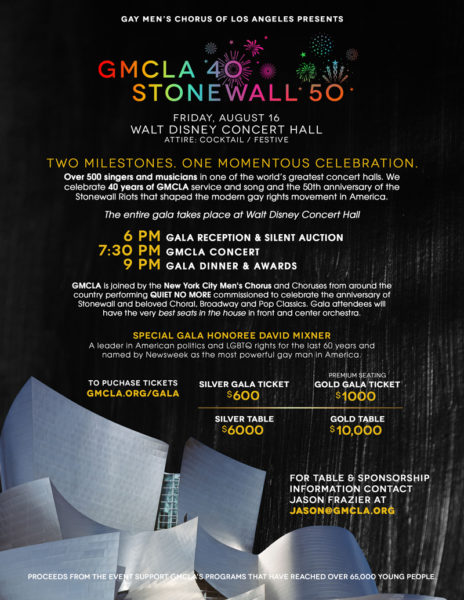 For GMCLA and the New York City Gay Men's Chorus, "It's even more of a special year," Spisto said, given that both choruses "are 40 years old this summer." To mark those occasions, they will participate in each other's performance of the eight-movement work—June 27 at Carnegie Hall, then, August 16 at Walt Disney Concert Hall.
The two groups developed "Quiet No More" along with primary librettist Jason Cannon and six composers—chosen, Spisto told the Blade, to reflect "various aspects of the LGBTQ+ rainbow." Together, he said, they created "a very interesting work, designed to take the audience, and those who sing it, through an emotional journey, as if one were experience the night the Stonewall Riots took place."
GMCLA assures their longtime, loyal supporters that the remainder of the August 16 concert will showcase "great choral music from choral, musical theatre, and popular repertoire, and a special guest artist to be announced."
In addition to the 7:30 PM concert for the general public, there will be a private pre-concert reception and post-concert dinner for 300 guests, in support of GMCLA's music education programs: The Alive Music Project, Arts for Incarcerated Youth, and the LA Schools Program. Single Tickets to the concert for the general public will go on sale July 6, at the Walt Disney Hall Box office. For more information on Gala Ticket packages and sponsorship opportunities, please email GMCLA at events@gmcla.org or call (424) 239-6506.