Legendary playwright celebrates 30 years of queer performance with Highways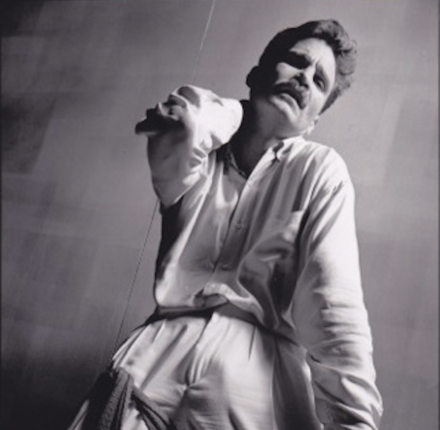 As June draws to a close, so too does "Behold! A Queer Performance Festival," an annual queer arts festival held by Highways Performing Arts Space in Santa Monica.  Designed to roughly coincide with Pride month every year, it showcases local artists and performers, activists and cultural beacons, as they express their authentic queer experiences through performance, dance, spoken word, theater, multi-media, and ritual.
This summer's festival was of particular significance to Highways; 2019 marks the organization's 30th anniversary, and so the Space has played host to a celebration of its long legacy of collaboration with queer artists.  Since its founding in 1989, it has offered a diverse cultural perspective in an effort to remain true to its original intention to push against the boundaries of convention. The Behold festival reflects that promise by reaffirming a commitment to the LGBTQ artistic community that has been there from the beginning.
Behold! has been ongoing at Highways since May, with highlights including works by longtime alumni such as solo-theatre legend Tim Miller, trans choreographer Sean Dorsey, and Black Lives Matter Co-founder Patrisse Cullors.  For its final weekend, it will feature a special fundraiser screening on June 28 of "AIDS Diva: The Legend of Connie Norman," a 2018 documentary on the late AIDS Activist and LGBTQ media spokesperson, before rounding out on June 30 with a special performance from longtime Highways alumnus Michael Kearns.
Kearns is something of a local icon, an eminent artist/activist/playwright whose work has been performed – both by himself and others – in locations all around the world.  He's been a voice pushing at the edge between the queer and mainstream worlds for decades, and it's only fitting he should close out this special 30th anniversary celebration; the opening season of Highways included Kearns' "Intimacies," a landmark theatrical airing of HIV/AIDS' secrets performed by a cast of six social outliers.
In the years since, Kearns has returned again and again to the Highways stage to develop and showcase his new works; his newest piece, "Wet Hankies," honors the legacy of his relationship with highways by presenting stories from his canon as well as from work that he has directed at Highways. In addition to selections – interpreted by a cast of diverse actors including Wanda-Lee Evans, Dean Howell, Dale Raoul and Dave Trudell – from his greatest hits ("intimacies," "Robert's Memorial," "Perfect Patrick"), Kearns' will himself give premiere performances of several new monologues that attempt to link his artistic development over three decades on the Highways stage to the roller coaster politics of LGBTQ America.
The Blade caught up with Kearns at a recent rehearsal – not for "Wet Hankies," but for yet another piece under the direction of this prolific and seemingly tireless theatre artist, a work-in-progress for "QueerWise," a 9-year-old collective of LGBTQ writers, 50 and over, who do regular spoken word performances under his tutelage. Things were still in the rough phase, and there was nothing in the room to help suggest the theatrical embellishments that will eventually be in place – and yet, even within the first 10 minutes of rehearsal, it was possible to see flashes of Kearns' final vision emerging from the players as they tried to give their director what he wants.
Watching him work, it was easy to understand why. He gives the impression of someone who knows exactly where he's leading you and exactly how to get there; he directs as a conductor leads an orchestra, using both vocal cues and sweeping gestures of the hands with an innate sense of musicality, and he leads his actors through the rhythms, tempos and dynamics of the staging with a surety of a pro while still remaining open to new ideas that arise in the moment. He may exude the aura of a mercurial genius, but along with it comes the kind of charisma that makes everyone in the room want to follow his lead.
After the rehearsal, we sat down for Q&A session with him.
LAB: Tell us about "Wet Hankies."  We'll be seeing selections from your earlier works performed by other actors but what can you say about the new material you're creating?
MK: It initially came out of a show I did last year at this time, "MENoir or Has Anyone Seen My Libido?" That one was done almost immediately post-radiation treatments – 9 weeks, five days a week – for prostate cancer. It was simply amazing to me that I'd survived HIV/AIDS, Hep-C, and a slew of other minor indignities only to be given another autumnal wake-up call. Since I figured fucking was a thing of the past, I figured I'd take the opportunity to wax on about the past men of my life–the good, the bad, the funny. Oh, yeah, the funny. But threaded through "MENoir" is some serious shit about the devastation of AIDS that lingers, my own issues with mortality (and morality, I suppose) and the two loves of my life: my daughter, Katherine, and art."
LAB: What changes have come in the last year that made you want to continue monologuing about your experiences with men?
MK:  I mean, who was I to not believe the doctor when he said that my testosterone would come back naturally? Whaaaa? Well, honey, naturally or with the help of a little fertilizer, it came back and the race was on to find the perfect "Bacherlorettedude." The contest is fraught and, as only can occur in B movies or Michael Kearns performance pieces, real life and make-believe lose their sharp lines and blur until I'm lost. Lost in love. Lost in this-wasn't-supposed-to-happen love.
LAB: So, it's about a late-life rediscovery of libido and love. Does that mean there's a happy ending?
MK: When I tell you right now this very minute that I don't know the ending it's because it hasn't happened yet, is that profound or bullshit? Well, it's true. I've spent decades – decades – thinking about "the ending," thinking that as an artist I could control it. No, not if I'm being honest. Those are tomorrow's heartbeats I've yet to track. And I'll be close by the time I go on. But confessional narrative is, or should be, dangerous.
LAB:  How would you sum up the new piece?
MK: "'Death In Venice' Meets 'Jerker.'" ["Jerker" is the title of the sexual self-confessional play that is arguably Kearns' best-known work.]
LAB: How has your relationship with Highways been good for your development as a creative/theatre artist?
MK: There was no place in town that nurtured the voice of a gay artist. No one in this town was really interested in someone with my skill level who had something to say. Highways saved my life.
LAB: What do you think has been the importance of Highways for the queer artistic community over the past 30 years?
MK: I think it saved a lot of lives and I know that sounds grandiose. But I've looked into the eyes of audience members who come to Highways to be saved, not just to see entertainment. Oh, they see fabulous entertainment. But they see their queerness in all its distortions and illuminations, sometimes for the first time in their life. Do you know the power in that? And the power that holds for the person on stage who has spent their life being called names and being derided for being too this too that too much not enough. And in Hollywood, you are bullied by those who run this town.  So there you are with lights shining on you, and lights shining out of you, and you are being applauded for the same things you were being bullied for. Honey, that's being a star. You don't only find stardom being stuffed in a wax museum. Sometimes you find it standing on the stage of a performance space with a few dozen people in the audience who get you and love you and will come back to see you again. And come back again after thirty years.
LAB: What's been the most important guideline you've tried to hold fast to as an artist?
MK: Empathy. Of late, it's become an overused Hollywood buzz word. I learned it from an acting teacher when I was nine-years old in St. Louis, Missouri. She taught her young thespians to never judge and never separate yourself from The Other. "You are The Other" is essentially the best mantra I know – whether you are writing, acting, directing, or being a next door neighbor.
"Michael Kearns: Wet Hankies" performs at Highways (1651 18th St., Santa Monica) at 5pm on Sunday June 30. For more information and tickets, visit www.highwaysperformance.org.
Black Deafhood: A journey at the intersection of sexuality, disability, race
Gallaudet's Bobbi-Angelica Morris on their activism and art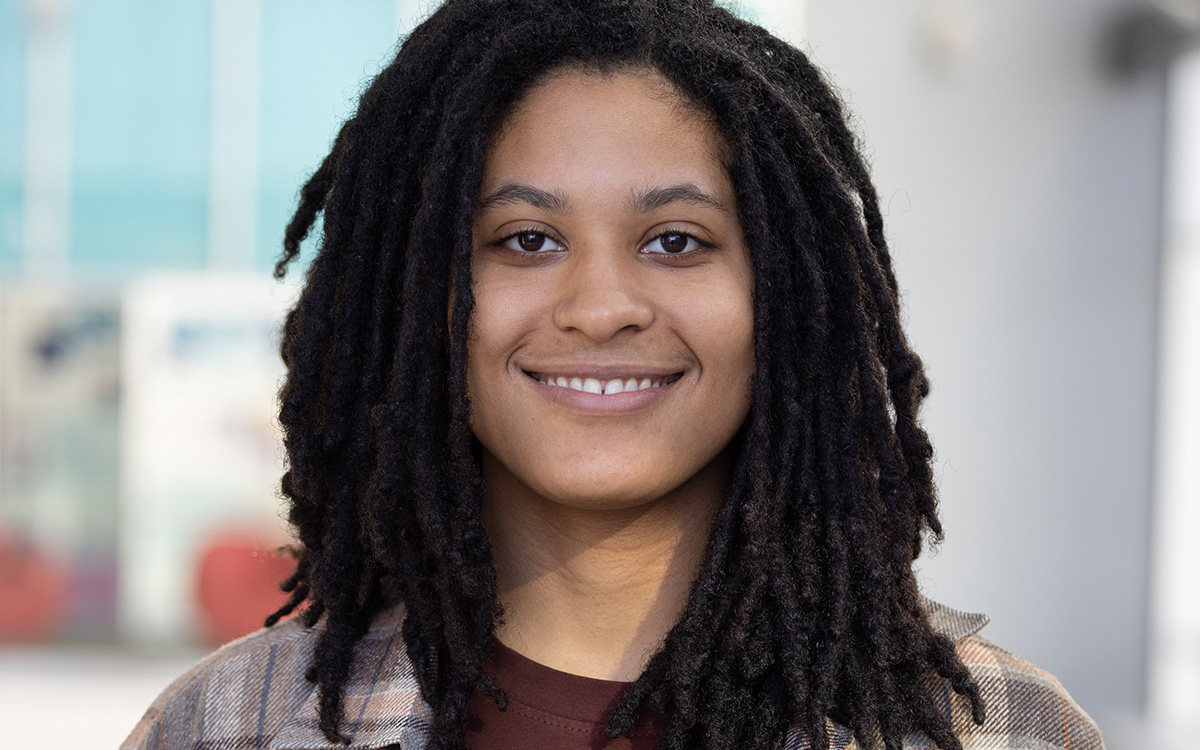 Editor's note: One in four people in America has a disability, according to the CDC. Queer and Deaf/disabled people have long been a vibrant part of the LGBTQ community. Take two of the many queer history icons who were disabled: Michelangelo is believed to have been autistic. Marsha P. Johnson, a hero of the Stonewall Uprising, had physical and psychiatric disabilities. Today, Deaf-Blind fantasy writer Elsa Sjunneson, actor and bilateral amputee Eric Graise and Obama administration Assistant Secretary of Labor for Disability Employment Policy Kathy Martinez are just a few of the people who identify as queer/Deaf/disabled. The stories of this vital segment of this queer community have rarely been told. In its series "Queer, Crip and Here," the Blade is telling some of these long unheard stories.
"My 'coming out' story looks more like me telling someone my favorite cookie flavor is chocolate chip," Bobbi-Angelica Morris, a Gallaudet University graduate student, activist, poet, photographer, videographer and visual artist, told the Blade, "than an emotional roller coaster."
"I've always embodied this carefree energy pertaining to who I am, what my purpose is, and how I show up for others," added Morris, who is Deaf/Hard of Hearing and identifies as a Black, nonbinary, queer and abolitionist artist.
Earlier this year, Morris, 23, received the Mary Bowman Arts in Activism Award from the National AIDS Memorial, the San Francisco organization that displays the internationally acclaimed AIDS Memorial Quilt.
Over the phone and in email, Morris spoke with the Blade about a range of topics – from her "Deafhood" to how she felt safe at a queer Halloween party.
Morris, who uses she/they pronouns, grew up in different parts of the East Coast. They spent most of that time in Richmond, Va.
"Growing up, most of the people around me would ask if I was gay," Morris said, "because I fit into the stereotypical realms of present day msc [masculine] presenting dykes."
"No one questioned me when I actually came to terms with my queer identity," they added.
Before enrolling in Gallaudet, Morris spent most of their time as a student with hearing people in schools, where most teachers and students didn't communicate in American Sign Language (ASL). Morris was the only Deaf student in their classes until they graduated from the University of Virginia in 2022 in Charlottesville. There, they majored in global development studies and minored in ASL with a concentration in disability studies and community development.
Growing up, Morris didn't know about ASL or the creativity and history of Deaf culture.
"It wasn't until I was in elementary school," Morris said, "that an audiologist said I qualified for hearing aids."
In their poetry, Morris, who speaks and signs their work, reflects on their family and their experience of being Deaf.
"I reflect on my own Deafhood:/ my playground fights/ with uneducated parents," Morris writes in a poem, "When little Black Deaf girl doesn't hear someone speak to her,/that someone thinks little Black Deaf girl is disrespectful."
Like many Deaf/Hard of Hearing people, who go to school when they don't know American Sign Language, and there are no ASL interpreters, Morris felt isolated.
"I had no knowledge of the Deaf community or of Black Deaf history," they said.
Some in Morris's family and community couldn't accept that Morris is Deaf. "Some, not out of maliciousness, prayed for my healing," they said.
What Morris calls her "Black Deafhood," has been a long journey at the intersection of sexuality, Deafness, disability, Blackness, gender, activism, and art.
Deafhood is a "journey that a Deaf person undertakes to discover his, her or their identity and purpose in life," according to a Deafhood Foundation statement on deafhood.org.
Hearing people often perceive of Deafness as a disease that should be cured, and of Deaf people as incompetent, second-class, less-valued, citizens.
Just as coming out helps queer people to affirm their sexuality and connect with the LGBTQ community and history, Deafhood empowers Deaf people to have pride in themselves – to connect with the Deaf community, history and culture.
As it often goes with finding and loving your queer self, Deafhood is a process.
In middle school, Morris watched "Switched at Birth," the popular TV series. The teen and family drama features Deaf and hearing actors and scenes in ASL.
The show jump-started Morris's interest in Deafness and the Deaf community. "But, I still didn't understand my connection [with the Deaf community]," Morris said.
Curious to discover something about Deaf culture, Morris started an informal class – a club. There, they and their friends learned signs from YouTube videos.
At the University of Virginia, Morris took a sign language class. They studies abroad for a time in India.
At Gallaudet, Morris began to feel connected to the Deaf community. They are a student in the Master of Social Work program at Gallaudet's School of Civic Leadership, Business, and Social Change. Morris will graduate with an M.S.W. degree in 2024.
They are equally committed to making art and activism – to working for social justice for Black, Deaf/disabled, queer, and other marginalized groups. A love of art and social change is etched in their bones.
"I am an abolitionist and an artist," Morris said, "I cannot be one without the other."
Their abolitionist identity is connected to how they experience intersectionality. Morris sees their life as connected "to the movement for total liberation of all our people, beings, and non-beings in this present day and beyond," they said.
Because they are an artist, they have a responsibility to use their skills to educate, inspire and protect "everyone and everything that abolitionists fight for daily," Morris said.
From early on, Morris loved being creative. During an unstable childhood, art helped Morris to express their feelings.
Fortunately, art ran in Morris's family. "My bio-mom is an amazing artist," Morris said, "so we would draw things together."
Later, Morris's god-mom gave Morris materials that sparked their interest in painting and photography.
In middle school, Morris got into spoken word poetry when one of their Boys and Girls Club mentors showed them a spoken word video. At the University of Virginia, Morris participated in poetry slams. In their Gallaudet social work program, they impressively deploy their artistic and activism chops.
Their advocacy projects are numerous. Morris is developing ASL G, a non-profit organization. The group's mission "is to develop community garden coalitions and programming for art and health wellness through disability justice," Morris said.
Morris was the former creative outreach coordinator of VOCA, a non-profit that supports BIPOC, Deaf artists.
"I have family members that have been incarcerated," Morris said. "Because of that, I want to fight the injustice of the prison industry and mass incarceration."
Morris is the president of Students Against Mass Incarceration (SAMI), a student club at Gallaudet.
Ableism, audism (discrimination against Deaf people), homophobia and racism are issues for Morris. "The white presence is prominent in many institutions," they said, "often they're predominantly white."
Morris likes being a Gallaudet student. But, "there's a lack of racial competency at Gallaudet as there is in the whole of America," they said.
The queer community has provided safe spaces for Morris.
Once, Morris and their partner attended a queer Halloween party in Charlottesville. "Half the people in attendance knew or were learning sign language," Morris said. "I think it was then that I realized how connected the queer community was in ensuring no one was left out."
Morris went to the party as Beast Boy, and their partner went as Raven from Teen Titans.
Follow Morris on Instagram @Blckrainbow5