Hyatt hotel near Palm Springs accused of 'unlawfully' firing gay chef
Lawsuit says hotel backs supervisor who expressed 'disgust' for gays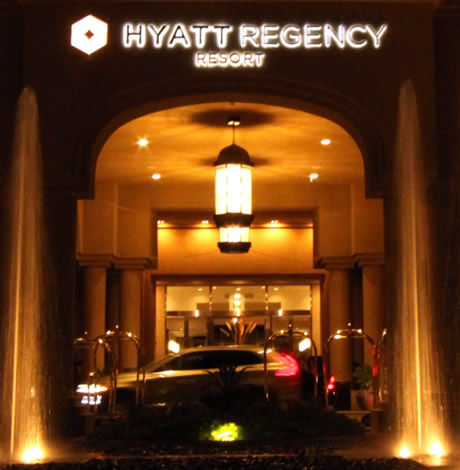 A lawsuit that accuses a Hyatt Regency hotel located near Palm Springs, Calif., of supporting a supervisor who allegedly hatched a scheme to fire a gay chef after expressing "disgust and repulsion" for gay people is scheduled to go to trial on Aug. 9.
The lawsuit charges the Hyatt Corporation on behalf of its Hyatt Regency Indian Wells Resort and Spa hotel located in the city of Indian Wells, Calif., near Palm Springs, with wrongful termination and four other employment-related offenses for its decision to fire Dewy Rains, 58, an openly gay chef.
The lawsuit was filed in May 2018 in the Superior Court of the State of California for the County of Riverside.
It says Rains worked at Hyatt hotels at various locations since 1998 and worked as a banquet chef at the Hyatt in Indian Wells since 2007. It says he had an "exemplary" work performance record for 19 years without a single blemish up until November 2017.
It was at that time, the lawsuit charges, that Lawrence Eells, a newly hired executive chef who became Rains' supervisor, "fabricated" allegations to "unlawfully and pretextually justify his wrongful termination" four months later on March 23, 2018. The lawsuit names Eells as a defendant in addition to the Hyatt Corporation.
"In or around October 2017, and within just mere days of Eells' start as the Executive Chef at Hyatt Indian Wells, Eells pulled aside [Karine] Moulin (the kitchen manager and pastry chef)," the lawsuit says. "During this conversation, Eells 'demean[ed] and belittle[ed] other Hyatt employees," the lawsuit states.
"For no legitimate work-related reason, Eells also demonstrated personal disgust and repulsion for Rains and another gay Hyatt employee in the culinary department, and Eells' disagreement with their gay 'lifestyle,'" the lawsuit attributes Moulin as saying in a sworn statement.
The lawsuit also charges the Hyatt Corporation on behalf of Eells and other company officials with engaging in age and disability related discrimination against Rains for not providing reasonable accommodations for his status as a cancer patient and his need to take off from work for medical tests.
The Human Rights Campaign, the nation's largest LGBT advocacy group, has given the Hyatt Corporation a perfect score of 100 in its 2019 annual Corporate Equality Index, which rates U.S. corporations on their polices for protecting the rights of LGBT employees.
A spokesperson for the Hyatt Corporation didn't respond to a phone message from the Blade seeking comment on the lawsuit.
In court documents responding to the lawsuit, the Hyatt Corporation denies all of Rains' allegations of discrimination, saying that Eells and other hotel officials fired Rains for legitimate job performance issues.
Among other things, a Hyatt court brief calling for a dismissal of the lawsuit on summary judgment alleges that Rains was subjected to disciplinary action because he falsified an employee time card to hide the fact that the employee showed up for work late.
"After a few weeks under a new supervisor, Plaintiff was placed on a Performance Improvement Plan [PIP] that identified over twenty areas of deficiency in his performance and did not mention anything about his age, sexual orientation, or years-old cancer diagnosis," Hyatt's attorneys state in a motion to dismiss the case.
"Four months later Plaintiff was fired for failing to improve his performance in the areas outlined in the PIP and for altering the schedule of one of his subordinates to conceal the subordinate's tardiness," the Hyatt court filing says.
It adds that Rains "never witnessed" Eells or company personnel officials say or do anything to suggest the adverse personnel action was motivated by his age, sexual orientation, or cancer diagnosis.
In his response to the Hyatt motion to dismiss, Rains' attorney, Kamran Shahabi, argues that Hyatt's claim that Rains suddenly performed poorly at work after Eells became his supervisor lacks any credibility.
"There is no coincidence that, after zero performance-based issues for nearly 20 years of employment with Hyatt, Rains was given a pretextual performance improvement plan (that was subsequently retracted) – and fired just months after Rains made complaints of discrimination against defendant Lawrence Eells, who was newly hired as Rains' supervisor in late 2017," according to court papers filed by Shahabi opposing the motion to dismiss.
Shahabi told the Blade that Rains filed an internal complaint against Eells before a Hyatt employee grievance office accusing Eells of targeting him for discrimination, among other reasons, because he's gay. The complaint prompted Eells to retaliate against Rains, the lawsuit charges, in another action that the lawsuit says violates state law in employment cases.
In a mixed ruling on July 2, Superior Court Judge Daniel A. Ottolia rejected Hyatt Corporation's request for a full dismissal of the lawsuit and each of its 11 claims of wrongdoing and instead agreed to dismiss six of the claims.
The judge left standing five claims of action that Shahabi said represent the heart of the case and affirm that the lawsuit presented "substantial evidence" of wrongful termination and other charges sufficient to advance the case to a trial.
The five remaining claims set for trial on Aug. 9 are wrongful termination, retaliation, failure to prevent retaliation, negligent hiring (of Eells), and intentional infliction of emotional distress.
"Frankly, the judge made our case much simpler because all of those facts related to Dewey's sexual orientation discrimination, age, disability, etc. will come into evidence for these causes of action," Shahabi told the Blade.
He said there have been no serious discussions of a possible settlement of the case, but Rains would be willing to consider a proposed settlement should the Hyatt Corporation offer such a settlement.
"The ball is in their court," he said. "We've engaged them in discussions and they've kind of been not interested. But cases can settle on the doorsteps of the courthouse, so it's always a possibility."
This story has been updated and corrected. – KO
Think tank shuts down: Study shows little LGBTQ impact on military
After 24 years of researching LGBT military service bans, the Palm Center announced September 19 it was closing its doors on September 25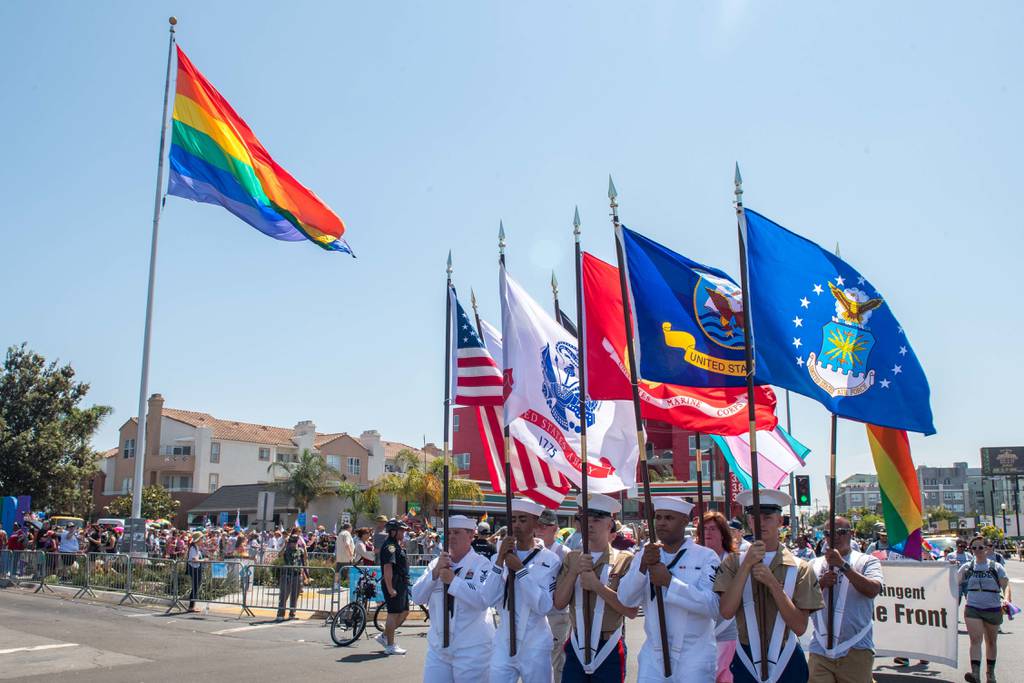 GOLETA, Ca. – The Palm Center, a think tank founded in 1998 at the University of California, Santa Barbara, which researched military policy concerning LGBTQ service members, most notably during the ongoing policy debates that led to the repeal in 2011 of the Clinton era policy known as "don't ask, don't tell," (DADT) announced it is shutting down.
After 24 years of researching LGBT military service bans, the independent research institute, which worked with numerous partner organizations carving out a research niche that involved conducting and publicizing studies that were leveraged to overturn two longstanding bans on service by openly LGBT troops, announced September 19 it was closing its doors on September 25.
In press statement released the Palm Center listed some of its accomplishments:
Spearheading hard-hitting communications campaigns grounded in research, such as uncovering data on Arabic linguists fired for being gay and discovering that the Pentagon was sending gay troops to war, only to fire them upon their return from battle
Paving the way for repeal of the military's transgender ban by dismantling medical arguments that sustained discrimination, and receiving White House recognition for being one of the organizations most responsible for helping the military lift its transgender ban
Cultivating support for inclusion from top leaders such as former Chairmen of the Joint Chiefs of Staff and former U.S. Surgeons General
Conducting 65 research studies, many of which were published in top peer-reviewed as well as military journals
"Few organizations figured out how to move the needle on military opinion so effectively as the Palm Center," said U.S. Navy Admiral Mike Mullen, then-chairman of the Joint Chiefs of Staff, after the repeal of "don't ask, don't tell."
"Its research and policy guidance were invaluable in showing that inclusive service was not complicated and would not harm readiness," he said. "The Palm Center reframed the national conversation over LGBT military service, using facts and research to conclusively demonstrate that inclusion makes our armed forces, and our country, stronger."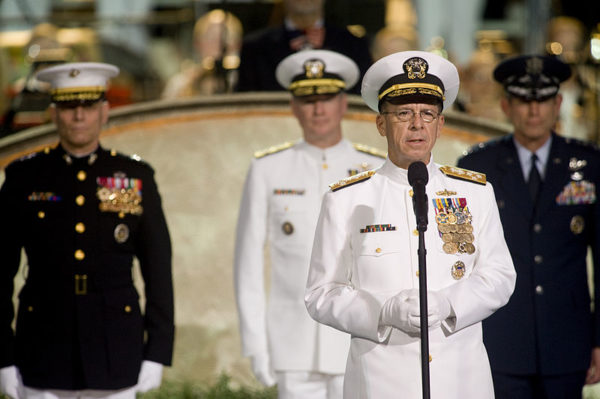 Mullen, who became an LGBTQ hero when, as Chair of the Joint Chiefs of Staff, he testified before the Senate Armed Services Committee in support of repealing the harmful anti-gay Don't Ask, Don't Tell (DADT) policy.
"Mr. Chairman, speaking for myself and myself only, it is my personal belief that allowing gays and lesbians to serve openly would be the right thing to do," Mullen said. "No matter how I look at the issue, I cannot escape being troubled by the fact that we have in place a policy which forces young men and women to lie about who they are in order to defend their fellow citizens."
"For me, personally, it comes down to integrity — theirs as individuals and ours as an institution," he said. "I also believe that the great young men and women of our military can and would accommodate such a change," continued Mullen. "I never underestimate their ability to adapt."
Earlier this month the Palm Center highlighted a 196-page document, published in 2021 by the Joint History and Research Office, which provides support to the Chairman and Vice Chairman of the Joint Chiefs of Staff and to the Joint Staff, that found that that opposition to open service by gay, lesbian, and bisexual troops was based on overblown fears among both military leadership and the rank and file.
The study also found that found that concerns about combat effectiveness and unit cohesion were basically unfounded.
The study began in 2012, Joint Chiefs of Staff spokesman Joe Holstead told Military Times this week, in recognition of "the historical significance of the 2010 decision to repeal 'don't ask, don't tell,' " and released ― but not publicized ― in April 2021.
The study, "Repealing Don't Ask, Don't Tell: A Historical Perspective from the Joint Chiefs of Staff," is a public document that appears to mirror a 2016 classified report with the same title. It is unclear why the report was originally classified. The Palm Center sought comment from the Joint History and Research Office but did not receive a response.
"Time and again, opponents of equality have claimed that inclusion would harm America's most important institutions and threaten the nation itself," said Aaron Belkin, director of the Palm Center. "And time and again, that's turned out to be false. This official military study makes clear the yawning gap between fearmongering and reality, and should guide dialogue about similar claims in the present, such as fears that inclusion for transgender Americans is somehow a threat to our society."
The report describes dramatic fears of harm to readiness during the 2009-10 lead-up to the ban's repeal, and contrasts them with consistent findings of no impact. A section entitled, "A Nonissue," reports that some of the service chiefs who had opposed repeal or predicted harm to unit cohesion and effectiveness, conceded that their concerns were unfounded, and that readiness concerns were often based on misperceptions and stereotypes.
General James Amos, Commandant of the U.S. Marine Corps and the most vociferous opponent of inclusion in the upper ranks of the military, had told Congress at the time that repeal "has strong potential for disruption at the small unit level as it will no doubt divert leadership attention away from an almost singular focus on preparing units for combat."
Yet "two months later, General James Amos told reporters that the policy change had been a 'non-event'" and that he was "very pleased" with how the policy change had gone.
Similarly, when the military's combatant commanders were asked to assess the impact of repeal on readiness, effectiveness, cohesion, recruiting, and retention two months after the ban ended, they "reported no impact on any of these categories."
Gen. Martin Dempsey, Chairman of the Joint Chiefs of Staff after Mullen, told Defense Secretary Leon Panetta in 2013 (two years after repeal) that he agreed with the combatant commanders' conclusion that the policy change had "no impact" in undermining readiness.
Transportation Secretary Buttigieg honored by Québec LGBTQ org
The annual award is bestowed on "an individual or group who has made exceptional contributions to the advancement of LGBTQ rights"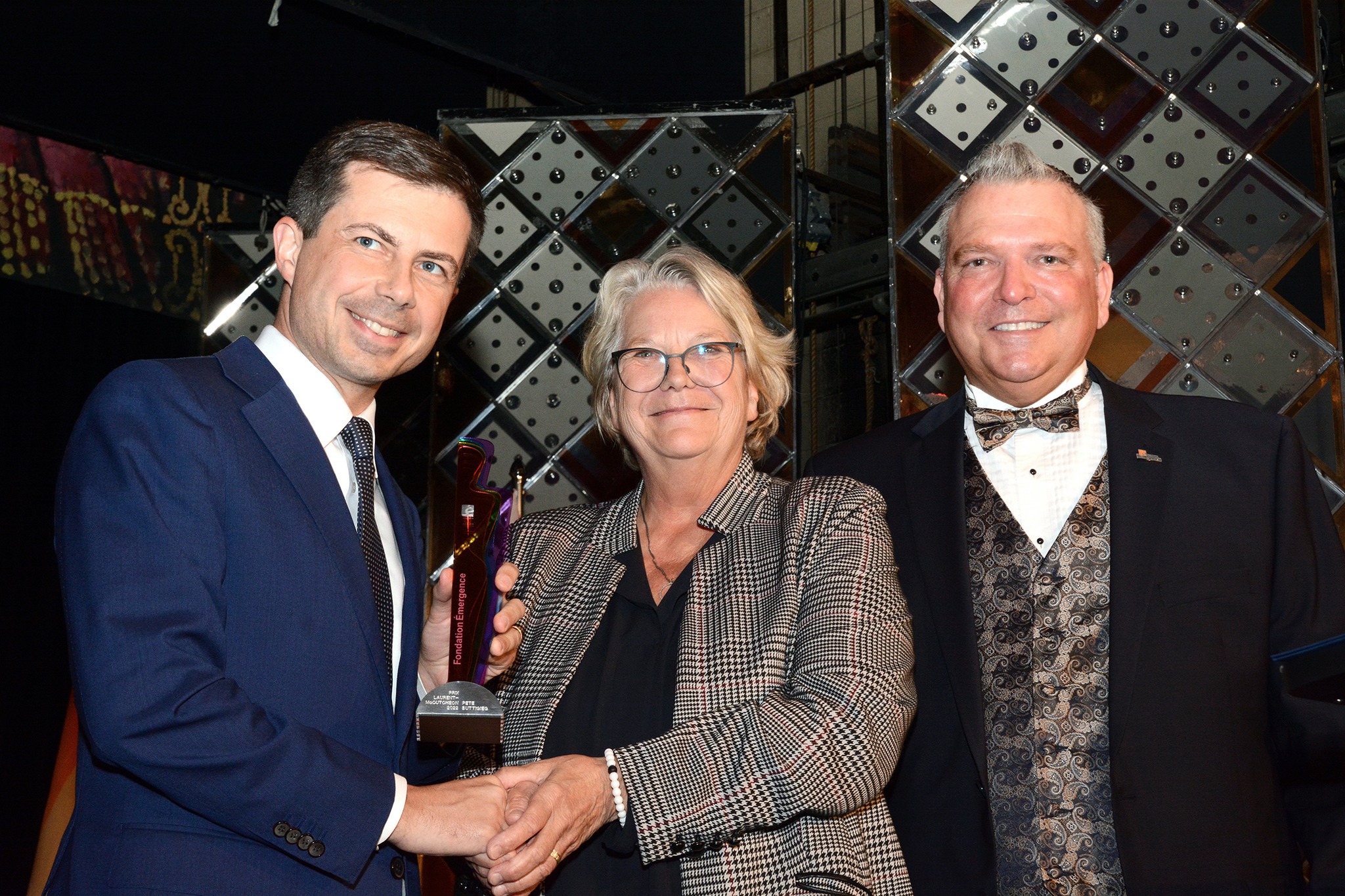 MONTREAL, Québec – In a special ceremony Wednesday evening, Fondation Émergence, one of Québec's largest LGBTQ organizations, presented U.S. Secretary of Transportation Pete Buttigieg with the prestigious Laurent McCutcheon Award.
Buttigieg was in Montréal representing the United States at the International Civil Aviation Organization, (ICAO) General Assembly.
The Laurent McCutcheon Award is named for Laurent-McCutcheon, the founding president of Fondation Émergence and the creator of the National Day Against Homophobia, which became the International Day Against Homophobia and Transphobia.
The annual award is bestowed on "an individual or group who has made exceptional contributions to the advancement of LGBTQ rights." In presenting Secretary Buttigieg, the citation [translated from French] noted his journey as the first openly gay man to be confirmed by the Senate to serve the office of the President of the United States as a cabinet minister.
Fondation Émergence also said that [Buttigieg] is a real role model for the LGBTQ+ communities. The Laurent McCutcheon Award was presented to Secretary Buttigieg by Chantal Rouleau, Québec's outgoing* Minister for Transport and Minister Responsible for the Region of Montréal.
"I am truly humbled and honored to accept this award, especially as I have learned more about Laurent McCutcheon's remarkable life and profound legacy," Buttigieg said. "Like all of us here I am the beneficiary of a tradition of activism that spans the globe and generations before I was born. And the results of those struggles, in our lifetime, are borderline incredible – including the very fact that I can stand before you today."
Federal jury indicts doctor & her spouse: Passing info to Russia
They received public attention in 2015 after becoming the first known active-duty Army officer to come out as transgender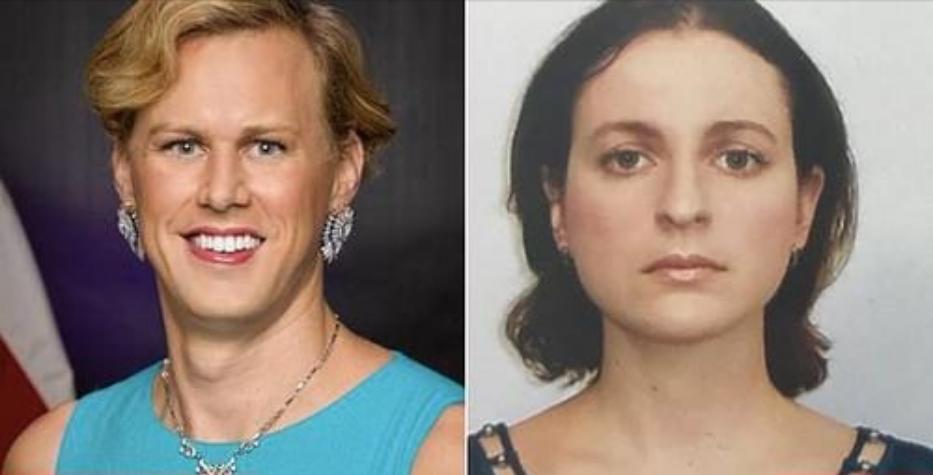 BALTIMORE – A federal grand jury on Wednesday handed down an indictment of a Johns Hopkins anesthesiologist and her spouse, a doctor and major in the U.S. Army, with conspiracy and for the disclosure of individually identifiable health information related to their efforts to assist Russia in connection with the conflict in Ukraine.
The United States Attorney's office for Maryland in a press release stated that the indictment charging Anna Gabrielian, age 36, and her spouse, Jamie Lee Henry, age 39, both of Rockville, Maryland, both of whom had secret clearances, were attempting to provide medical information about members of the military to the Russian government.
Gabrielian and Henry met with an individual they believed to be associated with the Russian government, but who was, in fact, a Federal Bureau of Investigation Undercover Agent.
In court documents filed Gabrielian told the FBI agent posing as a Russian operative that she had previously reached out to the Russian embassy by email and phone, offering Russia her and her spouses' assistance.
According to the U.S. Attorney's office Gabrielian told the FBI agent that, although Henry knew of Gabrielian's interaction with the Russian Embassy, she never mentioned Henry's name to the Russian Embassy.
In the narrative released by the U.S. Attorney's office, on August 17, 2022, Gabrielian met with the FBI at a hotel in Baltimore. During that meeting, Gabrielian told the FBI she was motivated by patriotism toward Russia to provide any assistance she could to Russia, even if it meant being fired or going to jail.
She proposed potential cover stories for her meeting with the "Russians" and stressed the need for "plausible deniability" in the event she was confronted by American authorities. Gabrielian also told the FBI that, as a military officer, Henry was currently a more important source for Russia than she was, because they had more helpful information, including how the United States military establishes an army hospital in war conditions and information about previous training provided by the United States military to Ukrainian military personnel.
Gabrielian's spouse is U.S. Army Major Jamie Lee Henry, who identifies as a transgender military physician on their Twitter account.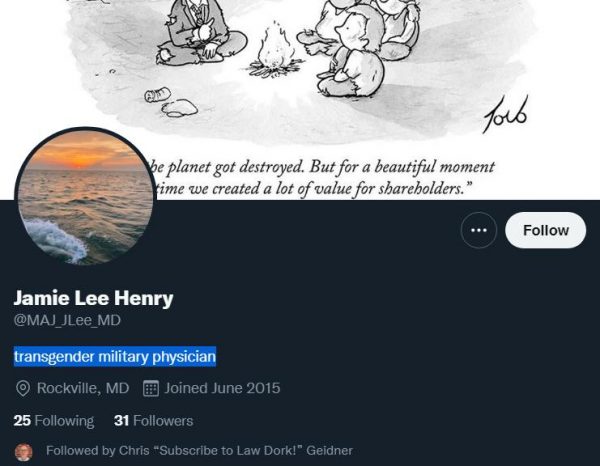 Henry received public attention in 2015 after becoming the first known active-duty Army officer to come out as transgender.
Henry was at one point a member of SPARTA, the nation's largest nonprofit representing actively-serving transgender U.S. servicemembers. A spokesperson for SPARTA, in an emailed statement, commenting on the announcement of the arrest and indictment of Henry and their spouse told the Blade:
"Transgender people are as diverse as the societies to which they belong. One's gender identity neither increases nor decreases a propensity towards alleged criminal activity."
As stated in the indictment, Gabrielian is an anesthesiologist and worked at Medical Institution 1, located in Baltimore, Maryland. Henry, a Major in the United States Army, who held a Secret-level security clearance, is Gabrielian's spouse and a doctor. During the time of the alleged conspiracy, Henry worked as a staff internist stationed at Fort Bragg, the home of the Army's XVIII Airborne Corps, headquarters of the United States Army Special Operations Command, and the Womack Army Medical Center.
Gabrielian was scheduled to have initial appearance at 11:30 a.m. Thursday in U.S. District Court in Baltimore before U.S. Magistrate Judge Brendan A. Hurson.  Henry is also expected to have an initial appearance today, although a time has not yet been set.
Full statement from SPARTA:
"SPARTA, a non-profit advocacy organization representing transgender Service members in the United States, is saddened to learn of the arrest and indictment of Jamie Lee Henry, an officer in the United States Army and a medical doctor.
SPARTA has long advocated for the inclusion and total equity for transgender persons throughout the United States uniformed services. Today, thousands are serving honorably and authentically at home stations worldwide.
The actions alleged in the indictment do not reflect Henry's identity as transgender. Their alleged actions are those of an individual and should not be taken as a representation of transgender people broadly or transgender members of the military specifically.
All people in the United States are entitled to the same rights, including due process and the presumption of innocence in this case. SPARTA does not condone any actions alleged in the indictment and expects the process to play out fairly and equitably as it would for anyone accused of a crime."