August 1, 2019 at 9:39 am PDT | by Karen Ocamb
Democratic candidates singe each other in second debate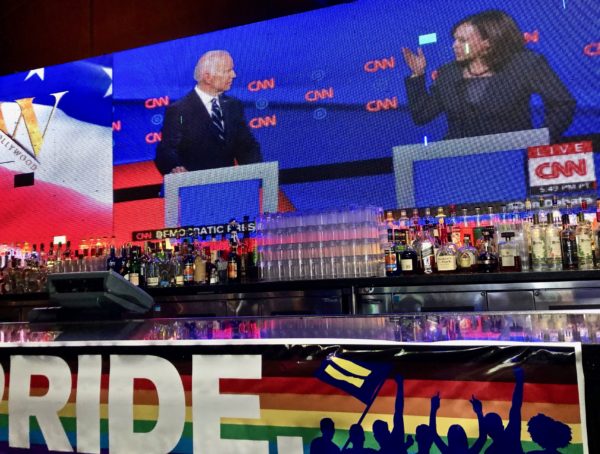 Expectations were high that the second Democratic presidential debate hosted by CNN on July 31 would be a televised slug-fest rematch between frontrunner Joe Biden, a former senator and vice president under President Barack Obama, and Kamala Harris, the California senator, former State Attorney General and San Francisco district attorney many thought was Obama's female doppelganger. 
"Go easy on me, kid," Biden said to Harris as they shook hands mid-stage, referring to her prosecutorial dissection of Biden's affiliation with segregationists in Congress with whom Biden proudly said he got along in the first debate.
But this round went to Biden, who not only took incoming from most of the other nine candidates onstage but poked holes in Harris' new "Medicare for all"-style proposal, which he called "a bunch of malarkey," a "Biden-ism" that may not appeal to the millennial voter. 
"I don't know what math you do in New York," Biden said to Mayor Bill de Blasio. "I don't know what math you do in California. But I tell ya, that's a lot of money," referring to what he says would amount to $30 trillion that the progressive structural plans might cost, with deductibles that would be an out-of-pocket expense for taxpayers. That sounded like a Republican talking point to some, even though Republicans appear to have given up on the old principle of fiscal responsibility.
Christopher Nikhil Bowen, president of Stonewall Young Democrats, couldn't believe Biden insulted New York and California as if the voter-rich states were insignificant or already wrapped up for him. Bowen represented the West Hollywood/ Beverly Hills Democratic Club at the debate watch party at The Abbey in West Hollywood co-hosted by HRC/LA, Heart of LA Dem Club, ROAR! Resistance, with a Kamala Harris contingent present, as well. Harris supporters held another watch party at Beaches in West Hollywood, where supporters could pose with an almost life-size cardboard cutout of the smiling senator.
But Harris failed to meet those high expectations, explaining her version of "Medicare-for-all" better to interviewers after the debate than onstage. "She whiffed," said one debate watcher at The Abbey.
"I think she did well in the first debate," said West Hollywood City Council member Lindsey Horvath who attended the KamalaNation party. "I think she didn't do as well tonight—which doesn't mean she didn't have a strong showing. [New Jersey Sen.] Cory Booker had a strong showing. He was clear, confident, showed a strong command of the issues and spoke to everyone. I think Cory won the night."
Biden made sure Harris experienced the harder side of being a frontrunner. He brought out his campaign's opposition research and challenged her years as a DA when 1,000 cases were dismissed as the result of a crime lab scandal that involved her office.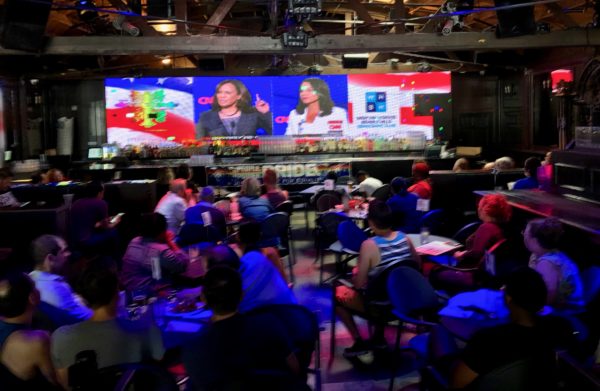 Harris was also stunningly slammed by Hawaii Rep. Tulsi Gabbard, who went after her AG and DA record, including that Harris "blocked evidence that would have freed an innocent man from death row until she was forced to do so."
"Both of these statements are accurate," declares the Sacramento Bee in fact-checking the debate.
This is critical because while many would clap for joy seeing Harris the black/Asian female prosecutor go toe-to-toe with unabashed racist, liar and white nationalist President Donald Trump, the scheming real estate developer would no doubt twist his opposition research into jaw-dropping whoppers that some voters might find credible. 
Harris has dealt with challenges from black activists for years on these issues, so she should have been better prepared for Biden and Gabbard's charges. They both chomped into her Achilles heel—which, ironically, may also be her strength with independents and disenchanted Republicans.
On the 1,000 cases dismissed: "While the San Francisco Police Department was responsible for running the lab, not Harris's district attorney office, a court ruled in 2010 that the district attorney's office violated defendants' constitutional rights by not disclosing what it knew about the tainted drug evidence" after the prosecutors' lead technician on drug cases "was found to have systematically mishandled the drug samples seized from suspects, even consuming some herself."
The Bee notes that, "Harris has denied being aware of those issues until the scandal exploded and also noted that her office implemented reforms once it had." Harris gave a similar explanation to the Los Angeles Blade about denial of transition healthcare to a transgender prisoner.
The innocent man on death row refers to Kevin Cooper who was blamed for the murders of an adult couple and two children in San Bernardino in 1983. He persistently proclaimed his innocence but in 2004, he came hours within execution. By 2009, five federal appeals court judges signed an opinion saying Cooper "is probably innocent of the crimes," according to the San Francisco Chronicle. He asked Gov. Brown for a stay of execution so DNA evidence found near the scene could be retested with modern equipment. Harris was attorney general from 2011 to January 2017 and "had the evidence in her custody and opposed new DNA testing."
In February 2016, Cooper's lawyers again requested new DNA testing of Gov. Gavin Newsom, who agreed. Harris changed her mind without explanation, tweeting that she is a "firm believer in DNA testing" and encouraged Newsom to approve the request. Later Harris told a New York Times columnist "I feel awful about this."
In response to Gabbard's charge, Harris dismissed the messenger, saying the Afghanistan war vet was a cheerleader for the murderous Bashar al-Assad regime in Syria. 
On the Detroit debate stage, she also defended her criminal justice record. "As elected attorney general of California I did the work of significantly reforming the criminal justice system of a state of 40 million people, which became a national model of the work that needs to be done, and I am proud of that work."
Some debate watchers were seriously concerned about Harris' response but with so many issues and so many candidates confronting each other, they let it slide.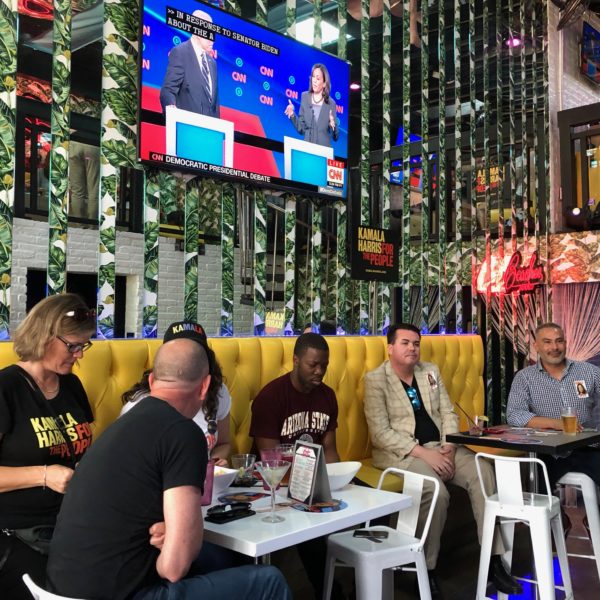 "Whether acknowledging on national television that Donald Trump is a predator and has lied to the American people, to hitting the question of pay inequality out of the park, to being able to discuss her healthcare plan which has been misconstrued and misunderstood," says attorney Patrick Blood, 31, organizer of the KamalaNation watch party at Beaches with Bros4America, "the Senator did an outstanding job with the time frames she had.
But Blood, like other debate watchers, is also practical. "The reality is—and I believe this was from Sen. Corey Booker—all Democratic candidates have one goal in mind: to defeat Donald Trump. Candidates clearly disagree on issues, we saw that. The brilliance of a debate is the American people get to hear [the candidates]. Being informed as a voter is critical."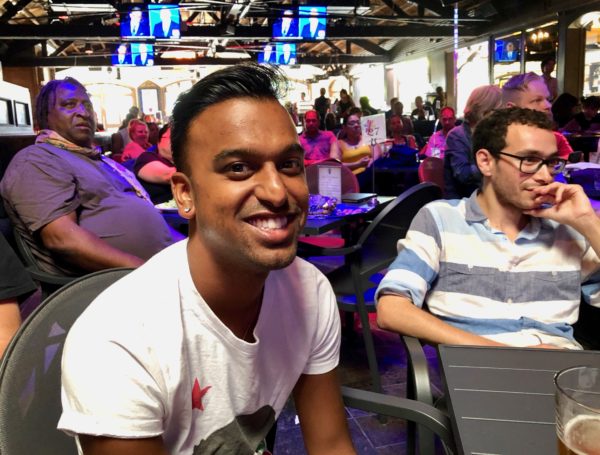 Christopher Nikhil Bowen watching Democratic debate with Max Sokoloff (Photo by Karen Ocamb)
For Bowen, the 2020 elections are deeply personal. He and his husband Danny Ariel are immigrants. "So much is on the line for us," he says. "We don't have the luxury of a Susan Sarandon," referring to the actress who voted for Green Party candidate Jill Stein out of dislike for Hillary Clinton. 
Longtime HRC/LA stalwart and campaign bundler Sue LaVaccare, who hosted The Abbey party, agrees.
"The Democrats have a bunch of formidable candidates," she says, adding that so many had good substantive and memorable moments on night two that the DNC may have to make the next debate in September two nights, as well, so voters can become better educated.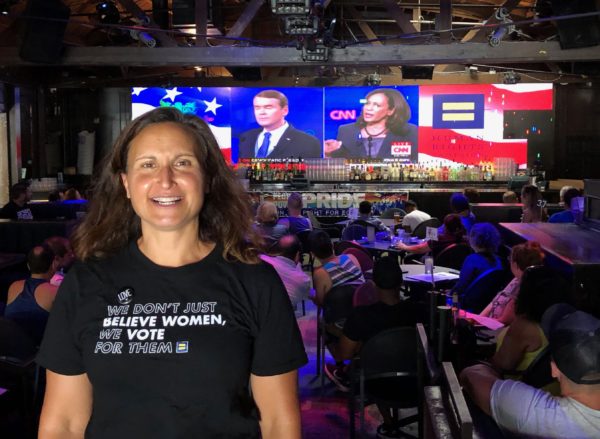 HRC/LA's Sue LaVaccare (Photo by Karen Ocamb)
"But it all comes down to who can get people out to vote. Our voting system is broken and the Trump administration and the red states don't want to fix it so Democrats have to have such a massive turnout, it compensates for the voter fraud and suppression that is going to happen."
That means, even though LGBTQ issues have been largely ignored during the debates and on the road, LGBTQ voters must be pragmatic and practical and vote for what HRC calls an "equality ally."
"We must still look at who is the best candidate not only to beat Trump but to get into office and move laws that integrate LGBTQ issues into policy and other decisions," LaVaccare says. "Yes, of course our issues should be discussed. But we can't get mad and sit out 2020 in protest. Our lives are at stake."  
"After these debates, the contrast between President Trump and the Democratic field of candidates cannot be clearer: The choice is between Trump who uses xenophobic tweets as policy, and the Democrats' substantive conversation on how to make America a more perfect union," says out LA County Democratic Party Chair Mark J. González.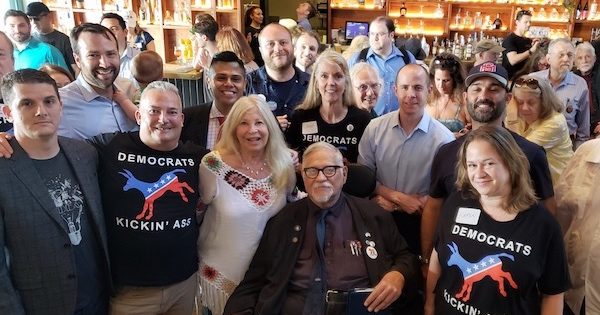 Second row, middle: Los Angeles County Democratic Party Chair Mark J. González, Stonewall Democratic Club Political Vice President Jane Wishon and California Democratic Party Chair Rusty Hicks at Democratic Debate watch party in Santa Monica on July 30, 2019. (Photo courtesy LACDP)
"Our Democratic Party is the 'Big Tent' with the ideas to move America forward. What we heard last night and tonight are passionate patriots who are ready to lead our country and improve our broken healthcare system and make our economy work for everyone, not just for the few," Gonzalez says. "We continue to look forward to a lively debate throughout the primary season. Most importantly, we look forward to winning in 2020 and putting America back on the right track to progress, prosperity, and equality."