August 8, 2019 at 11:14 am PDT | by Mariah Cooper
Equinox, SoulCycle hit with protests, nationwide membership cancellations over Trump fundraiser
Stephen Ross, chairman of real estate company Related Companies, and majority owner of Equinox and SoulCycle is facing backlash for hosting a fundraiser for President Donald Trump's reelection at Ross' home in the Hamptons on Friday.
Equinox is perhaps one of the most popular fitness clubs for gay men in many of the nation's urban markets, including West Hollywood and Los Angeles.
A protest is planned in West Hollywood Equinox (8590 Sunset Boulevard) on Friday, August 9 at 4 PM is just one of many that that are planned around the country.
A Facebook page, "Protest Equinox, SoulCycle and TRUMP," posted by local residents Gonzalo Garcia and Adam Bass, has drawn dozens of likes and a growing crowd of local resident supporters. 
Protests have grown organically around the country, including San Francisco where dozens of activists staged a protest outside the SoulCycle location in the Castro district Wednesday evening, hours after it was reported that the owner was planning a ritzy fundraiser for President Donald Trump at his home in the Hamptons in New York.
Related Companies owns luxury fitness club Equinox Fitness, the parent company to fitness clubs PURE Yoga, Blink Fitness and SoulCycle. Ross is also the owner of the Miami Dolphins, the Hard Rock Stadium, the Time Warner Center and Hudson Yards.
In Southern California, Ross' Related Companies owns and manages billions of dollars worth of real estate, including the now under construction Frank Gehry designed The Grand, a highly anticipated landmark development that will complement the adjacent Disney Concert Hall and connect with the nearby arts and cultural institutions through Gehry's distinct design. 
Related companies also owns and manages The Century, the tallest building in West LA and home to numerous billionaire tenants. There are dozens of other, smaller luxury property developments in the Southern California region, especially Santa Monica.
According to the Washington Post, tickets for the Trump fundraiser range from $100,000 to $250,000.
News of the fundraiser sparked online outrage from around the world on social media with many calling for a boycott of Equinox and SoulCycle. Both fitness clubs boast a heavy LGBTQ clientele base nationally.
Hey @Equinox – what's your policy for canceling memberships once a member finds out your owner is enabling racism and mass murder?

— billy eichner (@billyeichner) August 7, 2019
That's it! Just cancelled my @SoulCycle membership! https://t.co/YvoG4pQv7w

— Michael Moore (@MMFlint) August 7, 2019
I just called and cancelled. #Equinox can kick rocks. https://t.co/YJHoqg7xaI

— Natasha Rothwell (@natasharothwell) August 7, 2019
I will be handing out flyers with this story to patrons entering the @Equinox near me this evening. I urge all of you to do the same. https://t.co/nDHFB0F6OT@shannoncoulter #GrabYourWallet

— Michelangelo Signorile (@MSignorile) August 7, 2019
oh and fuck soulcycle but I thought that way before this anyhow

— christine teigen (@chrissyteigen) August 7, 2019
Researching my gym options in #Toronto. Today's workout is brought to you by @GoodLifeFitness Your call @equinox. pic.twitter.com/WElT8LmE8d

— Wilson Cruz (@wcruz73) August 7, 2019
Actor Wilson Cruz started a Change.org petition calling on Equinox to demand Ross cancel the fundraiser.
"We joined this gym because we believed it shared our values. We believed it was a safe space for people like us. We believed that we were supporting a company that was inclusive, accepting and celebrating our diversity and supporting our physical and mental health as a community," Cruz writes. "You have a MORAL obligation to be all of those things for your members. Supporting this administration and the myriad of ways in which it undermines and endangers members of our communities is UNACCEPTABLE and if this fundraiser indeed does take place we will be looking for another gym to give our money to and we will be calling on our networks of LGBTQ and POC friends to do the same. "
Equinox and SoulCycle released statements saying that they do not endorse political fundraisers.
Brad Lamm, owner of Breathe Life Healing Center in the Hollywood Hills and his husband, award-winning Broadway producer Scott Sanders were among the first to notice the fundraiser, posting on Facebook:
August 7, 2019
A note from our CEO pic.twitter.com/UwxBWR76B0

— SoulCycle (@soulcycle) August 7, 2019
GLAAD took the unusual step of jumping into the protest.
Ross issued his own statement to Miami Herald reporter Adam Beasley saying that he has known Trump for 40 years and "while we agree on some issues, we strongly disagree on many others."
"I always have been an active participant in the democratic process. While some prefer to sit outside of the process and criticize, I prefer to engage directly and support the things I deeply care about," Ross said in a statement.
Multiple calls to Equinox and SoulCycle have so far resulted in a refusal to discuss the matter.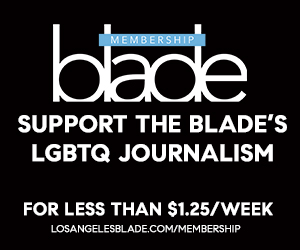 Sign Up for Blade eBlasts