LGBT entertainment leaders convene in WeHo for Pride Summit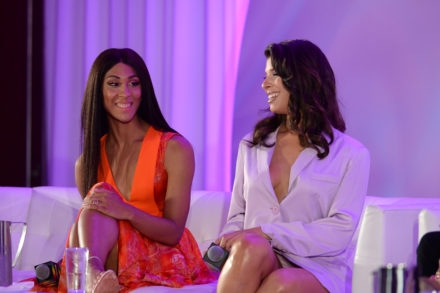 On Thursday, August 8, The Hollywood Reporter and Billboard held their first ever Pride Summit at The 1 Hotel West Hollywood, underscoring the ongoing importance of LGBT inclusion and visibility in entertainment media.
It was a star-studded event, held in conjunction with Billboard's second annual Pride issue, featuring an array of panels and conversations covering important topics such as bringing LGBTQ+ voices into the songwriters room, emerging queer artists, eradicating homophobia, and best practices in hiring and fostering welcoming and safe workplaces for queer and gender non-conforming beings.
Among the participants in the day's seven panels were cast members MJ Rodriguez, Indya Moore, Hailie Sahar, Dyllón Burnside and Angel Curiel from the Emmy-nominated show, "Pose;" pop icons Tegan and Sara; pop star and activist Hayley Kiyoko; game-changing New Orleans artist and TV star Big Freedia; rapper ILoveMakonnen; Grammy® nominated songwriters Justin Tranter and Teddy Geiger; Grammy-winning singer-songwriter Daya; NBC's "Songland" star Shane McAnally; "RuPaul's Drag Race" alumni and recording artists Trixie Mattel, Alaska, Manila Luzon, Peppermint, Blair St. Clair; and YouTube celebrity Gigi Gorgeous.
The day's first panel was "Emerging Artists: We See You," which featured as panelists BAYLi, Shea Diamond, Parson James, K. Flay and Daya.  Diamond, a GLAAD Media Award- nominated trans soul singer, spoke of discovering her voice while incarcerated in a men's prison for 10 years. "There was nothing but hatred for people like me – either I was highly desired or I was just purely hated for no reason," she said. "I was a threat to society, just for existing. And so, all these things just came to me, and I started writing songs… I wrote about being an outcast, and how there's an outcast in everybody's life – and 'I am her,' was this thing they denied me of… everything I had experienced or was going to experience, they would never honor that.  So, I got the vessel in prison – that's when I realized there was power in it."
Singer-songwriter Daya expressed a common theme that would emerge as the day went on when she said, "I think representation of multi-dimensional queer people in the media is so important. That's why I love shows like 'Euphoria,' and shows that are naturally bringing those queer narratives into the media.  I also think… there should be more queer visibility across the board, not just with artists but people behind the scenes, too."
During the "Digital Media: Pride & Platforms" discussion, sponsored by Verizon Media, YouTuber Gigi Gorgeous said, "I get asked a lot 'are you always gonna do YouTube,' like say you're in a movie someday, are you just gonna quit?' And my answer is always, 'No, because that's what gave me the confidence.'" She added, "Honestly, I feel like YouTubers, a lot of the time, have a deeper connection with their fans than even like a Leonardo DiCaprio… when people meet their favorite YouTubers, they literally break down and cry, because they really helped them through a really hard time." Gorgeous was joined on the panel by Hayley Pappas, Hannah Hart, Joey Graceffa, Anna Akana, Eugene Lee Yang, and Miles McKenna.
The next panel was "Pride in the Corner Office," with panelists Cindy Nguyen from Create Music Group, Eliah Seton from Warner Music Group, Wade Leak from Sony Music Entertainment, Aaron Rosenberg from Myman Greenspan Fineman Fox Rosenberg & Light, Jess Caragliano from Terrorbird Media, and Rick Marcello from Kobalt Music. A highlight came when [email protected] Coalition's Bamby Salcedo added to the conversation from the audience, saying "The trans community is way behind in comparison to the gay and lesbian community – if we look at where we are, we're about 40 years behind.  How do we, as individuals who have power, how do we support those upcoming organizations – groups, artists, all of those?  How do we include that into our budgets, and how doe we include that in supporting events that we do to raise funds, and that kind of stuff?"
Salcedo's [email protected] colleague Michaé de la Cuadra also spoke to the panel, adding, "A lot of the time it comes in a job description, a lot of the times you require these degrees and years of experience, and all this stuff that trans people don't have — so really thinking about how when you're giving opportunities to black trans women, undocumented to trans people, and just trans people of color… about how, internally and in the process, you're excluding people, and I just wanted to raise that."
Stephen Daw, moderating the panel "Drag & Music: From Drag Race to the Top of the Charts," asked participants Alaska Thunderfuck, Peppermint, Blair St. Clair, Trixie Mattel, Manila Luzon, and Ryan Aceto if being on "RuPaul's Drag Race was a vital step for queens hoping to build a career, or if there was a "path forward" for those who have not been on the show. Thunderfuck answered, "I think it's great that it [the show] exists, and it has created this entire economy that is just, you know, drag queens… it's really awesome if you do get on 'Drag Race,' it's like the golden ticket on 'Willy Wonka,' like, it's really amazing – but I think there are more and more opportunities, if it's not your thing, I think you can still make it and make something huge.  More and more, there are avenues to do that."
For the "They/Them Write the Songs" panel, LGBT+ songwriters Justin Tranter, Victoria Monet, Teddy Geiger, and Shane McAnally joined together for a conversation about bring their queer voices into their craft. Tranter said, "When we have our songwriter hats on, you're there to facilitate somebody else's story, and so it's not about our experiences – but you do want to tap into your own truth so that you can write better lyrics, that reflect their truth better.  You have to tap into your truth – but it's not about us, in that moment." He went on to add, "We're in this weird political landscape where things are getting really bad for our community, but when it comes to the media, when it comes to music… things are looking better than they ever have.  Media is finally embracing us – a little bit.  They need to do a lot more, but we're getting there."
On the "Queer Headliners 2019" panel, LGBT+ musical celebrities Big Freedia, ILoveMakonnen, Hayley Kiyoko, and Tegan and Sara spoke about their experiences. Freedia spoke of influences, saying, "For me, it was Sylvester.  He was just fierce, and being himself all the time.  It just opened so many doors for me, just to be myself and get out there and live my truth."
Kiyoko struck another key theme of the day when she said, "I think no matter who you are or where you come from, we all just want an opportunity to be heard and to share our stories, and to find our people.  Releasing 'Curious,' I didn't think that was direectly made for frat boys, specifically – but I do think as a musician and as an artist, we all go through love and loss and lust, and sometimes depression and all these things, and that's what connects all of us. No matter what your sexuality is, why should we be put in a box?  We all have those same feelings, we all get heartbroken, so why are we different?"
Tegan of Tegan and Sara addressed the ongoing conflict in the music industry between queer visibility and systemic homophobia. "We just always talk about it," she said. "We bring it up in every meeting, we talk about it in our own organization, and in the press, and onstage. It's not like any of us have the answers on how to fix it, but I think we want to participate in basically trying to disrupt and rebuild the system… that's how you do it – don't get comfortable and just keep disrupting."
The day's final panel was "Televised Revolution: The Beings of 'Pose,'" featuring panelists Indya Moore, MJ Rodriguez, Hailie Sahar, Dyllón Burnside, and Angel Curiel.
Burnside, who plays Ricky on the show, told of how he worked for a church before beginning his acting career. "Before I was able to embrace my identity, before I was willing to accept, I confided in my pastor that I was attracted to men and I lost my job.  In our exit meeting he told me that I was gonna ruin my life – and for me that was the thing that always propelled me forward, that I cannot not do this, because there are kids all over the world, all over the country, who are being told that who they are isn't right, and that they can't do the things they were put here to do because somebody else doesn't understand them."
Rodriguez, who stars as house mother Blanca, talked about how the diversity of the characters in "Pose" was a big factor in making her want to be part of the show. "I saw that each and every one of these women, as well as the men, were of color… and I just thought, 'well I have to be a part of it because of this,' but also because of the human aspects they had.  In the breakdown they showed every single thing that cis-gendered individuals get cast for, that we have them too.  And I thought, 'Okay, this goes to show we're being seen as humans.'  And that's the first thing that anyone should see us as, is human. We shouldn't be seen as anything other than."
Rodriguez also spoke of the importance of including the presence of AIDS on "Pose." "I think that it's imperative that it's on this show," she said, "because there is a stigma that is constantly held around having HIV and AIDS, and the history is important."
The day-long event featured a special installation of "The Art of Finding Love" and exclusive merchandise from renowned artist Michael Kalish, as well as participation from nonprofit partners including GLSEN, The Trevor Project, and local LGBTQ+ vendors.
Things wrapped up with a performance at West Hollywood's Peppermint Club by Daya, Big Freedia and Trixie Mattel.
The First Annual Pride Summit, which was sponsored by Cadillac and Verizon Media, was part of Billboard's "Summer of Pride," which also includes special editorial coverage in the magazine of concerts and events across the globe, well-known and up-and-coming LGBTQ+ artists and allies, curated playlists, and a "Pride Chart" recognizing LGBTQ+ artists of the past and present.
The universe comes out to jazz and violins and you're invited
LA prides itself as home of the stars. Don't limit yourself to the mere mortal stars of Hollywood, when the universe is opening its doors
LOS ANGELES COUNTY – Starlight, starbright: Bathing yourself in the magnificent skies has returned to Los Angeles as the historic Mount Wilson Observatory announces… shall we say it… a heavenly lineup for its 2022 program.
The program offers something for everybody: From the universe-fascinated who want to observe and soak up astronomical knowledge to the bright light and musically discerning who are there just for the mind-blowing beauty alone.
Since its founding in 1904 by astronomer and visionary George Ellery Hale, Mount Wilson Observatory has played host to some of the most important discoveries in modern astronomy. Located on Mount Wilson, a 5710-foot (1740-meter) peak in the San Gabriel Mountains of the Angeles National Forest, Mount Wilson Observatory (MWO) features the Snow Solar Telescope (largest in the world from 1905-1908 and the mountain's first installation), a 60-inch telescope (the world's largest operational telescope from 1908-1917), and the 100-inch Hooker telescope (which featured the world's largest aperture from 1917-1949). Mount Wilson Institute has independently operated and maintained the Mount Wilson Observatory since 1989 under a long-term agreement with the Carnegie Institution of Washington.
The observatory offers a series of tours throughout the season for the scientific tourist in you. For the mechanically inclined, you can take an engineering tour of the huge telescopes and understand how they have enabled historic discoveries. For the stargazers, there are public and private tours to actually use the telescopes and peep in on our nearest planetary and constellation neighbors. For the gazers who want to keep things even closer to home, take a look right into our own Sun with the Lunt Telescope.
There is no better way to observe the universe than to do it wrapped in gorgeous music. The observatory steps up and takes advantage of the dome's sensational acoustics by presenting Sunday Afternoon Concerts in the Dome. Top jazz, violinist, brass talents and more will perform in events at 3:00pm and 5:00pm May 22- October 21. The season aesthetics are capped off with [email protected] Observatory in the later summer months which explores sound art in the dome, plein-air painting and sculpting.
It would be a shame to visit the observatory for its visual and auditory sensual offerings alone, however. For those who want to deepen their mind, the season also offers an incredible roster for the astronomy intellect. Lectures from the top experts include discoveries of the deep space mission, women scientists at the observatory, the work of George Ellery Hale, and more.
The gates to Mount Wilson's acreage opens at 10:00am every day and close at 5:30. Visitors can hike the grounds, gaze at the telescope domes that dot the landscape, and browse through the Historic Museum in the Lecture Hall.  Members from the Los Angeles Astronomical Society will gather around the grounds during each of the events during the season and set up specialty telescopes for a view of various night sky objects while attendees await their turn to look through the grand telescopes in the domes.
Los Angeles prides itself as home of the stars. Don't limit yourself to the mere mortal stars of Hollywood, when the universe is opening its doors to experience stellar wonders that will really blow your heart and your mind. We hope to see you at the observatory to experience magnificence together.
For more information:
Concerts: https://www.mtwilson.edu/concerts
Engineering Tours: www.mtwilson.edu/engineering-tour
Public Ticket Nights: mtwilson.edu/public-ticket-nights
Private Telescope Reservations: mtwilson.edu/observe
Solar Viewing: mtwilson.edu/solar-observing
Tours: mtwilson.edu/weekend-docent-tours
Mt. Wilson Observatory: https://www.mtwilson.edu
MWO Facebook: https://www.facebook.com/WilsonObs
MWO Twitter: https://twitter.com/mtwilsonobs MWO Instagram: https://www.instagram.com/mtwilsonobservatory
Blackpool's Jake Daniels- First Out UK pro soccer player in 30 years
The Blackpool FC forward joins with Justinus Soni "Justin" Fashanu as the only two footballers to declare themselves openly Out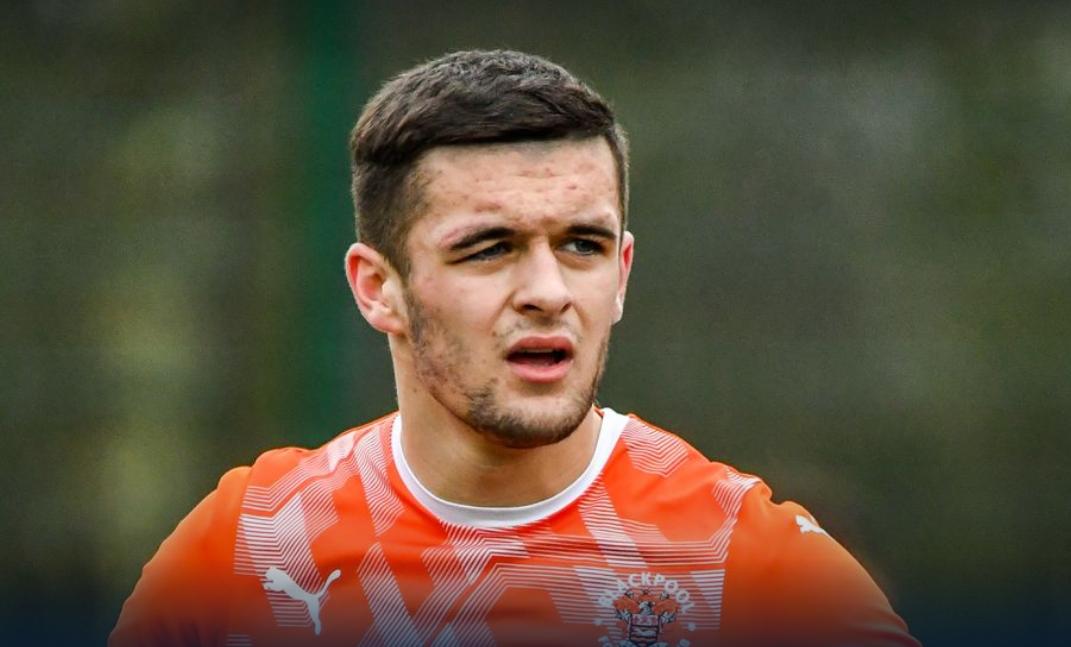 BLACKPOOL, Lancashire, England – A seventeen-year-old professional soccer player has made history as only the second person in the past 30 years to acknowledge their sexual orientation publicly in the sport in the United Kingdom.
Blackpool FC forward Jake Daniels joins with Justinus Soni "Justin" Fashanu as the only two footballers to declare themselves openly Out. Fashanu had come out in an exclusive with The Sun tabloid newspaper on October 22, 1990 and later retired in 1997. He later passed away in London in May 1998.
Daniels made his announcement via a statement released by the team on its webpage:
"This season has been a fantastic one for me on the pitch. I've made my first-team debut, scored 30 goals for the youth team, signed my first professional contract and shared success with my team-mates, going on a great run in the FA Youth Cup and lifting the Lancashire FA Pro-Youth Cup.
But off the pitch I've been hiding the real me and who I really am. I've known my whole life that I'm gay, and I now feel that I'm ready to come out and be myself.
It's a step into the unknown being one of the first footballers in this country to reveal my sexuality, but I've been inspired by Josh Cavallo, Matt Morton and athletes from other sports, like Tom Daley, to have the courage and determination to drive change.
In reaching this point, I've had some of the best support and advice from my family, my Club, my agent and Stonewall, who have all been incredibly pro-active in putting my interests and welfare first. I have also confided in my team-mates in the youth team here at Blackpool, and they too have embraced the news and supported my decision to open up and tell people.
I've hated lying my whole life and feeling the need to change to fit in. I want to be a role model myself by doing this.
There are people out there in the same space as me that may not feel comfortable revealing their sexuality. I just want to tell them that you don't have to change who you are, or how you should be, just to fit in.
You being you, and being happy, is what matters most.
Jake"
The team itself also noted:
"Blackpool Football Club has worked closely with Stonewall and the relevant footballing organisations to support Jake and is incredibly proud that he has reached a stage where he is empowered to express himself both on-and-off the pitch.
It is vital that we all promote an environment where people feel comfortable to be themselves, and that football leads the way in removing any form of discrimination and prejudice."
The largest LGBTQ+ advocacy organisation in the UK, Stonewall tweeted:
We are proud that Jake has felt able to share his truth with the world. To come out publicly as the first openly gay player in men's professional football in the UK in the last 30 years takes courage. We're honoured to be supporting him! 🏳️‍🌈⚽ https://t.co/4q1j9PSNxD

— Stonewall (@stonewalluk) May 16, 2022
Blackpool Football Club is a professional association football club based in seaside resort of Blackpool on the Irish Sea coast of England.
'Everything Everywhere' does the multiverse right
Quirky film boosted by Jamie Lee Curtis's 'feud' with Marvel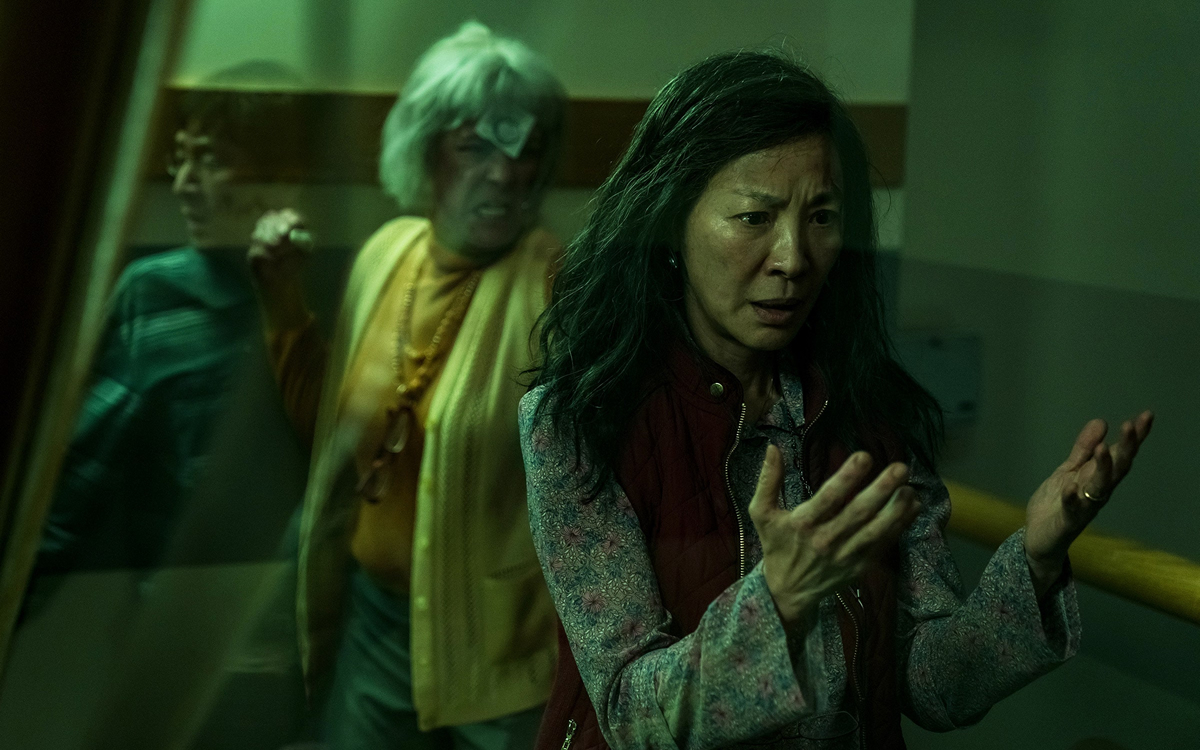 Last weekend, the Marvel Studios blockbuster machine unleashed its latest piece of cinematic eye-and-brain candy, "Dr. Strange and the Multiverse of Madness," in which the titular hero traverses multiple versions of reality to save the universe from chaos and destruction.
Marvel, of course, didn't invent the concept of the "multiverse" – in fact, they're not even the first ones to release a movie about it this year; another multiverse film beat "Dr. Strange" into theaters by nearly six weeks – and it's been enjoying a slow, word-of-mouth-fueled juggernaut of box office success ever since.
That movie, a genre-bending indie production titled "Everything Everywhere All at Once," caused a bemusing stir on social media last week, when Jamie Lee Curtis (one of its stars) launched a tongue-in-cheek feud with "Dr. Strange" in a string of Instagram posts. It was all in fun, but one couldn't help recognizing a sense of authentic pride when she teased, among other things, that her film "out marvels any Marvel movie they put out there."
Perspective is everything, of course, but she's not wrong. While Marvel fans will undoubtedly find "Dr. Strange" a satisfying trip into the multiverse and back, the rest of us would do well to seek out "Everything Everywhere All at Once" while it's still on the big screen – and yes, that even applies to people who couldn't care less about any universe but this one.
Conceived, written and directed by Dan Kwan and Daniel Scheinert (collectively known as "Daniels" since their early career directing music videos), it's a fast-paced wild ride that begins in one of the most mundane realities imaginable – the life of a middle-aged Chinese-American immigrant named Evelyn (Michelle Yeoh), who operates a laundromat with her mild-mannered husband Waymond (Ke Huy Quan), endures strained relationships with her elderly father Gong Gong (James Hong) and her lesbian Gen Z daughter Joy (Stephanie Hsu), and faces a tax audit – conducted by a humorless and hostile IRS agent (Curtis) – which could bankrupt the family business. This stressful quotidian mix is suddenly disrupted when a visitor appears, claiming to be from another universe, and tells her that a powerful evil being has undertaken a sinister plot that threatens to destroy not just his universe and her universe, but all the universes. Further, he informs her that she is the only person in ANY universe who has a chance of defeating this malevolent force in battle. Needless to say, she is hesitant to believe him – but it's not long before she is leaping from timeline to timeline as an unlikely inter-dimensional warrior on a mission to save existence itself from annihilation.
At the risk of making a spoiler-ish statement, that mission turns out to be as absurd as it is apocalyptic. The Daniels' film – which had been baking in their heads since 2010 – has no desire to ply its audiences with high-tech wizard battles in outer space or any of the other tropes of the sci-fi adventures it simultaneously spoofs and salutes; instead, it draws on a long tradition of existentialist thinking – something that, for obvious reasons, goes hand-in-hand with stories about existing in a reality full of infinite possibilities that all lead to oblivion – to accentuate the ridiculous. One of the worlds we visit, for example, is populated by human beings who have hot dogs for fingers, and that's just the most blatant of the many delicious absurdities the film serves up. It makes for a lot of laughs, but it nevertheless sets us to ponder the implications of infinite possibility we concoct within our own imaginations.
To that end, "Everything" balances its quirky, surrealist humor by showing us a few more plausible universes, as well. To gain the skills necessary to defeat her nemesis, Evelyn must visit other versions of her life; she experiences herself as a movie star in martial arts films, or a skilled hibachi chef, or a world-class opera singer, and visiting these realities drives home the point that one small decision – like choosing whether to marry someone or not – can divert our path toward a vastly different lifetime. We see the power of the past to shape our future, for better or for worse, through empowerment or regret, and the power in ourselves to change a multitude of worlds with a single choice. Inevitably, too, we see the nihilistic despair that comes of recognizing one's insignificance in the face of a vast and seemingly uncaring universe; what's the point of living in a world of infinite potential outcomes if none of those outcomes matter?
If that all sounds a little too philosophical for your tastes, don't worry; Kwan and Scheinert pull off the rare feat of encompassing these speculative issues within a story that is not only relatable, but wildly entertaining – and a lot of it has to do with the cast of avengers they've assembled.
First and foremost is Yeoh, whose status as a martial arts screen icon is just one of the strengths she brings to the table; her performance is a career-topping triumph in which she commits to making the beleaguered, unremarkable Evelyn palpably and painfully human even when immersed in the most outrageous of circumstances, and in the process gives us the kick-ass heroine for the ages we never knew we needed. As her put-upon husband, Quan is an invaluable asset; the former child actor (who appeared in "Indiana Jones and the Temple of Doom" and "The Goonies" before moving behind the camera for a career as a sought-after stunt coordinator) brings his own history to the mix, too, and brings us an entire array of Waymonds, all manifesting different flavors of his irresistible underdog charm. Hsu contains multitudes as Joy – no spoilers, but her troubled relationship with her mom is not limited to this universe – and screen veteran Hong is full of surprises as Gong Gong. Finally, Curtis uses the various iterations of her frumpy tax accountant to turn her supporting role into a scene-stealing audience favorite.
The fun these performers clearly have with their roles goes a long way toward keeping things light, no small accomplishment in a brainy cinematic excursion like this one. More importantly, they seem to fully understand and embrace what this madcap sci-fi comedy caper is really all about – and that makes all the difference, because "Everything Everywhere All at Once" may be an action-packed adventure dealing in the same epic conceptual scale as "Dr. Strange," but it's less concerned with titanic battles and cosmic catastrophes than it is with the very small, very ordinary concerns of everyday human life. Sure, it exploits the multiverse as a plot device to enable its imaginative and far-fetched flights of fancy, and it does so with relish, but it ultimately uses it to remind us – gently, and without laying it on too thick – that we have the power to change our reality with every choice we make.
The fact that it delivers that message in a story that puts Asian and queer characters front-and-center is just another great reason to call this disarmingly oddball movie the brightest gem of the season.
Well, that and the hot dog fingers.