August 24, 2019 at 6:07 pm PDT | by Staff reports
Trans women forcibly ejected from Downtown bar near DTLA Proud
What was supposed to be a pleasant after work dinner break for the staff of the East LA-based LGBTQI Latinx advocacy and service group, Bienestar Human Services, ended abruptly Friday evening Aug, 23, with a heated confrontation leading to a disturbance call with officers from LAPD's Central Division responding.
According to Khloe Perez-Rios, a program manager at Bienestar who spoke with the Los Angeles Blade by phone Saturday, she and a group of fellow employees and volunteers had come to dine at the Las Perlas bar and restaurant located at 107 East 6th St.
Perez-Rios told the Los Angeles Blade that the group had just finished up working the opening ceremonies of the DTLA Proud, the annual two-day festival held in Pershing Square, at around 9 PM and decided to eat at Las Perlas. She noted that the restaurant was located adjacent to the Redline Food & Bar, a well known downtown neighborhood LGBTQI gathering place.
As the group of trans women and gay men were sitting quietly chatting, a "light-skinned" male and female couple suddenly approached them and words were exchanged, she said. As the confrontation escalated, anti-LGBTQ slurs including misgendering the women were directed at the Bienestar workers.
Perez-Rios said that at one point, the man threatened violence which caused the group to seek out the restaurant's management.
While the couple was asked to leave the establishment, the group of trans women and gay men were approached by bar security staff and eventually physically and aggressively removed from the bar. That escalation caught on video recorded by Perez-Rios.
A spokesperson for the LAPD acknowledged that its officers had responded and wouldn't comment further due to an ongoing investigation other than to confirm that a potential 'hate crime' incident report had been made.
Late Saturday afternoon, a representative for Cedd Moses, CEO of the restaurant hospitality group Pouring with Heart which owns Las Perlas, released on the restaurant's Instagram account, @lasperlasla, a statement from Moses which defended the actions of the establishment's security staff but also made a gesture of a financial gift to Bienestar;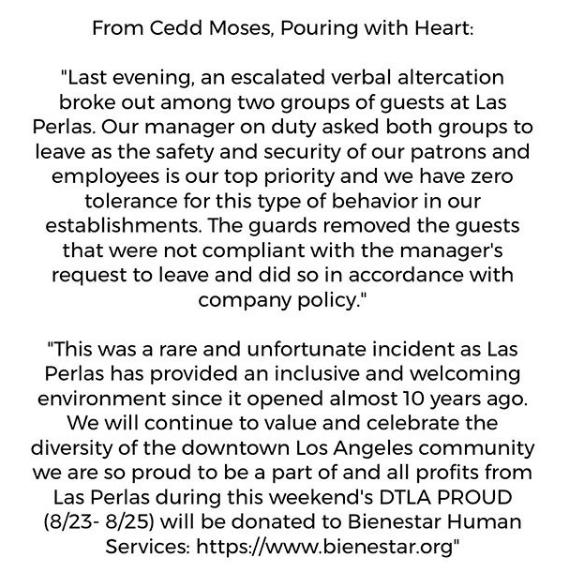 Perez-Rios told the Los Angeles Blade that she would have no comment on Moses' donation gesture but added that if the restaurant needed Trans/LGBQI sensitivity training for its staff Bienestar would be very happy to provide that training.
"This is an unfortunate and terrible situation. Our trans community does not feel safe, especially after our lives being threatened. We should have an environment of feeling welcome, safe and acceptance not this type of hostility- especially like what happened," she said.
Update:
DTLA Proud issued a statement, saying in part "DTLA Proud stands against discrimination against any aspect of our community.  We condemn and confront transphobia, homophobia, racism and all other forms of bigotry whenever and wherever this ugliness presents itself.  We are committed to creating a safe space for all people, expanding our definition of diversity, and building a more fair and welcome downtown for everyone. There is absolutely no room in our DTLA for hate."
Some leaders in the trans community, like nationally prominent activist Bamby Salcedo called in DTLA Proud to remember the root cause of the trans community's embrace of the event, an embrace that began when Christopher Street West and LA Pride struggled with the place of the trans community in that celebration (LA Pride has since reorganized).
And dozens of people gathered in the streets in front of Las Perlas tonight.
Addressing the crowd of more than 50 people, Jorge Diaz
said "I stood here last night and I felt defeated and I felt powerless to watch my trans sisters be treated the way the were treated and not be albe to protect them, made me feel powerless.  And I stood here with the management of Las Perlas that we would be back. I told Louis that we would show them how powerful we are."
He continued: "We want to know where in their policy does it say that a man can treat a woman that way? Where in their policy does it say that a man can chokehold a transwoman and drag her out of an establishment? Where in their policy does it say they can pick up this gay man and toss me against the wall? Where in their policy does it say that they are allowed to use excessive force on victims of crime?"
The crowd was especially animated when Diaz
used the phrase "hate crime" to describe the incident. "Las Perlas management stood there last night and said 'this was not a hate crime.'
"It is time that we stand with our trans sisters of color. It is time that we don't have to die to be victims of hate crimes," he said.
Turning to those involved in the incident the night before, Diaz said "the people you see up here survived a hate crime. We don't have to be added to that list of trans women of color who have been murdered due to transphobia."
"We stand here as survivors and we will not let any establishment that trans lives do not fucking matter. Share that video. Share it"
"Close this mother fucking business down! Close it down!" he exclaimed. "They don't deserve our dollars…our hard working undocumented fucking dollars!"