NFL free agent Ryan Russell comes out as bisexual
The former Cowboys player wants to 'live openly'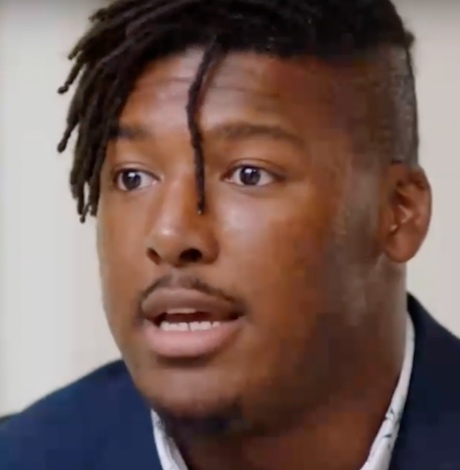 NFL veteran Ryan Russell has come out as bisexual in a feature for ESPN.
The 27-year-old defensive end was drafted by the Dallas Cowboys in 2015 but was cut after one season. He went on to play two seasons with the Tampa Bay Buccaneers. Russell missed all of last season due to a shoulder injury. He attempted to tryout in the offseason but didn't land a position.
Russell told ESPN that after trying out he regretted not coming out as bisexual to the team.
"Have I lied to teammates, coaches, trainers, front-office executives and fans about who I am?" Russell told ESPN. "Not exactly. But withholding information is a form of deceit. And I want the next part of my career – and life – steeped in trust and honesty. During the season you spend more time with your team than with your own family; truth and honesty are the cornerstones of a winning culture. My truth is that I'm a talented football player, a damn good writer, a loving son, an overbearing brother, a caring friend, a loyal lover, and a bisexual man."
He explained that growing up he struggled with identity issues and stereotypes surrounding being gay and straight.
"I always felt as though my existence slipped between the cracks of two worlds. I wasn't flamboyant, tidy, or any other stereotypes kids are forced to construct their world around. I wasn't straight, hyper-masculine or aggressive; I cried quite a bit, and, as a young black man, I didn't fit the bill. I played football — so I put that in the straight column. I wrote poetry and romance stories — so I put that in the gay column," he says."Those two objectives shouldn't be in conflict. But judging from the fact that there isn't a single openly LGBTQ player in the NFL, NBA, Major League Baseball or the NHL, brings me pause. I want to change that – for me, for other athletes who share these common goals, and for the generations of LGBTQ athletes who will come next."
Russell revealed he has dated men and women but was more careful about dating men, especially while in the NFL.
He recalled a time during his first season in the NFL when an unidentified blogger recognized Russell in the Instagram story of a man he was dating at the time. The blogger messaged Russell saying that he had figured out the pair were a couple.
"If the blogger outed me, I was sure that would kill my career, one that was supporting not just me, but my mother and grandfather," Russell says. "He'd eradicate a childhood dream that was the product of years of work and sacrifice."
Russell messaged the blogger back "reminding him that there were implications about his actions he didn't fully understand."
The blogger said he would do Russell a "favor" by not outing him.
"Let that sink into your brain: Even though openly LGBTQ people are thriving in every area of public life — politics, entertainment, the top corporations in America — they are so invisible in pro sports that a gossip blogger is doing a favor for a bisexual football player by not disclosing that he happens to date men," Russell said.
Now, Russel just wants to live his life openly.
"Today, I have two goals: returning to the NFL, and living my life openly. I want to live my dream of playing the game I've worked my whole life to play, and being open about the person I've always been,' Russell says.
GRAMMYs: Trans/Nonbinary artists, plus Beyoncé & Harry Styles
The 65th annual GRAMMY Award Ceremonies held Sunday evening at the Crypto.com Arena saw a significant LGBTQ+ presence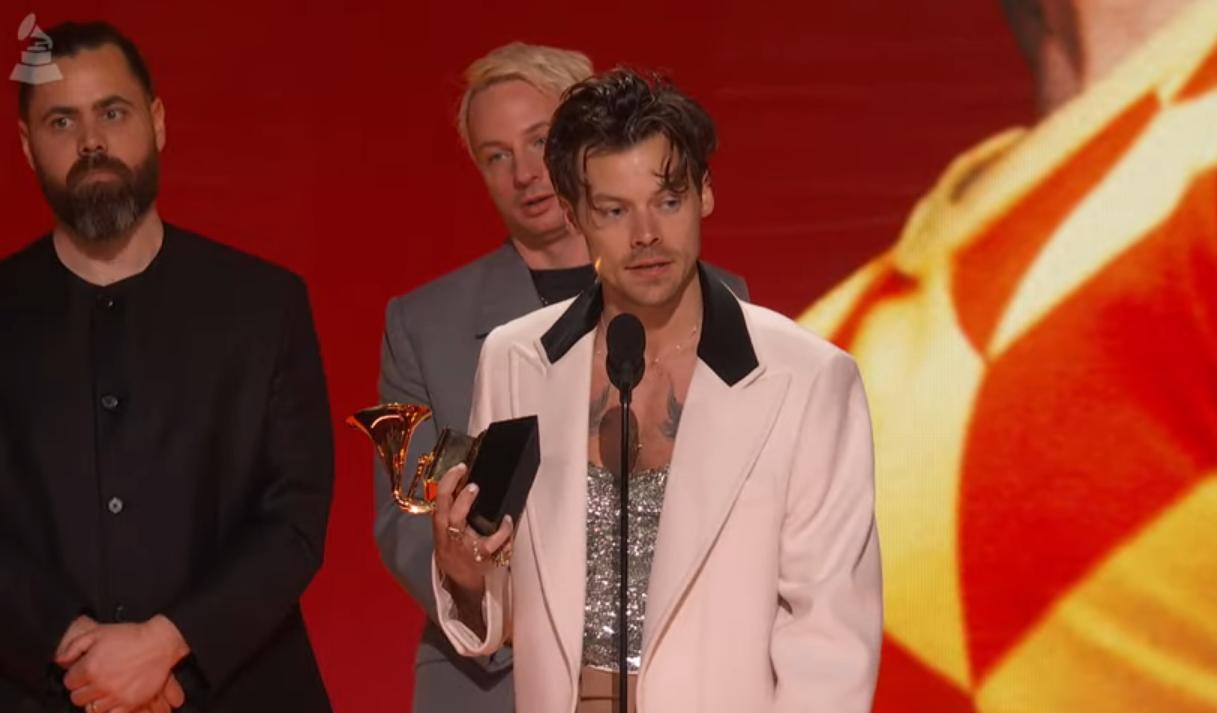 LOS ANGELES – The 65th annual GRAMMY Award Ceremonies held Sunday evening at the Crypto.com Arena saw a significant LGBTQ+ presence and wins in several categories including a GRAMMY for Best Solo Pop Duo/Group Performance awarded to Out Trans artist Kim Petras along side nonbinary artist Sam Smith for their duo "Unholy."
Petras is now the first openly trans woman to win the category in the Recording Academy's 65 years.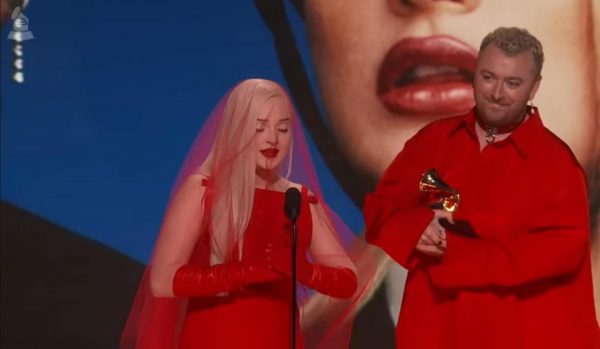 In her speech accepting the GRAMMY Petras said: "Sam graciously wanted me to accept this award because I'm the first transgender woman to win this award. I just want to thank all the incredible transgender legends before me who kicked these doors open for me so I could be here tonight."
"SOPHIE, especially, my friend who passed away two years ago, who told me this would happen and always believed in me," Petras continued noting the late experimental pop producer who was nominated for a Grammy before her death in 2020. "Thank you so much for your inspiration, SOPHIE. I adore you and your inspiration will always be in my music."
She thanked Madonna for championing LGBTQ rights, adding, "I don't think I'd be here without Madonna."
"I grew up next to a highway in nowhere, Germany, and my mother believed me that I was a girl and I wouldn't be here without her and her support," Petras concluded her historic speech. "Sam, thank you, you're a true angel and hero in my life and I love you. And everyone who made the song, too, I love you guys. Sorry, I didn't write down the names. I love you."
Longtime LGBTQ+ ally Harry Styles received a GRAMMY for Album of the Year for his Harry's House. Styles also picked up a GRAMMY win Best Pop Vocal Album for Harry's House. Earlier Styles received a GRAMMY trophy for Best Engineered Album, Non-Classical also for Harry's House.
Beyoncé, who was the most nominated artist going into Sunday's ceremonies, made GRAMMY history breaking the record for the most wins ever by an artist. In her acceptance speech where she mentioned her late uncle who died from HIV/AIDS she acknowledged the queer community for their support and "for inventing the genre" of dance music, which she honors in her album.
"I'm trying not to be too emotional. I'm trying to just receive this night. I want to thank God for protecting me. Thank you, God. I'd like to thank my uncle Johnny who's not here, but he's here in spirit.
I'd like to thank my parents, my father, my mother for loving me and pushing me. I'd like to thank my beautiful husband, my beautiful three Children who are at home watching.
I'd like to thank the queer community for your love, for inventing the genre. God bless you.
Thank you so much to the GRAMMYs. Thank you."
She also posted a thank you note on Instagram celebrating the three awards she won earlier in the evening: Best Traditional R&B Performance ("Plastic Off the Sofa"), Best R&B Song ("Cuff It"), and Best Dance/Electronic Recording ("Break My Soul").
First Lady Dr. Jill Biden walked on stage during the ceremonies to a standing ovation. GRAMMYs host Trevor Noah, who introduced her, described her as "the only person in the world who knows which of tonight's songs the President sings in the shower."
The First Lady presented two awards – the Song of the Year and the new award "Best Song for Social Change."
Iranian singer Shervin Hajipour won the new social change award. His song Baraye has been described as the anthem of the Mahsa Amini protests in Iran. Biden described the song as a "powerful and poetic call for freedom and women's rights."
He was arrested on September 29, 2022 – two days after his song was released on social media – and was released two days later. He is not allowed to leave Iran.
Biden then presented Song of the Year to Just Like That by Bonnie Raitt. She kissed Raitt on the cheek.
Vanessa Valdivia, Press Secretary for Biden told the traveling press pool: "The First Lady was honored to be asked by the Recording Academy to announce the GRAMMYs' first Social Change award to Shervin Hajipour for his song 'Baraye'. As a steadfast champion for women and girls around the world, the First Lady was inspired by his song that served as an anthem for freedom and women's rights."
2023 GRAMMY Award Winners
* Winners in bold
Album of the Year:
Harry Styles – Harry's House
ABBA – Voyage
Adele – 30
Bad Bunny – Un Verano Sin Ti
Beyoncé – Renaissance
Mary J. Blige – Good Morning Gorgeous (Deluxe)
Brandi Carlile – In These Silent Days
Coldplay – Music of the Spheres
Kendrick Lamar – Mr. Morale & the Big Steppers
Lizzo – Special
Song of the Year:
Bonnie Raitt – "Just Like That"
Gayle – "abcdefu"
Lizzo – "About Damn Time"
Taylor Swift – "All Too Well (10 Minute Version)"
Harry Styles – "As It Was"
Steve Lacy – "Bad Habit"
Beyoncé – "Break My Soul"
Adele – "Easy On Me"
DJ Khaled feat. Rick Ross, Lil Wayne, JAY-Z, John Legend, and Fridayy – "God Did"
Kendrick Lamar – "The Heart Part 5"
Record of the Year:
Lizzo – "About Damn Time"
ABBA – "Don't Shut Me Down"
Adele – "Easy On Me"
Beyoncé – "Break My Soul"
Mary J. Blige – "Good Morning Gorgeous"
Brandi Carlile feat. Lucius – "You and Me on the Rock"
Doja Cat – "Woman"
Steve Lacy – "Bad Habit"
Kendrick Lamar – "The Heart Part 5"
Harry Styles – "As It Was"
Best New Artist:
Samara Joy
Anitta
Omar Apollo
Domi & JD Beck
Muni Long
Latto
Måneskin
Tobe Nwigwe
Molly Tuttle
Wet Leg
Best Alternative Music Album:
Wet Leg – Wet Leg
Arcade Fire – WE
Big Thief – Dragon New Warm Mountain I Believe in You
Björk – Fossora
Yeah Yeah Yeahs – Cool It Down
Best Alternative Music Performance:
Wet Leg – "Chaise Lounge"
Arctic Monkeys – "There'd Better Be a Mirrorball"
Big Thief – "Certainity"
Florence + The Machine – "King"
Yeah Yeah Yeahs feat. Perfume Genius – "Spitting Off the Edge of the World"
Best Rock Performance:
Brandi Carlile – "Broken Horses"
Bryan Adams – "So Happy It Hurts"
Beck – "Old Man"
The Black Keys – "Wild Child"
IDLES – "Crawl!"
Ozzy Osbourne feat. Jeff Beck – "Patient Number 9"
Turnstile – "Holiday"
Best Rock Song:
Brandi Carlile – "Broken Horses"
Red Hot Chili Peppers – "Black Summer"
Turnstile – "Blackout"
The War on Drugs – "Harmonia's Dream"
Ozzy Osbourne feat. Jeff Beck – "Patient Number 9″
Best Rock Album:
Ozzy Osbourne – Patient Number 9
The Black Keys – Dropout Boogie
Elvis Costello & The Imposters – The Boy Named If
IDLES – Crawler
Machine Gun Kelly – Mainstream Sellout
Spoon – Lucifer on the Sofa
Best Metal Performance:
Ozzy Osbourne feat. Tony Iommi – "Degradation Rules"
Ghost – "Call me Little Sunshine"
Megadeth – "We'll Be Back"
Muse – "Kill or Be Killed"
Turnstile – "Black Out"
Best Solo Pop Performance:
Adele – "Easy on Me"
Bad Bunny – "Moscow Mule"
Doja Cat – "Woman"
Steve Lacy – "Bad Habit"
Lizzo – "About Damn Time"
Harry Styles – "As It Was"
DJ Khaled feat. Rick Ross, Lil Wayne, JAY-Z, John Legend, and Fridayy – "God Did"
Best Solo Pop Duo/Group Performance:
Sam Smith & Kim Petras – "Unholy"
ABBA – "Don't Shut Me Down"
Camila Cabello feat. Ed Sheeran – "Bam Bam"
Coldplay & BTS – "My Universe"
Post Malone & Doja Cat – "I Like You (A Happier Song)"
Best Pop Vocal Album:
Harry Styles – Harry's House
ABBA – Voyage
Adele – 30
Coldplay – Music of the Sphere
Lizzo – Special
Best Dance/Electronic Recording:
Beyoncé – "Break My Soul"
Bonobo – "Rosewood"
Diplo & Miguel – "Don't Forget My Love"
David Guetta & Bebe Rexha – "I'm Good (Blue)"
Kaytranada feat. H.E.R. – "Intimidated"
RÜFÜS DU SOL – "Intimidated"
Best Dance/Electronic Album:
Beyoncé – Renaissance
Bonobo – Fragments
Diplo – Diplo
Odesza – The Last Goodbye
RÜFÜS DU SOL – Surrender
Best Rap Album:
Kendrick Lamar – Mr. Morale & the Big Steppers
DJ Khaled – God Did
Future – I Never Liked You
Jack Harlow – Come Home the Kids Miss You
Pusha T – It's Almost Dry
Best Rap Song:
Kendrick Lamar – "The Heart Part 5"
Future feat. Drake and Tems – "Wait for U"
Jack Harlow feat. Drake – "Churchill Downs"
DJ Khaled feat. Rick Ross, Lil Wayne, JAY-Z, John Legend, and Fridayy – "God Did"
Gunna and Future feat. Young Thug – "Pushin' P"
Best Rap Performance:
Kendrick Lamar – "The Heart Part 5"
DJ Khaled feat. Rick Ross, Lil Wayne, JAY-Z, John Legend, and Fridayy – "God Did"
Doja Cat – "Vegas"
Gunna & Future feat. Young Thug – "Pushin P"
Hitkidd & GloRilla – "F.N.F. (Let's Go)"
Best Melodic Rap Performance:
Future feat. Drake and Tems – "Wait for U"
DJ Khaled feat. Future and SZA – "Beautiful"
Jack Harlow – "First Class"
Kendrick Lamar feat. BLXST and Amanda Reifer – "Die Hard"
Latto – "Big Energy (Live)"
Best Música Urbana Album:
Bad Bunny – Un Verano Sin Ti
Rauw Alejandro – Trap Cake, Vol. 2
Daddy Yankee – Legendaddy
Farruko – LA 167
Maluma – The Love & Sex Tape
Best Americana Album:
Brandi Carlile – In These Silent Days
Dr. John – Things Happen That Way
Keb' Mo' – Good to Be…
Robert Plant & Alison Krauss – Raise the Roof
Bonnie Raitt – Just Like That…
Best Comedy Album:
Dave Chappelle – The Closer
Jim Gaffigan – Comedy Monster
Randy Rainbow – A Little Brains, a Little Talent
Louis CK – Sorry
Patton Oswalt – We All Scream
Best Music Video:
Taylor Swift – "All Too Well: The Short Film"
Adele – "Easy on Me"
BTS – "Yet to Come"
Doja Cat – "Woman"
Kendrick Lamar – "The Heart Part 5"
Harry Styles – "As It Was"
Best Music Film:
Various Artists – Jazz Fest: A New Orleans Story
Adele – Adele One Night Only
Justin Bieber – Our World
Billie Eilish – Billie Eilish Live at The O2
Rosalía – Motomami (Rosalía TikTok Live Performance)
Neil Young & Crazy Horse – A Band A Brotherhood A Barn
Best Score Soundtrack for Visual Media:
Germaine Franco – Encanto
Michael Giacchino – The Batman
Hans Zimmer – No Time to Die
Jonny Greenwood – The Power of the Dog
Nicholas Britell – Succession: Season 3
Best Compilation Soundtrack for Visual Media:
Encanto
Elvis
Stranger Things: Soundtrack from the Netflix Series, Season 4 (Vol 2)
Top Gun: Maverick
West Side Story
Best Remixed Recording:
Lizzo – "About Damn Time (Purple Disco Machine Remix)"
Beyoncé – "Break My Soul (Terry Hunter Remix)"
Ellie Goulding "Easy Lover (Four Tet Remix)"
The Knocks & Dragonette – "Slow Song (Paul Woolford Remix)"
Wet Leg -"Too Late Now (Soulwax Remix)"
Best Engineered Album, Non-Classical:
Harry Styles – Harry's House
Bayn – Adolescence
Robert Glasper – Black Radio III
Father John Misty – Chloë and the Next 20th Century
Wet Leg – Wet Leg
Producer of the Year:
Jack Antonoff
Boi-1da
Dernst "D'Mile" Emile II
Dahi
Dan Auerbach