Truth transcends trans stereotypes in dazzling 'Dope Queens'
Everything about debut production is top-notch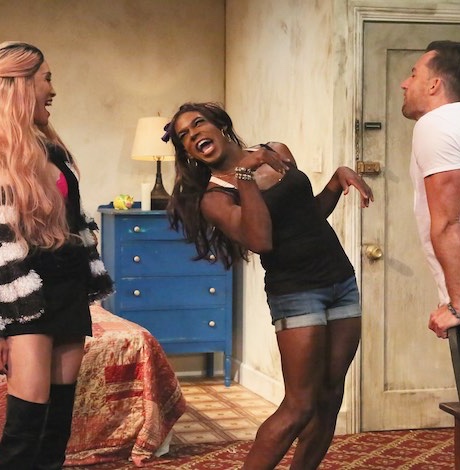 You only need to watch an episode of "Pose" to recognize there has been a sea change in the way the trans experience is portrayed in our fictional narratives. Transgender characters have typically been a rarity, and usually they have been presented as caricatures that reinforce the transphobic prejudices of our culture. Even artists with the best of intentions have often lacked the sensitivity or understanding to "get it right."
All that is changing, gradually but unmistakably. As the public conversation on trans issues intensifies, we have finally begun to see stories that strive to elevate their trans characters instead of reducing them to the level of a hurtful stereotype. It may be painfully slow, but it's progress, nonetheless.
In that context, is it really a good idea for playwright/director Grafton Doyle to offer up a new dark comedy called "Dope Queens" featuring drug-using transgender prostitutes as two of its three characters?
The answer is a resounding "yes."
Taking place over the course of a single night in a grimy SRO (Single Room Occupant) apartment in San Francisco's Tenderloin district, "Dope Queens" introduces us first to Goldie (Donzell Lewis) and Blake (Michael Antosy), a young black trans woman and her "trade" lover; both earn a living selling their bodies on the streets, and Blake is struggling with a meth addiction, but they have dreams of saving their money and finding a better life together. The arrival of Angel (Malaya), another trans sex worker they both knew in jail, is a mixed blessing; while it means one more person to help pay the bills, it also dredges up a complicated history – along with some uncomfortable secrets that each of the trio carries underneath their street-hardened shells.
Yes, it's funny, and yes, it's also outrageous. The comedy springs from the absurdity of the world in which these characters dwell – but it's a very real world, and Doyle's play is not really trying to make you laugh. The playwright is not interested in political correctness, nor is he after the kind of romanticized glow that emanates from shows like "Pose" or the new "Tales of the City." His streetwalking heroines are survivors in a hard-scrabble life on the fringes, fierce in the original sense of the word, and they are here to remind us that for a disproportionate percentage of trans people – especially trans people of color – the potentially deadly life of a sex worker is still a daily reality which offers little opportunity for escape. It's a point that comes across clearly, even through the laughter.
"Dope Queens" doesn't content itself with merely offering a strong social message, though; it goes deeper than that. Its character descriptions seem like prime examples of those hurtful stereotypes mentioned above, but Doyle cuts through the tropes of each character's surface to explore the person inside – not as trans or cis or gay or fluid or any of that, but as human. Through their stories and revelations, the play contemplates the intersections between personal and cultural pressure, the marginalization of "the other" through institutionalized trans- and homophobia, the deadly cycles of addiction and violence, and the paradox of a criminal justice system in which "revolving door" incarceration is an accepted way of life for an entire segment of the population. On paper, that sounds like cliché, propaganda, or both; through the complexities revealed by first-hand experience of this premiere production at the Hudson Theatre, it's powerful stuff.
It's the cast, of course, that has to deliver that power to an audience, and the three actors rise to that challenge by infusing their roles with an authenticity that dissolves any notion of stereotyping from the first moment they appear on stage. Lewis is bold and bossy as Goldie, but brings a little-girl quality to the mix that informs both the character's vulnerability and bravado. Malaya's Angel is the perfect counterpoint, an icy-hot embodiment of dangerous beauty who is clearly the "alpha" in the group no matter where on the gender spectrum any of them may be. Antosy, as Blake, may have the biggest challenge of the three, walking the line between not-very-convincing street thug and tragic "lost child" with a privilege afforded by his entitled past; he not only pulls it off, he offers a heart-rending portrait of a person battling with the army of demons he has set against himself, making the necessary leaps from psychotic delirium to razor-sharp introspection not only harrowing but believable. It's a towering performance, but no more so than those of his fellow performers; together they embody the spirit of a true ensemble cast, each lifting the others to greater heights as they give unforgettable performances of their own.
Everything else about this debut production of "Dope Queens" is equally top-notch – from the faux-cartoonish thrift-store chic of Tom Buderwitz' scenic design, to the seamless integration of Cricket S. Myers' soundscape of ambient noises and oldies-station rock, to the subtle orchestrations of Andrew Schmedake's lighting.  As for Doyle the director, also being the playwright has worked to his advantage – something many theatre professionals might say is rare – by allowing him the deep insight needed to guide his cast through the electric blend of absurdist comedy and kitchen-sink realism he has created, as well as the sure instincts required to shape the pacing and emotional build of the piece into a well-crafted, absorbing piece of theatre.
There's a feeling when watching this new play that you are witnessing the birth of something great. It might be the familiar echoes you can perceive in the script; Doyle's characters evoke an unmistakable Tennessee Williams flavor, and their words spark with the biting intelligence of Edward Albee. There's a sense that this play has adopted the classic structures and themes used by these iconic playwrights of the past, giving us the fragile and broken denizens of a squalid world who are struggling to preserve for themselves their version of a crumbling American Dream. Whether intentional or not, these traces of influence lend a pedigree to Doyle's piece that it wears comfortably, even as it subverts and transcends them to find a unique voice of its own.
Doyle wrote "Dope Queens" as part of his development of a film version of the same story, a work which is still in progress. Given the obvious talent and vision he brings to the project, if that movie ever sees the light of day it will be well worth seeing – but don't wait for it.  The play stands on its own merits as a complete and cohesive work of art, and it deserves – no, demands – to be seen. Los Angeles' theatre scene is notoriously full of outstanding productions being performed for half-empty houses; it's up to you to make sure this is not one of them.
"Dope Queens" continues on the mainstage at the Hudson Theatre through Sunday Sept. 22.
Black Deafhood: A journey at the intersection of sexuality, disability, race
Gallaudet's Bobbi-Angelica Morris on their activism and art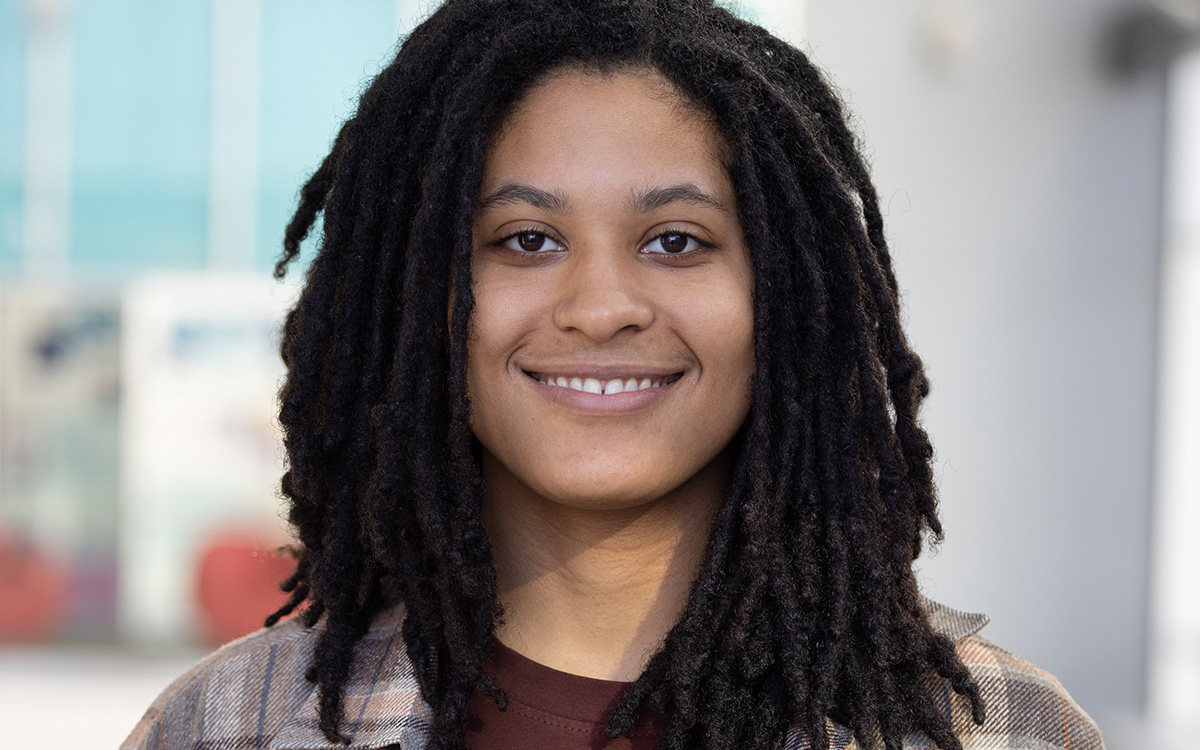 Editor's note: One in four people in America has a disability, according to the CDC. Queer and Deaf/disabled people have long been a vibrant part of the LGBTQ community. Take two of the many queer history icons who were disabled: Michelangelo is believed to have been autistic. Marsha P. Johnson, a hero of the Stonewall Uprising, had physical and psychiatric disabilities. Today, Deaf-Blind fantasy writer Elsa Sjunneson, actor and bilateral amputee Eric Graise and Obama administration Assistant Secretary of Labor for Disability Employment Policy Kathy Martinez are just a few of the people who identify as queer/Deaf/disabled. The stories of this vital segment of this queer community have rarely been told. In its series "Queer, Crip and Here," the Blade is telling some of these long unheard stories.
"My 'coming out' story looks more like me telling someone my favorite cookie flavor is chocolate chip," Bobbi-Angelica Morris, a Gallaudet University graduate student, activist, poet, photographer, videographer and visual artist, told the Blade, "than an emotional roller coaster."
"I've always embodied this carefree energy pertaining to who I am, what my purpose is, and how I show up for others," added Morris, who is Deaf/Hard of Hearing and identifies as a Black, nonbinary, queer and abolitionist artist.
Earlier this year, Morris, 23, received the Mary Bowman Arts in Activism Award from the National AIDS Memorial, the San Francisco organization that displays the internationally acclaimed AIDS Memorial Quilt.
Over the phone and in email, Morris spoke with the Blade about a range of topics – from her "Deafhood" to how she felt safe at a queer Halloween party.
Morris, who uses she/they pronouns, grew up in different parts of the East Coast. They spent most of that time in Richmond, Va.
"Growing up, most of the people around me would ask if I was gay," Morris said, "because I fit into the stereotypical realms of present day msc [masculine] presenting dykes."
"No one questioned me when I actually came to terms with my queer identity," they added.
Before enrolling in Gallaudet, Morris spent most of their time as a student with hearing people in schools, where most teachers and students didn't communicate in American Sign Language (ASL). Morris was the only Deaf student in their classes until they graduated from the University of Virginia in 2022 in Charlottesville. There, they majored in global development studies and minored in ASL with a concentration in disability studies and community development.
Growing up, Morris didn't know about ASL or the creativity and history of Deaf culture.
"It wasn't until I was in elementary school," Morris said, "that an audiologist said I qualified for hearing aids."
In their poetry, Morris, who speaks and signs their work, reflects on their family and their experience of being Deaf.
"I reflect on my own Deafhood:/ my playground fights/ with uneducated parents," Morris writes in a poem, "When little Black Deaf girl doesn't hear someone speak to her,/that someone thinks little Black Deaf girl is disrespectful."
Like many Deaf/Hard of Hearing people, who go to school when they don't know American Sign Language, and there are no ASL interpreters, Morris felt isolated.
"I had no knowledge of the Deaf community or of Black Deaf history," they said.
Some in Morris's family and community couldn't accept that Morris is Deaf. "Some, not out of maliciousness, prayed for my healing," they said.
What Morris calls her "Black Deafhood," has been a long journey at the intersection of sexuality, Deafness, disability, Blackness, gender, activism, and art.
Deafhood is a "journey that a Deaf person undertakes to discover his, her or their identity and purpose in life," according to a Deafhood Foundation statement on deafhood.org.
Hearing people often perceive of Deafness as a disease that should be cured, and of Deaf people as incompetent, second-class, less-valued, citizens.
Just as coming out helps queer people to affirm their sexuality and connect with the LGBTQ community and history, Deafhood empowers Deaf people to have pride in themselves – to connect with the Deaf community, history and culture.
As it often goes with finding and loving your queer self, Deafhood is a process.
In middle school, Morris watched "Switched at Birth," the popular TV series. The teen and family drama features Deaf and hearing actors and scenes in ASL.
The show jump-started Morris's interest in Deafness and the Deaf community. "But, I still didn't understand my connection [with the Deaf community]," Morris said.
Curious to discover something about Deaf culture, Morris started an informal class – a club. There, they and their friends learned signs from YouTube videos.
At the University of Virginia, Morris took a sign language class. They studies abroad for a time in India.
At Gallaudet, Morris began to feel connected to the Deaf community. They are a student in the Master of Social Work program at Gallaudet's School of Civic Leadership, Business, and Social Change. Morris will graduate with an M.S.W. degree in 2024.
They are equally committed to making art and activism – to working for social justice for Black, Deaf/disabled, queer, and other marginalized groups. A love of art and social change is etched in their bones.
"I am an abolitionist and an artist," Morris said, "I cannot be one without the other."
Their abolitionist identity is connected to how they experience intersectionality. Morris sees their life as connected "to the movement for total liberation of all our people, beings, and non-beings in this present day and beyond," they said.
Because they are an artist, they have a responsibility to use their skills to educate, inspire and protect "everyone and everything that abolitionists fight for daily," Morris said.
From early on, Morris loved being creative. During an unstable childhood, art helped Morris to express their feelings.
Fortunately, art ran in Morris's family. "My bio-mom is an amazing artist," Morris said, "so we would draw things together."
Later, Morris's god-mom gave Morris materials that sparked their interest in painting and photography.
In middle school, Morris got into spoken word poetry when one of their Boys and Girls Club mentors showed them a spoken word video. At the University of Virginia, Morris participated in poetry slams. In their Gallaudet social work program, they impressively deploy their artistic and activism chops.
Their advocacy projects are numerous. Morris is developing ASL G, a non-profit organization. The group's mission "is to develop community garden coalitions and programming for art and health wellness through disability justice," Morris said.
Morris was the former creative outreach coordinator of VOCA, a non-profit that supports BIPOC, Deaf artists.
"I have family members that have been incarcerated," Morris said. "Because of that, I want to fight the injustice of the prison industry and mass incarceration."
Morris is the president of Students Against Mass Incarceration (SAMI), a student club at Gallaudet.
Ableism, audism (discrimination against Deaf people), homophobia and racism are issues for Morris. "The white presence is prominent in many institutions," they said, "often they're predominantly white."
Morris likes being a Gallaudet student. But, "there's a lack of racial competency at Gallaudet as there is in the whole of America," they said.
The queer community has provided safe spaces for Morris.
Once, Morris and their partner attended a queer Halloween party in Charlottesville. "Half the people in attendance knew or were learning sign language," Morris said. "I think it was then that I realized how connected the queer community was in ensuring no one was left out."
Morris went to the party as Beast Boy, and their partner went as Raven from Teen Titans.
Follow Morris on Instagram @Blckrainbow5