August 30, 2019 at 7:40 pm PST | by Staff reports
Kern County High School GSA bullied by Future Farmer's Club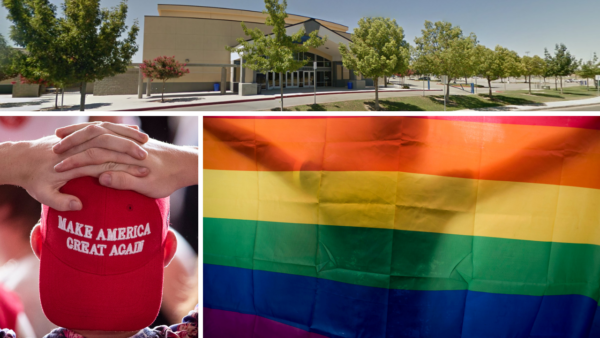 Students at Bakersfield, California's Frontier High School's Gay-Straight Alliance had just finished their first meeting of the school year on Wednesday, August 28, when they were allegedly verbally harassed and bullied by students from the school's Future Farmers of America club who were holding "Make America Great Again" Trump campaign flags.
KERO-TV, ABC 23 News reported that one of the parents posted on Facebook a description of what allegedly took place: "The FFA students, described as the "straight kids," were holding hands and shouting, "this is what's right." They also had "Make America Great Again," or MAGA, flags, the Facebook post says. The parent adds their son says there's "tension" between the members of the FFA group and "any kids they've determined as liberal."
"I want these kids punished," the parent said, referring to the FFA group's members." FFA is considered to be non-political although President Trump had addressed the group at its annual national meeting in 2018.
The Kern County School District issued a statement saying it and "Frontier High School recognize that students have varying viewpoints and opinions. One of the goals of the educational process is to teach students how to communicate respectfully. The reported Top; Frontier High, Bakersfield, Calif. MAGA HAT/Pride Flag Screenshot via KERO-TV ABC23 News incident that occurred on Wednesday afternoon at Frontier High School is currently being investigated. Once the investigation is complete, appropriate follow-up measures will be taken."
According to KERO-TV, ABC 23 News One of the students allegedly accused of harassment, identified only as "Matthew," "said he and his group of friends were suspended from Frontier High School for harassment, intimidation and sexual harassment, but maintains he did not want to start a fight."