Veteran director Scholl embraces challenge of 'Last Swallows'
A modern family dramatic comedy set in New England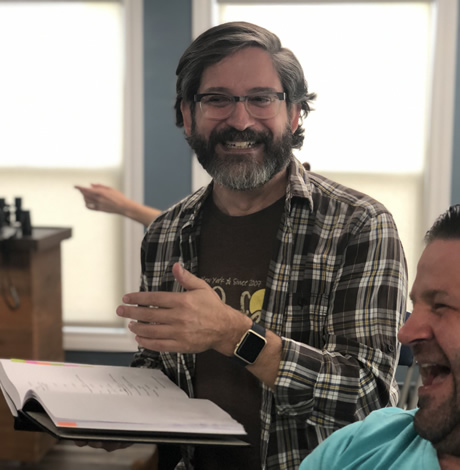 You might never have heard his name, but Kiff Scholl is one of the hardest-working men in Hollywood.
Like so many actors, he arrived here hoping for stardom, and came maddeningly near a shot at it when he was almost cast as the lead in the 1998 film, "Billy's Hollywood Screen Kiss," but lost out to another gay actor – Sean Hayes, then on the brink of TV icon status as Jack McFarland on "Will and Grace." It was a blow, but he got some screen time in the movie anyway, and that was enough of a taste to keep him pushing for more.
Two decades later, Scholl is still pushing. He's done a few roles, some voice work, and a lot of walk-ons and commercials (lately, he says, his forte has been playing dads). He's even dabbled in filmmaking, most notably, perhaps, with the kooky "Scream of the Bikini," a bizarrely hilarious satirical pseudo-vintage meta-mash-up of a badly-dubbed foreign language spy thriller, but also with the short film "Surprise," an official selection at the Reel Affirmations Film Festival of which he is very proud. That successful screen career of his dreams has yet, so far, to materialize, but that doesn't mean he's ready to give up yet.
In the meantime, he's built another kind of career – adjacent to, and often intertwined with the other – spreading his creative wings on the many 99-seat-and-under stages of Los Angeles, an arena in which he is now a fixture. He has built a reputation on edgy, risk-taking projects and helmed an impressive number of award-winning and nominated plays over the years, and his lengthy experience on both sides of "the process" has made him the kind of director that other actors are eager to work with. He's garnered both praise and pans from critics over the years, but has endured the perils of each to emerge as a force to be reckoned with in the local theatre community – no small feat when that community is a city that attracts the best actors and artists from all over the world.
Lately, he's parlayed that status into expanding his horizons even further; using the same "both-sides" perspective that makes him an actor's director, he has taken on the mantle of dramaturg (or "script doctor," if you're more Hollywood-minded), sharing his insights to help inform and shape the vision of writers as they bring their work to life. The latest of these collaborative efforts is about to come full blossom when "Last Swallows" opens at The Other Space in West Hollywood on Sept 21.
Written by Cailin Harrison, it's a "modern family dramatic comedy" set in present day New England, where retired patriarch Robert is happy to see life go by through binoculars birdwatching. His wife Elizabeth, however, is convinced he's at death's door; ever the doting matriarch, she is determined to bring their whole dysfunctional brood home for one final holiday together. Framed through the contemporary scope of a diverse family including the spouses of the families' adult siblings, it's a darkly funny look at a bickering family that also throws some powerful and dramatic curveballs along the way.
Scholl initially started working with Harrison when a friend recommended him to help her write a web series. In the process of their work together, it grew into the script for film so large and expensive to make that it had to be set aside. Still the two had enjoyed the collaboration, so they talked about other projects they might take on.
One of these turned out to be "Last Swallows," and he was on board for it almost before he had even looked at the script.
"She brought it to me and said, 'Here's this play that I've been writing,'" remembers Scholl.
"'It's about my husband's family, I wrote it about how when one of his parents was dying, I wasn't allowed to go to the funeral.' And I immediately thought, 'Oh my God! That's a story I want to direct!'"
He elaborates, "Right away, all the characters are onstage, in four different homes, all talking at the same time. They repeat things that the other ones said, they comment, they talk, and it tells a story – almost like gears in a watch, where we get one part from this character and another part from this character, and it just folds into each other. It's a director's wet dream, to be able to tell that story when you're given that challenge."
He began working with Harrison as a dramaturg as well as a director ("She put her complete trust in me," he beams) and helped her to think through the fine details of her script until it became the play that opens next weekend – one he says he's "immensely proud" to be a part of.
"I knew this was going to be something remarkable," he says with a sense of lingering awe. "Sometimes, you just know. And with this one, I knew. I think that by working together, we were able to take this play to a place where, at auditions, the actors were saying, 'I know I'm not supposed to say anything, but I loved your play!'"
If his instincts are to be trusted (and his track record is strong evidence that they are), audiences can be expected to have the same reaction. "Last Swallows," says Scholl, has exactly the qualities that attract him as a director.
"I want the most innovative, risky scripts I can get my hands on," he says. "Any play where, for the first ten or twenty minutes, the audience is like 'What's happening? I don't even know what's going on but I'm on the edge of my seat!' – that, to me, is a play that I want to direct.'"
Ultimately, he reflects, it's the logical extension of the feelings he had as a small boy when he saw a play for the first time. "I wanted to be up there," he says, "to do theatre that makes people utter sounds, to make them not just applaud but gasp and talk back."
"Theatre has to be visceral," he sums up. "You have to make the audience feel like they're physically engaged if you want them to leave their house, and then go into a dark room with a bunch of strangers and react together. If I can do that, as a director, that is what I live for."
Captivating topic, great cast, but falls short on real issue
Rogue Machine Theatre's recent run of "A Great Wilderness" is reviewed by the founder of the Conversion Therapy Dropout Network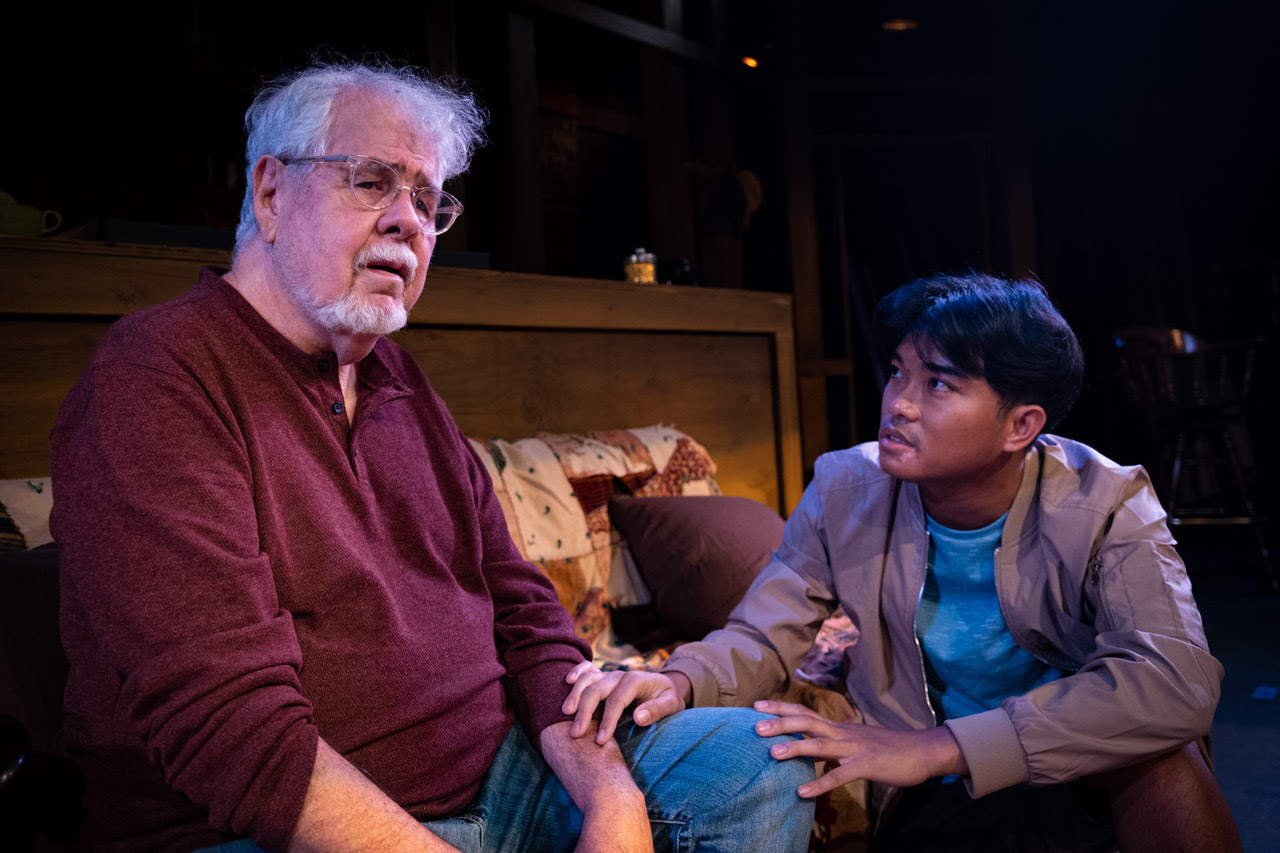 By Curtis Galloway | LOS ANGELES – Rogue Machine Theatre's recent run of "A Great Wilderness", written by Samuel D. Hunter and directed by Elina de Santos, was a harrowing story, to say the least. It explores the complex ideas behind conversion therapy or sexual orientation and gender identity change efforts.
As a conversion therapy survivor, I knew that I needed to see this production as I am always more than happy to see conversations about this topic. While the cast was excellent and the overall theatrical presentation was entertaining and very engaging, I feel that the script itself lacked direction and proper handling of the main topic, conversion therapy.
The show opens in an old cabin, which we will stay in for the duration of the story, with the two main characters, Daniel & Walt, standing off in silent opposition. Daniel, a teenager, has just been sent away to a remote cabin run by Walt, an elderly man that is about to be moved into an assisted living home. We learn quickly that Daniel was sent there by his mother after he was caught watching homosexual pornography, and Walt is known for "helping" kids change their sexual orientation through religious means. To be plain, Walt is a "conversion therapist" and has been running a conversion camp with his friend Tim and ex-wife Abby.
Over the course of two hours, Daniel goes missing in the woods, Abby and Walt reveal that their son was gay and committed suicide due to their attempts to have his sexual orientation changed, and Daniel's mother seemingly prefers her son stay missing rather than face the world that she knows is unkind to "people like him".
There is no doubt, that the show had a fantastic cast. The six characters were neatly defined as their own individuals with distinct personalities and lives of their own. Each action was meaningful and thought out, to the smallest detail. The emotion brought through each character enticed you to believe that it was actually happening before your eyes. It was everything good casting should be.
My main issue with the production sat in the script, specifically the sympathy it garnered for Walt as a conversion therapist.
From personal experience, when talking about conversion therapy and specifically the conversion therapist, we need to be careful not to create a sympathetic tone. A Great Wilderness focused too much on the life and struggles of a conversion therapist that, in his old age, is trying to come to terms with his life, the mistakes he has made, and his past attractions.
This brings feelings of sympathy and emotional connection to the character, that does not deserve sympathy. One character notes that they knew Walt through the community as a weird old man that abuses children in his cabin by trying to make them straight. They noted that as they grew to know him they realized that people will say what they want, but they knew he "never harmed those kids".
Toward the end of the show, we get the initial beginnings that Walt is starting to doubt the conversion therapy he has been providing his whole life, but we never really get to him denouncing it or talk directly about it.
At the end, we finally get to see Daniel stumble back into the cabin after being missing in the woods. He describes seeing flames (from a wildfire nearby) and having a revelation from God that he can change and that he wants to pursue what Walt initially set out to do, make Daniel straight.
For me, this left the door way too open for interpretation that, yes, conversion therapy is bad, but what this guy did really wasn't. It misses the whole point and ideology behind why conversion therapy exists in the first place. Anti-LGBTQ sentiments that something is wrong with the individual are at the heart of all of it, and no amount of feel good cabin, "I just want to help" can cover that up.
Overall, the production of "A Great Wilderness" was captivating and fantastic. The cast did an amazing job and they should all be proud, as should the theatre. I left having mixed feelings, as you have now read, but I stand by my evaluation that it casts too much sympathy on a character that has spent his life making other's lives worse and more confusing.
************************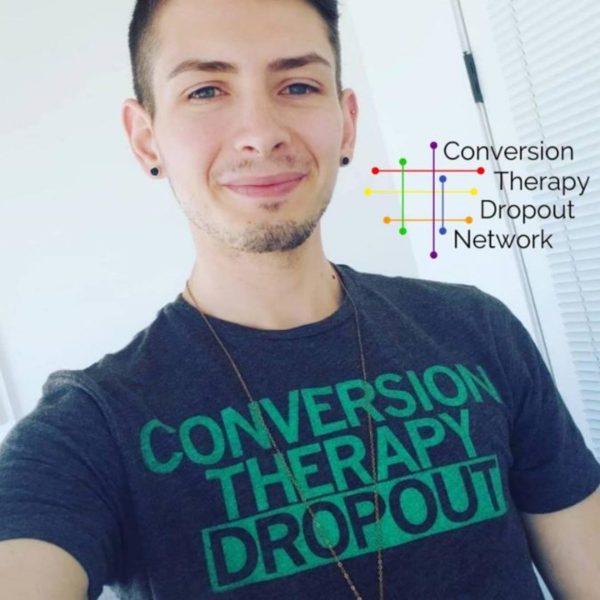 Curtis D. Galloway is the Founder & President of Conversion Therapy Dropout Network in Los Angeles, California. Curtis grew up in a small town in Southern Illinois. When he was 16 years old he was subjected to conversion therapy; an experience he was later able to use to ban conversion therapy in his home state.
Now living in L.A., Curtis has taken his activism to the next level and founded the Conversion Therapy Dropout Network to bring survivors of conversion therapy together in community and solidarity.