"Judy" is somewhere over the Rainbow
Zellweger captures her spirit but not her voice or her gaydar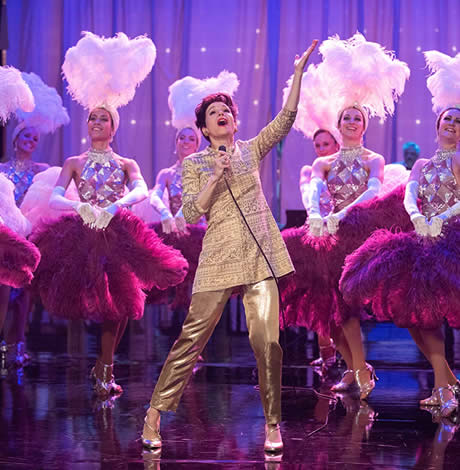 Frances Ethel Gumm, aka Judy Garland died fifty years ago in London, England. But she remains in the spotlight everywhere, particularly the LGBT everywhere, to this day, and that ain't like to change. Ever.
Judy Garland is a "Gay Icon" like no other.
Her life bridges the gap between the pre-"Stonewall" world when Gay was "in the closet" to the post-"Stonewall" one, filled with the "out and proud" whose attentions are longed for Gay Icon wannabes like Lady Ga-Ga and Taylor Swift (good intentions sometimes aren't good enough).
That "Stonewall" took place on the day of Judy's funeral was mere coincidence, but like the film's failure to mention Stonewall — even in a closing crawl — something crucial is missing from her performance — a sense of magic
How is it then that "Stonewall" isn't mentioned at all in "Judy," the new Renée Zellweger-starred biopic — it doesn't even count as a blip on the Gaydar.
It's a well-meaning, competently made film and Zellweger gives it her all, but like the film's failure to tie her to Stonewall, something is missing.
While she's capable of perfectly reflecting Garland's facial tics and physical stance, she can't reproduce her vocal power. No one can.
Judy, adapted from the play "End of The Rainbow" by Peter Quilter, is an attempt to reproduce Garland's last days but wanes bathos rather than insightful. And in no matter more so than when it touches on LGBT history.
Judy features an entirely fictional British gay couple who come to know her. Clearly they're meant to stand for her many gay fans. But two men won't do.
Nor does the film explore the fact that her fifth and last husband, hustler/promoter Mickey Deans was gay. One could make an entire film about Judy's many gay husbands alone.
One could also make a film about the gay men so important to her career like producer-songwriter Roger Edens, directors Vincente Minnelli, Charles Walters and George Cukor and many actors including Tom Drake who played "The Boy Next Door" in one of her greatest films Minnelli's Meet Me in St. Louis.
And then there's the film that might be made about her gay appeal, which in her lifetime won her both adulation and opprobrium that has morphed her into a goddess.
In a chapter of his book Heavenly Bodies: Film Stars and Society devoted to Garland. gay scholar, activist Judy-adept Richard Dyer notes that while "Garland was the image of heterosexual family normality' in the films that made her a star she worked in "in an emotional register of great intensity which seems to bespeak equally suffering and survival, vulnerability and strength, theatricality and authenticity, passion and irony."
And it's within this range she connected to gays at a time when so much as acknowledging our existence was controversial.
And she knew it. On "The Jack Paar Show," a show that aired from 1957 to 1962, she declared her undying love for her gay fans.
She could also tease about it. In the climactic hospital scene of her last film I Could Go On Singing she acknowledges to an ex-beau played by Dirk Bogarde (no you can't get any gayer) that not only is she drunk but "I've had enough to float Fire Island."
That line like much of the entire scene was an ad lib — providing a quite insightful portrait of how insightfully Garland was about her gay fans.
How they reacted to those subliminal callouts is something of a story all by itself. Dyer quotes a gay British friend who with scores of other gays flocked to her concerts discovering "it was as if the fact that we had gathered to see Garland gave us permission to be gay in public for once."
This "permission" engraged homophobes like writer William Goldman who in his foaming-at-the-mouth anti-gay screed "The Season: A Candid Look at Broadway" (Harcourt Brace and World 1969) declared "If homosexuals have an enemy it is age. And Garland is youth, perennially over the rainbow. And second, the lady has suffered. homosexuals tend to identify with suffering. They are a persecuted minority group, and they understand suffering. And so does Garland. She's been through the fire and lived — all the drinking and divorcing, all the pills and all the men, all the pundage come and gone — brothers and sisters she knows."
This suggests that Garland was little more than a crying towel.
But gay activist and dedicated Garland fan Vito Russo said "She had the guts to take a chance at dropping dead in front of a thousand people, and won." And that for the gays who loved her was the point.
As for the straights who hated her, Goldman, whose "bromance" Butch Cassidy and the Sundance Kid hovers right on the edge that Brokeback Mountain finally lapsed into, quotes another screenwriter friend who observed Garland at a Hollywood party: "I'm in the corner now, and she's sitting all alone in the center of this patio and for a minute there was nothing. And then this crazy thing started to happen: every homosexual in the place — every guy you'd heard whispered about, all these stars, they left the girls they were with and started a mass move toward Garland. She didn't ask for it. She was just sitting there blinking in the sun while this thing happened: All these beautiful men, some of them big stars, some of them not so big, they circled her, crowded around her, and pretty soon she disappeared behind this expensive male fence."
One can only ask "Your point?"
In As Time Goes By, a play about gay life by Noel Greig and Drew Griffiths produced in England in 1977, one of its many characters says of Judy Garland "When they said she was fat, when they said she was thin, when they said had fallen flat on her face…People are falling on their face every day. She got up."
No, Judy Garland didn't "die for our sins." She got up instead, until she could no longer stand. Her passion set an example.
Zellweger's womanlike skill is strikingly admirable but the passion of Judy Garland just didn't zing the strings of my heart.
Charles Busch reflects on the paths he didn't take in new book
'Leading Lady' a riveting memoir from legendary entertainer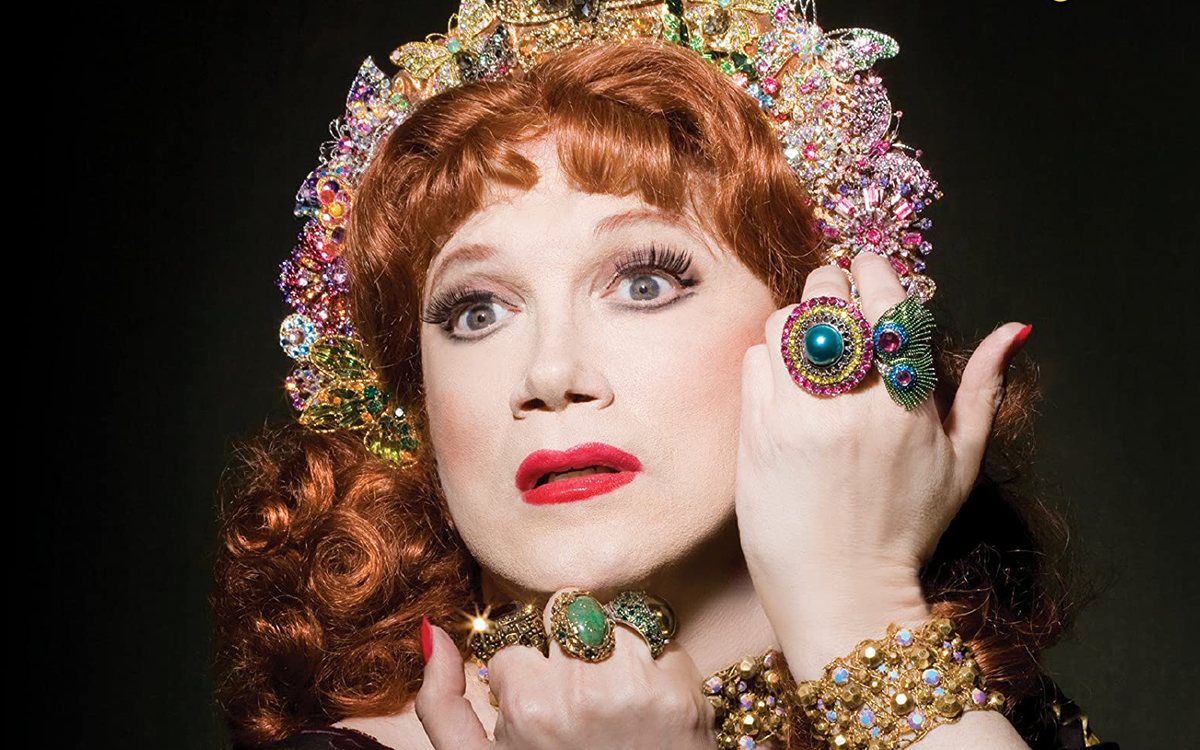 "Charles, I'm telling you, I go to plays in rat-infested basements where I'm the only one who shows up," the late queer icon Joan Rivers once told the queer, legendary playwright, actor, director, novelist, cabaret performer and drag icon, Charles Busch. "I can see the actors peeking through the curtain and groaning, 'Oh God, that old bitch in the fur coat is here. Does that mean we've gotta go on?'"
Busch reminded Rivers that she'd seen him perform in a rat-infested basement.
This is just one of the many stories that Busch, born in 1954, tells in his riveting memoir, "Leading Lady: A Memoir of a Most Unusual Boy," which comes out on Sept. 12.
"Leading Lady" is a page-turner. Some of its tales of Busch's life and career, such as his account of a Christmas party with Rivers as a guest, are dishy. Others, like his memories of trying to care for his beloved Aunt Lil, when he knew she was dying, would make even the Wicked Witch in Oz tear up.
The memoir, is, as Busch says on his website (charlesbusch.com), the story of "a talented artist's Oz-like journey."
"Leading Lady" isn't linear. This isn't a detriment. Busch deftly intertwines memories of his life and career from his mom dying when he was seven to being raised by his loving Aunt Lil to being the author and star of the cult classic "Vampire Lesbians of Sodom" to watching Kim Novak handle fans to being the Tony-nominated writer of "Tales of the Allergist's Wife" to being creative during the pandemic.
"Storytelling is a huge part of my life," Busch told the Blade in a lengthy phone interview, "I get into various adventures and, I think, this could be a good story to tell."
Interviewing Busch is like chatting with a fab storyteller over coffee or a glass of wine. Except that you're talking to a legend who's entertained and inspired queers (and discerning hetero audiences) for decades. (I'm wearing my "Vampire" T-shirt as I write this.)
As a playwright, Busch writes "linear" plays, with a beginning, middle and an end, he said. As a cabaret singer, "the way I sing songs is telling a story," Busch said.
Since childhood, he's been creating vivid scenes in his imagination. From early on, Busch has felt as if he's both a spectator and star in the movie of his life.
It seemed inevitable that he'd write a memoir. It's the ultimate form of storytelling. "You reach a certain point in your life," Busch said, "where you're more reflective and see your life as a whole."
"You reflect on the paths you didn't take," he added.
Busch spent his childhood in Hartsdale, N.Y. He had two older sisters, Betsy and Margaret. His mother's death was devastating for Busch. His Aunt Lil and Joan Rivers have been among the women who have been "mothers" to Busch since his mom died.
Once, Busch said he and Rivers dined with friends. "Joan Rivers said 'I wish I had a gay son I could phone at midnight and discuss whatever movie was on TCM,'" he recalled.
Busch would have loved to have been Rivers's "gay son."
Life in Hartsdale was hard for Busch after his mother passed away. His father was often absent and showed little interest in his children.
Things were miserable for Busch when his grandmother, for a time, cared for the family. He knew, as a boy, that he was gay and hated going to school where a movie-and-theater-loving kid who liked to draw wasn't one of the cool kids.
Yet Busch forgave his "father's failings," he writes in "Leading Lady, "because he gave me the theater."
Busch became entranced with the theater when his father, an aspiring opera singer who performed in summer stock, took him to the old Metropolitan Opera House in New York City to hear Joan Sutherland sing the role of Amina in Bellini's "La Sonnambula."
Busch was saved from a life of boredom and bullying when Aunt Lil, his mother's sister, took him to live with her in Manhattan. There, like Auntie Mame, she raised him. She prodded him into applying to the High School of Music and Art in New York City. He was accepted there.
After high school, Busch graduated with a bachelor's degree in drama from Northwestern University in 1976.
"My Aunt Lil is the leading lady [of the title of his memoir]," Busch said, "she was the most influential person in my life."
One of the reasons why Busch wrote "Leading Lady" was to paint a full portrait of her. "It was important that it not be this kind of gauzy, sentimental memory piece," he said, "making her out to be a saint."
Aunt Lil adopted Bush when he was 14. Her goal was that he would go to college, become independent, be a survivor – make a place for himself in the world.
"I don't know what would have happened if she hadn't stepped in," Busch said.
"She was very intellectual," he added, "I've never met anyone [else] with such a pure devotion to thinking. It was a little intimidating."
Aunt Lil's standards for caring – for giving of oneself – were so high that it was almost impossible to meet them. "She believed that you should anticipate what people would need," Busch said, "before they told you."
Looking back, Busch is most proud of himself when, "I've gone past my natural self-absorption," he said, "when I've thought of someone else."
Busch is being too hard on himself. In "Leading Lady," and when interviewed, he's caring and curious as well as witty, savvy, and as you'd expect, a bit campy.
His sister Margaret died recently. "She declined gradually over nine months," Busch, said, choking up, "I gave her my bedroom and I slept on my sofa."
Like many of her generation, Aunt Lil didn't understand queerness or drag. But she loved Busch. She didn't go to see his productions, he said. "She could have gone like other parents," he said, "and been tight-lipped. And said something nice that she didn't believe."
But "she didn't want to lie or be hurtful," Busch added, "so, for her, it was: can't I just love and support you, and not go?"
Aunt Lil didn't get Busch's sexuality. But she knew about secrecy. Busch learned of a terrifying secret that his aunt had long kept hidden. In the 1930s, during the Depression, Aunt Lil worked as a nurse. One day, when she worked overtime, one of the patients suffered a burn. She had to leave nursing. "Her sister in a nasty mood revealed this," Busch said, "Aunt Lil never discussed it."
In the 1970s, Busch had trouble getting into theater because there were only roles for actors playing straight male characters. "The only way I could get on stage was to write my own roles," he said, "I have a rather androgynous nature."
Busch found that the feminine within him was a place of authority and strength. "I'm fine when I play male characters," he said, "but I'm better when I play female characters."
Why this is so liberating for him is a bit of a mystery to Busch. "But I accept and love it," he said.
Times have changed since Busch made his first big splash with "Vampire Lesbians of Sodom." "In 1985, being a drag queen was considered a negative," Busch said, "my generation of drag performers bristled at being referred to as drag queens."
Busch no longer bristles. "I feel like the characters," he said, "I enjoy costumes and getting the right wig."
"But, I go from male to female not through trickery or anything visual, I transfer through my soul."
In "Leading Lady," Busch recalls AIDS and other dark moments from the past. Many of his friends and colleagues died from AIDS. "AIDS was the World War II of our generation," he said.
But Busch, in his memoir and in his life, isn't only looking back. He's very much in the present. Busch is embarrassed to say he was lucky. During the pandemic, devastating to many, he made art. He did play readings on Zoom and finished writing "Leading Lady" which he'd worked on for 14 years.
During the pandemic, Busch with Carl Andress co-wrote and co-directed the movie "The Sixth Reel." The film's cast includes Busch, Julie Halston (Busch's longtime muse), Margaret Cho and Tim Daly.
Busch describes the film, an homage to the Hollywood madcap movies of the 1930s, as "a comic, caper movie."
"I play a disreputable dealer in movie memorabilia," Busch said, "a legendary lost film is found, and I see it as my ticket out of debt."
The "Sixth Reel" is playing from Sept. 21 to Sept. 27 at the LOOK Dine-In Cinema West 57th Street in New York City.
"I hope the run in New York will encourage people to distribute this little movie," Busch said.