My gratitude for a lifetime of service
Jewel Thais-Williams being honored with square at The Catch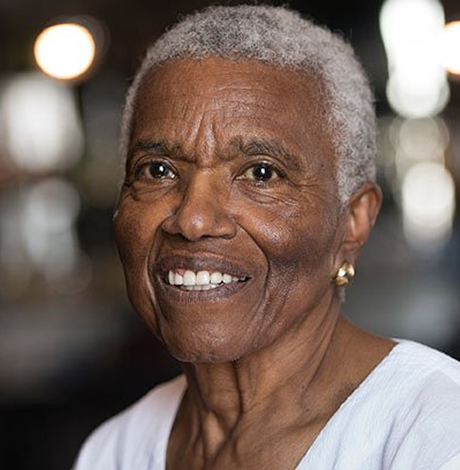 The desire and ability to give is a gift. This gift is not given to everyone. And many who are called upon to serve do not answer the call. I am grateful that I was a chosen servant and thankful that there were many hearts and souls that chose to take this journey with me.
My lifetime of service was motivated as a young child. One of seven children who grew up with very little, I watched my hard-working parents share the little we had with neighbors, family, friends and even strangers. It was a time in life where neighbors and neighborhoods were different. We shared with and looked out for each other.
As a result of growing up in that type of caring environment I knew early on that acquiring a family of like-minded folk was something that would keep me going through the adversities of my internal crises – being Black, female, lesbian and the dreaded 'darker skinned child' – and all that went with that.
My first instinct to rid myself of all of the stigmas attached to the 'who' I was centered on becoming an entrepreneur in order to make money. I figured that with money I didn't have to care about what people thought about me. After spending years working my way out of several jobs — a stint as a boutique owner, and finally opening up the Catch in 1973, which I'm proud to say grew to become the largest Black-owned nightclub in the country and the largest gay club in Los Angeles — I finally came to the realization that it wasn't about the money. I truly found solace in helping others. And, the desire to help others ultimately led to activism.
During the AIDS epidemic of the 80s and 90s, I was led to help co-found the Minority AIDS Project and the Imani Unidos Food Pantry. We set up cots in the parking lot behind the Catch primarily to provide refuge for infected folk who had been turned away by their families and had no place else to go.
With my long-term spouse, Rue Thais-Williams, I co-founded Rue's House, the first housing facility for women with AIDS and their children in the United States. Many lived and died there. It was a horrific time, but we rolled up our sleeves and did what we could to impact the crisis facing us.
Confronted with the continuing health crisis challenging the less fortunate, in 1998 at age 60, I earned a Master of Science degree in Oriental Medicine and in 2001, I opened the Village Health Foundation. In addition to offering alternative healing methods for many of the preventable illnesses like hypertension, diabetes and high cholesterol, we also offered a safe haven for those already impacted with chronic HIV/AIDS disease.
Services at the Village expanded based upon need. Besides all of the health disparities facing the disenfranchised, including HIV/AIDS, herpes and the wide array of other sexually transmitted diseases, we soon found that sexuality choices also brought with it a range of other problems including poverty, homelessness, and mental health concerns related to homosexuality, homophobia and transgender issues.
Sometimes, dealing with these issues also led to drug use and abuse, alcoholism and other reckless behaviors. We had our work cut out for us. My 'children' needed help. But we were up for the task.
As the family continued to grow, I became mother, father, sister and cousin to my many daughters, sons, nieces, nephews, employees and friends. In addition to treating and educating my ever-expanding family, through the Village we also offer services that include nutrition counseling and pain management.
I discovered and reconfirmed over and over that giving to others actually is also giving to yourself. I never worried about giving. And, everything that I have given I've gotten back 100-fold. This has and continues to keep me going.
Growing older I learned to take seriously the African proverb:
When elders are lost, adults are lost;
When adults are lost, youth are lost.
We can't afford to lose. There is too much at stake.
Like the Rev. Dr. Martin Luther King, Jr., I want to be remembered as a Champion for Justice. And as Dr. King also once said: "Life's most persistent and urgent question is 'What are you doing for others?'" I take that as an ongoing personal challenge to myself.
I am grateful to have been allowed to play my part in positively impacting the lives of many by allowing my steps to be guided and by answering the call to serve.  And, by the grace of God, I am thankful that I didn't have to take this journey alone. Thank you to all who have been there with me.
Jewel Thais-Williams will be honored at 3 p.m., Saturday, Oct. 5 when City Council President Herb Wesson officially dedicates the 'JEWEL THAIS-WILLIAMS SQUARE' at the former Jewel's Catch One, 4067 W. Pico Blvd. (at Norton Avenue, three blocks east of Crenshaw Blvd.) for her many years of service to underserved communities. This event is free and open to the public.
Judy Heumann helped so many of us with disabilities to be out and proud
'Like the color of my eyes or the color of my hair, it is a part of who I am'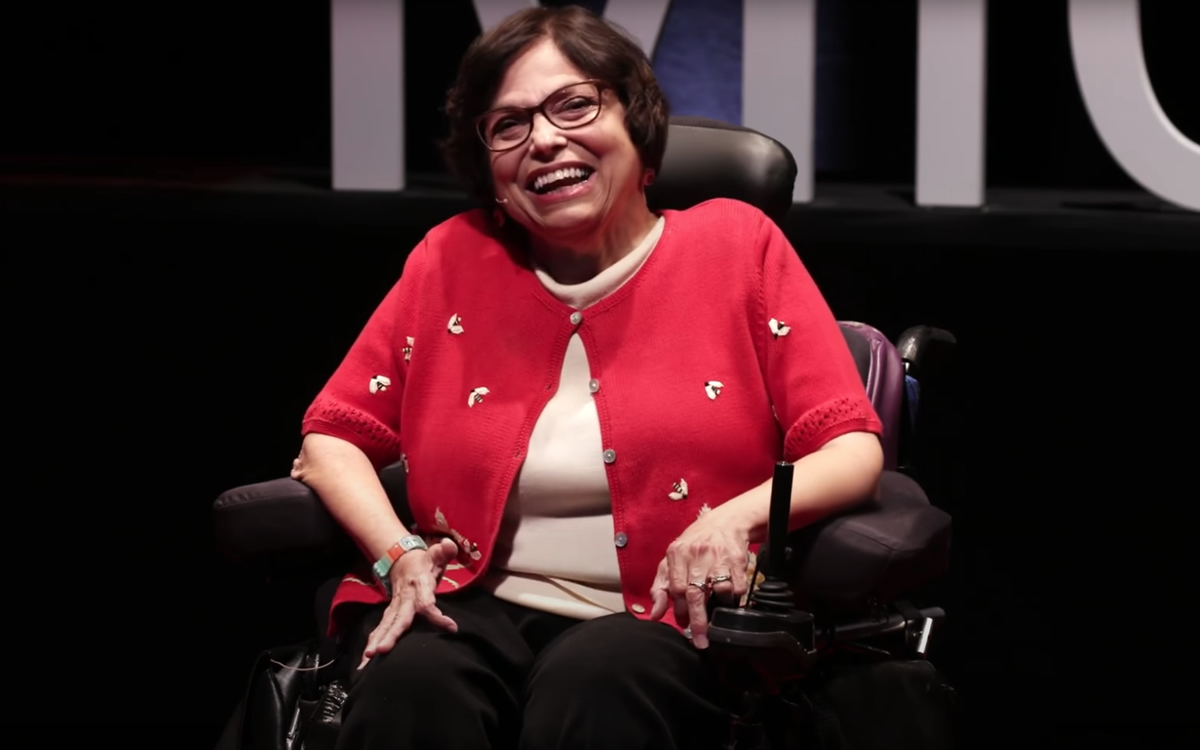 When I was growing up, people like me, who were disabled, were usually met with scorn, pity and exclusion.
On March 4, Judith (Judy) Heumann, a founder of the disability rights movement, died at 75 in Washington, D.C.
For decades, Heumann, who contracted polio when she was 18 months old, was a leader of a civil rights movement that changed the lives of millions of folks like me.
Judy (so many of us, whether we knew or not, connected with her on a first-name basis), was known as the "mother" of the disability rights movement. She was the Harvey Milk of our struggle.
You might think: why should LGBTQ people care about the passing of a disability rights leader?
Here's why: Nearly, 20 percent of people in this country have a disability, according to the U.S. Census Bureau. This includes LGBTQ+ people. An estimated three to five million people are queer and disabled.
Studies, including a study by the Map Advancement Project, reveal that queer people are more likely than non-queer people to become disabled. We face the double-whammy of anti-queer and disability-based discrimination. The MAP study reported that of the more than 26,000 transgender people surveyed, 39 percent reported having a disability.
If you're queer and have a disability (blindness, epilepsy, cerebral palsy, psychiatric disorder, etc.), you've likely run up against employers who don't want to hire you or restaurants who don't care to serve you. If you're a queer parent of a disabled child, you've probably had to fight to get your kid the education they need.
These battles are hard. But, thanks to Heumann and the movement she led, there are ways — from the Americans with Disabilities Act to working the media — to fight this injustice.
Heumann, who at 29 led a month-long protest that was the Stonewall of the disability rights movement, and in her 70s was the star of the fab, Oscar-nominated documentary "Crip Camp," was a powerhouse of energy, discipline, hard work and humor. She was a quintessential bad ass who worked for justice 24/7, and kicked your butt if you didn't."Kathi, get your self together!" commanded the voice over the phone, "or you won't get anything done."
It was 1987, and I was writing my first news story. I was interviewing Heumann about an historic protest that she'd led a decade earlier. It was the 10th anniversary of what is believed to be the longest non-violent sit-in a federal building.
In April 1977, more than 100 disabled people took over the (then) Health, Education and Welfare building in San Francisco. President Richard Nixon had signed the Rehabilitation Act into law in 1973. But, regulations, known as "504," a section of the Act that prohibited discrimination against disabled people by institutions (schools, hospitals, etc.) receiving federal funding, hadn't been signed. After protesting in the San Francisco building for a month and in Washington, D.C. (including at then President Jimmy Carter's church), the "504″ regulations were signed.
Heumann, who was an official in the Clinton administration and a special adviser in the Obama State Department, was tough, kind, and proud of herself and the movement that she founded.
For Heumann, who is survived by her husband and brothers, disability was a normal part of life, not a tragedy.
"I never wished I didn't have a disability," Heumann wrote in her memoirs "Being Heumann: An Unrepentant Memoir of a Disability Rights Activist."
When Heumann was a child, disabled children were often institutionalized. Like being queer, being disabled wasn't considered to be normal then.
Doctors advised Heumann's parents to send Judy to an institution when she was a child. But her parents, who were Jewish and had fled Nazi Germany, refused. This experience turned her mother and father against institutionalizing her, Heumann wrote in her memoir.
"If I'd been born just 10 years earlier and become disabled in Germany, it is almost certain the German doctor would also have advised that I be institutionalized," Heumann wrote, "The difference is that instead of growing up being fed by nurses in a small room with white walls and a roommate, I would have been taken to a special clinic, and at that special clinic, I would have been killed."
Just as it is if you're queer, if you're disabled, if you want to respect yourself, you need to be out and proud.
Judy more than anyone I've ever known, helped so many of us with disabilities to be out and proud. She taught us that being disabled isn't something to be ashamed of. That it's an important aspect of who we are.
Her disability, Judy often said, is, "Like the color of my eyes or the color of my hair, it is a part of who I am."
I knew Judy only from interviewing her over the years and being on an episode of her podcast "The Heumann Perspective." But Judy, whether you'd known for decades or just a few months, made you feel like you were a friend. She'd advise you, cheer you on and challenge you over the phone, in texts and on Zoom.
She almost got me, a non-make-up wearing lesbian, to wear lipstick (so I wouldn't look like a ghost on her podcast). Earlier this winter, Judy wondered why I didn't put my disability on my resume. Being nervous could be good, she said, when I was scared of reading at a poetry festival.
"If you don't respect yourself and if you don't demand what you believe in for yourself, you're not going to get it," Judy said.
Thank you, Judy for teaching us to respect ourselves and to demand our rights! R.I.P., Judy!
Kathi Wolfe, a writer and a poet, is a regular contributor to the Blade.