Missing: Lesbians at the CNN LGBT Town Hall
Omission a strategic political error
When the CNN/HRC televised LGBT Town Hall ended at midnight on the East Coast, I felt more like I had survived an entire Jerry Lewis Telethon for Muscular Dystrophy (OK, this dates me) rather than an informative interchange between Democratic candidates and a lively audience. When I unscientifically polled "Friends" on Facebook afterwards, not one of perhaps 700 lesbians admitted to having watched the event. My bluest of the blue lesbian friends visiting from Florida confessed that they had fallen asleep not far in.
But it wasn't Lesbian Nation's fault for conking out at the remote when HRC's questions totally ignored us.
I was prepared to count mentions of the L-word, but not a single question pertained specifically to my community! The pre-selected questioners identified themselves as gay men, transsexuals, or parents of an LGBT child. Most of the women identified themselves as "health care workers." Toward the end, asking about medical coverage for her spouse, one woman referred to herself and her wife, and there was one bisexual and one nonbinary person.
While two openly gay men (Anderson Cooper and Don Lemon) were among the moderators, there was no lesbian or transgender presence on the stage. Instead, the viewers were treated to Chris Cuomo, who didn't seem to understand a current protocol that Sen. Kamala Harris was adhering to when she introduced herself by her gender pronouns "she/her/hers."   "Mine, too," he quipped inappropriately to no laughs.
Was no out lesbian, inside or outside of CNN, available for the evening?  Everyone would have been so much better off with political writer Masha Gesen or  "Gay USA"s co-host Ann Northrop.
It is also time for a trans moderator—could the talented Laverne Cox not be trusted to read the cue cards or monitor?
For some reason, the general public and even many gay men seem to think that lesbians have no specific issues except to worry about which half of a couple will get custody of the cat after a divorce, who will win the lesbian softball tournament, and what should be brought to the vegan potluck.
However, not being seen is not the same as being well off or content.
Since women generally live longer than men and the ravages HIV took the lives of so many more gay men than women, being old is one issue more lesbians face. There is even an organization called Old Lesbians Organizing for Change (OLOC) and no national equivalent for aging gay men or trans individuals.
Not one question or candidate addressed HR1777, the Ruth and Connie Elder Americans Act of 2019. "To amend the Older Americans Act of 1965 to provide equal treatment of LGBT older individuals, and for other purposes."
Our elders are a "vulnerable population," often subject to abuse and denial of services, sometimes in the name of religion.  Same-sex couples have been separated when seeking assisted living or when entering homeless shelters.  Queer elders have been abused in nursing homes by staff and other patients when their identity is known.
Family leave was addressed during the Town Hall, but not the issues lesbians in particular have in terms of creating families. Both couples and single lesbians are often concerned about reproductive equality, access to alternative insemination in every state, and justice for both biological and nonbiological parents in the event of a separation or divorce.
The number of lesbians is actually fairly equal to that of gay men. According to The Washington Post, there are 5.5 million lesbians in the United States—most of them presumably of voting age. The robust lesbian communities in Michigan, Wisconsin, and Pennsylvania could turn those states blue.
Reaching out to lesbians is an uncomplicated strategy that could pay big dividends. But suggesting by omission that our lives don't matter is a strategic error.
Underfunded, undermined & unabashedly victorious in Brazil
Country's LGBTQ politicians are bringing diversity to democracy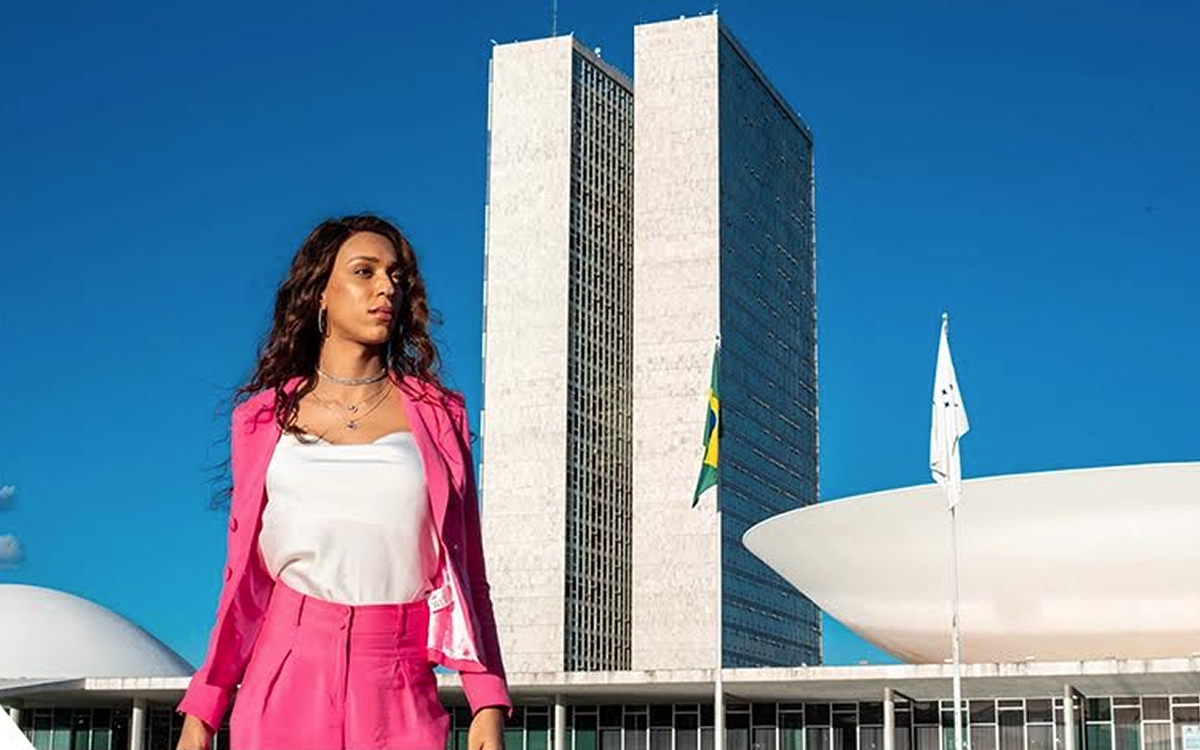 SÃO PAULO — Imagine a group of 18 winners where you'll find only one white man. The recent election in Brazil not only brought back former President Lula, but also doubled the numbers of out LGBT+ representatives in both the national and state legislatures. Out of these 18 elected officials; 16 are women, 14 are black and five are trans. There is only one white man in the group.
Women, LGBT+ and Black people have always showcased political leadership in their communities. But the path to occupy a space in Brazilian institutional politics is often violent and expensive. In recent years, many organized social movements have directed their efforts to set the agenda for public debate into the intersectional realm and support community leaders. In a poll VoteLGBT conducted in 2017 during the São Paulo Pride parade, the biggest in the world, only 45 percent of Pride participants surveyed thought that identity matters when choosing a candidate. In 2022, 85 percent believed so.
Despite the many obstacles and violence they face, Brazilian LGBT+ leaders are gaining political power, often being the most voted individuals in their states or cities. Many trans women who won big in their cities in 2020 advanced to higher positions in 2022. Four LGBT+ people (all women) were elected to congress: Three of them Black and two of them trans, a major breakthrough for LGBT+ political participation.
In Brazil, campaigns are publicly funded. Taxpayers' money goes to parties' leadership who can pretty much do whatever they want with it. There are rules made to fight the underrepresentation of women and Black population, but they are often corrupted by fraud.
Party leaders are often older rich white cis men who focus their efforts and financial support to old allies. LGBT+ politicians receive an average of 6 percent of the legal limit for what parties can provide to a single candidate. When interviewing 30 of those who ran in 2020, we came across three trans women who didn't have enough to eat during their campaigns and still won their seats. Our vote is the cheapest in the election market.
Once elected, LGBT+ officials often face discrimination from their peers in the chambers, many times from their own parties. In a poll we did in 2021 we found that more than half of LGBT party members reported facing discrimination. And those who decided to report it found that there's no accountability for LGBTphobia inside the parties.
Not to mention the constant death threats that (especially) Black and (especially) trans women face when elected or running for office. City Counselor Benny Brioly, who is Black and trans, had to flee the country in 2020 after public security forces refused to offer her protection, which was her legal right. In 2022 she kept getting death threats from a congressman, from his official Cabinet's email. Erika Hilton and Duda Salabert, the first trans women elected for congress in 2022, had to conduct campaign activities with armed security and bulletproof vests.
It seems like the world is looking for the tools we are developing to fight extremism and LGBTphobia. International organizations have long supported many of those initiatives. The partnership and support from organizations like the National Democratic Institute and the LGBT Victory Institute have been fundamental to promote a comprehensive approach to such a complex issue.
VoteLGBT's innovative research strategies have a political and historical importance due to the lack of official data about the LGBT+ population in Brazil. Research has been fundamental for us, not only to give visibility to our issues and set the agenda for public debate, but also to better strategize where to allocate resources. Since 2021 we have been investigating the parties, conducting in-depth interviews with candidates and LGBT caucus. We've produced a list of 327 out LGBT candidates in the 2022 election cycle with their racial and LGBT+ identity self declared. That had never been done before.
We've offered direct support through organizing a series of webinars, creating downloadable toolkits, conducting pressure campaigns on parties, lobbying the Supreme Electoral Court for them to produce official data on our leadership, creating a gallery with over 300 LGBT+ candidates and their priorities, and offering confidential psychological support, especially after such a violent campaign.
It would be dishonest, though, to claim any part of such astounding victories. Each of those candidates struggled to run their underfinanced and understaffed campaign, and still created strategies to reach and amplify their audience brilliantly. Also, we are not the only ones on the task. There are other organizations who are great examples and partners.
Brazil's recent election results show us that an intersectional approach to the issue of political representation is not only possible, but potent. LGBT+ candidates earned over 3.5 million votes. Of those votes, a third went to trans women. Seven in 10 went to a Black candidate. Brazilian voters are showing us what kind of democracy they are willing to fight for. Without diversity there is no democracy.