November 20, 2019 at 2:26 am PST | by John Paul King
Santa Skivvies Run returns to SF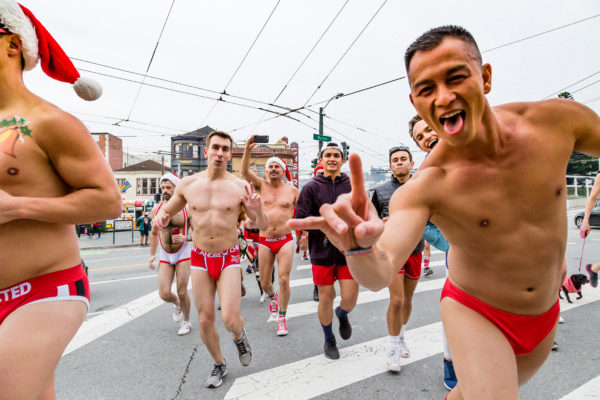 It's almost that time of year again, when you can help raise awareness and funds for HIV services by stripping down to your underwear and running or walking around half naked.
If you're unfamiliar with that particular holiday tradition, you've obviously never heard of the Annual Santa Skivvies Run.
Now celebrating its 11th year, Santa Skivvies Run takes place in San Francisco's Castro DIstrict, where year, hundreds of participants don their finest gay (under) apparel – or holiday costume, for those who are a bit more modest – for a one-mile fun run through the Castro to support the life-saving services offered in the Bay Area by the San Francisco AIDS Foundation.
Since it started in 2008, the Santa Skivvies Run has raised an impressive $500,000 for the foundation.
Event founder Chris Hastings says, "For a lot of people, it's become an annual tradition. It allows people to bust out and do something that's really positive in a way that is a little out of the ordinary."
Hastings owns the popular Castro bar Lookout, which is also a Santa Skivvies Run event partner.
Besides getting an opportunity to flaunt their finest and most festive undergarments, participants can also earn fundraising awards; a camping mug, a robe, and (of course) some fun skivvies are among the perks and premiums being offered for high-performing fundraisers.
Past participant Alex Locust a past participant, says he has made the Santa Skivvies Run a tradition because he loves seeing "an amazing cross-section of different communities within the Bay Area who want to come out, break down stigma, and help support the foundation."
Alex is currently the second-highest fundraiser among this year's registered participants – but you still have a chance to beat him. If you live in the San Francisco area, or just want to make the trip so you can strip down on the street, you can still register for the Santa Skivvies run, which takes place on Sunday, December 8, right here.