Despite Harris deal, few surgeries granted to trans inmates in California
Campaign says anti-trans bias may play a role in implementation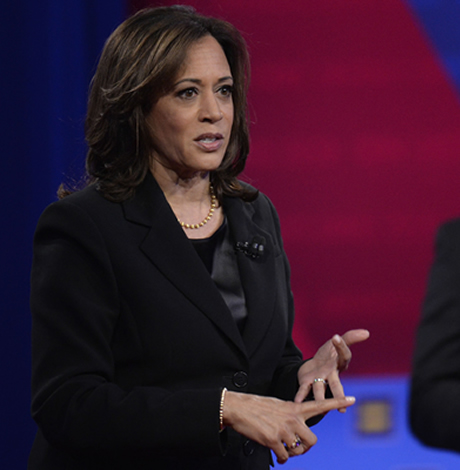 Sen. Kamala Harris's presidential campaign said Tuesday anti-trans bias may play a role in the implementation of a policy she helped create under pressure to provide transgender inmates in California with gender reassignment surgery, after a Washington Blade public records request found only seven prisoners ever got the male-to-female procedure out of 130 who asked.
Harris, a supporter of LGBTQ rights, nonetheless continues to be asked about her work as California attorney general in litigation seeking to deny gender assignment surgery to transgender inmates in the state prison system — and the data indicate that Harris cast the settlement in a rosier light than ended up playing out.
Despite the policy she announced in 2015 enabling inmates to obtain gender reassignment surgery, the data from California Correctional Health Care Services — provided to the Washington Blade after a request under California's Public Records Act — reveals only a small percentage of inmates who have requested the procedure have been able to obtain it, raising questions about its effectiveness.
In a letter dated Nov. 8 to the Blade, the state prison health system reveals 130 inmates requested male-to-female gender reassignment surgery since the policy was announced, but only seven were granted the procedure in the same time period. Meanwhile, 51 inmates requested female-to-male gender reassignment surgery, but only 10 obtained the procedure.
Based on these numbers, only 5 percent of inmates who requested male-to-female gender reassignment surgery obtained the procedure under the policy Harris helped create and has promoted on the campaign trail, and only 20 percent of inmates who requested female-to-male gender reassignment surgery have obtained it.
Kate Waters, a spokesperson for the Harris presidential campaign, said anti-trans bias may be playing a role in implementation in response to a Blade inquiry on the data.
"Kamala Harris believes every American has a right to adequate and comprehensive health care, including transition-related care for those at correctional facilities," Waters said. "Toward the end of her tenure as attorney general she worked behind the scenes to establish a policy around granting gender-affirming surgeries to individuals who are currently incarcerated — the first of its kind in the country. It's clear the implementation of this policy should be evaluated and examined for bias."
Over the course of her presidential campaign, Harris has had to defend herself amid questions about litigation in which she sought to block transgender inmates from having gender reassignment surgery. In fact, at her first news conference for her 2020 presidential campaign in D.C. at Howard University, it was the topic of her first question, which was asked by the Washington Blade.
At the time, Harris implied she disagreed with the position of her client, the California Department of Corrections & Rehabilitation, but defended the agency in court because it was her duty as a public official.
"I was, as you are rightly pointing out, the attorney general of California for two terms and I had a host of clients that I was obligated to defend and represent and I couldn't fire my clients, and there are unfortunately situations that occurred where my clients took positions that were contrary to my beliefs," Harris said.
Harris also indicated she wasn't fully aware of the litigation happening within her office.
"It was an office with a lot of people who would do the work on a daily basis, and do I wish that sometimes they would have personally consulted me before they wrote the things that they wrote?" Harris said. "Yes, I do."
The issue came up in an interview with the Los Angeles Blade and at the Iowa LGBTQ forum hosted by GLAAD in September, where Lyz Lenz, a columnist for the The Gazette, asked the 2020 presidential hopeful about it.
In both of those instances, Harris brought up in favorable terms a policy agreement she helped institute at the California Department of Corrections & Rehabilitations as evidence she redirected the litigation into something positive for the transgender community.
"I did it quietly, because I actually disagreed with my client initially, when they had the policy, and so I did it behind the scenes," Harris told the Los Angeles Blade. "I helped to resolve and change the policy. The issue for me was to make sure the right thing would happen."
Harris added: "Let me just be very clear: I don't want to take full credit for that, because I don't deserve full credit for that. I don't want what I said to be interpreted as that. There were a lot of people involved in that."
In an interview with the National Center for Transgender Equality, Harris brought up the issue on her own and in particular underscored the importance of that policy.
"I made sure that they changed the policy in the state of California so that every transgender inmate in the prison system would have access to the medical care that they desired and need," Harris said. "I know it was historic in California, but I believe, actually, it may have been one of the first if not the first in the country where I pushed for that policy in a Department of Corrections."
As California attorney general, Harris in 2015 defended the California Department of Corrections & Rehabilitation, which was being sued for refusing to provide gender reassignment surgery to two transgender inmates: Michelle Lael-Norsworthy, who was serving time in prison in Mule Creek State Prison in Ione, Calif., for second-degree murder, and Shiloh Quine, who's serving a life sentence for first-degree murder, kidnapping and robbery.
Transgender advocates maintain transition-related care, including gender reassignment surgery, is medically necessary and should be afforded to inmates in prison, where the costly procedure would be provided at taxpayer expense. Withholding the treatment, transgender advocates argue, is cruel and unusual punishment, therefore a violation of the Eighth Amendment under the U.S. Constitution.
At one point, when a trial court ruled against the state in the Norsworthy case and ordered the state to grant her gender reassignment surgery, Harris as attorney general appealed the decision to the U.S. Ninth Circuit Court of Appeals, where she continued to argue the procedure should be blocked.
Among Harris' critics for defending the California state prison system in those cases is Chase Strangio, a New York-based transgender advocate and attorney.
"It would have been one thing had she chosen to settle a legal challenge to establish a policy that might help people in custody but that is not what she did," Strangio told the Blade. "Instead, Harris's office fully litigated a case to try to block care for transgender people while simultaneously implementing a supposedly improved policy, which we continue to learn is grossly inadequate."
Strangio added Harris sought legal precedent that would have made conditions "substantially worse" for people in the Ninth Circuit and "could have hurt transgender people beyond California and ultimately sent a message to corrections staff in her state that the care being requested was not supported by the state."
"It is impossible to know whether Sen. Harris personally agrees with the notion of providing health care to transgender people in custody but what is abundantly clear is that when she had various opportunities to take a stand to ensure that the system was improved for prisoners who are transgender she failed to act with a commitment to transgender justice," Strangio said.
As media scrutiny of these cases continued when the case was before the Ninth Circuit, including with coverage in the Washington Blade, a settlement was announced on Aug. 8, 2015 that would enable the inmates to obtain the procedure (although for Norsworthy the process consisted of being granted parole, then being able to obtain gender reassignment surgery under the state's MediCal program).
"Members of the LGBT community, especially those who are transgender, are too often subjected to discrimination and forced to live on the margins of our society," Harris said at the time. "In a groundbreaking settlement, the California Department of Corrections & Rehabilitation has agreed to evaluate and provide sex-reassignment surgery if recommended to Shiloh Quine, a transgender inmate. This is an important step forward in the ongoing effort to protect transgender rights in California."
As part of this settlement, the California prison system agreed to create a new policy that would ease the process for transgender inmates seeking gender reassignment surgery, enabling them to obtain it without having to win court battles.
But the new data demonstrates only a small number of transgender inmates have been able to obtain the procedure, raising questions about the policy's effectiveness.
Asked by the Blade to review the data, Strangio said it speaks volumes about the difficulty for transgender people in obtaining transition-related care, including gender reassignment surgery, while serving time in the criminal justice system.
"Sadly, these numbers reflect how dangerously inadequate health care is for transgender people, particularly transgender women, in custodial settings," Strangio said.
The Washington Blade has placed a request with current California Attorney General Xavier Becerra, who's responsible for enforcing the policy, on whether the guidelines are not properly being implemented.
It's unclear why only a small percentage of these inmates have been granted gender assignment surgery. Under policy established by the World Professional Association for Transgender Health, a person seeking the procedure must have medical clearance, which means they can't have any health issues that would make the surgery pose too great a risk for the individual.
As laid out in the actual policy memo for California Department of Corrections & Rehabilitation, which was most recently updated in December 2018, inmates seeking to have gender reassignment surgery have to go through a multi-step process.
An inmate's request for surgery is submitted to the Statewide Medical Authorization Review Team, or SMART, which will then refer to the Gender Affirming Surgery Review Committee before that panel sends it back to SMART for final review.
According to the documents, factors the committee should consider when evaluating the request is a verifiable diagnosis of gender dysphoria; whether other treatments besides surgery should be considered; whether the inmate has no other health conditions the surgery would exacerbate; and if the inmate has been consistent with his or her gender identity for 12 months.
The California Department of Corrections didn't respond to multiple requests from the Blade to comment on whether the system is adequate given the low numbers of requests for gender reassignment surgery from inmates that have been granted.
Transgender advocates, however, said the numbers are evidence the California state prison system, despite the policy Harris helped create, is woefully inadequate in providing necessary transition-related care to transgender inmates.
Mara Keisling, executive director of the National Center for Transgender Equality, said the paucity of requests granted indicates transgender inmates aren't being denied the procedure for medical reasons, but due to anti-trans animus and budgetary limits.
"It's not about whether or not they are medically able to have the surgery, it is about the prisons and the state not wanting to do it," Keisling said.
Strangio placed blame with both the California state prison system as well as Harris, saying regardless of the role she had in crafting the guidelines, the data show "it is not a policy that is adequately being implemented."
"It is impossible to extricate the ongoing recalcitrance on the part of the agency from the message sent from the state's highest officials, Harris included, that providing health care to transgender people in custody should be fought aggressively in court," Strangio said.
Keisling, however, was reluctant to criticize Harris, saying her actual role in creating the California guidelines is impossible to verify and bureaucracies have a way of stymying policies created by public officials.
"Definitely the bad guy is the Department of Corrections," Keisling added.
Shawn Meerkamper, senior staff attorney for the San Francisco-based Transgender Law Center, also responded to the data with generalized concerns that weren't aimed at Harris.
"Transgender people's medical needs are real and cannot be dismissed by the state," Meerkamper said. "California's prisons affirmed they have the responsibility to provide medically necessary treatment for gender dysphoria, including surgery, in 2015 following the Norsworthy and Quine cases. While policies are a good first step, unfortunately the California prisons continue to deny this life-saving health care to the vast majority of people who need it."
The Transgender Law Center represented Norsworthy and Quine in litigation and hailed the settlement in 2015 when it was reached with the California Department of Corrections & Rehabilitation.
More recently, the U.S. Ninth Circuit Court of Appeals has issued a ruling that made access to gender reassignment surgery for prison inmates binding precedent in all states within its jurisdiction, including California.
In August, a three-judge panel on the Ninth Circuit issued the per curium opinion in favor of Adree Edmo, who was denied gender reassignment surgery while being incarcerated for sexual abuse at the Idaho State Correctional Institution.
"We hold that where, as here, the record shows that the medically necessary treatment for a prisoner's gender dysphoria is gender confirmation surgery, and responsible prison officials deny such treatment with full awareness of the prisoner's suffering, those officials violate the Eighth Amendment's prohibition on cruel and unusual punishment," the decision says.
At the time, Harris said in a statement to the Blade she supports the ruling, maintaining it "rightly reaffirms the right to adequate and comprehensive health care, including transition-related care for those at correctional facilities."
Despite the Ninth Circuit ruling, Strangio said denial of care to transgender inmates remains a "systemic problem across corrections systems" and requires "truly committed reformers" to make change.
But Strangio said that isn't Harris.
"It is not enough to suggest passive support while publicly opposing humane treatment of transgender people, which is ultimately what Harris did as attorney general," Strangio said. "As the numbers show, people are not getting the health care that they need and Sen. Harris should take responsibility for the roadblock her office was to improving life chances for transgender people across the state."
UPDATE 11/25/2019: The California state prison system, after the initial publication of this article, responded to the Washington Blade with a statement announcing current policy on gender reassignment surgery for transgender inmates is under review.
Terry Thornton, a spokesperson for the California Department of Corrections & Rehabilitation, said the prison system has several policies in place on transgender inmates and recognizes the value of gender reassignment surgery as medically necessary care.
"The Eighth Amendment of the U.S. Constitution requires that prisons provide medically necessary treatment for prisoners' medical needs based on medical considerations," Thorton said. "For the past several years, gender-affirming surgery has been increasingly viewed by the medical and mental health community as a safe and effective treatment for some people suffering from gender dysphoria."
Key memos guiding those policies within the California Correctional Health Care Services, Thornton said, are currently under revision: The "Gender Dysphoria" care guide, last modified in May 2015, and the supplement to that care guide, "Guidelines for Review of Requests for Gender Affirming Surgery," effective in May 2015 and revised in December 2018.
"Guidelines and supplemental documents are continuously revised to align with community standards and as needed to ensure operational efficiency," Thornton added.
Treatment for gender dysphoria is individualized between a patient and their provider, Thornton said, and each patient is reviewed on a case-by-case basis "taking into account their medical and mental health history and current condition."
In response to the few number of surgeries granted to transgender inmates, Thornton said a person requesting surgery may not be eligible at first, but subsequently eligible upon resubmittal. Inmates may appeal any health care decision, Thornton said, including denials of gender reassignment surgery.
Thornton identified several reasons why inmates would be denied gender reassignment surgery, including other health conditions that make the procedure too high a risk to their well-being or that must be well controlled; not meeting the WPATH criteria for the surgery; having mental health conditions that would likely worsen with surgery or impede surgical recovery; or simply completing a prison sentences and being released to parole.
"As far as we know, California is the only prison system in the United States with a process to approve gender-affirming surgeries and has policies to improve safety, help prevent sexual abuse, create a more respectful environment, improve outcomes for reentry and improve medical care for its incarcerated transgender community," Thornton concluded.
Trump gives misogynistic & transphobic rant at young conservative rally
"If I were a coach, I wouldn't be talking to too many women as we know women- I'd be getting some of these people that say they're 'women.'"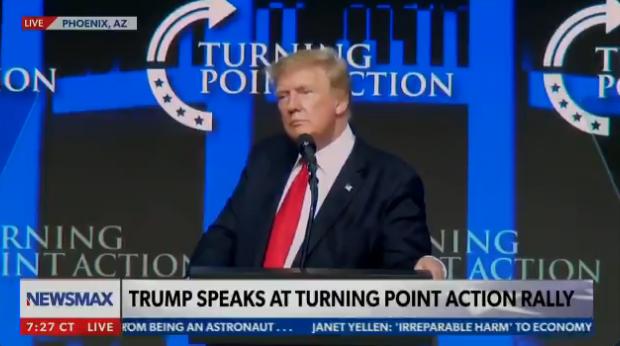 PHOENIX – In a two hour rambling address to an audience of approximately 5,000 plus at the Arizona Federal Theater on Saturday, former President Trump attacked fellow Republicans including his former Vice-President Mike Pence and also bizarrely attacked the U.S Women's Olympic Soccer Team.
He also praised the highly criticised 'audit' of Arizona's 2020 election data suggesting that it and other state audits would return him the presidency.
The U.S Women's Olympic Soccer Team is led by co-captain 35-year-old out lesbian Megan Rapinoe who gained the former president's enmity as an LGBTQ and civil rights activist. Rapinoe was early supporter of Black Lives Matter and earned Trump's disdain she took a knee during the national anthem in 2016 in solidarity with former San Francisco 49ers player Colin Kaepernick.
Her feuding with the former president really ignited in 2019 when a reporter for the soccer magazine Eight by Eight asked Rapinoe if she'd be attending a ceremony at the White House as co-captain of U.S. women's national soccer team, if the team won the World Cup.
Her answer was blunt, "I'm not going to the fucking White House," she said. Trump responded with "Megan should WIN before she TALKS," on his now banned twitter account and afterwards there were further harsh exchanges between the two on the social media platform.
At the rally in Phoenix, dubbed the "Rally to Protect Our Elections," hosted by conservative group Turning Point USA's PAC, Trump took aim at the Women's Team who had suffered a significant rare 3-0 loss to the Swedish Women's Team this past week.
Trump bemoaning the loss encouraged the hyped-up crowd to boo the U.S. Women's soccer team. "Wokeism makes you lose," he said. "The US Women's Soccer team is a very good example of what's going on," he added as some in the crowd started to boo.
"Woke politics takes the life and joy out of everything. Woke-ism makes you lose, ruins your mind and ruins you as a person. You become warped. You become demented​," he said.
"Earlier this week, [the women's team] unexpectedly lost to Sweden, three to nothing, and Americans were happy about it​," Trump told the crowd, who responded by cheering. "You proved that point before I even said it​," Trump added to the audience, shaking his head. 
Trump has been speaking for more than 90 minutes now. He's currently goading his audience into booing the US women's soccer team. pic.twitter.com/yKubKXTuUO

— Aaron Rupar (@atrupar) July 25, 2021
Dan Wetzel, the Yahoo Sports national columnist noted that even as criticism of the team mounted after the loss to Sweden, Rapinoe read and heard plenty of it.
"I know what it is," she said. "I'm on social media. I'm not a hermit."
Yet her reaction to waves of criticism was that it didn't bother her. She sort of liked it, actually- she was heartened by it even, Wetzel wrote adding that "part of that is Rapinoe being Rapinoe; she puts herself out there and has never shied away from a fight. Part of it is that she sees the reaction as an unlikely sign of respect not just for this powerhouse team, but women's sports in general."
"I always welcome the criticism," Rapinoe said Saturday after the U.S. responded by blitzing New Zealand, 6-1, to keep its gold medal hopes in play. "For women's sports, criticism in the media still needs to get better."
Back in Phoenix Trump's tirade also included a bizarre rant where he speculated that the Los Angeles Lakers basketball's team superstar LeBron James might get sex reassignment surgery and transition to being female.
Casting himself in a hypothetical role of a coach on a woman's basketball team Trump in a transphobic way noted he would only recruit transgender athletes. "If I were a coach, I wouldn't be talking to too many women as we know women," he said. "I'd be getting some of these people that say they're 'women,'" he said.
"Somebody said that if LeBron James ever decided to get the operation, how would he be on the court? How would he be?" Trump said. Although James is absent in Olympic play, the U.S. Men's Basketball Team suffered a loss to the French national team 83-76.
"LeBron James, you can have him," Trump continued. "Did you see the basketball ratings that were terrible? They went up after his team was defeated."
Budapest Pride takes place amid Hungary LGBTQ rights crackdown
City's mayor among parade participants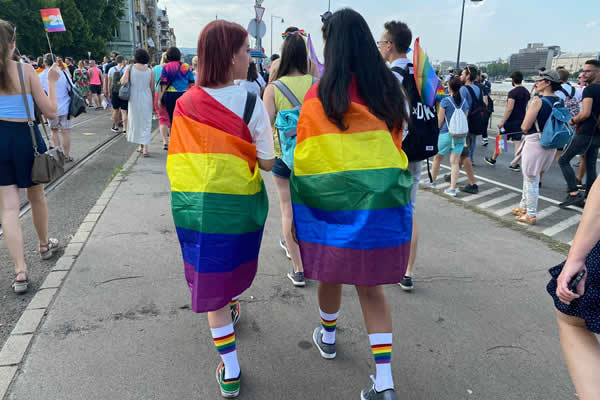 BUDAPEST, Hungary — Thousands of people attended a Pride parade in the Hungarian capital of Budapest on Saturday that took place against the backdrop of the government's ongoing efforts to curtail LGBTQ rights.
Budapest Mayor Gergely Karacsony, who is challenging Prime Minister Viktor Orbán in next year's presidential election, is among those who participated in the Budapest Pride parade. Event organizers said upwards of 30,000 people took part.
"There were a lot of supporters and allies, lots of young people and some older people," one Budapest Pride participant told the Los Angeles Blade.
The participant said someone shouted an anti-gay slur at them and their friends as they walked home while holding a rainbow flag. They said the parade was nevertheless peaceful.
"The mood was more like a protest, solidarity and marching for equal rights than a party," they told the Blade. "I didn't see drag queens and it felt a bit muted, but I'm happy we had such a peaceful and fun Pride."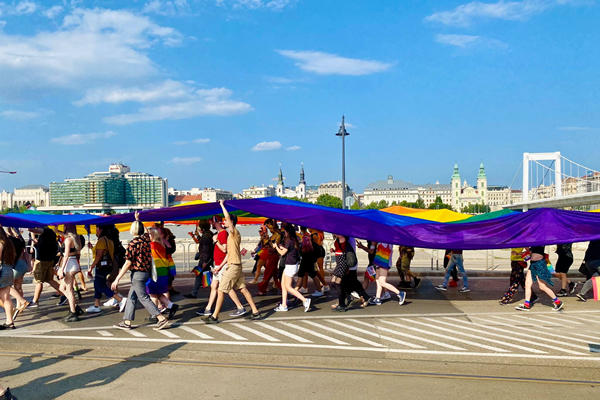 Budapest Pride took place less than a week after Prime Minister Viktor Orbán announced he wants to hold a referendum on a new law that bans the promotion of homosexuality and sex-reassignment surgery to minors in the country.
The law took effect on July 8. The European Commission a week later announced it would take legal action against Hungary.
Hungarian lawmakers late last year amended the country's constitution to define family as "based on marriage and the parent-child relation" with "the mother is a woman, the father a man" and effectively banned same-sex couples from adopting children. The Hungarian Parliament in April 2020 approved a bill that bans transgender and intersex people from legally changing their gender.
Arrest made in a kidnapping in West Hollywood bar & nightclub district
Detectives seek to speak with any additional witnesses or anyone who has had contact with Diaz on the night of the incident or in the past.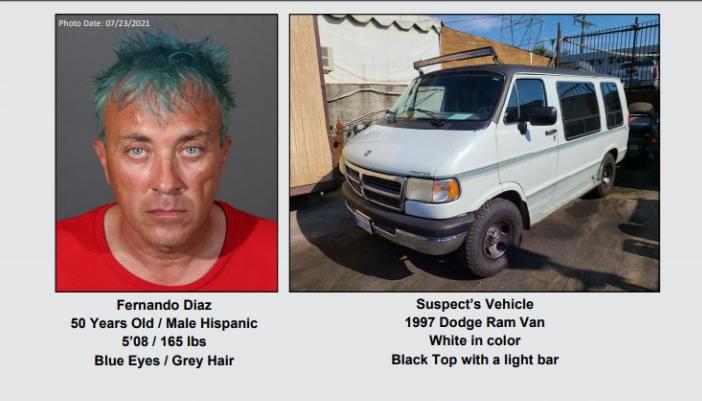 WEST HOLLYWOOD – The Los Angeles County Sheriff's department announced in a tweet that deputies had arrested Fernando Diaz, 50, at 3 a.m. Friday morning after he was seen allegedly carrying an unconscious woman to a van and then driving off. Diaz was released on bond a day later, officials confirmed Sunday.
Diaz's bail amount was set at $100,000 and he was released on Saturday after posting bond, according to the Sheriff's Department's inmate locator.
Detectives seek to speak with any additional witnesses or anyone who has had contact with Diaz on the night of the incident or in the past.
Anyone with information is asked to contact Detective Cynthia Mejia at the West Hollywood Sheriff's Station Detective Bureau by calling 310-358-4028 or [email protected]