TransLatin Coalition strikes a pose and more than a little gold
Celebrating transgender awareness with joy and style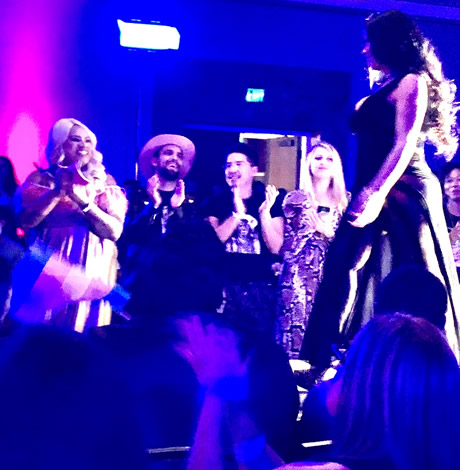 Ground Breaking Activism Redefining and Reforming All Systems (G.A.R.R.A.S.) is an unlikely — or perhaps revolutionary — name for a fashion show extravaganza that has now firmly planted itself at the top of Los Angeles' newly burgeoning fashion industry (its show calendar now rivals New York). But to the gender nonconforming community and numerous high fashion models, designers and stylists, it's no surprise at all because the trans community, particularly the community at the [email protected] Coalition in Los Angeles, know how to throw a party for a cause.
Raising funds for the [email protected] Coalition is imperative, said Maria Roman, vice president and chief operations officer of the coalition. "Last year, we raised $120k, which gave us the ability to launch transitional housing for trans people in need. This year, we hope to raise even more."
Roman believes attending the uplifting fashion show is an ideal way to combat the somber feelings the Los Angeles trans community feels as they commemorate Transgender Day of Remembrance on November 20th.
"While Transgender Day of Remembrance is a very sad day for our incredible community, remembering the lives of those who have passed away, we hope that by showcasing trans lives who are living and thriving in our society, we can focus on empowerment and inspiration," Roman said.
Every event participant is an activist who impacts their lives and that of others, noted Roman. "People provide their art, time, talent and many other multiple skills, while raising funds to uplift and mobilize the trans and gender nonconforming community. This creates a beautiful space of self expression and total acceptance."
The [email protected] Coalition is an organization that non binary shoe designer, Nik Kacy, has been passionate in supporting since the first time they met its founder, Bamby Salcedo.
"Her journey from turning her life around and triumphing, creating a empowerful and much needed organization that helps so many trans people of color (particularly black and brown trans women) is something that continues to inspire me," enthused Kacy.
"In our partnership as friends and as influencers in the LGBTQ+ community, we have supported one another in many ways," said Kacy. " I'm proud to say that for 2019, the Coalition was our first time fiscal sponsor for Equality Fashion Week, which enabled us to provide vendors the opportunity to support us via a tax-deductible sponsorship.
Equality Fashion Week was also one of G.A.R.R.A.S' community partners this year and we are so proud to continue to keep the collaboration going!"
G.A.R.R.A.S is also an opportunity for the broader community to support trans leadership, pointed out Salcedo.
"As the first trans led organization in Los Angeles, providing direct, supportive and life saving services to trans, gender non-conforming people, it's important that we continue to support the work that trans people have been doing to support our community, with little to no resources."
The Coalition also supports local trans leadership, providing support to trans people who are incarcerated in correctional settings and in immigration detention.
This is the third year fashion designer Johanna Padilla will be participating in the runway show.
"It brings my two loves and passions together—fashion and advocacy—by placing trans beauty center stage and showcasing the diversity of fashion with trans people," Padilla said. "The coalition has really helped me provide a platform to showcase my talents as a trans individual over the years."
Padilla's latest collection, Fallen vs. Angels, illustrates the beauty of the trans experience "while symbolizing the way the world views us vs how we view ourselves," she said.
"You can expect a lot of sparkle, fantasy, sultry and a whole lot of trans bodies!" Padilla quipped. Not to mention many bright and bold colors as well as numerous crystals!
"My style is a mixture of old Hollywood style burlesque and Victoria's Secret," she explained. "But more inclusive—making everyone and anyone feel beautiful, regardless of size, color and where they are in their transition,"
Sharpe Suiting will also be a part of the runway fundraiser. "Bamby and her organization have been a positive influence on me ever since I found my identity as a transgender person of color for the past 20 years," said Leon Wu, the founder and CEO.
Sharpe's presentation concept for this Saturday's show is RICH BITCH. "As part of our concept, we will be highlighting jewel-toned suiting separates and silk gowns accented with golden chains, accessorized with silk scarves and pocket squares," said Wu. "The style will be a very avante-garde representation of retro '80s and being rich in our own self-love and colorful identities."
Highlighting trans women and androgynous identities from the male to female spectrum of color, Wu's runway participation is dedicated to "all the trans people of color with the hope that they can live a very RICH and empowered life, despite the struggles we have been through together as a trans community."
Performance artist Jazzmun has participated in the show for the last four years. "This time, I'm presenting garments I've worn throughout my career as an entertainer. I'm calling it "Memories Of Me: A Love ❤️ Story," she said.
Jazzmun added: "I support The [email protected] Coalition and all the great work they do. It's an honor to help raise money for an organization that provides and enhances the lives of our trans and gender non-conforming communities. The night is enchanting and amazing! We deserve to look and feel our best. Fashion is for everyone."
The [email protected] Coalition (TLC) presents G.A.R.R.A.S. Fashion Show on Saturday, Nov. 23, 7 p.m. at the Double Tree by Hilton Los Angeles Downtown Hotel, 120 South Los Angeles Street, Los Angeles.
MMA fighter Jeff Molina comes out as bi after being outed
"TLDR: im bi. Not the way I wanted to do this but the chance to do it when I was ready was taken from me" – Jeff Molina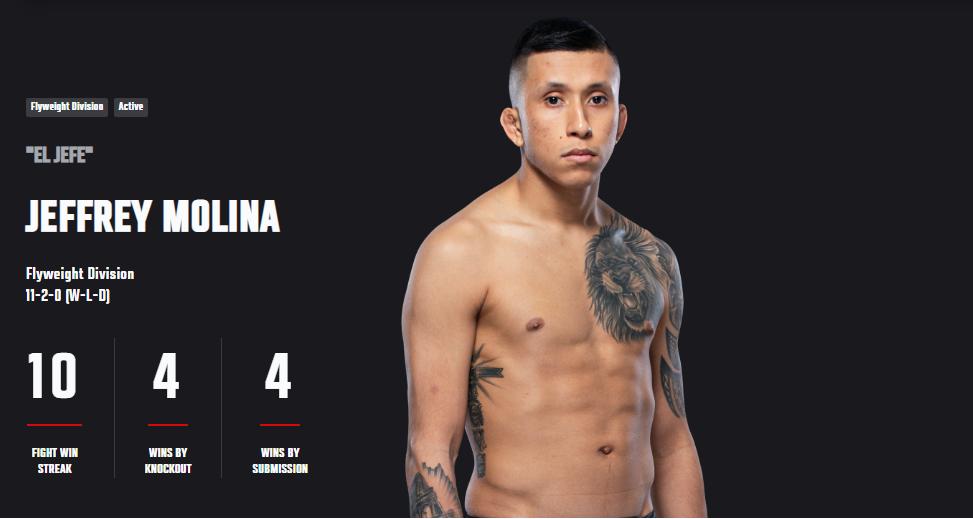 OLATHE, Ks. – UFC bantamweight Jeff Molina, who goes by "El Jefe" in the octagon, came out as bisexual Friday in a tweet that revealed he had been outed by someone who shared a video of him being intimate with another man. 
"Welp.. this fucking sucks," he wrote. "TLDR: im bi. Not the way I wanted to do this but the chance to do it when I was ready was taken from me."
In the moving and very personal post, Molina explained that "I've dated girls my whole life and suppressed feelings I had throughout high school being on the wrestling team, throughout college pursuing MMA, and even after making part of the dream happen and getting into the UFC." Molina has been a part of UFC since 2020.
👇👇👇 pic.twitter.com/zho13QHXeT

— Jeff Molina (@jmolina_125) March 17, 2023
Last Pride Month, Molina showed his support for the LGBTQ+ community by wearing rainbow shorts during a fight, and was the only one to do so. He found himself on the receiving end of anti-gay backlash for that.
"I just thought in 2022 people would be a little more open-minded and not pieces of shit. But I guess I was wrong," Molina said at a post-match news conference last June.
Jeff Molina goes *off* about the negative comments he received for wearing UFC's pride month shorts.

"I just thought in 2022 people would be a little more open-minded and not pieces of sh*t. But I guess I was wrong."#UFCVegas56 | Full video: https://t.co/mOxnqIFGCb pic.twitter.com/aKeVUUeXyg

— MMA Junkie (@MMAJunkie) June 5, 2022
After coming out on Friday, he added: "At the end of the day I know my character, morals, and who I am as a person. As much as I'm getting hated/shitted on I'm getting an equal amount of support & it means a fuck ton."
In fact, Molina received immediate support from fellow MMA fighters Chris Curtis and from fans with huge numbers of followers.
The real ones don't care man. Be happy with you and the rest will fall into place. Glad you can finally get it off ya chest. Fuck the haters

— Chris Curtis The Action Man (@Actionman513) March 17, 2023
Saddens me that you weren't able to do this on your own terms, horrible thing for that person to do, but you know who you are and I'm sure this will resonate with someone going through the same thing in the MMA space. Thanks for even sharing.

— MS (@UFC_Obsessed) March 17, 2023
In his coming out tweet, Molina explained why he had waited until now, and in doing so, had some harsh words for anti-LGBTQ fans of MMA: "The thought of my buddies, teammates, and ppl I look up to looking at me different let alone treating me different for something I can't control was something I couldn't fathom. In a sport like this where a majority of the fans being the homophobic cocksuckers they are I didn't see myself doing this during this part of my career."
Molina said he wanted to be known for his skills and his dedication to his sport and not as "the 'bi UFC fighter' that I'm sure would just be translated to 'gay UFC fighter.'"
And he had this to add: "To the awful disturbed person that decided to post this…I hope it was worth it," Molina wrote.
Currently, Molina's record is 11-2, but he is under suspension by the Nevada Athletic Commission for allegedly betting on a UFC fight, according to CNN.
While he waits for the investigation to conclude, Molina is spending his time watching MMA fights and enjoying Starbucks, which he tweeted and was subsequently ribbed for his choice of beverage.
I could be riding a Harley while eating pussy and still be getting called a fruit 🤷‍♂️

— Jeff Molina (@jmolina_125) March 18, 2023