Vogue Mexico to use third-gender cover model for the first time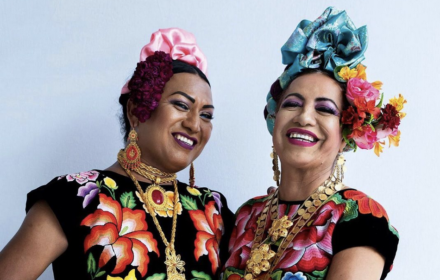 For the first time, a third-gender model has been used on the cover of Vogue Mexico.
It is believed to also be the first time in Vogue's 120-year history that a "muxe" (pronounced MOO-she) model has appeared in one of their magazines. The term muxe is a Mexican identity for indigenous third-gender individuals, derived from the Spanish word for woman, mujer.
Muxes, particular to the Zapotec community of southern Mexico, have been considered a third gender in Mexican culture for centuries. Other cultures worldwide also acknowledge native third-gender individuals, in countries including Tahiti, India, and Samoa.
The cover, which will appear on the December edition of the magazine, features 37-year-old Zapoteca muxe, Estrella Vazquez. The photoshoot from which It is drawn was a collaboration between Vogue Mexico and British Vogue, with the images to be used in both magazines.  Vogue Mexico will run two covers from the shoot on its December edition, and one will feature the image of Vazquez.
In a post on Instagram, Vogue México y Latinoamérica (@voguemexico) said:
"In a world in which labels seem essential, muxes appear as that figure that refuses to be typecast. The third gender has an important role in the Zapoteca history and becomes the living proof that ancestral magic still walks on this land."
Vazquez, who is a designer and weaver, commented to Reuters that Vogue's decision to include a third-gender model is a reflection the increasing awareness and acceptance of trans and gender non-conforming people in Mexico.
"I think it's a huge step," they said. "There's still discrimination, but it's not as much now and you don't see it like you once did."
LGBTQ people continue to face prejudice in many parts of Mexico, but there have been advances in trans rights within the last few years. In many states, trans people are now allowed to change the sex on their birth certificate and official documents by simple request to do so, without the requirement to undergo surgical procedures or obtain a doctor's diagnosis.
British Olympian Tom Daley knits his way to success with a new enterprise
A journey for me that started when I first picked up my knitting needles- fast forward 18 months & I'm so proud to introduce these kits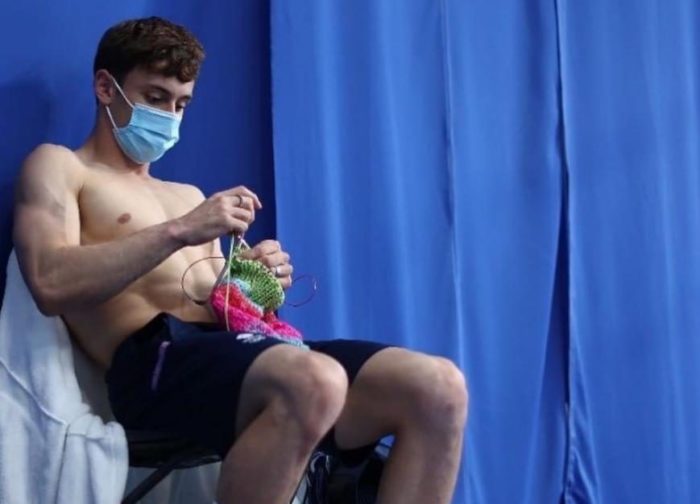 LONDON – During the entire course of the Olympic games in Tokyo 2020 this past summer, audiences following the diving competitions were certain to see British Olympian Tom Daley quietly and intently focused in-between matches- on his knitting.
The Gold medalist diving champion only picked up his first set of knitting needles in March of 2020 as the coronavirus pandemic first spread across the globe, strangling normal daily routines in its deadly grip.
Now, the 27-year-old British athlete has launched a company to encourage others to take up the hobby.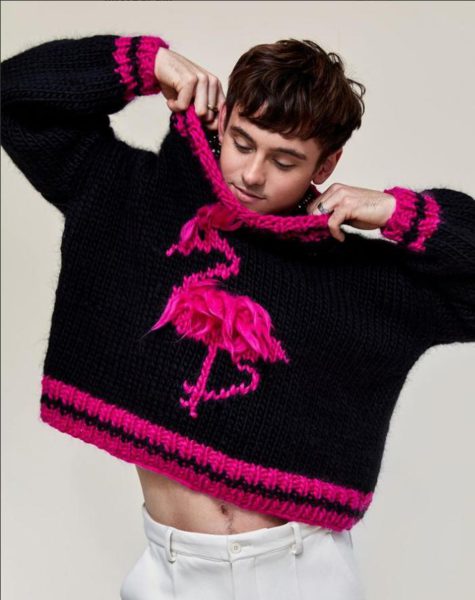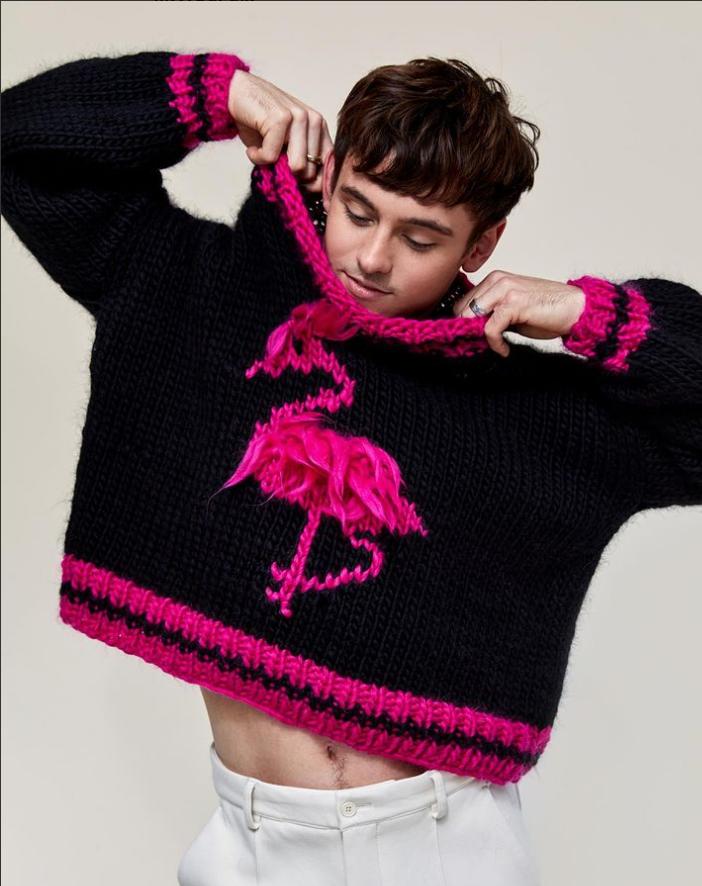 "It's been a journey for me that started when I first picked up my knitting needles in March 2020. Fast forward 18 months and I'm so proud to introduce these kits to you all so that you can experience the joy I found learning to knit," Daley said on his newly launched website.
"I designed these knit kits to help encourage you to pick up those needles, learn the basics, and fall in love with knitting at the same time – all whilst creating something to show off or pass on.
Ready? Pick up your needles, learn the basics and let's have some fun!"
The website offers various kits for beginners, intermediate and experienced knitting and crocheting enthusiasts. One of the kits, a winter warmer hat already sold out but the collection ncludes a vest, scarves, cardigans, jumpers, stockings, and a blanket.
Kits include needles, biodegradable yarn made of Merino wool, and knitting patterns.
Critics call gay Santa ad 'creepy' accusing it of 'sexualizing' Christmas
The ad was posted to Youtube on November 22 to pay tribute to the 50th anniversary of Norway's decision to decriminalize homosexuality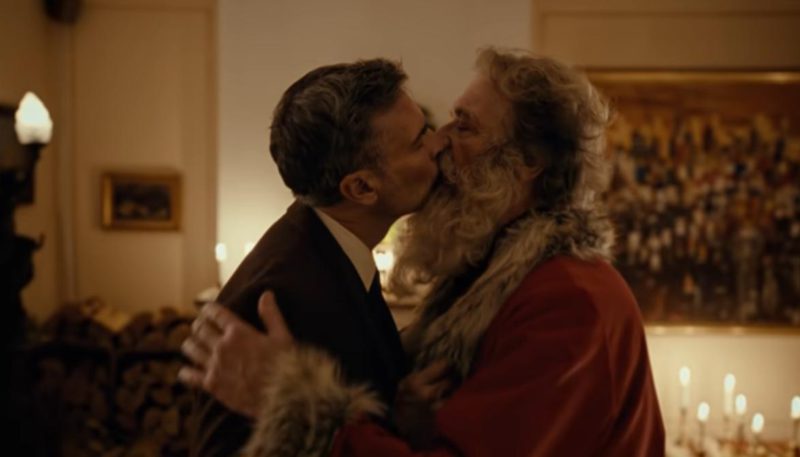 OSLO – A Norwegian Christmas ad for Norway's postal service, Posten Norge, that depicts a gay Santa struggling to balance his Christmas day duties and a male love interest has sparked an online debate with critics saying it "sexualizes" the holiday figure. 
The ad, titled "When Harry met Santa," shows a burgeoning romance between Santa and Harry that starts when the two meet one Christmas Eve. As leaves the house through the chimney that night, fireworks fill the night sky.
Over the years, the two continue to see each other on Christmas Eve and fall in love. Frustrated with only getting to see his lover once a year, Harry pens a letter to Santa that says, "Dear Santa: All I want for Christmas is you."
At the end of the nearly 4-minute ad, Santa and his lover engage in a seconds-long kiss. During their embrace, the camera pans out and a message that reads, "In 2022, Norway marks 50 years of being able to love who we want," appears.
The ad, posted to Youtube on November 22 to pay tribute to the 50th anniversary of Norway's decision to decriminalize homosexuality, has garnered over 1 million views.
"In addition to showing the flexibility of our services, we want to put it in a socially relevant setting," Posten Norge said in a statement, according to Reuters.
"Everyone should feel welcome, seen, heard, and included. This year's Christmas ad embraces this," it said.
Many have responded positively to the ad.
Canadian Member of Parliament Randall Garrison called it "strong and moving," saying the ad caused him to break his "no Xmas before December rule."
Former U.S. ambassador to Denmark Rufus Gifford tweeted: "Oh man I love Scandinavia. Imagine if the US Post Office put out an ad like this."
Others have voiced issues with the ad, calling it "creepy" and arguing that it "sexualizes" Santa.
English journalist Dawn Neesom, a columnist for the Daily Star, said as much on TalkRadio with James Max.
"This is an advert for the Norwegian postal service celebrating 50 years of being able to love who you want. However, they have sexualized Santa," Neesom said.
Max interrupted her, saying, "No they haven't sexualized Santa, this is a nonsense and you are jumping on a tabloid bandwagon. If Santa came in and kissed Mrs. Claus, you wouldn't say a word."
Neesom pushed back and maintained her point, adding that it was different because Santa married Mrs. Claus. She also argued that Harry was cheating on his spouse, but there is no indication in the ad that he has one.
Commentator Melanie Blake made a similar argument, tweeting: "If #Santa is gay these days then good for him but should we be seeing him getting off with anyone in Christmas adverts?! Seems a bit of an odd concept to me – if he was snogging a woman, it's still sexualising a figure that's mainly around for children which looks creepy to me."
In response to such comments, the Independent published an article that said, "Really? I mean … really?! Now, I know that woke-bashing has become de rigueur, and that, after the backlashes against the #MeToo and BLM campaigns, we're supposed to protect our precious and delicate cultural icons from the clutches of the baying woke mob – but are we really saying that the heartwarming romance between Harry and Santa is a woke step too far? Has Posten sexualised Santa? Oh, go and stuff your face with a selection box and give it a rest!"
It continued: "The truth is that Christmas and Santa have been sexualised for years already, and few people have batted an eye."
Broadway gathers to honor Sondheim in Times Square
They were gathered to pay homage to legendary Tony, Academy Award, and Grammy Award-winning composer and lyricist Stephen Sondheim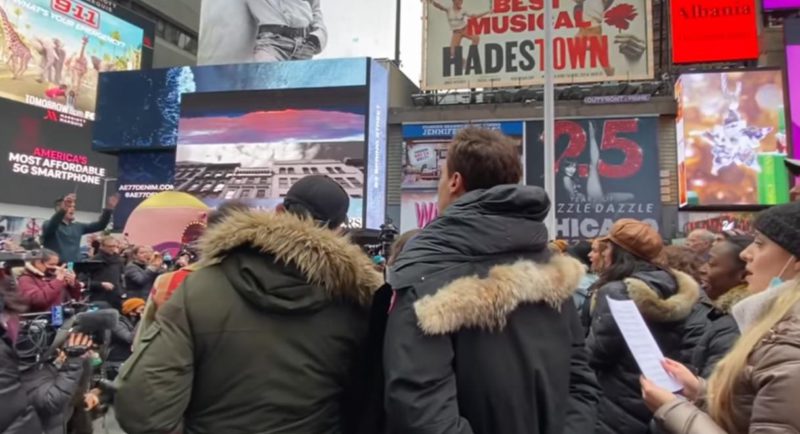 NEW YORK – Light snow flurries swirled around the stars of theatre and stage of New York City's 'Great White Way' as they gathered Sunday in Times Square- members of every Broadway company assembled singing in a powerful chorus "Sunday," the powerfully emotional act one finale to "Sunday in the Park with George."
They were gathered to pay homage to legendary Tony, Academy Award, and Grammy Award-winning composer and lyricist Stephen Sondheim. That piece being performed had garnered Sondheim a Pulitzer Prize for Drama in 1985.
Broadway's best were joined by Lin-Manuel Miranda, Sara Bareilles, Josh Groban, Kathryn Gallagher and Lauren Patton at 'Sunday' Performance in Times Square.
The man who was heralded as Broadway and theater's most revered and influential composer-lyricist of the last half of the 20th century died at 91 Friday at his home in Roxbury, Connecticut.
"This felt like church," Bareilles told Variety after the performance on Sunday. "In his remembrance, we did what theater does best. We sang and raised our voices and came together in community."
Variety also noted that during the celebration, Miranda offered a sermon of sorts. Foregoing a speech, he opened Sondheim's "Look I Made A Hat," an annotated anthology of the composer's lyrics, and read from a few passages before the crowd.
Lin-Manuel Miranda, Josh Groban and Sara Bareilles Honor Stephen Sondheim at 'Sunday' Performance in Times Square https://t.co/LgrYPyMnv0

— Variety (@Variety) November 28, 2021
"Sunday" from Sunday in the Park with George memorial for Stephen Sondheim