Coming soon: the 'International Male' documentary you never knew you needed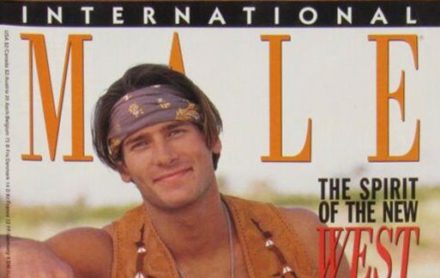 For gay men who came of age before the turn of the millennium, the International Male catalogue holds a special place in their memory.
Glossy, risqué, and as trashy as it was alluring, it was more than just a way to order mail-order clothes – it was a cultural touchstone. The items they sold might sometimes have been more than a little tacky (pirate shirt, anyone?), but the men who were modeling them for us were enough to stir any young gay-curious boy's imagination in the way that leaves a lasting impression.
The company behind this little gem of gay history disappeared along with the 20th century, and the world has moved on – there's internet porn now, after all. Still, though International Male is gone, the fond memories linger, and a trio of filmmakers is counting on that – they aim to make a documentary telling the story behind the iconic queer catalogue, and they're asking for your help to do it.
According to their fundraising pitch on the Film Collaborative website, the film will be, "The story behind the iconic International Male fashion catalog that transformed the 'All-American Boy,' changing fashion, masculinity, and gay rights forever."
They offer the following synopsis:
"More than outrageous fashions, hunky models, and scandalous undies, ALL MAN is a journey across three decades of the International Male catalog's lasting impact on fashion, masculinity, and gay rights.
With revenues at its peak of $120 million and circulation of over 3 million, the catalog successfully appealed to both gay and straight audiences. For gay men, the images of sensually dressed men were a gateway into a fantasy world providing an escape from the AIDS crisis and widespread homophobia. For straight men and their female admirers, the catalog gave permission to take fashion risks and enjoy a more carefree expression of sexuality without threatening their masculinity and sexual appeal.
ALL MAN: The International Male Story is designed as a tribute to the catalog's unique aesthetic and cultural relevance. The film mixes exclusive never-seen-before photographs and videos, interviews with super fans and celebrities, and creative re-enactments of the infamous photo shoots, and more!"
The movie's directors are Bryan Darling and Jesse Finley Reed, with Peter Jones as producer. According to the film's Facebook page, Jake Shears is set to appear in it, along with Carson Kressley, Brian Buzzini, David Knight, Steve Lyon, Robert Goold.
You can donate through the Film Collaborative page.
Celebrate Judy Garland's centennial by watching her movies
The dazzling force of nature made 34 films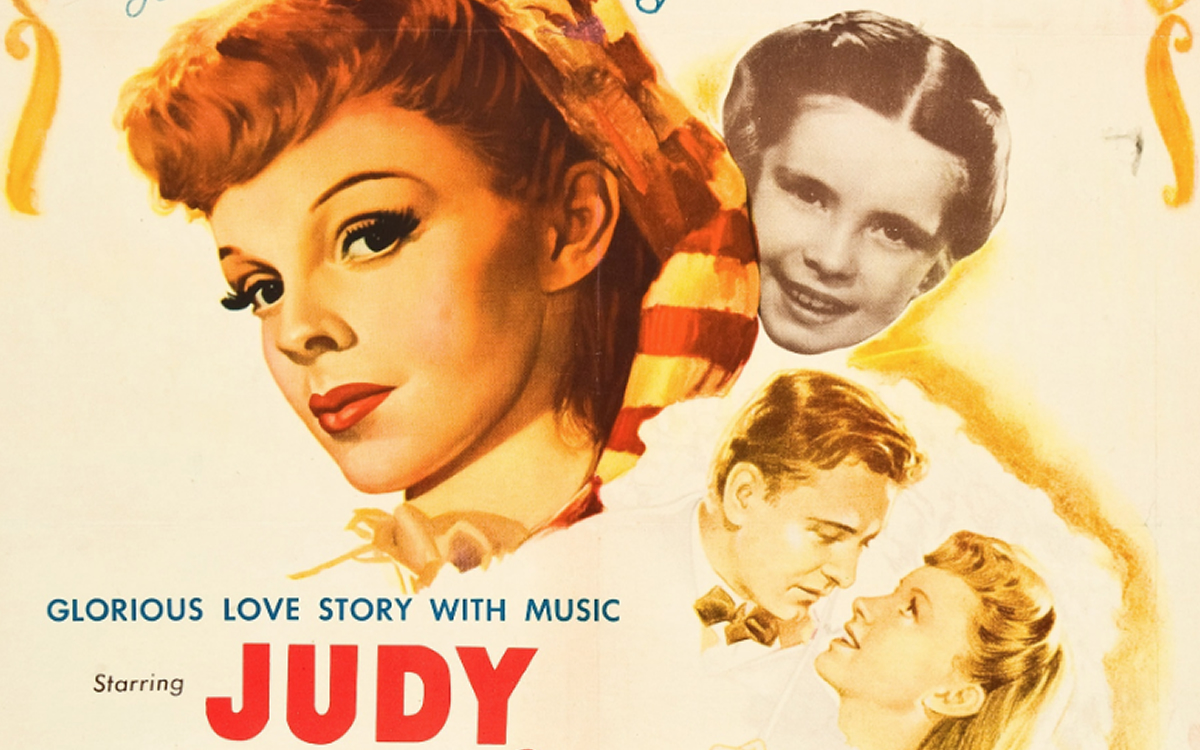 When the world ends, aficionados will still be watching their favorite Judy Garland movies.
Queer icon Garland was born 100 years ago this year (on June 10, 1922).
Everyone knows how tragic much of Garland's life was. MGM feeding her uppers and downers when she was a child. Bad luck with husbands. Getting fired from movies because of her addiction issues. Her death at age 47.
You can't deny that Garland's life was often a mess. Yet, it's too easy to encase Garland into a box of victimhood.
Contrary to the misperception of her as a sad figure, Garland wasn't a morbid person. She was a fabulous comedian and clown, John Fricke, author of "The Wonderful World of Oz: An Illustrated History of the American Classic," told the Blade in 2019. Lucille Ball said Garland was the funniest woman in Hollywood, Fricke said. "'She made me look like a mortician,' Lucy said," he added.
In the midst of the sentimentality and morbidity shrouding her legacy, you can readily forget Garland's prodigious talent and productivity.
Garland was a consummate, multi-faceted, out-of-this-world talented performer. She (deservedly) received more awards than most performers would even dream of: two Grammy Awards for her album "Judy at Carnegie Hall," a special Tony for her long-running concert at the Palace Theatre and a special Academy Juvenile Award. Garland was nominated for an Emmy for her TV series "The Judy Garland Show" and for Best Supporting Oscar for her performance in "Judgment at Nuremberg."
Garland, a dazzling, force of nature on screen, made 34 films. There's no better way to celebrate Garland's centennial than to watch her movies.
Garland was renowned for connecting so intimately with audiences when she sang. She's remembered for her legendary musicals — from "The Wizard of Oz" to "Meet Me in St. Louis" to "A Star is Born."
But if you watch, or re-watch, her movies, you'll see that Garland wasn't just a singer who sang songs, and sometimes danced, in production numbers in movie musicals.
Garland was a talented actor. She wasn't appearing on screen as herself – Judy Garland singing to her fans.
Whether she's tearing at your heartstrings as Dorothy in "The Wizard of Oz," performing brilliant physical comedy with Gene Kelly in the "The Pirate," breaking your heart with "The Man that Got Away" in "A Star is Born" or unrecognizable as Irene Hoffmann in "Judgment at Nuremberg," Garland is acting. Her performance etches these characters onto your DNA.
Picking Garland's best movies is like deciding which five of your 20 puppies should go on an outing. But, if you're cast away on a desert island, take these Garland movies with you:
"Meet Me in St. Louis": This luminous 1944 musical, directed by Vincente Minnelli, has it all: Garland in top form, the Trolley song, Margaret O'Brien, along with a stellar cast, and the best Christmas song ever.
"The Clock": This 1945 movie, also directed by Minnelli, showcases Garland as a gifted dramatic actress. Shot in stunning black-and-white near the end of World-War II, the movie is the story, set in New York City, of a young woman (Garland) and a soldier on leave (Robert Walker) who fall in love.
"Easter Parade": Sure, this 1948 picture, directed by Charles Walters, is thought of as a light musical by some. But, who cares? It's in Technicolor, and Judy's in peak form – dancing with Fred Astaire.
"A Star is Born": If you don't know the story of this 1954 film, directed by George Cukor, starring Garland and James Mason, you're not a member of queer nation. There have been other versions of "A Star is Born," some quite good, but this is still the best. Garland should have gotten an Oscar for this one.
"Judgment at Nuremberg": This 1961 film, directed by Stanley Kramer, will never be a date night movie. It's long (3 hours, 6 minutes), grim (about Nazi crimes) and Garland is only in it for about seven minutes. But the story is gripping and Garland's performance is mesmerizing. When you watch her as Irene, you won't be thinking that's Judy Garland.
Happy centennial, Judy!
New ACT UP book is part history, part memoir
'Boy with the Bullhorn' chronicles hard work, grief, anger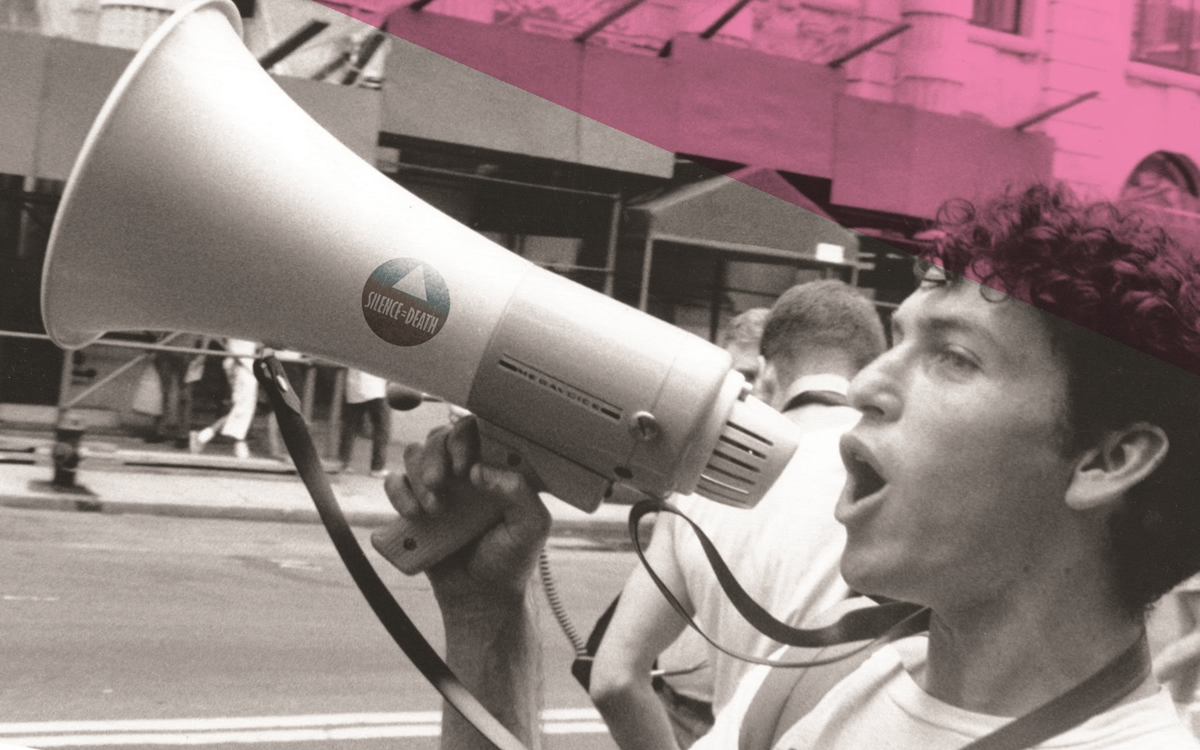 'Boy with the Bullhorn: A Memoir and History of ACT UP New York'
By Ron Goldberg
c.2022/ Fordham University Press
$36.95/512 pages
The sign above your head shows what's going on inside.
Last night, you made the sign with a slogan, firm words, a poke to authority – and now you carry it high, yelling, marching, demanding that someone pay attention. Now. Urgently. As in the new book, "Boy with the Bullhorn" by Ron Goldberg, change is a-coming.
He'd never done anything like it before.
But how could he not get involved? Ron Goldberg had read something about ACT UP, the AIDS Coalition to Unleash Power, and he heard they were holding a rally near his workplace. It was 1987, he'd never participated in anything like that before, but whispers were everywhere. He and his friends were "living under a pervasive cloud of dread."
He "was twenty-eight years old… scared, angry, and more than a little freaked out" about AIDS, he says.
Couldn't he at least go down and hold a sign?
That first rally led Goldberg to attend a meeting, which, like most, as he came to realize, were raucous and loud and "electric." Because he was "living fully 'out and proud'," and because he realized that this was an issue "worth fighting for," he became even more involved with ACT UP by attending larger rallies and helping with organizing and getting his fellow activists fired up. He observed as women became involved in ACT UP, too. Monday night meetings became, for Goldberg, "the most exciting place in town."
There, he learned how politics mixed with activism, and why ACT UP tangled with the Reagan administration's leaders. He puffed with more than just a little ownership, as other branches of ACT UP began spreading around the country. He learned from ACT UP's founding members and he "discovered hidden talents" of his own by helping.
On his years in ACT UP, Goldberg says, "There was hard work, grief, and anger, surely, but there was also great joy." He was "a witness. And so, I began to write."
Let's be honest: "Boy with the Bullhorn" is basically a history book, with a little memoir inside. Accent on the former, not so much on the latter.
Author Ron Goldberg says in his preface that Larry Kramer, who was one of ACT UP's earliest leaders encouraged him to pull together a timeline for the organization and this book is the result of the task. It's very detailed, in sequential order and, as one reads on, it's quite repetitive, differing basically in location. It's not exactly a curl-up-by-the-fire read.
Readers, however – and especially older ones who remember the AIDS crisis – won't be able to stop scanning for Goldberg's memories and tales of being a young man at a time when life was cautiously care-free. The memories – which also act as somewhat of a gut-wrenching collection of death-notices – are sweet, but also bittersweet.
This book is nowhere near a vacation kinda book but if you have patience, it's worth looking twice. Take your time and you'll get a lot from "Boy with the Bullhorn." Rush, and it might just go over your head.
The Blade may receive commissions from qualifying purchases made via this post.
Trailblazing Scots pro soccer athlete comes Out and inspires others
Murray, 30, came out during an interview posted on the website of his club, saying "the weight of the world is now off my shoulders"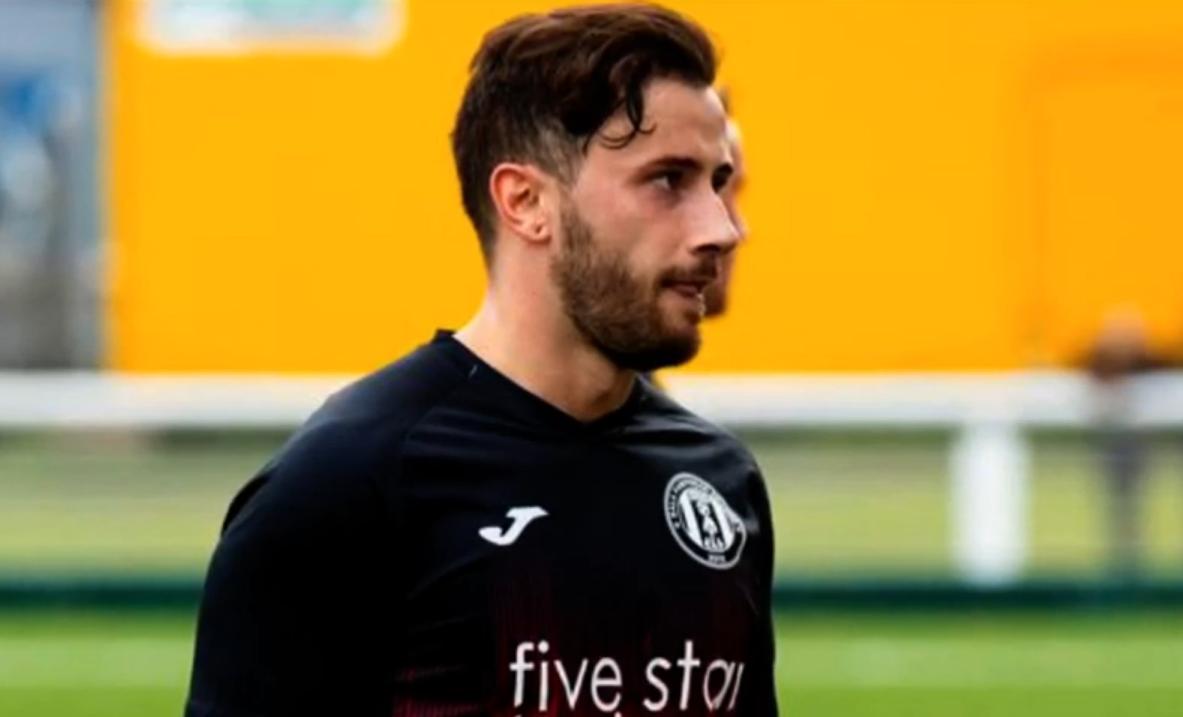 EDINBURGH – Two weeks after making headlines as the first-ever senior Scottish pro soccer player to come out as gay, Zander Murray is revealing the impact his courageous decision has had on at least one closeted player. Murray tweeted a message he received that shows the difference an athlete coming out can make.
"I just wanted to tell you that you've been a massive inspiration for me to come out to teammates and family," the anonymous player told Murray, according to the tweet.
"As a young footballer I find it difficult to be myself as it is but being gay and keeping it secret was so challenging. It felt amazing when I told my teammates, they were super supportive."
Murray shared the message with a heart emoji and the words: "Makes it all worthwhile young man."
Makes it all worthwhile young man ❤️ pic.twitter.com/4d2pVK2VU6

— Zander Murray (@ZanderMurray) September 27, 2022
Murray, 30, came out during an interview posted on the website of his club, the Gala Fairydean Rovers, on September 16, explaining "the weight of the world is now off my shoulders."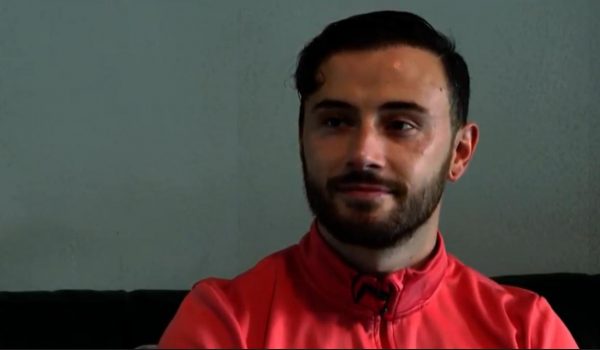 As the Los Angeles Blade has reported, Jake Daniels of Blackpool came out as gay in May, the first U.K. male pro soccer player to come out in more than 30 years. Justin Fashanu was the first in Britain men's soccer to come out back in 1990. Homophobic and racist media reports drove Fashanu to suicide eight years later.
Reaction to Murray's coming out last month has been "incredible," he's told reporters. One of those reaching out to congratulate him was Olympic gold medalist Tom Daley. The U.K. diver sent him a DM, Murray told a British interviewer.
"He messaged me while I was on my way back from football training in a car with four boys. I had tears in my eyes seeing his direct message, and I messaged him back.
"I said, 'Look I am in a car on the way back from football with four boys and I've got tears in my eyes and I don't even care.'"
Prior to coming out, Murray had been "living in fear 24/7," he told Sky Sports. "I can't explain it. You're hiding your phone in case you get messages from friends, constantly double-checking if you have a team night out, you're cautious with what you're saying.
"It's very hard, especially for myself, I'm a character in that dressing room. I'm not quiet in that dressing room, I like to have the banter and to get stuck in, so very challenging."
But Murray said he couldn't have decided to come out "at a better time, at a better club." So why now? He posted the answer on Instagram with several bullet points, including:
"Gay male footballers in the UK need role models.
Majority are terrified to come out to friends/family/teammates (trust me a few have reached out already!)."
STV Weekend News Sunday, September 18, 2022 Zander Murray