December 4, 2019 at 7:02 am PST | by Gabriel Maldonado
Living bravely with HIV
For those of us living with HIV, World AIDS Day brings up a complicated set of emotions. And for those of us who call this a part of our profession, it's a day that tugs on both our hope and our rage.
I first stepped foot into organizing and advocacy in an attempt to understand my own identity and struggle. I had hoped that along the way, I might be able to help liberate others too.
It is a conflicting experience to do so, however, in a profession that requires you to confront and engage with your traumas so casually and frequently. Let me be clear: HIV is not only a public health issue, it's a social justice one. Confronting HIV for me is to address the oppressive and traumatizing realities of racism, poverty, stigma and homophobia. When you confront, articulate, and mobilize against these issues, it represents an act of violence against the advocate. We do so all the while trying to discover who we are and how we will become something meaningful in this world.
It was a remarkable moment the first time I spoke openly as an Afro-Latino gay man living with HIV. I discovered that I could captivate a room in a way my identity never had as a young biracial boy from Compton. I discovered that there is transformational healing in hearing another's story and sharing your own.
But sharing one's story is not only empowering — it's also sacrificial. It requires the speaker to give a piece of their personal history, their sacred moments, their trust. It's a scabbed wound that requires an advocate to pick at it daily so that others may see how we healed it. If our story is not shared gently and with intention, it can cause violence unknowingly against the person sharing. You must hold yourself tightly in those moments.
Every day, community-based organizations, particularly those led by Black and Latinx leadership, witness the toxic effects of the nonprofit industrial complex. It is not only a skill but an art to balance and maneuver the interests of so many stakeholders — community members, funders, boards, government, and, of course, staff.
In truth, the very narrow margins left for innovation often leave the clients we serve with the short end of the stick – a diluted version of what had been imagined when programs and policies were first conceived. And the titan-like warring between grant deliverables and scopes of work too often suffocate the risk-taking and nimbleness needed to remedy the historical inequities in community.
As I am growing my own organization, TruEvolution, I am soberly realizing that like all things, advocacy and activism are touched by the corrosive effects of corporatization and politicization. The HIV movement today struggles with redefining itself amidst a complicated season of social media, consumerism, polarization, rigid ideologies, and the precarious state of politics in America. As a chief executive, my responsibility is to ensure the organization's survival and impact. At times, these two mandates become in conflict with one another.
The precarious state of politics in America manifests itself into the "HIV industrial complex" which has been layered in a system of power structures with government, industry, nonprofits, and political interests. Each of these factors strive to make an impact in the community while simultaneously advancing the interests of their own institutions. Grassroots organizations are left to persuade our constituents to remain engaged in a system that at best, gives them an opportunity to succeed and at worse, tells them to try again.
This is a paradox that has resulted in a disparity of funded and under-resourced institutions, spawning an adversarial culture, and encourages competition where there should be solidarity amongst organizations.
The HIV industrial complex often finds itself hypocritically espousing ideas of sexual freedom and celebration for difference while expecting conformity and "respectability" within its ranks. I have watched young folks of color exit the field simply in search of recovery from the demands of advocacy. This is not about victimhood. We must remember that the decision to work in the HIV field is a calling and deliberateness.
The sharing of this narrative is meant to sensitize an unaware reader to the bravery of the enduring advocate. It is imperative to demystify the romanticism of social justice and empower the advocate with truth and perspective. This is critical to inspiring and nurturing the next generation who seek a seat at the table. We must approach our resistance to injustice with our ideals and principles but also with strategy and tactics. Understanding the sometimes messy realities of our work equips us with the tools to make decisive decisions for ourselves and our people.
Why do we still do this work? Why do we choose to press forward amidst all the reasons to exit or to never have engaged at all? Each of us has own personal testimony that keeps us grounded and passionate in this work.
However idealistic, I continue to serve because I still believe in us. I believe that in spite of the many shortcomings of institutions, there is a league of incredible activists within the system who are pushing forward a progressive agenda from within. I believe we serve bravely in the hope that each day we move closer to preventing new cases of HIV and eliminating the stigma endured by those living with HIV in America and around the world.
I believe what fuels change is bravely sharing our personal stories to build and create community.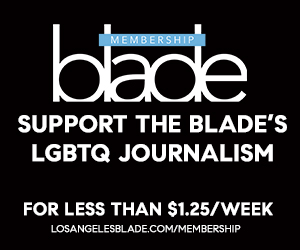 Sign Up for Blade eBlasts