Los Angeles man sentenced to death in 2013 trans inmate murder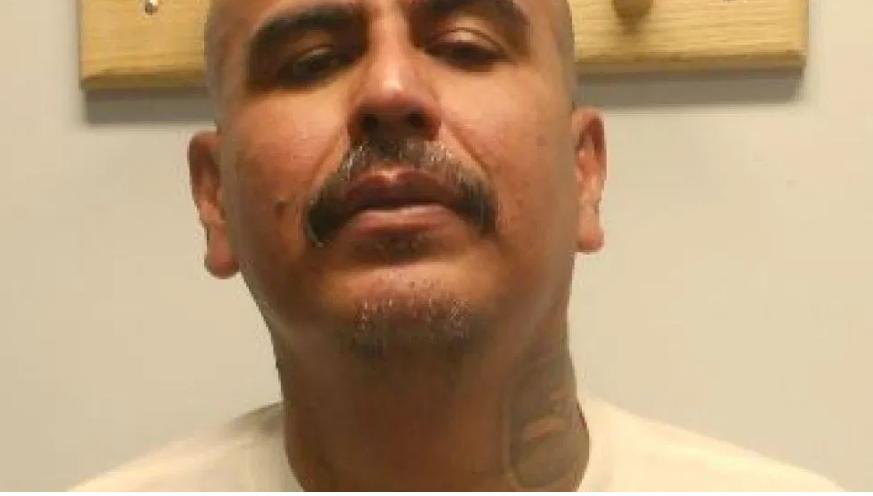 A convicted murderer was sentenced to death Thursday, Dec. 5 in the 2013 killing of a Trans female inmate at the Kern Valley State Prison. Miguel Crespo 48, was serving a life sentence for second degree murder in a case stemming from a 1993 shooting in Los Angeles County when corrections staff at the facility in October 2013 assigned Carmen Guerrero, a trans woman, to his cell for just eight hours during which Crespo bound, gagged, tortured and murdered her.
During sentencing, Crespo made it a point to tell Kern County Superior Court Judge John D. Oglesby that he warned prison officials that he's not gay and that he was incompatible with Guerrero before the prison housed them together anyway.
"I had a restriction not to be housed with a [faggot]," Crespo said, according to NBC affiliate KGET.
NBC OUT on Friday, Dec. 6 notes that "the issue of transgender people in California's prison system is fraught with conflict and even had become a topic in the Democratic presidential primaries, with former candidate Democratic Senator Kamala Harris facing questions over her stance on granting state-funded, gender-reassignment surgeries to transgender inmates" while she had served as California's Attorney General.
SB 132 a bill sponsored by Calif. Democratic State Senator Scott Weiner, which is currently still in the legislative process, addresses incarcerated transgender people in the custody of the California Department of Corrections and Rehabilitation (CDCR). The legislation passed the Senate and the Assembly Public Safety Committee and Assembly Appropriations Committee. The bill will be eligible for a vote by the full Assembly in 2020.
The legislation requires that Trans inmates be classified and housed based on their sense of health, safety, and gender identity — as opposed to defaulting to anatomy or dictating placement based on sex assigned at birth. The bill would require CDCR to house incarcerated transgender people according to their gender identity or where they feel safest and:
Require that during the initial intake process, CDCR record the individual's self-reported gender identity, pronouns, and honorific;
Require CDCR to house transgender people according to the person's preference, including which facility the person states they feel safest in, which may or may not correspond with their gender identity; and
Require all staff and contractors of CDCR to consistently use the gender pronoun and honorific the person has specified in all verbal and written communications with and regarding that person.
Note: SB 132 background information provided via Equality California
Federal Jury convicts Ed Buck in the drug deaths of two Black men
Also convicted on charges of maintaining a drug den, distributing methamphetamine & enticement to cross state lines to engage in prostitution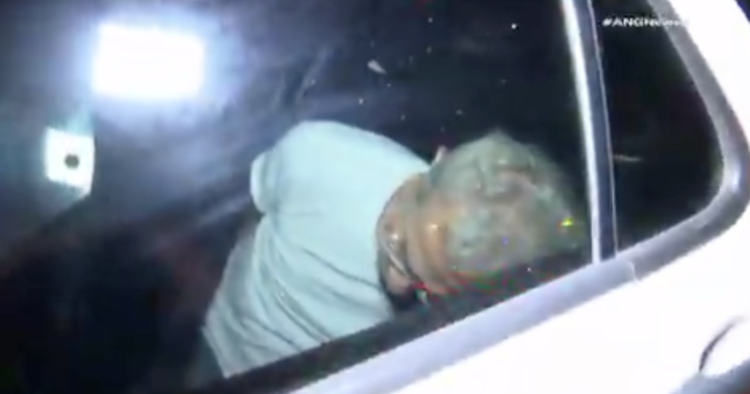 LOS ANGELES – Barely four and a half hours after being handed his case for deliberations, a federal grand jury convicted the former West Hollywood resident and Democratic political activist/donor Ed Buck on the nine-count indictment of charges he supplied the methamphetamine that killed two Black men during 'party-and-play' encounters at his flat.
Buck was also convicted on charges of maintaining a drug den, distributing methamphetamine and enticement to cross state lines to engage in prostitution.
The conviction could mean that Buck, 66, will be facing a sentence where he could spend the rest of his life in prison for his actions that killed Gemmel Moore, 26, in July 2017, and Timothy Dean, 55, in January 2019. The convictions for supplying the meth that resulted in death each carry a minimum sentence of 20 years in prison.
The verdict concluded a two-week trial that featured harrowing testimony of Buck's accusers and victims which was shocking. Prosecutor's use of Buck's seized videos offered jurors a disturbingly graphic look at the chilling indifference displayed by Buck as he victimized those unfortunate to enter his flat.
Buck would solicit his victims on social media platforms, including Grinder, and on Adam4Adam, a gay hook-up site. Buck's profile solicited men who shared his underwear fetish and wanted to "party and play." His profile also contained a 'Rose' emoji which symbolized that he was generous or in plain terms, willing to pay cash for his "party and play."
Jurors heard testimony from several of the Black men victimized that Buck's preference was to personally inject victims, and he pressured or incentivized victims to let him do so, sometimes offering large cash bonuses to coerce a victim to agree to an injection or additional injections. At other times, Buck simply injected victims while they were unconscious.
"I know this has been an arduous, lengthy and difficult process," U.S. District Judge Christine A. Snyder told jurors after she read the verdict shortly after 2 p.m. Pacific.
Christopher Darden, a lawyer for Buck, told the jury his client was on trial "for conduct that millions of people engage in." He dismissed the witnesses against Buck as manipulative escorts and drug abusers who used Buck for his money, the Los Angeles Times reported.
"The evidence is going to show that these grown men made a conscious decision to go to Ed Buck's apartment for whatever reason," Darden said in his opening statement.
Ludlow Creary II, another of Buck's attorneys, argued that his client did nothing more than enjoy party-and-play sessions involving drugs and sex with men he met online. Buck could not be held responsible for the serious medical conditions that caused the deaths of the two men at his apartment 18 months apart, Creary argued in court.
"This is a subculture, a lifestyle that may be shocking to some of us," Creary said during his summation. "Everyone involved was there voluntarily."
The Times noted that Assistant U.S. attorney Chelsea Norell called the defense's strategy "despicable victim shaming."
Buck showed no emotion as he heard the verdicts.
U.S. District Judge Christina Snyder did not set a sentencing date, but scheduled post-trial motions on Aug. 9.
"It was a tremendous honor to vindicate the rights of the victims," Norell told reporters after the verdict was read.
Arrest made in a kidnapping in West Hollywood bar & nightclub district
Detectives seek to speak with any additional witnesses or anyone who has had contact with Diaz on the night of the incident or in the past.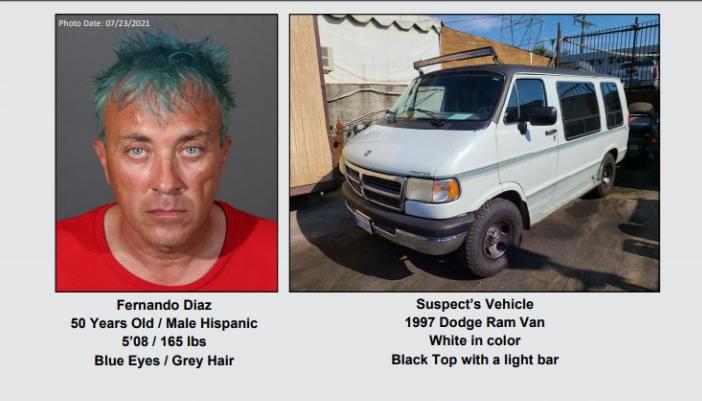 WEST HOLLYWOOD – The Los Angeles County Sheriff's department announced in a tweet that deputies had arrested Fernando Diaz, 50, at 3 a.m. Friday morning after he was seen allegedly carrying an unconscious woman to a van and then driving off. Diaz was released on bond a day later, officials confirmed Sunday.
Diaz's bail amount was set at $100,000 and he was released on Saturday after posting bond, according to the Sheriff's Department's inmate locator.
Detectives seek to speak with any additional witnesses or anyone who has had contact with Diaz on the night of the incident or in the past.
Anyone with information is asked to contact Detective Cynthia Mejia at the West Hollywood Sheriff's Station Detective Bureau by calling 310-358-4028 or [email protected]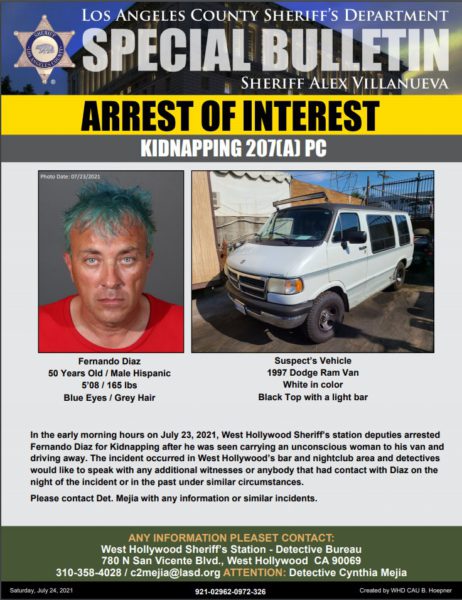 California voters give Newsom thumbs down on homelessness response
"I don't think homelessness can be solved – I know homelessness can be solved," said Newsom. "We are going all-in with innovative solutions"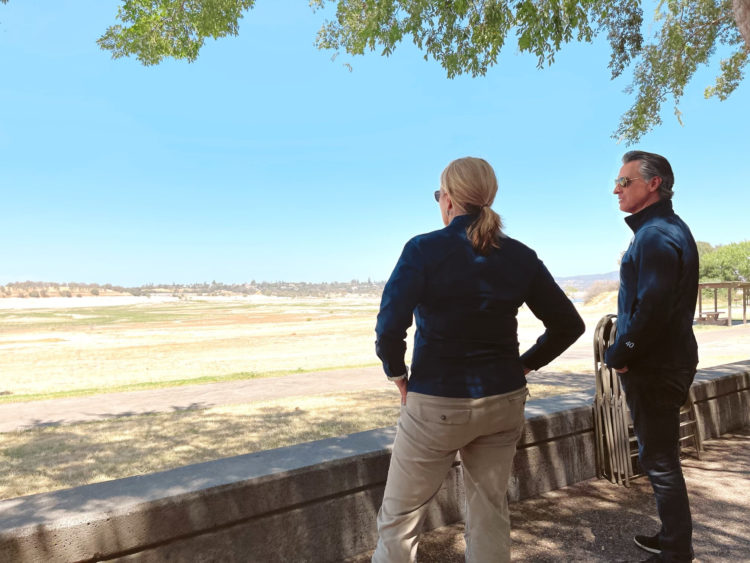 BOSTON – In a new poll released Friday conducted by Inside California Politics and Emerson College of more than 1,000 registered voters, half rated Governor Gavin Newsom's response to the homelessness crisis in California as 'poor.'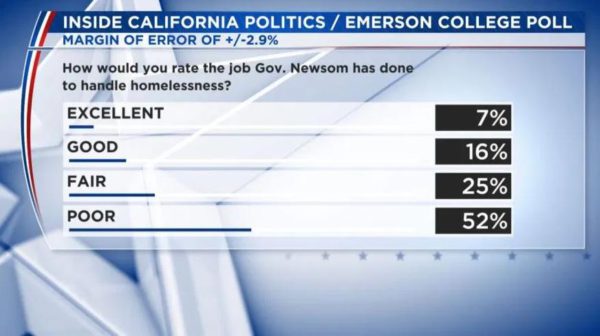 Newsom's low marks comes after an announcement earlier this week at a Project Homekey site located in Sebastopol, West of Santa Rosa, where he signed the largest funding and reform package for housing and homelessness in California history as part of the $100 billion California Comeback Plan. The package includes $10.3 billion for affordable housing and $12 billion over two years towards tackling the homelessness crisis head-on – helping tens of thousands of people off the streets while also demanding greater accountability and more urgency from local governments.
The new homelessness funding includes $5.8 billion to add 42,000 new housing units through Homekey – a national model for homeless housing. $3 billion of this investment is dedicated to housing for people with the most acute behavioral and physical health needs. This investment is the biggest expansion in decades in terms of clinically enhanced behavioral health housing in California.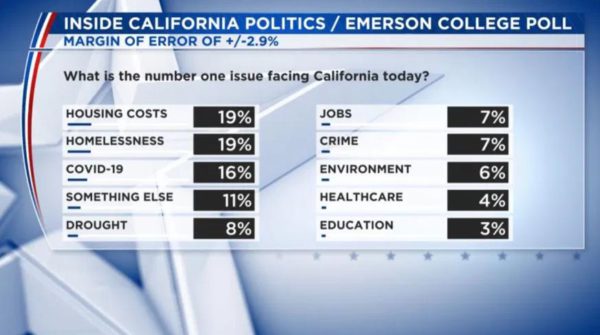 "I don't think homelessness can be solved – I know homelessness can be solved," said Newsom. "We are going all-in with innovative solutions that we know work – with a focus on creating housing to support people with severe mental health challenges, and with more money than ever to move people out of encampments and into safer situations."
California is home to more than a quarter of the nation's homeless people with an estimated 161,000 people are experiencing homelessness, according to federal government data, and it has reached crisis proportions in many cities, especially in Los Angeles.
Los Angeles Mayor Eric Garcetti announced in his annual State of the City address on April 19, 2021 that he will seek to spend nearly $1 billion on initiatives for addressing homelessness, as well as allocate $235 million for the city's Emergency Rental Assistance program, intended to help up to 100,000 households and other critical needs.
There are deep disagreements in how to solve a problem that goes beyond economics, advocates claim they can't house people quickly enough with a shortage of housing units and high rents. The issue is also further exacerbated by the complications of mental illness and addiction issues that require treatment and can make people resistant to accepting shelter.