CSW report shows substantial revenue generated by LA Pride in 2019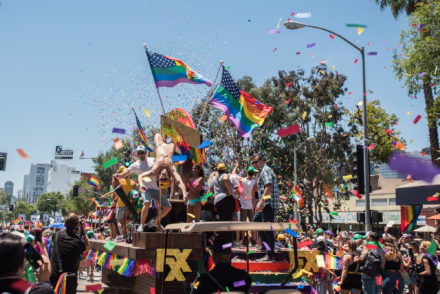 Christopher Street West, the non-profit organization that produces LA Pride, announced on TuesdayChristopher  that the 2019 Festival generated nearly $75 million in economic output for Los Angeles Country.
According to a statement, CSW, in partnership with independent research and counseling firm Beacon Economics, released an economic impact report that shows the 2019 LA Pride Parade and Festival generated $74.7 million in economic output and $42.2 million in direct expenditures in Los Angeles County.
Based on expenditure data from organizer CSW and a survey of event attendees, exhibitors and producers, the report details how the three-day event directly impacted the City of West Hollywood, the City of Los Angeles and Los Angeles County. Beacon Economics considered spending by all participants at the 2019 event including attendees, CSW, exhibitors and producers.
Key findings show that the 2019 LA Pride Festival and Parade:
Increased economic output in Los Angeles County by $74.7 million of which $27.7 million was concentrated in West Hollywood and $18.2 million in the City of Los Angeles
Increased labor income for workers in Los Angeles County by $33.1 million, including $14.7 million in West Hollywood and $7.4 in the City of Los Angeles
Supported the annual equivalent of 830 jobs in LA County, including 397 in West Hollywood and 191 in the City of Los Angeles
Estimated $2.5 million in tax revenue generated in LA County, including $896,100 in West Hollywood and $332,800 in the City of Los Angeles
The report additionally finds that the LA Pride Parade and Festival attracted a diverse group of attendees with just over half of ticket buyers being from Los Angeles County, 31% coming from outside Southern California and the remainder being from elsewhere in Southern California. Of the ticket buyers, nearly 40% had a bachelor's degree or higher and over 40% ranged between the ages of 25-34. The City of Los Angeles was the most popular location for accommodations, accounting for 40% of accommodations, while West Hollywood accounted for 18% of accommodations. Additionally, CSW data showed that over 85% of the exhibitors and producers came from Los Angeles and fewer than 15% from outside the area.
CSW board president Estevan Montemayor commented, "LA Pride has been a voice for the LGBTQ+ community in the greater Los Angeles area for nearly 50 years, and we're proud of the positive impact that the LA Pride Parade and Festival has on our local economy. With our partners from the Cities of West Hollywood and Los Angeles, JJ/LA and beyond, we look forward to providing diverse experiences for the community and bringing even more people into the County of Los Angeles for our 50th anniversary celebration next year."
Adam J. Fowler, director of research at Beacon Economics, added, "Beyond being a world-famous celebration of the resilience of LA's LGBTQ+ community, the economic and fiscal impacts that the LA Pride Parade and Festival have on both the city and county are undeniable. The event's ability to generate jobs, labor income, and tax revenue at the level it does is a testament to its success, as well as to the diversity of the local population."
You can read the full report here.
Chair of Ventura County Board of Supervisors killed in traffic accident
"Her kindness, love and deep compassion for the community was felt by everyone. She will be dearly missed"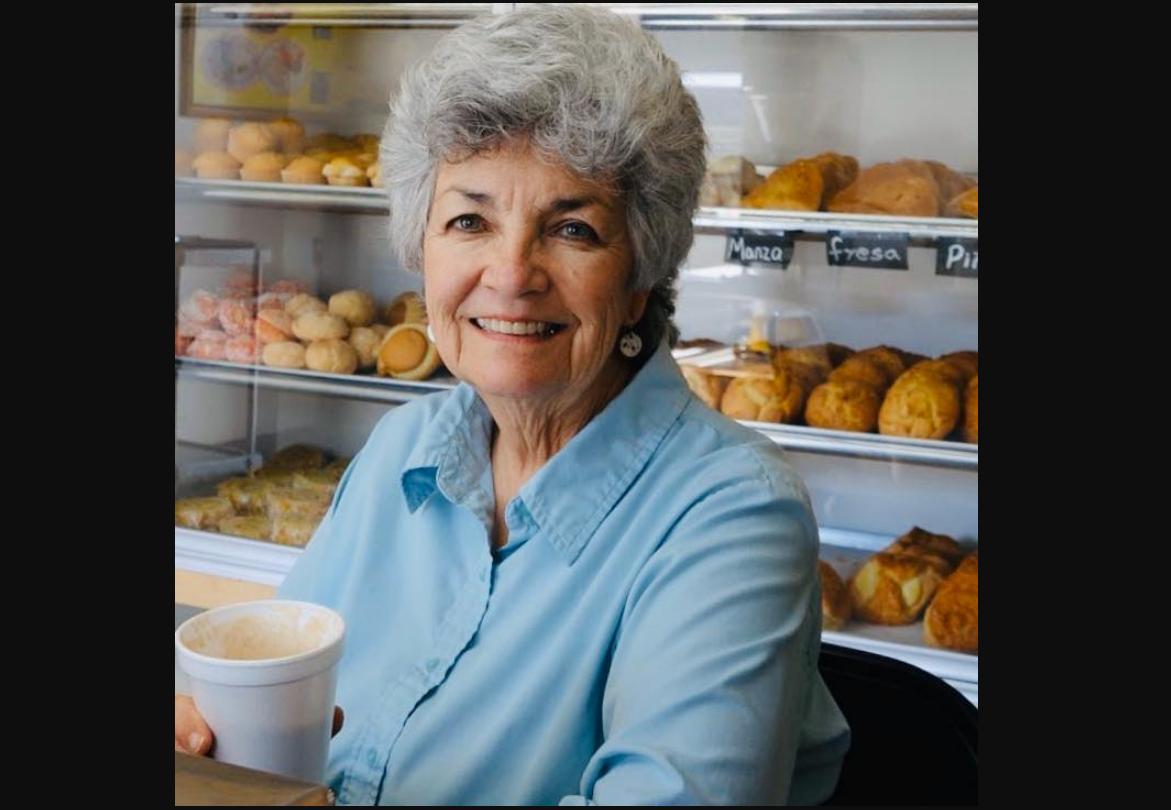 OXNARD, Ca. – The beloved chair of the Ventura County Board of Supervisors Carmen Ramirez was killed in a traffic accident in Oxnard Friday the Ventura County Star newspaper reported.
Ramirez, 73, had first served on the Oxnard City Council and then in November 2020, she became the first Latina in the county's history to be elected supervisor. She achieved another first the Star reported when her fellow board members elected her as chairwoman of the powerful board becoming the first Latina to hold that position.
According to the Star, the crash occurred about 6:45 p.m. at Seventh and A streets in Oxnard. Oxnard Police Chief Jason Benites said the driver of the vehicle remained at the scene and was cooperative.
Ramirez was transported to Ventura County Medical Center in Ventura where she was pronounced dead at 7:17 p.m., the chief said.
The initial investigation determined that a large truck, driven by a 38-year-old man, was traveling westbound on Seventh Street toward A Street. Ramirez, who was reported to be crossing the intersection within the pedestrian crosswalk, was struck by the vehicle.
In her official bio on her 2020 campaign website it noted that she grew up in the San Gabriel Valley with six siblings and worked in Ventura County since 1978. The county's website states she served on the Oxnard City Council for 10 years.
Prior to being elected to the council in 2010, she worked as a longtime legal aid attorney serving low-income communities in Ventura County, her bio read.
"I offer my sincere condolences to her husband, Roy Prince, and her family," said Oxnard Mayor John Zaragoza in a statement released Saturday. "We will miss Carmen tremendously. We worked together often, while I was serving as Supervisor and she was Oxnard's Mayor Pro Tem, and this camaraderie continued when she was elected Supervisor and I served as Mayor. She was passionate about environmental justice and creating a better future for our City. Her kindness, love and deep compassion for the community was felt by everyone. She will be dearly missed."
Our County mourns the loss of our Chair of the Board Carmen Ramirez. Chair Ramirez was a pedestrian involved in a vehicle accident in Oxnard and passed away this evening. We extend our heartfelt condolences to her family, loved ones, and her City and County community. pic.twitter.com/ALNdju2cPB

— County of Ventura (@CountyVentura) August 13, 2022
Interim County Executive Officer Sevet Johnson described Ramirez as "passionate" and "hard working," calling her a huge advocate on climate issues as well as on behalf of her community and underserved populations.
"She was a powerhouse," Johnson said.
"We were all blessed to have known her, blessed to have been her friend," Supervisor Linda Parks said.
The LGBTQ community in Oxnard expressed its grief and condolences in a Facebook post writing:
"We, The city of Oxnard, and all of the people you have shined your light on are deeply saddened and in mourning from your loss. OxnardLGBTQ did not get the pleasure of knowing you, or work with you more thank we hoped for, but we knew you were a powerhouse, and major advocate for La Raza and our Queer community. You will be remembered by so many for all that you did and your legacy. Our sincere condolences to all of your family, friends and close acquainted. You will be truly missed. Descansa en paz Carmen Ramírez
"
The City of Oxnard Police tweeted that a candlelight vigil will be held at Plaza Park in Oxnard in honor of Ramirez at 7 p.m.
August 13, 2022
Ramirez is survived by her husband, Roy Prince. She was predeceased by her brother Ricardo Ramirez.
Long Beach Police need public's help locating sexual assault suspect
Suspect described as a male White or Hispanic approximately 18-25 years old, between 5'10" to 5'11" in height, with a thin build, short hair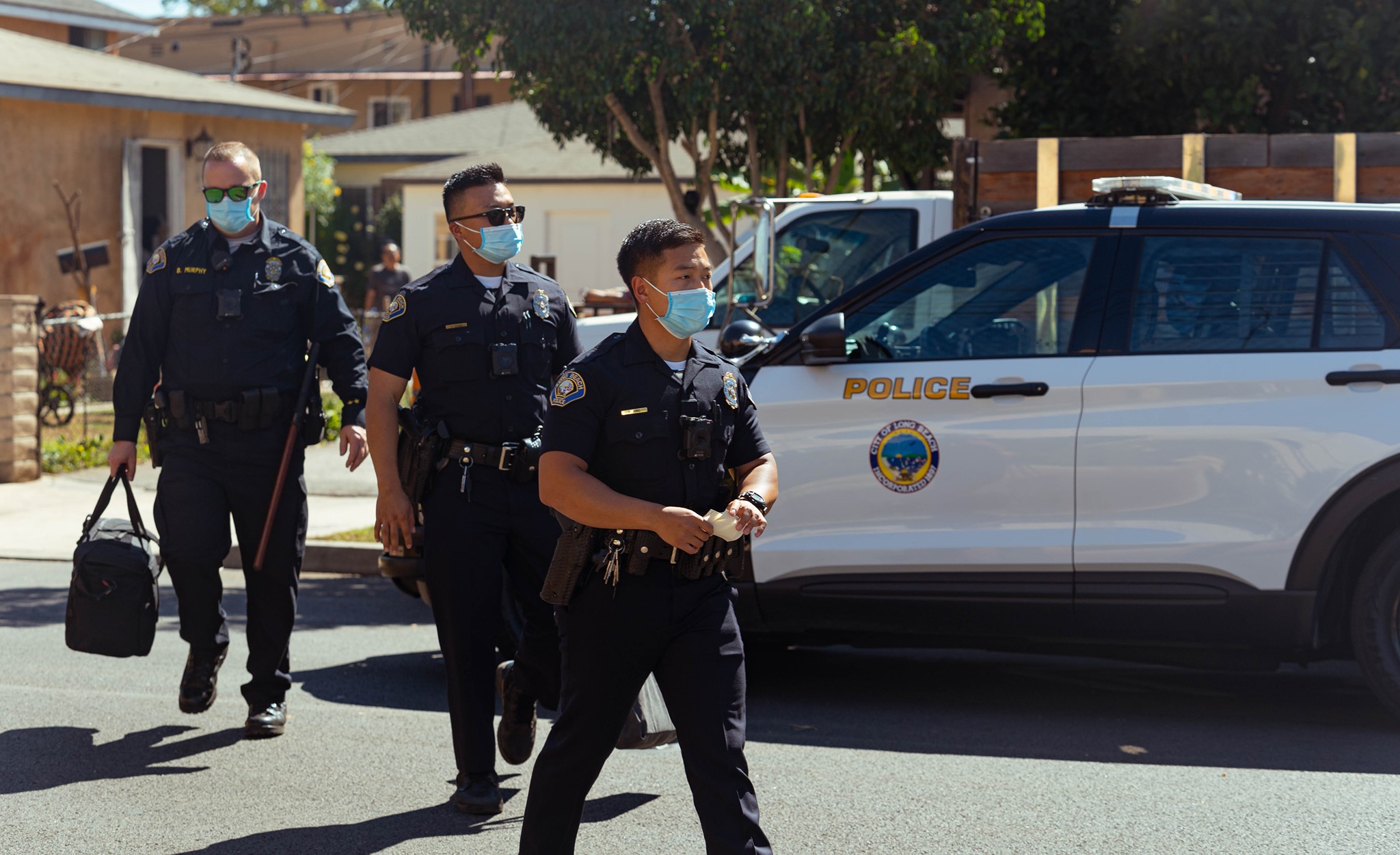 LONG BEACH – (Press Release) The Long Beach Police Department is seeking the public's help locating a male suspect involved in a sexual battery incident involving a minor.
On July 31, 2022, at approximately 1:30 p.m., officers responded to the 1100 block of East 4th Street regarding a sexual battery incident that had just occurred.
Upon arrival, officers learned the suspect initially followed the victim for several blocks. While following the victim, the suspect propositioned him and then grabbed his lower body. An altercation ensued, which resulted in the suspect striking the victim in the upper body before fleeing.
Detectives are releasing a photograph of the suspect from surveillance footage and video from the incident. The Long Beach Police Department requests information about this incident and/or the suspect's identity.
The suspect is described as a male White or Hispanic (light complexion), approximately 18-25 years old, between 5'10" to 5'11" in height, with a thin build, short medium-length hair in a "comb over" style, and a light-colored mustache. The suspect wore a blue Dodgers T-shirt, light-colored pants, and black sandals. The suspect may have attended a party in the area before the assault.
To view a video of the suspect, click on the following link: https://www.youtube.com/watch?v=r-BbUCC7Lfk
Anyone with information regarding the person responsible for these crimes should contact Sex Crimes Detective Monica Moore at (562) 570-5514 or Detective William Neal at (562) 570-5513.
Anonymous tips may be submitted through "LA Crime Stoppers" by calling 1-800-222-TIPS (8477), downloading the "P3 Tips" app to your smartphone (available at the Apple App store and Google Play), or visiting www.lacrimestoppers.org.
Newsom announces water strategy for a hotter, drier California
Without action, California officials believe extreme weather could diminish the water supply by up to 10% by 2040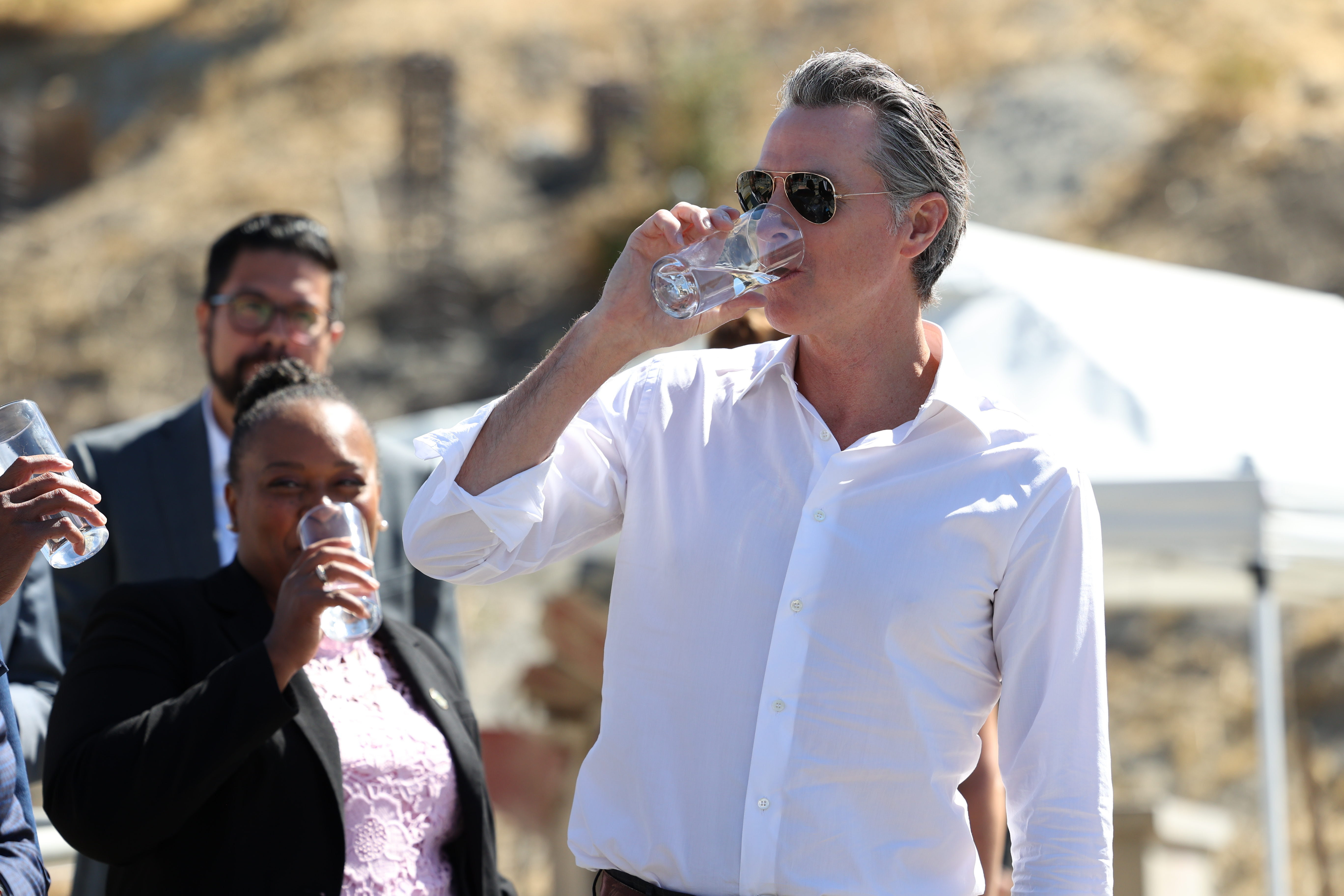 ANTIOCH – Hotter and drier weather conditions spurred by climate change could reduce California's water supply by up to 10% by the year 2040. To replace and replenish what the loss to thirstier soils, vegetation, and the atmosphere, Governor Gavin Newsom on Thursday announced California's latest actions to increase water supply and adapt to more extreme weather patterns caused by climate change. 
Thursday's announcement follows $8 billion in state investments over the last two years to help store, recycle, de-salt and conserve the water it will need to keep up with the increasing pace of climate change, generating enough water in the future for more than 8.4 million households by 2040.
The actions, outlined in a strategy document published by the Administration called "California's Water Supply Strategy, Adapting to a Hotter, Drier Future" calls for investing in new sources of water supply, accelerating projects and modernizing how the state manages water through new technology. 
This approach to California's water supply management recognizes the latest science that indicates the American West is experiencing extreme, sustained drought conditions caused by hotter, drier weather. The warming climate means that a greater share of the rain and snowfall California receives will be absorbed by dry soils, consumed by thirsty plants, and evaporated into the air. This leaves less water to meet the state's needs.
"The best science tells us that we need to act now to adapt to California's water future. Climate change means drought won't just stick around for two years at a time like it historically has – extreme weather is a permanent fixture here in the American West and California will adapt to this new reality," Governor Newsom said at the Antioch Brackish Desalination Project. "California is launching an aggressive plan to rebuild the way we source, store and deliver water so our kids and grandkids can continue to call California home in this hotter, drier climate."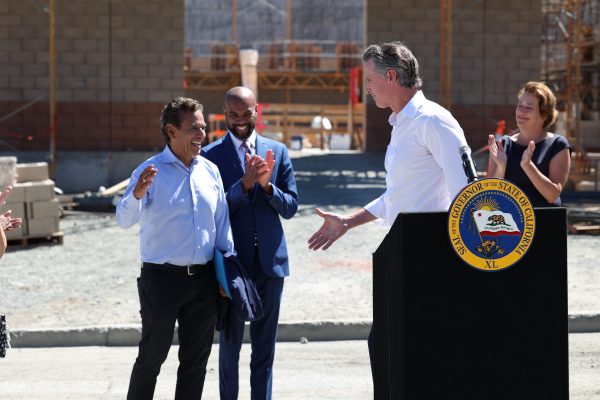 To help make up for the water supplies California could lose over the next two decades, the strategy prioritizes actions to capture, recycle, de-salt and conserve more water. These actions include:
Creating storage space for up to 4 million acre-feet of water, which will allow us to capitalize on big storms when they do occur and store water for dry periods
Recycling and reusing at least 800,000 acre-feet of water per year by 2030, enabling better and safer use of wastewater currently discharged to the ocean.
Freeing up 500,000 acre-feet of water through more efficient water use and conservation, helping make up for water lost due to climate change.
Making new water available for use by capturing stormwater and desalinating ocean water and salty water in groundwater basins, diversifying supplies and making the most of high flows during storm events.
These actions are identified broadly in the Newsom Administration's Water Resilience Portfolio – the state's master plan for water released in 2020 – but they will be expedited given the urgency of climate-driven changes. To advance the infrastructure and policies needed to adapt, the strategy enlists the help of the Legislature to streamline processes so projects can be planned, permitted and built more quickly, while protecting the environment.