Gay author offers memoir about dealing with toxic parents
A timely read as we prepare to celebrate holidays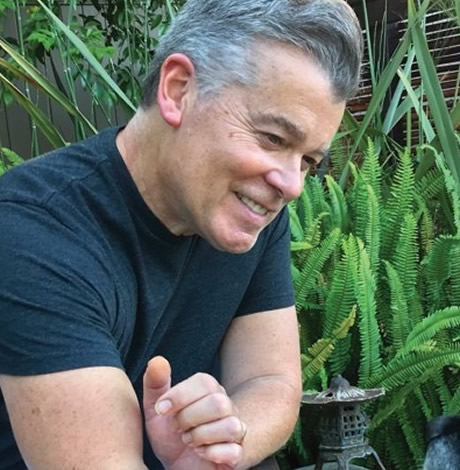 The holidays are a time of great joy for people who love spending time with family. It's a time to get together and relive happy memories while creating new ones.
But what if the memories weren't all that happy?
That's the eternal dilemma the season presents to many whose relationship with one or both parents is problematic, even painful, and who must still somehow muster the ability to walk back into the lion's den every year in order to fulfill a sense of familial duty – to do the right thing even when it feels like the wrong thing to do.
It's the dark flip side to the season's festive cheer, and it affects a disproportionate number of LGBTQ people, particularly those in conservative environments or of an older generation, who often face judgment, shame, hostility, and worse when forced to spend time in a toxic home environment.
The feelings that rise from such a conflict are something author Nick Nolan knows well – which is why he thinks his newest book, "No Place Like Home," might provide some helpful insight for readers struggling to keep their holiday spirit during that dreaded annual pilgrimage home.
The writer is known for his "Tales from Ballena Beach" series, winner of five different Book-of-the-Year awards between its three volumes, including First Place Gay Fiction at the 2015 International Book Awards; but his latest work, "No Place Like Home," is a non-fictional departure that was inspired when life events forced him to confront his own mixed emotions around his parents.
"I cut my teeth on writing fiction, and I loved it," Nolan says. Back in 2006, when he started, there was what he calls "a great need for gay fiction, especially for younger LGBTQ kids."  His novels, starting with "Strings Attached," found an audience with queer readers in the YA set, but also resonated with an older generation that had always been starved for narratives in which they could see themselves represented. He went on to write two equally successful sequels and a bestselling paranormal thriller, but an ongoing situation in his private life was simultaneously wearing away at him.
"I was going through this long, protracted experience with my father, who had suffered a stroke in 1999, and it was just endless hospital visits, endless phone calls from my mother," he explains. "At the same time, I was trying my best to maintain my other life – my married life, with my husband, our dogs, my teaching career."
Assisting a parent with their end-of-life needs is hard enough as it is, but for Nolan, like many other LGBTQ-identifying people of his generation, the difficulties were compounded by painful memories.
"My parents were both very toxic, homophobic," he shares. "My father once threatened me by saying that if I ever came out to my younger sister, I wouldn't have to wait for AIDS to kill me. My mother said she sometimes wondered if it would have been easier if I had died of AIDS. There was a lot of resentment that I had that I was stuffing down.
"It's never been lost on me that some of the worst bullying I've ever experienced was under my family's roof… I kept asking myself, 'Would they do this for me?' "
The author, struggling to cope with the emotions dredged up by his situation, turned to his craft as a way of chronicling what he was going through.
"I got the idea to write this book instead of penning another novel, because I would be talking to people who would say, 'Oh my gosh, I was going through that,' " he tells us.
He decided to set up interviews with clinical professionals; talking with various social workers, therapists, psychologists, psychiatrists, even a neurologist, he asked them how they helped their patients manage a balance when dealing with parents who were what he describes with the abbreviation "WANT" (Wounding, Absent, Narcissistic, or Traumatic), or who "looked the other way" instead of being supportive.
He explains, "I needed to find out, 'How do you mitigate? How do you keep your sanity?' What I discovered is that it's a process for everyone. Every situation is different, and certain populations have different triggers, which is why I wanted to make sure my interviews covered a wide array of voices. I talked to eight licensed clinicians, and each one had something valuable to offer."
The book that resulted – which Nolan says he wrote in his "novelist's voice, because that's the only voice I know how to write in" – documents those extensive interviews, along with those from other men and women who had grappled with the issue in their own lives, in the form of a memoir detailing his father's decline and death from diabetes and probable Chronic Traumatic Encephalopathy (Concussion Syndrome).
"It's very user friendly, it's not an academic read," he assures us. "But there's a lot to digest, especially when you get into the interviews with the adult survivors, who are now in their fifties, sixties and seventies, who are still wounded, still bleeding."
So, what do the lessons Nolan took from going through his father's long, slow death have to do with the anxiety many people feel around going home for the holidays?
As Nolan explains, even though the circumstances may be different, the conflict is the same.
"We get our sense of right and wrong from our parents," he says. "If you're a 'good person,' you want to show up and do your best for them even though it feels so bad.
"This is what a lot of us face around the holidays, the season brings all these triggers. How do you manage Christmas shopping, how do you manage that potluck when you're going over to your parents' house? How do you manage your emotional sanity when you're sitting there at a holiday dinner and, all of a sudden, your triggers start getting pulled?
"The over-arching lesson I learned in dealing with my father's death is that one needs to take care of oneself during the process," he concludes. "That's what this book is about. Taking care of yourself."
He sums up by sharing a quote from Dr. Edward Reed, one of the experts he interviewed for "No Place Like Home":
"Most children don't leave. They're still emotionally attached. But there's nothing wrong with finally saying, 'I'm out of here.' Anything further will continue to damage you. Process what you need to do for yourself to let that parent die. Focus on what's in your best interest, you're going to still be around."
"I find that to be very powerful," the author says. "The idea that you're still going to be around. You can walk away with your head held high, knowing that you were the better person."
If there's someone you know (even if that someone is you) who might benefit from the insights Nolan shares in "No Place Like Home," the book is available on Amazon.
It just might be the early Christmas present they need.
KTLA Morning: 'Made in California,' new book details iconic food brands
Author George Geary joined KTLA's morning crew live to discuss his new book "Made in California" which details California-born food brands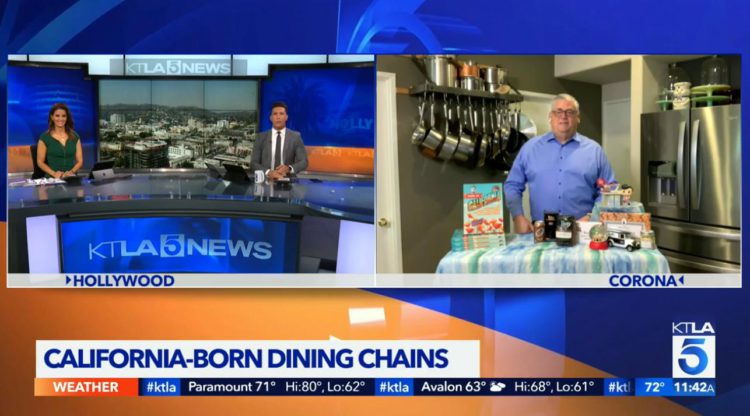 LOS ANGELES – Author George Geary joined KTLA's morning crew live to discuss his new book "Made in California," which details California-born food and drink brands.
Visit George's website for more information.
This segment aired on the KTLA 5 Morning News on Sept. 24, 2021:
"Sex and The City" star Willie Garson has died at age 57
Garson found professional success on shows including "Sex and the City" but his favorite job happened when the cameras stopped rolling
NEW YORK – In a tweet on Tuesday, actor Titus Welliver broke the news of the death from pancreatic cancer of his friend and fellow actor Willie Garson. Garson's 20 year-old son Nathan, a student at The College of Wooster, a private liberal arts college in Wooster, Ohio, added his own heartbreaking tribute to his father in an Instagram post.
There are no words. I love you dear brother. We are fewer pic.twitter.com/Q4Sblb7Nqw

— TitusWelliver (@welliver_titus) September 21, 2021
The actor was in New York City reprising his role of Stanford Blatch in HBO's Sex and the City's revival series,  And Just Like That.
According to an exclusive interview by Page Six in 2020, the actor's favorite role however was that of 'Dad.'
Willie Garson found professional success on shows including "Sex and the City" and "White Collar," but his favorite job happened when the cameras stopped rolling. […] "He's an adult and soon to be taking care of me which is really why I got him to be honest," Garson said at the time. "He's lovely and a really special guy. He's wonderful and he's in college in Ohio."
The New Jersey-born actor also told us that he "always wanted to have a child," so he decided to pursue adoption as a single parent.
********************
Video: A straight & a gay guy react to "That's what I want" by Lil Nas X
StanChris is a 20-something vlogger from the Northeastern U.S. who chronicles his life as a young everyday average gay guy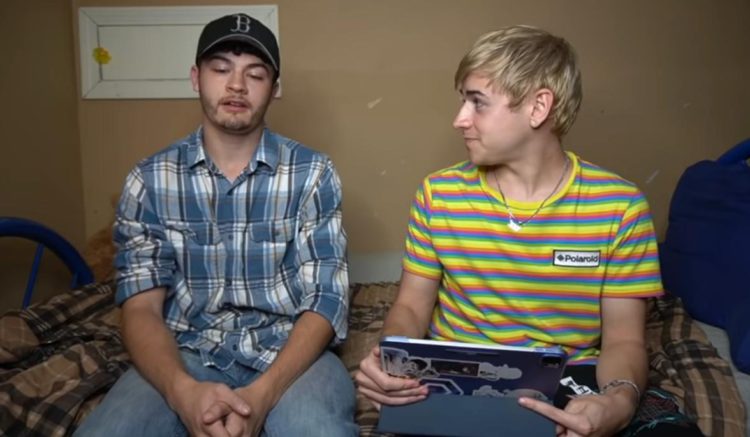 LOS ANGELES – The twenty-something StanChris, the Out YouTuber who has been building his audience on his channel by vlogging about the ordinary everyday experiences of his life as a young gay guy, is back with his straight friend and together they react to the brand new Lil Nas X's new music video THATS WHAT I WANT which was released on September 16, 2021.
WATCH: