Wheels now offering free helmets on shareable e-bikes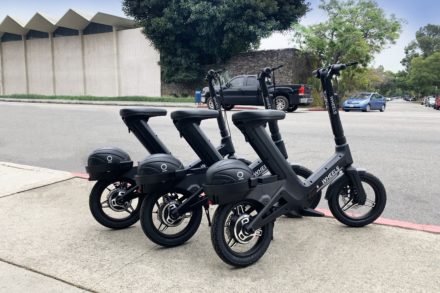 That grab-and-go bike waiting on the sidewalk outside your building just got a lot safer to use, thanks to shareable e-bike company Wheels.
Earlier this month, the bike-sharing startup introduced a new feature designed to protect its users from injury – free helmets.
According to their press release:
Wheels is committed to providing a free helmet to every rider, removing the hassle of having to remember to bring it or keep it with you once you've reached your destination. 
The Wheels helmet locks into the rear fender of the bike, and riders will be able to unlock it for free via the app at the time of their ride. Once unlocked, the rider can adjust the fit and peel off a biodegradable headliner for a ready-to-use helmet. 
Sensors in the bike recognize when the helmet is being used. For our initial rollout, we will be offering riders a 20% discount for unlocking and using the helmet that comes with their bike. 
When the ride is over, the bike can detect that the helmet was returned, and the rider can leave the helmet and the bike right there on the curb.
The company's release also elaborates on why they're opting to include the helmets on every bike:
According to a recent UCLA study, out of 249 emergency room patients admitted with injuries from electric scooter accidents in California, the most common types of injuries were head injuries that occurred without a helmet. Similarly, a Centers for Disease Control and Prevention (CDC) study conducted in Austin, Texas found that of the 190 riders admitted with injuries from e-scooters, almost half had head injuries, and 15% had traumatic brain injuries. However, what we found the most staggering was that only one rider out of 190 (0.5%) was wearing a helmet.
A study published in the Journal of Oral and Maxillofacial Surgery found a link between the increase in head injuries and the rise in e-scooter usage, and found that such injuries "could be significantly reduced by the wearing of a protective helmet."
 Science has long told us that wearing a helmet is the best defense against head injuries. The NTSB says that wearing a helmet reduces the likelihood of head injuries for cyclists by 48%, and serious head injuries by 60%. Those are pretty good odds.
The company says the addition of the new helmets is being done with an eye toward their ongoing goal of sustainability, with retrofitted parts attached to already existing bikes.
The overall intention of this new feature is to combine safety and convenience in a way that makes it impossible to refuse. As they put it, "We hope that riders recognize that a helmet can save their lives. When one is offered to you for free without requiring you to carry one around, using it is a no-brainer."
You can watch a video showing how it works below.
H.S. students steal Pride flag, defecate on it & post video to TikTok
"It was definitely an act of hate directed at the LGBTQ community and a lot of students felt it, you know, felt that attack very acutely"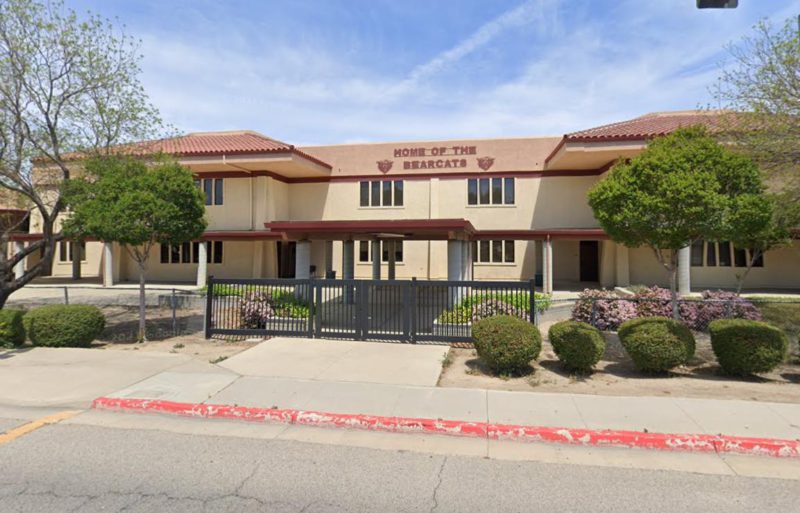 PASO ROBLES, Ca. – Earlier this school year two students walked into a science teacher's classroom at Paso Robles High School, they proceeded to rip down the LGBTQ+ Pride flag hanging in the room and fled out the door. The theft took place as there was a classes break and as science instructor Evan Holtz took out after them he lost them in the throng of students in the hallway.
Holtz, who is a chemistry teacher, tutor, and swim coach, has been teaching at Paso Robles since 2019. In an interview with the San Luis Obispo Tribune, Holtz told the paper he had displayed the Pride flag to show solidarity with the school's LGBTQ students, making sure that they knew they were welcome and safe in his classroom.
What happened immediately after the theft has left the high school's LGBTQ+ students angered and alarmed. First, the Tribune reported, a video surfaced on TikTok of students attempting to flush the rainbow Pride flag down a toilet. Then, the video showed one student defecating on the flag in the toilet, according to those who had seen and heard about the video.
"It was definitely an act of hate directed at the LGBTQ community," Geoffrey Land, a social sciences teacher told the paper. "And a lot of students felt it, you know, felt that attack very acutely."
The Paso Robles Joint Unified School District said that administrators at the high school had taken "disciplinary action" after being alerted to the situation and the TikTok video by students. The next action undertaken on October 1st by the school district has left LGBTQ+ students disillusioned and further upset.
District Superintendent Curt Dubost sent a memorandum letter to faculty that read:
"The Paso Robles Joint Unified School District has received multiple concerns about certain flag displays in teacher classrooms, including those that are large and distracting and those that alter the American flag.
I want to start by reiterating my statement from last year that rainbow flags mean different things to different people but to many are a symbol of safety, inclusion and equity. All students deserve protection against bullying and harassment. A safe, caring learning environment is essential if students are to achieve their academic potential.
We have a duty as a school district to ensure that hate speech and bullying conduct does not create an unsafe campus environment. Students in protected classes are often among the most vulnerable and susceptible to bullying and discrimination."
Superintendent Dubost then laid out the new district policy: No flags bigger than 2 feet by 2 feet may be displayed in classrooms, and no flags that are "alterations of the American flag" may be displayed in classrooms.
In a follow-up interview with the Tribune Dubost justified his actions telling the paper, "We don't want to turn it into a politicized issue where a student enters a classroom and looks up, 'Oh, there's a rainbow flag here, or there's a blue lives matter flag here — that determines what the partisanship is of my teacher.' We think that that's a real slippery slope. And so we continue to believe that this is a very reasonable compromise solution that allows rainbows, but within reason."
In an op-ed written by PRHS students on National Coming Out day last week, they expressed their dismay over Dubost's actions.
October 11 is National Coming Out Day, when lesbian, gay, bisexual, transgender and queer people can celebrate support for LGBTQ equality. But in Paso Robles, where we attend high school, we cannot celebrate. Too often, LGBTQ students feel unwelcome, unsafe and targeted by hate.
After briefly mentioning the theft, video, and the action to ban flags other than a U.S. National flag taken by Superintendent Dubost they added:
Eventually, the school imposed minor discipline upon the offenders, and nearly two weeks later issued a policy statement that includes a ban on rainbow flags larger than 2' x 2'. As the standard flag size is 3' x 5', the school purposefully banned the very flag that was desecrated. What message does this send to students? The flag ban means the school has allowed the haters to win, while LGBTQ students feel punished for wanting to be seen and supported.
The students cited a 2018 oral history project at PRHS which interviewed students in the Paso Robles Joint Unified School District area high schools of Templeton, Atascadero and Paso Robles.
They found that offensive slurs and open hostility directed at LGBTQ+ individuals were commonplace in classrooms. LGBTQ+ students reported not feeling included in their school culture. Students interviewed reported that teachers who wore rainbow colored pins or posted supportive flags or posters in their classroom walls helped create welcoming, safe spaces. Over the years, PRHS has witnessed loss of life, violence and intimidation — all in the name of anti-LGBTQ hate.
In their call to action the students stated that; "Enough is enough. How many more students will be traumatized by systems and people who fail to embrace the beauty and diversity of their students? The school's response is a collective slap in the face of all LBGTQ students at PRHS. From our perspective, the school's flag ban means they're more interested in appeasing the bullies than protecting the safety of the victims of hate."
There is a community forum event scheduled for Wednesday, October 20 from 6 to 8 p.m. at the PRHS performing arts center. Organized by students, the event, "Coming Out Against Hate," is an opportunity for students to "share their experiences and visions for a more welcoming, inclusive educational environment," and it's the first forum of its kind in Paso Robles, according to a news release sent out about the event.
"With the forum, we're hoping that things change and they stop normalizing hate against us," a senior told the Tribune, "I'm really proud of the fact that so many people are brave enough to come up against the adversity that is very obvious here. We might get a ton of hate for this. We might get hate-crimed ourselves.
"But we can't let this continue. We have a culture of homophobia here. We literally have no other option than to put ourselves kind of at risk and in danger. Because we can't let this continue."
IATSE and film studios reach a deal, strike averted
The new contract put a halt to what would have been the first nationwide strike in the union's 128-year history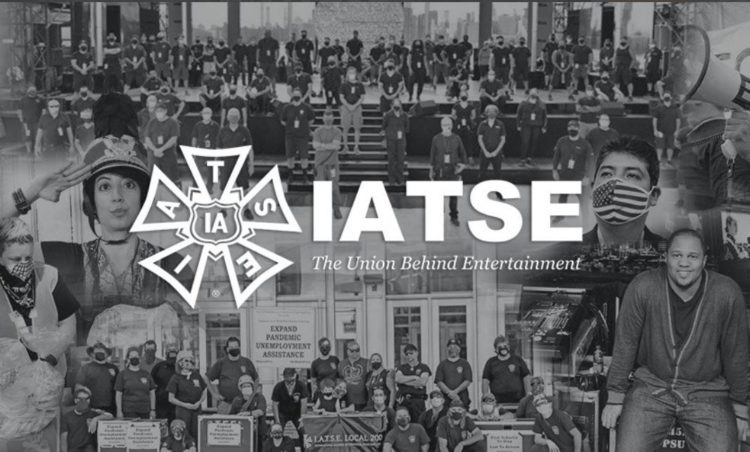 NEW YORK – Negotiators for the Alliance of Motion Picture and Television Producers and the International Alliance of Theatrical Stage Employees reached a deal Saturday averting a major production strike that would have crippled film and television production nationwide.
The new 3 year contract between the union representing the 60,000 rank and file behind-the-camera film and TV workers and the studios put a halt to what would have been the first nationwide strike in the union's 128-year history and the first major strike by crews since World War II.
IMPORTANT UPDATE: Tentative Agreement Reached – Strike Averted. Link to press release from the Hollywood Locals in bio. #IASolidarity #UnionStrong #1u @iatse pic.twitter.com/RetZcSdt55

— IATSE Local 600 (@ICGLocal600) October 17, 2021
Text of the press release announcement:
Important Update: Tentative Agreement Reached – Strike Averted
Late Saturday, President Matt Loeb and the 13 Hollywood Locals announced that the IATSE
has tentatively agreed to terms and conditions for the 2021 Basic and Videotape Agreements.
Everything achieved was because you, the members, stood up and gave us the power to
change the course of these negotiations. Our solidarity, at both the leadership and rank and
file level, was the primary reason that no local was left behind and every priority was
addressed. Because of you we realized:

• Living wage achieved
• Improved wages and working conditions for streaming
• Retroactive scale wage Increases of 3% annually
• Employer Funded Benefits for the term
• Increased meal period penalties including prevailing rate
• Daily Rest Periods of 10 hours without exclusions
• Weekend Rest Periods of 54 and 32 hours
• Martin Luther King Jr.'s Birthday Holiday
• Diversity, Equity and Inclusion Initiatives
• 13th and 14th checks for pre-August 2009 retirees
• Additional MPI Hours for On-Call Employees
• Expansion of Sick Leave Benefit to the entire country

Your local will provide more detailed information over the next few days. The Memorandum
of Agreement will be available when drafting is completed. We are currently working out the
details of the electronic ratification process.
Your strike authorization vote, your preparation for a strike and your willingness to risk
your livelihood to fight for yourselves and each other has profoundly changed our union.
We thank you for your unwavering support.

In Solidarity,
Matthew D. Loeb
International President,
IATSE
Rebecca Rhine
National Executive Director,
IATSE Local 600
Rachael Stanley
Executive Director,
IATSE Local 892
Greg Reeves
Business Representative-Secretary,
IATSE Local 728
Adam West
Business Representative,
IATSE Local 705
Patric Abaravich
Business Representative,
IATSE Local 871
Cathy Repola
National Executive Director,
IATSE Local 700
Scott Bernard
Business Representative,
IATSE Local 695
Doug Boney
Business Representative,
IATSE Local 884
Thom Davis
Business Manager,
IATSE Local 80
Randy Sayer
Business Agent,
IATSE Local 706
Tobey Bays
Business Agent,
IATSE Local 44
Robert D. Denne
Business Representative/
Secretary-Treasurer,
IATSE Local 729
Chuck Parker
National Executive D
In time for holiday travel LAX opens new parking structure
The $294-million, 4,300 parking space structure is located a half mile away from LAX's Central Terminal Area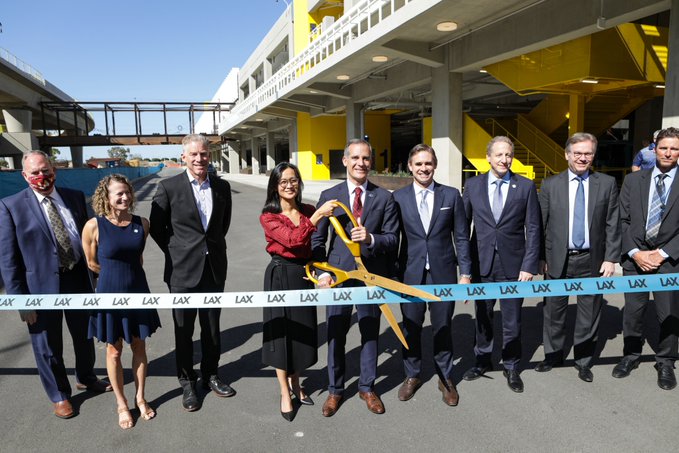 LOS ANGELES – This week City Mayor Eric Garcetti celebrated the opening of the LAX Economy Parking, a new LAX parking faculty set to open Tuesday. The $294-million, 4,300 parking space structure is located a half mile away from LAX's Central Terminal Area.
Los Angeles World Airports (LAWA), the City of Los Angeles department that owns and operates Los Angeles International (LAX) and Van Nuys (VNY) general aviation airports announced that there will be a dedicated shuttle bus to take travelers to the parking facility and the terminal area's arrivals level.
Today, I joined @flyLAXAirport in celebrating its new Economy Parking, opening to the public Oct. 19th.

With free, direct shuttle service to and from the LAX Central Terminal, this structure will help reduce congestion and make traveling through the airport easier for everyone. pic.twitter.com/xZDmJFfj2C

— MayorOfLA (@MayorOfLA) October 15, 2021
The four-story facility will have electric vehicle charging, automatic entry and exit, and allow drivers to pre-book parking online for a discounted rate. Initially, pre-booking discounts will give drivers up to 70% off the drive-up rate of $25 per day.
Previously, parking at LAX was only available on a first-come, first-served basis, with no reservation system available.
On Tuesday, Oct. 19, Economy Parking returns to LAX with a free shuttle transporting parkers to and from the Central Terminal Area. #LAXEconomyParking pic.twitter.com/1GpB6JvBDa

— LAX Airport (@flyLAXairport) October 14, 2021
For those travelers who have furry canine companions or service dogs, the airport authority noted the new LAX Economy Parking facility features a pet relief area.
The new LAX Economy Parking facility features a pet relief area. Opening to the public on Oct. 19, even your pup will have some nice amenities to enjoy! #LAXEconomyParking pic.twitter.com/dm2pf7XNbZ

— LAX Airport (@flyLAXairport) October 13, 2021