Wheels now offering free helmets on shareable e-bikes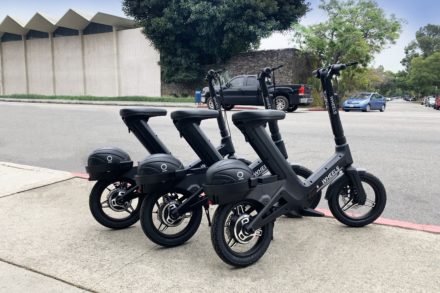 That grab-and-go bike waiting on the sidewalk outside your building just got a lot safer to use, thanks to shareable e-bike company Wheels.
Earlier this month, the bike-sharing startup introduced a new feature designed to protect its users from injury – free helmets.
According to their press release:
Wheels is committed to providing a free helmet to every rider, removing the hassle of having to remember to bring it or keep it with you once you've reached your destination. 
The Wheels helmet locks into the rear fender of the bike, and riders will be able to unlock it for free via the app at the time of their ride. Once unlocked, the rider can adjust the fit and peel off a biodegradable headliner for a ready-to-use helmet. 
Sensors in the bike recognize when the helmet is being used. For our initial rollout, we will be offering riders a 20% discount for unlocking and using the helmet that comes with their bike. 
When the ride is over, the bike can detect that the helmet was returned, and the rider can leave the helmet and the bike right there on the curb.
The company's release also elaborates on why they're opting to include the helmets on every bike:
According to a recent UCLA study, out of 249 emergency room patients admitted with injuries from electric scooter accidents in California, the most common types of injuries were head injuries that occurred without a helmet. Similarly, a Centers for Disease Control and Prevention (CDC) study conducted in Austin, Texas found that of the 190 riders admitted with injuries from e-scooters, almost half had head injuries, and 15% had traumatic brain injuries. However, what we found the most staggering was that only one rider out of 190 (0.5%) was wearing a helmet.
A study published in the Journal of Oral and Maxillofacial Surgery found a link between the increase in head injuries and the rise in e-scooter usage, and found that such injuries "could be significantly reduced by the wearing of a protective helmet."
 Science has long told us that wearing a helmet is the best defense against head injuries. The NTSB says that wearing a helmet reduces the likelihood of head injuries for cyclists by 48%, and serious head injuries by 60%. Those are pretty good odds.
The company says the addition of the new helmets is being done with an eye toward their ongoing goal of sustainability, with retrofitted parts attached to already existing bikes.
The overall intention of this new feature is to combine safety and convenience in a way that makes it impossible to refuse. As they put it, "We hope that riders recognize that a helmet can save their lives. When one is offered to you for free without requiring you to carry one around, using it is a no-brainer."
You can watch a video showing how it works below.
Assemblymember Santiago: Up food access to undocumented Californians
A study from the Food4All Coalition, in partnership with UCLA research, 45% of undocumented Californians face food insecurity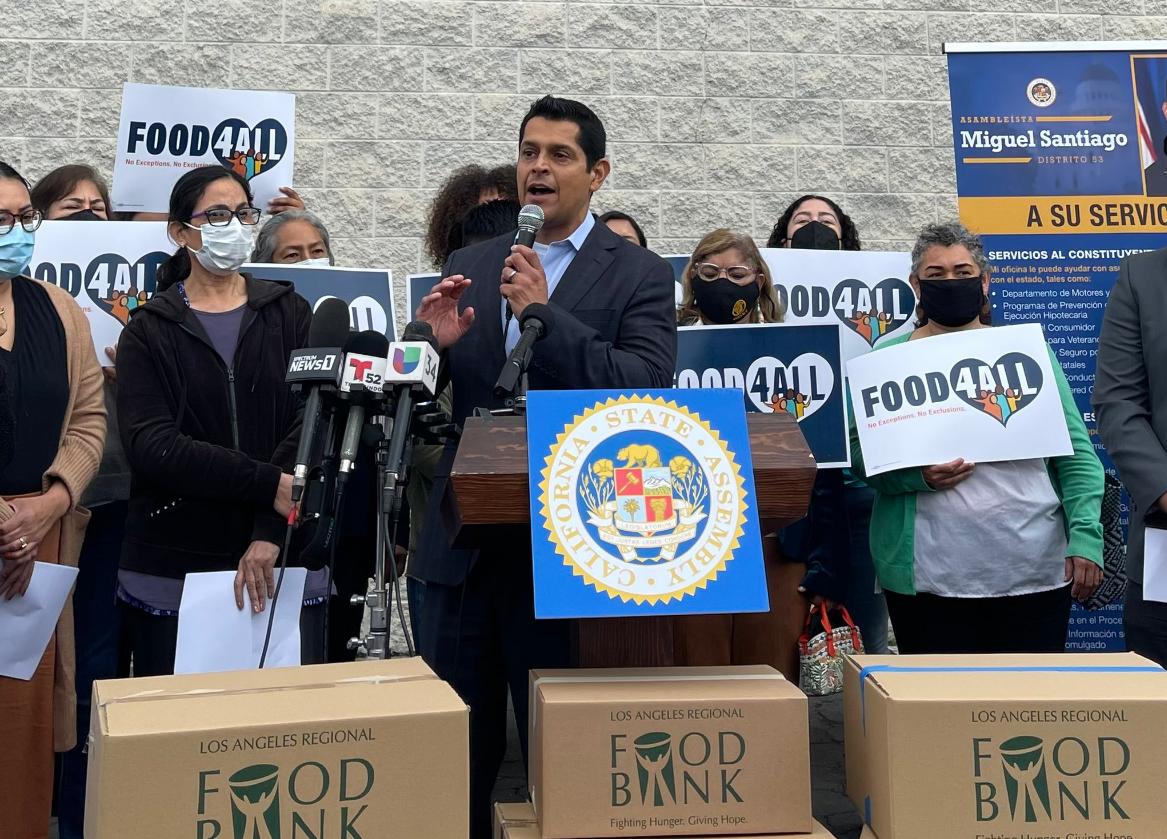 LOS ANGELES – The sharply rising costs of food, housing, gasoline, coupled with the inflation rate hovering at 8.3% has many Californian scrambling to supplement their access to food. The cost for food alone in the Southern California region has risen 1% from February 2022 to March 2022, and food prices were 8.8% higher than in March 2021.
Governor Gavin Newsom had previously announced in January that he intended to extend CalFresh public food assistance programs in the budget to include undocumented immigrants ages 55 and over, a move advocates including state Assemblymember Miguel Santiago, who represents the 53rd District covering parts of downtown L.A. applauded as a first step in curbing food insecurity for millions of low-income Californians.
At the beginning of the month in Newsom's revised budget the governor removed exclusions to the California Food Assistance Program for Californians 55 and older, regardless of immigration status.
Santiago, joined by the Food4All Coalition, the LA Regional Food Bank, the California Immigrant Policy Center, Gender Justice LA, and Nourish California gathered for a ' Food4All" rally Friday in Los Angeles to ensure that all ages are to be included in Newsom's revised proposal.
"If you qualify for CalFresh program, you should have the ability to obtain the dollars to be able to feed your kids," said Santiago.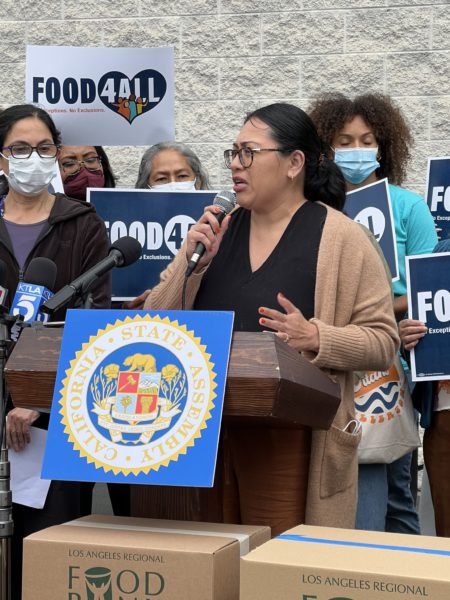 Betzabel Estudillo, a senior advocate with Nourish California told the rally attendees; "This campaign has been years in the making. We appreciate the governor's proposal, but the need is greater. Nearly half of undocumented Californians face food insecurity. It's even worse for children – 2 out of every 3 are going hungry."
Currently, all undocumented people are ineligible for CalFresh benefits. Only certain low-income immigrants that have lived in the U.S. for at least five years, including those admitted for humanitarian reasons and those with permanent residence, may be eligible for the benefits. Immigrants who receive disability-related assistance or benefits and children under 18 years old with permanent residency are also eligible, regardless of their entry date.
Newsom's proposals would revise those CalFresh benefits restrictions.
According to a study from the Food4All Coalition, in partnership with UCLA Center for Health Policy Research, 45% of undocumented Californians face food insecurity.
"We're pushing for a budget that includes over $500 million to be able to feed those who are the hungriest in the state of California," said Santiago.
Newsom has until the end of June to finalize the budget.
With rising food costs, we're having a rally so all Californians, regardless of immigration, can access food!

Great joining @LAFoodBank, @Nourish_CA, @GJLAScoop, @CALimmigrant and the Food4All Coalition! pic.twitter.com/RVaarljKET

— Miguel Santiago (@SantiagoAD53) May 20, 2022
Triple A: Gas prices continue to set new records
The average price for self-serve regular gasoline in California is $6.06, which is 21 cents higher than last week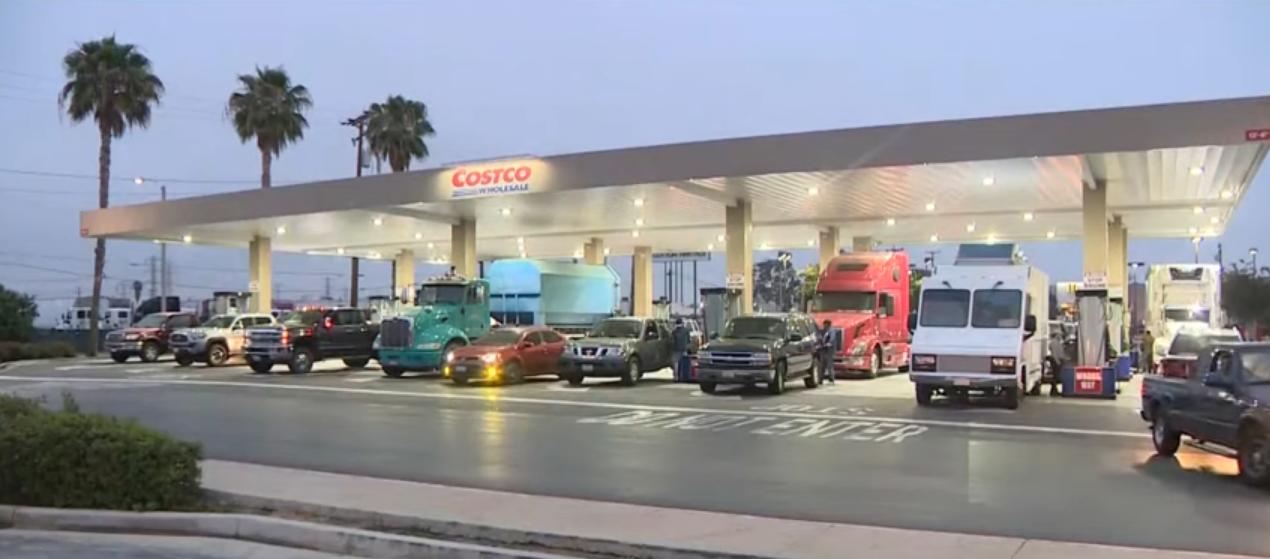 LOS ANGELES – Gas prices throughout the U.S. continue to sent new records, due to inflation, high demand, and high cost of oil. In Southern California breakdowns in two local refineries as well as supply issues are also having a direct impact on pump prices, according to the Auto Club's Weekend Gas Watch. 
The average price for self-serve regular gasoline in California is $6.06, which is 21 cents higher than last week. The average national price is $4.59, which is 17 cents higher than a week ago.
The average price of self-serve regular gasoline in the Los Angeles-Long Beach area is $6.10 per gallon, which is 20 cents higher than last week, 29 cents higher than last month, and $1.92 higher than last year. In San Diego, the average price is $6.02, which is 17 cents higher than last week, 26 cents higher than last month, and $1.87 higher than last year.
On the Central Coast, the average price is $6.04, which is 18 cents higher than last week, 22 cents higher than last month and $1.89 higher than last year. In Riverside, the average per-gallon price is $5.98, which is 17 cents higher than last week, 25 cents higher than last month and $1.89 higher than last year. In Bakersfield, the $5.98 average price is 15 cents more than last Thursday, 21 cents higher than last month and $1.94 higher than a year ago today.
"The reasons for the increase are not just the war and some refinery supply issues, but also inflation and competition for resources to produce diesel fuel, which is about 50 cents more expensive than regular unleaded gasoline," said Auto Club spokesman Doug Shupe. "Memorial Day travel will likely add to the demand for gasoline. The Auto Club expects an 11 percent increase in holiday weekend travel volume compared to last year."
The Auto Club recommends the following tips to save money on gas:
Look into carpooling if you commute a significant distance. Carpooling with one other person cuts commute costs in half, and you can cut your commute costs by two-thirds by carpooling with two other people.
Make sure your tires are properly maintained and inflated to the correct level.
Maintain your car according to the manufacturer's recommendations. Regular service will ensure optimum fuel economy.
Avoid "jackrabbit" starts and hard accelerations. These actions greatly increase fuel consumption.
Slow down and drive the speed limit. Fuel economy peaks around 50 mph on most cars, then drops off as speed increases. Reducing freeway speeds by 5 to 10 mph can increase fuel economy by as much as 14%.
Use cruise control on the highway to help maintain a constant speed and save fuel. However, never use cruise control on slippery roads because you could lose control of the vehicle.
Minimize your use of air conditioning.
Avoid extended idling to warm up the engine, even in colder temperatures. It's unnecessary and wastes fuel.
Remove unnecessary and heavy items from your car.
Minimize your use of roof racks and remove special carriers when not in use.
Download the AAA App to find the cheapest gas prices near you.
The Weekend Gas Watch monitors the average price of gasoline. As of 9 a.m. on May 19, averages are:
Gas prices in LA County hit another record high, averaging $6:
California readies 3,000 miles of network infrastructure
Newsom announced that California is one step closer to delivering affordable high-speed internet service to communities throughout the state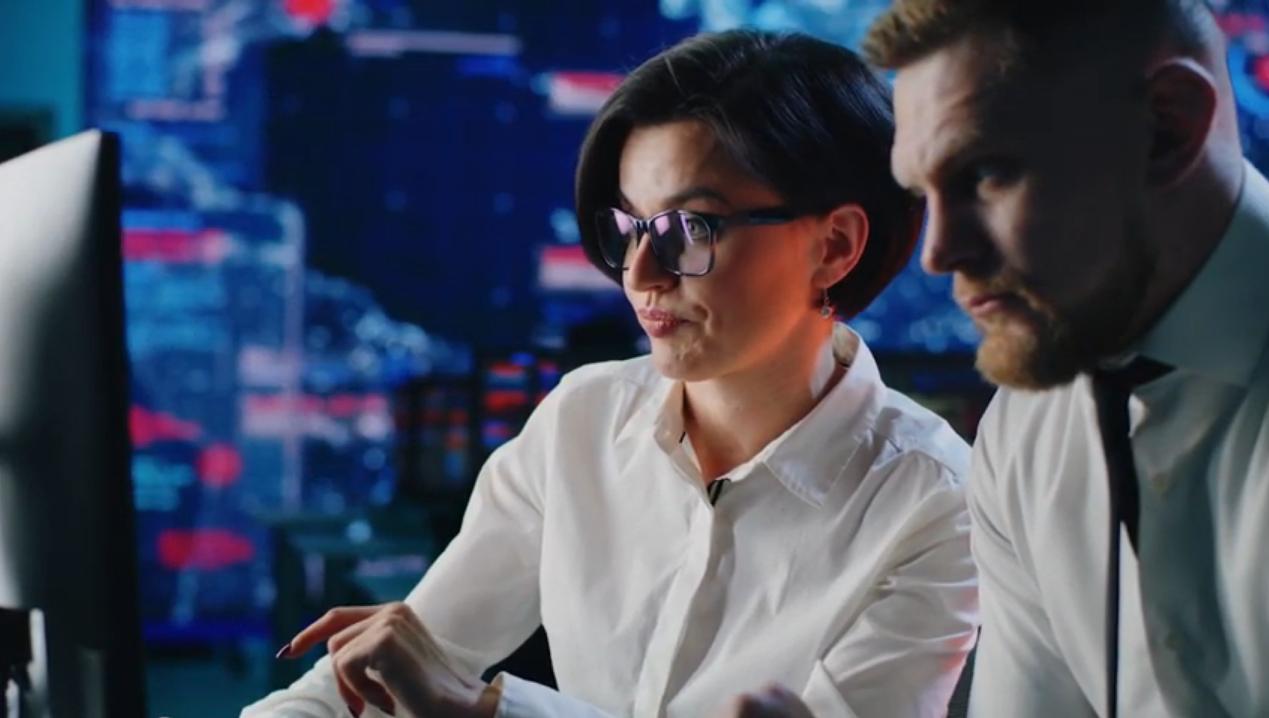 SACRAMENTO – Governor Gavin Newsom announced that California is one step closer to delivering affordable high-speed internet service to communities throughout the state on Friday, awarding new contracts that will supply the materials necessary for building 3,000 miles of broadband infrastructure.
The California Department of Technology, as part of the state's Middle-Mile Broadband Initiative, awarded contracts to two vendors totaling nearly $225 million that will allow the state to purchase enough optical fiber and materials to construct 3,000 miles of the network.
"Delivering broadband to all is essential to California's success," said Governor Newsom. "Access to high speed internet can mean the difference between launching a successful career and being without work. Once constructed, this network will be the largest in the world – and our action today will make the promise of broadband for all a reality."
California is strengthening broadband connections to improve access to education, health services and employment opportunities throughout the state. The Middle-Mile Broadband Initiative is the first step to creating an open-access, middle-mile network that will build infrastructure to bring high-speed broadband service to unserved and underserved communities, regardless of technology used, on equal economic and service terms.
675,000 underserved Californians would gain access to high-speed internet across the state with new broadband network

The action today is one part of a comprehensive and long-term approach to tackling the broadband infrastructure deficiencies still impacting rural and low-income communities, bringing the state closer to achieving affordable, high-speed broadband internet service for all communities. Construction on the middle-mile network is expected to be completed by December 2026.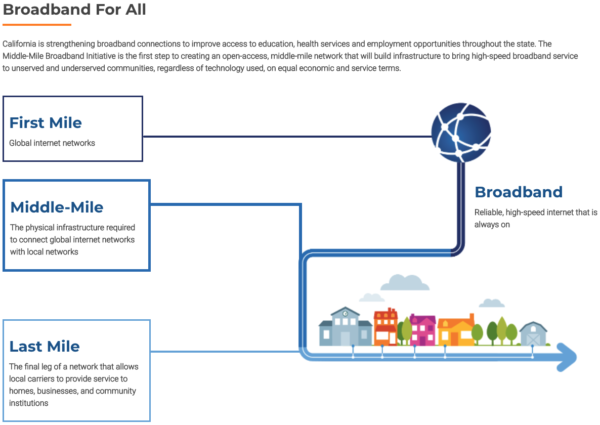 Middle-mile network refers to high-capacity fiber lines that carry large amounts of data at higher speeds over longer distances between local networks. It is the physical infrastructure required to connect global internet networks with local networks and is an essential component of the state's Broadband for All efforts.

Supply chain issues and nationwide broadband projects have created competition to secure necessary materials. The state's Invitation For Bid (IFB) was a proactive step to ensure supplies will be available at a pre-negotiated price when they are needed. The state has the ability to add an indefinite amount of materials as needed to complete construction over the next four years.

As a result of the competitive process, the state is guaranteed to have conduit, vaults, optical fiber and construction hardware readily available for the next four years as construction begins in earnest.

Government Operations Secretary Amy Tong said purchasing the material for the network is a critical first step to make sure California has the supplies it needs for construction of the middle-mile network in the coming years.

"This fiber will be the backbone of the middle-mile network, which will bring access to unserved and underserved Californians so they can participate equally in digital society," Tong said.

Russ Nichols, acting director of the California Department of Technology and chair of the Middle Mile Advisory Committee, said the projects will begin soon.

"With this milestone in place, we can continue our planning with Caltrans to begin installing the fiber as soon as possible," Nichols said.

Last year, the Governor signed historic legislation allocating $6 billion for achieving Broadband for All, including $3.25 billion for the middle-mile network and this year's revised budget proposes an additional $1.1 billion to support the project as it moves into construction.

The 2021 legislation included:
$3.25 billion to build, operate and maintain an open access, state-owned middle-mile network.
$2 billion to set up last-mile broadband connections that will connect homes and businesses with local networks. The legislation expedites project deployment and enables Tribes and local governments to access this funding.
$750 million for a loan loss reserve fund to bolster the ability of local governments and nonprofits to secure financing for broadband infrastructure.
Creation of a broadband czar position at the California Department of Technology, and a broadband advisory committee with representatives from across state government and members appointed by the Legislature.
In 2020, the state mobilized companies, business leaders and philanthropists through public-private partnerships to facilitate distance learning at school districts in need across the state. The effort helped connect students lacking high-speed internet or an appropriate computing device at home with donated mobile hotspots, laptops, Chromebooks, tablets and other devices.