'Little Women' a smart, richly realized period romance
Latest adaptation flavored with post-modern irony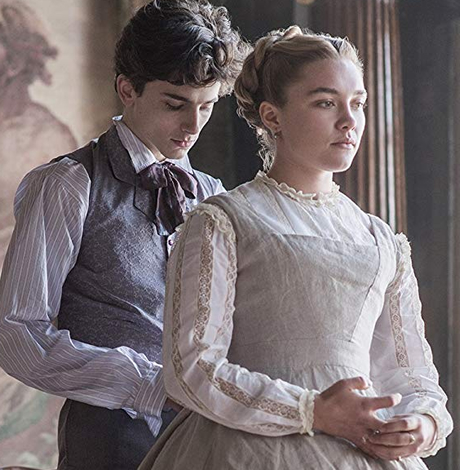 If you are one of those people who has heard of "Little Women" for your entire life yet somehow never got around to reading it, you might have trouble following second-time director Greta Gerwig's respectfully deconstructed new film adaptation of the classic Louisa May Alcott novel.
That is not meant to be read as a negative; it's merely a mild warning that someone expecting straightforward linear storytelling from a film based on a 150-year-old book might have to pay close attention in order to keep up with what's going on, since the director takes a decidedly contemporary narrative approach in this smart, richly realized period romance – for a romance it is, albeit one flavored by post-modern irony.
Gerwig was hired by Sony Pictures to write the script for the planned adaptation – the eighth big-screen incarnation of the novel – back in 2016, before her awards-season victory lap following the release of "Lady Bird," her feature directing debut. The success of that film resulted in the studio asking her to direct "Little Women" herself.
It was a smart decision. With the same razor-sharp insight and humanistic wisdom she brought to her previous effort, Gerwig lovingly dissects Alcott's 19th century tale to illuminate it from within, jumping back and forth through time in order to connect the dots between the narrative's themes, and inviting audiences to ponder the way those threads still run through our contemporary culture today.
Despite the potentially jarring narrative style, it's not necessary to know the plot going in; but to sum up, "Little Women" is the story of the four young daughters of the March family – Meg, Jo, Amy, and Beth – as they grow from young girls into young women. Nurtured by a loving mother (whom they call "Marmee") in the absence of their father, who is ministering to wounded soldiers in the wake of the Civil War, they also form bonds with their wealthy neighbor and his handsome grandson, Laurie, helping to shape their lives as they grow toward adulthood.
It's a straightforward saga from a modern perspective, though the book has been lauded as groundbreaking for its time – its subtle challenge deeply encoded cultural expectations influenced generations of young female readers who related to its four heroines' misgivings about the constrained social roles that await them in adult life, and was praised by renowned critic and author G.K. Chesterson for having "anticipated realism by twenty or thirty years." It's precisely those forward-thinking qualities that Gerwig brings to her reinterpretation, and they help her to create a movie that is neither merely a well-made and pleasant period drama, nor a savvy, subversive think piece, but a film that works equally well as both.
The production values are a contributing factor, of course. The obvious high quality of the filmmaking talents involved behind the scenes provides a solid base from which Gerwig can build her vision; Yorick Le Saux's cinematography evokes the natural-light-infused grainy glow of the great mid-seventies period films of directors like Kubrick and Altman, the costumes by Jacqueline Durran underscore important themes by capturing the subtle variations of women's attire mandated by fashion and social class, and the score from Oscar-winner Alexandre Desplat strikes a delicate balance by maintaining the restrained conventions of 19th-century music while letting a more modern, free-spirited playfulness run throughout.
It's in the performances, of course, that the film is able to break free from the conditions of its 150-year-old source material. Emma Watson (Meg), Florence Pugh (Amy), and Eliza Scanlen (Beth) all bring heartbreaking honesty to their roles, while Laura Dern's Marmee is a sublime portrait of idealized motherhood that transcends sentiment through the authenticity of her compassion. Meryl Streep delivers a characteristically layered supporting turn as cantankerous-but-kind-hearted spinster Aunt March, and Chris Cooper rises above the maudlin tendencies of melancholy-but-sweet neighbor Mr. Laurence.
To single out Timothée Chalamet's Laurie when every performance is a standout might be egregious, especially in a film that is ultimately about women; but the young actor brings such a sense of immediacy to each moment that he cannot be overlooked. Indeed, he's a young actor whose charisma makes him the focus every time he's onscreen, and he does not waste that gift. He takes this notoriously opaque, underwritten character and gives him a powerfully multi-dimensional specificity that makes us see the fragile, confused human heart that beats beneath his sometimes callow, often faithless surface and makes us love him as much as the March girls inevitably do.
Even so, the movie belongs to Saoirse Ronan, and appropriately so. As Jo, she is every bit the plucky female "All-American Girl" heroine, but her version of that stereotype looks like modern-day girl power. She makes the character's journey a struggle to hold onto that power, from naïve overconfidence through personal hardship to humble-yet-emphatic reclamation of her own agency, and she takes us with her every step of the way.
She also takes on the double duty of serving as a stand-in both for author Alcott, who wrote Jo with clear autobiographical parallels, and director Gerwig, who in her vision takes on the burden of speaking feminine truth in a medium dominated by masculine power, just as Alcott did when she fought against the insistence of her publisher (male, of course) that she marry off her proto-feminist heroine at the end of the book. The writer lost that fight, compromising to meet his demands in order to ensure publication, and inevitably resulting in enduring criticism that "Little Women," for all its supposed progressiveness around women's rights, ultimately validated the ruling paradigm that a woman who wasn't a wife and a mother was irrelevant.
By taking on the author's mantle, however, Gerwig gets the last word for both of them. She makes the real-life history of Alcott's creative dispute part of Jo's story as well, both subverting the intention of the imposed "happy ending" and exonerating the author by portraying her – or at least her fictional alter-ego – as a savvy, self-aware woman who knew she was winning the war by surrendering the battle. The fact that the director simultaneously makes us hope for that same happy ending simply serves to highlight the skill with which she navigates the complex myriad of perspectives she brings to her film.
It's because of this that Gerwig – just as with her debut effort – becomes the real star of her movie without ever stepping in front of the camera. She establishes herself here as a female auteur – a rarity in the still-misogynistic Hollywood film machine – that has the personal vision it takes to bring home the narrative's ultimate truth that these "Little Women" chafe at the boundaries forced upon them by society, and that each, in their way, nurses a longing to break free.
That's something with which most of us – male or female, gay or straight, or anywhere between either of those increasingly outdated binaries – can surely relate, and it makes "Little Women" a sure bet for a trip to the movies this holiday season.
'Tick, tick… BOOM!' explodes with the love of Broadway
A perfect film for fans of musical theater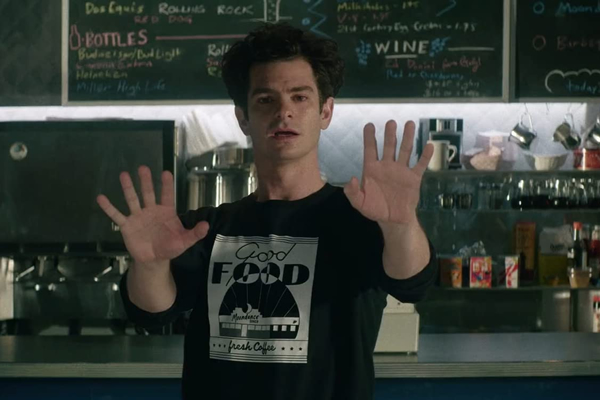 If you are a person who love musical theater – or if you know someone who does – then you know there is something about this particular art form that inspires a strong and driving passion in those who enjoy it, often to the point of obsession. For this reason, perhaps it's no surprise that those who work in musical theater – the creators, performers, and all the other people who make it happen – are often the biggest musical theater lovers of all.
Because of this, "tick, tick… BOOM!" (the new film directed by Lin-Manuel "Hamilton" Miranda and written by Steven "Dear Evan Hansen" Levenson) might be the most perfect movie ever made for such fans. Adapted from an autobiographical "rock monologue" by Jonathan Larson, it follows the future "Rent" composer (Andrew Garfield) for a week in the early 1990s, when he was still an unknown young Broadway hopeful waiting tables in a New York diner. He's on the cusp of turning 30, a milestone that weighs on his mind as he prepares for a showcase of a musical that he hasn't quite finished – even though he's been writing it for eight years. With limited time left to compose the show's most crucial number, his race against the clock is complicated by major changes in his personal life; his lifelong best friend Michael (Robin de Jesús) has quit acting in favor of a five-figure career in advertising, and his girlfriend Susan (Alexandra Shipp) is moving away from the city to accept a teaching job and wants him to come with her. With reminders everywhere of the ongoing AIDS epidemic still raging in the community around him, and with his own youth ticking away, he is inevitably forced to wonder if it's time to trade in his own Broadway dreams for a more secure future – before it's too late.
As every musical theater fan knows, the young composer's obsession with time (hence the title) is laced with bittersweet irony in the context of what eventually happened in his real life: the day before "Rent" opened on Broadway and became a smash hit that reshaped and expanded the boundaries of what musical theater could be, Larson died of an aortic aneurysm at the age of 35. He never lived to see the full fruition of all those years of hard work, and that tragic turn of events is precisely what makes "tick, tick… BOOM!" relevant and provides its considerable emotional power. In that light, it's essentially a musical "memento mori," a reminder that the clock eventually runs out for all of us.
That doesn't mean, however, that it's not also a celebration of life in the theater, and Miranda is probably better suited than anyone to make us see that side of the coin. Now unquestionably in the highest echelon of status as a Broadway icon, he came of age in the era of "Rent," and he takes pains to make his depiction of Manhattan in the '90s as authentic as possible.
Capturing the era with touches like Keith Haring-inspired murals and the use of "Love Shack" as a party anthem, his movie keeps Larson's story within the context of his time while drawing clear connections to our own. His reverence for Larson – whom he cites as a seminal inspiration for his own future work – manifests itself palpably throughout. Yet despite that (or perhaps because of it), so does an infectiously cheery tone. Yes, things get heavy; there are hardships and heartbreaks at every turn, because that's what a life in the theater means. But at the same time, there's just so much fun to be had. The camaraderie, the energy, and the joy of simply living in that world comes leaping off the screen (often thanks to the enthusiastic choreography of Ryan Heffington) with the kind of giddy, effortless ease that might almost make us jealous if it didn't lift our spirits so much. No matter that the lead character spends most of the movie second-guessing his path; we never doubt for a moment that, for him, the rewards of following his passion outweigh the sacrifices a thousand times over.
That's something Miranda also understands. His movie drives home the point that the joy of doing theater is its own reward, and he's willing to prove it by turning up in a bit part just for the sake of being a part of the show. And he's not the only one. The screen is littered with living legends; in one memorable sequence alone, a who's-who of Broadway's brightest stars – Chita Rivera, Bernadette Peters, Brian Stokes Mitchell, Andre DeShield, Bebe Neuwirth, Joel Grey, and at least a dozen more – serve as a high-profile backup chorus of extras for a song at the diner, but there are blink-and-you'll-miss-them cameos in almost every scene. It almost feels like a gimmick, or an effort to turn the movie into a "spot the star" trivia game for hardcore fans – until you realize that these are the best and brightest people in their field, who have willingly chosen to show up and participate even though they did not have to. They are there purely for love, and you can see it in their faces.
Miranda scores big across the board as a director – this is his feature film directorial debut, which confirms the standing assumption the man can do anything. But "tick, tick… BOOM!" is a star turn for its leading player, and full credit must also go – and emphatically so – to Garfield, who surpasses expectations as Larson. The one-time "Spiderman" actor trained extensively to be able to master the demands of singing the role, and it shows; he comes off as a true musical theater trouper, worthy beyond doubt of sharing the screen with so many giants. Even better, he integrates that challenge into the whole of a flamboyantly joyful performance that makes Larson endearingly, compellingly three-dimensional. It's a career-topping piece of work.
The rest of the principal cast – a refreshingly inclusive ensemble that reminds us that Larson was instrumental in making Broadway a much more diverse place – are equally fine. De Jesús gets a long-deserved chance to shine as Michael, and Shipp brings a quiet calm to the easily-could-have-been-overshadowed Susan that makes her the perfect balance to Garfield's high-octane energy.
Joshua Henry and Vanessa Hudgens contribute much more than their stellar vocal talents to their pair of roles as Larson friends and collaborators, and there are delicious supporting turns by Judith Light and Bradley Whitford – who gives an affectionately amusing and dead-on accurate screen impersonation of Broadway legend-of-legends Stephen Sondheim, one of Larson's (and Miranda's) biggest influences and inspirations, who accordingly looms large in the story despite his relatively short amount of screen time.
It should be obvious by now that "tick, tick… BOOM!" is a delight for people who love musical theater. But what if you're not one of those people? The good news is that there is so much to enjoy here, so much real enjoyment, so much talent, so much hard work on display that nobody will have any reason to be bored.
Even people who DON'T love musical theater.
Holiday movie and TV preview
Lesbian romance, 'Rent' adaptation, and Lady Gaga make the season bright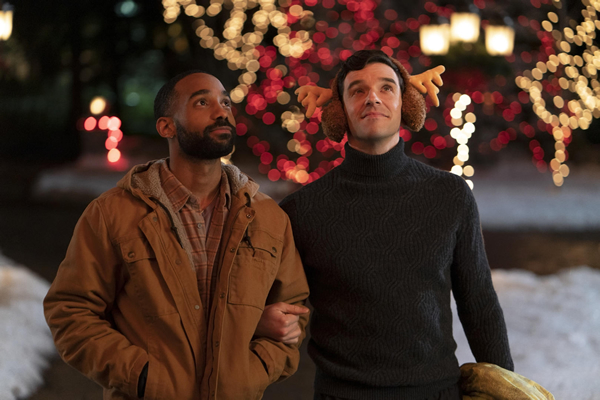 It wasn't all that long ago – barely one or two Decembers ago, really – that the holiday lineup of movies and TV shows offered very little in the way of LGBTQ inclusion. It may have been the time of year to don our gay apparel, but the closest thing to gay representation we were likely to get on our screens was an elven dentist and a few misfit toys.
This year, however, is a different story. The seasonal entertainment landscape of 2021 brings with it the usual crop of mainstream (read: straight) crowd-pleasers with queer appeal (Lady Gaga as scheming real-life social-climber and Gucci murderer Patrizia Reggiani? Yes, please!), but it also comes bearing a much heftier-than-usual bag of gifts in the form of actual queer content, with actual queer characters and stories, and with some of our favorite stars. Not all of them are holiday stories, of course, but that doesn't mean they don't all make the season brighter – and the Blade is here to help you sort through the bounty with our annual Holiday Preview, a roundup of titles our readers will want to check out. The list is below:
tick, tick…BOOM! (Netflix and in theaters 11/ 19): Perfect for Broadway lovers, this is the hotly anticipated film adaptation of the posthumously produced autobiographical musical by Jonathan Larson, who revolutionized musical theater as the creator of "Rent" but died suddenly of an aortic dissection at 35 before he could see it grow to a global phenomenon. The film follows the young theater composer – played by Andrew Garfield – as he struggles to write what he hopes will be the next great American musical while waiting tables in a NYC diner, dealing with pressures in his personal life, and watching the artistic community around him be ravaged by the ongoing AIDS crisis. Fittingly enough, this hotly anticipated film about a Broadway giant is the feature directorial debut of another Broadway giant – none other than "Hamilton" and "In the Heights" creator Lin-Manuel Miranda, himself. Written by Tony-winner Steven Levenson ("Dear Evan Hansen"), it also stars Alexandra Shipp, Robin de Jesús, Joshua Henry, Mj Rodriguez, Bradley Whitford, Tariq Trotter (aka Black Thought of The Roots), Judith Light, and Vanessa Hudgens.
House of Gucci (In theaters 11/24): As mentioned above, this tale of true crime and high fashion stars LGBTQ ally Lady Gaga, and it's already been called "disappointing" by the real-life Gucci family – so you know it's going to be juicy. Inspired by the shocking true story of Patrizia Reggiani (Gaga), whose marriage into the family behind the Italian fashion house takes center stage as the film chronicles three decades of love, betrayal, decadence, revenge, and ultimately murder. Directed by multiple Oscar-nominee Ridley Scott, this sure-fire award season contender also stars Adam Driver, Jeremy Irons, Salma Hayek, Al Pacino, Reeve Carney, and an unrecognizable Jared Leto as Paolo Gucci.
The Humans (Showtime and in theaters 11/24): Another import from the Broadway stage, this seasonally appropriate adaptation of Stephen Karam's Tony-winning drama centers on a dysfunctional NYC family as they help their youngest daughter Brigid (Beanie Feldstein) move into her new apartment with her boyfriend (Steven Yuen) on Thanksgiving Day. This sets the scene for a relatable – if occasionally uncomfortable – holiday dinner in which personal issues become fodder for discussion and family conflicts start rearing their ugly heads. More than just another cutting domestic drama for the holidays, this one goes deep to offer a slice-of-life observational commentary on the state of family life in America today. Amy Schumer co-stars as Brigid's older lesbian sister Aimee, and Jayne Houdyshell reprises her acclaimed Broadway performance as the girls' mother, in an ensemble cast that also features Richard Jenkins and June Squibb. Playwright Karam not only wrote the adaptation himself, but also directed, making his debut behind the camera and ensuring that this one is sure to be a must-see for fans of theater and film alike.
Saved by the Bell, Season 2 (Peacock TV 11/24): Peacock's reboot of the classic '90s sitcom returns for a second round, and besides the obvious appeal in the camp and nostalgia departments, it also features a trans leading character portrayed by a trans actress. Populating the halls of Bayside High is a cast that includes Elizabeth Berkley Lauren, Mario Lopez, John Michael Higgins, Haskiri Velazquez, Mitchell Hoog, Josie Totah, Alycia Pascual-Peña, Belmont Cameli, Dexter Darden, Mark-Paul Gosselaar, Tiffani Thiessen, and Lark Voorhies (Lisa Turtle).
Single All the Way (Netflix 12/2): Yet another Tony-winner (Michael Mayer) directs this promising entry to the Holiday roster, Netflix's first-ever gay-themed Yuletide romance starring Michael Urie ("Ugly Betty," Broadway's "Torch Song") as a gay man who asks his best friend (Philemon Chambers) to pose as his boyfriend at his family's Christmas dinner to avoid being questioned about his perpetually single status. Unbeknownst to him, his mom (Kathy Najimi) has already planned to set him up with her handsome personal trainer (Luke MacFarlane) – which obviously means that festive hijinks are sure to follow. This slice of seasonal sweetness also features Barry Bostwick ("The Rocky Horror Picture Show") and Jennifer Robinson, and capping it off is the incomparable Jennifer Coolidge, rounding out her "White Lotus" year with what will undoubtedly be another mesmerizingly dotty performance in a supporting role.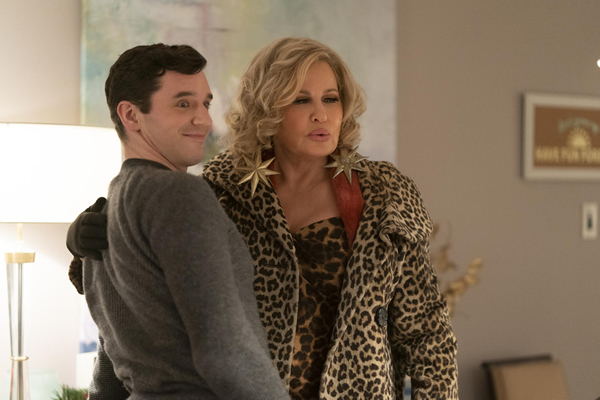 The Bitch Who Stole Christmas (VH1 12/2): In the "why didn't they do this sooner?" category is this holiday special from Emmy-winning TV icon and "Drag Race" legend RuPaul, who takes the screen as "a workaholic big-city fashion journalist" who (according to the show's official description) goes on assignment to "a Christmas-obsessed small town" and "finds herself in the middle of cut-throat housewives, a high-stakes 'Winter Ball' competition, and a sinister plot that could destroy Christmas fore-evah!" Joining Mama Ru onscreen will be 20 "Drag Race" winners and a host of other celebrities. We're there.
With Love (Amazon Prime 12/17): From Gloria Calderón Kellett, the critically acclaimed showrunner of the queer-inclusive reboot of "One Day at a Time," comes Amazon Prime Video's first holiday miniseries, complete with a heavily inclusive LGBTQ cast and queer storylines that feature a gay couple (played by Mark Indelicato and Vincent Rodriguez III) and one of the first transgender love stories ever to be found in a holiday rom-com. The series consists of five hour-long episodes tracking the Diaz family as they search for love and purpose across five different holidays during the year. Also starring are Emeraude Toubia, Desmond Chiam, Rome Flynn, Isis King, Todd Grinnell, Constance Marie, and Benito Martinez.
Under the Christmas Tree (Lifetime 12/19): Lifetime's first-ever lesbian romance begins when "Christmas tree whisperer" Charlie Freemont (Tattiawna Jones) finds the perfect tree for the governor's holiday celebration – in the backyard of marketing whiz Alma Beltran (Elise Bauman). The two women spar, naturally, but it's not long before – with a little help from the tree and "some Christmas fairy dust" from the town's resident pastry chef (Ricki Lake) – the romantic sparks begin to fly.
Trans teen comes out in Mexican doc 'Things We Dare Not Do'
Slice-of-life chronicle nominated for two Ariel Awards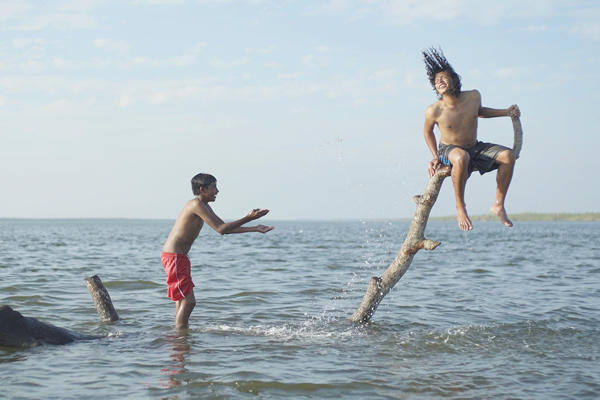 In today's explosion of the documentary market, where every week brings a new assortment of intriguing entries so abundant it's impossible to fit them all into your viewing schedule, there are more films about the lives and culture of LGBTQ+ people than ever before. This is clearly a good thing. But while so many of them are centered on our history and our heroes – on the big, the important, the culturally impactful, and the world-changing – it's worth taking note when one comes along that brings a more microscopic focus to queer experience and reminds us that our community is made up of millions of individual beings – each of them with their own, unique story to tell.
One such film, seemingly so small and unassuming as to slip under the radar in a field of more titanic choices, is "Cosas Que No Hacemos (Things We Dare Not Do)", which made its broadcast premiere on PBS's "American Documentary/POV" Oct. 25 and is available to stream for free through Nov. 24.
The second feature film from Mexican director and cinematographer Bruno Santamaría, this brief (barely 75 minutes) but luminous slice-of-life chronicle might be small, but it has already proven its might. Nominated for two Ariel Awards by Mexico's Academy of Cinematographic Arts, it is also the winner of the Gold Hugo Award for Best Documentary and the Gold Q-Hugo Award for Best LGBTQ+ Film at the Chicago International Film Festival, and was chosen as an official selection at numerous others, including both the prestigious Hot Docs and DOC NYC film festivals. Touted as giving voice to "a powerful coming-of-age story," its quietly hypnotic storytelling quickly draws you into such an intimate perspective on one queer person's journey that it's easy to see why it has earned such accolades.
"Things We Dare Not Do" takes us to a small Mexican coastal village called El Roblito, where 16-year-old Ñoño lives what seems to be an idyllic existence with his loving family. He spends his days playing with the free-spirited younger children of the town and staging elaborate community dance productions, but there is something inside of him, a secret he's been holding, that can no longer be denied. Defying gender norms, Ñoño bravely works up the courage to tell his family they wants to live their life as a woman – a decision that comes with potentially dangerous consequences in a country shrouded in machismo and transphobia.
The coming out of a young trans person is clearly a timely and important subject to be documented on film, but under Santamaría's lyrical guidance that process is part of a bigger experience. Ñoño is part of a community, from which their life is inextricable, a single thread woven into the tapestry of a larger world. While they remain in the center of the film – often wordlessly, a presence made impactful to us by our knowledge of his still-undisclosed inner life – they are seen in the context of day-to-day life in El Roblito. It's a place where family is central, where generational traditions are honored and perpetuated within the daily routine of the community, and where the rhythms and patterns of existence that have repeated for centuries and longer exert their pressure on every aspect of individual development.
It's captured beautifully, with exquisite cinematography by the director himself that juxtaposes the serene beauty of rural Mexico against the strength, bravery and spirit of a young queer person working to reconcile his inner life with his identity in the community, and through the course of the film, right alongside their family and the rest of the village, Ñoño is both participant and witness for many important community events. Some of these are joyful, such as the film's magical opening, featuring a visit from Santa Claus – borne over the town in an aerial vehicle held aloft by a giant rainbow parachute – who distributes candy to the delighted children below. Some are mundane, like a community movie night and the sound of informational civic announcements being broadcast via loudspeaker in the background, and some celebratory, such as a festive graduation party for the school children of the village. There are more ominous communal touchstones, too; a violent shooting which takes place at that very celebration has a palpable effect on the imaginations of the children for days afterward.
With this slow-paced but bustling environment as a backdrop, Ñoño's journey unfolds furtively, in powerful yet breathlessly simple private moments shared only with Santamaría's camera: a secretive trip to the beach to don drag for a few hastily snapped selfies, the late-night ritual of scrolling through a gender-bent social media feed at bedtime with the dim glow of his phone's touchscreen providing the only light in the darkness of their life, their anxious but resolute on-camera declaration of their intention to come out as trans to their parents. These are small, quiet, undramatic events, but their cumulative effect pays off a hundredfold in the climactic sequence, where Ñoño finally works up the courage to ask for permission from their family – especially from his traditional, macho, hard-working, and often absent father – to begin living as a woman. There's no shouting, no confrontations, no dramatic outbursts, but the intensity of emotion that comes in that scene is electrifying, nonetheless.
That it all comes together so unforgettably with what appears to be so little effort reflects the director's own journey in making the film. Santamaría says of the process:
"It's very moving to think that we are about to share the work that we started six years ago, to share the encounter we experienced. What began as a secret in my life led us to an idea, that idea led us to a journey, and the journey to an encounter. When I met Dayanara [the name by which Ñoño goes now] everything changed, the idea, the trip, the film and our lives. 'Things We Dare Not Do' is the result of this journey of dreams, accidents and experiences; a film that seeks to share the feeling of the coming-of-age experience of an adolescent who takes a brave step in her process of emancipation, in her process of growing up."
In a time when trans rights – especially for young people – face persistent and venomous assault from phobic far right political factions who aim to negate the truth of trans experience, it's invaluable to create space in which the truth of those experiences can be explored with nuance, authenticity, and empathy. By taking one young person's struggle for queer identity out of the usual urban setting we've come to expect, Bruno Santamaría's quietly monumental documentary provides a much-appreciated fresh perspective on the issue; more than that, it delivers a moving tale of emancipation that is sure to stick with you – and inspire you – long after the credits roll.