'Little Women' a smart, richly realized period romance
Latest adaptation flavored with post-modern irony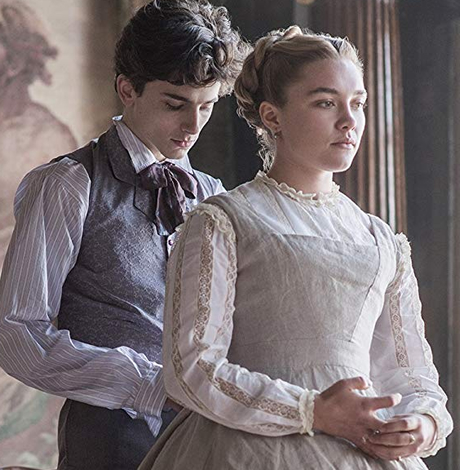 If you are one of those people who has heard of "Little Women" for your entire life yet somehow never got around to reading it, you might have trouble following second-time director Greta Gerwig's respectfully deconstructed new film adaptation of the classic Louisa May Alcott novel.
That is not meant to be read as a negative; it's merely a mild warning that someone expecting straightforward linear storytelling from a film based on a 150-year-old book might have to pay close attention in order to keep up with what's going on, since the director takes a decidedly contemporary narrative approach in this smart, richly realized period romance – for a romance it is, albeit one flavored by post-modern irony.
Gerwig was hired by Sony Pictures to write the script for the planned adaptation – the eighth big-screen incarnation of the novel – back in 2016, before her awards-season victory lap following the release of "Lady Bird," her feature directing debut. The success of that film resulted in the studio asking her to direct "Little Women" herself.
It was a smart decision. With the same razor-sharp insight and humanistic wisdom she brought to her previous effort, Gerwig lovingly dissects Alcott's 19th century tale to illuminate it from within, jumping back and forth through time in order to connect the dots between the narrative's themes, and inviting audiences to ponder the way those threads still run through our contemporary culture today.
Despite the potentially jarring narrative style, it's not necessary to know the plot going in; but to sum up, "Little Women" is the story of the four young daughters of the March family – Meg, Jo, Amy, and Beth – as they grow from young girls into young women. Nurtured by a loving mother (whom they call "Marmee") in the absence of their father, who is ministering to wounded soldiers in the wake of the Civil War, they also form bonds with their wealthy neighbor and his handsome grandson, Laurie, helping to shape their lives as they grow toward adulthood.
It's a straightforward saga from a modern perspective, though the book has been lauded as groundbreaking for its time – its subtle challenge deeply encoded cultural expectations influenced generations of young female readers who related to its four heroines' misgivings about the constrained social roles that await them in adult life, and was praised by renowned critic and author G.K. Chesterson for having "anticipated realism by twenty or thirty years." It's precisely those forward-thinking qualities that Gerwig brings to her reinterpretation, and they help her to create a movie that is neither merely a well-made and pleasant period drama, nor a savvy, subversive think piece, but a film that works equally well as both.
The production values are a contributing factor, of course. The obvious high quality of the filmmaking talents involved behind the scenes provides a solid base from which Gerwig can build her vision; Yorick Le Saux's cinematography evokes the natural-light-infused grainy glow of the great mid-seventies period films of directors like Kubrick and Altman, the costumes by Jacqueline Durran underscore important themes by capturing the subtle variations of women's attire mandated by fashion and social class, and the score from Oscar-winner Alexandre Desplat strikes a delicate balance by maintaining the restrained conventions of 19th-century music while letting a more modern, free-spirited playfulness run throughout.
It's in the performances, of course, that the film is able to break free from the conditions of its 150-year-old source material. Emma Watson (Meg), Florence Pugh (Amy), and Eliza Scanlen (Beth) all bring heartbreaking honesty to their roles, while Laura Dern's Marmee is a sublime portrait of idealized motherhood that transcends sentiment through the authenticity of her compassion. Meryl Streep delivers a characteristically layered supporting turn as cantankerous-but-kind-hearted spinster Aunt March, and Chris Cooper rises above the maudlin tendencies of melancholy-but-sweet neighbor Mr. Laurence.
To single out Timothée Chalamet's Laurie when every performance is a standout might be egregious, especially in a film that is ultimately about women; but the young actor brings such a sense of immediacy to each moment that he cannot be overlooked. Indeed, he's a young actor whose charisma makes him the focus every time he's onscreen, and he does not waste that gift. He takes this notoriously opaque, underwritten character and gives him a powerfully multi-dimensional specificity that makes us see the fragile, confused human heart that beats beneath his sometimes callow, often faithless surface and makes us love him as much as the March girls inevitably do.
Even so, the movie belongs to Saoirse Ronan, and appropriately so. As Jo, she is every bit the plucky female "All-American Girl" heroine, but her version of that stereotype looks like modern-day girl power. She makes the character's journey a struggle to hold onto that power, from naïve overconfidence through personal hardship to humble-yet-emphatic reclamation of her own agency, and she takes us with her every step of the way.
She also takes on the double duty of serving as a stand-in both for author Alcott, who wrote Jo with clear autobiographical parallels, and director Gerwig, who in her vision takes on the burden of speaking feminine truth in a medium dominated by masculine power, just as Alcott did when she fought against the insistence of her publisher (male, of course) that she marry off her proto-feminist heroine at the end of the book. The writer lost that fight, compromising to meet his demands in order to ensure publication, and inevitably resulting in enduring criticism that "Little Women," for all its supposed progressiveness around women's rights, ultimately validated the ruling paradigm that a woman who wasn't a wife and a mother was irrelevant.
By taking on the author's mantle, however, Gerwig gets the last word for both of them. She makes the real-life history of Alcott's creative dispute part of Jo's story as well, both subverting the intention of the imposed "happy ending" and exonerating the author by portraying her – or at least her fictional alter-ego – as a savvy, self-aware woman who knew she was winning the war by surrendering the battle. The fact that the director simultaneously makes us hope for that same happy ending simply serves to highlight the skill with which she navigates the complex myriad of perspectives she brings to her film.
It's because of this that Gerwig – just as with her debut effort – becomes the real star of her movie without ever stepping in front of the camera. She establishes herself here as a female auteur – a rarity in the still-misogynistic Hollywood film machine – that has the personal vision it takes to bring home the narrative's ultimate truth that these "Little Women" chafe at the boundaries forced upon them by society, and that each, in their way, nurses a longing to break free.
That's something with which most of us – male or female, gay or straight, or anywhere between either of those increasingly outdated binaries – can surely relate, and it makes "Little Women" a sure bet for a trip to the movies this holiday season.
'Women Talking' is the timely film everyone should be talking about
Filmmaker Sarah Polley explores shocking abuse in culturally significant effort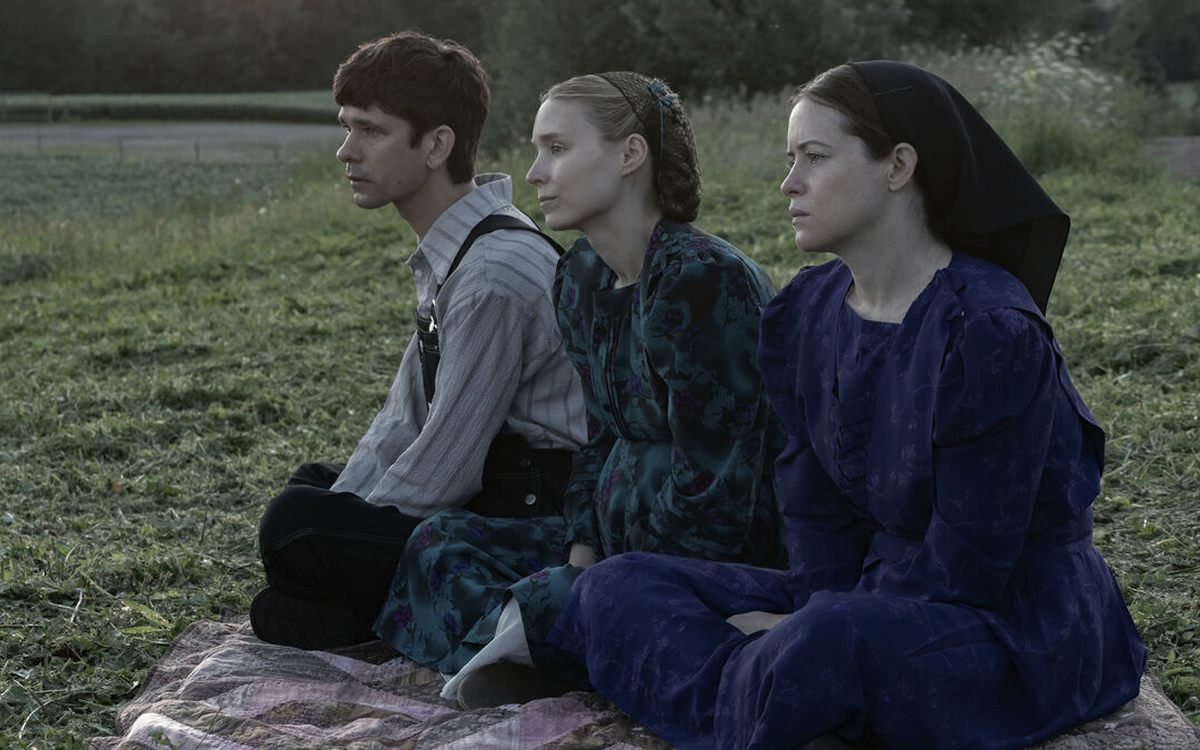 With the Hollywood awards season well underway, the public conversation around movies these days is mostly around the movies that have begun to emerge as early champions.
That makes this the perfect time to bring up "Women Talking," a movie not many people have seen – yet – but that more people should be talking about.
Adapted for the screen and directed by Canadian filmmaker Sarah Polley, it's based on a 2018 novel of the same name by Miriam Toews (which itself was loosely based on real-life events in Bolivia), and set in an ultraconservative Mennonite colony, isolated from the wider world by both distance and strict religious tradition, in which dozens of girls and women have been drugged with animal tranquilizers and sexually assaulted in the night by a group of men over the course of several years – only to be accused of lying or told that their attacks and injuries were perpetrated by "ghosts or demons." Now, they've now been offered a choice – either forgive their attackers and continue living in fear or leave the community and be expelled from the church; with only a few short hours to decide, a group of townswomen convene in a barn to weigh the dilemma, and to make the impossible choice of what to do.
In Toews's book, and therefore Polley's film, the shocking circumstances of the story are reimagined in an American setting, and the scenario is framed – in the spirit, perhaps, of an increasing sense of public conscience that favors commemorating the victims of violence over elevating the victimizers' names in the cultural record – through the eyes of the women; we never see the faces of their attackers, nor hear their names. Their identities, in fact, are irrelevant; for these women, what matters is making an impossible choice whether to brave the unknown evils of a world outside their experience or resign themselves to endure the all-too-familiar evils to which they are accustomed, forced upon them by male elders who seemingly think of them as little more than human livestock.
That's a position that feels unsettlingly relevant in the climate of today's America, and though both book and movie were conceived and executed before the devastating Supreme Court decision striking down Roe v. Wade, the timing of "Women Talking" couldn't be more powerful or relevant. In watching these onscreen women attempt to find justification within their faith to defy the strictures that leave them powerless and without protection, it's impossible not to notice the reflected significance; though the arguments they rehash – obedience to the teachings of their church, accepted gender roles within their culture, the "rightful place" of women in society, and all the other well-rehearsed topics inextricably tied to the ideals of feminism and basic human rights – often feel to us like the antiquated rhetoric of a bygone era, we cannot help but be aware that the principles they struggle to define, considered by many of us to be long-settled and self-evident, are currently anything but.
That's entirely the point, of course. Polley's film derives considerable power from the juxtaposition of an old-fashioned lifestyle into a contemporary setting; most of what we see on the screen – clothing, mores and manners, the quaint routine of a daily life lived without technology and off the grid – belies any connection to the 21st century, and when we are occasionally reminded that we're watching a story that takes place in modern times, it's jarring.
Indeed, there's an unabashedly "meta" effect that permeates throughout, heightened by a theatrical approach to the narrative that spends more of its time on dialogue than on action – after all, the title is "Women Talking" – and takes place mostly in a single location. The movie's studied mix of emotion and intellect, its prominent agenda and its progressive political leanings, all land with us as if we were watching a play, rather than a movie. Yet Polley ingeniously expands into the cinematic realm to connect with us though our eyes as well as our ears, particularly with the use of rapid-paced flashback collages that cut away from a character to wordlessly convey crucial details of their backstory, deepening both our insight and our empathy in the process.
She also takes pains to illuminate the emotional triggers – fear, rage, even guilt over perceived culpability – that bubble to the surface as her traumatized characters try to form a unified front; by tracking the way these lingering psychic scars affect the dynamic among this group of survivors, determining the positions they take and setting them at odds against each other, her movie helps open us up to empathy for those whose memory pain sometimes drives them to act against their own self-interest. Yet things aren't unrelentingly grim, nor are they always somber; there are frequent interspersions of humor, appreciations of beauty, and expressions of love. It's this focus on lived inner experience that keeps "Women Talking" grounded in the human and enables it to indulge in lengthy theoretical discourse about justice, ethics, and theology without feeling like an exercise in aloof didacticism.
To that end, a gifted ensemble of players, each obviously relishing the chance to do work of such substance, turns in a remarkably gripping collection of performances. Standing out in the showiest roles, Claire Foy and Jessie Buckley offer up unforgettable moments throughout the film, while a softer Rooney Mara serves as a warm and intelligent heart; screen veterans Judith Ivey and Sheila McCarthy bring depth and dignity to their roles as elders in this female contingent, with multi-Oscar-winner Frances McDormand leaving her stamp in a brief but indelible supporting turn; out gay actor Ben Whishaw shines as a gentle schoolteacher enlisted by the women to take the minutes of their meeting, a sole reminder that men can be allies, too; and nonbinary performer August Winter, cast as a transmasculine colony member, adds an affirming thread of queer inclusion to the mix, opening the door for one of the film's most unexpected – and powerful – moments.
It's not surprising, given the talents of Polley and her cast (not to mention the expert cinematography of Luc Montpellier and a stirring score by Hildur Guðnadóttir), that "Women Talking" has quietly gained momentum as an awards contender – even though it doesn't go into wide release until Jan. 20. Whether it can pick up more prizes than the buzzier titles currently leading the race remains to be seen. Even in a post-#MeToo Hollywood, female-led films are often overlooked for the big awards, and the industry's supposed progressive leanings rarely prevent it from shying away from polarizing subject matter.
Incredibly, in 2023, the subject of women seeking freedom to have agency over their own bodies feels more polarizing than ever, and women are fighting for it under oppressive regimes from Iraq to Indonesia, let alone in parts of the USA.
That's why, whether it wins any awards or not, "Women Talking" is still one of the most culturally significant movies on the shortlist.