Meet Imani Rupert-Gordon, NCLR's new leader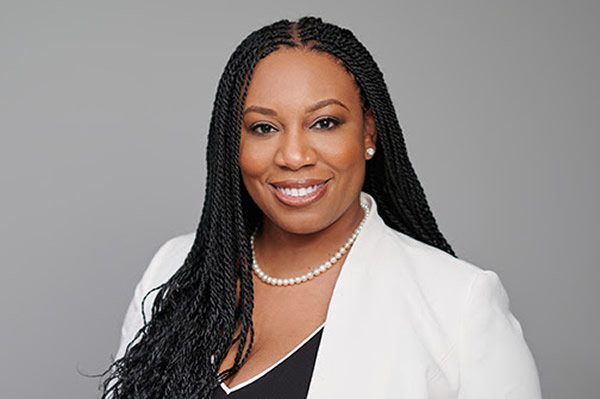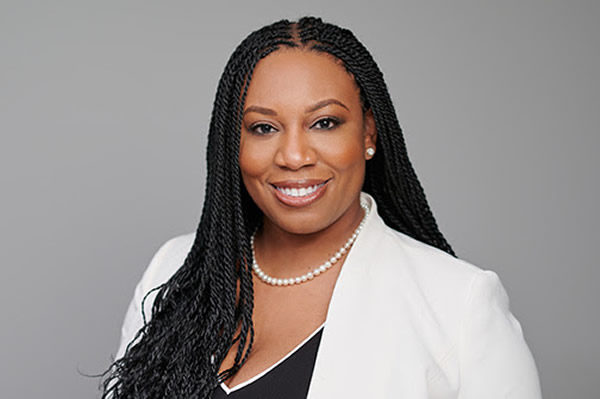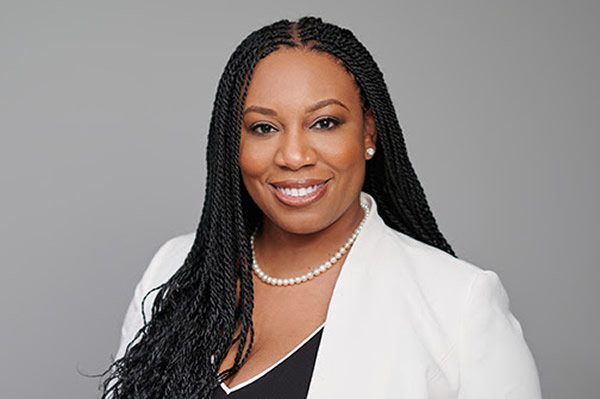 Laughter. Full-throated, hesitancy-clearing, energetic laughter. Thirty seconds into Imani Rupert-Gordon's inaugural phone interview with the Los Angeles Blade, the new executive director of the National Center for Lesbian Rights poofs away old ideas of protocol and power differentials and launches into a conversation between two humans living in a shared space.
Kate Kendell, the LGBTQ icon Rupert-Gordon is replacing at the helm of NCLR after Kendell's 22 years of service, had a similar experience.
"Apart from her substantial resume, experience and gravitas, the thing I most remember when I first met Imani in San Jose was a smile that had a wattage unlike most I had ever seen and an open heartedness that made me feel like we had been friends for years, rather than this being our first meeting," Kendell tells the Los Angeles Blade. "You cannot teach that kind of openness and generosity of spirit. It is something one either possesses or never gets. And she had it and that quality is one of those intangibles that marks a leader for the ages."
Rupert-Gordon's humor and humility are evident immediately, disarming in a context where leadership generally implies an air of assumed arrogance. But her way of being reflects an apparent larger trend in new leadership at other national LGBTQ organizations, where the character derived from lived experience is as important as a resume packed with prestigious degrees and power-punch relationships.
"Do they know that I'm a social worker?" Rupert-Gordon asked when told NCLR's head-hunters wanted to meet her. "I went into this thinking OK, obviously they're looking for something different and I said, so I'm just going to talk about where I think the movement is, where I think the movement should go next, and NCLR's place in that," she tells the Los Angeles Blade.
"I think what really stood out to them was my understanding of intersectional issues and the way that I look at the movement. I think it probably provided a unique perspective, as well as someone that's not a lawyer. Something that I've been telling people over and over again — they have a lot of lawyers at NCLR and they are at the top of their fields. Perhaps they don't need another lawyer. I think that they really saw and appreciated my vision. I've always been very impressed by the work at NCLR. NCLR was created to be intersectional. That's something I really value in the movement, and so, I feel really good about moving to this organization."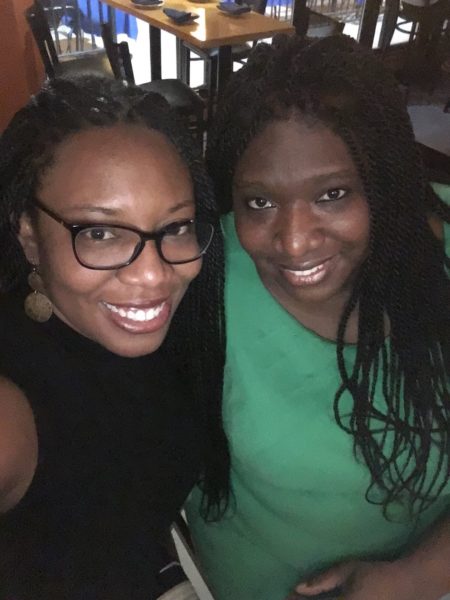 Imani Rupert-Gordon with sister Maya Rupert (Photo from Maya Rupert's Facebook page, Jan. 19, 2017)
In fact, NCLR is kind of a family thing. Rupert-Gordon's straight sister Maya Rupert, a 2006 graduate of Berkley Law School, joined NCLR in 2010 as federal policy director because of her sister.
"My work for the LGBT community came from my sister and wanting to do something that would be meaningful and impact a number of lives, hers included," Rupert told Hello Beautiful. "The question that NCLR always asks is who's being left out of the conversation, so this is an organization that's specifically being active about being proactive for people who are a part of marginalized communities and so many other issues that we talk about and think about."
Rupert took that fight against discrimination through an intersectional lens to the US Department of Housing and Urban Development where she became a Senior Policy Advisor to HUD Sec. Julian Castro. She pointed out, for instance, that while the seemingly neutral Fair Housing Act prohibits discrimination in housing based on race, color, religion and other categories, it does not include protection for people with a personal criminal background.
Rupert – a widely honored writer with such essays as "Imagining a Black Wonder Woman," "This 'cool black girl' is gone," and "Nothing defensible about DOMA" –subsequently became Castro's campaign manager when he announced his candidacy for the Democratic presidential nomination in 2020.
When Rupert-Gordon settles into her new San Francisco-based job next March, she will be leaving Chicago and coming home to California. Born in Bedford Heights, Ohio 40 years ago last April 17, Rupert-Gordon grew up in Yucca Valley.
"My experience was very much in the Joshua Tree, Yucca Valley County where I grew up, went to elementary school and high school," she says. Upon graduation, she went to school near San Diego until her sister went to UC Santa Barbara. "I transferred to UC Santa Barbara with her by the winter. My sister and I are very, very close," she says.
After graduating with a bachelor's degree in sociology, Rupert-Gordon went to the University of California, Santa Cruz, where she worked in residential life for almost eight years, lectured, and cofounded the Social Fiction Conference, which uses science fiction as a lens through which to view bias and injustice.
Though happy there, she started thinking about going to graduate school. "When I was thinking about what it is that I loved, I really enjoyed working with folks as they're sort of working through things themselves," something she experienced as a student navigating life without a cohesive bridge between her academic and non-academic worlds.
Rupert-Gordon intended to get her master's degree in social work through an online program but her then-girlfriend, now wife Derah (38) encouraged her to go to graduate school and have a great experience as she had. Derah promised to move with her to a big city where advertising jobs were more readily available than in Santa Cruz.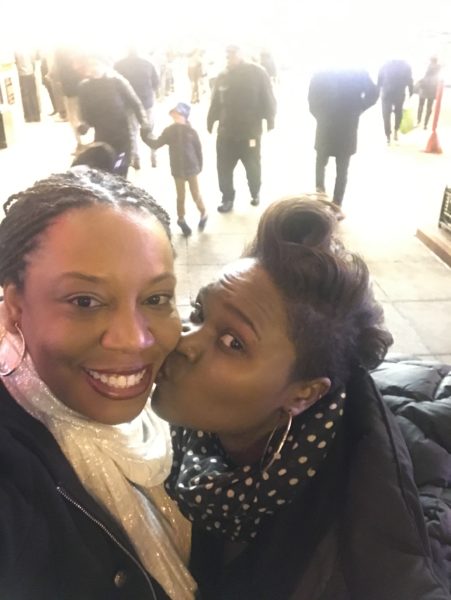 Imani Rupert-Gordon with wife Derah Rupert-Gordon (Photo courtesy Rupert-Gordon)
"When there's this person you want to spend your life with who just wants more for you than you do with yourself in that moment — and that's how I really thought of that — we went to Chicago," where she earned her master's degree from the University of Chicago School of Social Service Administration.
But upon graduation, Rupert-Gordon found it hard to find a job. She landed at Broadway Youth Center providing therapy to LGBTQ youth. But she grew restless. "I felt like I still had things to give, but I didn't feel like the things that I had to give were as unique in such a way that no one else could do that," she says.
Fortuitously, the executive director of Affinity Community Services — the nation's oldest Black LGBTQ social justice organization — was leaving and encouraged her to take the job. She's been there for four years.
Now Rupert-Gordon thinks she has something to give the national movement.
"I think that as we're working to do more inclusive and more intersectional work, that I have something to provide here," she says. "I'm really excited about working specifically at a law firm where we're going to be integrating litigation and legislation and policies and public education. I think working to create an integrative approach is something that social workers do often. So, I'm excited to bring that perspective to NCLR."
That includes frank discussions about social justice issues.
"I've experienced overt racism before," though that experience is not always as relevant to the way she approaches race politics, Rupert-Gordon says. "Overt racism is sometimes easier to confront because most people understand overt racism as racism. For instance, if someone says 'the N-word,' most people recognize that as racism.
"What I experienced growing up," she continues, "is people explaining that 'You're not like other Black people, you're cool,' or saying something like, 'You don't sound Black.' I knew that these people were trying to compliment me, but it didn't feel like a compliment. What they were saying hurt and I didn't always have the language to explain why it hurt.
"Systemic and institutional oppression often requires a more thoughtful and nuanced analysis because not everyone recognizes it as oppression," Rupert-Gordon says. "I'm interested in the systems in place that support oppression. For example, the G.I. Bill made it possible for folks to really buy homes for the first time, but loans from the FHA were given to people based on race and subsequently the equity in those homes were then attached to race—and that is just one example of how generational economic mobility is attached to race in this country.
"So when people talk about people with low incomes being 'lazy,' I'm frustrated because there is something systemic being ignored —and that is not a little thing. That's a big thing. And that narrative is untrue, and dangerous," she says. "So when I think of racism, or any oppression, I don't necessarily think about individual events that happened to me but systematic ways that people experience oppression based on identity. I'm not saying that racism is the exact same as heterosexism or sexism. I'm saying that we are missing something if we don't think about the institutional, systemic dynamic."
And, says Rupert-Gordon, "if we don't consider institutional oppression within the LGBTQ movement, then folks that experience multiple jeopardy or oppression because of multiple parts of our identity, will not be able to fully benefit from the wins of the LGBTQ movement. Our movement has to be intersectional if we are going to achieve equality."
Rupert-Gordon had to use her own critical thinking to grasp the concept of "intersectionality."
"It's an experience I had growing up [in Yucca Valley] that I didn't have a word for. When I think about my first understanding of intersectionality," she says, "it was when we were talking about the Constitution," and the different times Black people and women were given the right to vote. "They had this conversation as if there were no Black people that were women, and I was the only one, and I think that's how my teacher at the time was just talking about that.
"I remember being incredibly confused — when does that mean that I would be able to vote?" Rupert-Gordon continues. "I just realized that I didn't know how to ask the question, and I was the only one that would've asked the question. I knew that I was the only one that was having this experience."
Later, she learned the term "intersectional," a term developed in 1989, that became "really everywhere for me," and still is.
People under-represented identities are talked about "as if we can segment the parts of our identity and we can talk about it, just one thing," Rupert-Gordon says. "The thing is — I can't talk about being a queer person without my experience being a Black woman. All of those things happen together. And so, when the expectation is for me to separate it, that's not something I can do." She wants to talk about "how someone can bring their entire self, their entire experience and be represented in this movement."
But, Rupert-Gordon adds, "representation is important, but representation doesn't shift cultures. It doesn't change institutions. It doesn't shift the power dynamic. And so, it would mean putting the education in schools [and] changing the culture fundamentally," realizing, for instance, that while history is a mandatory course, Black history is an elective.
"I'm a Black, queer woman. There was definitely a time in the feminist movement that I wasn't included in that. When we looked back on the first and second waves of feminism, many of us are ashamed that it looked the way that it did, and when we think about being inclusive about what our feminism looks like, we have an opportunity to mention that are learning from the past, and we are including more," says Rupert-Gordon. "I'm sympathetic when folks explain that they feel like they're going to be left out of the movement because, the thing is — many of us have been left out of a movement, and we are sometimes just terrified that that will happen again, that we would be ignored in the movement.
Rupert-Gordon is blunt. "There is enough equality to go around, and that's what I want to make sure that we are paying attention to — that we're all going to be better when we're all better," she says. "Once upon a time, my Blackness made someone question how much of a woman I could be. Any time you're in a situation where you're having people question your gender or if you belong somewhere, then that hurts all of us. Our feminism and our movement has to be thoughtful around that."
The "future core for our movement," she says, "absolutely has to become a racial justice movement. It has to become an economic justice movement. It has to become a gender justice movement. It doesn't help when we are working to fight for protection and to provide support and liberation for all LGBTQ folks if people aren't able to fully access them because they experience racism or they don't have the economic power to utilize or appreciate what's happening. We have to work with folks that are at the margins, people that are experiencing discrimination at multiple levels. Because when we start working with folks that are experiencing the most amount of discrimination, if we start from those folks, everyone will benefit from what we do."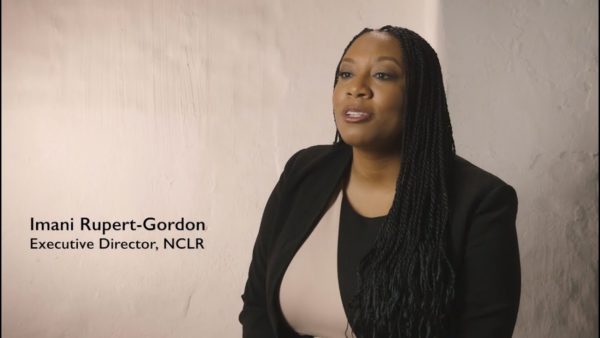 Rupert-Gordon says she doesn't have all the answers but she knows it starts with working in coalition, with everyone working to achieve the same goal. But it's more, going beyond inclusion.
"Inclusion is getting everyone to the table," she says. "It's providing perspective. But it doesn't get that power shift. That is what's going to need to happen. We're going to need to shift power" to create a movement that's more economically just, more gender inclusive and picks leaders who "can actually lift up our entire movement."
Rupert-Gordon says she's already having discussions about this transformation, including with NCLR's renowned legal director, Shannon Minter.
"Shannon is also an icon, so I definitely have had conversations with Shannon about this — about sort of what's next and being really thoughtful, really strategic in finding new ways to be successful in supporting this community," especially since President Donald Trump has remade the judiciary to be more conservative and anti-LGBTQ.
"When we think about being more inclusive, we're looking at a variety of things that keep folks in places of oppression," she says. "We're thinking about issues that people don't necessarily think about being LGBTQ issues — things like voter suppression and criminalization of sex work. When we think about prison systems in juvenile justice and folks in foster care systems, there are many things that are keeping folks from being free."
Kendell is "over the moon" about Rupert-Gordon leading NCLR into the future.
"What she brings is a lived experience of what we popularly call 'intersectionality.' It's not an experience that is intellectual, although it might have pieces of that. It's not an experience that is scholarly, although it likely has that. It's not an experience that is born of empathy, although certainly there will be some of that, too," Kendell tells the Los Angeles Blade, as if rhetorically handing off the mantle.
"It is an experience as a Black lesbian, of understanding that the world every LGBTQ person deserves is a world where every piece of themselves is integrated, seen, valued and acknowledged and appreciated," says Kendell. "And it is a unique life experience that queer people of color possess and that is so much about where the movement is headed next that will make Imani exactly the kind of leader to keep NCLR current and relevant and to assure that the movement is a movement for the entire queer community, not just certain segments."
Rupert-Gordon is not cavalier about the work ahead. "Trust is not something I take for granted. It's something you have to work for," she says. "I have a commitment to radical transparency. I want to be part of transforming our movement so that it includes more of us."
Governor Hochul: New Yorkers can use "X" as a gender marker
"Every person, regardless of their gender identity or expression, deserves to have an identity document that reflects who they are"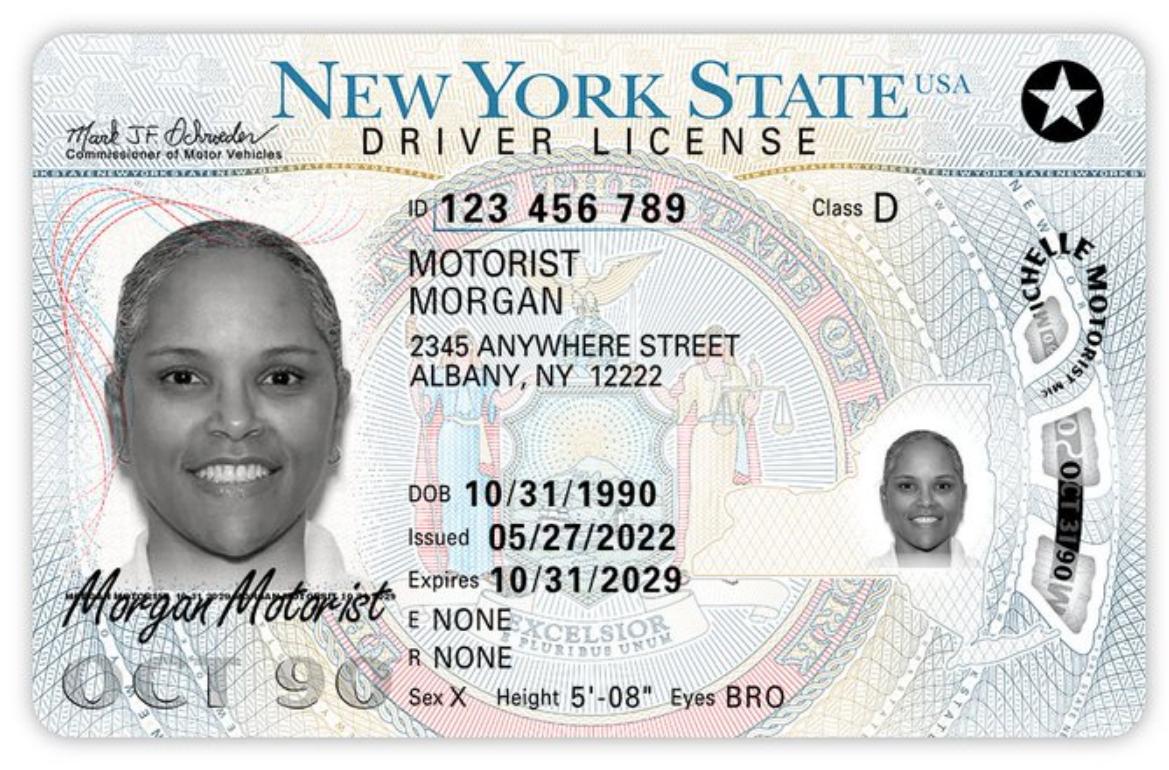 ALBANY – New York Democratic Governor Kathy Hochul announced Friday that New Yorkers will have the option to choose "X" as a gender marker on their driver license, learner permit, or non-driver ID card at all Department of Motor Vehicle offices statewide.
This change is being implemented in accordance with the State's Gender Recognition Act, which goes into effect on June 24.
This landmark legislation provides expanded protections for transgender and non-binary New Yorkers through this change at the DMV and by making it easier for people to change their names, change their sex designation and change their birth certificates to reflect their identity.  
"As we prepare to celebrate Pride Month in a few days, I am excited to announce this historic change that represents another victory in our fight to help ensure equality and respect for the LGBTQ+ community," Hochul said. "Every person, regardless of their gender identity or expression, deserves to have an identity document that reflects who they are. My administration remains committed to ensuring that New York is a place of value, love and belonging for members of the LGBTQ+ community." 
New York State Department of Motor Vehicles Commissioner Mark J.F. Schroeder said, "Perhaps more than any other state agency, New Yorkers directly engage with their government through the DMV, so offering identity documents that are representative of all New Yorkers is a significant milestone. We are thrilled to implement this new option that we know will have a positive impact on the lives of so many of our customers."   
NY Division of Human Rights Commissioner Maria Imperial said, "We applaud our state's important action to ensure that these essential ID documents accurately reflect and affirm who we are. We will continue working to advance dignity and eliminate discrimination against transgender and non-binary people in New York State."  
Deputy Chief Diversity Officer Priya Nair said, "As a transgender and non-binary New Yorker, this action means that I can now get a driver license that better reflects my identity. It's not only the correct gender marker, but it's also an action which demonstrates that New York State affirms and sees me for who I am. Thank you to Governor Hochul, the Department of Motor Vehicles, and all of the non-binary and transgender advocates who pushed for this important and inclusive change. As other states attack and roll back protections for transgender people, I am proud to live in a state that will continue to fight for our communities." 
New Yorkers who have an existing driver license, learner permit, or non-driver ID will have the option to change the gender marker on their photo ID from "M" or "F" to "X", and those who are applying for a NYS photo ID for the first time will have the option to choose "X". This can be done by completing the Application for Permit, Driver License or Non-Driver ID Card (MV-44).
Customers who do not want to visit a DMV office to change their existing ID document will have the option to change their gender designation through an online transaction beginning in July 2022.
This announcement comes as part of the major advancements in LGBTQ+ equity Governor Hochul fought for and secured in the Enacted Fiscal Year 2023 State Budget.
The Budget includes $13.5 million for the Department of Health to support the LGBTQ+ community and more than doubles annual LGBTQ+ Health and Human Services funding. In addition, the Budget includes legislation requiring state agencies to provide an option for individuals to mark their gender or sex as a non-binary "X" on all state forms that collect gender or sex information.
Agencies are also required to include that information in data collection. The Enacted Budget also enables transgender New Yorkers to change their names or gender designations on marriage certificates without leaving their dead names on them.  
Plea bargain: 7 month sentence in homophobic attack in Washington D.C.
"The U.S. Attorney's Office thoroughly investigated and analyzed the facts and provided what we determined to be an appropriate plea offer"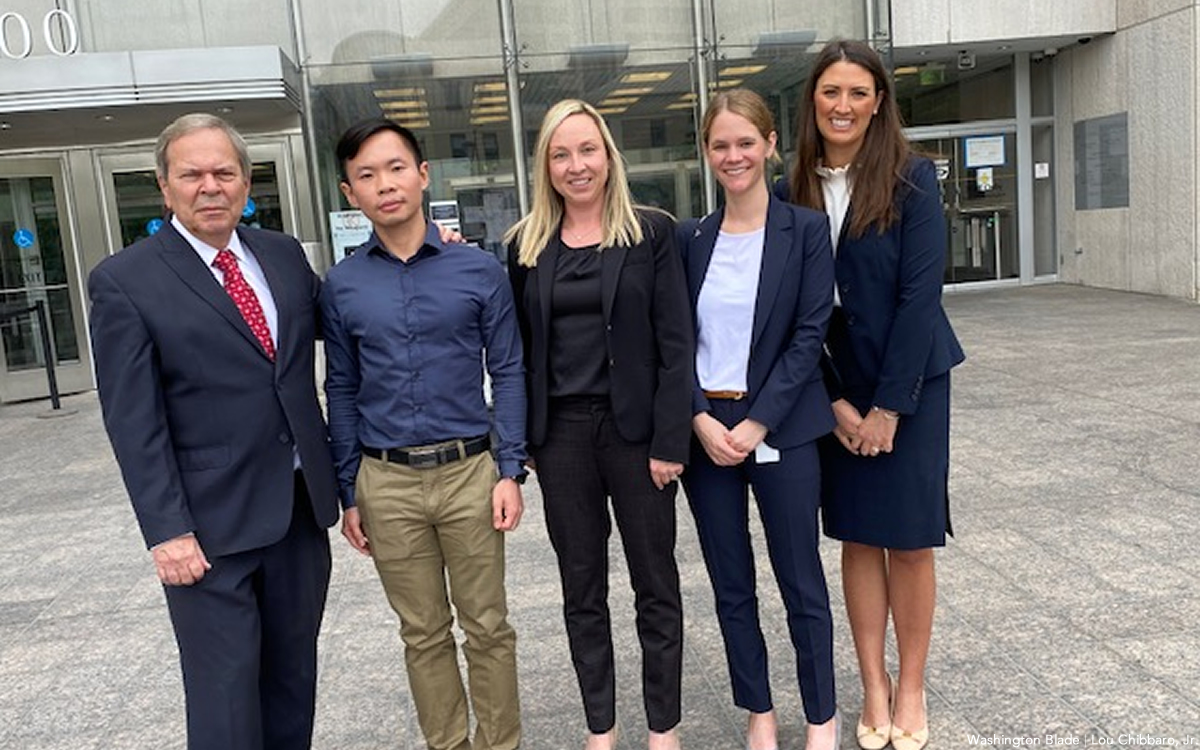 WASHINGTON – A D.C. Superior Court judge on Thursday sentenced District resident Patrick Trebat, 39, to seven months in jail following a dramatic court hearing in which a gay Asian man, Sean Lai, described how Trebat assaulted him and his parents while shouting homophobic and anti-Asian slurs in an unprovoked attack last August on a Northwest D.C. street.
The sentencing came after Trebat pleaded guilty during the same hearing to three counts of misdemeanor simple assault, with one of the counts designated as a hate crime based on the victim's ethnicity. The guilty plea was part of a plea bargain offer by prosecutors with the Office of the U.S. Attorney for D.C.
In exchange for Trebat accepting the plea deal, prosecutors agreed to drop two earlier felony charges of bias-related assault with significant bodily injury brought against Trebat in connection with the attack on Lai and his parents.
Judge Michael O'Keefe officially sentenced Trebat to 21 months of incarceration for the three charges, but suspended all but seven months of the sentence. O'Keefe also sentenced Trebat to three years of supervised probation upon his release, with the stipulation that he will be required to serve the full 21 months if he violates the terms of his probation.
Trebat, who had been released on a partial home detention order shortly after his arrest just under 10 months ago, was placed in immediate custody and escorted out of the courtroom by U.S. marshals after the conclusion of the sentencing part of the hearing to begin serving his sentence.
In delivering a victim's impact statement in the courtroom, Lai told O'Keefe that in addition to inflicting physical injuries on him and his parents that required emergency treatment at a hospital, Trebat's attack on his family caused deep emotional scars that continues to haunt all three of them.
He said he objects to the plea bargain deal on grounds, among other things, that it does not designate Trebat's violent attack as a hate crime based on Lai's sexual orientation, only on his and his parents' ethnicity.
Court records show that Trebat attacked Lai and his elderly parents, who are of Chinese ancestry, as they were walking on a street in the city's Observatory Circle neighborhood near where they were living and within sight of the Washington National Cathedral.
Police charging documents filed in court state that Trebat called the three victims "faggots" and shouted, "You are not Americans" as he approached them while they were walking along the 3700 block of Fulton Street, N.W. at about 9:30 p.m. on Aug. 7, 2021. One of the documents says Trebat punched and shoved the three victims, knocking each of them to the ground, after initially punching Lai's father in the head from behind while shouting, "Get out of my country."
"As painful as it is to relive this moment when this atrocious attack took place, I choose to be here today because I wanted you to hear my own voice and perspective, as well as the perspective from my parents," Lai told the judge. "The defendant attacked me and my elderly parents without provocation, motivated simply by his hatred toward our race and my sexual orientation," Lai continued.
"But what breaks my heart the most is what was done to my parents," he said. "I had to take them each to several orthopedics appointments over the following months. I secretly cried in my bed each night after seeing the pain that was inflicted on them and the psychological trauma that they experienced."
Gay D.C. Advisory Neighborhood Commissioner Mike Silverstein followed Lai by delivering an LGBTQ community impact statement before the court on behalf of the city's ANC LGBTQ Rainbow Caucus, the D.C. Center for the LGBT Community, and what Silverstein said was Lai's request that he speak on behalf of the Asian and Pacific Islander community.
"Thank you, Your Honor, for the opportunity to give this victim's impact statement," Silverstein said. "And please forgive me for the next 13 words, which were not mine," he said.
"'Fuck you bitch!' 'Faggot!' 'You are not Americans! Get out of this country!'"
"Those were the 13 words Patrick Trebat shouted at Sean Lai and his elderly mother and father just before Mr. Trebat physically attacked them without provocation," said Silverstein as courtroom spectators listened intently.
"As members of the LGBT+ community, we feel this was an attack on every one of us," Silverstein continued. "It was a direct attack on our right to exist and to live openly in the District of Columbia. We respectfully ask the court to issue the maximum jail sentence so that our community can feel that we are protected, and that we need not live in fear that those who would do us harm will get off easy," he said.
After asking Trebat to confirm that he fully understands and agrees to the terms of the plea offer, O'Keefe invited Trebat to give his own statement just prior to the sentencing.
Trebat, who was dressed in a suit and tie, offered his "deepest apologies" to Lai and Lai's parents, who were not present in the courtroom. Trebat said he was intoxicated on alcohol and drugs at the time of the incident and had no recollection of what happened.
"I was legitimately out of my mind that night," the told the judge. He said alcohol and prescription drugs caused him to engage in "stupid" acts. "I am sorry for the shame I brought to my parents, to American University, and to the victims," he added.
He was referring to his status as a graduate student at American University at the time of his arrest. The university later expelled him from his enrollment there after American University students protested that he had initially been allowed to continue his studies following a hate crime arrest.
"This event was not personal. I 'm not a racist," he said. "I take full accountability for what happened. I'm a changed person."
Trebat's attorney, Brandi Harden, asked O'Keefe to sentence Trebat to only a suspended jail term and a stringent term of probation rather than incarceration, saying that he suffers from and has long been treated for mental health issues, which would be worsened if he were to be sent to jail.
Assistant U.S. Attorney Robert Platt, the lead prosecutor in the case, expressed opposition to Harden's request, telling the judge that Trebat was already receiving a "significant benefit" from the plea offer.
"We don't dispute that the defendant was intoxicated," Platt said. But he added that the plea deal includes a provision for mental health and substance abuse treatment and that Trebat needs to be held responsible for his actions.
"This was part of hate crimes against Asians across the country," Platt told O'Keefe before providing statistics of the violent hate crime attacks against Asian Americans nationwide. "This type of attack will not be tolerated," he said.
Although Platt acknowledged that Trebat also hurled homophobic slurs at Lai and his parents during the attack, he did not explain why prosecutors chose not to include a hate crime designation pertaining to sexual orientation in the plea bargain offer.
"I believe he is remorseful," O'Keefe said in handing down his sentence. "But there has to be some punishment," he said. "You have been shamed, and that is part of the penalty," O'Keefe added. "It was your own actions that brought this on … I think this sentence strikes a good balance."
In response to a request by the Washington Blade for comment on why prosecutors decided to reduce the severity of the charges against Trebat through the plea agreement and did not include sexual orientation in the hate crime designation, U.S. Attorney spokesperson William Miller sent a brief statement to the Blade.
"The U.S. Attorney's Office thoroughly investigated and analyzed the facts and circumstances of this case and provided what we determined to be an appropriate plea offer," the statement says. "We extend a plea offer in almost every case charged in Superior Court," it says.
"The plea offer extended in this case included a bias enhancement," the statement continues. "Our office is committed to fully prosecuting bias-related crimes and held this defendant accountable for his appalling conduct."
The texts of the victim's impact statement delivered in court by Lai and the community impact statement given by Silverstein can be viewed below:
U.S. v. Trebat
Victim Impact Statement
By: Sean Xiangwen Lai
Your Honor,
Thank you for the opportunity to give my victim impact statement. I have gathered the courage to stand before you today at this hearing, to tell the court and my community about the defendant's assault on me and my elderly parents, and the suffering we have endured as a result of his horrific actions. As painful as it is to relive the moment when this atrocious attack took place, I choose to be here today because I wanted you to hear my own voice and perspective, as well as the perspective from my parents.
The defendant attacked me and my elderly parents without provocation, motivated simply by his hatred toward our race and my sexual orientation. We were walking on the streets of our neighborhood, enjoying our time outdoors during this unprecedented time when being outside of our home was a small joy of which we could take advantage. We were defenseless, feeling what we thought was secure so close to our home, when he assaulted us, beating up my parents and me. I am here today to tell the court in person that a man who would do this to an innocent family deserves the maximum prison sentence and does not deserve the leniency he has already received from the plea bargain offered by the prosecutors, which my family and I have expressed is very disappointing.
Last August, my parents and I were taking a walk in our neighborhood, very near our home. It was a beautiful Saturday night, but little did we know that our lives would be changed forever that night. "Fuck you bitch! Faggot! You are not Americans! Get out of this country!" were the words the defendant yelled at us before he punched my dad in his head with a closed fist from behind causing him to fall to the ground. When my mom and I hurried over to help my dad, the defendant attacked us as well. As a result of the fall my dad took when the defendant attacked him, my dad suffered a fracture to the bone of his left wrist and both of his knees were injured; my right pinky finger was fractured; and my mom's right shoulder muscle was torn. All of us had bruises and cuts on all over our bodies. He appeared to get scared as I started yelling loudly for help on our quiet neighborhood street. He stopped attacking us and attempted to leave. As he was trying to flee the scene, I yelled at him: "This is a hate crime. You are not getting away with this." He stopped, turned around and smirked at me saying "Oh, I will!"
This frightening image of his maliciousness and remorselessness has played repeatedly in my worst nightmares ever since. And he remained unrepentant, even after he was arrested. With blood dripping from my mouth, I tried to explain what happened to the responding police officer at the scene. Handcuffed and detained, this man was still yelling at me saying "Shut the fuck up. Drama queen!" right in front of the police officer.
Not a day goes by that what my parents and I suffered does not interfere with our lives. I had to take several weeks away from work and lost countless nights of sleep. I spoke to a therapist for several months and I am still working through the trauma inflicted on me. Even now I can feel the pain in my right pinky finger, which serves an enduring reminder I cannot ignore. I continue to live in fear for being who I am: An openly gay Asian man.
But, what breaks my heart the most is what was done to my parents. I had to take them each to several orthopedics appointments over the following months. I secretly cried in my bed each night after seeing the pain that was inflicted on them and the psychological trauma that they experienced. For a long time, my mom was afraid to even walk on the street in the middle of the day, still afraid an attack could happen at any time. My dad still has pain in his wrist and both his knees.
I strongly believe that the attacker thought that he could easily get away with what he did, avoiding any severe punishment, based on his unrepentant words and behaviors following the attack and his arrest. And the plea deal proves that it was just a slap on the wrist for the hate crime he committed against me and my elderly parents. We have repeatedly expressed the frustration on the plea deal to the prosecutors. Three counts of simple assault with only one hate crime enhancement on national origin are simply unacceptable.
Therefore, I respectfully request that the court serve justice and issue the maximum jail sentence, which I believe is the right thing to do and will show the community that unprovoked violence against defenseless members of the community will not be tolerated, and that no one in the District of Columbia should live in fear of being targeted simply because of who they are.
Thank you.
U.S. v. Trebat
Community Impact Statement
By: Mike Silverstein, ANC Commissioner
I am offering this on behalf of 16 other openly LGBT+ elected D.C. Advisory Neighborhood Commissioners, and on behalf of the DC Center for LGBT. Sean Lai has asked me to speak for our community, and the AAPI community. As someone who was Bar Mitzvah at Tree of Life Synagogue in Pittsburgh, this takes on a special urgency to me.
Thank you, Your Honor, for the opportunity to give this victim impact statement. And please forgive me for the next 13 words, for they were not mine….
"Fuck you bitch!"
"Faggot!"
"You are not Americans! Get out of this country!"
Those were the 13 words Patrick Trebat shouted at Sean Lai and his elderly mother and father just before Mr. Trebat physically attacked them without provocation.
As they were out for a walk, the Lai family was beaten for no reason other than their race and Sean's sexual orientation.
As members of the LGBT+ community, we feel this was an attack on every one of us. It was a direct attack on our right to exist and to live openly in the District of Columbia.
We respectfully ask the court to issue the maximum jail sentence so that our community can feel that we are protected, and that we need not live in fear that those who would do us harm will get off easy. The maximum sentence will deter others from committing this brutal crime on our community and it will show the community that it is never open season on Asian Americans or LGBT+ people or anyone.
What happened to Sean and his parents reminds our community that violence against us — for being ourselves — can happen anywhere at any time: San Francisco City Hall, the Pulse nightclub in Orlando, the Atlanta shooting targeting Asians, an arson fire at a queer nightclub in New York City a month ago and all those unprovoked attacks on streets and subways against Asian Americans in the past two years.
Violent hate crimes are a plague upon our nation. What's next? The defendants' assault on Sean and his family is part of this ongoing horror.
Despite the progress we have made as a community, the LGBT+ community is still at risk, especially minorities. Murders of trans people have reached epic proportions. And here, this unspeakable attack on an Asian American and his family began with homophobic slurs.
Sean Lai is openly and proudly gay. He is proud of his Asian heritage.
He was attacked because of who he is — and that is who we are: Members of a minority, supposedly protected by law against discrimination and violence.
This brutal attack has deeply impacted and harmed us in many ways:
What happened to Sean brought back bad memories to nearly all of us, and fear and nightmares to some of us. So many of us spent years hiding who we are for fear of rejection and out of fear for our safety. Those of us who were in the closet kept silent as members of our community were bullied or attacked.
Those who have been bullied or attacked will always remember what happened to us. It becomes a part of us. Some in our community — especially our trans siblings — often do not walk alone in parts of D.C. or at certain times of the day because they don't feel safe unless they are with someone else. Each of us must deal with the emotional harm individually — and attacks like this one — out of the blue, on a pleasant summer evening — in the shadow of the National Cathedral — triggers us in so many ways.
We are sickened and angered by the incidents of physical violence against our community and we are tired of being overlooked or silenced. We are especially angered by the process of the criminal justice system.
To begin, this was an irrational, unprovoked attack on Sean and his family – and the community is extremely disappointed that the defendant was not detained pending the outcome of this case.
Sean and the LGBT+ community have waited months for closure in this criminal case, only to be here today to listen to a plea deal on misdemeanor charges. A victim of another hate crime in DC several years ago may have put it best, when she said, "when you bargain away the hate crime enhancement, you bargain away part of my soul."
I also want to address the fact that, with respect to the crimes against Sean, the defendant was never charged with a hate crime enhancement with respect to sexual orientation; and, the crime that the defendant pled guilty to did not include any hate crime enhancement at all – just simple assault. Sean has repeatedly expressed to the prosecutors how important it is that the hate crime enhancements be included for both national origin and sexual orientation. Our community is disappointed that the defendant was not charged with a hate crime based on sexual orientation because a gay person was called "bitch" and "faggot," physically assaulted, injured. If that's not a hate crime based on sexual orientation, what is?
A sentence without significant jail time will leave members of the LGBT+ and Asian American community even more victimized, vulnerable and distrustful of the criminal justice system.
We are here today to implore the court to impose a sentence that will send a clear message that violence against people for who they are will not be tolerated.
We must stop Asian hate. We must stop violence against the LGBT+ community. We must stop violence against all people who are attacked because of race, religion, national origin, sexual orientation or whatever. This epidemic of hatred and madness and violence is tearing our nation and our community apart. We must not live in fear, one of another.
We request a long jail sentence that shows that this court affirms the right of every person in the District of Columbia to live honestly, openly, and without fear.
We ask that the court provide justice for Sean and his family, the Asian-Pacific community, and the LGBT+ community. Thank you.
Out New York City man dies after visit to gay venue in Hell's Kitchen
In the weeks following his mysterious death his family is trying to raise awareness as they wait for additional info from the NYPD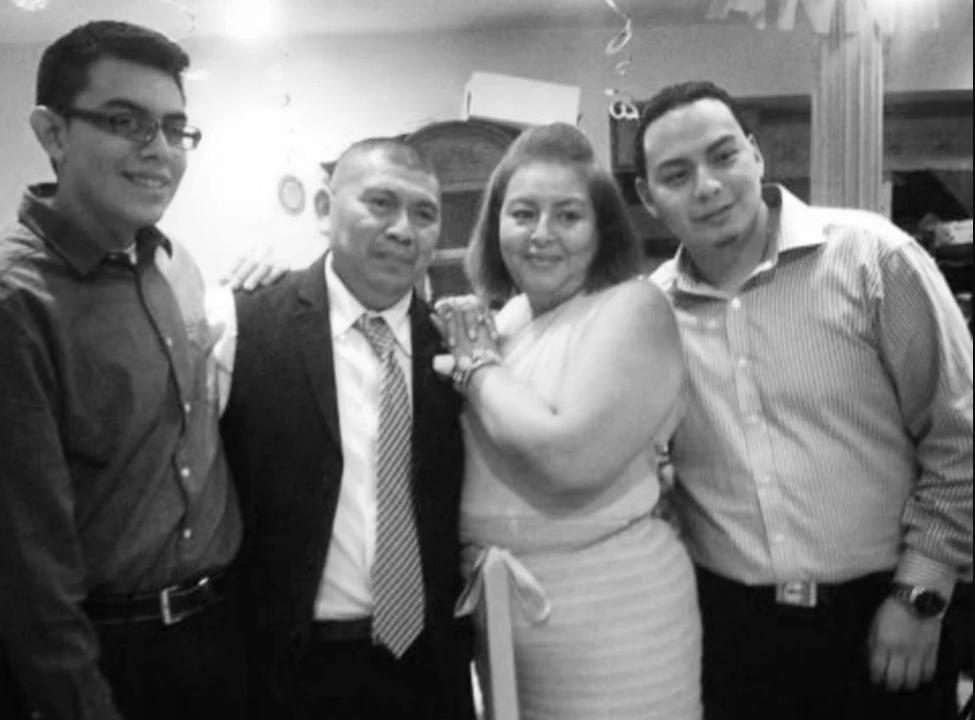 NEW YORK – A night out last month ended tragically when a gay 25-year-old social worker died in the back seat of a taxi in Manhattan's Lower East Side neighborhood. Julio Ramirez had earlier met up with his friend Carlos Camacho, a 24-year-old aspiring actor, who lives in the neighborhood of Hell's Kitchen, a Manhattan neighborhood near Times Square famed for a lively restaurant and bar scene.
NBC News reported that not long after Ramirez and Camacho stopped in at the Ritz Bar and Lounge, a popular, multilevel gay venue in the heart of the Hell's Kitchen restaurant row, surveillance footage from a nearby security camera shows Ramirez walking away from the venue with three unidentified men at 3:17 a.m., according to his brother, Carlos, who said he was briefed by investigators.
The four men then entered a nearby taxi, a police source said, but Ramirez was alone in the backseat at 4:10 a.m. when the taxi driver approached a police officer 3 miles away in Manhattan's Lower East Side neighborhood to say his passenger was unresponsive.
According to a source with the NYPD, Despite efforts to save his life by the officer and the Emergency Medical Services team, Ramirez was pronounced dead at a nearby hospital at 4:49 a.m. on April 21 NBC News reported adding that the initial cause of death was listed as a "possible drug overdose." Ramirez's official "cause and manner of death are pending further study," according to the medical examiner, who told NBC News in an email that this could take "at least a few weeks." 
Family members are also asking questions as they try to piece together what happened in his final hours. Who were the men who entered the taxi with him? Was he drugged? Are investigators prioritizing his case? Where are his phone and wallet? Who drained his bank accounts in the days following his death? He was initially listed as a 'John Doe' as his wallet, phone, and identification were missing at the time of his death.
Between April 21, the day Julio Ramirez died, and April 25, his checking and savings accounts were depleted through purchases and third-party applications like Apple Pay and Zelle, Carlos Ramirez said.
"They had literally taken every dollar that he had, all his savings and all of his money," Carlos Ramirez said, adding that approximately $20,000 was taken from his brother. He said he shared this information with investigators, though the NYPD would not confirm this detail to NBC News. 
In addition there are questions about text messages shared with NBC, and the timeline after his disappearance and events surrounding the draining of his bank accounts. NBC noted that Ramirez was buried at Pinelawn Cemetery in Farmingdale, New York, on April 30. Two weeks later, on May 14, his family and friends held a memorial service in Buffalo. 
In the weeks following his mysterious death, his loved ones have been trying to raise awareness about his story as they wait for additional information from the NYPD and the city's medical examiner. 
Read the full story at NBC News OUT here: (Link)