Meet Imani Rupert-Gordon, NCLR's new leader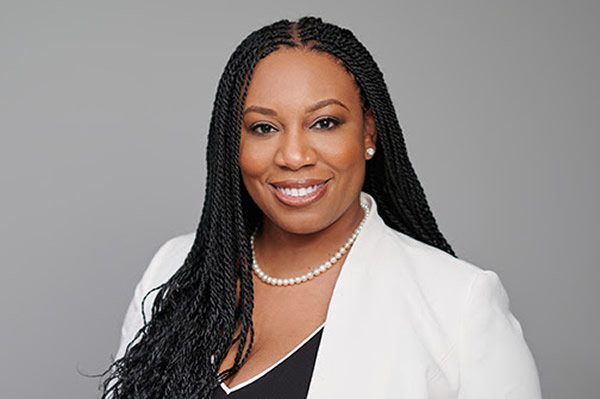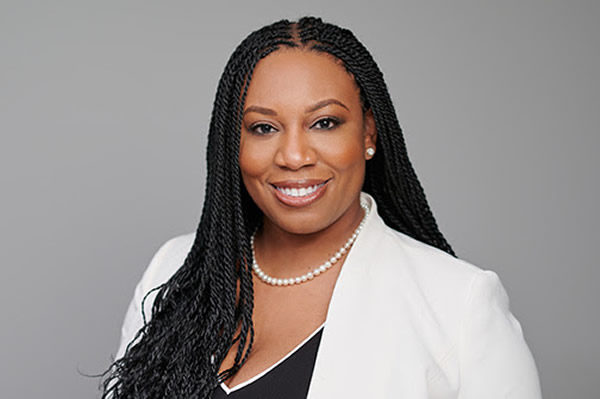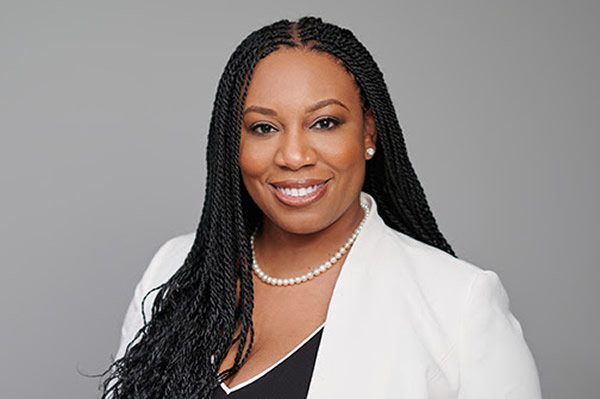 Laughter. Full-throated, hesitancy-clearing, energetic laughter. Thirty seconds into Imani Rupert-Gordon's inaugural phone interview with the Los Angeles Blade, the new executive director of the National Center for Lesbian Rights poofs away old ideas of protocol and power differentials and launches into a conversation between two humans living in a shared space.
Kate Kendell, the LGBTQ icon Rupert-Gordon is replacing at the helm of NCLR after Kendell's 22 years of service, had a similar experience.
"Apart from her substantial resume, experience and gravitas, the thing I most remember when I first met Imani in San Jose was a smile that had a wattage unlike most I had ever seen and an open heartedness that made me feel like we had been friends for years, rather than this being our first meeting," Kendell tells the Los Angeles Blade. "You cannot teach that kind of openness and generosity of spirit. It is something one either possesses or never gets. And she had it and that quality is one of those intangibles that marks a leader for the ages."
Rupert-Gordon's humor and humility are evident immediately, disarming in a context where leadership generally implies an air of assumed arrogance. But her way of being reflects an apparent larger trend in new leadership at other national LGBTQ organizations, where the character derived from lived experience is as important as a resume packed with prestigious degrees and power-punch relationships.
"Do they know that I'm a social worker?" Rupert-Gordon asked when told NCLR's head-hunters wanted to meet her. "I went into this thinking OK, obviously they're looking for something different and I said, so I'm just going to talk about where I think the movement is, where I think the movement should go next, and NCLR's place in that," she tells the Los Angeles Blade.
"I think what really stood out to them was my understanding of intersectional issues and the way that I look at the movement. I think it probably provided a unique perspective, as well as someone that's not a lawyer. Something that I've been telling people over and over again — they have a lot of lawyers at NCLR and they are at the top of their fields. Perhaps they don't need another lawyer. I think that they really saw and appreciated my vision. I've always been very impressed by the work at NCLR. NCLR was created to be intersectional. That's something I really value in the movement, and so, I feel really good about moving to this organization."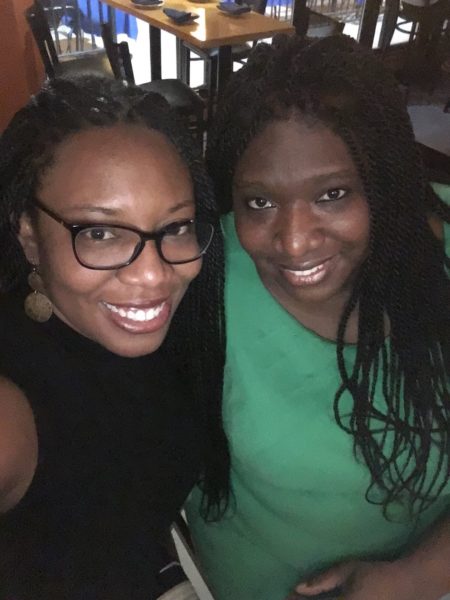 Imani Rupert-Gordon with sister Maya Rupert (Photo from Maya Rupert's Facebook page, Jan. 19, 2017)
In fact, NCLR is kind of a family thing. Rupert-Gordon's straight sister Maya Rupert, a 2006 graduate of Berkley Law School, joined NCLR in 2010 as federal policy director because of her sister.
"My work for the LGBT community came from my sister and wanting to do something that would be meaningful and impact a number of lives, hers included," Rupert told Hello Beautiful. "The question that NCLR always asks is who's being left out of the conversation, so this is an organization that's specifically being active about being proactive for people who are a part of marginalized communities and so many other issues that we talk about and think about."
Rupert took that fight against discrimination through an intersectional lens to the US Department of Housing and Urban Development where she became a Senior Policy Advisor to HUD Sec. Julian Castro. She pointed out, for instance, that while the seemingly neutral Fair Housing Act prohibits discrimination in housing based on race, color, religion and other categories, it does not include protection for people with a personal criminal background.
Rupert – a widely honored writer with such essays as "Imagining a Black Wonder Woman," "This 'cool black girl' is gone," and "Nothing defensible about DOMA" –subsequently became Castro's campaign manager when he announced his candidacy for the Democratic presidential nomination in 2020.
When Rupert-Gordon settles into her new San Francisco-based job next March, she will be leaving Chicago and coming home to California. Born in Bedford Heights, Ohio 40 years ago last April 17, Rupert-Gordon grew up in Yucca Valley.
"My experience was very much in the Joshua Tree, Yucca Valley County where I grew up, went to elementary school and high school," she says. Upon graduation, she went to school near San Diego until her sister went to UC Santa Barbara. "I transferred to UC Santa Barbara with her by the winter. My sister and I are very, very close," she says.
After graduating with a bachelor's degree in sociology, Rupert-Gordon went to the University of California, Santa Cruz, where she worked in residential life for almost eight years, lectured, and cofounded the Social Fiction Conference, which uses science fiction as a lens through which to view bias and injustice.
Though happy there, she started thinking about going to graduate school. "When I was thinking about what it is that I loved, I really enjoyed working with folks as they're sort of working through things themselves," something she experienced as a student navigating life without a cohesive bridge between her academic and non-academic worlds.
Rupert-Gordon intended to get her master's degree in social work through an online program but her then-girlfriend, now wife Derah (38) encouraged her to go to graduate school and have a great experience as she had. Derah promised to move with her to a big city where advertising jobs were more readily available than in Santa Cruz.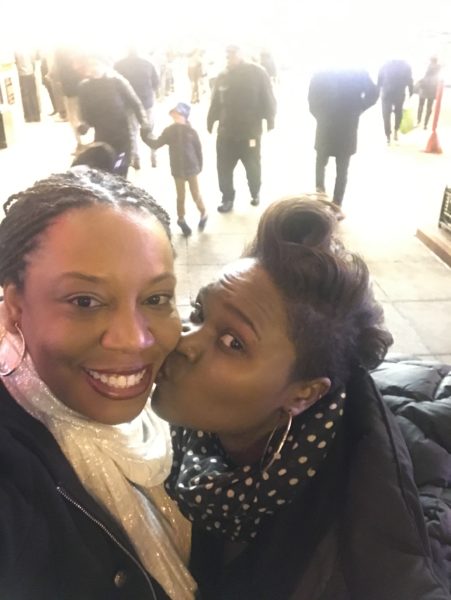 Imani Rupert-Gordon with wife Derah Rupert-Gordon (Photo courtesy Rupert-Gordon)
"When there's this person you want to spend your life with who just wants more for you than you do with yourself in that moment — and that's how I really thought of that — we went to Chicago," where she earned her master's degree from the University of Chicago School of Social Service Administration.
But upon graduation, Rupert-Gordon found it hard to find a job. She landed at Broadway Youth Center providing therapy to LGBTQ youth. But she grew restless. "I felt like I still had things to give, but I didn't feel like the things that I had to give were as unique in such a way that no one else could do that," she says.
Fortuitously, the executive director of Affinity Community Services — the nation's oldest Black LGBTQ social justice organization — was leaving and encouraged her to take the job. She's been there for four years.
Now Rupert-Gordon thinks she has something to give the national movement.
"I think that as we're working to do more inclusive and more intersectional work, that I have something to provide here," she says. "I'm really excited about working specifically at a law firm where we're going to be integrating litigation and legislation and policies and public education. I think working to create an integrative approach is something that social workers do often. So, I'm excited to bring that perspective to NCLR."
That includes frank discussions about social justice issues.
"I've experienced overt racism before," though that experience is not always as relevant to the way she approaches race politics, Rupert-Gordon says. "Overt racism is sometimes easier to confront because most people understand overt racism as racism. For instance, if someone says 'the N-word,' most people recognize that as racism.
"What I experienced growing up," she continues, "is people explaining that 'You're not like other Black people, you're cool,' or saying something like, 'You don't sound Black.' I knew that these people were trying to compliment me, but it didn't feel like a compliment. What they were saying hurt and I didn't always have the language to explain why it hurt.
"Systemic and institutional oppression often requires a more thoughtful and nuanced analysis because not everyone recognizes it as oppression," Rupert-Gordon says. "I'm interested in the systems in place that support oppression. For example, the G.I. Bill made it possible for folks to really buy homes for the first time, but loans from the FHA were given to people based on race and subsequently the equity in those homes were then attached to race—and that is just one example of how generational economic mobility is attached to race in this country.
"So when people talk about people with low incomes being 'lazy,' I'm frustrated because there is something systemic being ignored —and that is not a little thing. That's a big thing. And that narrative is untrue, and dangerous," she says. "So when I think of racism, or any oppression, I don't necessarily think about individual events that happened to me but systematic ways that people experience oppression based on identity. I'm not saying that racism is the exact same as heterosexism or sexism. I'm saying that we are missing something if we don't think about the institutional, systemic dynamic."
And, says Rupert-Gordon, "if we don't consider institutional oppression within the LGBTQ movement, then folks that experience multiple jeopardy or oppression because of multiple parts of our identity, will not be able to fully benefit from the wins of the LGBTQ movement. Our movement has to be intersectional if we are going to achieve equality."
Rupert-Gordon had to use her own critical thinking to grasp the concept of "intersectionality."
"It's an experience I had growing up [in Yucca Valley] that I didn't have a word for. When I think about my first understanding of intersectionality," she says, "it was when we were talking about the Constitution," and the different times Black people and women were given the right to vote. "They had this conversation as if there were no Black people that were women, and I was the only one, and I think that's how my teacher at the time was just talking about that.
"I remember being incredibly confused — when does that mean that I would be able to vote?" Rupert-Gordon continues. "I just realized that I didn't know how to ask the question, and I was the only one that would've asked the question. I knew that I was the only one that was having this experience."
Later, she learned the term "intersectional," a term developed in 1989, that became "really everywhere for me," and still is.
People under-represented identities are talked about "as if we can segment the parts of our identity and we can talk about it, just one thing," Rupert-Gordon says. "The thing is — I can't talk about being a queer person without my experience being a Black woman. All of those things happen together. And so, when the expectation is for me to separate it, that's not something I can do." She wants to talk about "how someone can bring their entire self, their entire experience and be represented in this movement."
But, Rupert-Gordon adds, "representation is important, but representation doesn't shift cultures. It doesn't change institutions. It doesn't shift the power dynamic. And so, it would mean putting the education in schools [and] changing the culture fundamentally," realizing, for instance, that while history is a mandatory course, Black history is an elective.
"I'm a Black, queer woman. There was definitely a time in the feminist movement that I wasn't included in that. When we looked back on the first and second waves of feminism, many of us are ashamed that it looked the way that it did, and when we think about being inclusive about what our feminism looks like, we have an opportunity to mention that are learning from the past, and we are including more," says Rupert-Gordon. "I'm sympathetic when folks explain that they feel like they're going to be left out of the movement because, the thing is — many of us have been left out of a movement, and we are sometimes just terrified that that will happen again, that we would be ignored in the movement.
Rupert-Gordon is blunt. "There is enough equality to go around, and that's what I want to make sure that we are paying attention to — that we're all going to be better when we're all better," she says. "Once upon a time, my Blackness made someone question how much of a woman I could be. Any time you're in a situation where you're having people question your gender or if you belong somewhere, then that hurts all of us. Our feminism and our movement has to be thoughtful around that."
The "future core for our movement," she says, "absolutely has to become a racial justice movement. It has to become an economic justice movement. It has to become a gender justice movement. It doesn't help when we are working to fight for protection and to provide support and liberation for all LGBTQ folks if people aren't able to fully access them because they experience racism or they don't have the economic power to utilize or appreciate what's happening. We have to work with folks that are at the margins, people that are experiencing discrimination at multiple levels. Because when we start working with folks that are experiencing the most amount of discrimination, if we start from those folks, everyone will benefit from what we do."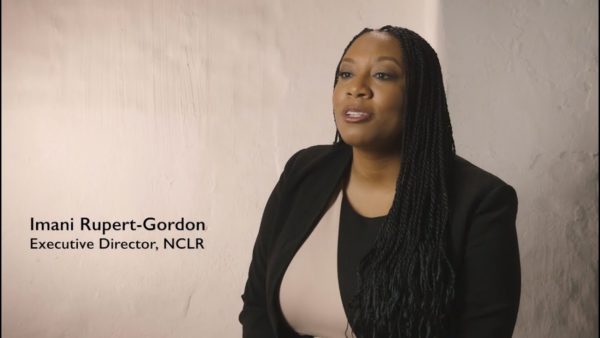 Rupert-Gordon says she doesn't have all the answers but she knows it starts with working in coalition, with everyone working to achieve the same goal. But it's more, going beyond inclusion.
"Inclusion is getting everyone to the table," she says. "It's providing perspective. But it doesn't get that power shift. That is what's going to need to happen. We're going to need to shift power" to create a movement that's more economically just, more gender inclusive and picks leaders who "can actually lift up our entire movement."
Rupert-Gordon says she's already having discussions about this transformation, including with NCLR's renowned legal director, Shannon Minter.
"Shannon is also an icon, so I definitely have had conversations with Shannon about this — about sort of what's next and being really thoughtful, really strategic in finding new ways to be successful in supporting this community," especially since President Donald Trump has remade the judiciary to be more conservative and anti-LGBTQ.
"When we think about being more inclusive, we're looking at a variety of things that keep folks in places of oppression," she says. "We're thinking about issues that people don't necessarily think about being LGBTQ issues — things like voter suppression and criminalization of sex work. When we think about prison systems in juvenile justice and folks in foster care systems, there are many things that are keeping folks from being free."
Kendell is "over the moon" about Rupert-Gordon leading NCLR into the future.
"What she brings is a lived experience of what we popularly call 'intersectionality.' It's not an experience that is intellectual, although it might have pieces of that. It's not an experience that is scholarly, although it likely has that. It's not an experience that is born of empathy, although certainly there will be some of that, too," Kendell tells the Los Angeles Blade, as if rhetorically handing off the mantle.
"It is an experience as a Black lesbian, of understanding that the world every LGBTQ person deserves is a world where every piece of themselves is integrated, seen, valued and acknowledged and appreciated," says Kendell. "And it is a unique life experience that queer people of color possess and that is so much about where the movement is headed next that will make Imani exactly the kind of leader to keep NCLR current and relevant and to assure that the movement is a movement for the entire queer community, not just certain segments."
Rupert-Gordon is not cavalier about the work ahead. "Trust is not something I take for granted. It's something you have to work for," she says. "I have a commitment to radical transparency. I want to be part of transforming our movement so that it includes more of us."
Biden calls Club Q owners; community grapples with aftermath
Fallout over the shooting continues as anger mounts at what many in the LGBTQ+ community see as a resurgence of anti-LGBTQ+ hate speech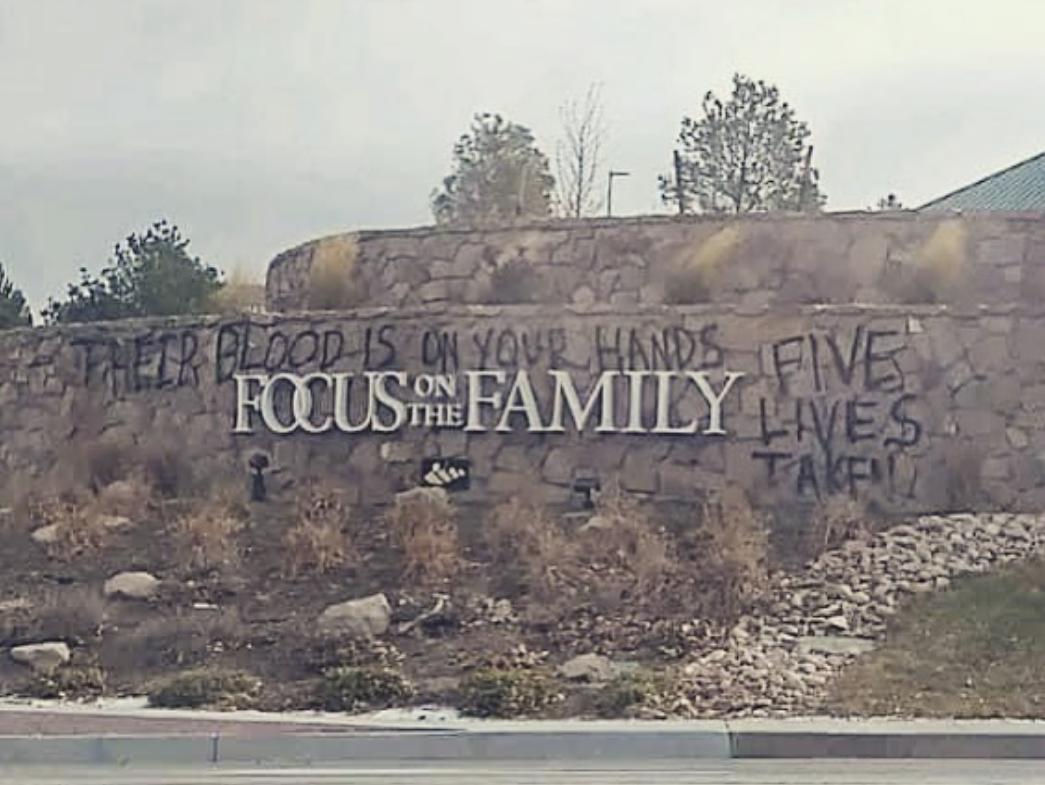 COLORADO SPRINGS – As the LGBTQ+ community continues to mourn the loss of the five people killed in last weekend's mass shooting, focus is now shifting to a reflection of anti-LGBTQ sentiment that has evolved from prejudice to incitement according to Nic Grzecka a co-owner of Club Q.
In an interview with the Associated Press, one of his first since the chaos of the aftermath created by the mass-shooting, Grzecka said he believes the targeting of a drag queen event is connected to the art form being cast in a false light in recent months by right-wing activists and politicians who complain about the "sexualization" or "grooming" of children.
Even though general acceptance of the LGBTQ community has grown, this new dynamic has fostered a dangerous climate, he said.
"It's different to walk down the street holding my boyfriend's hand and getting spit at (as opposed to) a politician relating a drag queen to a groomer of their children," Grzecka said. "I would rather be spit on in the street than the hate get as bad as where we are today."
On Thursday, President Joe Biden spending the Thanksgiving holiday with the First Lady and family members in Nantucket, Massachusetts, called Grzecka and Club Q co-owner Matthew Haynes.
The President and the First Lady offered condolences and reiterated their support for the community as well as their commitment to fighting back against hate and gun violence. They also thanked the two men for the 'incredible contributions they have made and will continue to make to Colorado Springs.'
The president told reporters enroute to Nantucket, reflecting on the mass-shooting at the LGBTQ+ club and then another mass-shooting Tuesday, at a Wal-Mart store when a night manager opened fire in a breakroom in Chesapeake, Va., killing six, and wounding at least half a dozen more, said he has plans to support a bill banning assault rifles during the lame-duck session before the next Congress is seated in January.
"I'm going to do it whenever — I got to make that assessment as I get in and start counting the votes," Biden said
As the memorial outside Club Q grows, more attention is now being focused on the needs of the survivors and others in the LGBTQ + community in Colorado Springs affected by the mass-shooting.
An annual 'Friendsgiving' feast for the members of the LGBTQ+ community unable to spend time with relatives because of their being LGBTQ+ and which was normally held by the owners and staff of Club Q was shifted to a community dinner at the Colorado Springs MCC Church.
In an Instagram post, earlier in the week, Grzecka thanked Colorado Governor Jared Polis, state Attorney General Phil Weiser, Colorado Springs Police Chief Adrian Vasquez and city councilmember Nancy Henjum whose district the LGBTQ+ club is located, "for your hard work to ensure there was a Crisis Center to service the Club Q and Colorado Springs community during the holiday."
Fallout over the shooting continues as anger mounts at what many in the LGBTQ+ community see as targeted hate amplified by a resurgence of anti-LGBTQ+ hate speech online and by right-wing media outlets and far-right figures such as Fox host Tucker Carlson.
Colorado Springs is also home to Focus on the Family, one of the largest anti-LGBTQ+ groups in the United States. The Christian ministry group has opposed same-sex marriage, LGBTQ+ service in any branch of the U.S. armed forces and continues to advocate for the discredited practice of conversion therapy.
Late Thursday person or persons unknown vandalized the sign at the main entrance to the group's headquarters complex. "We went out there to investigate if there was a crime that took place," Colorado Springs Police Department spokesperson Sgt. Jason Ledbetter told the Gazette regarding the overnight incident. "There is no suspect information at this time."
In a Instagram post, Club Q owner Grzecka displayed a picture of the vandalized sign with graffiti spray painted in black reading; "Their blood is on your hands five lives taken."
In his message accompanying the picture, Grzecka noted:
Focus on the Family moved to our city in the 90's, was a large group behind pushing through amendment 2 along with Colorado for family matters. People such as Dr. James Dobson and Will Perkins have spread a nasty, false and hurtful narrative about our LGBT community.
Amendment 2 was passed in 1992, and Colorado Springs ( El Paso county) were the votes to pass the amendment, the same amendment that gave our city the nickname "hate city USA"
Words have consequences and your continuous false narrative about the lgbt community has consequences,
@focusonthefamily this message added to your sign has more truth to it than you may actually be able to understand.
This is not vandalism this is not an attack on Christian's. This message is just that a message that was delivered in a way to ensure you receive it.
@cityofcos, Mayor Suthers when can we meet to discuss how this type of Anti Gay speech, is coming from our own backyard.
The Gazette also reported that people from around the nation are holding in-person and online fundraisers for victims and families of the Club Q mass shooting.
While the state has an official online donation site, the Colorado Healing Fund, a private online drive, also has become one of the largest appeals.
Good Judy Garage in Denver, an LGBTQ business, raised $25,000 in two hours after starting a GoFundMe drive on Sunday. The initial goal was upped to $50,000 and now is at $750,000, as donations continue to pour in. As of Friday, the amount collected was $761,707 raised.
Link to the GoFundMe: https://www.gofundme.com/f/support-for-the-club-q-families-and-survivors.
Focus on the Family headquarters sign vandalized in wake of Club Q shooting https://t.co/VZc3HQTKEy

— KKTV 11 News (@KKTV11News) November 25, 2022