Julian Castro drops 2020 presidential bid
Former HUD secretary has mocked Biden over his age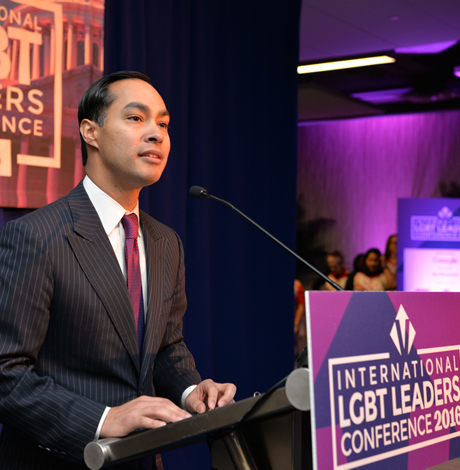 Faced with continued difficulties in getting his campaign off the ground, Democratic candidate Julian Castro, the only Hispanic contender in the 2020 crowd, announced Friday he has suspended his presidential bid.
"It's with profound gratitude to all of our supporters that I suspend my campaign for president today," Castro wrote on Twitter. "I'm so proud of everything we've accomplished together. I'm going to keep fighting for an America where everyone counts — I hope you'll join me in that fight."
Castro had struggled with his candidacy and languished at around 1 percent in polling. Many Democrats were turned off by Castro in a debate performance when he appeared to mock Joseph Biden, the current front-runner in the primary, over his age. Castro announces he has dropped his presidential bid on the same day other candidate are trumpeting their fundraising totals for the fourth quarter of 2019.
A key point in Castro's candidacy was his LGBTQ work as secretary of housing and urban development in the Obama administration, when he oversaw the expansion of the Fair Housing Rule to ensure taxpayer-funded homeless shelters couldn't turn away transgender people based on their gender identity.
During the Trump administration, however, Secretary of Housing & Urban Development Ben Carson, has withheld guidance to shelters on this expanded rule and proposed a regulatory change that would allow exemptions for shelters to discriminate against homeless shelters based on religious objections and other reasons.
Castro touted his commitment to the LGBTQ community at the presidential forum hosted last year by GLAAD, which won him the support of at least LGBTQ person, as well as the Human Rights Campaign forum.
MSNBC's Rachel Maddow is set to have a live, exclusive in-studio interview with Castro later on Thursday at 9 pm.
Trans student leads walk out over sexual assault allegations in Minnesota
"It was disturbing how many kids came forward to say that they too had been the victims of sexual harassment or assault"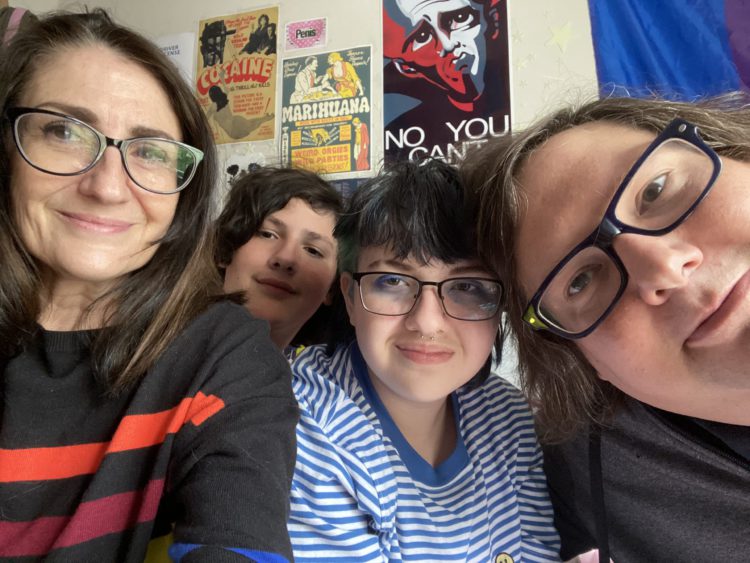 PLYMOUTH, Mn. – Armstrong High School senior Ferris Santineau had decided that he was over being talked down to and patronized by school officials over his concerns that an alleged perpetrator of sexual assaults- a fellow student, was still allowed on campus.
The 17-year-old, who identifies as trans-male and bisexual, led a protest of approximately 250 plus fellow students and classmates out to the athletic fields Friday afternoon to send a highly visible message that enough was enough.
Santineau, who spoke to the Blade by phone immediately after the protest rally, said that his actions and the support from other students stemmed from a series of alleged sexual assaults against another 17-year-old Trans student on the campus that he is a close friend of.
According to Santineau, school administrators had been far less willing to believe the victim and when he attempted to intervene, he was met with an adversarial attitude by the school resource officer, (SRO) and a staff member who kept him in room for ninety minutes and interrogated him by himself. Santineau, told the Blade that he felt threatened by that encounter, noting that the entire time of the interview, the SRO had his hand placed on top of his taser on his duty belt.
Santineau, also told the Blade that he has been diagnosed with Attention-deficit/hyperactivity disorder, (ADHD) which made the confrontation with the SRO and staff member worse.
"I felt like it was an interrogation, I have ADHD and asked them to be patient, but they kept interrupting me which made it worst," he said. "I was trying to keep track of what we were talking about, then they'd interrupt and I'd try to ask a question then they told me I needed to be patient." He added that he felt as though they were not listening at all.
He characterized the school administrators, the SRO and other staff as not believing the victim and even after multiple students and he had approached them to plead for the alleged perpetrator to be removed from campus, instead allowed him to stay enrolled and at least two occasions escorted the alleged assailant to his car. His presence had caused the victim to not attend classes and stay away from the school..
Santineau noted that Armstrong is running both in-person and virtual classes as a result of COVID-19 protocols.
Asked why the victim, his best friend, hadn't reported the incidents to law enforcement or others and Santineau's answer was blunt; "He didn't think anything would be done about it especially since he was dating the assailant- and he wasn't going to be believed."
Steven Santineau and his wife Melinda, Ferris' parents, are frustrated and angered by the high school administrators attitudes. Steven Santineau told the Blade that he and his wife had gone to the school Friday to support his son's rally and to be there in solidarity with the students and the victim who they also know.
"I spoke to the principal who basically said that I was lucky that the school was communicating with me. He literally implied that the only people the school would be dealing with was the victim and his parents- it was a ' we don't need to deal with you mind your business,' attitude," Steven Santineau said. He indicated that the school was also blaming his son for creating a firestorm on social media when according to the school, "as a result of the 'interview' the school claimed that only Ferris was knowledgeable of the assaults." The Santineaus say that is untrue.
What stood out to both he and his wife were the number of students at the rally who spoke out on the subject of sexual assaults. "It was disturbing how many kids came forward to say that they too had been the victims of sexual harassment or assault and the school took no action," Melinda Santineau said.
In the case of the first victim, according to Ferris Santineau, nearly half the of sexual assaults took place on campus with the remainder off-campus. His father noted that the school claimed to him that it had reviewed three years of video surveillance footage from school property in a single day prior to Friday's rally.
Ferris Santineau indicated that because the alleged perpetrator was still attending Armstrong, he and the others want him expelled and a proper investigation conducted. His father told the Blade that principal said that the victim needed to file a police report and the school would then take appropriate action.
"I want my friend to feel safe," Santineau told the Blade "I want the school to actually do something when somebody comes to them, because during the protest I asked 'How many people felt like they weren't being heard?' many more hands came up. 'how many people were sexually assaulted?' too many hands came up. 'How many people were silenced?' and like that."
His parents want a greater sense of accountability but are frustrated with the lack of proactive action on the part of staff. The school notified parents via text and emails about the situation after the rally not prior Steven Santineau said and provided the Blade with a screenshot. He added another screenshot with student comments taken after the text was posted to social media accounts.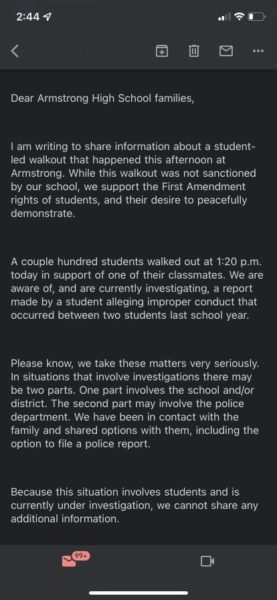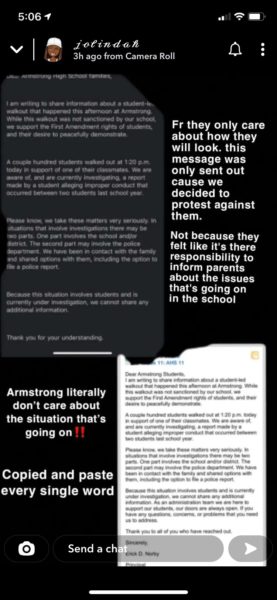 Calls to the Robbinsdale Area Schools, the district for Armstrong High by the Blade were not returned, however, in a statement to local NBC affiliate KARE 11 in Minneapolis, Armstrong administrators say they are investigating the alleged sexual assault between two students while students demand expulsion.
KARE also reported that on September 16, a letter was sent to inquiring parents that detailed the initial investigation.
"We have been in contact with the family and shared options with them, including the option to file a police report," the letter stated, in part.
In the meanwhile the Santineau family is upset at the seemingly cavalier manner the school is handling the situation and angered at the treatment their son has received.
Video from KARE NBC 11 Minneapolis: Hundreds of students walk out of Armstrong High School to protest sexual assault allegations:
Rep. Karen Bass to enter Los Angeles mayoral race
Bass has been working to dismantle systemic racism, as well as other forms of social, racial and economic injustice, for decades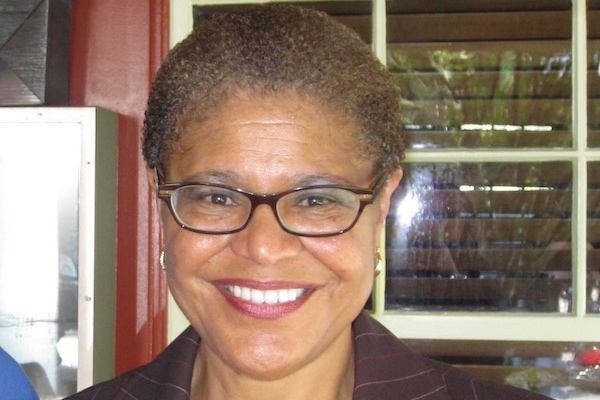 LOS ANGELES – In a breaking story published Friday morning, the Los Angeles Times reported that Democratic Congresswoman Karen Bass, who represents California's 37th congressional district, which covers several areas south and west of downtown LA will enter the mayor's race.
U.S. Rep Karen Bass (D-Los Angeles) intends to run for Los Angeles mayor, according to three people familiar with her plans. Such a move would shake up a contest that, until this past week, which saw the field of candidates increase, had been a fairly sleepy affair. Bass, a high-profile Democrat who has served in both Sacramento and Washington, D.C., could announce her entry into the mayor's race as early as next week, those sources told The Times.
Bass has been working to dismantle systemic racism, as well as other forms of social, racial and economic injustice, for decades. She is a community activist who was raised on civil rights activism in LA's Jewish Venice-Fairfax district, volunteered for Bobby Kennedy's presidential campaign in middle school, graduated from Hamilton High School in West LA in 1971, studied philosophy at San Diego University but switched her attention to healthcare, graduating from USC's Keck School of Medicine Physician Assistant Program. She subsequently received her BA in health sciences from Cal State/Dominguez Hills and her Masters in Social Work from USC.
Bass focused that training on fighting the crack epidemic in South LA, where she founded the Community Coalition to fight for substance abuse prevention programs and better foster care and relative caregivers, like grandmothers.
She also fought the AIDS epidemic — all experience directly applicable to dealing with the ongoing Opioid crisis, as well as COVID-19.
"I went through the AIDS crisis from its very beginning. I watched all of Santa Monica Boulevard get wiped out near Vermont (Ave.). That whole area there. I watched everybody die within a matter of two years," Bass told the Los Angeles Blade. "But I think that this [COVID-19 crisis] is really hard because you don't have to have any physical contact….People are building the plane while it's flying."
Torie Osborn, the executive director of the Los Angeles Gay and Lesbian Community Services Center in 1989, met Bass at a meeting of progressive grassroots activists in a South LA church basement.
"This woman I didn't know came up, introduced herself as Karen Bass from South LA, an anti-police violence activist and a physician assistant," Osborn says. The two talked all day with Bass noting that the gay community's experience of AIDS deaths was similar to what the Black community was experiencing during the crack epidemic.
"I had never heard anything like this before. She knew gay men. She clearly was an ally," Osborn says.
Last summer the Biden campaign vetted Bass as a potential candidate for the number two spot on the Democratic ticket in the race for the White House, which ultimately ended up with then California U.S. Senator Kamala Harris as Biden's choice.
"Los Angeles is facing a humanitarian crisis in homelessness and a public health crisis in the disproportionate impact this pandemic has had on Angelenos," Bass spokesman Zach Seidl said in a statement, when asked for comment by the Times. "She does not want to see these two issues tear the city apart. Los Angeles has to come together. That's why the Congresswoman is considering a run for mayor."
Earlier this past week, another LGBTQ ally, Los Angeles City Councilman Kevin de León, a Democrat, announced his intention to seek the mayor's chair after current Mayor Eric Garcetti, who was elected for a four-year term in 2013 and again in 2017- who's limited to serving no more than two terms- was picked by President Joe Biden to serve as the U.S. ambassador to India on July 9, 2021.
Activistas LGBTQ en Chile quieren llegar al Congreso
Se realizarán las elecciones el 21 de noviembre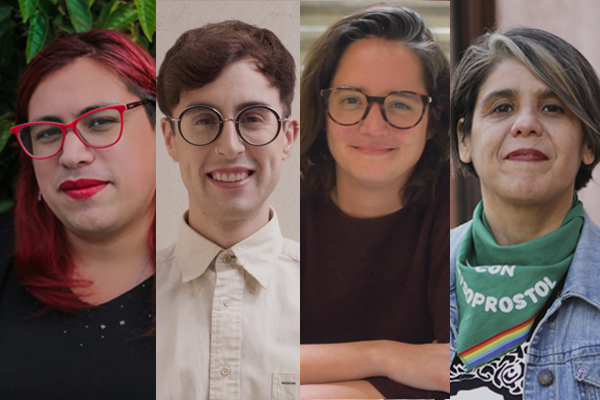 SANTIAGO DE CHILE — El miércoles comenzó legalmente en Chile el periodo de campaña electoral que permite a los candidatos pedir el voto y difundir sus propuestas ya que el 21 de noviembre los chilenos deberán volver a las urnas para elegir a presidente, congresistas y consejeros regionales.
Todo esto en medio de un año cargado de elecciones en ese país latinoamericano que atraviesa el proceso de transición política más importante en los últimos 30 años, donde hasta hay al menos 10 candidaturas LGBTQ en carrera.
Los resultados de aquella elección vendrán acompañar el trabajo que viene realizando la Convención Constitucional, un órgano encargado de redactar la nueva Constitución y que en aquellas elecciones apuntó un triunfo histórico al elegir a nueve constituyentes abiertamente LGBTQ.
Una victoria que activistas queer quieren llevar a los comicios de noviembre levantado sus propias candidaturas. Algunas de ellas, ya postularon en las pasadas elecciones y vienen por la revancha, pero está vez con la intención de llegar al Congreso y desde ahí contribuir a mejorar la calidad de vida de la población LGBTQ.
Hasta ahora, ningún candidato fuera del closet ha sido electo.
"Sería fantástico que una persona de la diversidad sexual y género, llegará al Congreso en estas elecciones. Creemos que la presencia de alguien que sea parte de la comunidad y que tenga un vínculo más directo con los movimientos sociales, en particular con los que tienen que ver con diversidad sexual y de género nos podría ayudar muchísimo a instalar las necesidades", mencionó al respecto la directora ejecutiva de Fundación Iguales, Isabel Amor.
Para ella "es fundamental que, eventualmente, lleguemos al Congreso. Esto tiene que pasar ojalá lo más pronto posible, porque a nivel simbólico saber que una persona está en un lugar de poder para las personas de la diversidad sexual y de género, es algo tremendamente significativo después de décadas, décadas y décadas de que nos digan que no podemos estar en los lugares donde se toman las decisiones de nuestro país. Sería fantástico que alguien que es lesbiana, gay, bisexual o trans sea parte de este espacio".
Según el Servicio Nacional de Elecciones (Servel) 15.030.963 de personas están habilitadas para participar del proceso: 14.959.945 electores en Chile y 71.018 en el extranjero.
Erika Montencinos (IND), una histórica activista lesbofeminista que postuló para ser diputada por el distrito 9, en la Región Metropolitana, dijo al Washington Blade que "decidí llevar adelante esta candidatura porque creo que es una oportunidad histórica para mis comunidades. Siento que nosotros necesitamos estar en estos espacios de poder y, como dice mi eslogan avanzar con nuestras propias voces".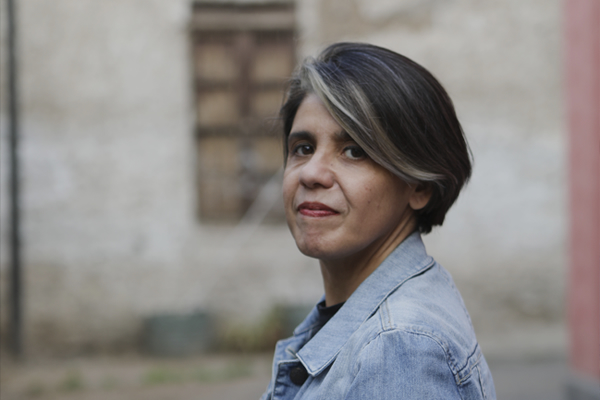 "Llevo muchos años de trabajo con mi agrupación. La Agrupación Lésbica, Rompiendo el Silencio y para mí dar este paso es entrar a otro mundo. Pero sin embargo lo llevo con mucha alegría y teniendo muy claro que estoy representando a a mis compañeras y a tantas otras compañeras, que hemos sufrido la discriminación. Por eso es tan importante llegar a esos espacios de poder" comentó Montencinos sobre las razones de inscribir su candidatura.
Constanza Valdés (Comunes), una conocida activista trans que lleva años trabajando como asesora legislativa competirá por el distrito 7 en la Región de Valparaíso. "Esta candidatura, la decidimos levantar a raíz del trabajo que venimos realizando hace años las organizaciones sociales en el mundo del activismo y especialmente por lo que significa también la representatividad de las personas trans".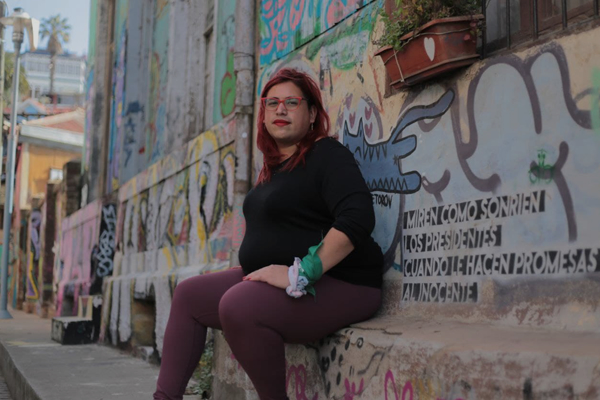 "Representar un nuevo liderazgo y nuevas voces. Lo que significa una renovación de la política, un Congreso mucho más representativo, un Congreso que se asemeje a la realidad de las personas trans que existimos, las mujeres trans existimos y estamos en la política y pasamos por distintas etapas y vivencias que no son relatos que tienen que solamente deben contener los libros o los medios de comunicación, sino que con discursos políticos", afirmó Valdés al Blade.
Mientras que Rodrigo Mallea (Comunes), activista no binario también buscará, al igual que Montencinos, conseguir un escaño por el distrito 9.
"La verdad es que desde el estallido social y las revueltas que se concretó un gran cambio en la política y, además con el proceso constituyente se empezó a consolidar que este cambio era posible traducirlo en cambios materiales; reales y sustantivos para la gente", relató al Blade.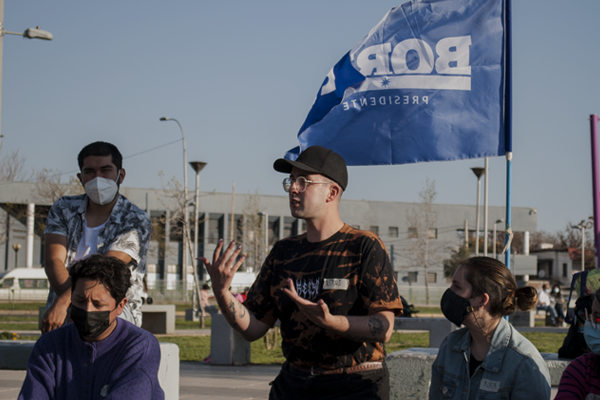 "La posibilidad de vivir mejor, de conseguir un buen vivir y para que los derechos sociales no sean solamente cuestiones que están consagradas en el papel, sino nuestra realidad cotidiana", explicó Mallea.
"Por eso es que pienso que en el Congreso tiene que haber un cambio también, tiene que haber representación LGBT+ que hoy día es bastante escasa en todos los ámbitos de la vida privada y pública", alertó Mallea en medio de los preparativos de su campaña electoral.
María Jose Cumplido (PL), una reconocida escritora feminista y públicamente lesbiana competirá por el distrito 10. "Decidí asumir esta candidatura a diputada porque sentí que la política requiere, obviamente, renovación y no nos basta con pedirlo desde afuera. Pienso que para construir, en especial en este momento tan importante, tenemos que sumarnos colectivamente para trabajar por Chile", sostuvo al Blade.
"La plena igualdad LGBTQ y finalmente, la mejora sustancial en todos los aspectos de la vida desde la prevención de la discriminación a la representación y la posibilidad de que tengamos como un principio rector también el libre desarrollo de la personalidad, es decir, que cualquier persona tenga la orientación sexual que tenga, la expresión de género que tenga, pertenezca al pueblo que sea; tiene que tener la libertad de elegir su proyecto de vida y tiene que estar a un lado el Estado que permita el desarrollo en paz de ese proyecto de vida", argumentó Cumplido.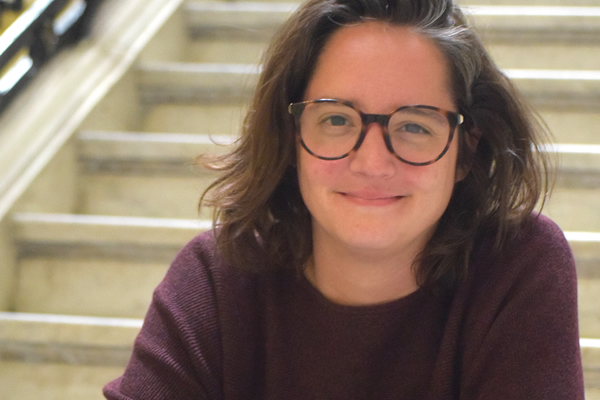 Finalmente agregó que "el futuro tiene que ser diverso. Tienen que estar todos los puntos de vista representados y por eso esta candidatura es muy importante para darle no solo visibilidad a la comunidad LGBTQ, sino también que las leyes integralmente también consideren a todas las personas que históricamente han sido excluidas".
En el último año los casos de discriminación aumentarón un 14,7 por ciento en Chile, según el XIX Informe Anual de Derechos Humanos de la Diversidad Sexual y de Género, denominado como "El año de la resilencia LGBTQ", a causa de que los atropellos sumaron 1.266, la cifra más alta conocida hasta ahora y que mantiene al alza una explosiva ola de ataques a LGBTQ que viene ocurriendo desde el 2018.
Resiliencia, arrojó la investigación, porque en uno de los escenarios y contextos más adversos para su calidad de vida, la población LGBTQ gestionó sus propios recursos y capacidades para ir en ayuda de los más vulnerables, reaccionar frente a las injusticias y mantener en alto la lucha por la plena igualdad social y legal.
Sumándose a esto los abusos, los compromisos incumplidos por parte de las autoridades, la carencia de condena pública estatal frente a los delitos de odio y la ausencia de una política focalizada para combatir los efectos de la Covid-19.
"Tenemos que seguir en con los brazos arriba, luchando para que esos cambios sean concretados y que sean cambios transformadores y profundos para la vida no solamente de la generación actual, sino los cambios para las futuras generaciones", concluyó Mallea.